We use cookies to improve our site and your shopping experience. By continuing to browse our site you accept our cookie policy. More info
We ship worldwide to over 180 countries!
Hay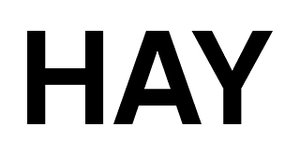 Hay
Hay is a Danish design company founded in 2002 and characterized by innovativeness, bold designs and high quality industrial manufacturing. Easily accessible to large audiences, Hay's furniture, lighting and interior products have become iconic pieces of modern Scandinavian design.
Behind Hay's ingenious and surprising designs lies an interesting way of thinking: the designers are given a full creative freedom to move forward the things that they like, as long as they follow Hay's main principles: architectonic, design and technological ambitions and sustainability. Hay collaborates with both well-known and fresh names of modern design. Some of its best known designers include Ronan and Erwan Bouroullec and Hee Welling, whose designs include the popular chair collections About A Chair and Hee.
Read Rolf and Mette Hay's interview >
This brand has collaborated with: Inga Sempé, Thomas Bentzen, Leif Jørgensen, Hee Welling, Shane Schneck, Komplot Design, Andreas Engesvik, Iskos-Berlin, Jørgen Bækmark, Poul M. Volther, Folke Pålsson, Scholten & Baijings, GamFratesi , Lars Beller Fjetland, Clara von Zweigbergk, Sylvain Willenz, Ronan & Erwan Bouroullec, Leon Ransmeier, Sebastian Wrong, Line Depping, BIG-GAME, Nathalie Du Pasquier, Kaschkasch, Smithmatthias , Lex Pott, Dimitri Bähler, George Nelson, Joel Hoff, Stefan Diez, Daniel Enoksson, Pierre Charpin, Jochen Holz, George Sowden, Amanda Borberg, Wim Rietveld, Friso Kramer, Børge Mogensen, Doshi Levien, Leanne Shapton, Jonas Trampedach, Jakob Jørgensen, Michael Sodeau, Kristine Five Melvær, Ana Kras, COBE, Ingrid Aspen
---
Show filters
---
---
---