Gift cards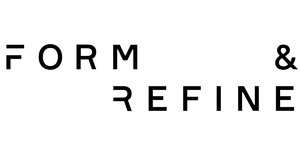 Form & Refine
Form & Refine, founded in 2018 in Denmark, is a design company with ecologically and ethically driven values and respect for traditional craft cultures and manufacturing methods. Helle Herman Mortensen, Jonas Herman Pedersen and Lasse Lund Lauridsen, the founders of Form & Refine, believe that the best manufacturing skills for each material are found from the country of its origin, and that the most direct and fair partnerships are easiest to create with smaller workshops and cooperatives.
Nordic design traditions play an essential role in Form & Refine's collections that include furniture, textiles and accessories. The majority of the wood used in the products is grown in a Danish forest and crafted locally by skilled craftsmen. The ceramics come from Portuguese artisans from the region of Alcobaça, and the alpaca products from a cooperative of Bolivian alpaca farmers. Form & Refine aims at creating products that last from generations to generations, and the modest, refined design allows the materials to manifest themselves.
This brand has collaborated with: Kristian Vedel, Hallgeir Homstvedt, Herman Studio, Alexander Seyfarth, Werner, Studio Millionroses, Jonas Lutz
---
Show filters
---
0 matching products.
---