Bald & Bang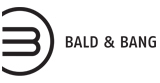 Bald & Bang
Bald & Bang is a Danish design company established in 2000, a joint passion for form and design. Bald & Bang was founded by Gitte Bald (who left the company in 2008) and Anders Bang Jeppesen. Bald & Bang's designs are timeless and contemporary with aesthetics, not dominated by trends, but defined by their beautiful, classical and geometric lines.
Design is a living organism, which shall engage and involve at all times. Bald & Bang's vision is to bring functionality and beauty into everyone's life. Simplicity is magic. Bald & Bang's founder Anders Bang Jeppesen is a trained tailor who likes to start new things up and his passion has always been design. He looks for products he like, then contacts the designer. Sometimes the product shown by the designer is not the same product they end up with, but Anders can normally see the line in the designers' works, and see if it is something he finds interesting. Bald & Bang produces its products in Denmark/Scandinavia, to keep high quality and to be able to follow the product from beginning to end.
---
Show filters
---
0 matching products.
---