Reading a good book is a great leisure activity whether you're lying on the beach, taking a trip, or staying at home on rainy weekends. We pulled together nine inspiring books that offer candy for both the eyes and soul as well as entertainment for those lazy summer days.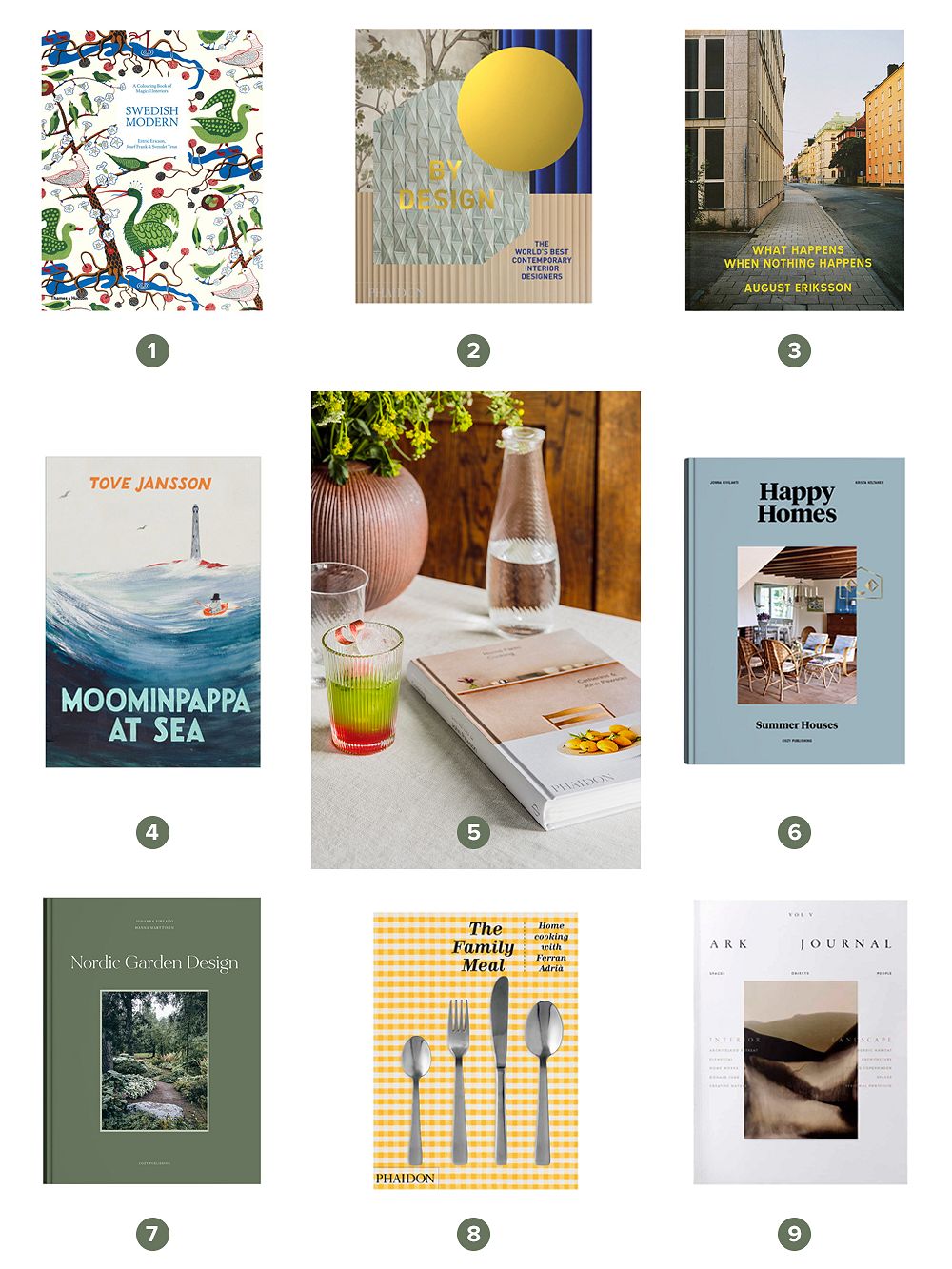 1. Swedish Modern: A Colouring Book of Magical Interiors introduces Josef Frank and Estrid Ericson's magical pattern design and provides detailed full-page line drawings to color in. 2. The stunningly illustrated By Design: The World's Best Contemporary Interior Designers showcases some of today's leading interior designers and decorators. 3. August Eriksson: What Happens When Nothing Happens is a charming photo book that clears the mind of the busy everyday life by presenting Stockholm in the early hours of the morning.
4. Tove Jansson's beloved classic Moominpappa at Sea is a favorite of children and adults, leading the reader with the Moomin family to a distant, unpredictable lighthouse island. 5. The English designer couple Catherine and John Pawson's cookbook Home Farm Cooking brings together 100 mouth-watering recipes from the couple's country home. 6. The quick relief for longing for your own summer cottage is Happy Homes: Summer Houses, which presents Finnish summer culture and charming leisure homes.
7. The choice of the green thumb, Nordic Garden Design, invites you to admire one of the most unique and atmospheric gardens in the north. 8. The colorful The Family Meal: Home Cooking with Ferran Adrià takes the whole family to cook delicious dishes recommended by a world-famous Spanish chef. 9. The Ark Journal magazine, with four available cover options, travels easily with you on the go – the fifth issue explores nature from the perspectives of architecture, design, and art.
See also:
• All books at Finnish Design Shop >
Text: Design Stories Images: Suvi Kesäläinen and manufacturers