It's time to open the grilling season! In order for the BBQ delicacies to be a delight to prepare and serve, the summer kitchen requires a high-quality grill, practical kitchen utensils, and beautiful textiles. Take a look at our best tips for the dreamy barbecue oasis.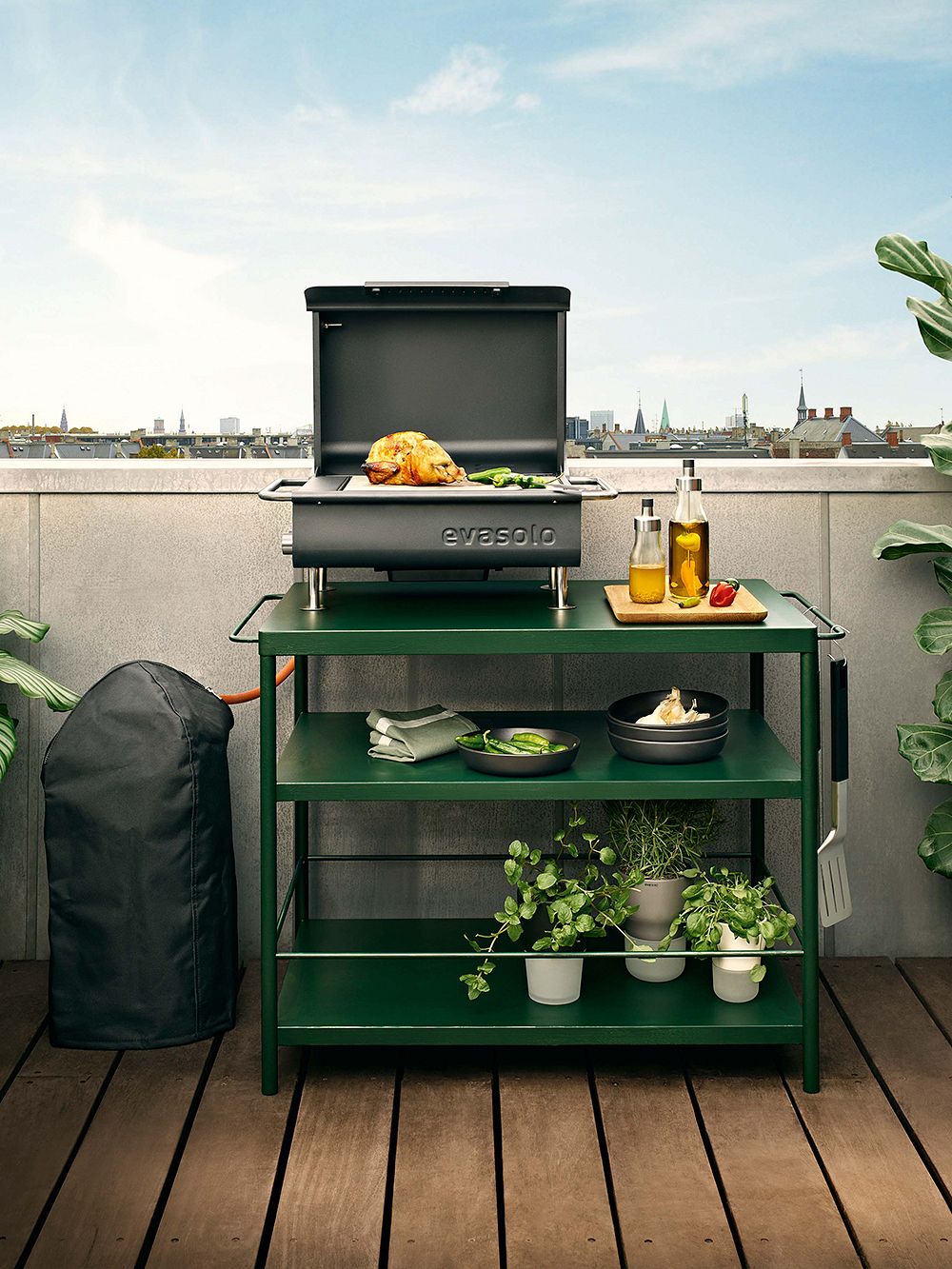 The heart of the summer patio
In the high-quality grill, you can prepare delicious food while enjoying the warmth, summer atmosphere, and great company. The handy-sized Box gas grill is suitable for a small space, such as a compact terrace or balcony, and can be used either as a table grill or as a standing model with legs sold separately. If your yard requires larger grilling equipment, you should check out the grills by the Swedish Röshults.
• Eva Solo's Box gas grill >
• All grills >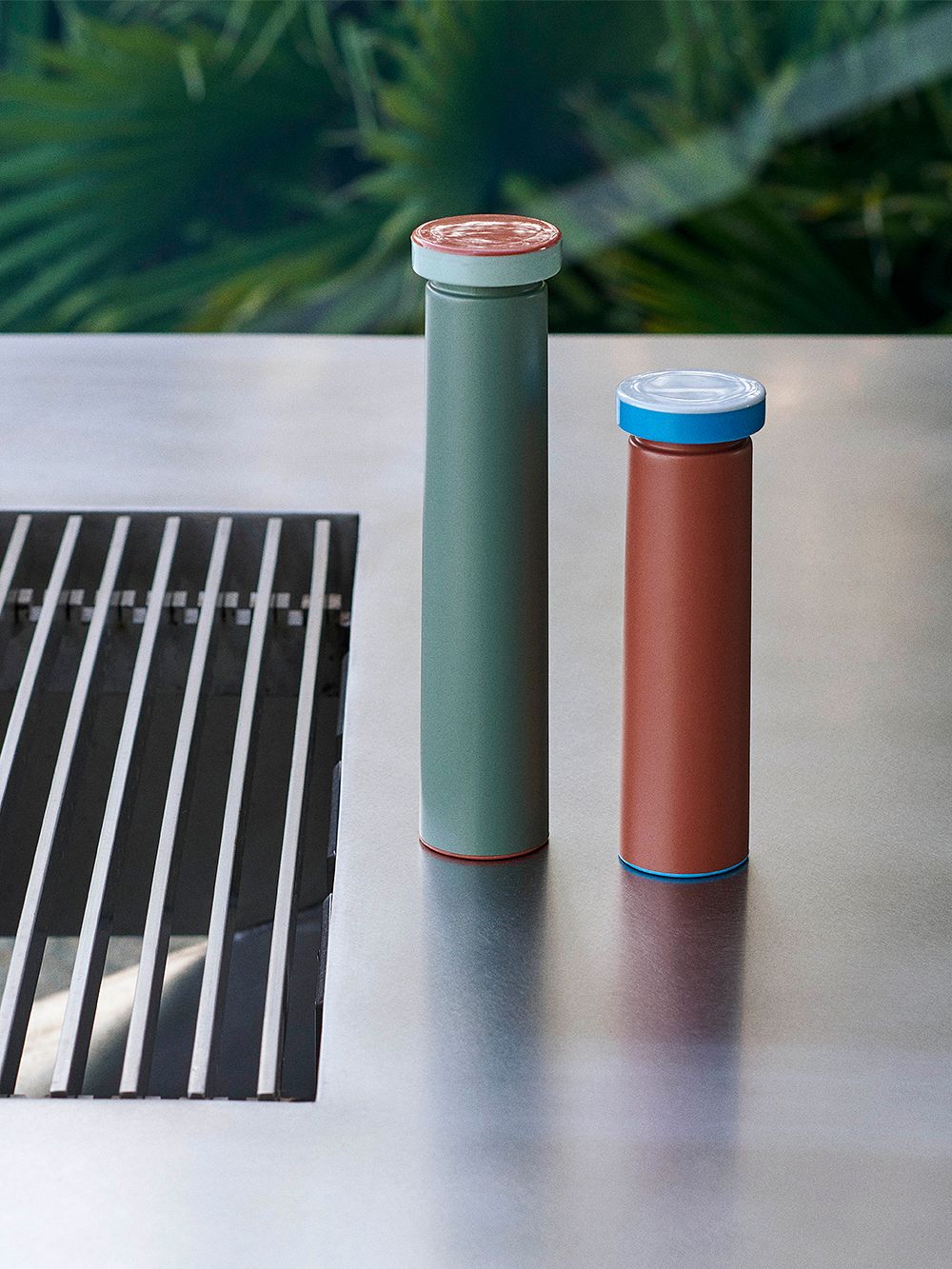 Spice it up
The spice grinders complete the taste experience, but also work as cheerful eye-catchers in the table setting. HAY's playful Salt & Pepper spice mills are made of stainless steel and equipped with a high-quality ceramic grinding mechanism, that can be adjusted from fine to coarse. Which color would you choose? 
• HAY's Salt & Pepper mill >
• All salt & pepper >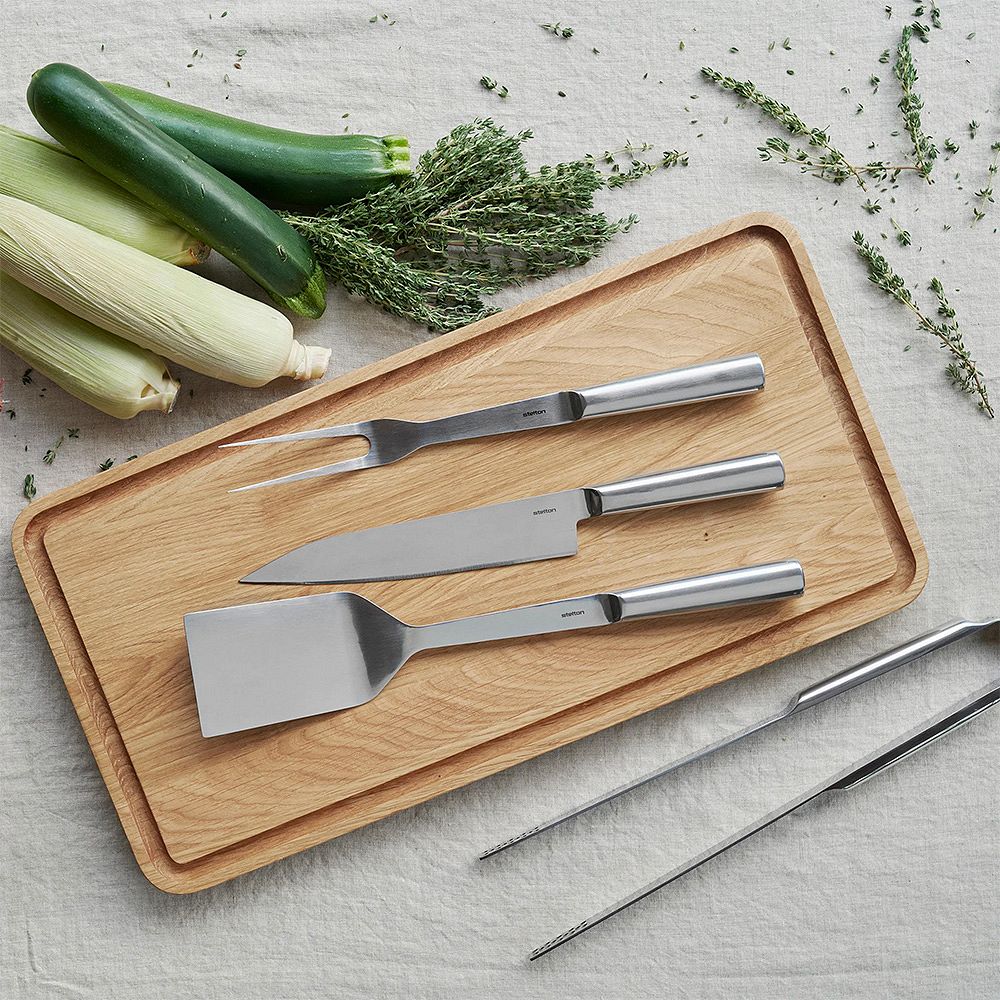 Cut and chop outdoors
The chef, who loves spending time outside, transforms the terrace or garden into an extension of the kitchen and prepares salads and other summer meals casually under the sun. Designed by Søren Refsgaard, Stelton's Sixtus series offers a minimalist design for the outdoor kitchen with a chopping board, tongs, turner, and a carving knife. Stylish and durable products will serve for both cooking and grilling for years to come.
• Stelton's Sixtus chopping board >
• Stelton's Sixtus tongs >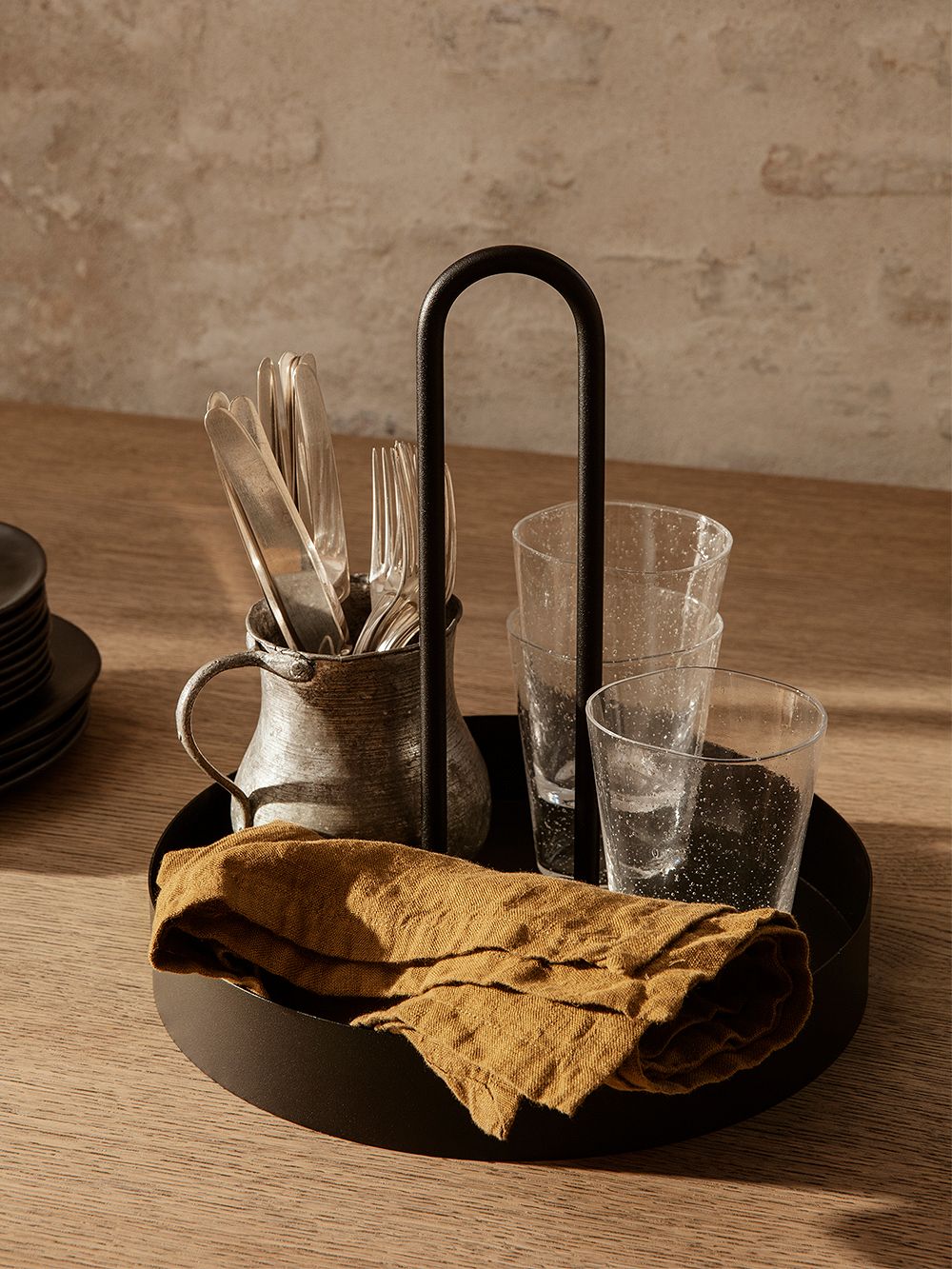 Unlimited possibilities
Ferm LIVING's Grib tray is an elegant and multi-purpose companion for carrying tableware to a balcony or garden: due to its carrying handle, it conveniently transports bottles of oil and vinegar, cutlery and dishware, or even drinks and snacks, to the table. Made of powder-coated metal, Grib is suitable for outdoor use, so it can decorate a patio table also for longer periods of time.
• ferm LIVING's Grib tray >
• All trays >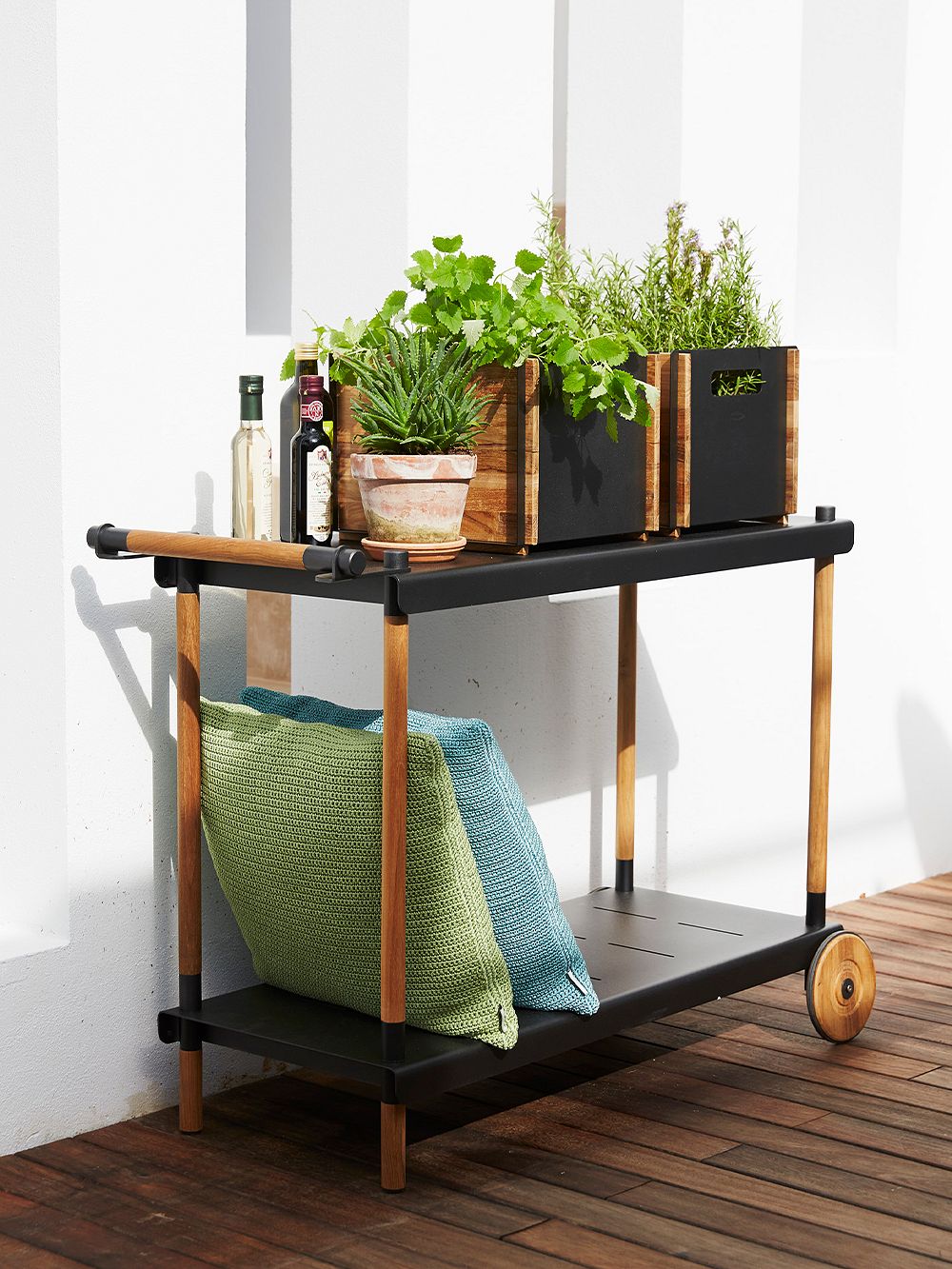 Served on wheels
Outdoor dining is made easy with a multifunctional serving trolley. The Frame trolley combines durable aluminum and stylish teak wood, which patinates in a unique way. Thanks to its lightweight construction, the trolley is easy to move and works as a griller's side table as well as the serving level for food and beverages. The frame trolley can also be used, for example, as a shelf on the balcony or in a summer cottage.
• Cane-line's Frame trolley >
• All kitchen carts & trolleys >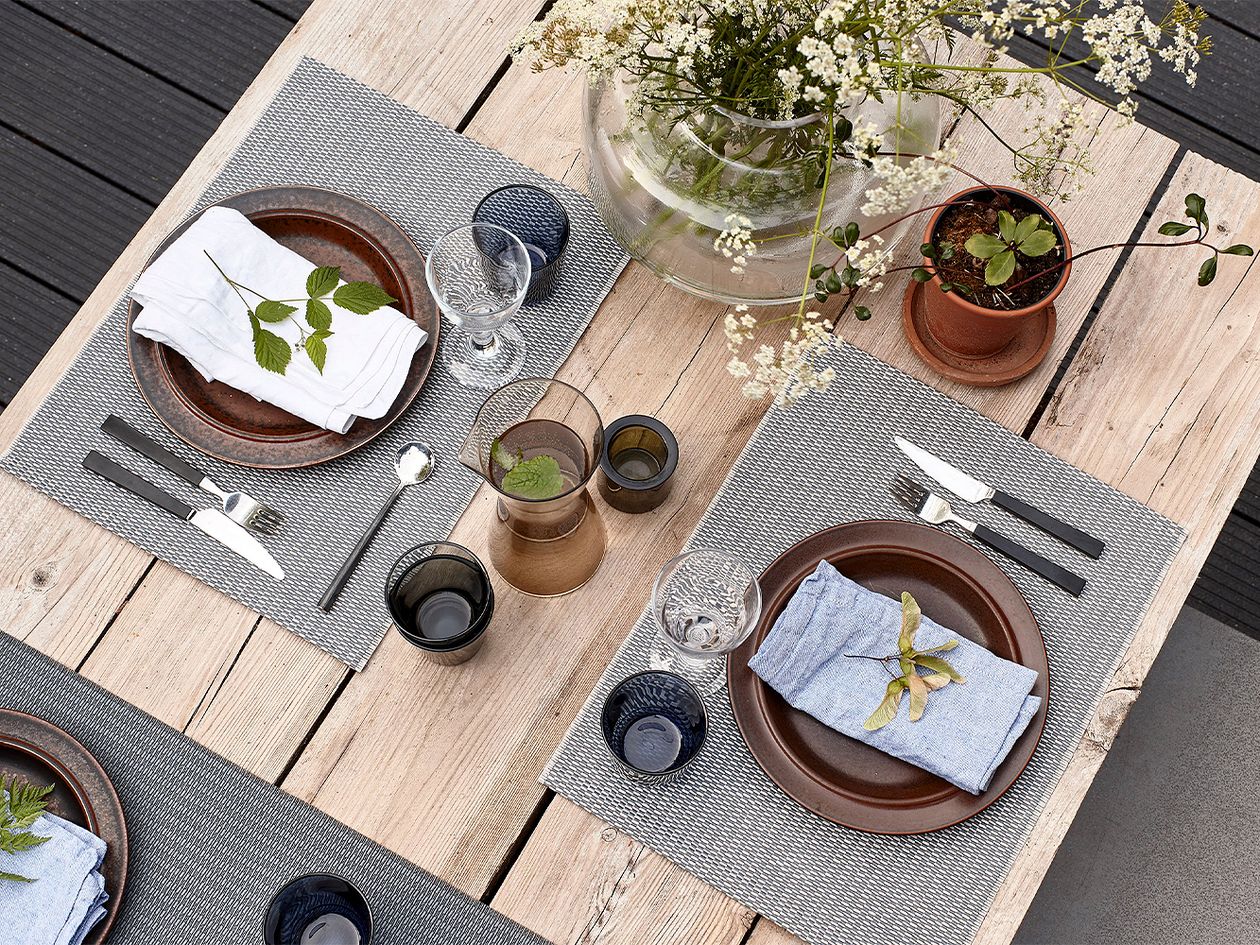 Final touch with textiles
Placemats and tablecloths are a great way to change the look of your dining table – even on the terrace. Woodnotes' Morning placemats complete both a casual breakfast and a more festive dinner setting with a vivid texture. Woven with paper string on a cotton warp, the refined and relaxed look of the Morning placemats is created by Ritva Puotila.
• Woodnotes' Morning placemat >
• All placemats & runners >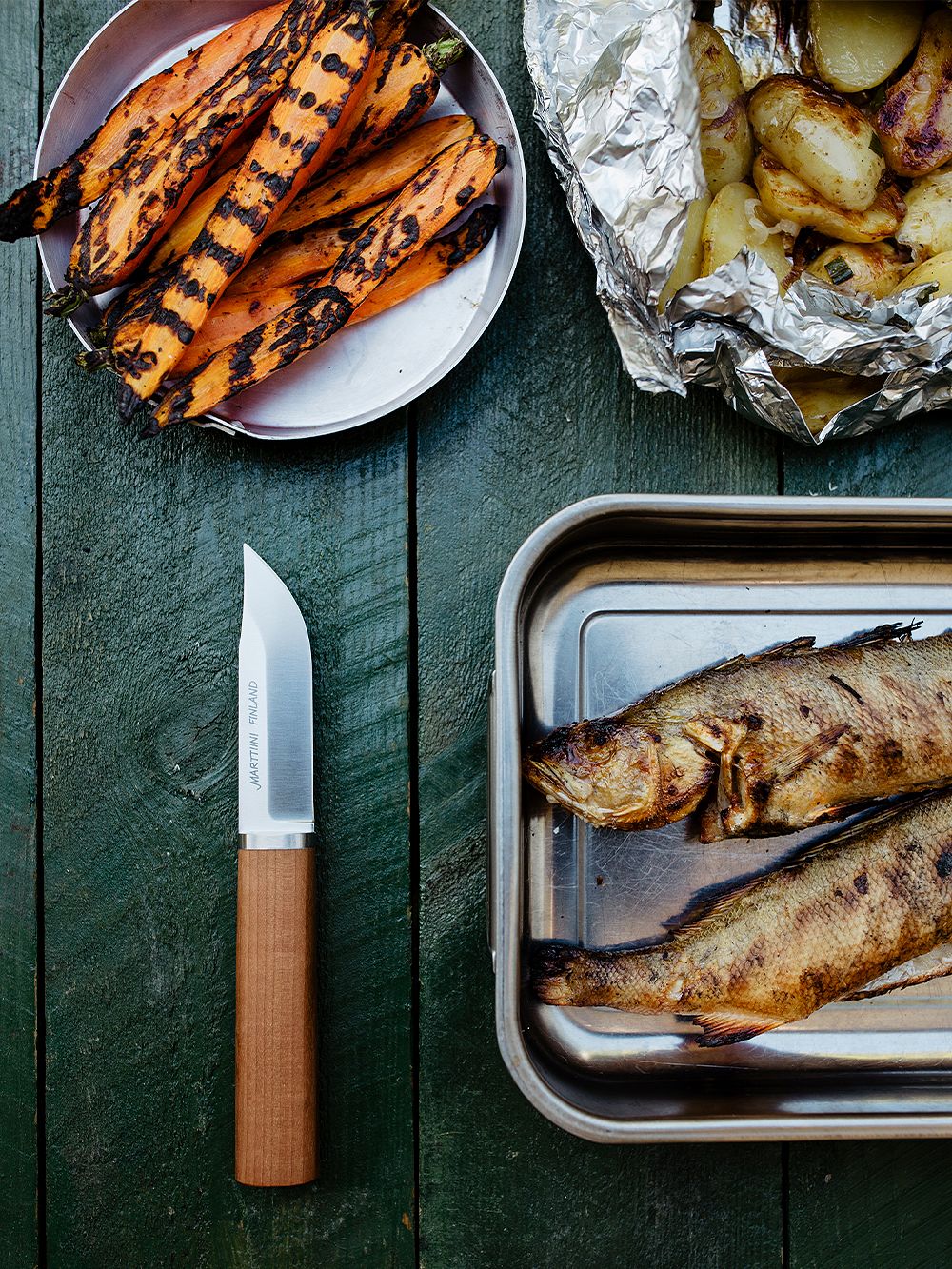 The must-have of every summer cottage
The most necessary utensil of the summer kitchen is a high-quality and sharp cutting tool. Marttiini's Cabin Chef knife is a versatile universal knife that is suitable for cooking, fishing, and camping. Made in Finland, the handle of the beautiful knife is ergonomically shaped so that it feels firm in the hand whatever the grip may be. Designed by Harri Koskinen, the knife makes also a great summer gift!
• Marttiini's Cabin Chef knife >
• All knives & scissors >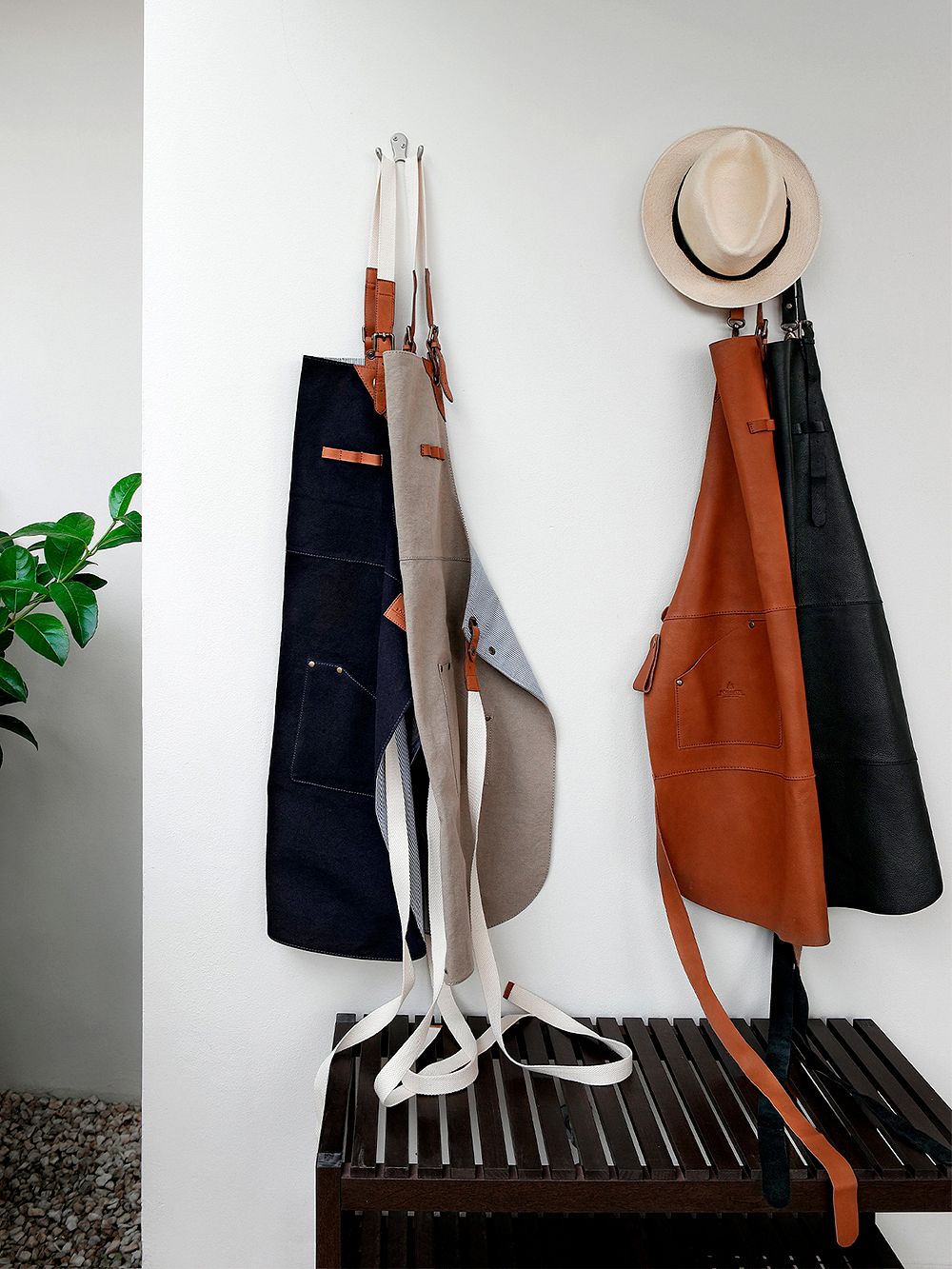 A little luxury for the BBQ expert
The absolute number one accessory for the true barbecue enthusiast is the Röshults' BBQ apron, which is designed to protect the chef's outfit from spills and stains during grilling. The durable and luxurious cotton canvas apron is finished with stylish cognac-tone leather details, such as an adjustable neck strap, and features a waist tie.
• Röshults' BBQ apron >
• All aprons >
See also:
• All barbecue at Finnish Design Shop >
• The best grilled vegetable dishes for summer >
Text: Sarianna Määttänen Images: Manufacturers