In summer and winter, in sickness or in health, alone or together – the Finns will always find a reason to go to the sauna. Design Stories lists some of Finland's most interesting urban saunas, ranging from the oldest public saunas in the country to stunning feats of contemporary architecture.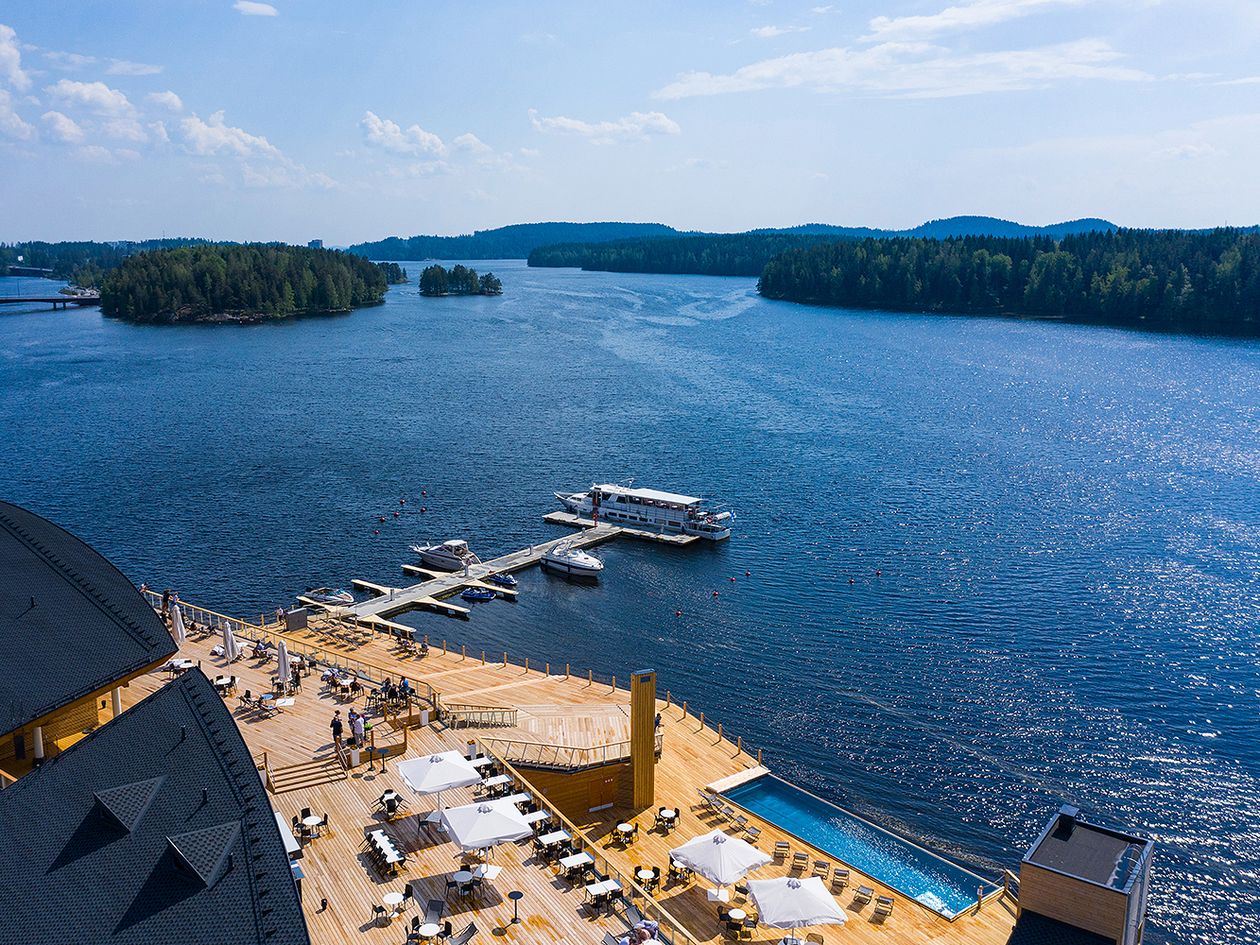 THE FINNISH SAUNA CULTURE is alive and flourishing. The country, which has a population of 5,4 million, is estimated to have over three million saunas, and last year, Finland's sauna culture was added to the UNESCO Intangible Cultural Heritage List, marking Finland's first entry on the list. New, interesting saunas have been popping up especially in Helsinki throughout the 2010s.
Reasons for the newfound popularity of public saunas can be found in the modern urban culture, which emphasizes communality and shared experiences. Instead of cramming into a small, dry electric sauna in the privacy of their own apartment, saunagoers are now thirsty for more opportunities for shared moments, genuinely good löyly (wet steam that rises when you throw water on the sauna stove) and cooling off in a comfortable setting – perhaps even at the edge of a lake or the sea.
We listed ten must-see urban saunas from around Finland. In the wide selection of public saunas available, there is something to please everyone, from the more old-fashioned public saunagoers to avid swimmers and lovers of modern architecture.
10 public saunas to experience in Finland:
1. Löyly, Helsinki
Designed by the Finnish architecture company Avanto Arkkitehdit, the Löyly sauna complex is an award-winning masterpiece of timber construction that has also been included on Time Magazine's World's 100 Greatest Places list. The sauna is located on the seashore in Hernesaari. Opened in 2016, Löyly features three saunas, one of which is the only smoke sauna open to the public in Helsinki. No matter the season, you can always take a dip in the sea to cool off, and afterward, enjoy the delicacies offered by Löyly's restaurant, where organic and local food take center stage.
Löyly, Hernesaarenranta 4, Helsinki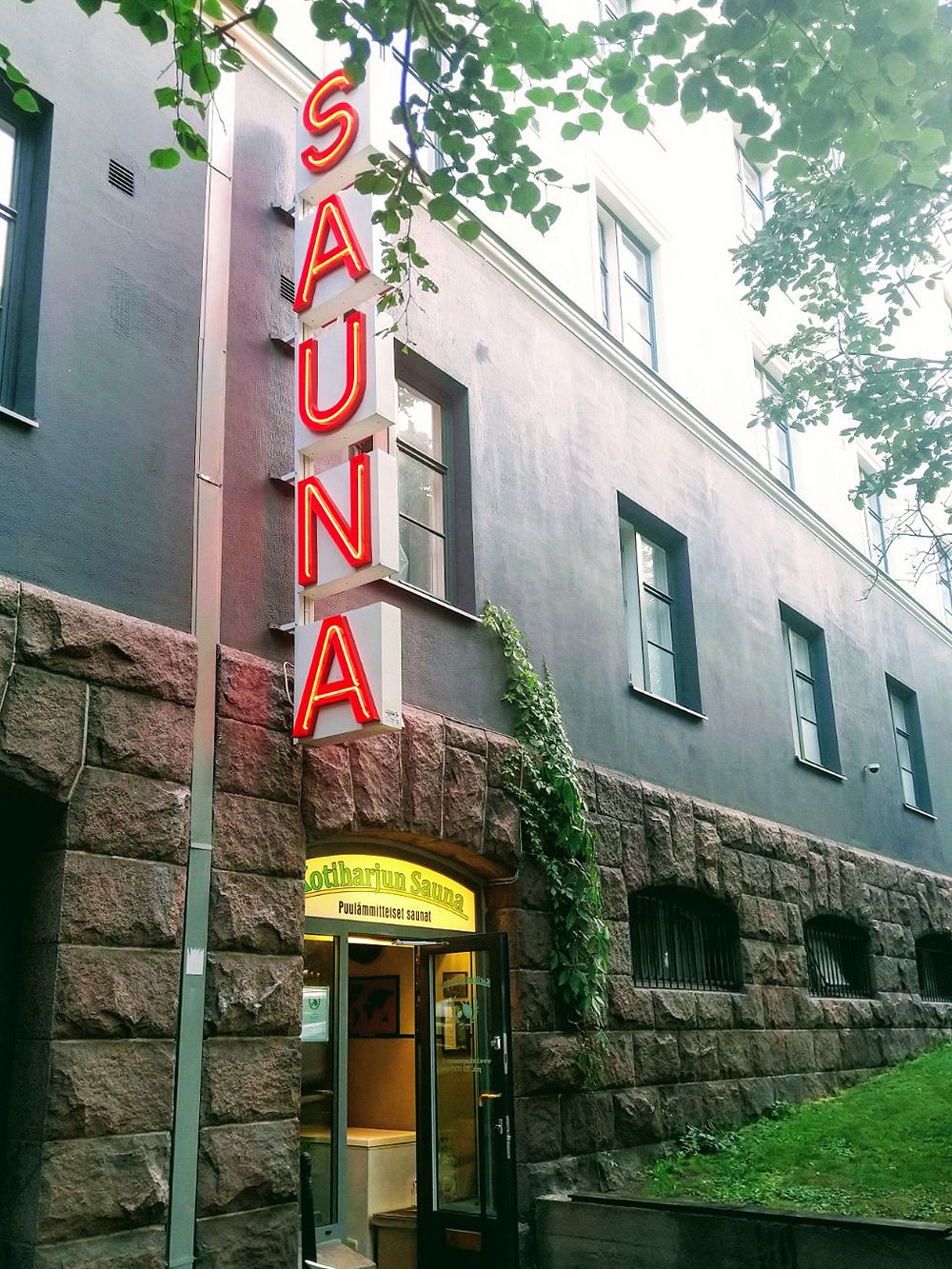 2. Kotiharjun sauna, Helsinki
Thanks to the Kotiharjun sauna, which opened its doors in 1928, saunagoers cooling off with a towel around their hips have been a part of the street scene of the Kallio district for almost a hundred years. Kotiharjun sauna is the oldest public sauna still open in Helsinki and the only traditional wood-heated sauna located in an apartment building. The heating takes a cubic meter of firewood, and the larger one of the two stoves in the establishment weighs in at around 7,000 kilograms. The Finnish Heritage Agency is currently preparing a special act to protect the Kotiharjun sauna and Helsinki's second-oldest sauna, Arlan sauna.
Kotiharjun sauna, Harjutorinkatu 1, Helsinki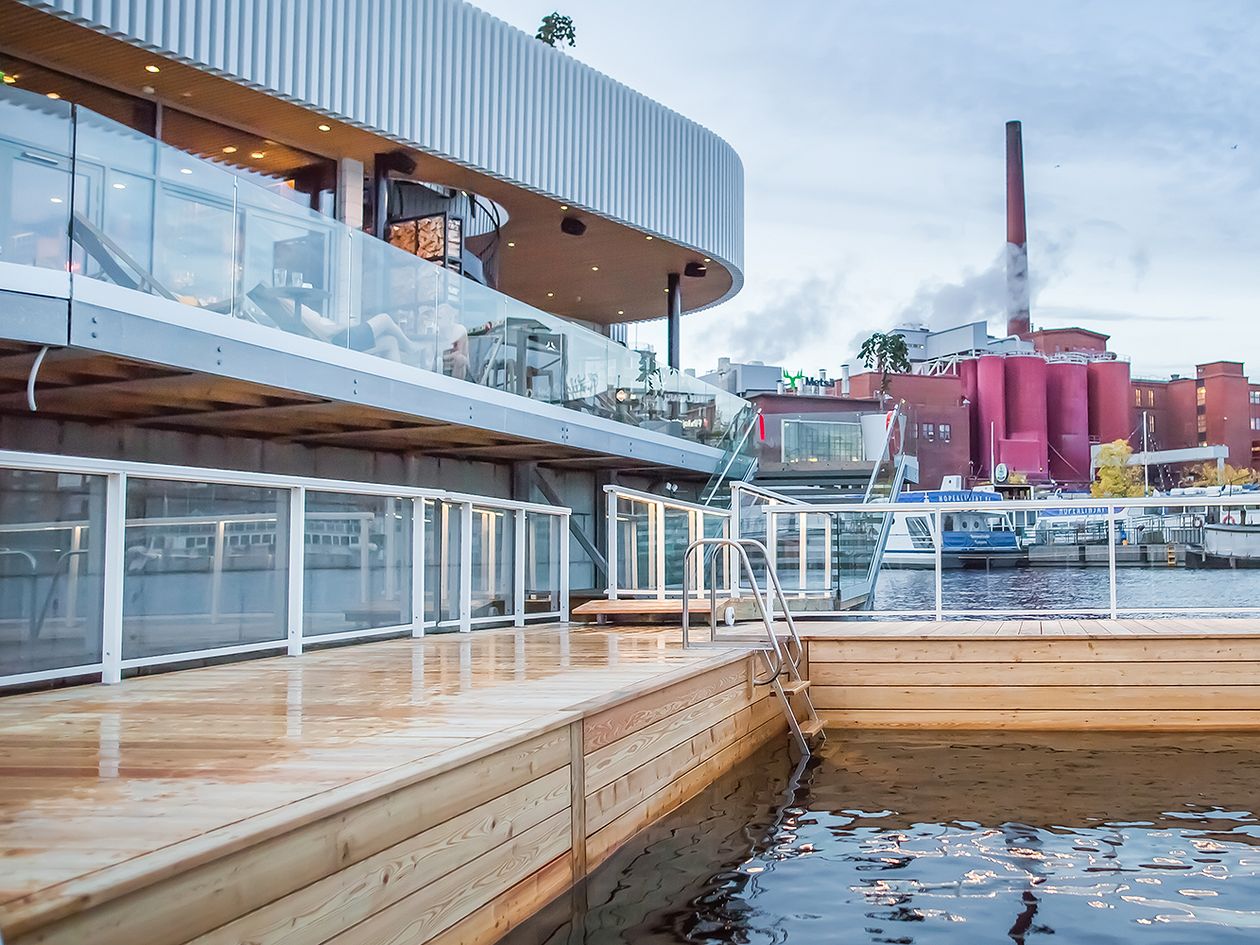 3. Kuuma, Tampere
The urban sauna boom isn't limited to Helsinki – it has also reached Tampere, which declared itself the Finnish sauna capital in 2018. Located in the heart of Tampere near the shoreline at Laukontori, the sauna restaurant Kuuma offers visitors both sauna and culinary experiences, and the terrace is open all year round. There are two saunas available: a more traditional Finnish sauna and a modern version of a smoke sauna.
Sauna & Restaurant Kuuma, Laukontori 21, Tampere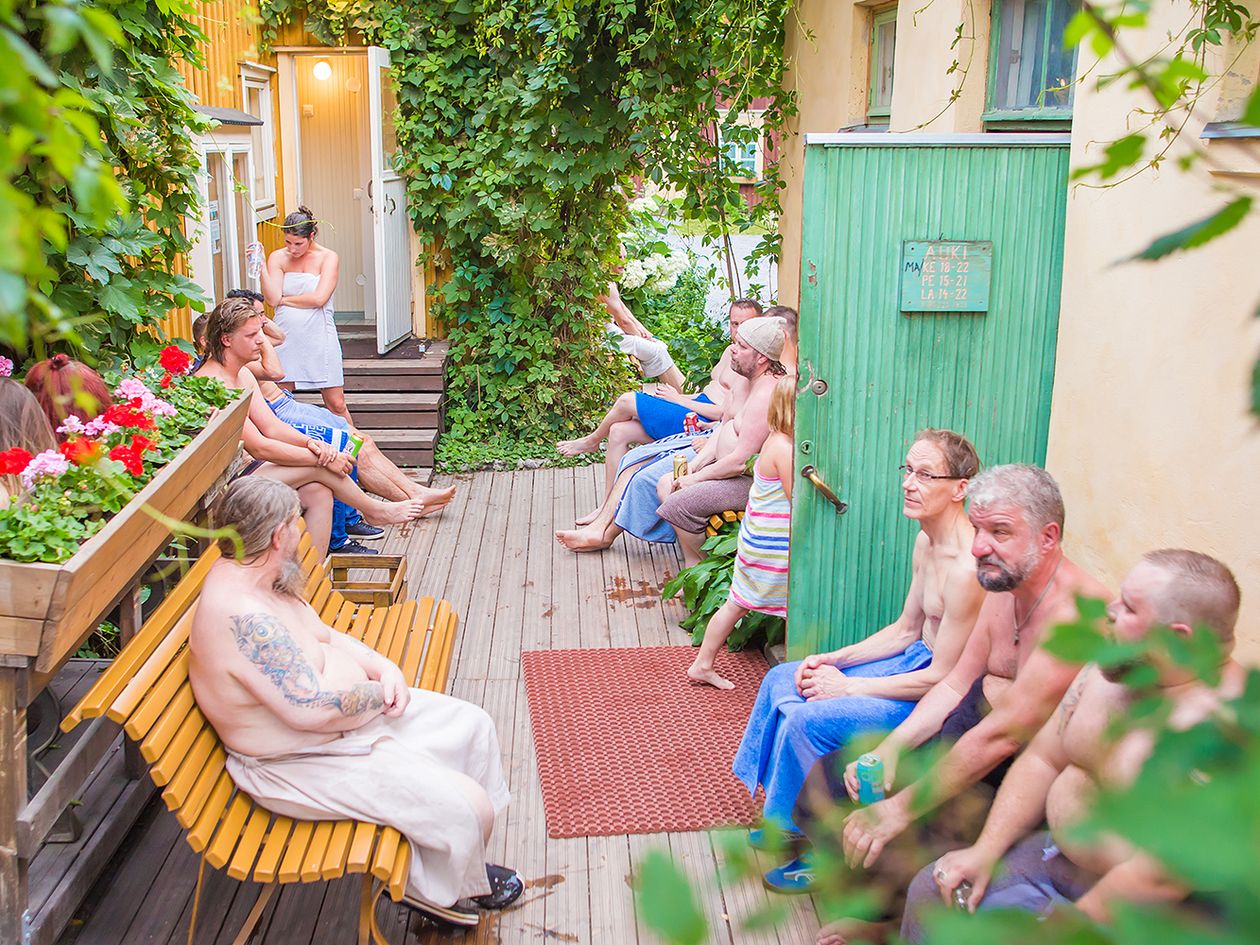 4. Rajaportin sauna, Tampere
The Rajaportti sauna, opened in 1906 in the idyllic district of Pispala, is the oldest public sauna still in use in Finland – and much like its contemporaries in Helsinki, Rajaportti is also due to receive special protection status from the Finnish Heritage Agency soon. Known for its massive stone stove, soft steam and relaxed atmosphere, the sauna's original structures have been largely preserved.
Rajaportin sauna, Pispalan valtatie 9, Tampere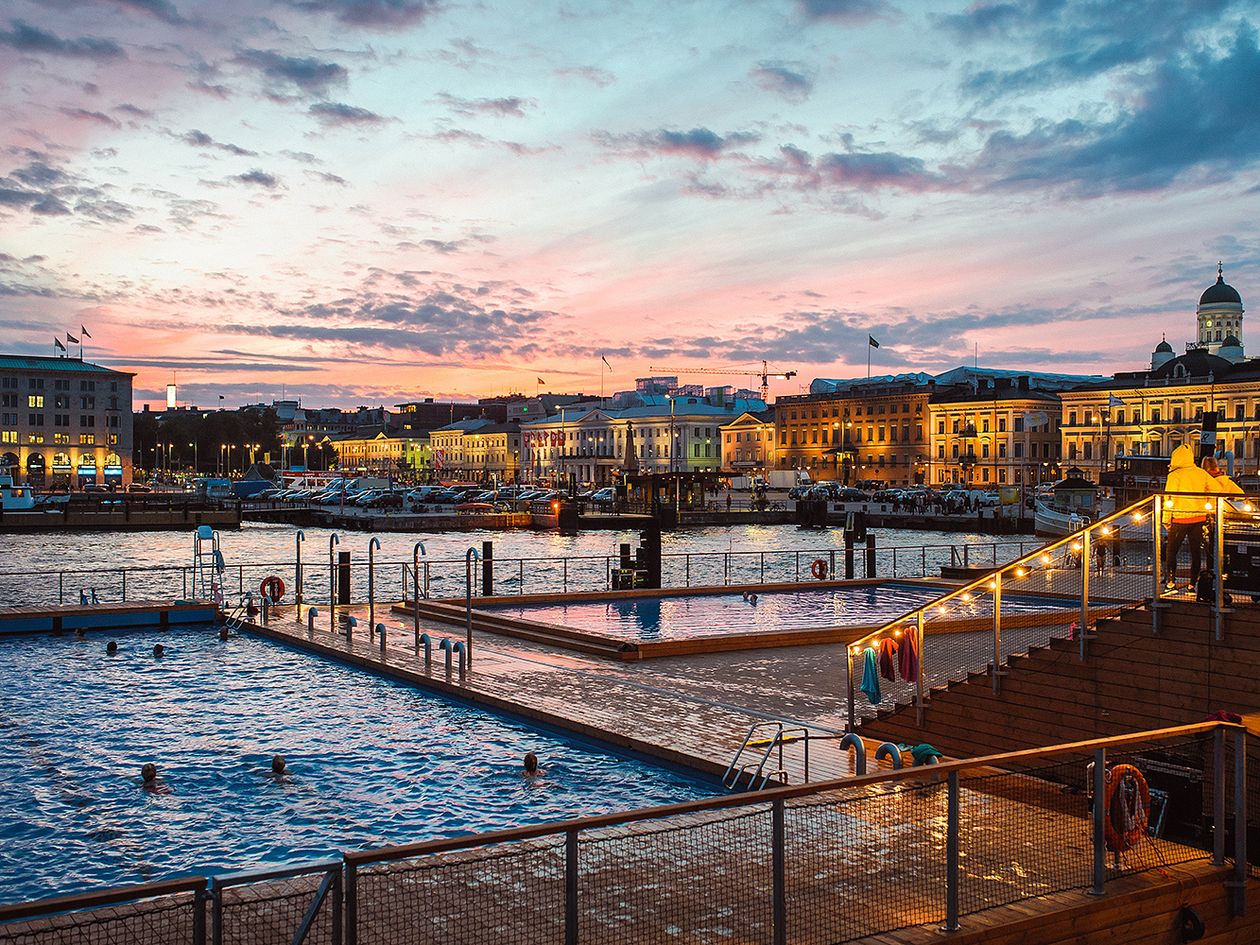 5. Allas Sea Pool, Helsinki
Opened in 2016 at the edge of the Helsinki Market square, Allas Sea Pool is popular among both locals and tourists. In addition to the three saunas, Allas features three swimming pools: a warm water pool, children's pool and a seawater pool filled with purified Baltic Sea water. On the roof of the building, visitors can find the largest terrace in Helsinki, which can accommodate up to 1,500 customers. The main building represents modern Finnish timber construction, and its materials include Finnish spruce.
Allas Sea Pool, Katajanokanlaituri 2a, Helsinki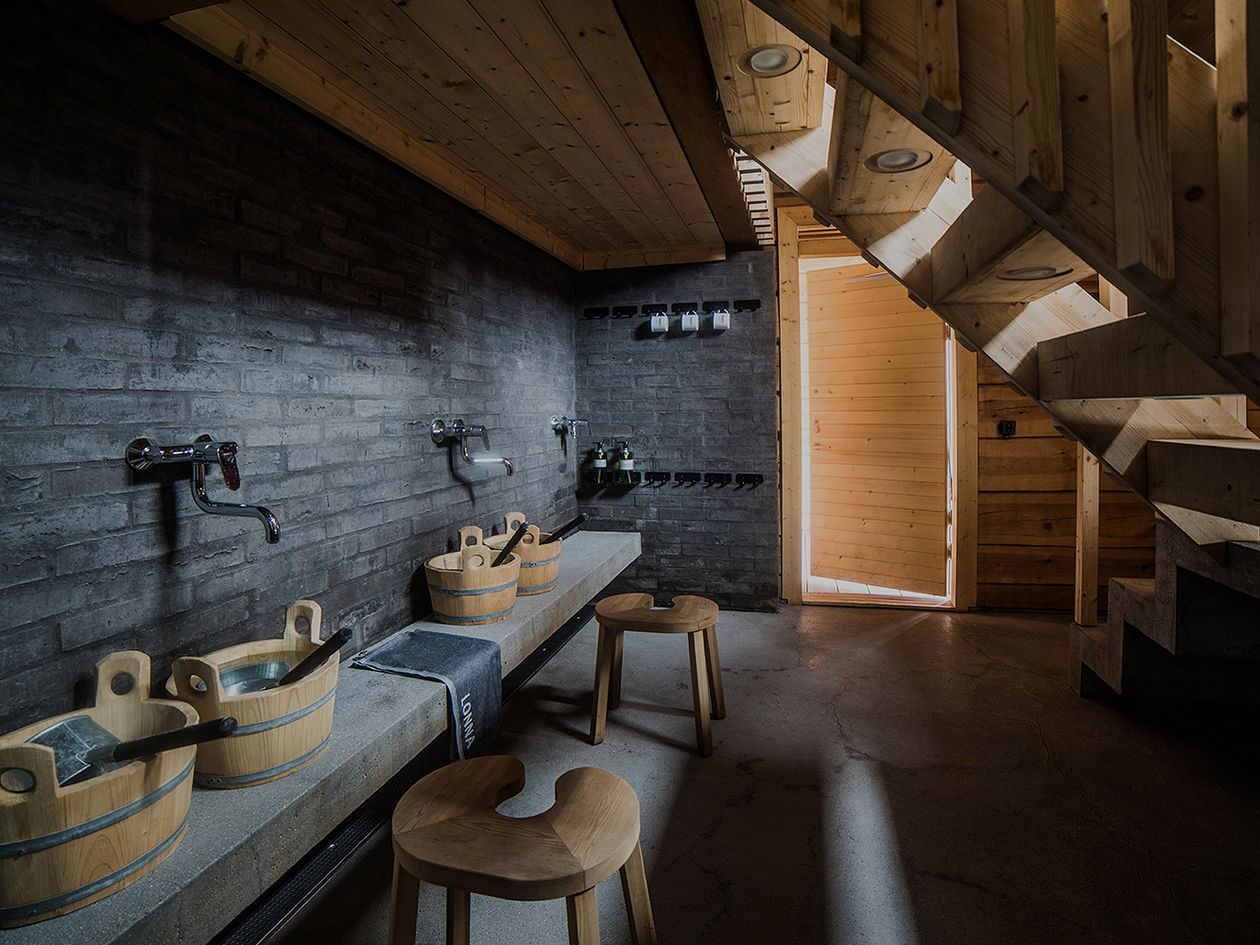 6. Lonna's sauna, Helsinki
Lonna's sauna is one of Helsinki's newest public saunas. It is located on the Lonna island, only a 10-minute ferry ride away from the Helsinki Market Square. The beautiful beach sauna has a log frame and is heated with a heat storage stove. Depending on the day, visitors are offered either men's and women's or mixed turns. Visitors can also access the restaurant and café-bar, and during the summer, the island hosts small concerts and other cultural events.
Lonna Island, waterbus service from Helsinki Market Square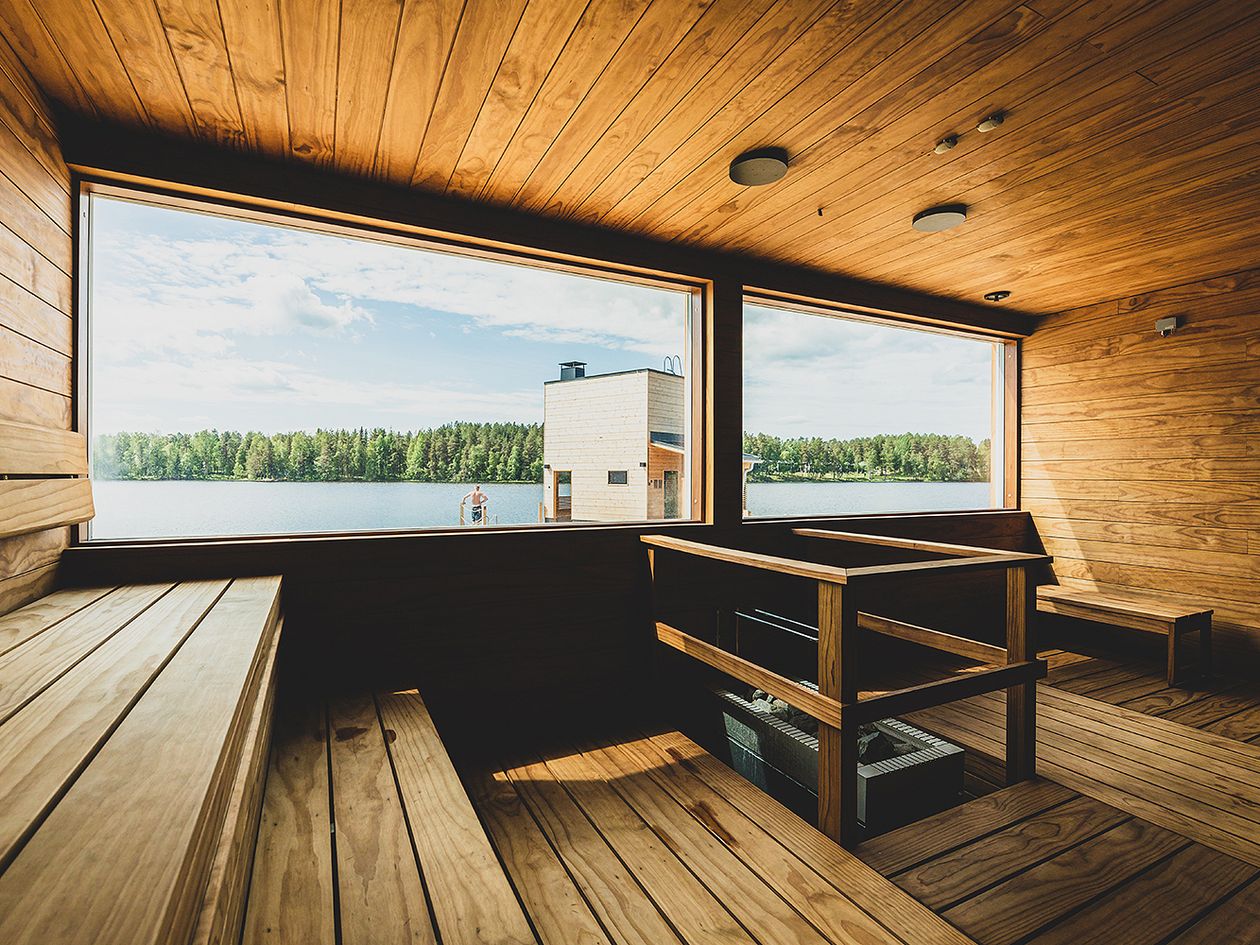 7. Saana, Kuopio
The newest addition to the Kuopio sauna culture is Saana, which opened in 2019. The sauna's spacious terrace and the log-built main building with its sail-shaped roof fit perfectly into the landscape of the Kallavesi lake. Saana's Sauna & Spa pampers the visitors with traditional and smoke saunas as well as warm outdoor swimming pools, a hot tub and waterfall showers. Saana's restaurant also serves as a lunch restaurant and a refreshing brunch oasis.
Kuopion Saana, Siikaranta 12, Kuopio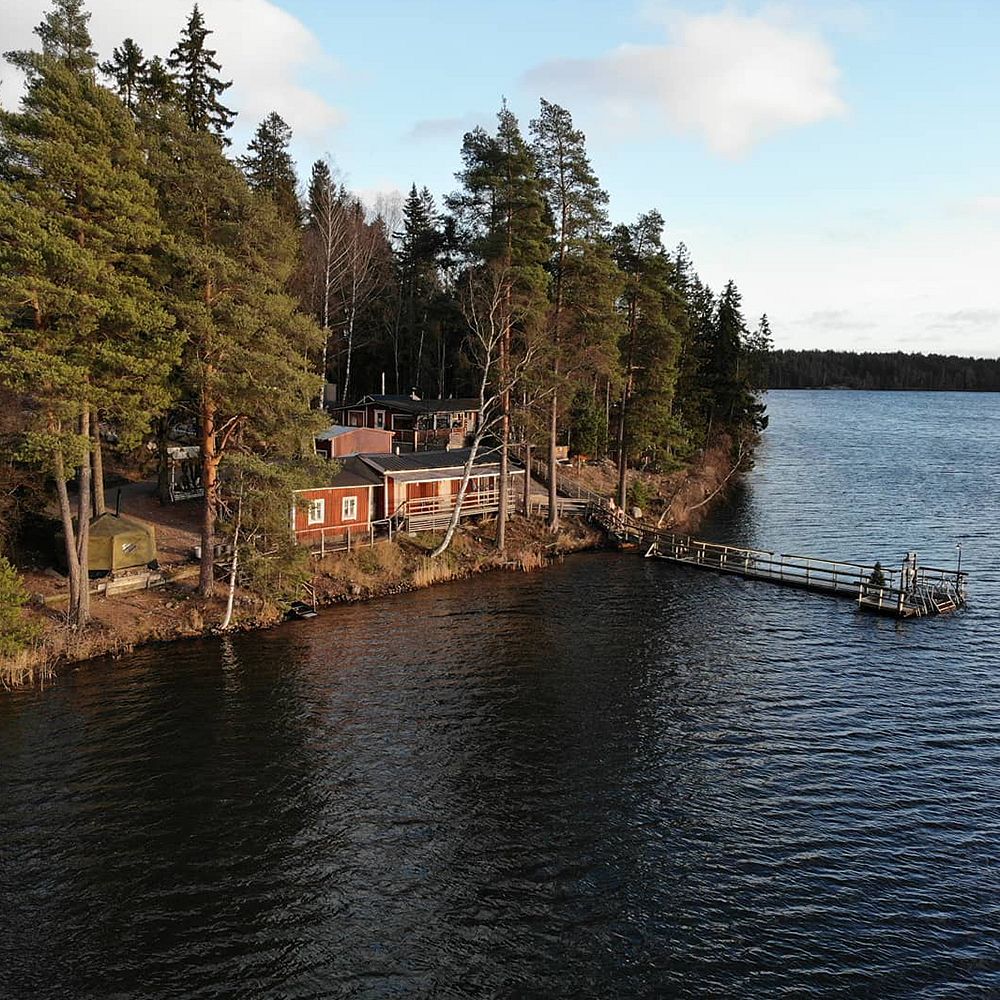 8. Villa Järvelä, Turku
Villa Järvelä sauna is located at Littoistenjärvi lake, near Turku. The public sauna is a lively place that is especially busy during the winter swimming season. In addition to the two main saunas, Järvelä also features a small wooden house reminiscent of traditional Finnish summer cottages, a tent sauna and two hot tubs, one of which functions as a cold pool filled with ice water during the summer season. Visitors can also explore the Littoistenjärvi lake with a stand-up paddling board.
Villa Järvelä, Järveläntie 133, Turku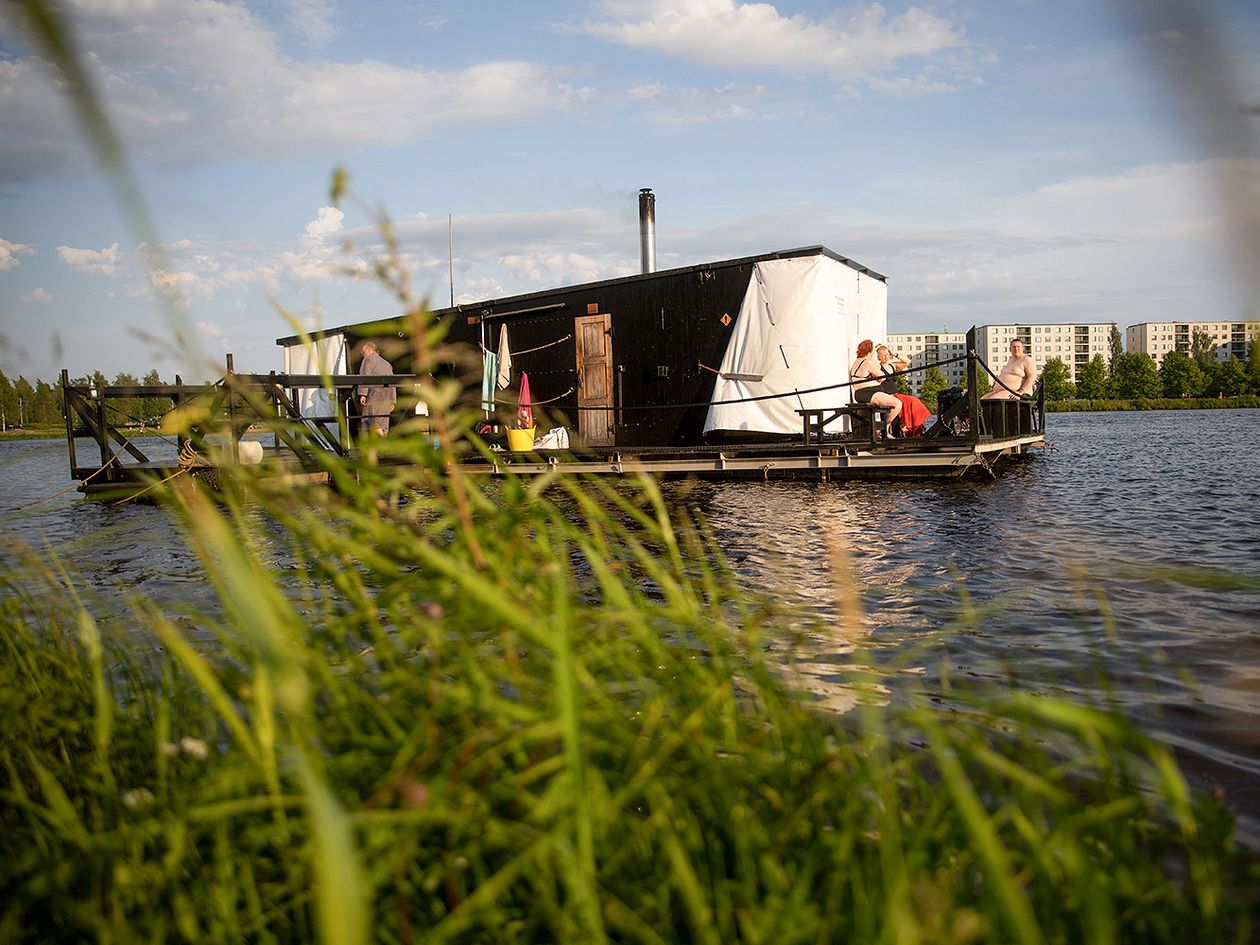 9. Kesän Sauna, Oulu
Kesän Sauna ("summer sauna") is a sympathetic, volunteer-run floating sauna that has revived the public sauna culture in Oulu after a silent period of two decades. The sauna, which appeared in the Oulujoki river in 2014, was initially intended to last only one summer, but the volunteers and saunagoers decided to continue the project further. During its first seven summers, the floating sauna has hosted over 50,000 visitors from over 50 different countries.
Kesän Sauna, Koskitie 58, Oulu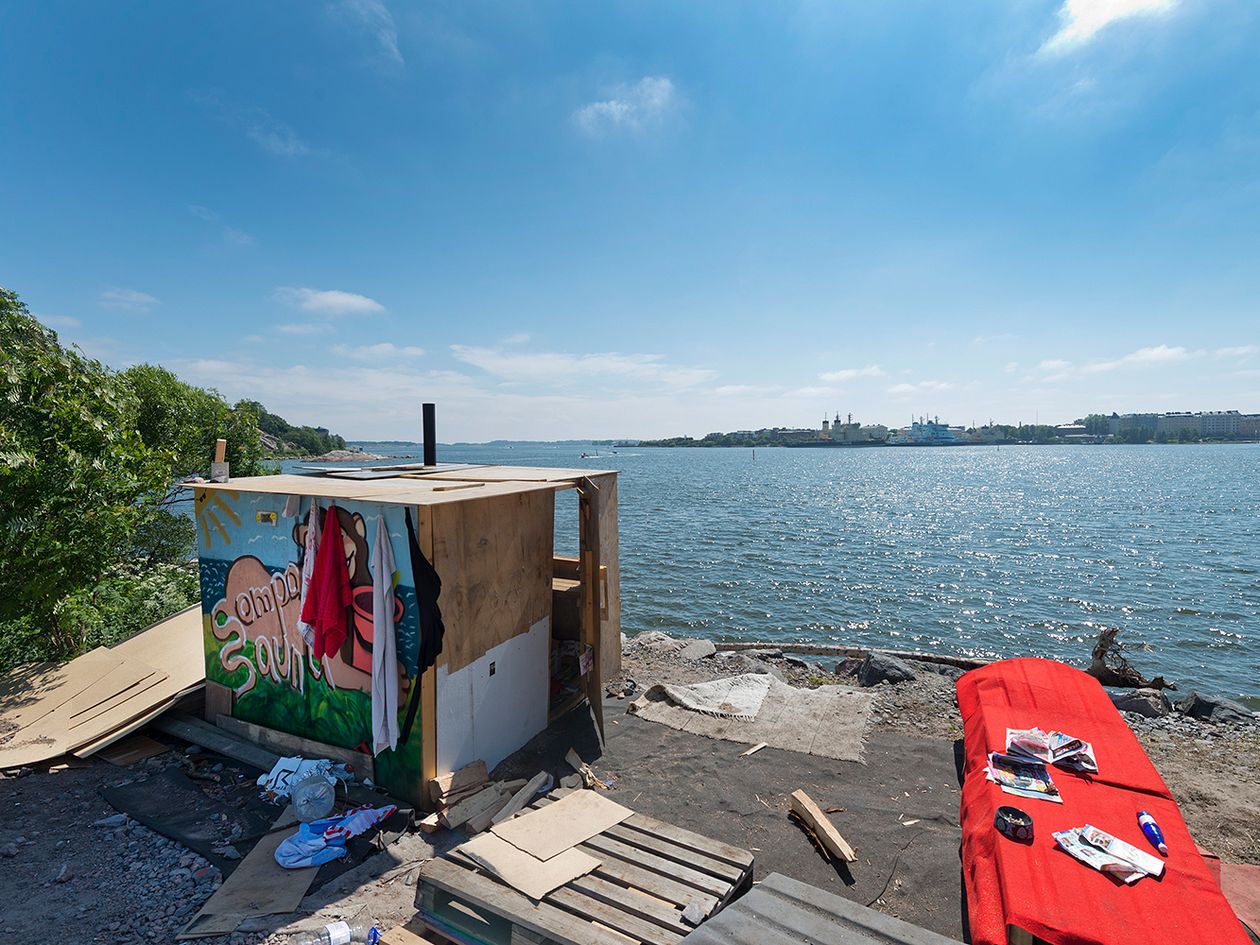 10. Sompasauna, Helsinki
Sompasauna is a free urban space project with a hint of anarchistic spirit. Here, the sauna or its visitors are not limited by opening hours, entrance fees or even a specific location. In 2011, a sauna structure built out of chipboard and tarpaulin appeared at the Sompasaari beach again and again, despite the efforts of the city, which had it demolished several times. The sauna eventually gathered a solid customer base and a cult following. It was offered a lease agreement by the City of Helsinki and even won the Helsinki Culture Award. During the summer of 2021, Sompasauna moves to a new location in Verkkosaari as a construction site will take over its old location.
Sompasauna, Hermanninranta, Helsinki
See also:
• Midsummer magic in the Finnish sauna – 7 products you need for the perfect sauna moment >
• Products for the sauna and bathroom >
Text: Nora Uotila