Sometimes objects age best when you do nothing to them. If you have brass objects, you can decide whether you want to enjoy the patina they have gained over the years or polish them to make them look new again. Jenna Kiuru wanted to polish Iittala's brass Nappula candleholders for a more festive table setting, and now the candleholders look as good as new.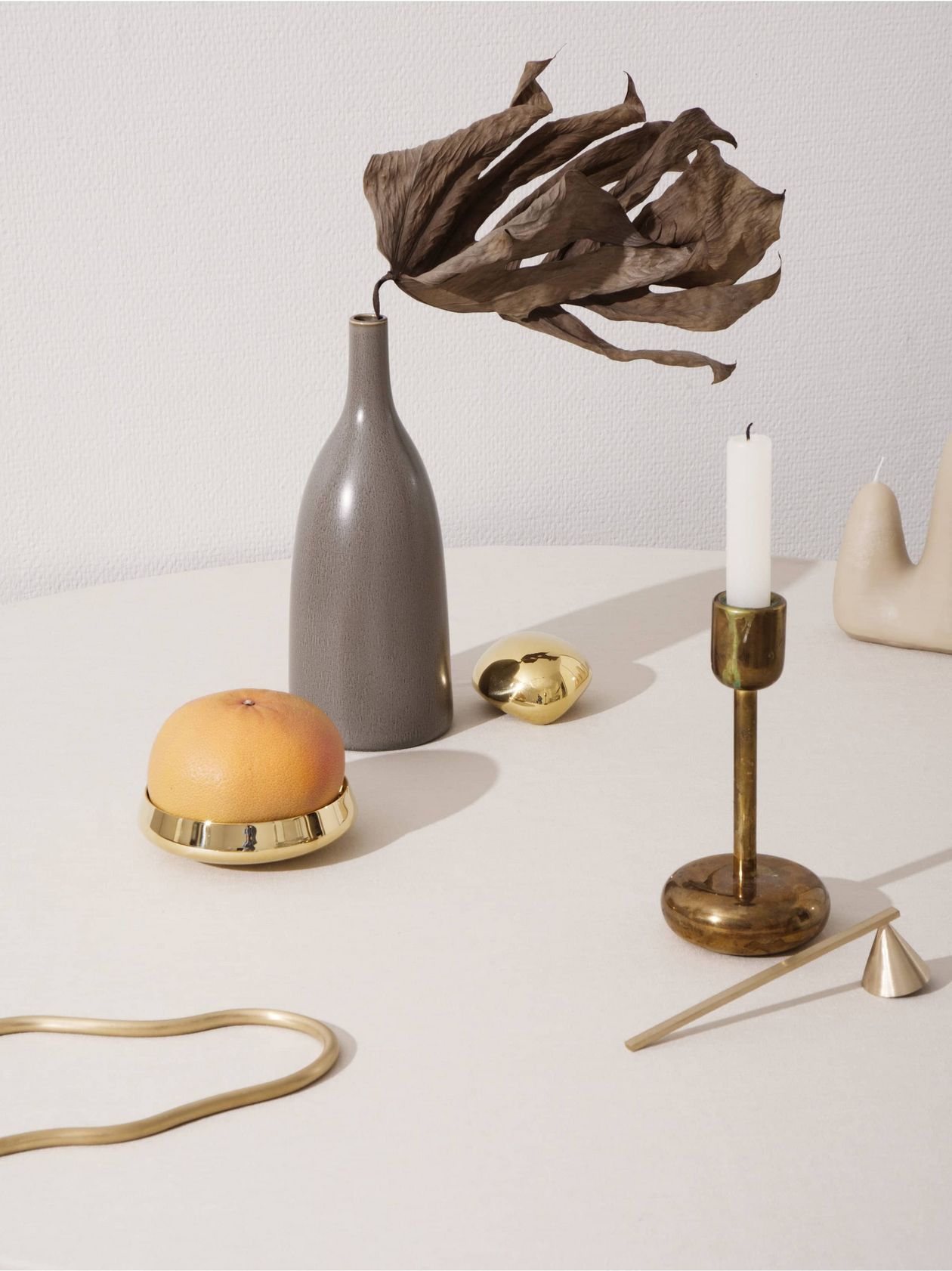 I CONSIDER BRASS to be similar to leather. A single small brass object has the same effect on an arrangement or table setting as a pair of shiny leather shoes has on an outfit. Brass also has the ability to add a touch of festivity to the everyday objects around it and provide contrast to matte textiles, wooden surfaces and ceramic tableware.
These brass Nappula candleholders had been in use for about five years and gained a beautiful patina in that time. They hadn't been cared for in any way except for dusting. Brass naturally darkens over time, losing some of its shine and gaining verdigris, i.e. patina. Of course, stearin wax also accumulates on candleholders when they are used.
"Brass naturally darkens over time, losing some of its shine and gaining verdigris, i.e. patina."
In my opinion, the used Nappula candleholders had more character than new objects, and at first, I didn't even know whether I want to clean and polish them in the first place. However, more seems to be more when the holidays are coming and some additional glitz in the middle of all this darkness is only a good thing!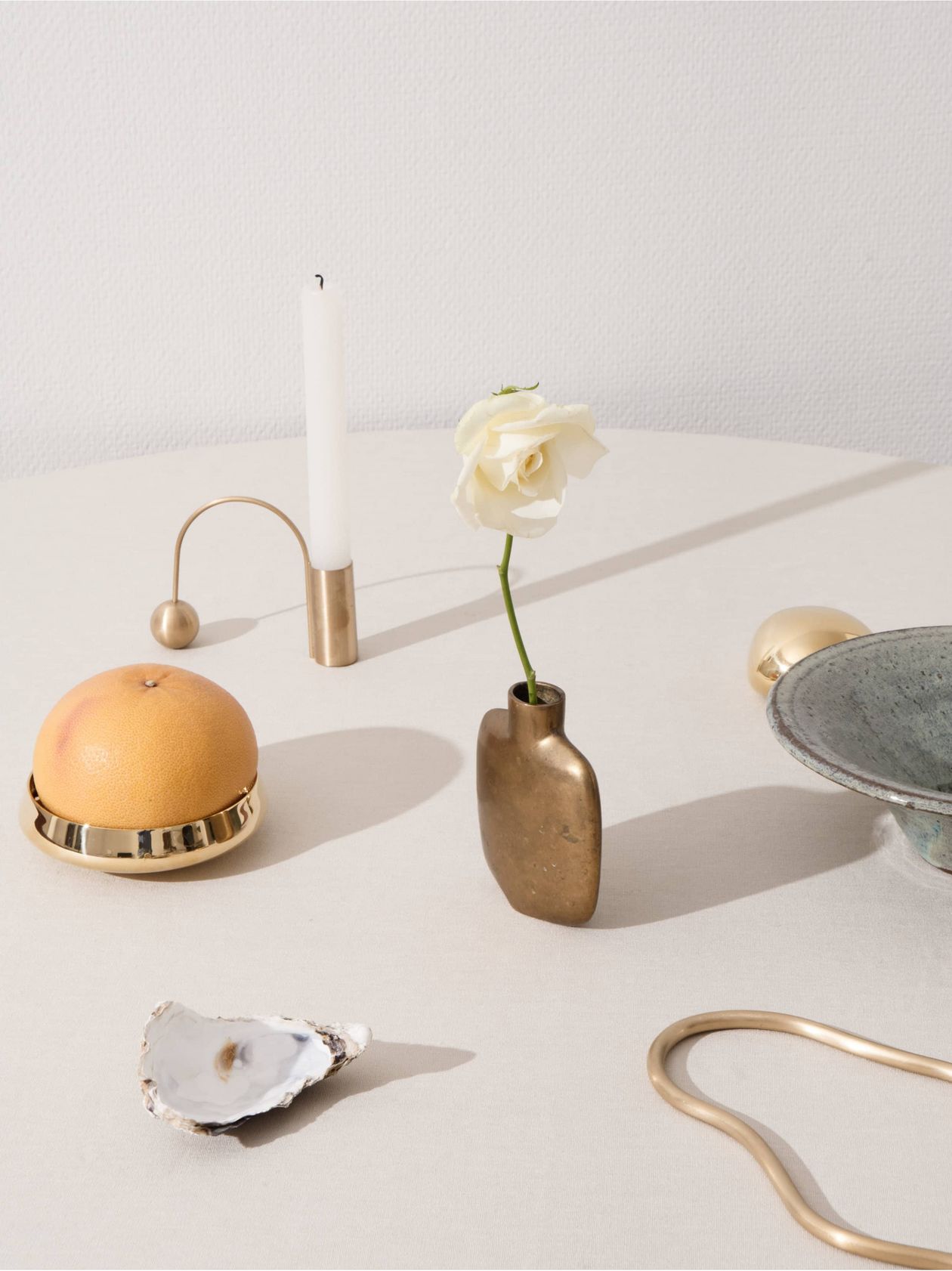 When you're about to clean a brass object, first, use a magnet to test whether the material is really brass: a magnet doesn't stick to pure brass. Brass-colored objects are often made of other metals and just coated with brass, which is why they may get white scratches due to wear and tear. If you have brass-coated objects, only clean them by wiping with a soft cloth.
"The decades-old brass vase is charming precisely because of its history, which I can imagine by only looking at its darkened surface."
The recommended cleaning method may also vary depending on the finish. For example, the surface of some brass lamps, such as Artek's A330S, is nowadays lacquered to keep the brass from darkening and gaining patina. For this reason, they shouldn't be cleaned with warm water and soap or a polish that damages the lacquered surface. If you have old or valuable brass objects, it's advisable to consult the manufacturer or a goldsmith, some of whom may also offer cleaning services. When buying a new brass object, you can ask the salesperson for cleaning and polishing instructions in case you want to, for example, put the item on sale someday.
That being said, all brass objects can usually be wiped clean of fingerprints, grease and dust with a soft cloth. The following instructions can be applied to objects made of pure, non-lacquered brass. If you're not sure about the material, it's better to ask the manufacturer for more information and always test the cleaning agent on a spot that's not visible.
---
How to clean brass candleholders:
Required for the maintenance:
Clean and soft cotton cloths, e.g., pieces of an old sheet
Thick protective gloves, e.g., old leather gloves
Brass polish, such as Autosol Metal Polish
(Cotton gloves)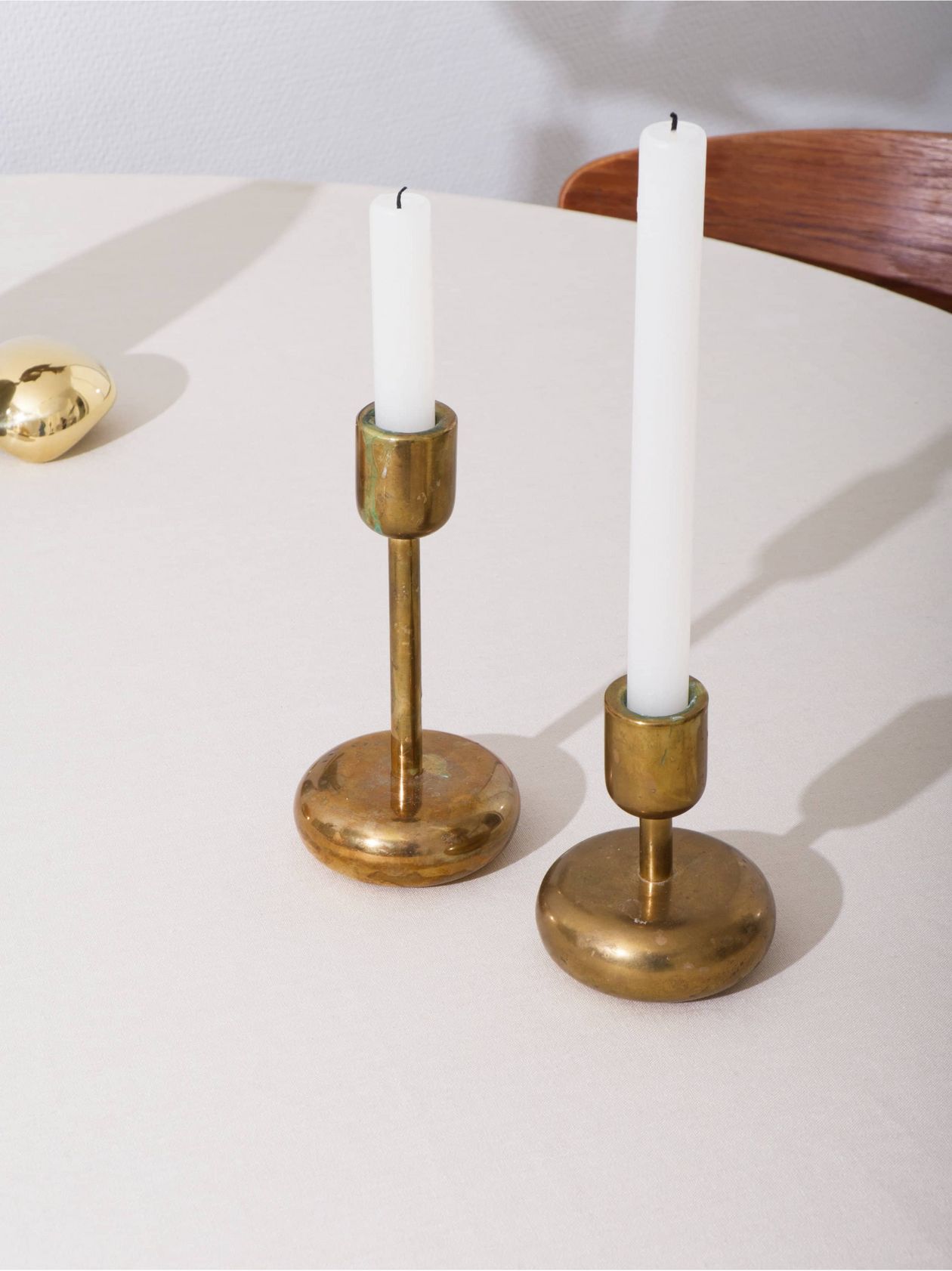 ---
Removing of stearin wax
You can get stearin wax off a candleholder by dipping it in boiling water. Metal naturally heats up during the process, so use gloves to protect your hands. I used old leather gloves for the purpose, as they offer a good grip. After dipping the candleholder in the water, immediately wipe the stearin wax off with a soft cotton cloth.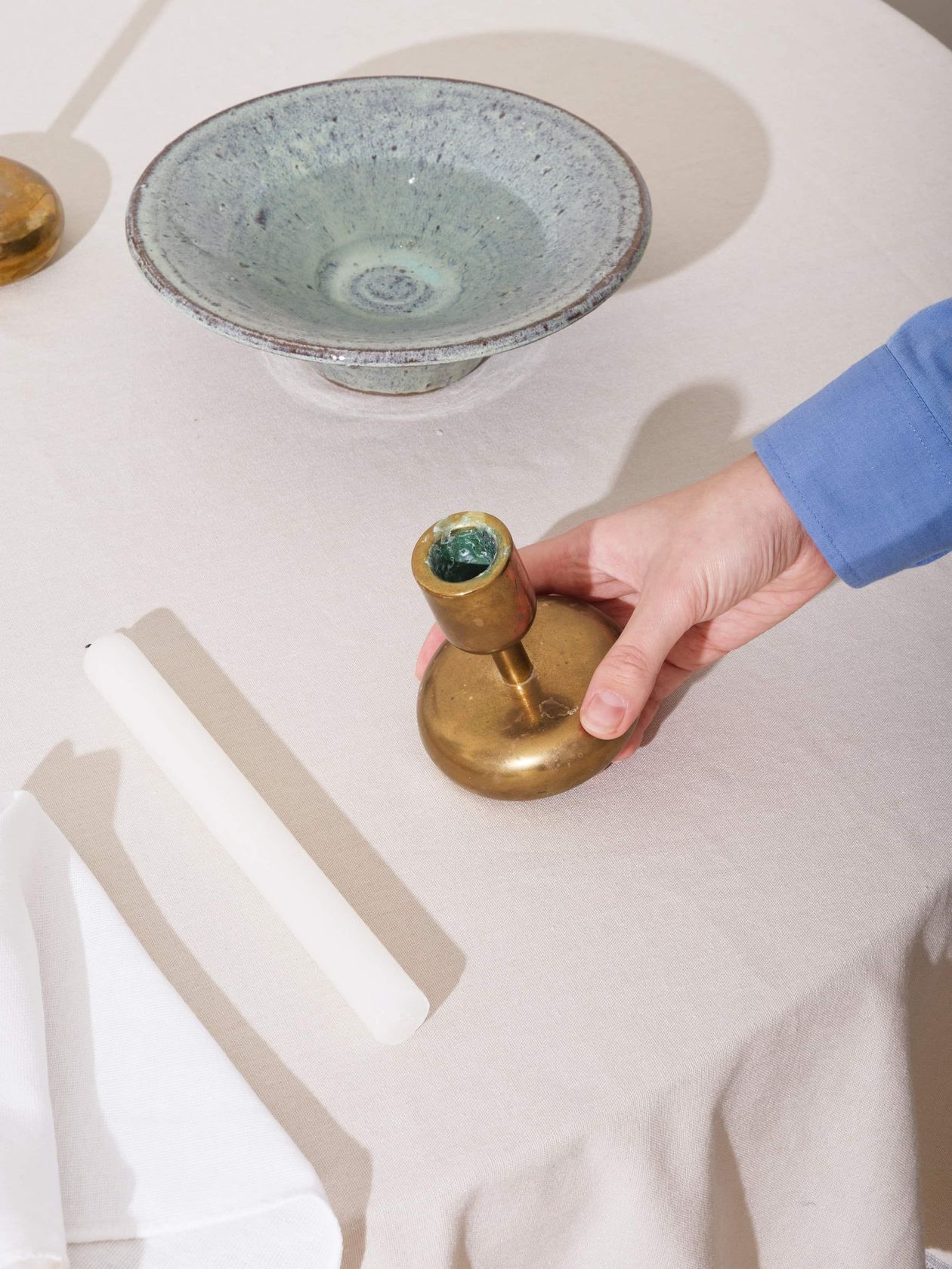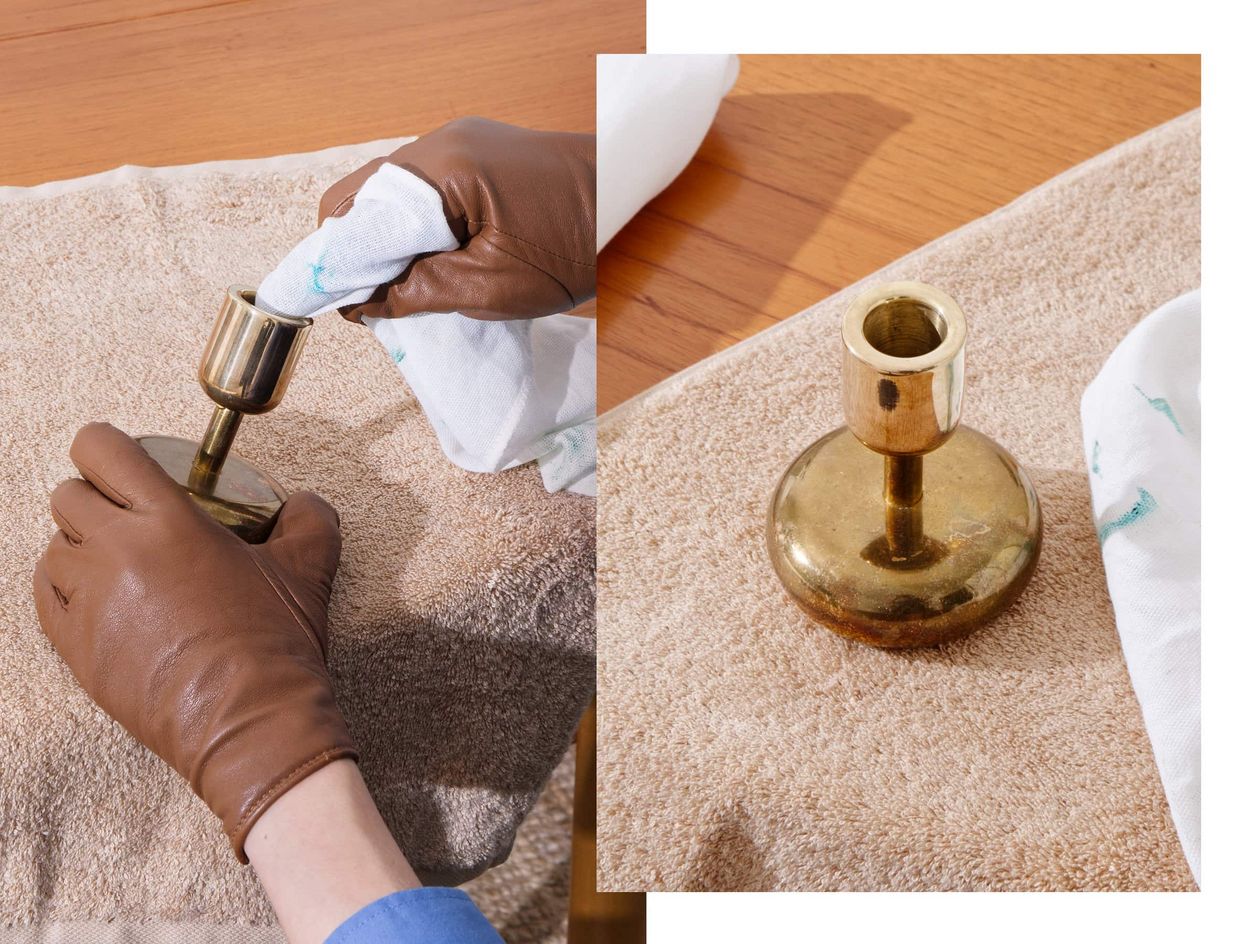 ---
Washing
Wash the candleholder with warm water containing a small amount of dishwashing liquid. Use a soft cotton cloth or natural sponge that doesn't scratch the surface. Rinse the candleholder with warm water and dry it thoroughly with a cotton cloth or lint-free towel to prevent rusting.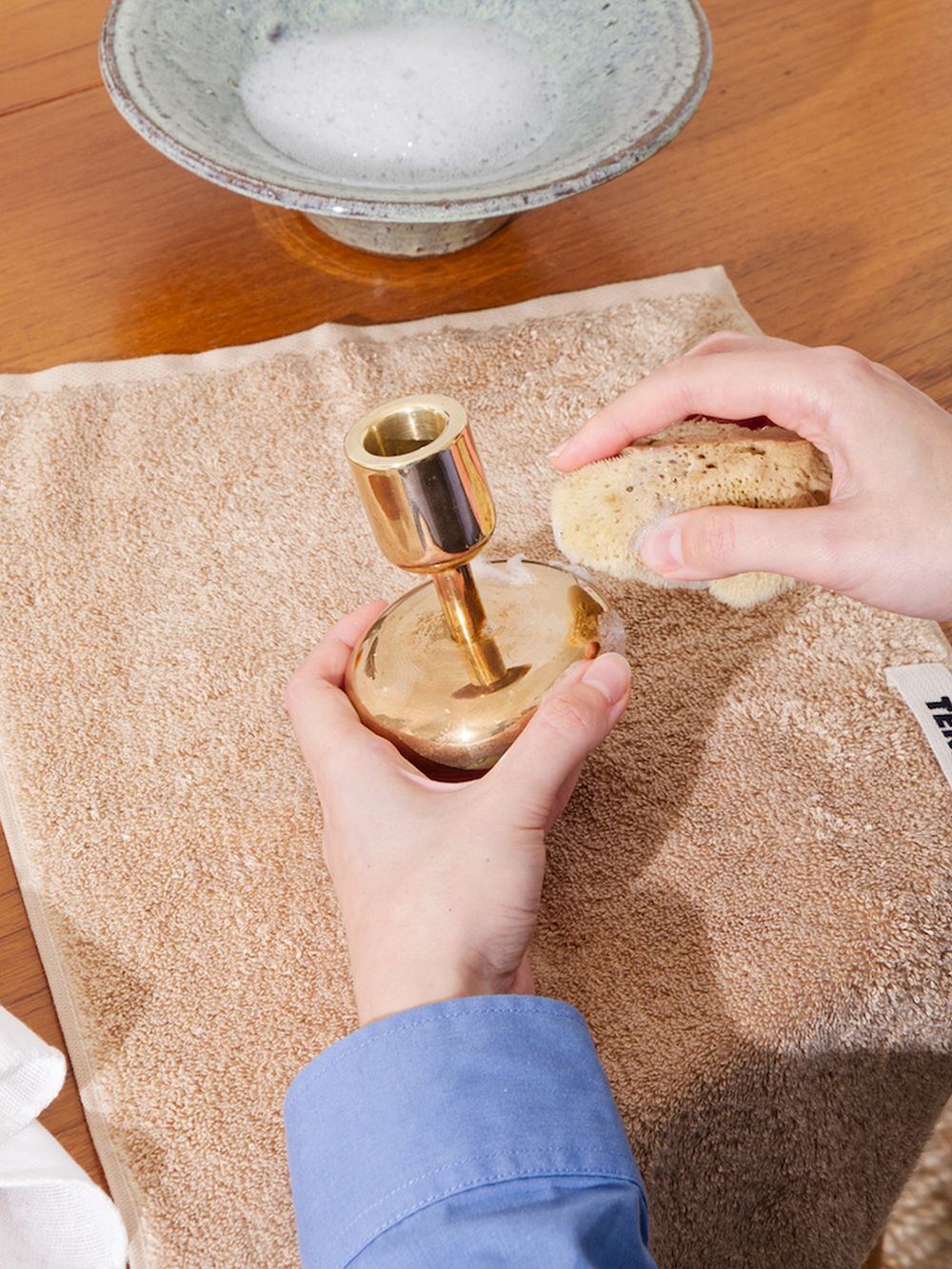 ---
Polishing
Finally, polish the candleholder using a polish suitable for brass, such as Autosol Metal Polish. It's advisable to test the polish on a spot that's not visible. At this point, it's important to know whether the object is made of brass or coated with brass, since the polish may rub the coating off.
Add a small amount of the polish on a dry, clean cotton cloth and apply it on the candleholder. If you wish, you can use soft cotton gloves to keep your hands from getting dirty. Leave the polish on for a moment and wipe the candleholder with a clean cotton cloth, polishing its surface at the same time.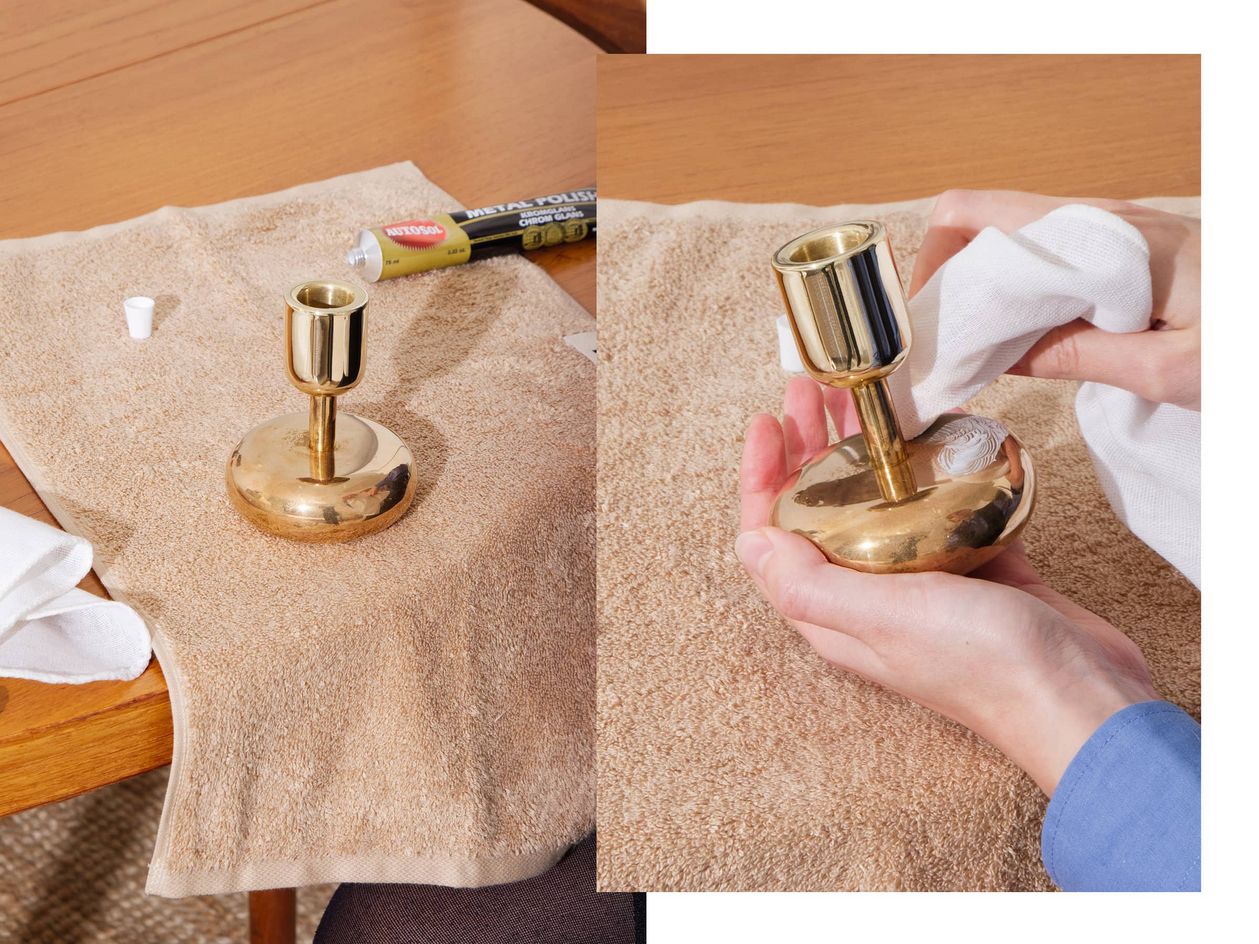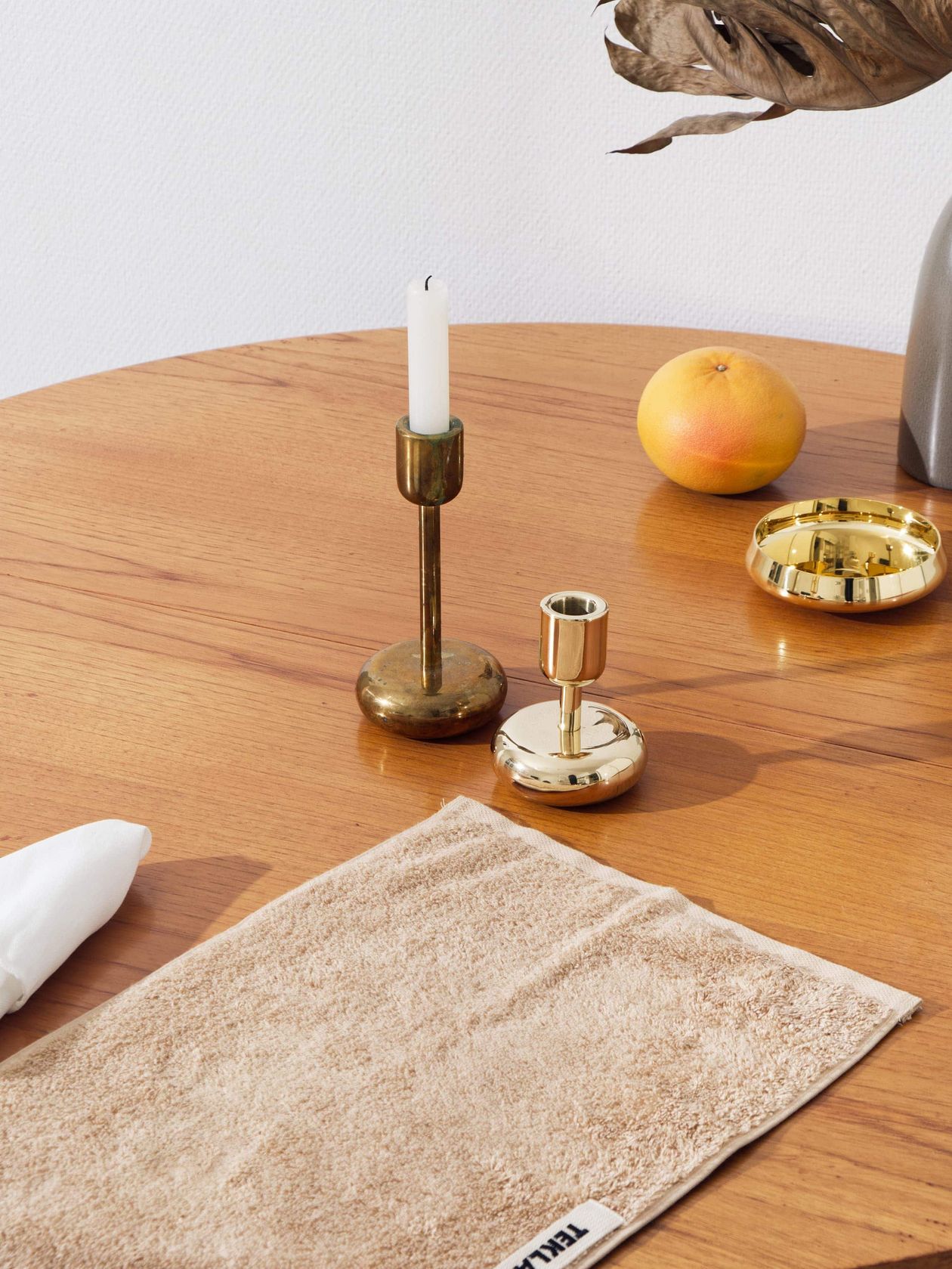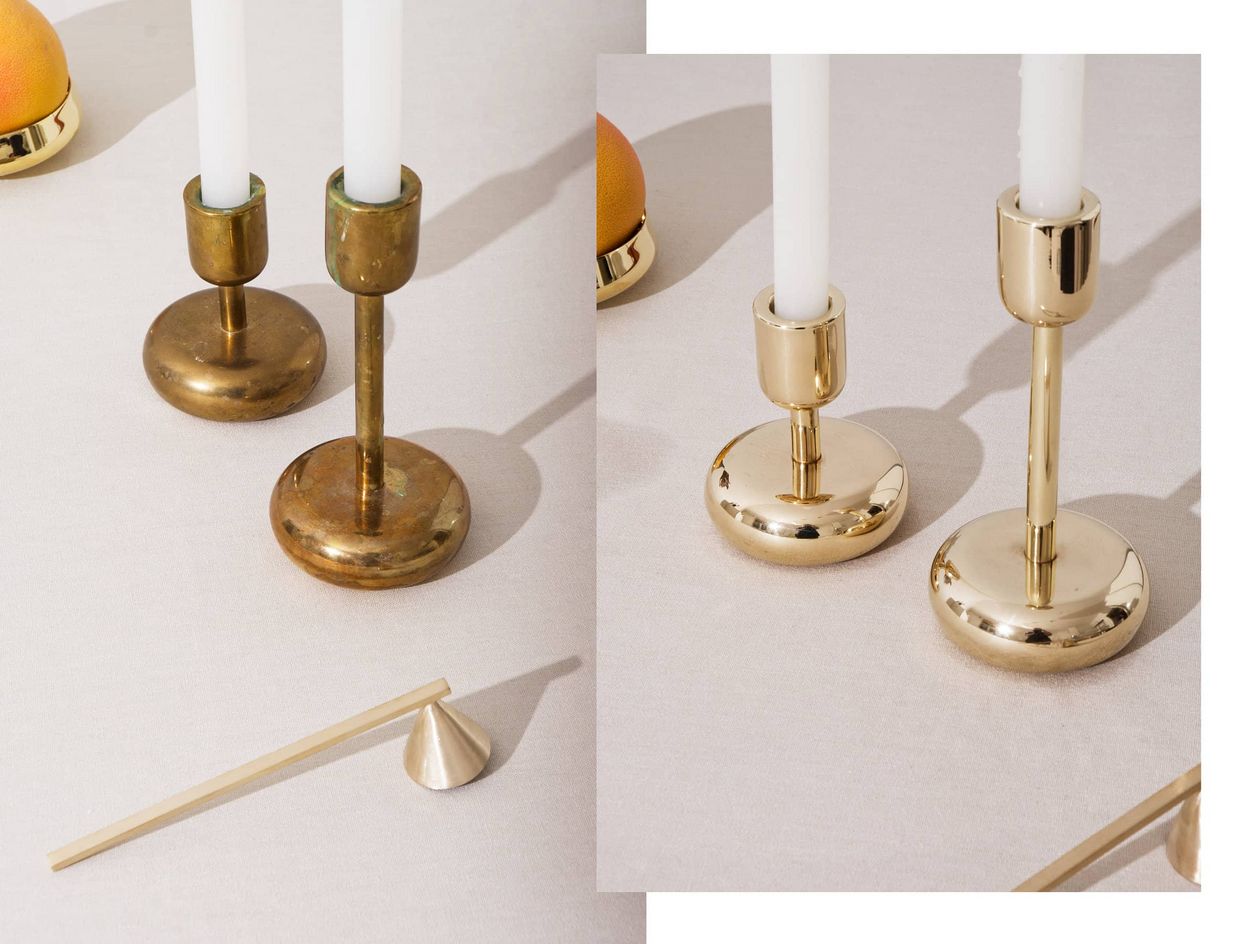 ---
+ Combine freely
I like creating more festive arrangements and table settings in the same, tried and tested way. I gather a few selected decorative items and pieces of tableware and try to combine them in a new way. I'm not that into actual seasonal ornaments, but several polished brass objects glisten in the candlelight almost like a light string.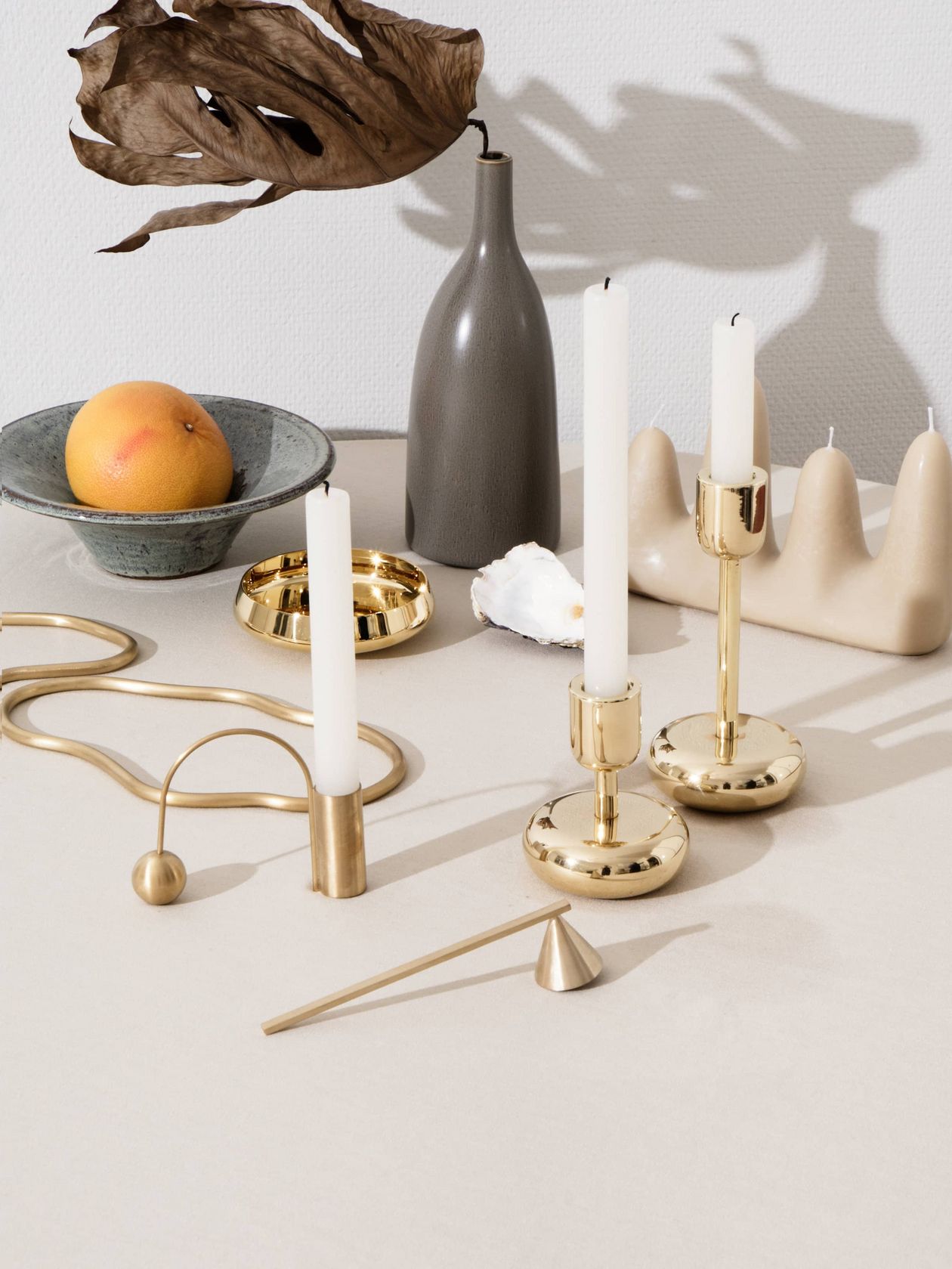 Brass looks equally good when polished or patinated over time and use. Different textures and degrees of wear and tear give objects character and make them look more interesting, which is why you can think of brass maintenance as something you can do if you want.
---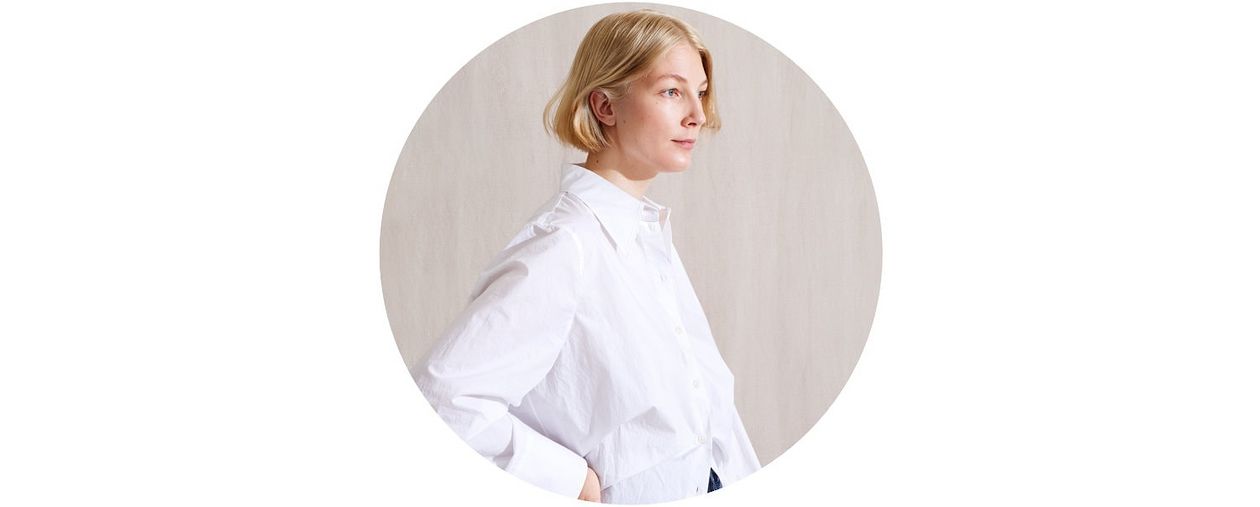 Clothing and textile care expert, photographer and writer Jenna Kiuru takes delight in items that are an inspired blend of great design, quality materials and functionality. For her own home and wardrobe, Jenna favors items that have been well cared for by another owner in a previous life, and kept in good condition by brushing, steaming, polishing or mending.
---
See also:
• Pre-owned Nappula candleholders at Franckly >
• All candleholders at Finnish Design Shop >
Text: Jenna Kiuru Images: Jenna Kiuru and Tuomas Pajuniemi