Clothes, accessories, and other essential items find their place on handy coat racks, hangers, and hooks, which at their best work as beautiful interior elements even as such. We put together seven charming solutions to keep your home organized!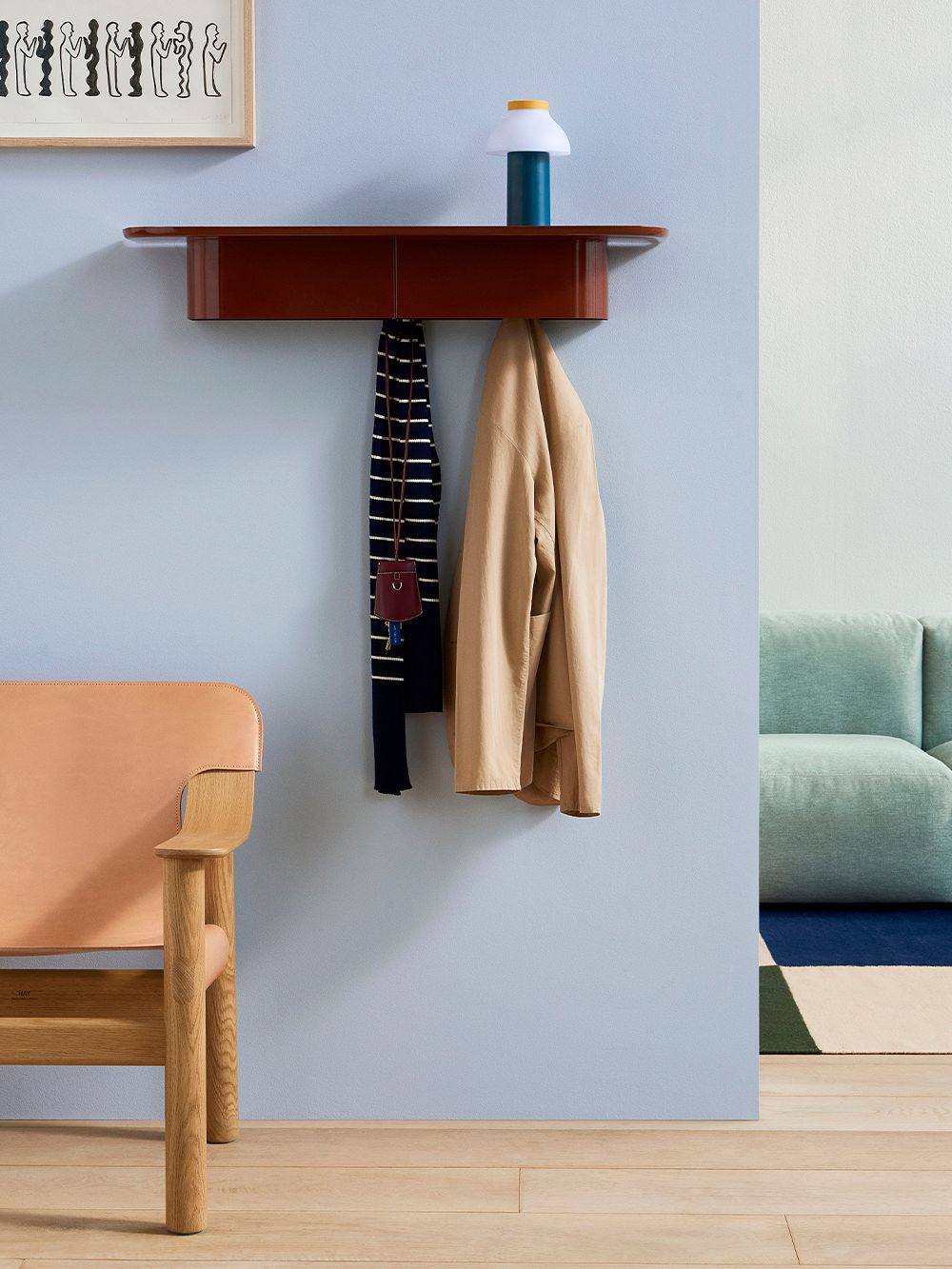 1. HAY: Korpus shelf
Created by Andreas Bergsaker, HAY's Korpus wall shelf is a cheerfully multi-purpose storage unit that delights in several different sizes and shades. The curved design of Korpus fits wherever you need both shelf space and hanging possibilities: the shelf made of durable and light aluminum has seven hidden hooks for hanging anything from clothes and towels to accessories. You can also build a playful, more impressive ensemble from multiple shelves.
• Korpus shelf by HAY >
• All wall shelves >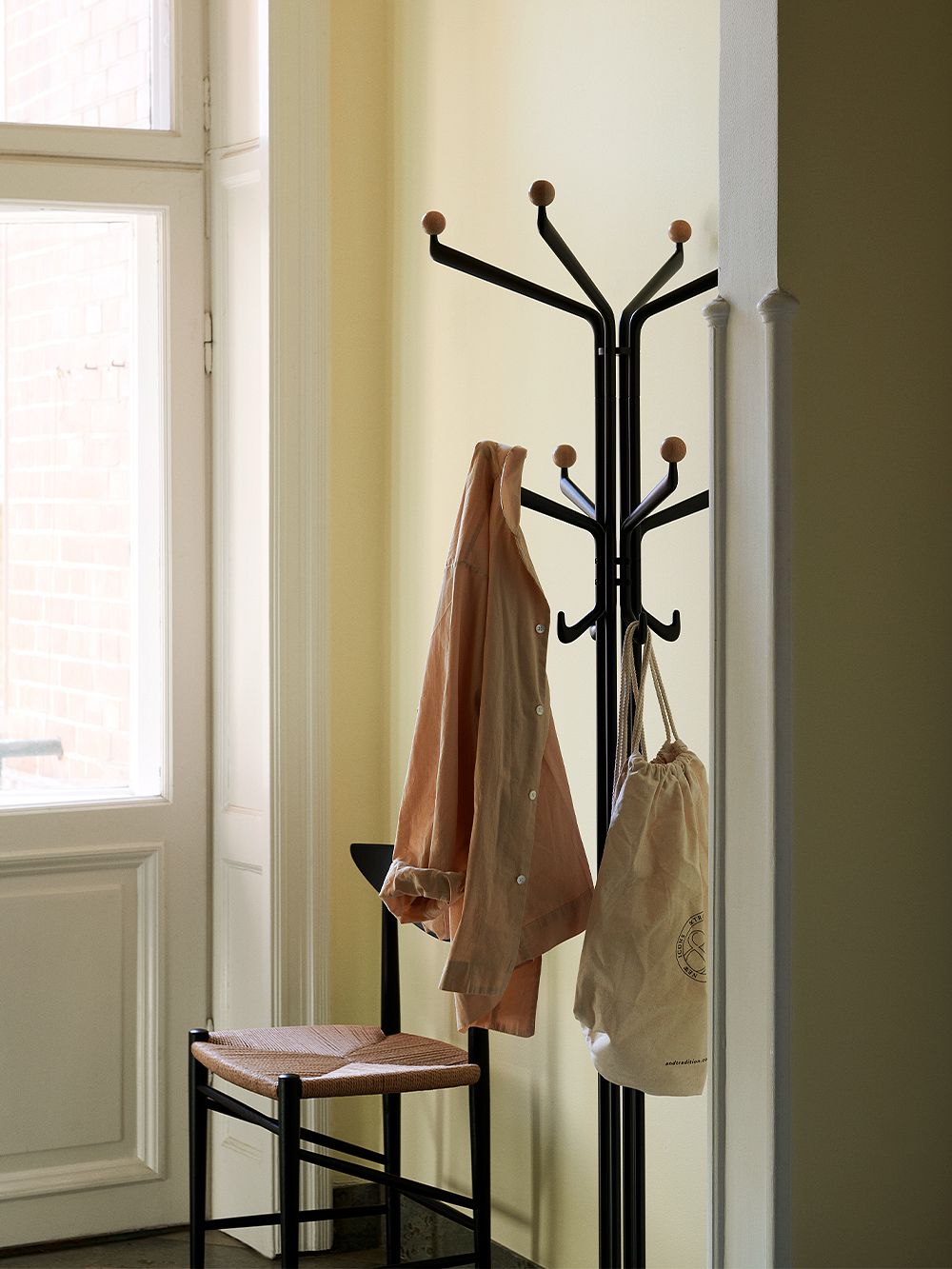 2. &Tradition: Capture SC77 coat stand
&Tradition's Capture SC77 coat stand, designed by Space Copenhagen, is a modern version of a classic freestanding coat rack. The metal parts of the Capture stand are made of durable powder-coated aluminum and the round knobs are crafted from solid wood. The timeless and clean-lined coat rack is suitable for even a small space, such as a hallway or a corner of a bedroom, and serves also conveniently in public spaces.
• Capture SC77 coat stand by &Tradition >
• All coat stands >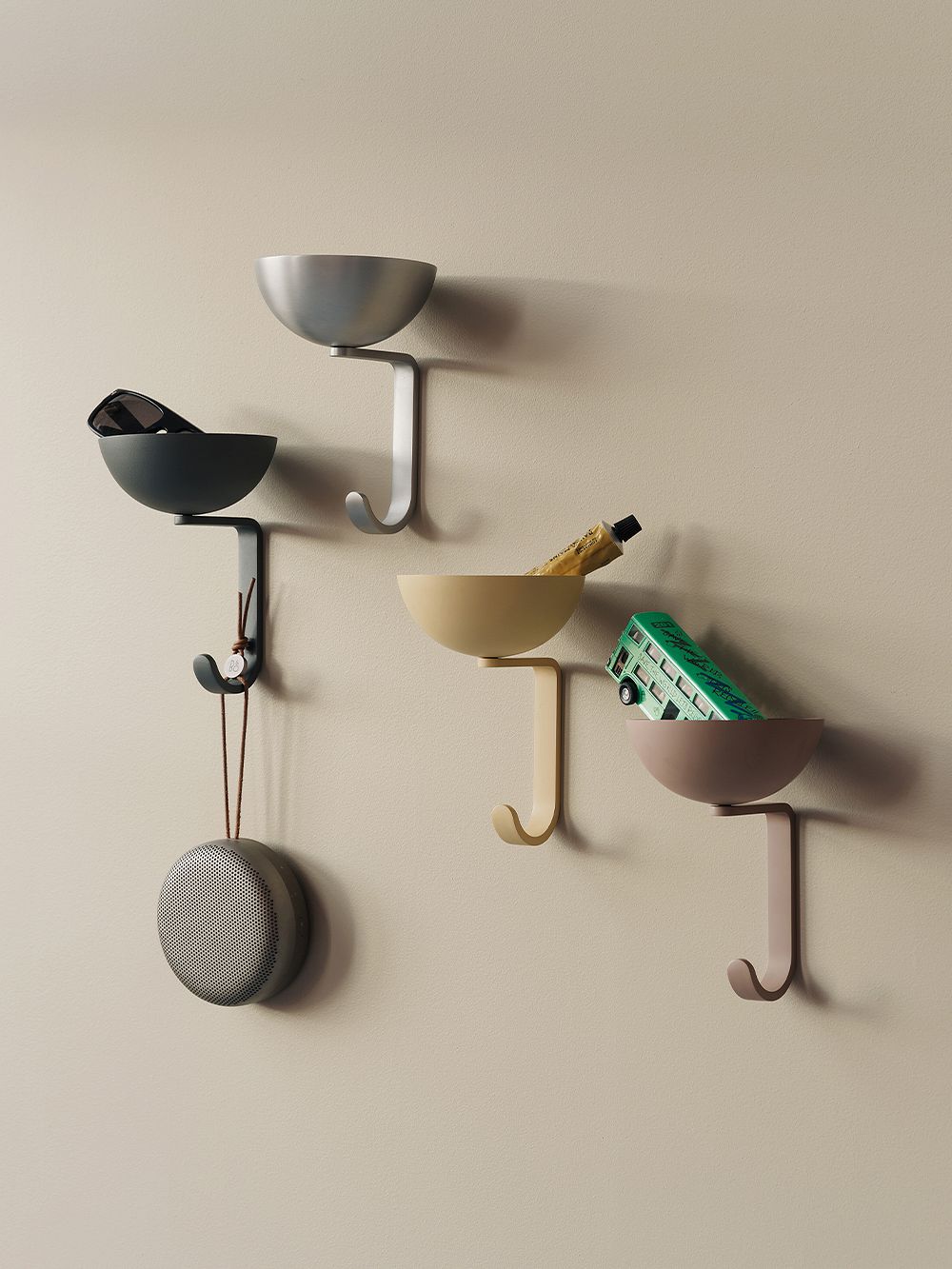 3. Northern: Nest wall hook
If just a hanging place is not enough, the Nest wall hook from the Norwegian brand Northern offers a little extra: it is a combination of a coat hook and a storage box. Made of steel, the Nest consists of a tiny bowl for your keys, coins, and small items, and a strong hook on which to hang a jacket or bag. The designer Stine Aas got the inspiration for the storage space from bird's nests: just as birds collect twigs for their nests, people's pockets are full of small essentials.
• Nest wall hook by Northern >
• All wall hooks >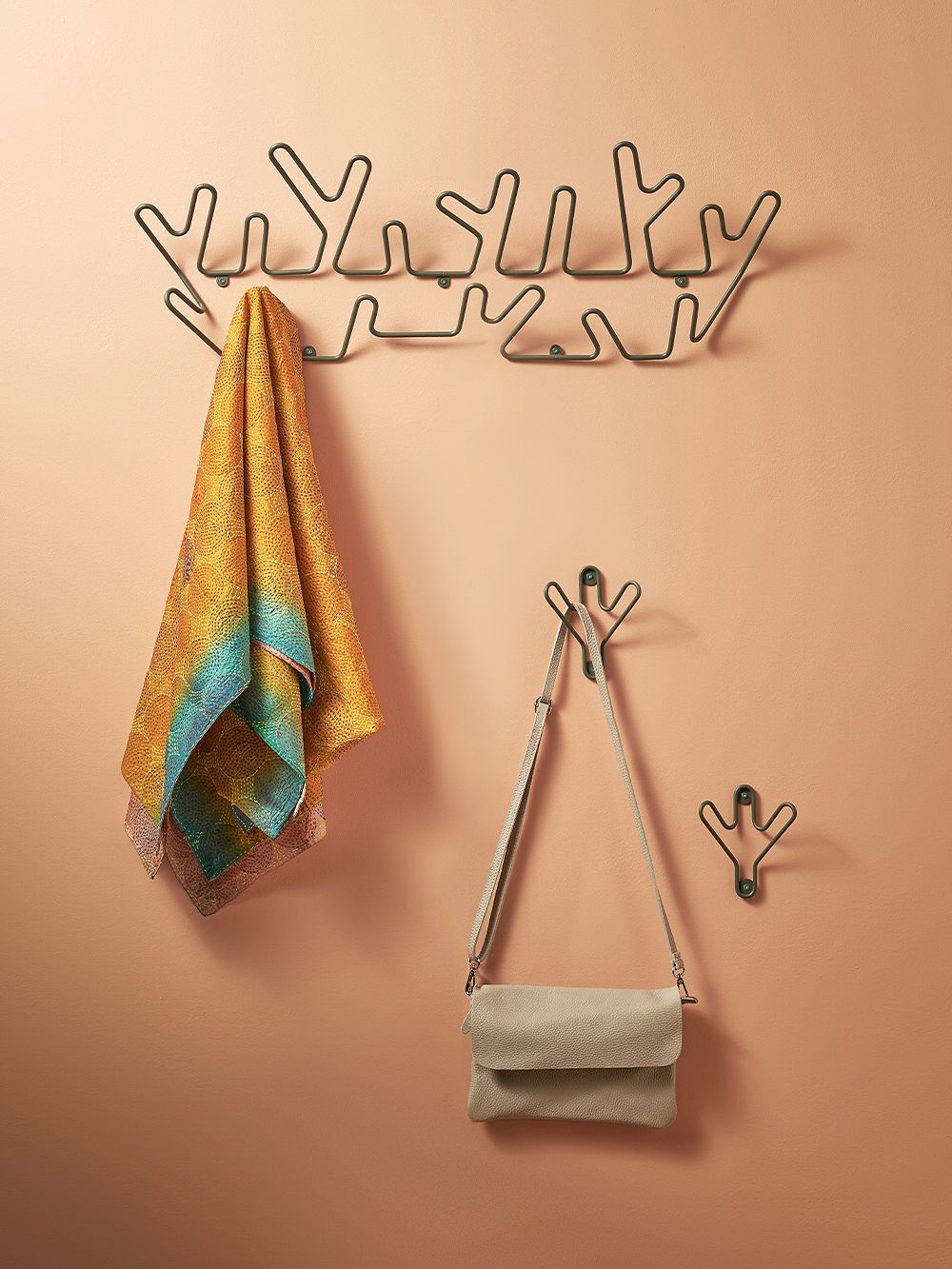 4. Maze: Crown wall hanger
The cheerful Crown coat rack is inspired by the mysterious forests of Småland, Sweden – and it's also made there! The wall rack designed by Louise Hederström is made of 100% recycled metal and is suitable for the hallway, bathroom as well as children's room. The Crown stands out on the wall both alone and in combination with other wall hooks from the same series – you can create an entire forest landscape with the help of these charming hangers!
• Crown wall hanger by Maze >
• All wall coat racks >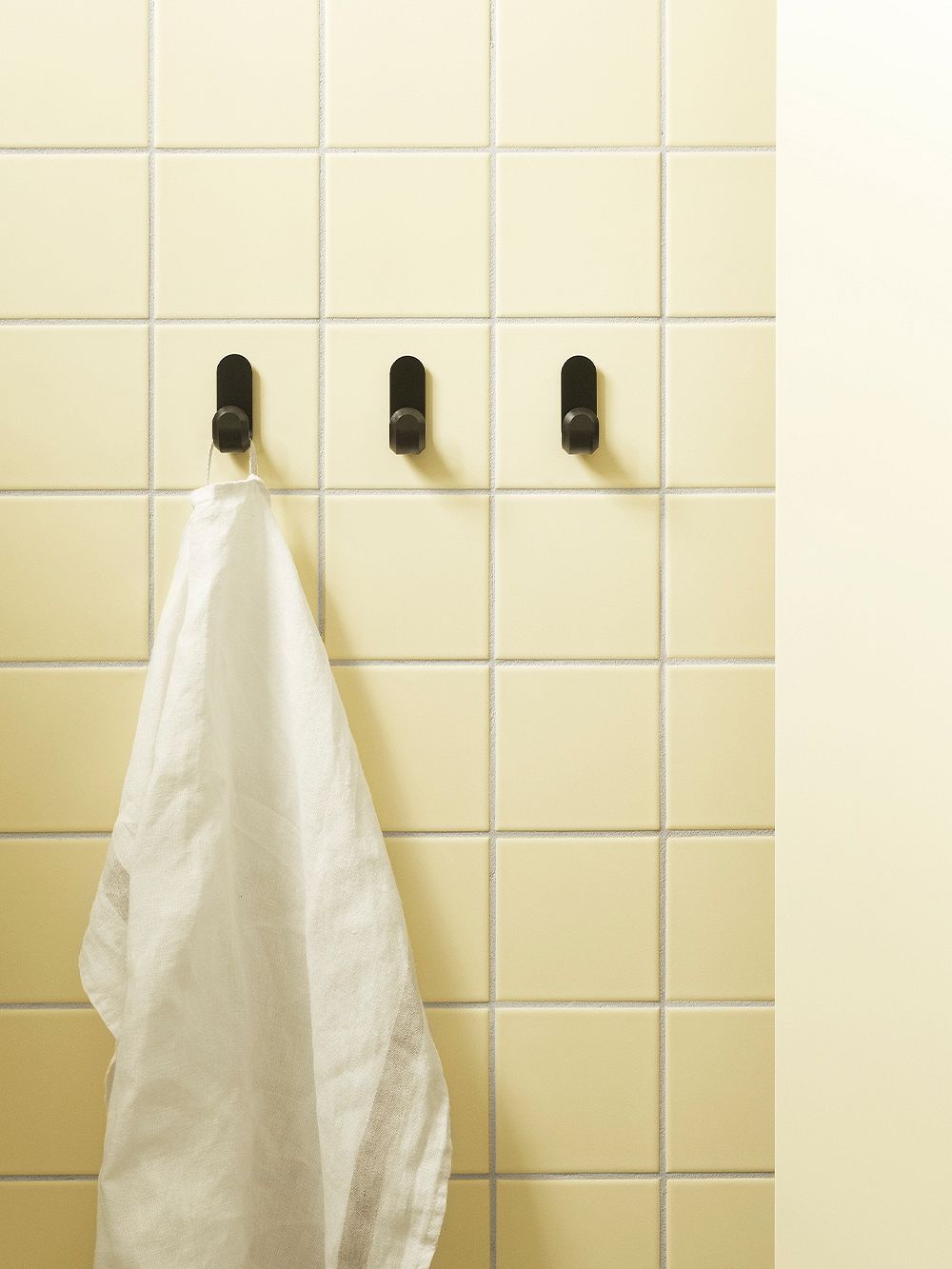 5. Normann Copenhagen: Curve mini hooks
Normann Copenhagen's simply elegant and curved mini-sized Curve hooks help keep the everyday items nearby. The soft-lined Curve hooks of different colors and sizes can be combined as you like, but they also look beautiful decorating the wall individually. The hook serves as a small storage helper for kitchen utensils, bathroom towels, or of course, jackets.
• Curve mini hooks by Normann Copenhagen >
• All wall hooks >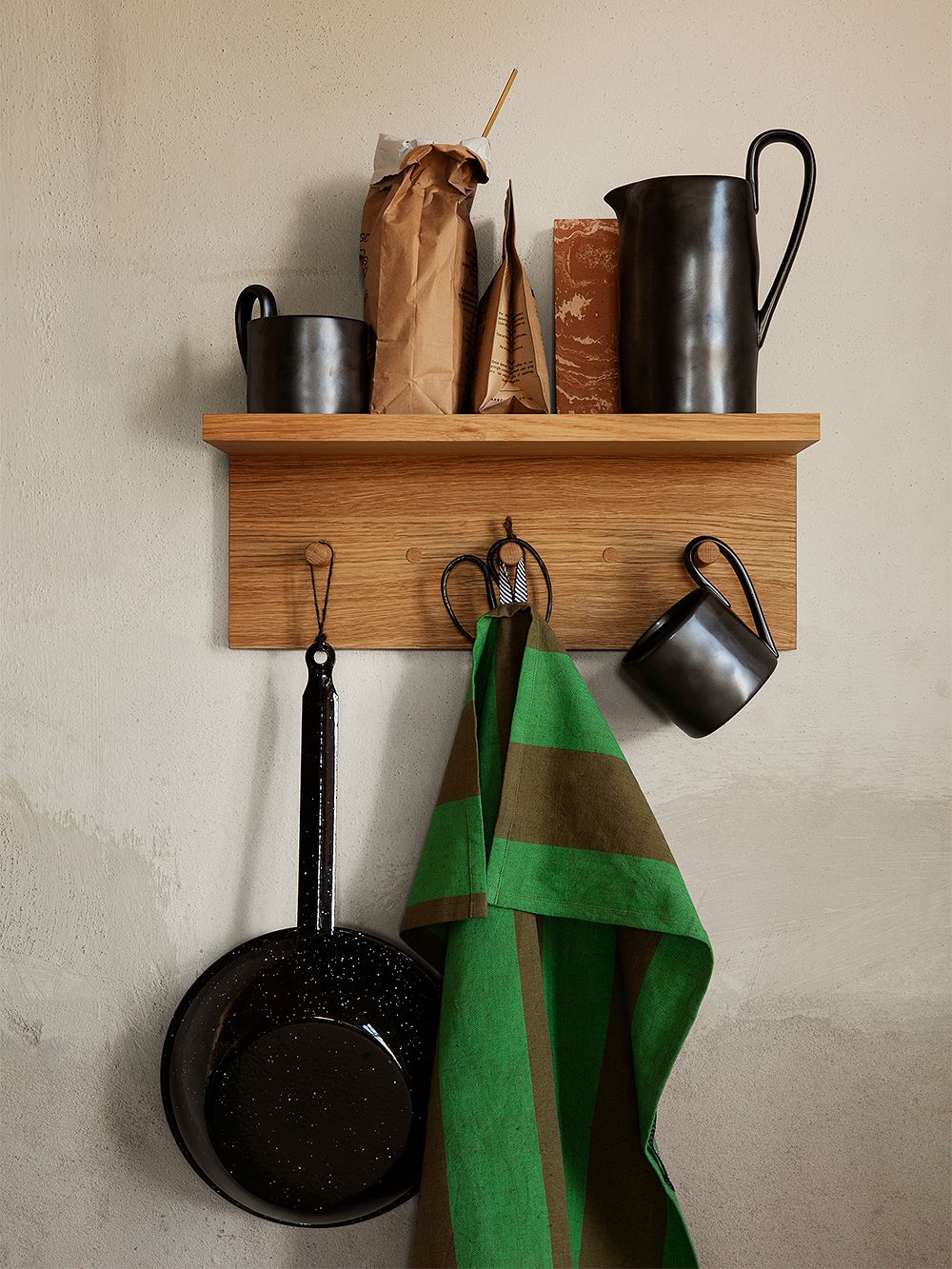 6. Ferm LIVING: Place rack
Versatile and practical storage furniture does not have to take up a lot of space. Ferm LIVING's beautiful wall-mounted Place rack is suitable for all rooms and solves several storage problems in one go: in addition to beautiful oak hooks, the coat rack also has a shelf level where you can find space for both hats and your favorite mugs. What's more, the natural shades of wood bring a dose of gentle warmth to the interior.
• Place rack by ferm LIVING >
• All wall coat racks >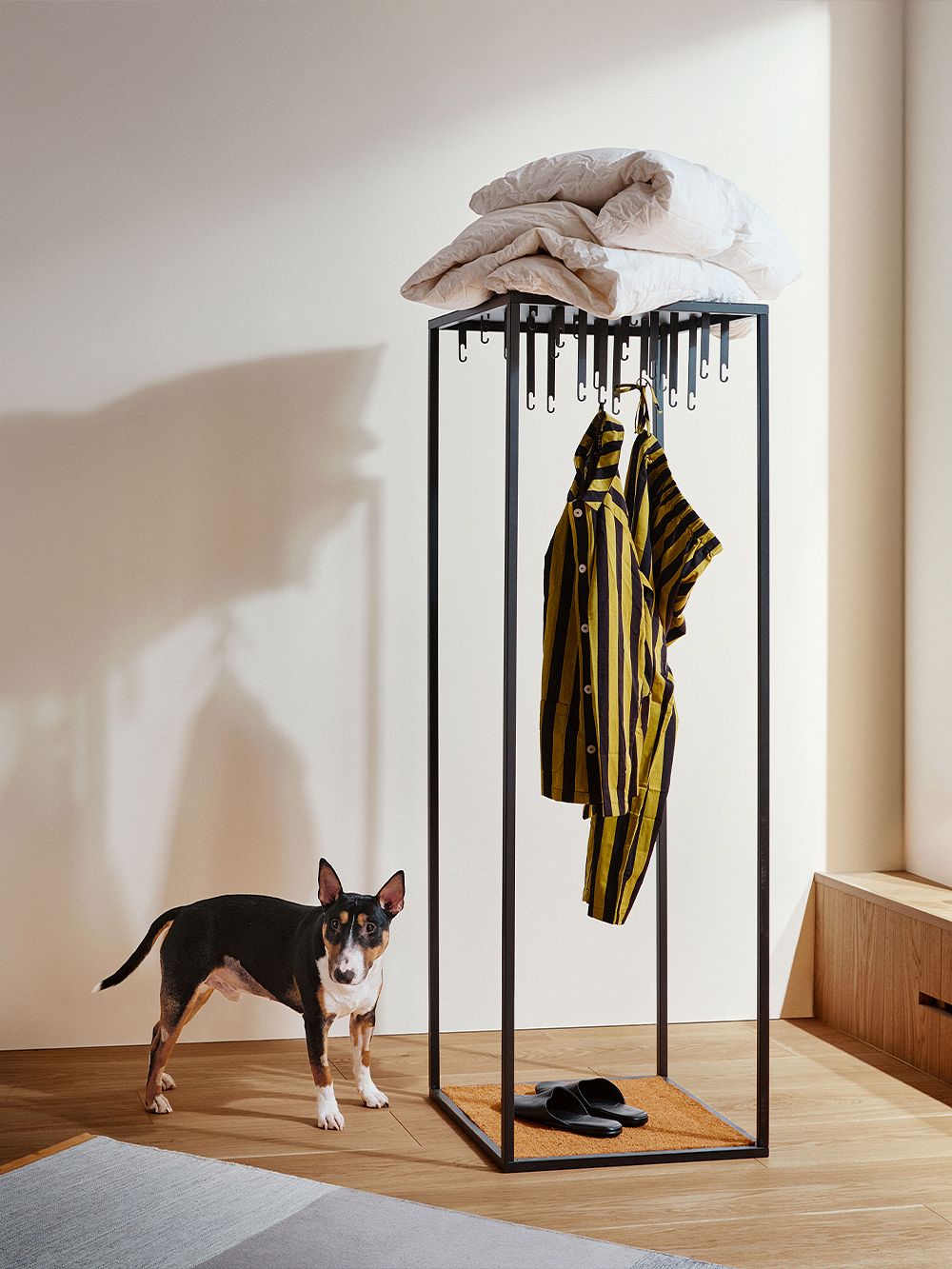 7. Design House Stockholm: Atelier floor hanger
If a traditional coat rack does not suit your style, the Atelier floor hanger by Design House Stockholm presents designer Alexander Lervik's vision of a modern way to store and display clothes. The eye-catching Atelier fits perfectly in the hallway for coats, accessories, and shoes, but also provides a versatile alternative to a traditional closed wardrobe. Featuring a minimalistic yet graphic design, the Atelier floor hanger transforms your favorite clothes into artwork and makes them stand out.
• Atelier floor hanger by Design House Stockholm >
• All coat stands >
See also:
• All coat racks & hangers >
• What's new at Finnish Design Shop >
Text: Sarianna Määttänen Images: Manufacturers