Creating an upbeat Christmas spirit is easier than you think. Favor products that you want to display all year round, and enjoy colors suitable for all seasons.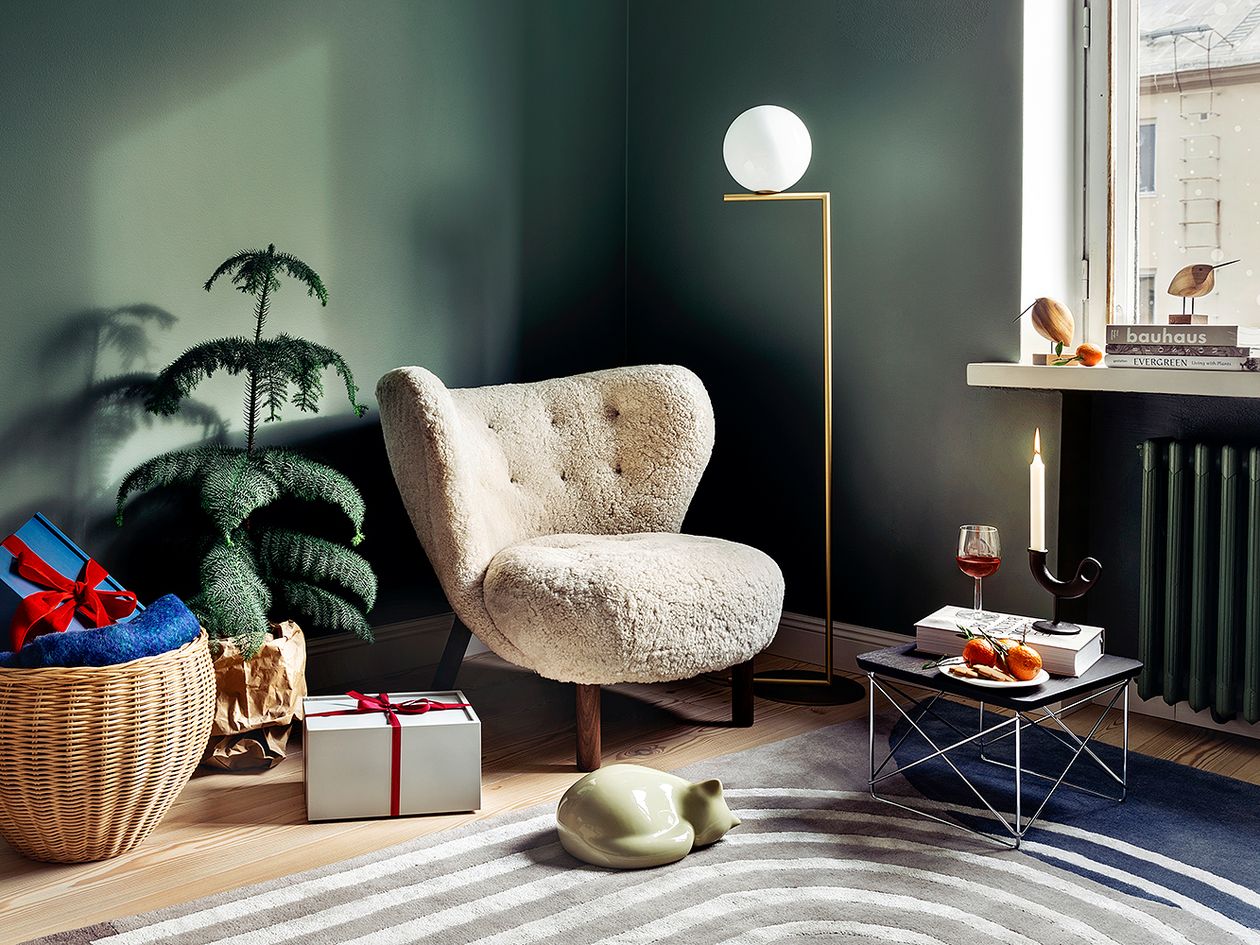 Slow down and enjoy the moment
Christmas is about slow pleasures: reading books, listening to music, and enjoying sweet and savory treats. What better place for this than a small, cozy nook where your favourite chair and lamp await you. Upholstered in soft sheepskin, the Little Petra lounge chair, which oozes warmth and nostalgia, was designed by architect Viggo Boesen in 1938. In style, it is the perfect fit with the elegant IC F1 floor lamp designed by Michael Anastassiades for Flos.
• &Tradition's Little Petra lounge chair >
Put your trust in flowers
Can a home be beautiful without cut flowers? If lavish decorations are not your thing, and you want to avoid clutter at home, be sure to display flowers. Investing in a rich assortment of blooms will add to the festive feel. Why not opt for a more surprising or impressive setting with Artek's organically undulating Riihitie plant pot. For atmosphere, try the reissued AMA 500 pendant by Aino Aalto, which she designed in 1941 for Villa Mairea, the home of Maire and Harry Gullichsen.
• Artek's AMA 500 pendant light >
Investing in a rich assortment of blooms will add to the festive feel.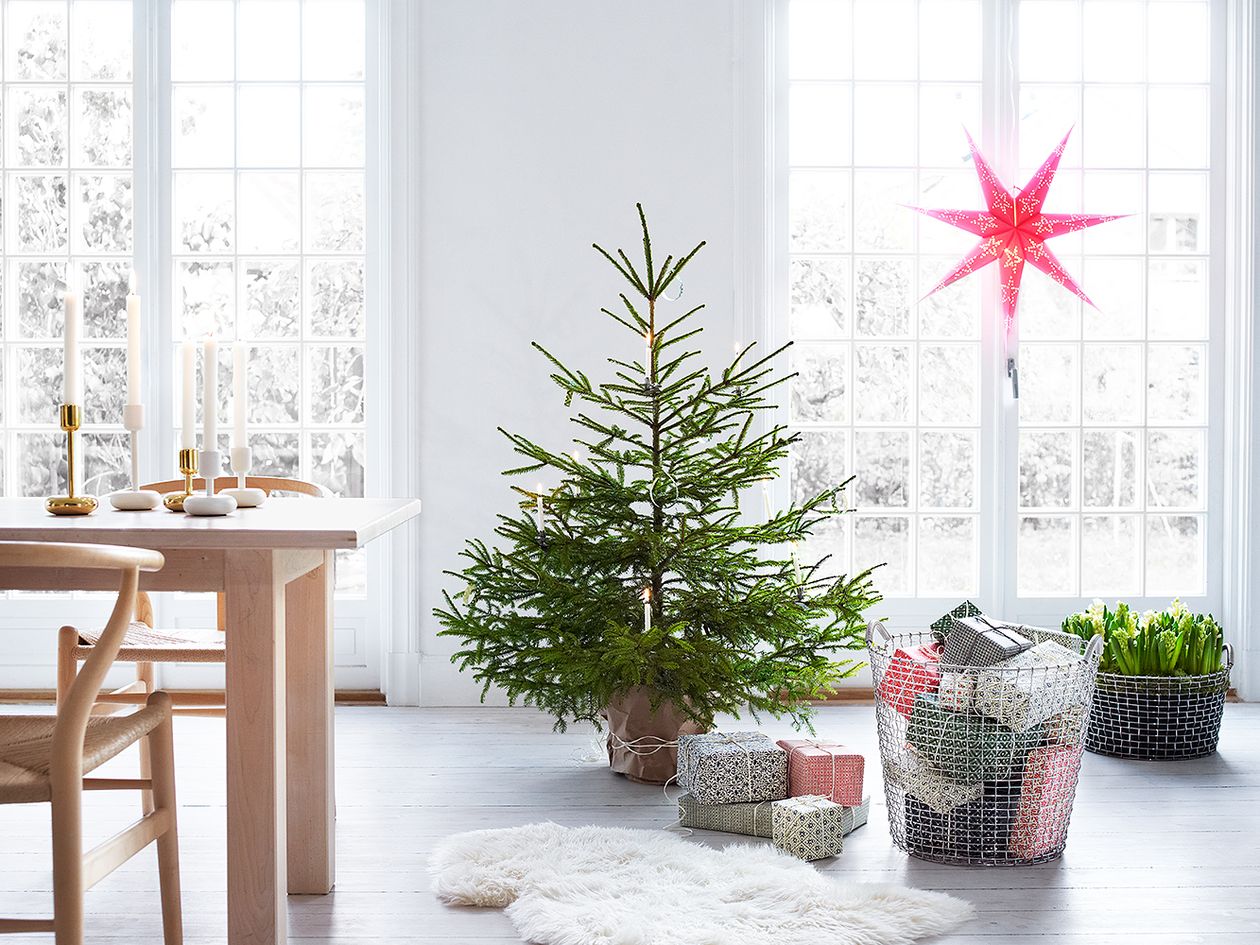 Multipurpose baskets
The freshness of white snow, a natural Christmas tree and beautifully wrapped gifts are traditional elements of the Scandinavian Christmas season. These can be secretly placed under the tree in baskets, which can be used anywhere in the home, for any purpose, at any time of year. The Swedish Korbo has been using the same technique to make baskets since 1922: they are hand-woven from a long, single strand of metal wire without welding. Having no loose, detachable parts makes the Classic wire baskets highly durable.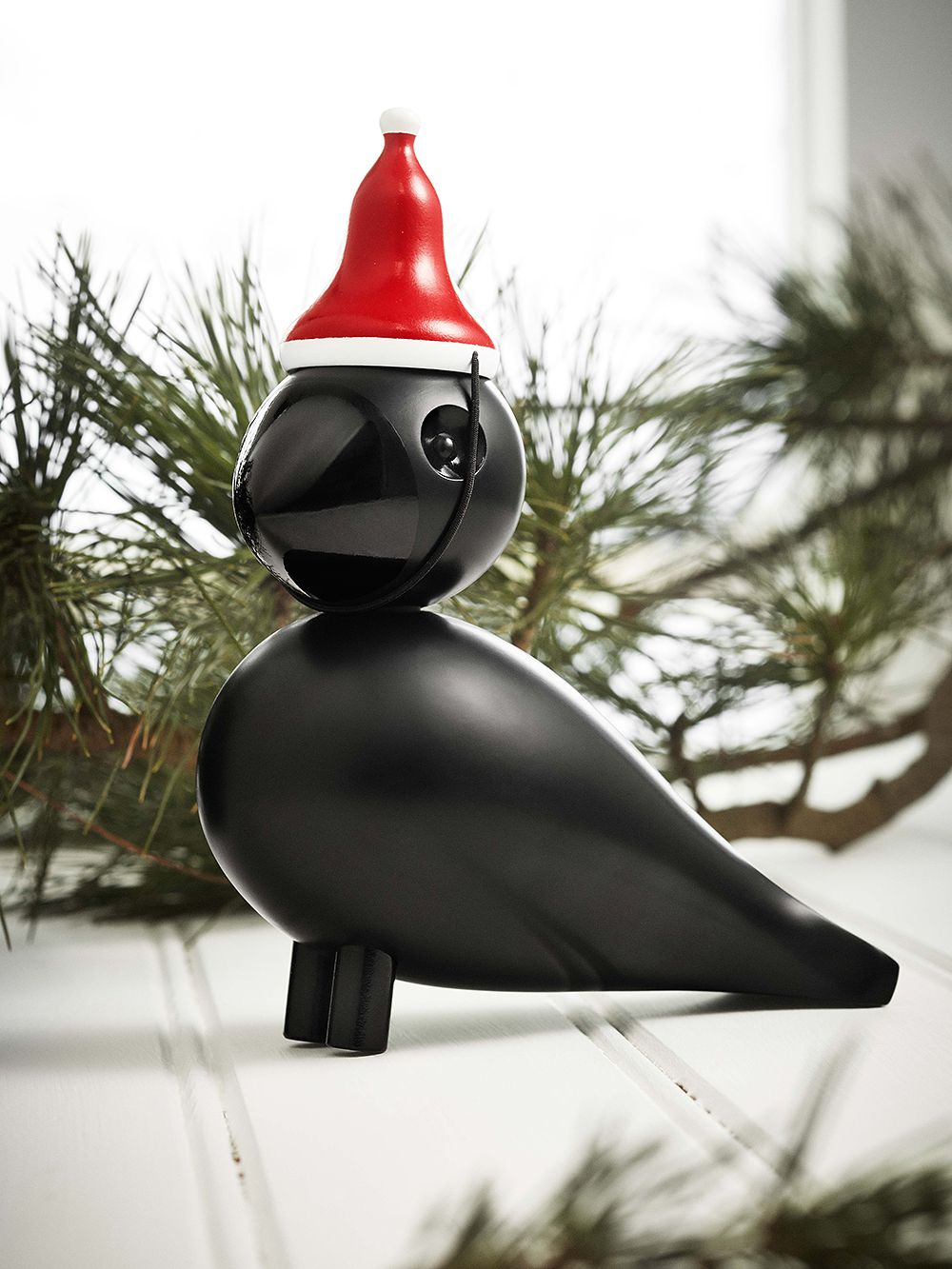 Dig out the decorations
Tiny mice, owls, sheep and other cute Christmas creatures appear by magic in many homes at Christmas. Year-round cuties, such as Kay Bojesen's charming Songbirds, can also be part of the festivities. This is easier than you think, because wooden Santa's caps are available for Bojesen's animal figurines. Three centimeters high, the headgear is made of painted beech and kept in place by an elasticated chinstrap. After Christmas, the cap can be removed until next season.
• Kay Bojesen's Songbird Raven >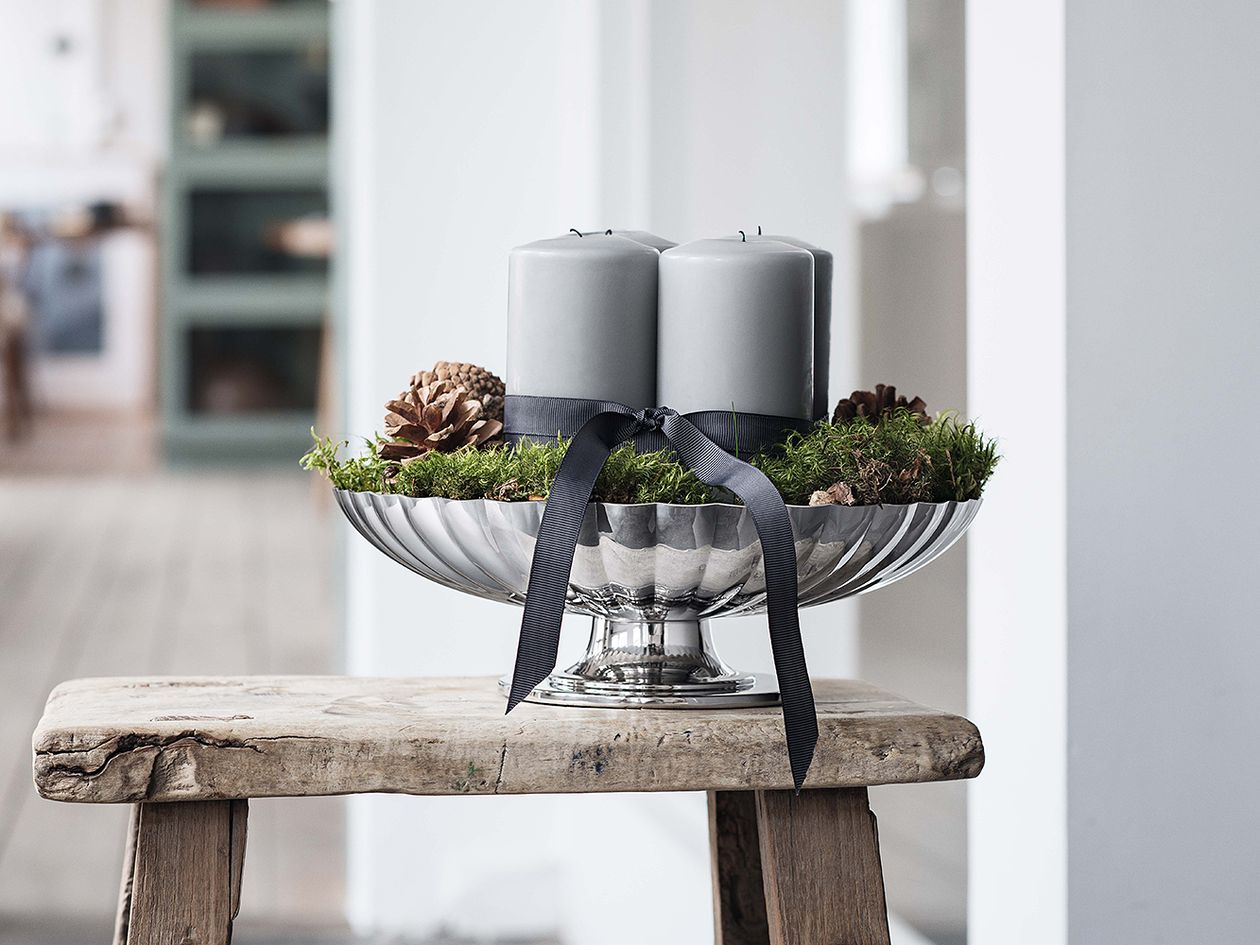 Create a Christmas centrepiece
A glass bowl with a stem, a ceramic soup bowl and an old copper bowl are the perfect base for a Christmas centerpiece. Another idea is the classic Bernadotte dish by Georg Jensen, which is decorative in itself, but can be turned into a centerpiece with moss, sprigs, pinecones, and candles tied with silk ribbon. Remember fire safety when burning candles! In addition to centerpieces, the bowl is perfect as a serving dish and a subject of conversation at the dining table.
• Georg Jensen's Bernadotte dish on stand >
The classic Bernadotte dish can be turned into a Christmas centerpiece with moss, sprigs, pinecones and candles tied with silk ribbon.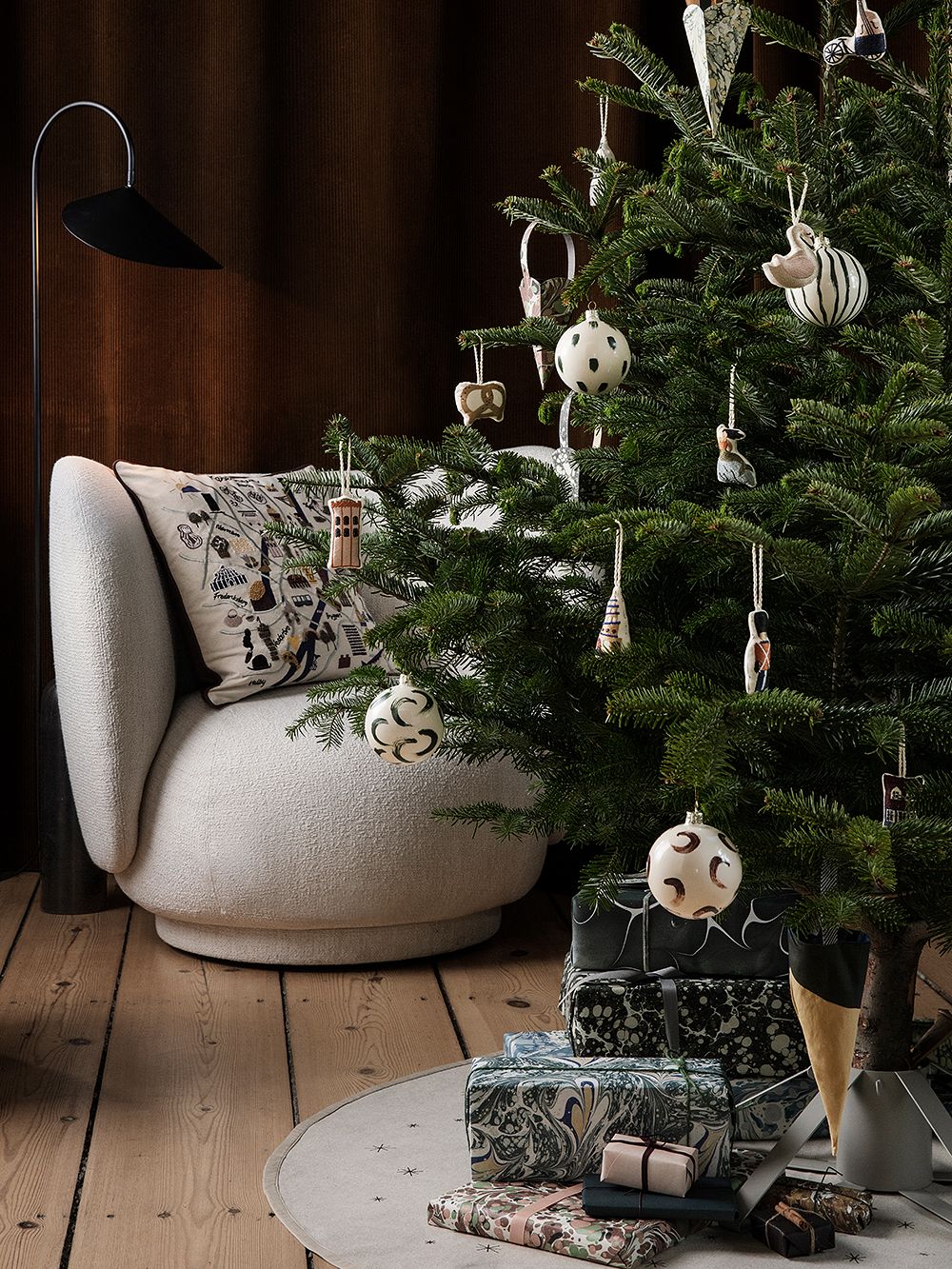 A timeless color palette
Craftsmanship and gentle, earthy colors add a particularly delicate and genuine touch, which doesn't seem hastily assembled. Ferm Living's seasonal collection includes Christmas tree decorations made of organic cotton, ranging from embroidered human figures to buildings, as well as hand-painted glass baubles. For your nearest and dearest and yourself, you can conceal small surprise gifts in cones made of marbled paper.
• Ferm Living's Christmas ornaments >
See also:
• All Christmas decor >
• All Christmas ornaments >
Text: Kari-Otso Nevaluoma (Avotakka) Photos: Manufacturers