Have you heard the buzz about blue? Many intense colors were on display at Stockholm Furniture Fair, but only one hue truly stole the show: bright electric blue. Capture the sparkling shades of blue and give your home a fresh, vibrant new look!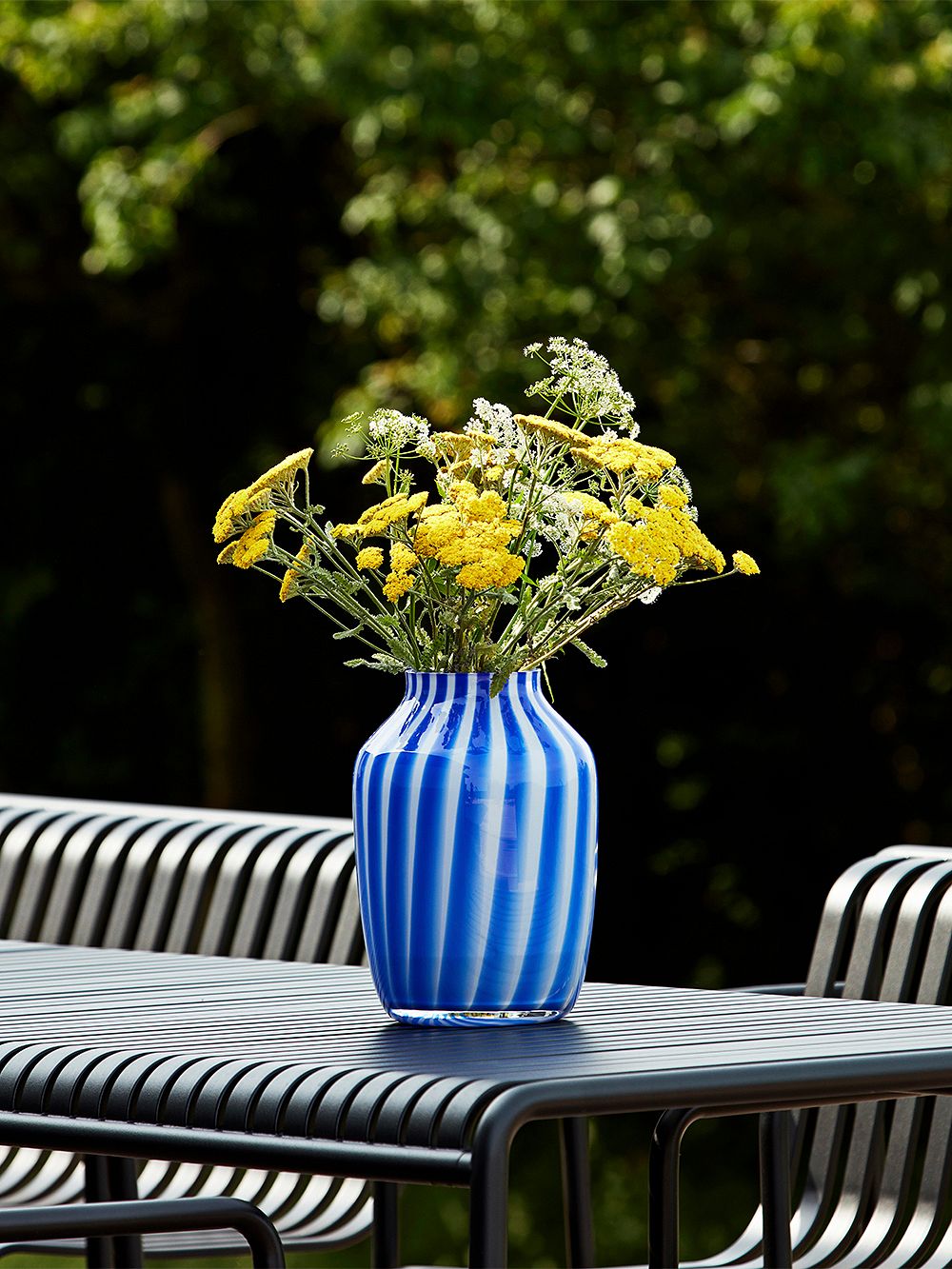 Juicy details
If you're looking for an easy and fun way to add some bright blue to your decor, HAY got you covered. The Juice vase, designed by Kristine Five Melvær, has got the perfect combination of strikingly bold blue and balancing neutral white.
The vase is adorned with asymmetrical stripes that have been created using the traditional filigree technique. Juice is the perfect vase for lush, colorful bouquets, but it sparks joy also on its own.
• HAY's Juice vase >
• All vases >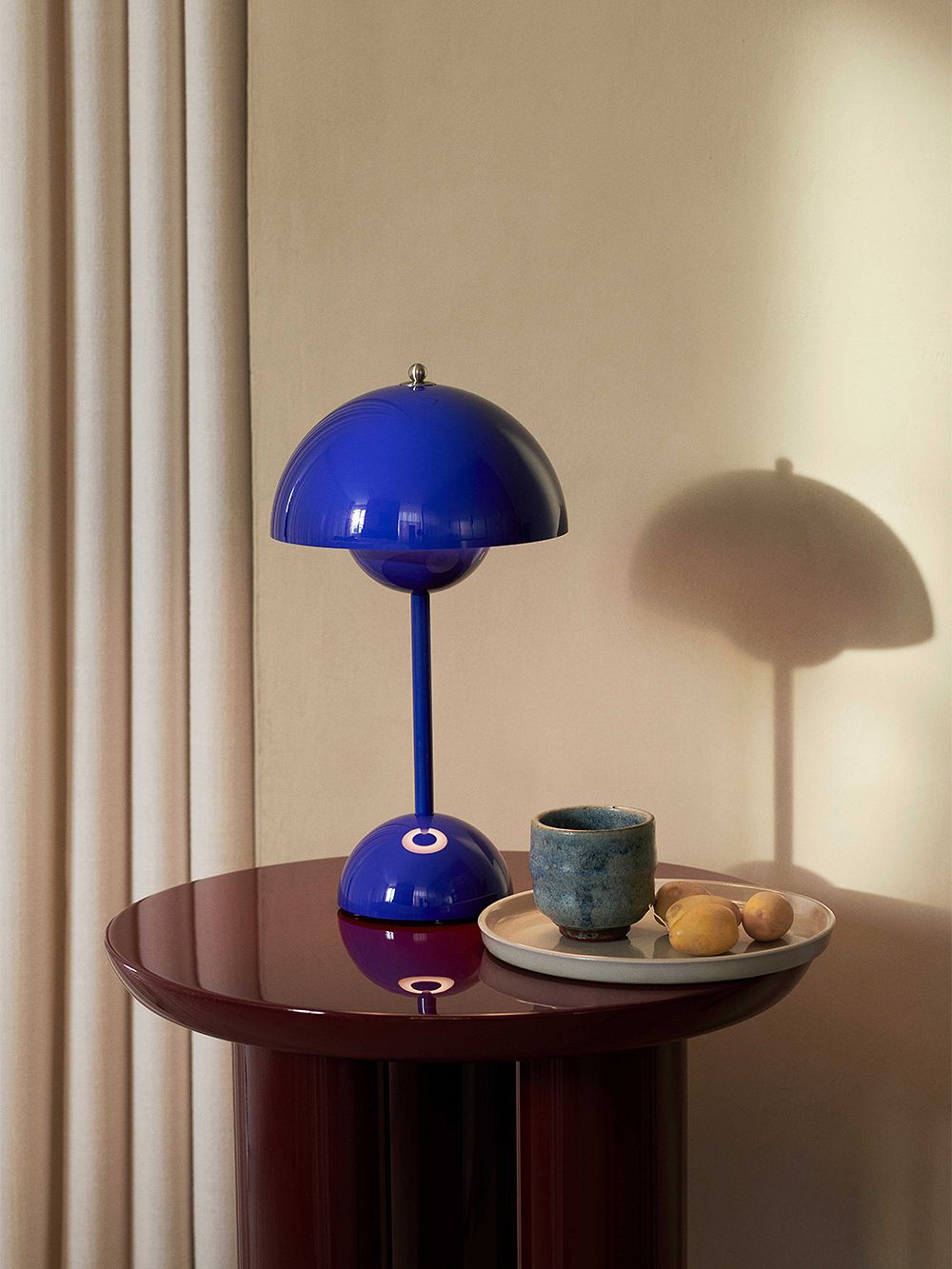 Captivating cobalt blue
Designed by Verner Panton, the joyful Flowerpot was inspired by the Flower Power era of the 60s, and it became a true design icon soon after its launch. Now Flowerpot is celebrating peace and love glowing in new, sparkling shades.
In addition to the beautiful deep blue, the new colors include another, little bit more subtle shade of blue.
The cordless table lamp is ideal for a cottage, garden dinner, or other non-electric space, but the collection also contains other options for your home décor: how about adding a cobalt blue Flowerpot VP7 pendant to brighten up the living room?
• &Tradition's Flowerpot VP9 table lamp >
• All table lamps >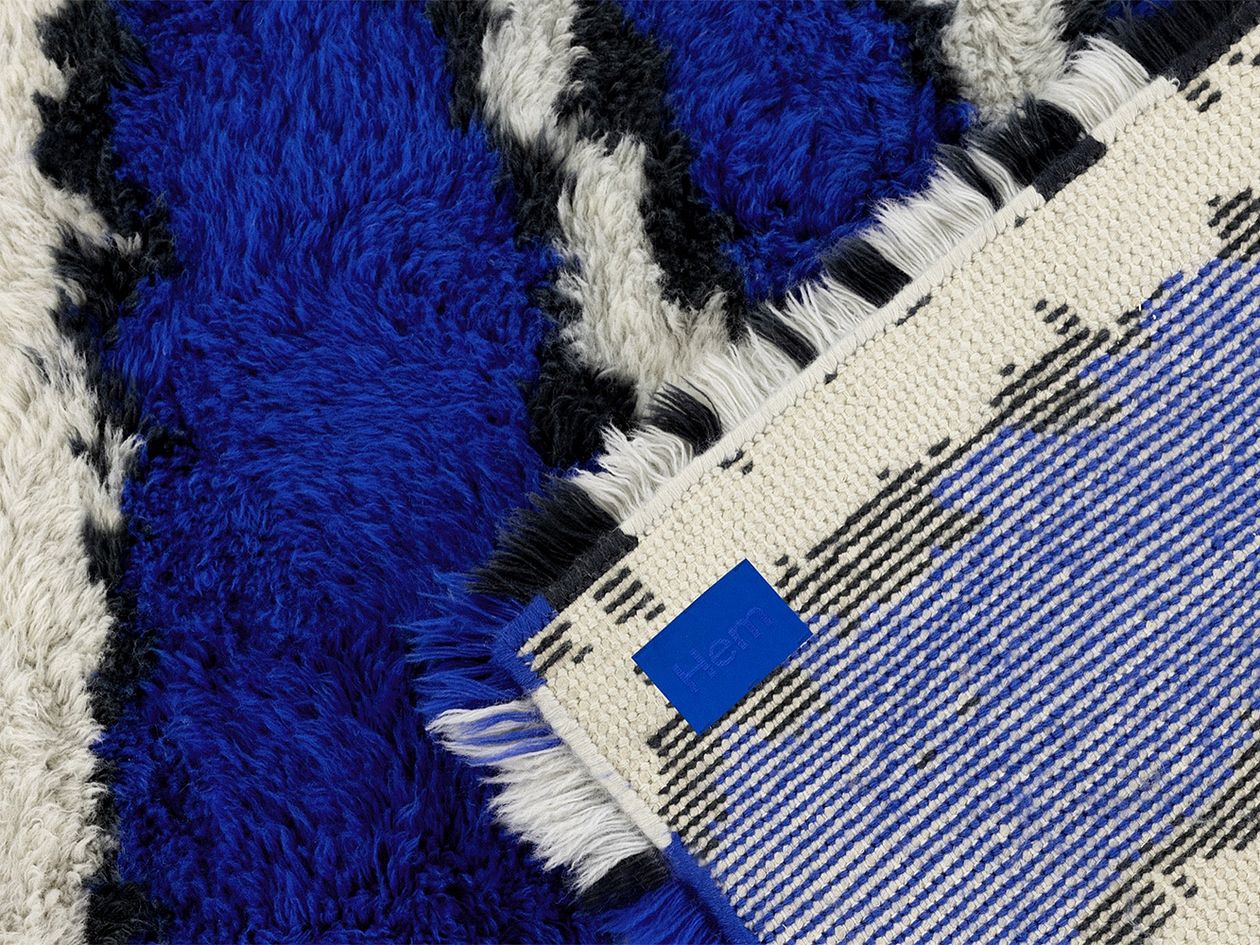 Would you love a monster?
Monster rug by Hem might be huge, but far from scary! The soft wool rug charms with its witty design, delicious colors, and fluffy texture. The playful pattern, designed by Swedish illustrator Siri Carlén, is made up of ultramarine blue and off-white stripes that resemble the fur of a monster.
If the enormous size is too much to bear, the same blue giant is also available as a throw – do you dare to wrap yourself in the arms of the monster?
• Hem's Monster rug >
• All rugs & carpets >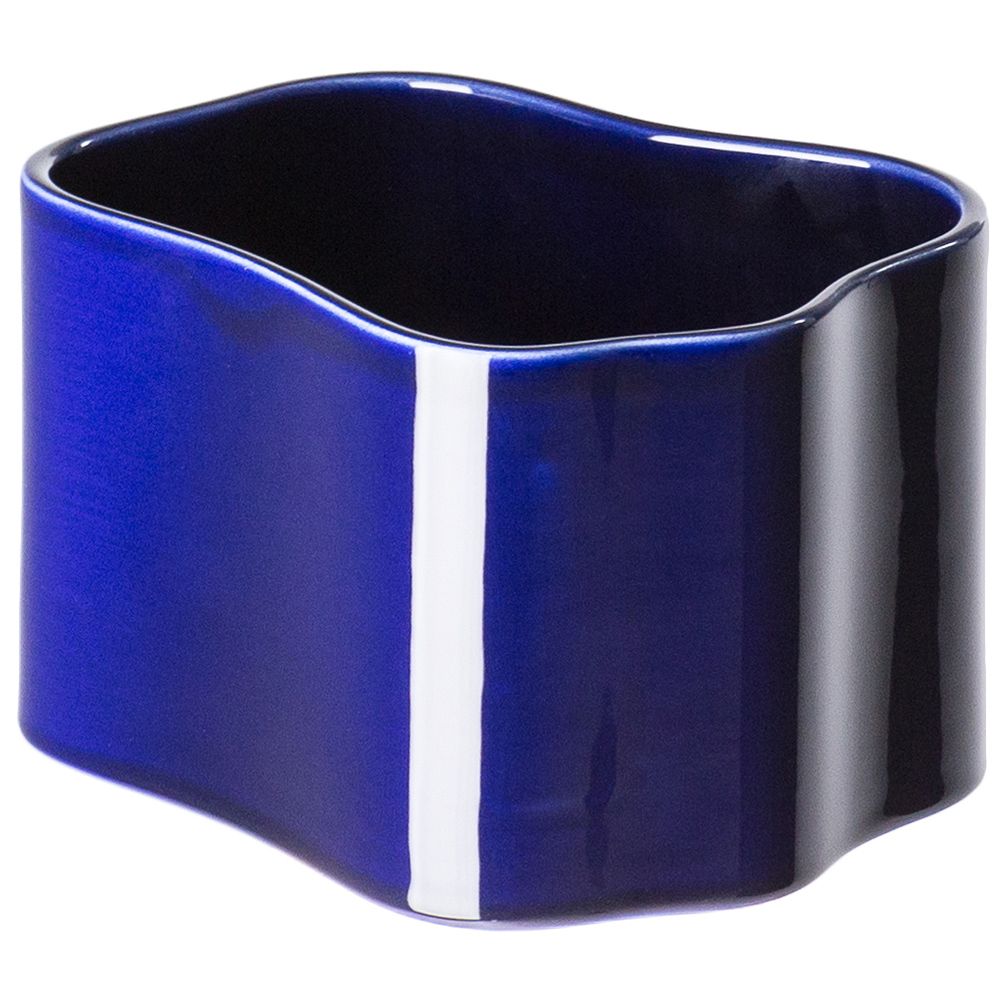 Dress your greens in blue
First, the classic Riihitie plant pot graced the terrace of the Aalto family's own home. From there, it traveled all the way to delight the viewers at the Paris World Fair in 1937. 80 years later, Artek launched the ceramic planters in celebration of the centenary of Finland's independence.
The handcrafter Riihitie pots are named after the street address of Aaltos' original setting, and the deep blue color is inspired by the ceramic tiles of the Muuratsalo Experimental House, also known as the family's summer retreat. The organic, undulating design reflects Alvar and Aino Aalto's strong connection with nature – the pot is a pleasure not only empty but especially when filled with beautiful plants and flowers!
• Artek's Riihitie plant pot >
• All indoor gardening >
Blue dew for your table
The beautiful surface of Iittala's Kastehelmi products was born almost by chance when Oiva Toikka designed a pattern that would conceal the joint marks in pressed glass. The result was Kastehelmi, meaning "dewdrop" in Finnish, which features delicate glass droplets arranged in a series of rings. Over the years, the Kastehelmi has become one of Toikka's most beloved glass series.
Now the tiny glass drops have been colored in the shade of blue. Choose an ultramarine blue Kastehelmi bowl for your breakfast cereals or admire the glimmer of the glass drops at your dinner table by the light of the tealight holder.
In addition to the sparkling tableware, the ultramarine blue also adorns another classic: the Aalto vase. Inspired by Finnish nature, the bold blue tone was picked from Iittala's extensive glass color archive, and the pigment is created with Iittala's very own glass recipe.
• Iittala's Kastehelmi plate >
• All dishware >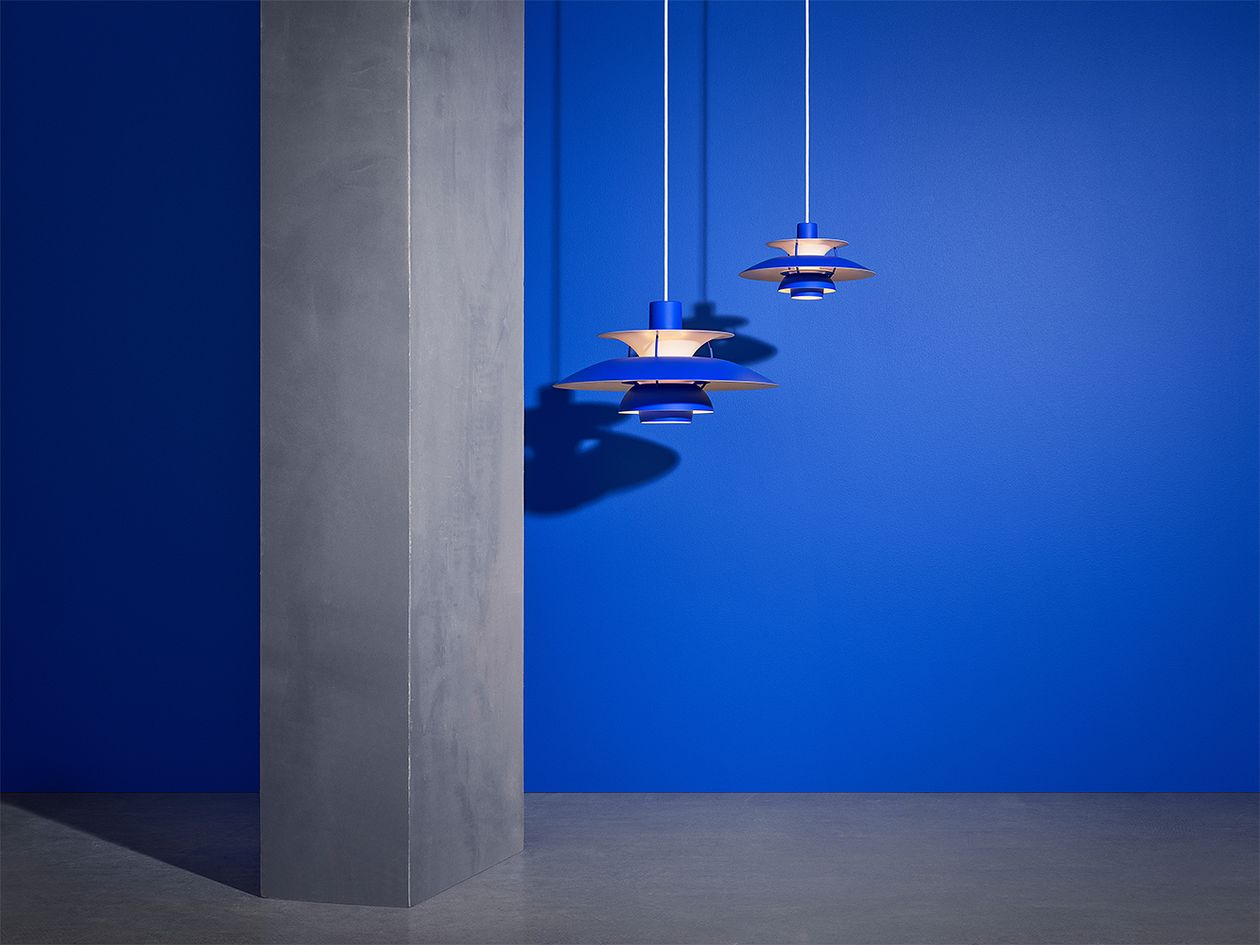 The emperor's new clothes
Louis Poulsen's PH 5 Monochrome is a design classic that needs no further introduction. Designed by Poul Henningsen, the beloved pendant is now dressed in an elegant blue that gives the classic a fresh, contemporary twist with a matte finish.
The PH 5 ceiling light is at its best above the dining table but also suits higher mounting in various architectural spaces. If you need light in a smaller room, there is a mini version available, perfect for illuminating slightly more compact spaces.
• Louis Poulsen's PH 5 Monochrome pendant >
• All pendant lamps >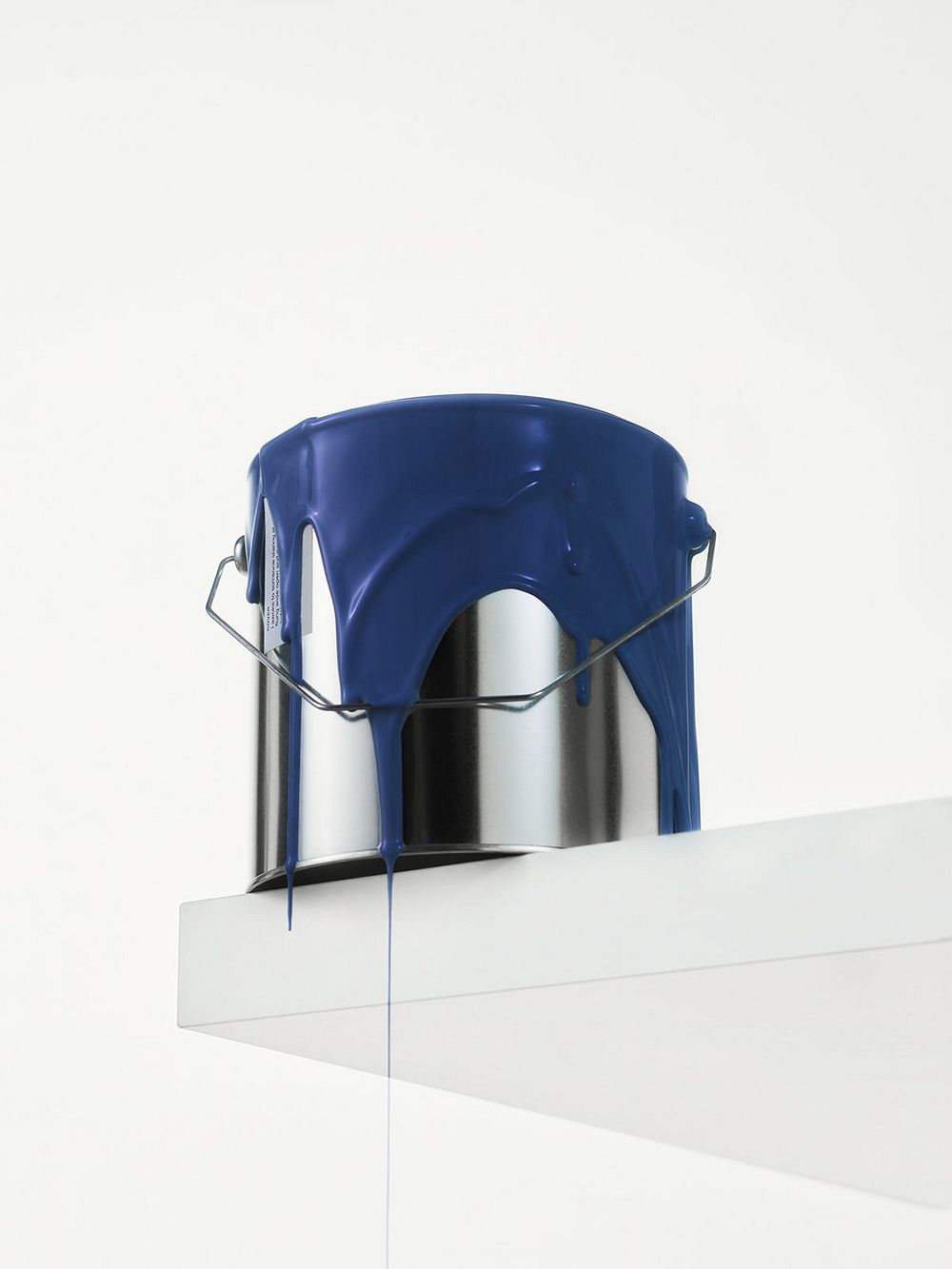 Paint it blue
If you're still a little bit shy about going straight to electric blue, you can also bring blue shades into your home in a more subtle way: try painting one or two walls with elegant cobalt blue! Cover Story, a Finnish brand specializing in eco-friendly and plastic-free interior paints, offers an intense blue with their paint color 033 Jules, a shade that's sure to add depth to a space without darkening it too much.
If you're still considering painting, you can order a handy A4-sized sample of the color. The peel-and-stick samples allow you to see how the shade will really look in your home under different lighting conditions.
• Cover Story's Jules interior paint >
• All paints >
See also:
• More blue products at Finnish Design Shop >
• Read also: Stockholm Furniture Fair 2023 – Check out our picks of the Design Week novelties! >
Text: Susa Pääkkönen Images: Manufacturers