Whether you are a passionate griller or the occasional campfire chef, summer food is a delight to prepare and serve in style with quality barbecue equipment. We have chosen some excellent items from the Finnish Design Shop selection.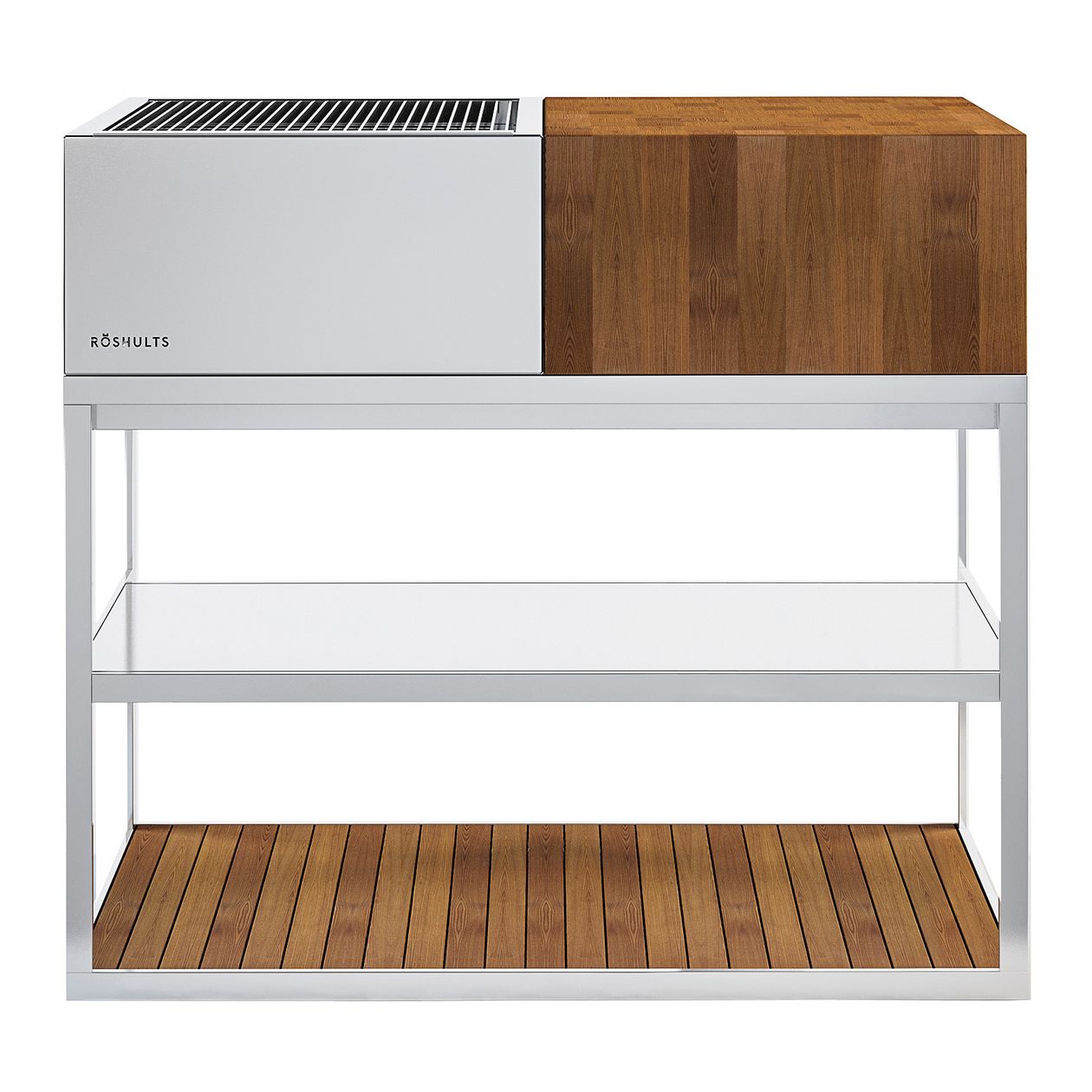 Invest in a quality Swedish grill
Röshults' Module series charcoal grill will satisfy even the most demanding griller. This minimalist, beautifully crafted stainless steel grill gives food a beautiful grilled surface and the taste of an authentic charcoal grill. Complement your high-quality summer kitchen with other items in the Module collection.
With selections from Röshults' Module series, you can assemble an outdoor kitchen package that perfectly suits your needs. Made of materials that can withstand outdoor use, the modules designed by Broberg & Ridderstråle are uniform and understated in design. They are compatible with Röshults' Open Kitchen series.
• Röshults' Module charcoal grill >
• All products by Röshults >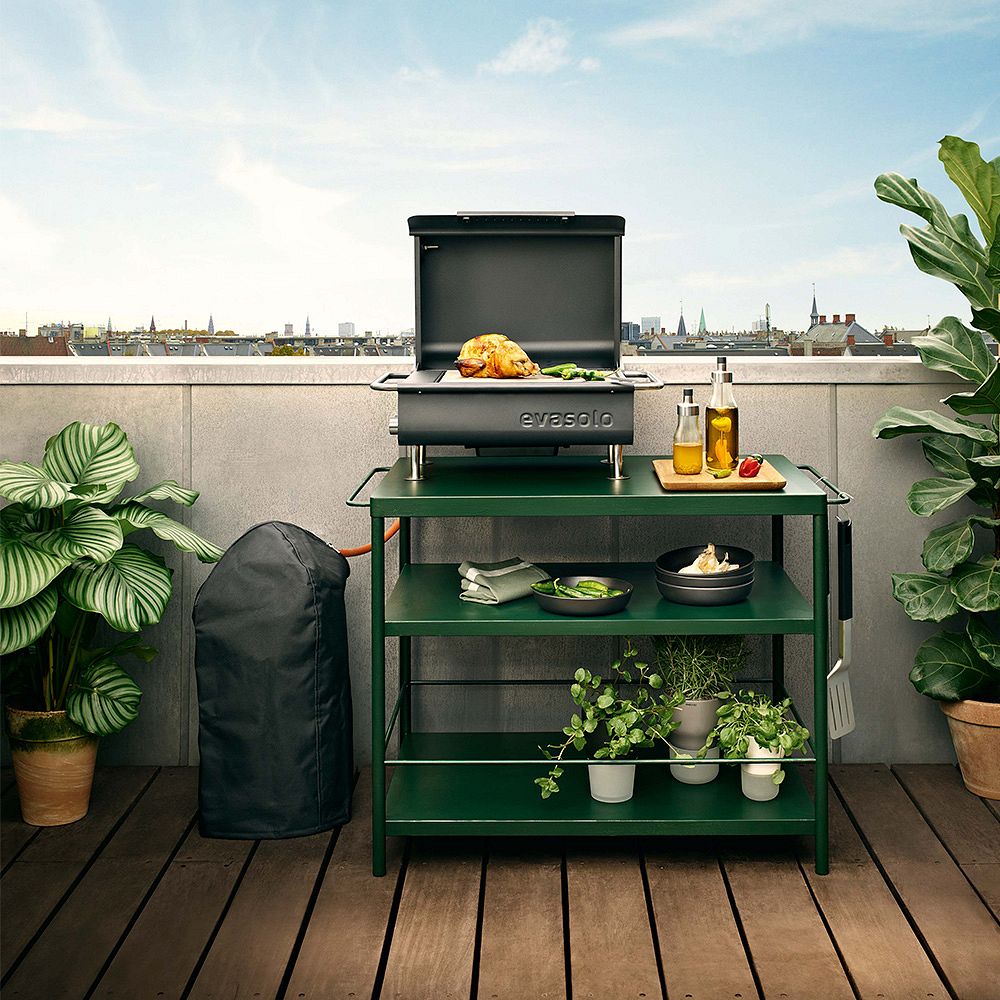 Choose a compact barbecue for a small space
Eva Solo's efficient and handy-sized Box gas grill is an excellent choice for a smaller terrace or balcony. Although the barbecue itself is compact, its grill base is so spacious thanks to its clever design that it can cook even large steaks or long rows of skewers.
Made of matt black steel and suitable for direct and indirect grilling, the box barbecue is equipped with two burners, a spacious grilling surface, and carrying handles on the sides. It can also be used either as a table grill or as a standing model with legs sold separately and can be supplemented with a side table and a protective hood.
• Eva Solo's Box gas grill >
• All barbecue products >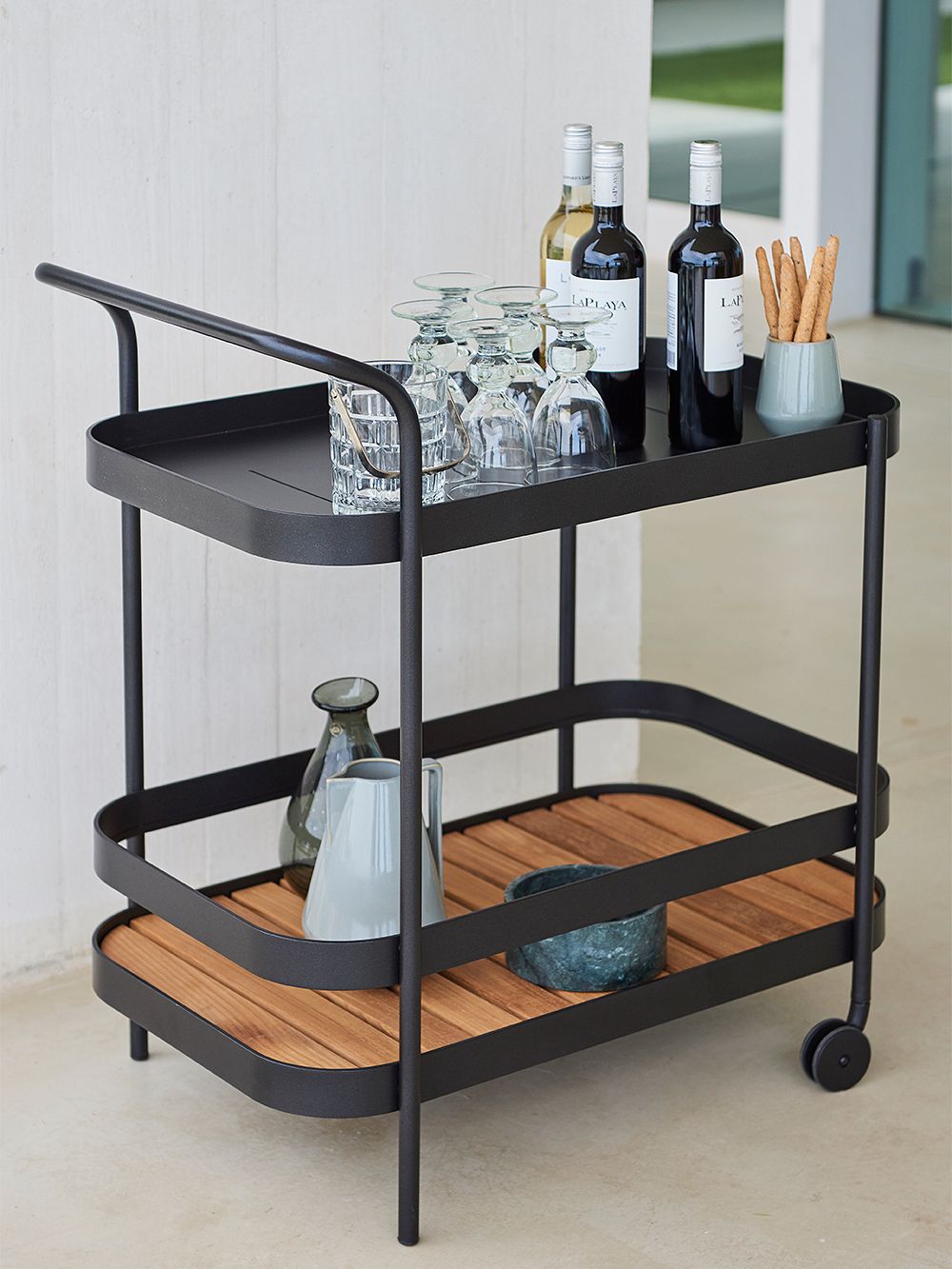 Easier outdoor cooking with a convenient extra surface
Designed by Welling/Ludvik, the Roll serving trolley is a beautiful and convenient item that is suitable for many spaces and uses. Thanks to its light and durable aluminum construction, the trolley can be easily moved as needed, both as an additional surface for a terrace barbecue or to complement the kitchen interior, for example.
A removable teak level adds the final touch of elegance to the trolley design. You can choose for yourself which shelf you want to use it with – or whether you might prefer to use the trolley without the teak level. Removing the level also makes it easier to clean the serving trolley.
• Cane-Line's Roll trolley >
• All serving trolleys >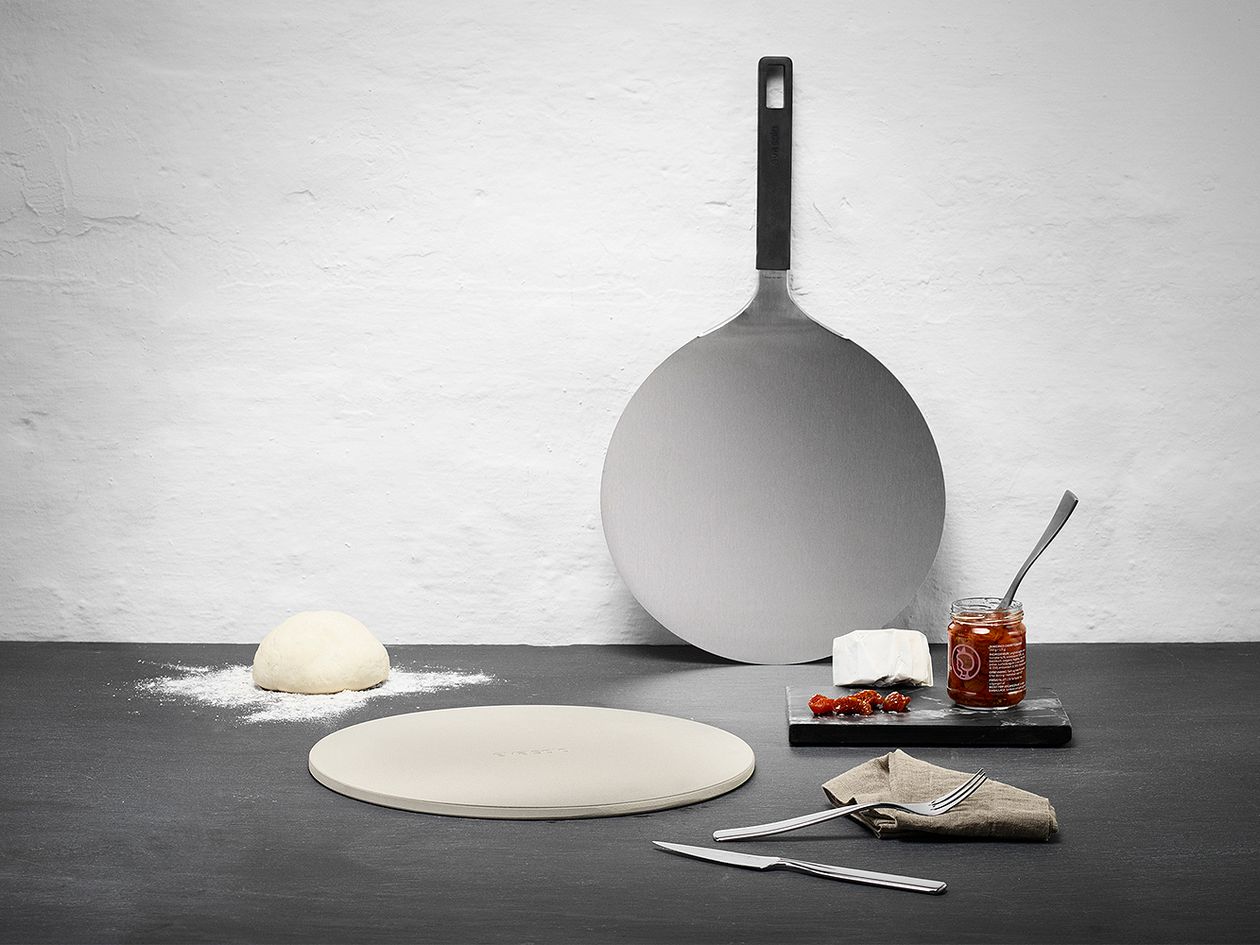 Taking pizza evenings to the next level
Oven-fresh pizza and bread are even more delicious when made with an Eva Solo baking stone. The baking stone is suitable for all kinds of baking, both in the oven and on a gas or charcoal grill. The porous surface of the ceramic stone absorbs the extra moisture from the dough, which makes pizza bases and bread wonderfully crispy. The stone is also easy to clean with hot water.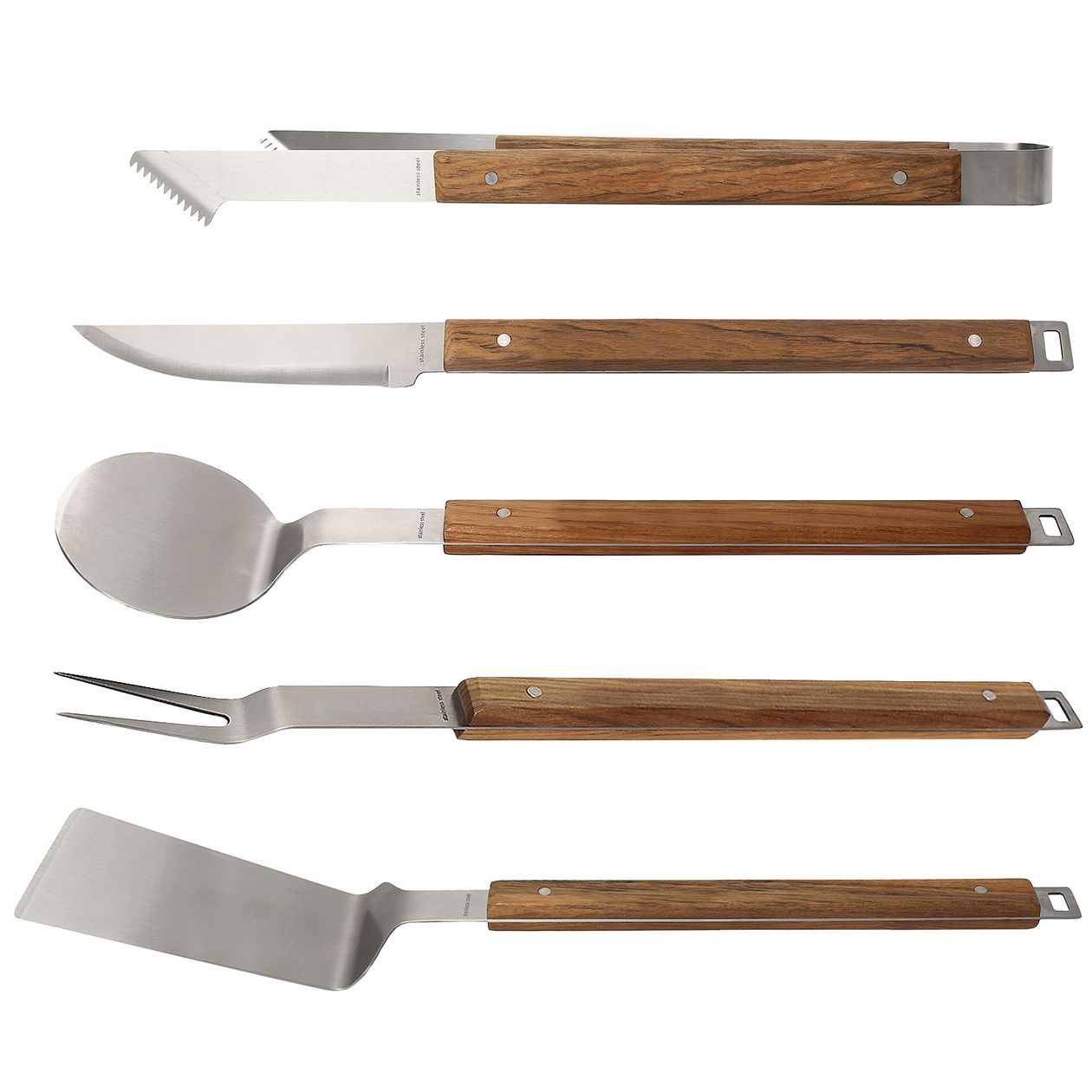 Complete the range of equipment with teak and steel
Designed by Amsell Berlin for Röshults, the BBQ Tools range includes all the essential tools that a griller who appreciates quality design may need in their summer kitchen. BBQ Tools are made of durable stainless steel and have beautiful teak handles, with loops at the ends for convenient hanging at your fingertips. The five-piece barbecue set consists of barbecue tongs, a flat shovel, a round burger steak spatula, and a barbecue fork and knife.
• Röshults' BBQ Tools grill set >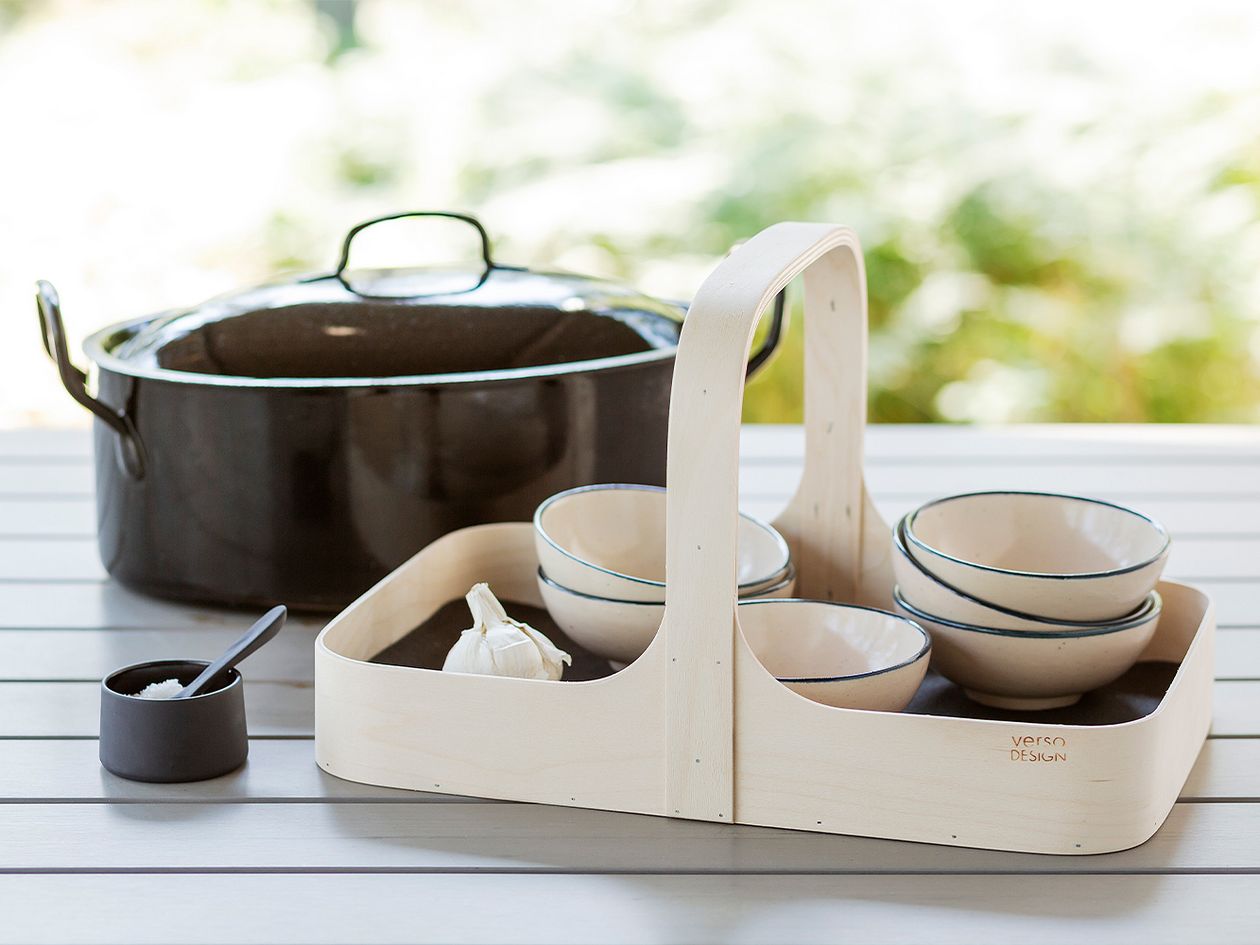 Koppa, for everything you need
The Koppa tray, made of birch plywood, is a summer chef's best friend when it comes to transporting dishes and delicacies elegantly to the yard or balcony. The tray has a sturdy handle for easy carrying, and the black felt base keeps everything firmly in place. This natural light-toned beauty designed by Verso Design's Tuuli Burman and Tuttu Sillanpää brings a stylish Scandinavian touch to any space. And as autumn approaches, Koppa can change from a summer kitchen to a workspace container, for example.
• Verso Designs Koppa tray >
• All storage baskets >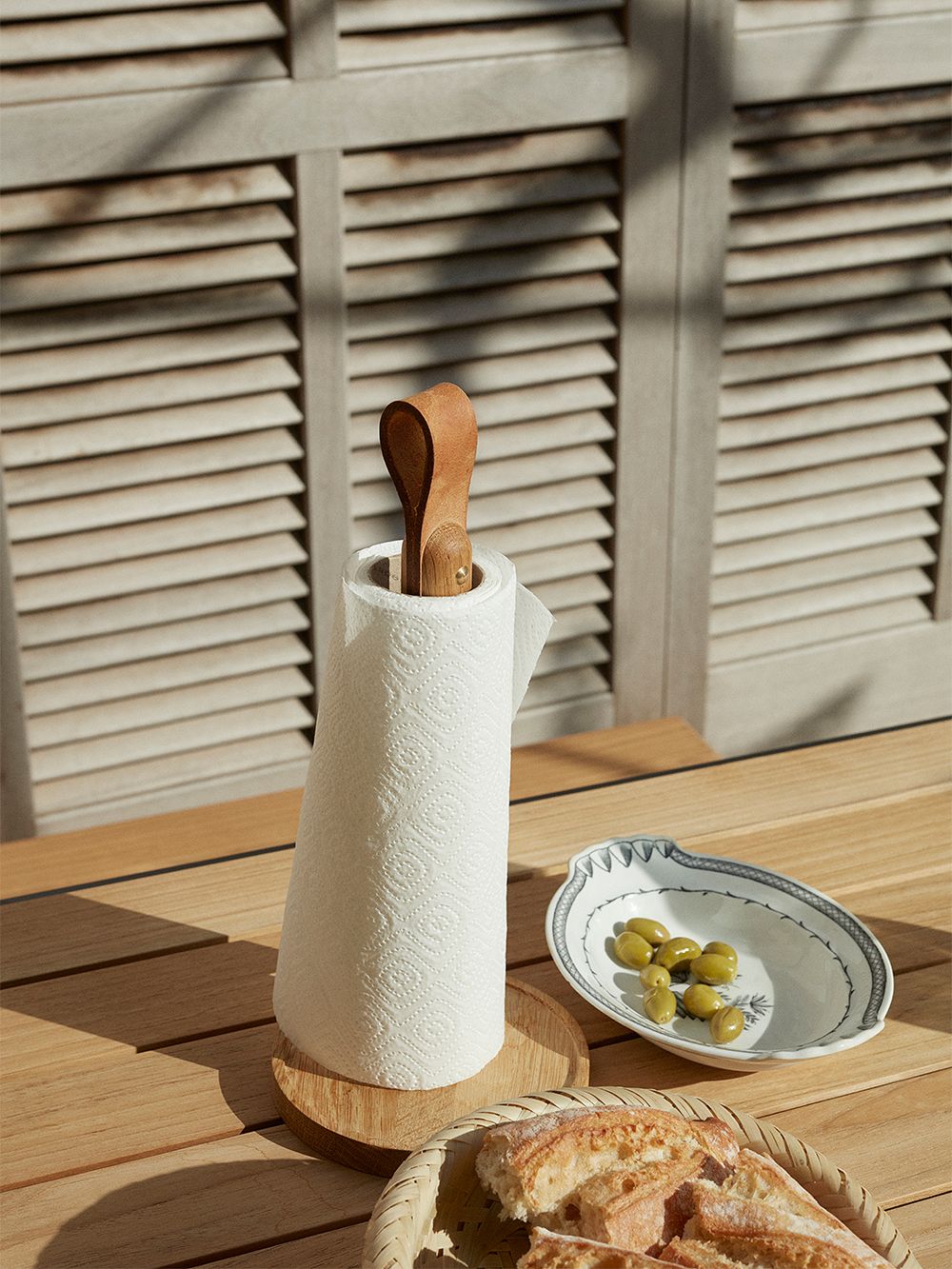 For practical serving in style
For casual – and often somewhat messy – grilled food, it may not be wise to use your most precious linen napkins. Many people prefer a more practical solution, offering a roll of kitchen paper for diners to wipe their hands.
Even an everyday object can be a delight to the eye, however, like this Skagerak oak Norr paper towel holder. Designed by Ditte Buus Nielsen, the holder has beautiful leather and brass details, and the convenient edge of the base prevents the paper roll from accidentally unwinding.
• Skagerak's Norr paper towel holder >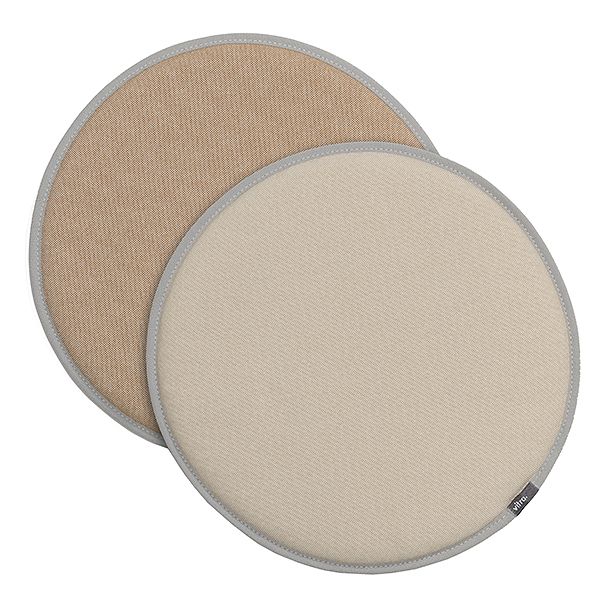 Sit comfortably anywhere
Does an outdoor chair need brightening up or a bench need softening or is the barbecue surrounding too hard? With Vitra Seat Dot cushions, you can effortlessly make your surroundings colorful and comfortable. Hella Jongerius' brainwave was to create a washable cushion that fits chairs of many shapes and sizes and can be used on both sides. The cord around the edge accentuates the fine color combinations of the fleece fabrics. Is your favorite color mint-kerosene or cream-tobacco, for example?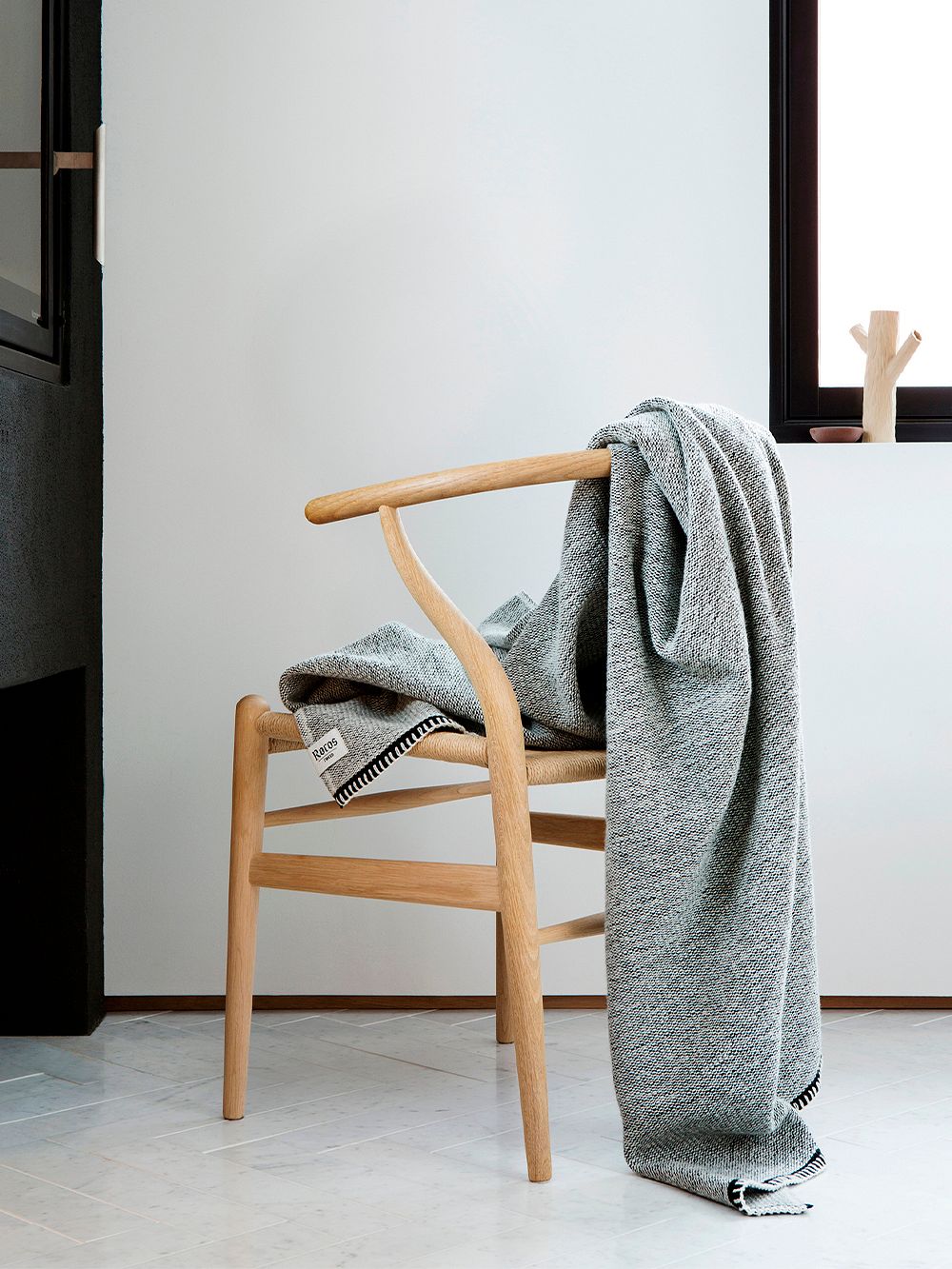 Warm up with real wool
For barbecues in the cooler summer evenings, it's wonderful to wrap up in a blanket. The natural gray Picnic blanket of the traditional Røros Tweed weaving shop is a generous size and made in Norway with wool from sheep roaming free in the mountains. Designers Torbjørn Anderssen and Espen Voll wanted to create a blanket that was sophisticated enough for the living room couch while also being durable enough for use on picnics.
• Røros Tweed's Picnic blanket >
• All throws >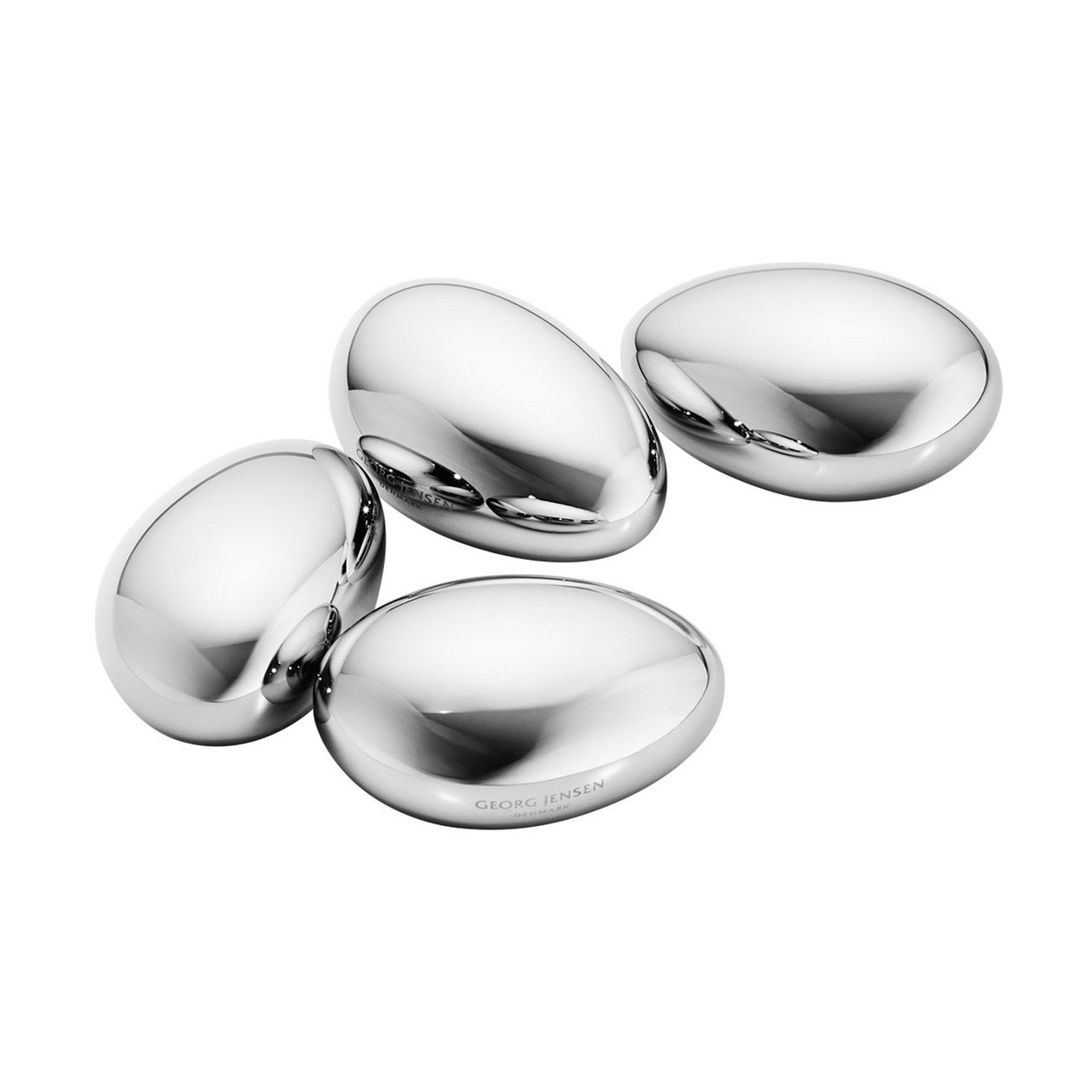 Don't forget ice-cold refreshments
The Sky ice cubes designed by Aurelia Barbry are a wonderful example of beautiful and functional design. The organic shape of the ice cubes, made of polished stainless steel, resembles smooth pebbles shaped by running water. Just slip the ice cubes in the freezer for a while before pouring them into a glass or jug, and drinks to accompany grilled meals will stay cool for a long time.
• Georg Jensen's Sky ice cubes >
See also:
• All Patio & Garden products >
• The Summer Shop at Finnish Design Shop >
Text: Kaisa Mikkola Images: Manufacturers