Danish studio Krøyer-Sætter-Lassen has been busy working with MENU, launching not one but two new luminous designs this year. Design Stories sat down with Emil Krøyer and Mads Sætter-Lassen to talk about their latest projects, how the duo works as a team, and to hear the story of how they first began collaborating with MENU.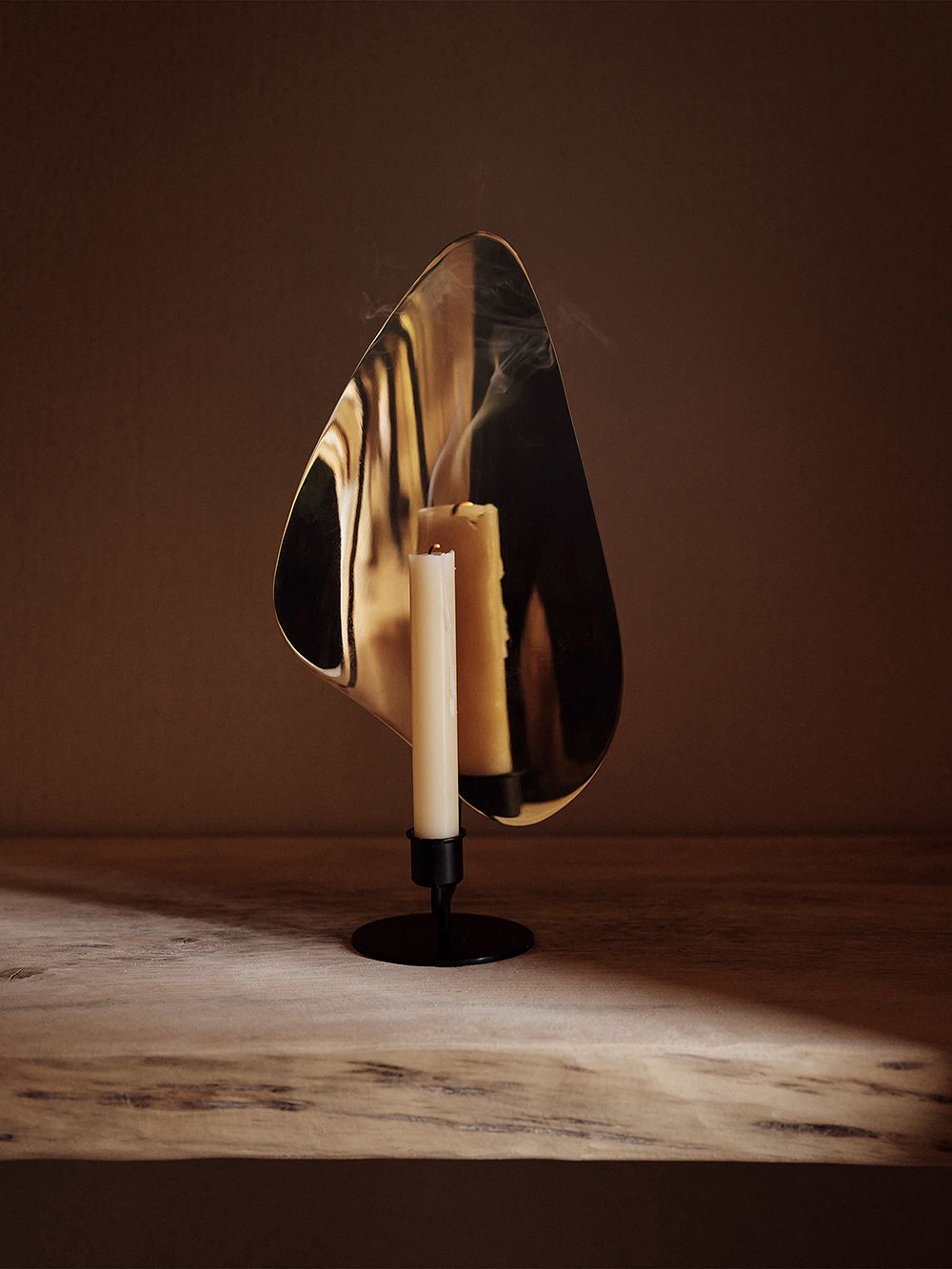 KRØYER-SÆTTER-LASSEN is one of the leading studios of contemporary Danish design, and no wonder – few designers are as skillful in combining a distinctive, almost artistic design language with clever details that make the objects immensely functional.
The Copenhagen-based duo's client list is a real "who's who" of Nordic design, but one of the brands they have collaborated with the most is the Danish design house MENU, whose most recent launches include the studio's Flambeau candleholder introduced in the fall of 2022.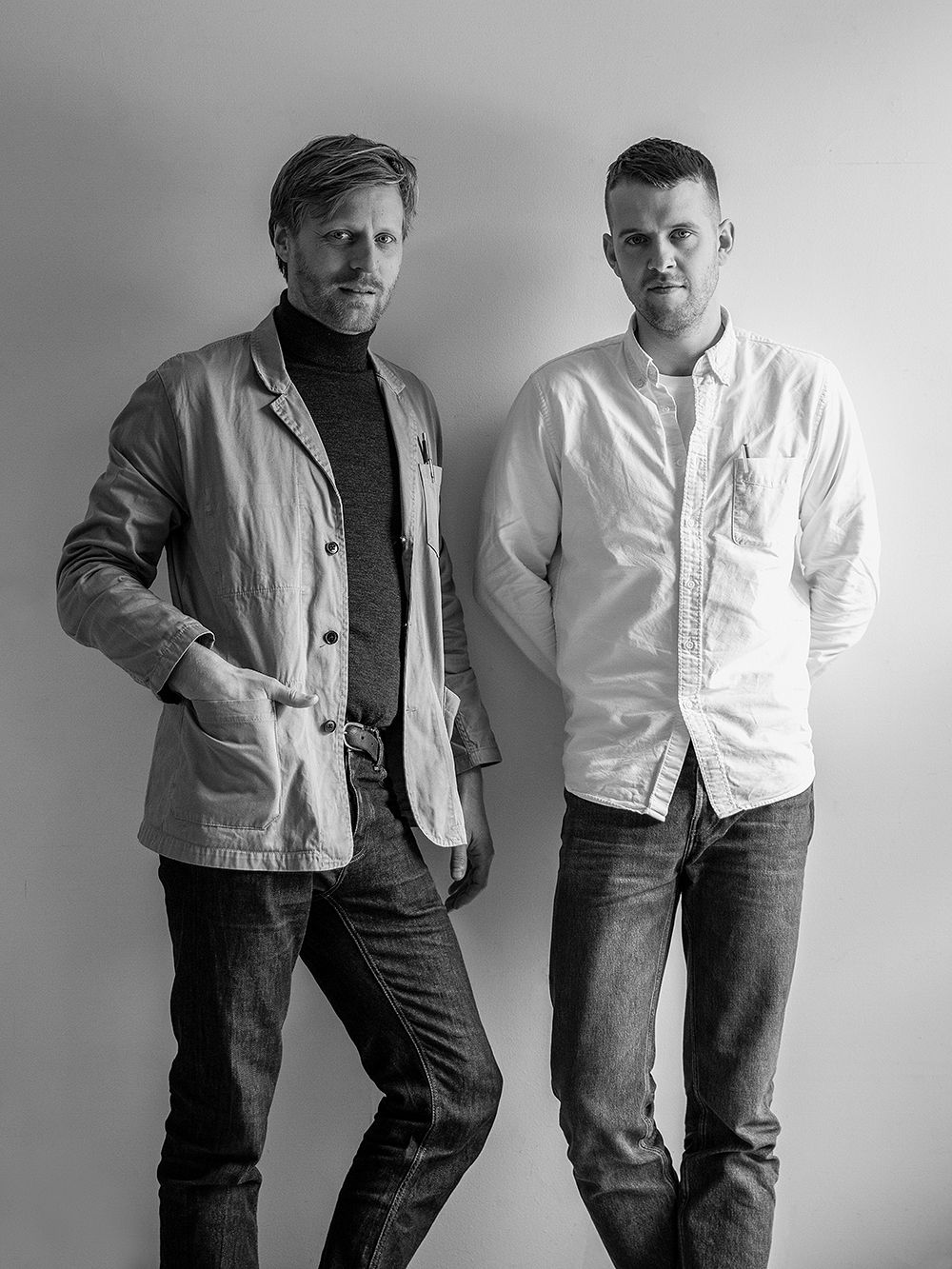 Hi, Mads and Emil! How is it going?
Mads: "Well, the weather has been a bit gloomy here in Copenhagen. Looking out the window, it's so dark already! Workwise, we have been busy collaborating on a lot of things with MENU, like the expansion of the Torso lamp series."
Emil: "And lately we have been focusing also on smaller items for MENU, objects like the Flambeau candleholder that just launched. In general, we've been working a lot with light. As Mads said, it's getting darker and darker, so we're trying to light up the upcoming winter!"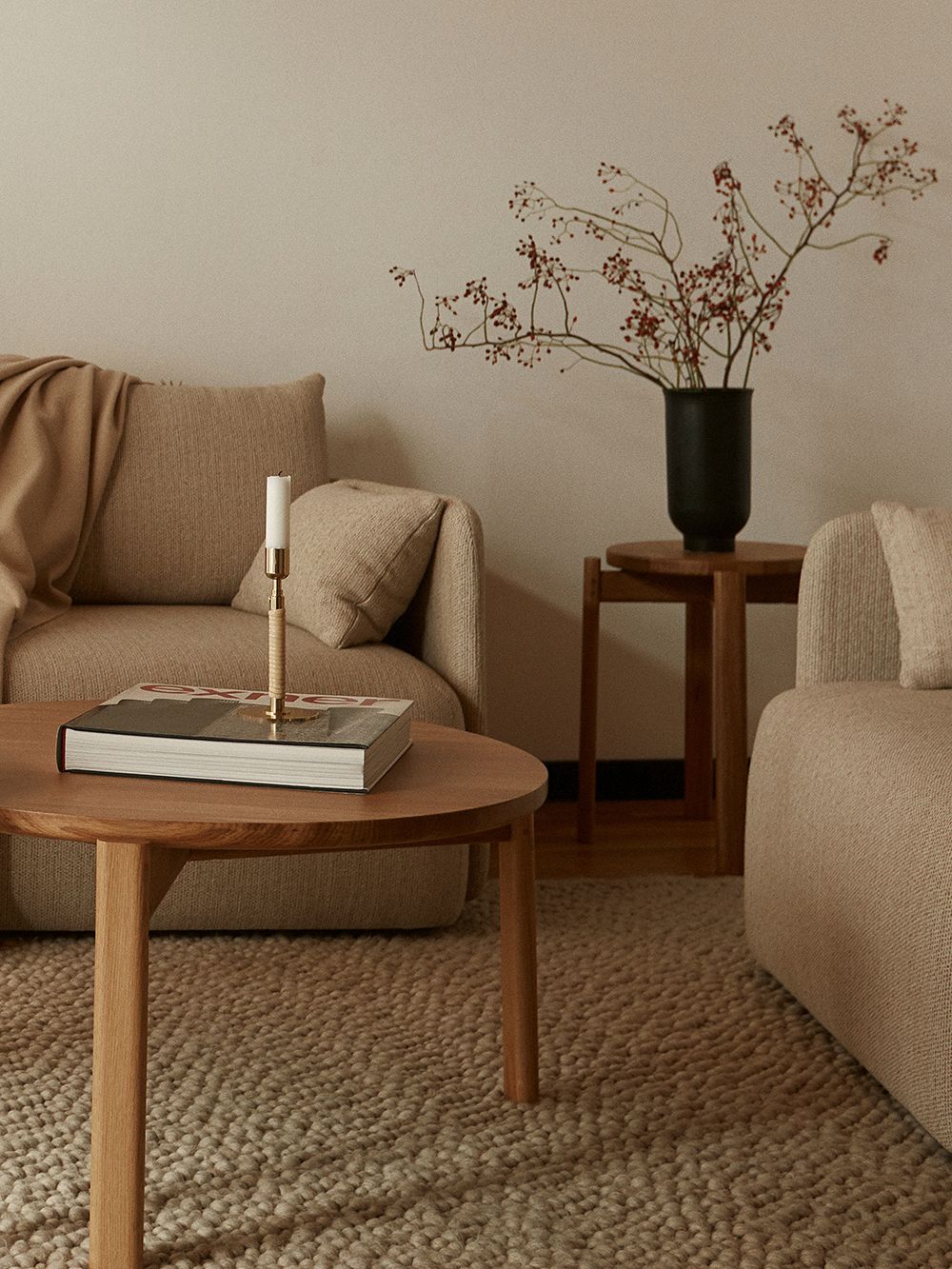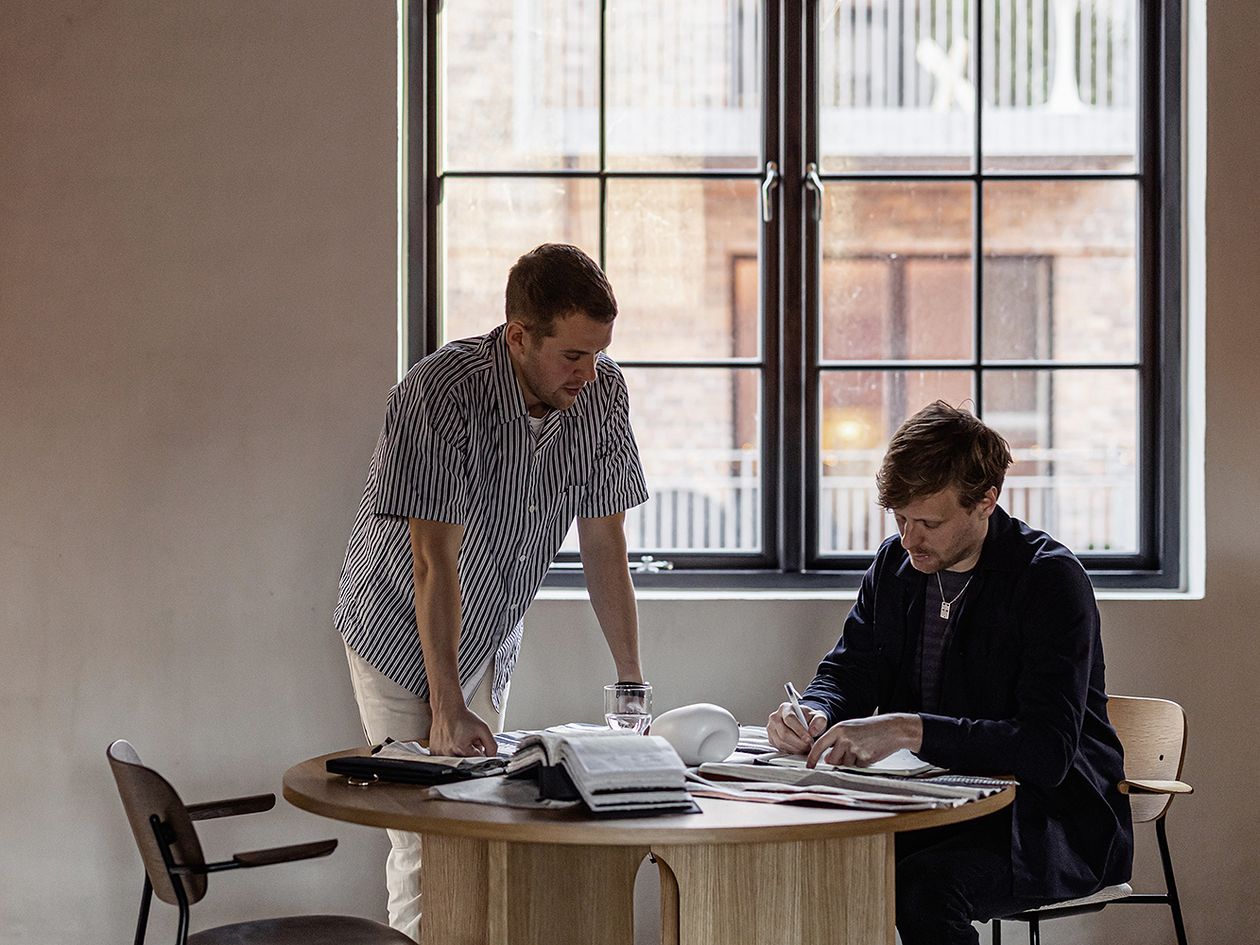 On the topic of working with MENU, how did you first begin your collaboration with the brand?
Mads: "It's actually a funny story… The people at MENU are kind of our old neighbors! Our old studio was located almost next door to The Audo, which houses a café as well as MENU's showroom and headquarters. We used to go to the café a lot, not only for coffee but with a clear mission of making ourselves known to the people at MENU. And it worked: our first MENU products were the Nimbus mirror and Duca candleholder."
Emil: "MENU is like a small, tight-knit family, and really nice people in general. That's why we've been collaborating with them so much."
Mads: "Yes! I've never thought of it this way but maybe because we spent so much time there, we got to know the atmosphere of the place and the brand even before we started collaborating."
• Read also: The Audo – a holistic design experience in Copenhagen >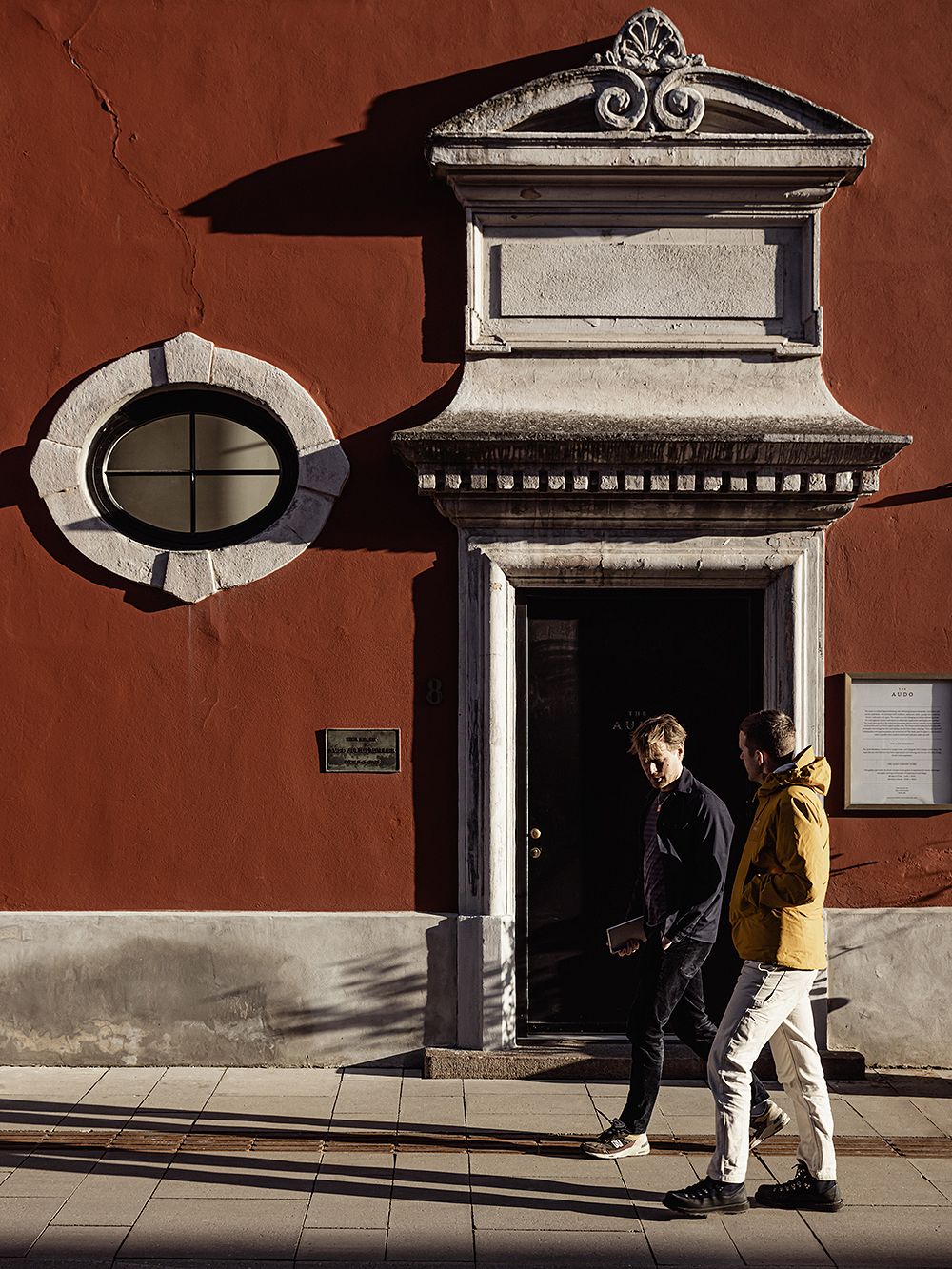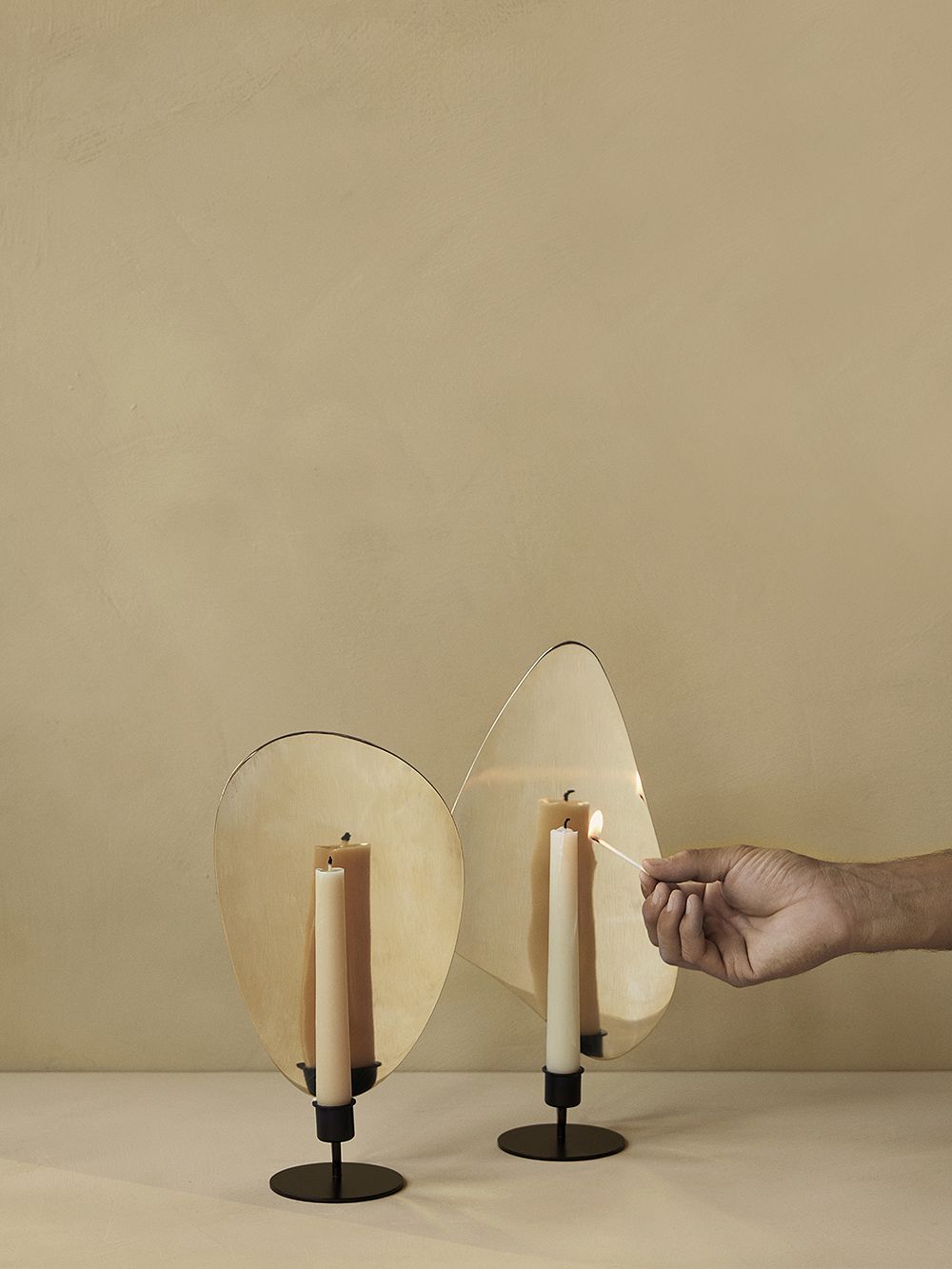 And now, your latest design for MENU is the Flambeau candleholder. Could you tell us more about the design?
Emil: "The Flambeau candleholder is defined by an asymmetrical disc in the back, which gives the candleholder the feeling of an art piece. In this project, we sought to create something less rigid and less symbolic, something different from the classic squares and circles. Less computer-driven, you could say. The old Scandinavian tradition is 'form follows function,' but we wanted to do something a bit more abstract."
Mads: "Flambeau is available as a wall version and as a table version, and in different sizes, of course. As soon as a product has a family, it's much easier to find a version that is useful to you. That's something we always like to focus on."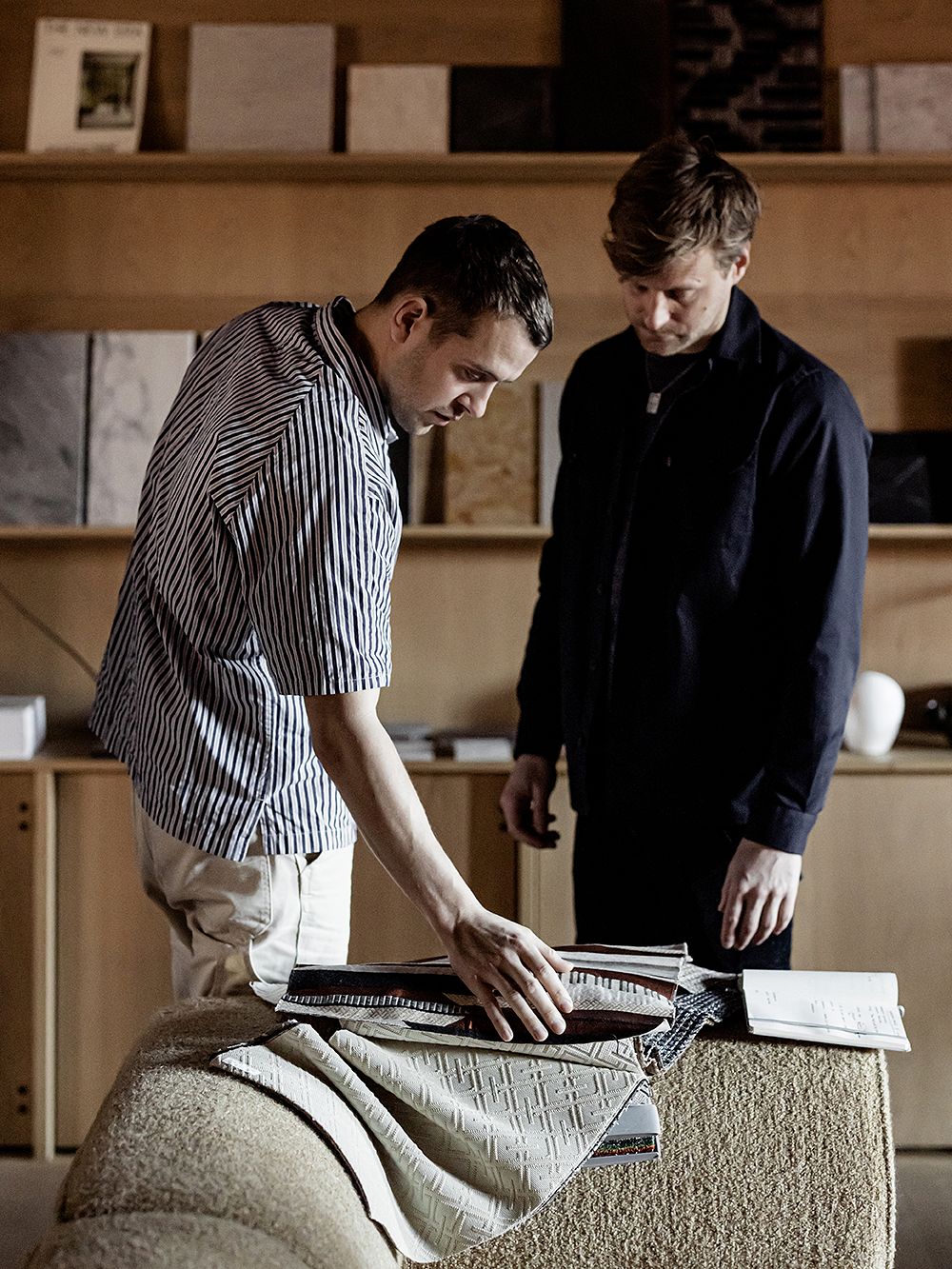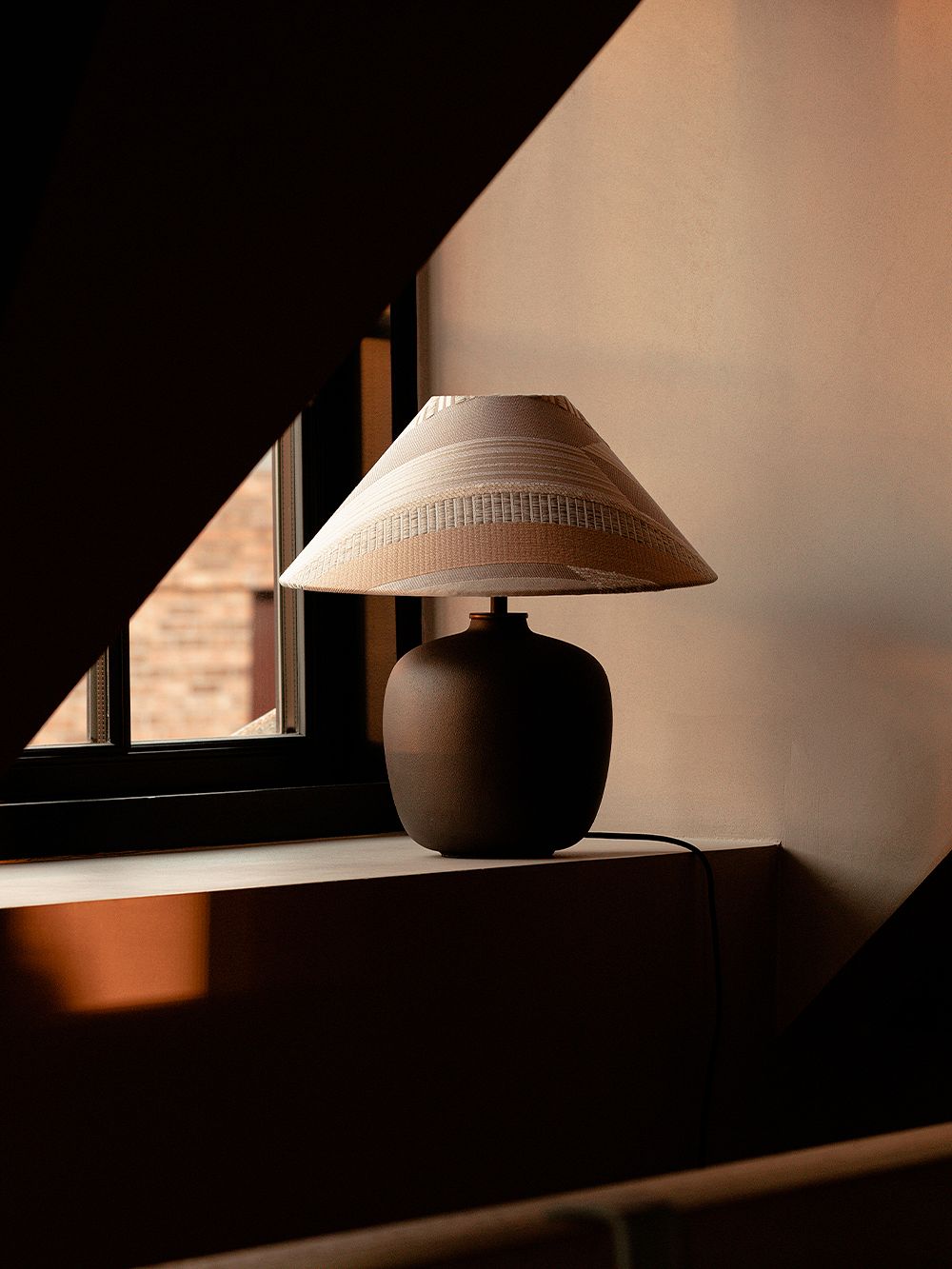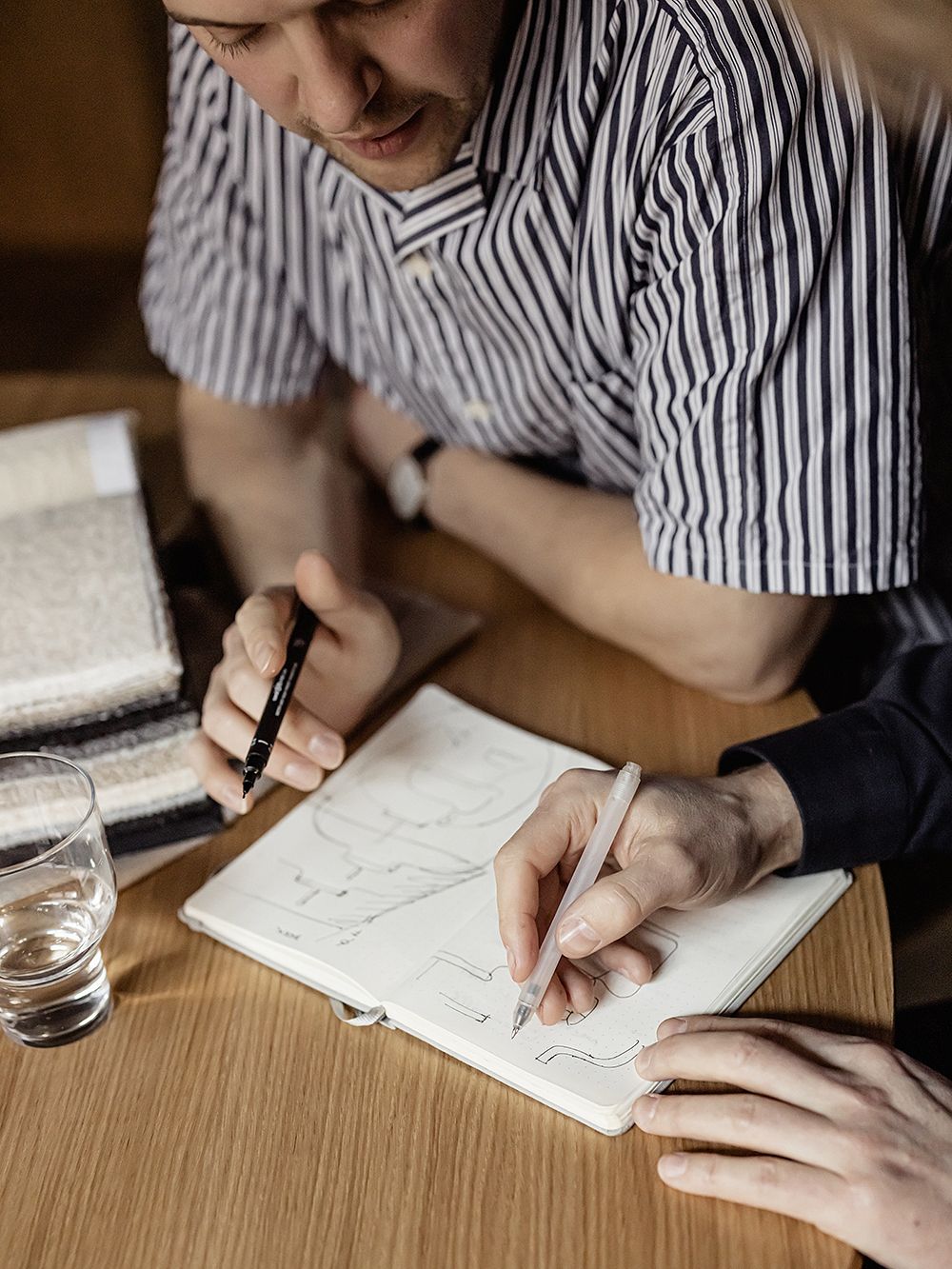 You also mentioned the Torso table lamp and its new, limited-edition versions with Dedar fabric shades. How did you come up with the idea for those?
Emil: "The original Torso lamp has a very nostalgic, old-school design, but to bring it to the modern era, we added details like the touch dimmer. At some point after the lamp's launch we started thinking: how could we do something even more with it? How could we find a new perspective for the design? We then thought of the Italian textile brand Dedar, whose fabrics are just extraordinary. They are something totally different, sort of extravagant."
Mads: "Yes, the fabrics are quite expressive compared to the Nordic, neutral colors of the original Torso lamps. While the first Torso lamps are very 'Scandi,' the new limited editions are a little bit bolder, more 'Southern European'. They make a statement piece in your home."
Emil: "We were actually curious if the lamps would be screaming from the corner of the room, but we were happy to see that they fit very well in most places."
"We have worked together for so long that often we don't even remember which idea came from whom."
Working as a duo, what is your creative process like?
Mads: "One of our most important tools is discussing our ideas with each other – we talk a lot. We sketch the classical way, with pen and paper, and do computer models, of course, but talking about the designs is a big part of the process. Our studio was established six years ago, and we worked together even before that when we were still in school. It's become so easy, so fluent, that often we don't even remember which idea came from me and which from Emil."
Emil: "It all melts together."
Mads: "And those designs are usually the ones that become the most successful."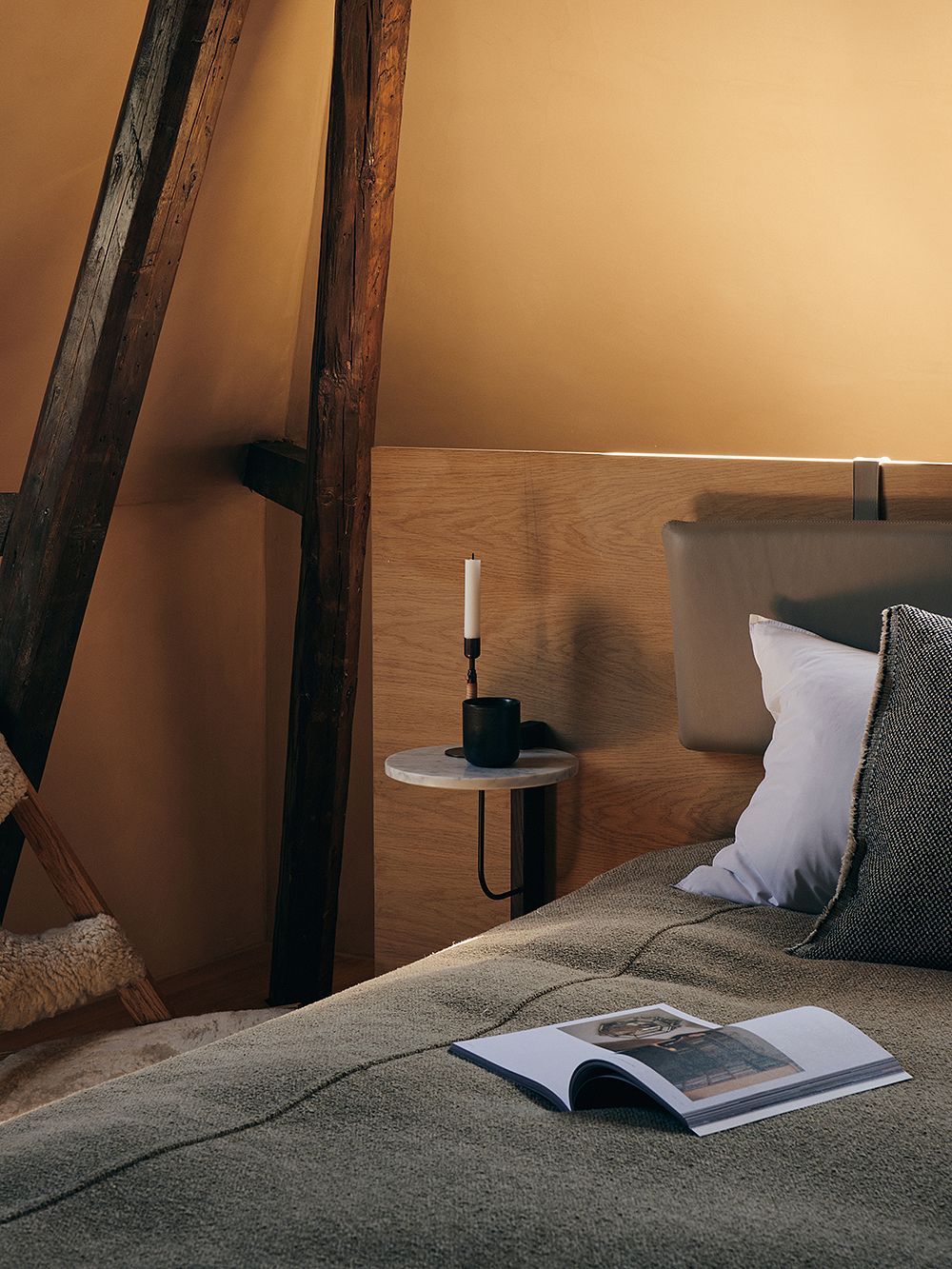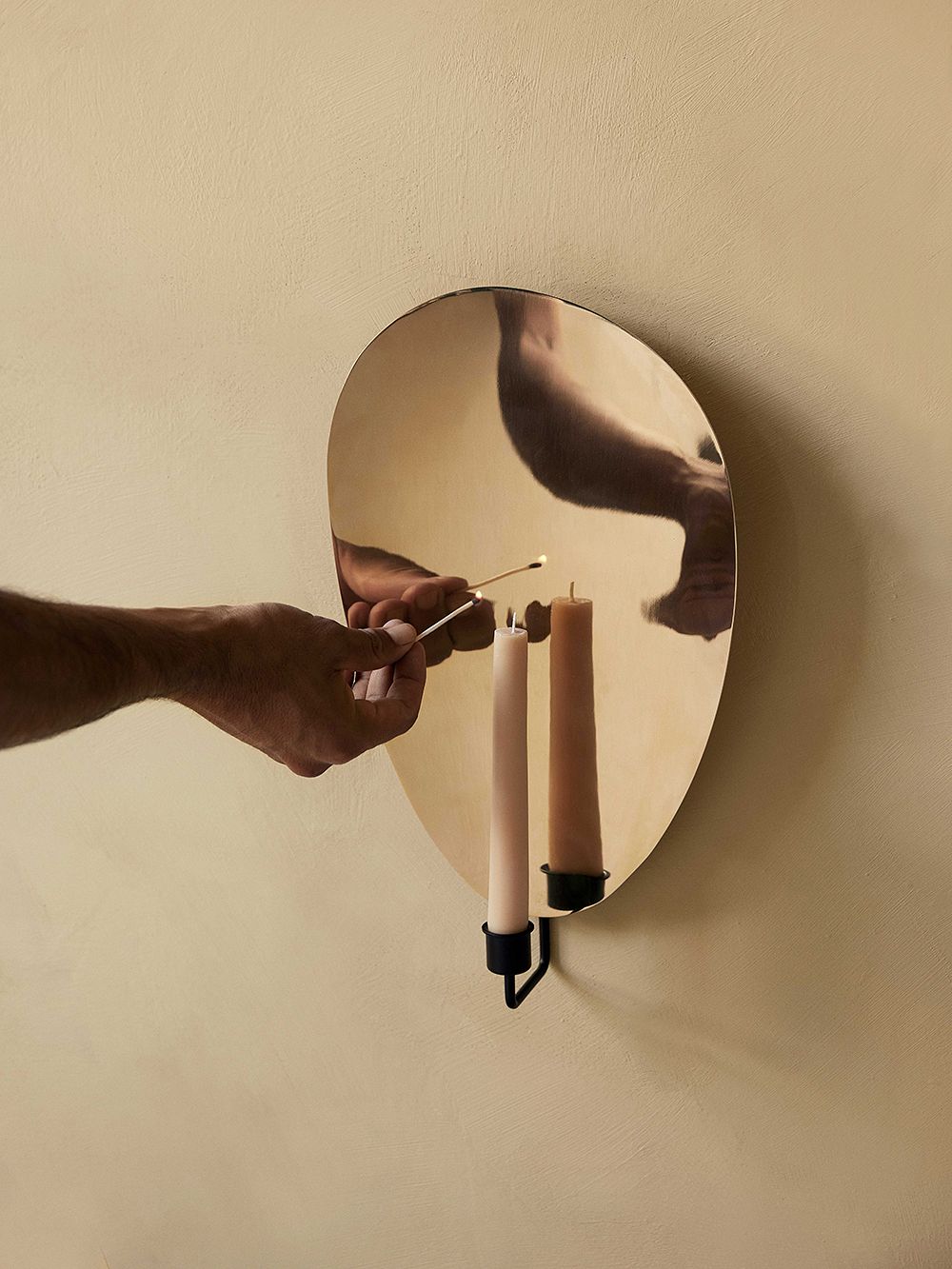 I know it's hard to choose a favorite product, but let's put it this way: if you had to choose just one of your designs for MENU for your own home, what would it be?
Mads: "I have quite a few of them in my home at this point. But I really like the Corbel shelf, which I hope will expand to a larger product line in the future. It's small but very refined, and the materials look really good together. I use it next to my bed and although it is very small, it has enough space for what I need: my phone and a glass of water, a book... It's kind of discreet so it's not the design you see the most, but I think it's a really nice product."
Emil: "For me, the new Flambeau has something about it. I like the abstract shape. It also looks a bit like the lamps they used to have in old boats – the candles or oil lamps that had a reflector disc behind the flame. I used to sail a lot as a kid and was surrounded by these maritime objects, so it feels nostalgic to me. I hope people will get the same feeling of warmth and nostalgia when they use Flambeau in their own homes!"
See also:
• All products by Krøyer-Sætter-Lassen >
• All products by MENU >
Text: Emmi Ratilainen Images: MENU