In the color palette of this beautifully restored home in Stockholm, hues of rhubarb, masala, truffle and oatmeal take turns. Luscious salmon-red tiles and wild floral wallpaper have also claimed their own spaces in interior designer Gabriella Gullberg's home, showcasing her confident choices.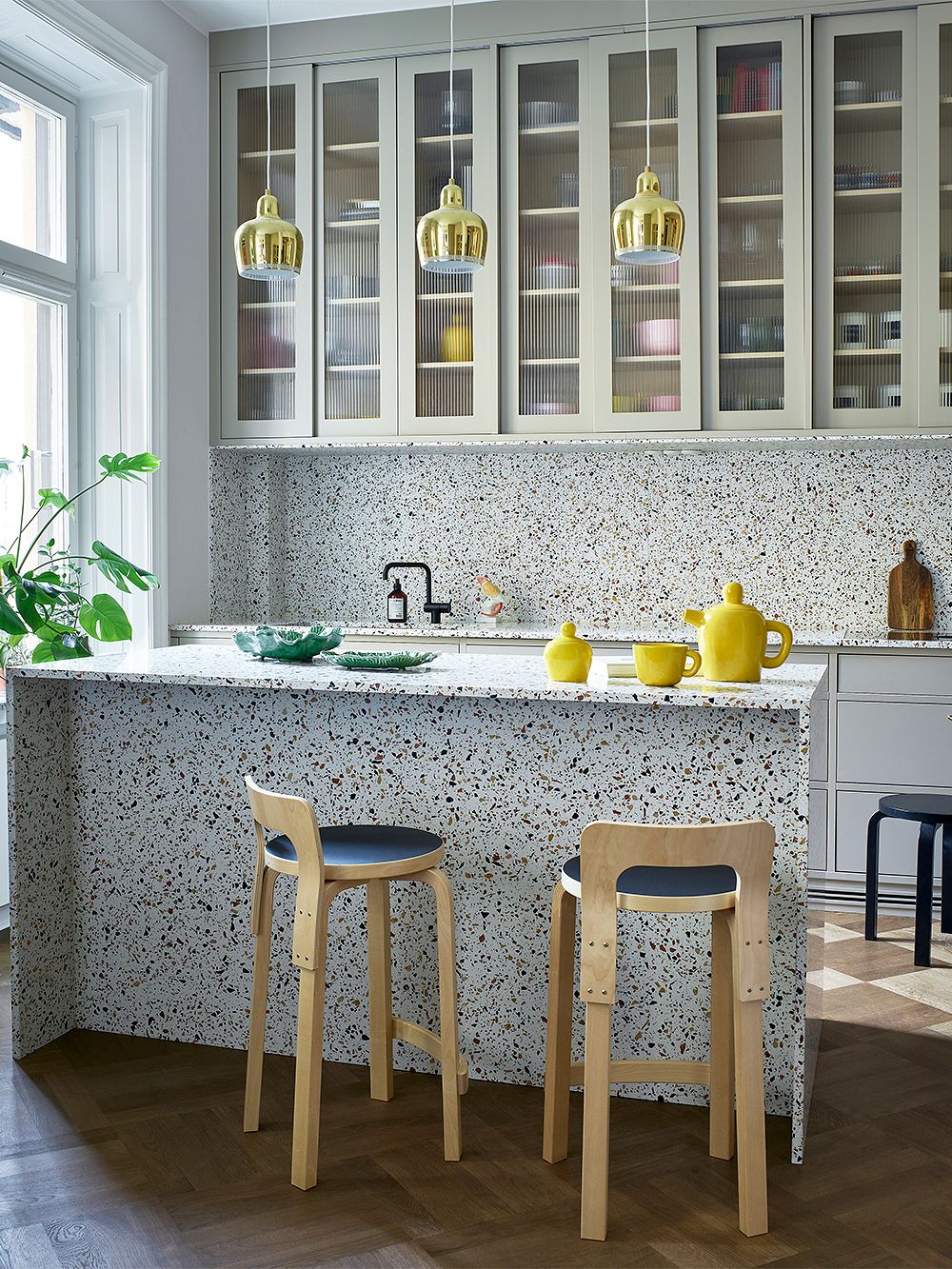 Residents:
Interior designer Gabriella Gullberg lives in Stockholm with her spouse, two children and two cats. Located in a house built in 1888, the apartment boasts five rooms, a kitchen and two bathrooms, spanning a total of 160 square meters.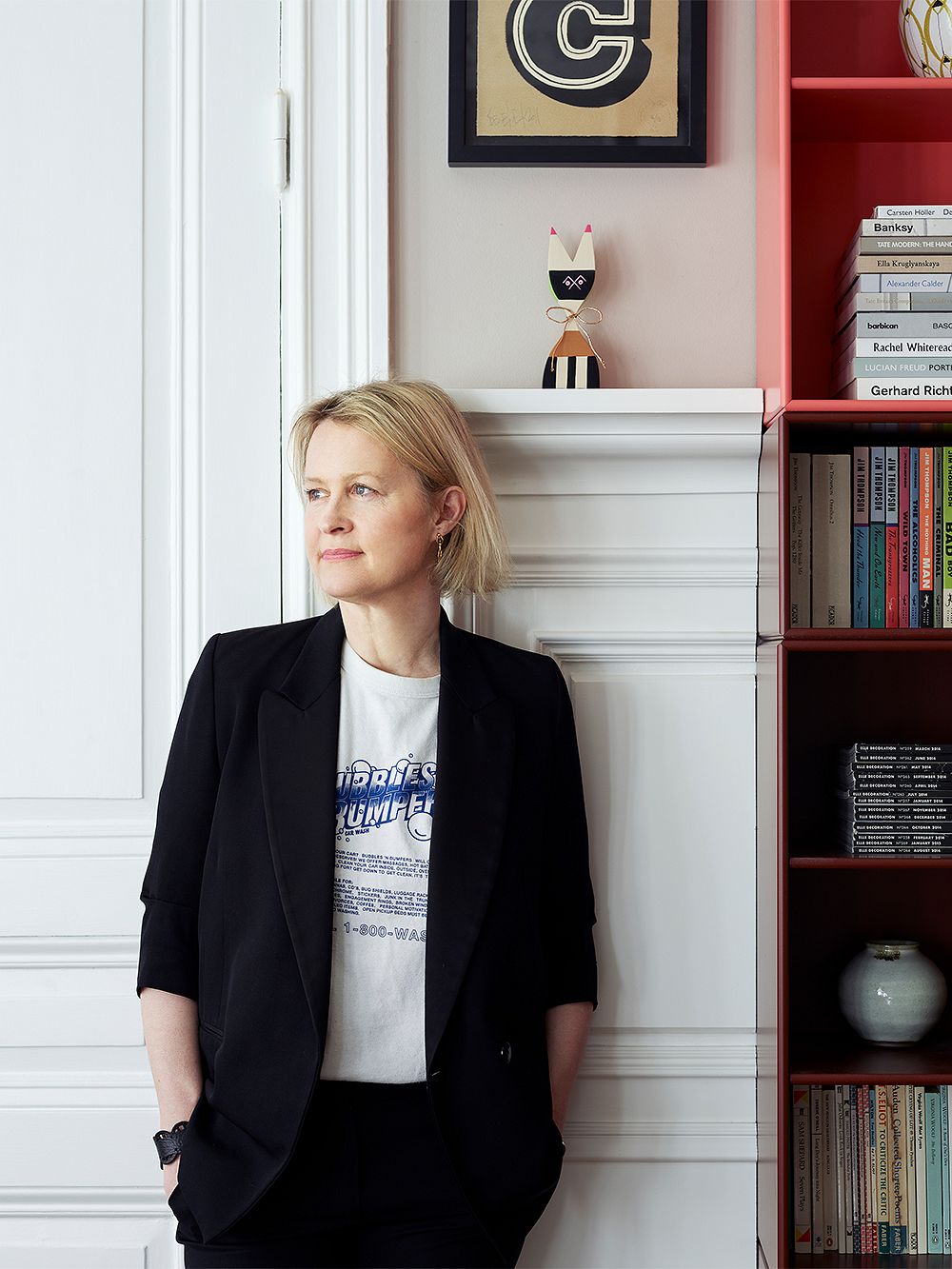 AFTER SPENDING OVER 20 YEARS in London, Gabriella Gullberg returned to Sweden and embarked on renovating a magnificent apartment in a century-old building for her family. The decor harmoniously combines both tranquility and bold choices, influenced by the years spent in London as well as Scandinavian aesthetics.
In the Gullbergs' home, gentle shades of beige blend with touches of green, peach and wine-red details. Or to put it into more expressive terms, rhubarb, masala, truffle and oatmeal make up the overall composition.
Many of us lack the courage to use colors, often overthinking our choices. Will they stand the test of time? Will I still like the hue years from now? As an interior designer, Gabriella hopes that people would dare to trust their instincts and incorporate more than just safe choices into their homes.
Gabriella is particularly drawn to the eclectic style, where home decor is created intuitively, listening to one's own self. She also emphasizes layering and multidimensionality, allowing different styles and eras to blend together.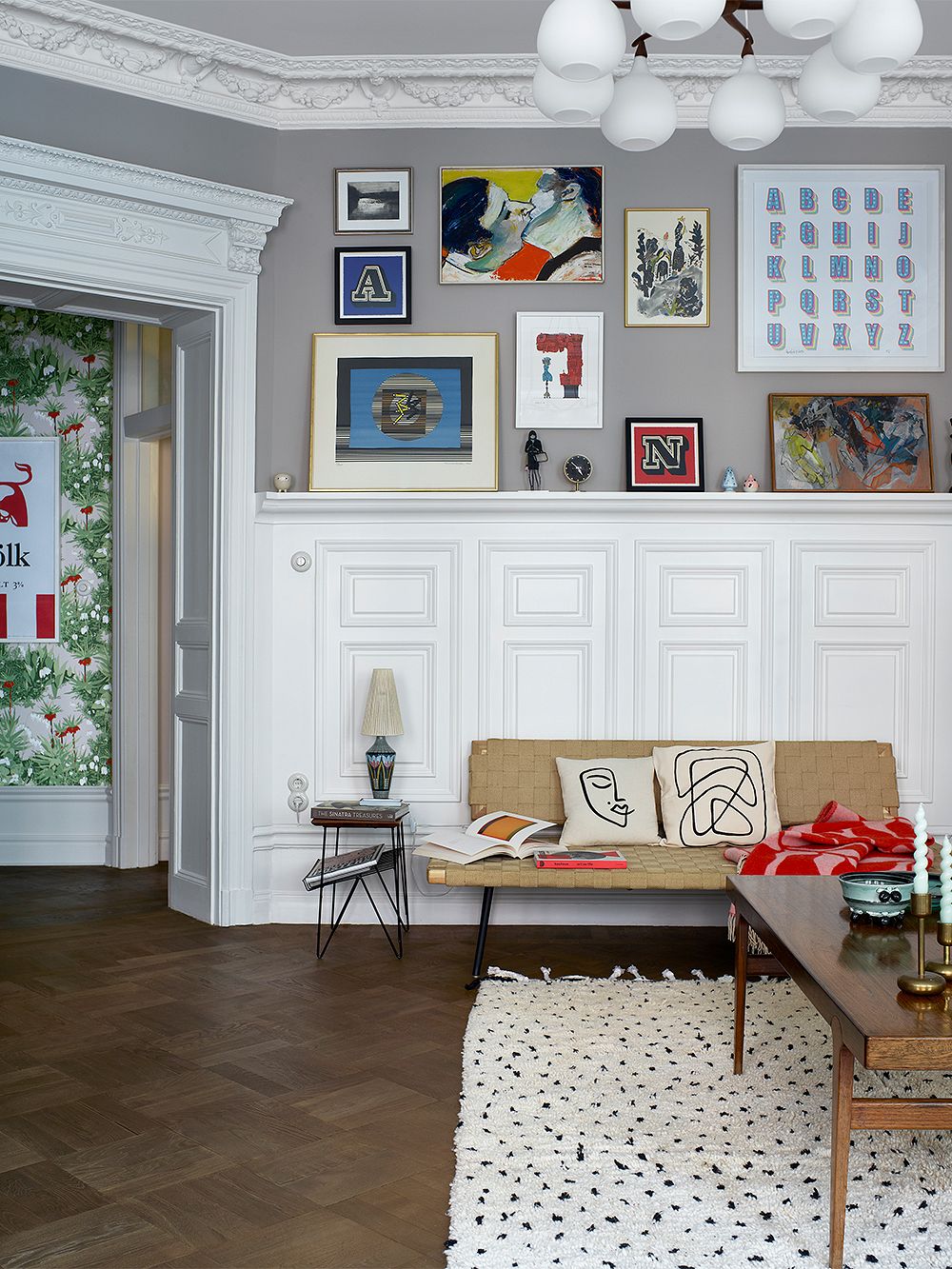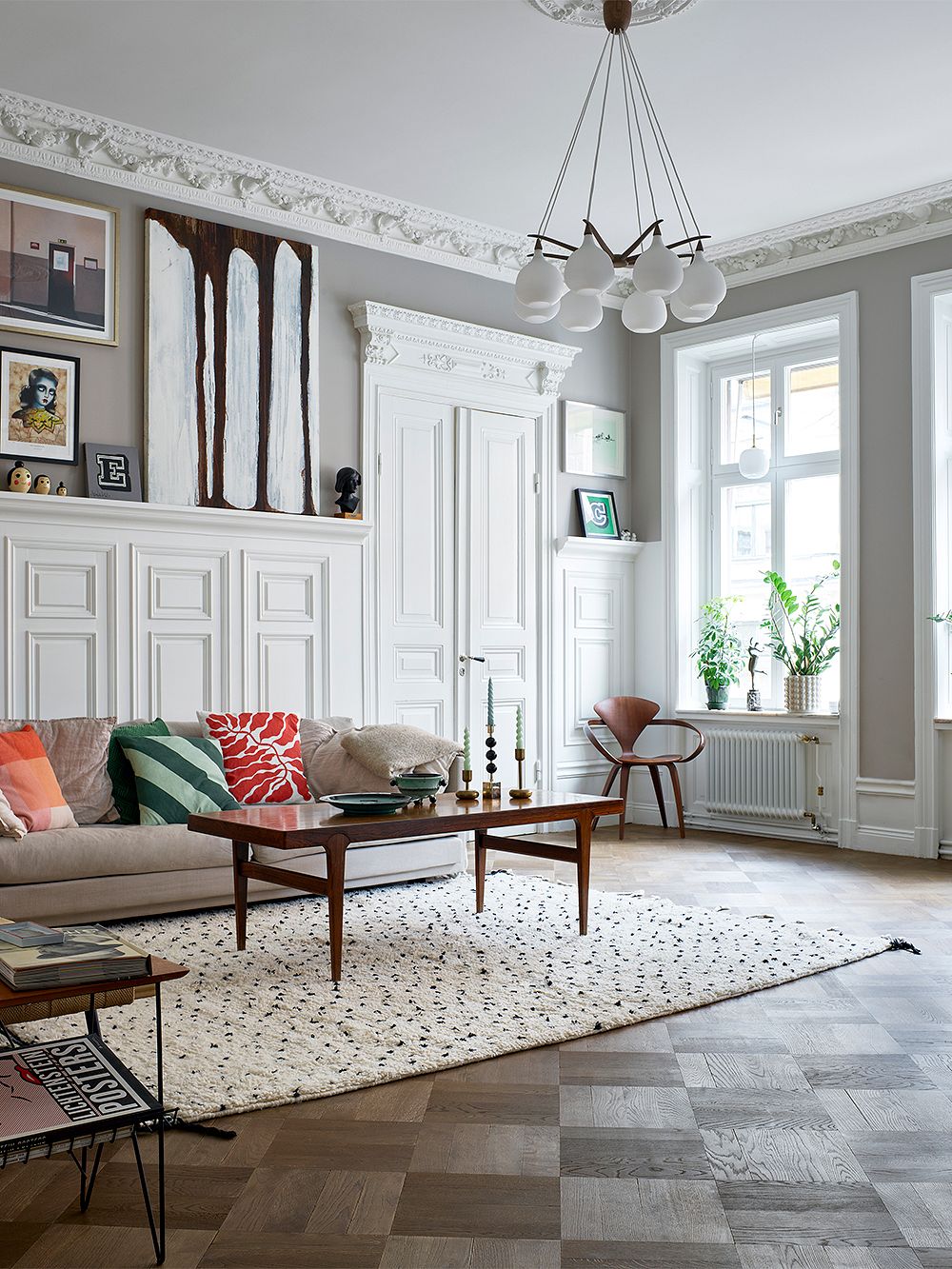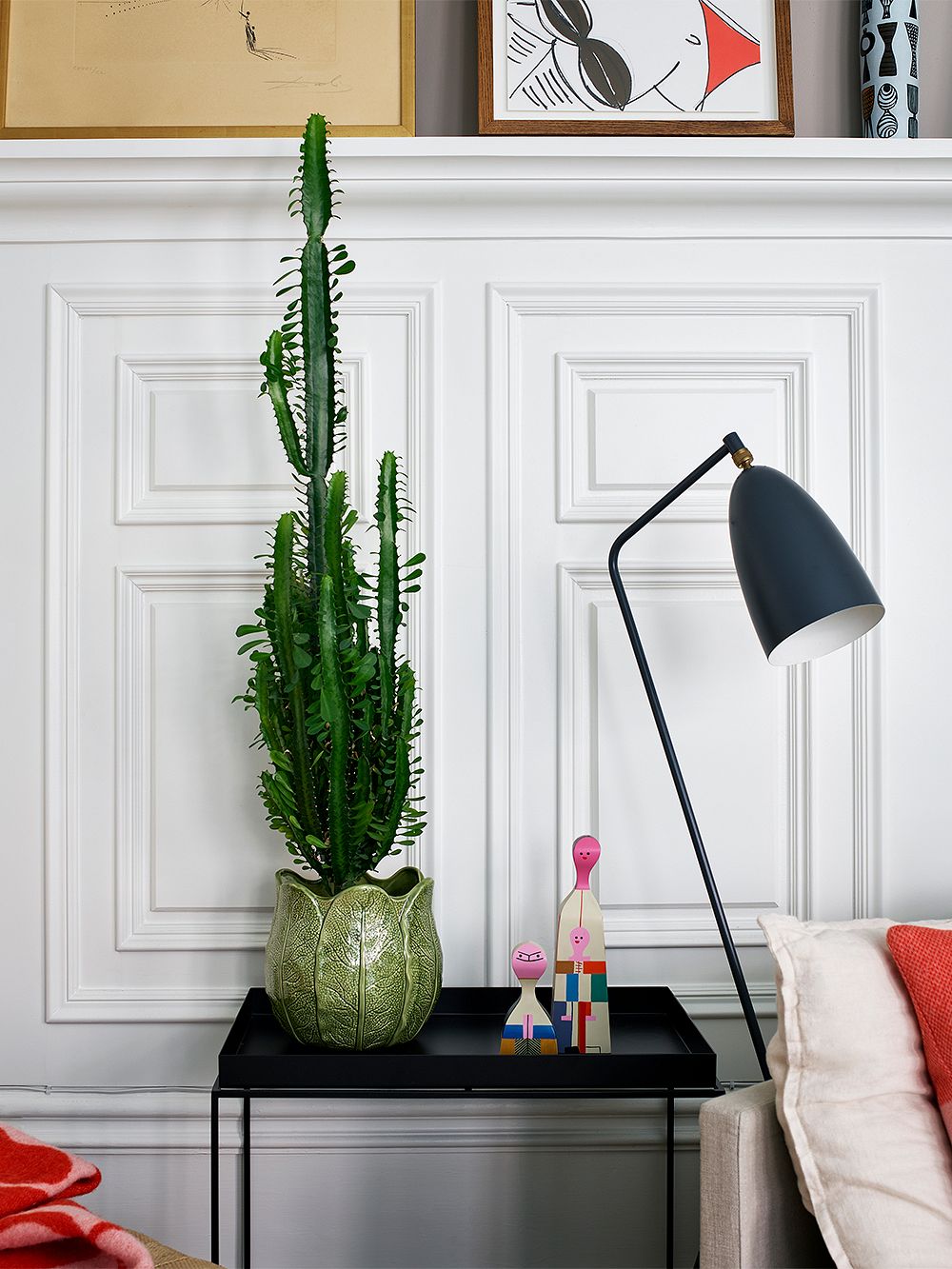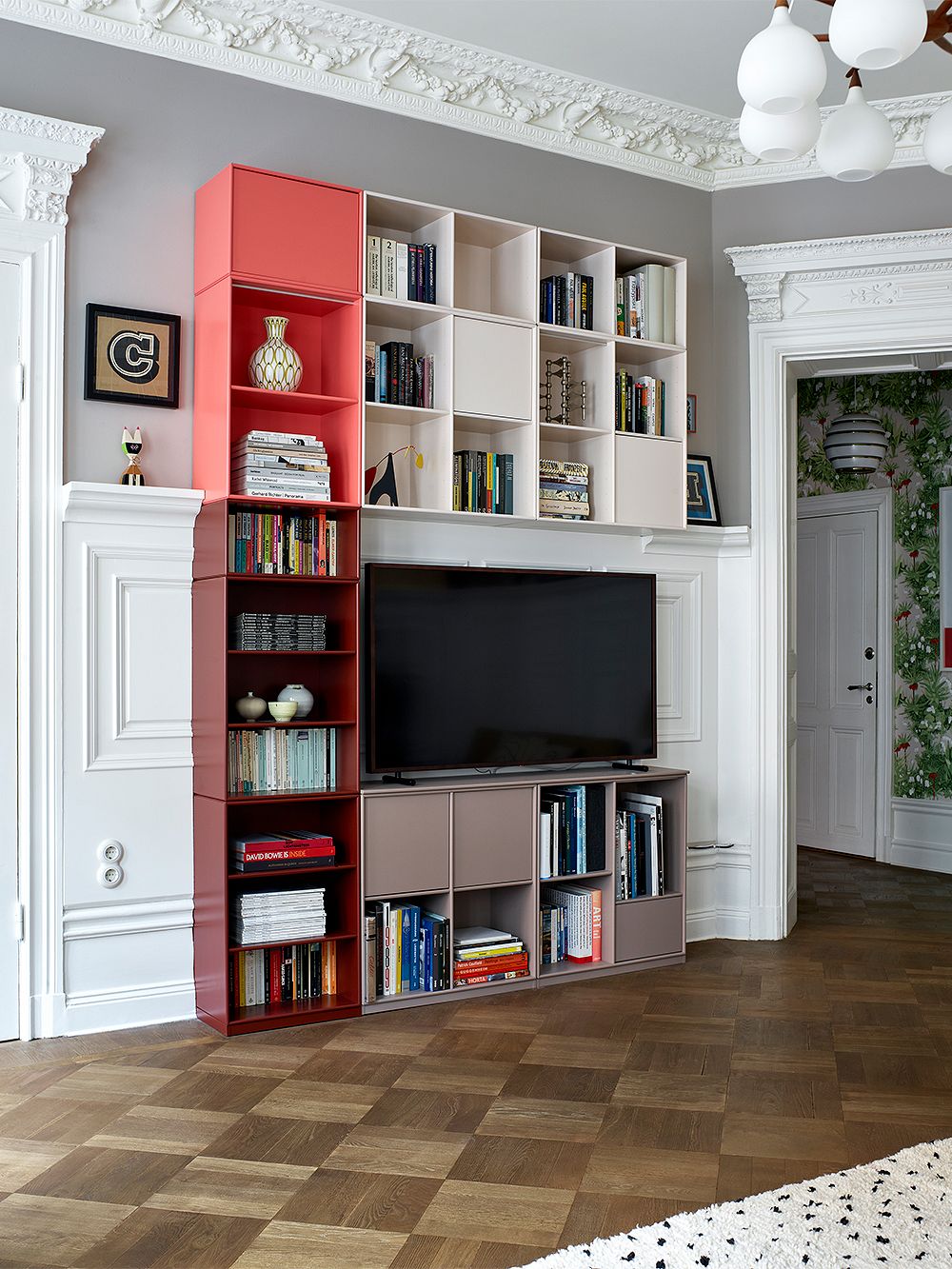 Hi Gabriella! To start off, could you share your best tips for creating a cozy interior?
"In my opinion, creating a cozy interior requires textiles, art, plants and colors. It's good to mix old and new elements: memories and meaningful objects add uniqueness. A home should have items that reflect its residents – it's not about impressing others. The most important thing is to love your home and enjoy being there, even just on an ordinary Tuesday."
Which interior styles appeal to you the most?
"I'm drawn to eclectic, personal styles. By combining new and vintage pieces, light and dark tones, and soft and hard textures, you can create a unique and personalized result. Mixing different materials and textures adds layers and rhythm to the decor. Spaces decorated in rich and warm tones awaken my inspiration."
"Spaces decorated in rich and warm tones awaken my inspiration."
Could you tell us more about eclectic style?
"The word 'eclectic' comes from Greek and means 'choosing the best.' In this style, you have the freedom to choose and express yourself creatively. Eclectic decor allows for a blend of modern, inherited, second-hand or even handmade items. However, one must also know how to reduce, so that the end result does not become cluttered.
You can use contrasts to add a touch of excitement to your living space. For example, pair a Moroccan artisan wool rug with a sleek sofa and a beautiful brass vintage lamp. You can plant a tree-like houseplant in a large pot on the floor and hang your own artwork on the wall, or maybe consider renting an artwork from an art lending service. Over time, you can gradually create a collage of vintage statues and vases on a bookshelf or discover hidden treasures in your relatives' attics."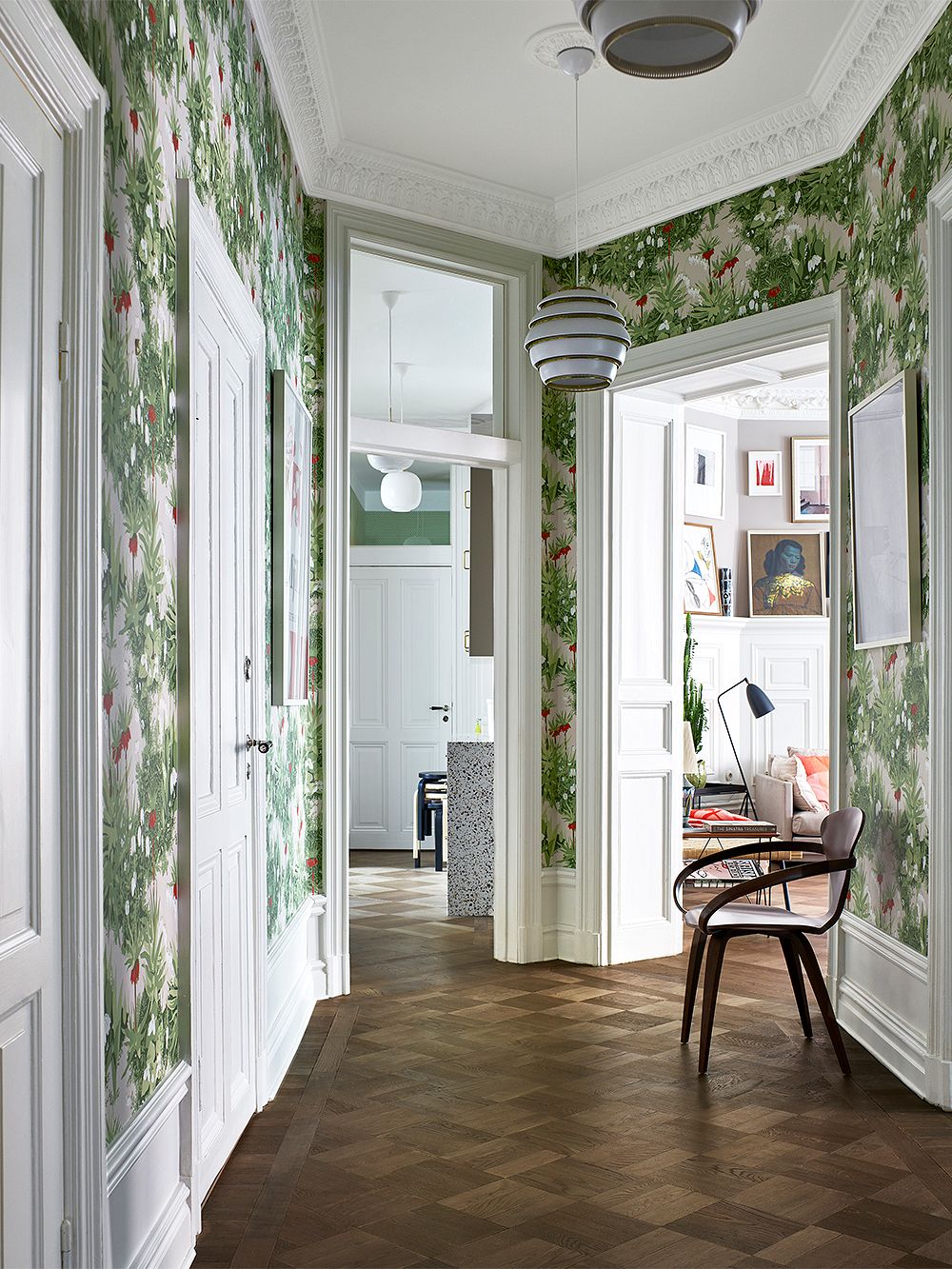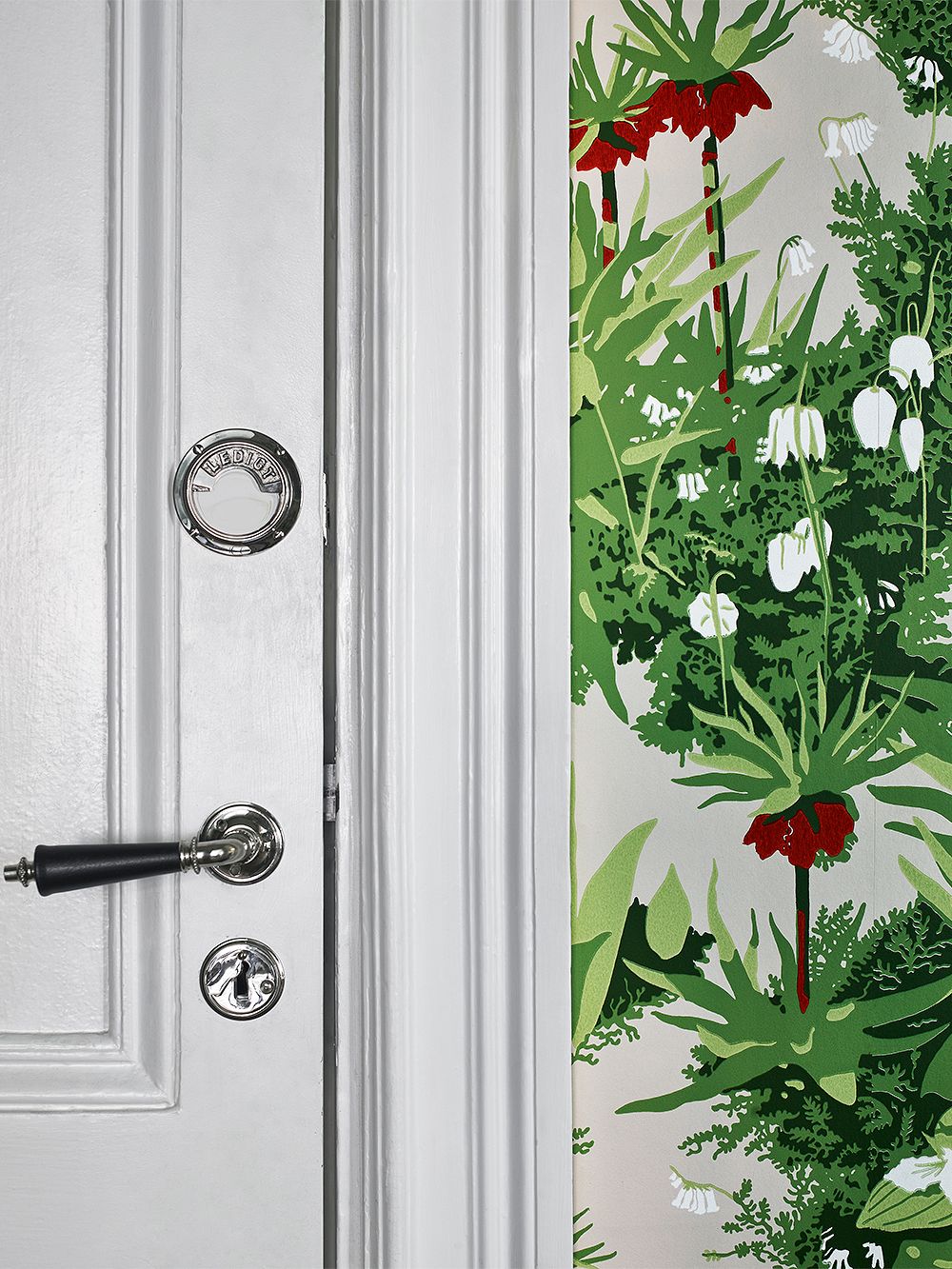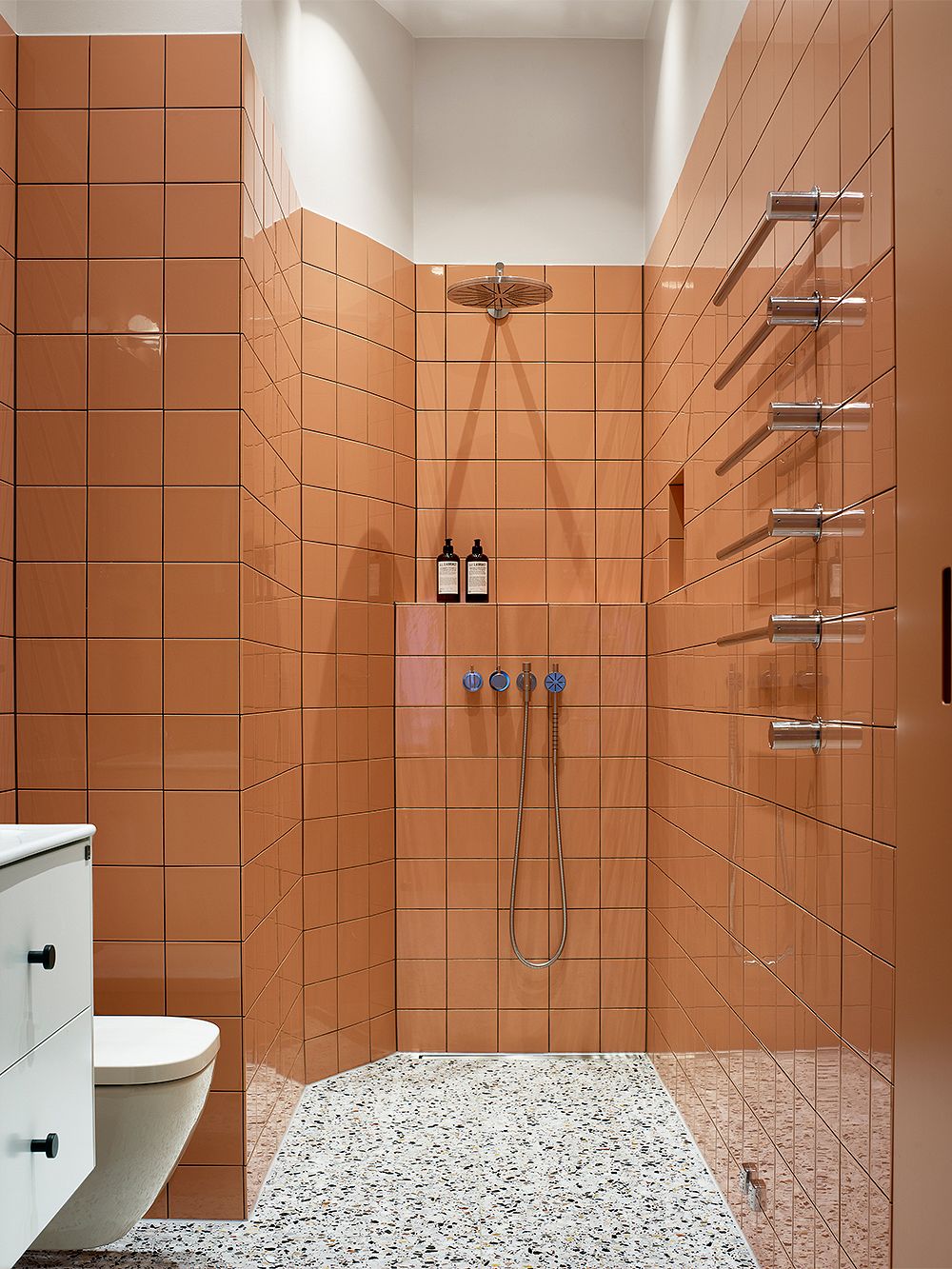 How have you renovated your home?
"We had just moved back to Sweden after spending 21 years in London and found this apartment within a few months. The apartment hadn't been renovated since the 80s, so we didn't feel bad about giving it a thorough makeover. Renovating our home was a really fun experience!
We opened up the pathways throughout the entire apartment and removed some walls. I designed a new bathroom for us and a small office space for myself. Additionally, we replaced the flooring in some rooms to achieve a seamless and beautiful parquet floor throughout the apartment. We also painted and wallpapered the entire place."
Could you tell us about your hallway wallpaper and the color choices of the bathroom?
"The wallpaper in the hallway was designed by Arne Jacobsen. Having worked in architecture for over 20 years, I deeply respect and love everything Jacobsen has created. This Kejsarkrona pattern is exceptionally vibrant, making the hallway bright and airy.
Our bathroom is another favorite of mine. It feels wonderfully inviting. Most people are a bit surprised by our choice since salmon-colored bathrooms are not very common. I love the tone of the tiles, and I believe the terrazzo breaks the monotony of the tiled walls perfectly. In my opinion, white bathrooms can often feel sterile, even though they are very common in many homes. Colors are a great way to add warmth to a space that typically features a lot of hard materials and surfaces."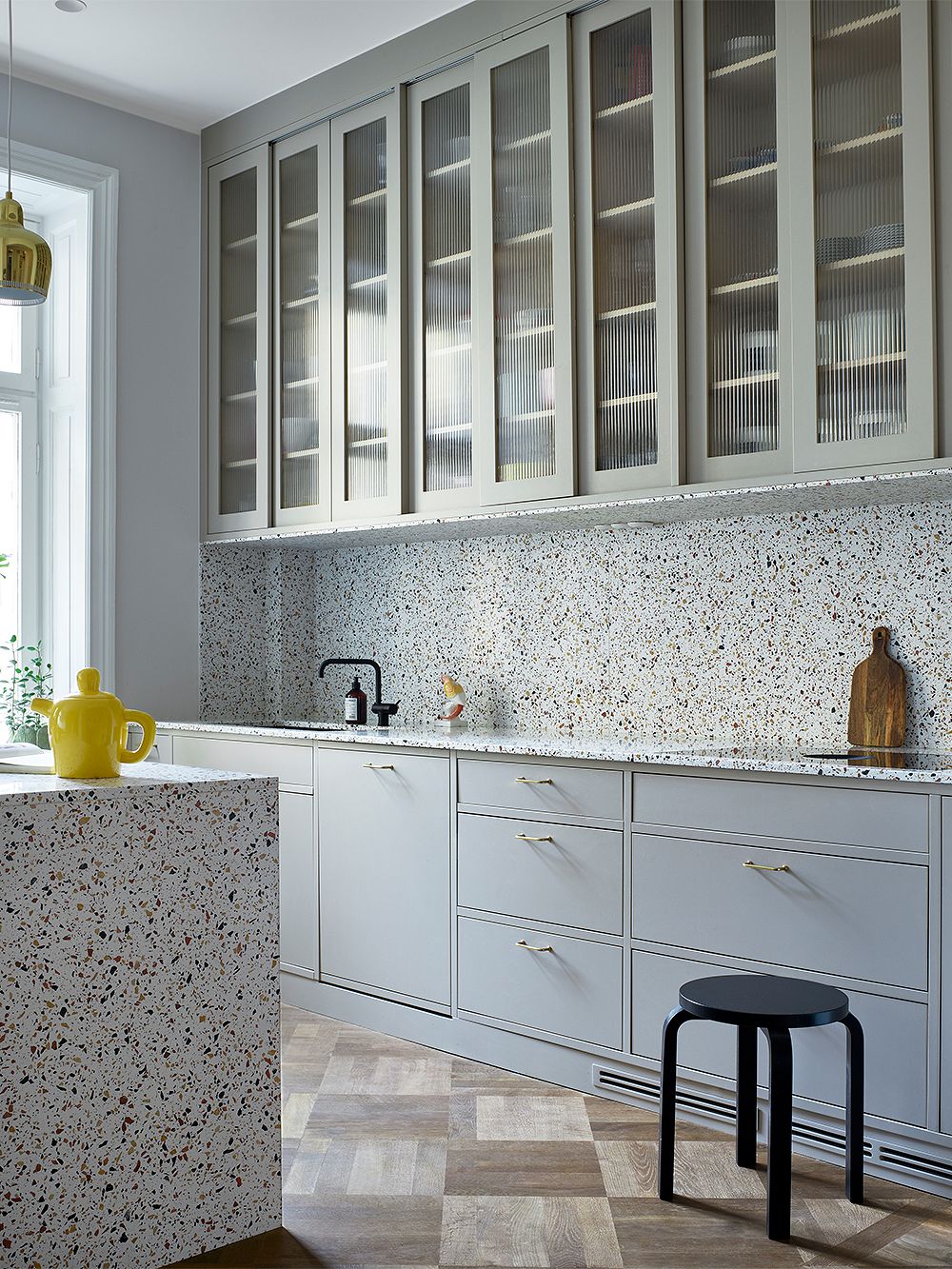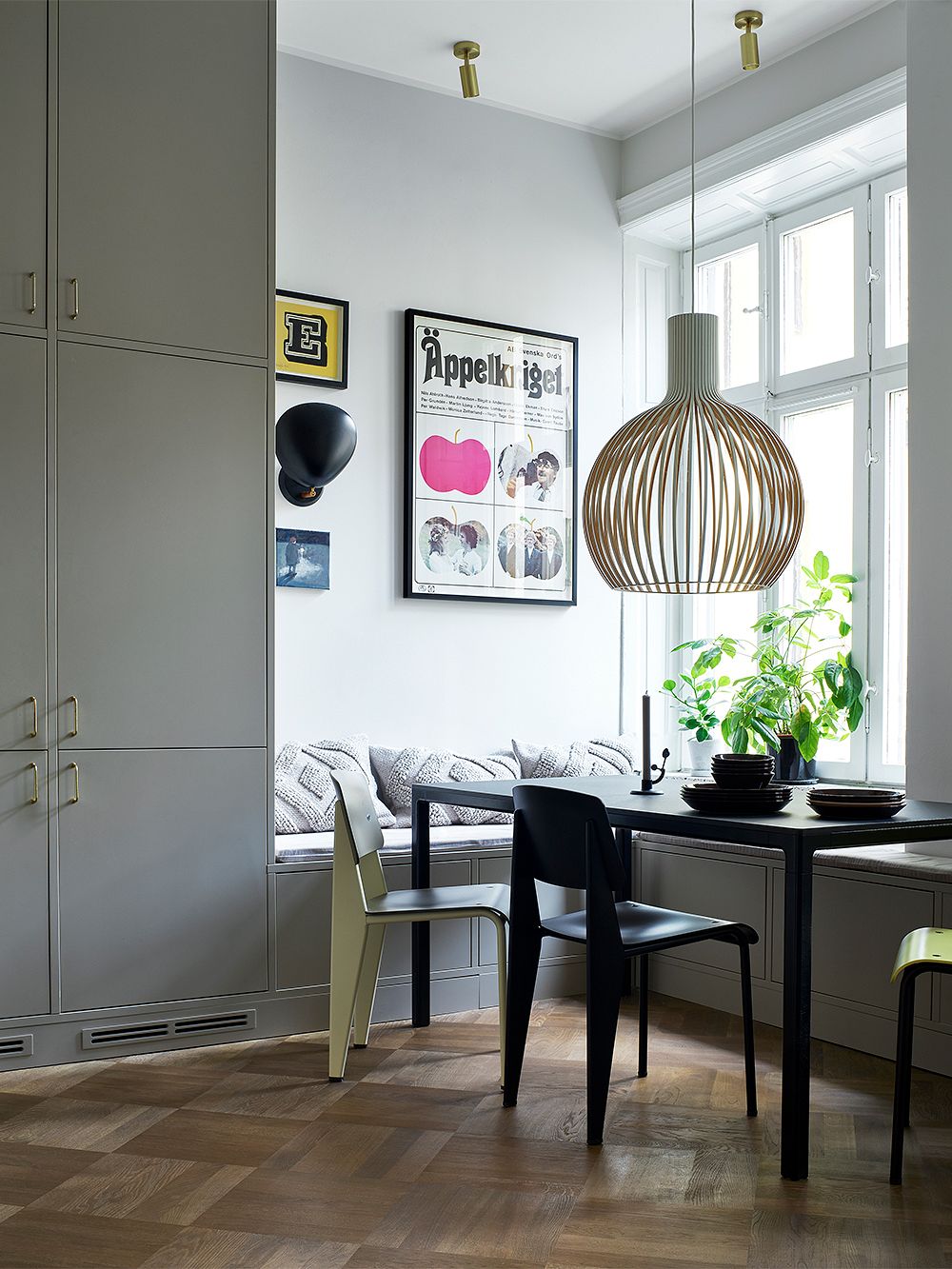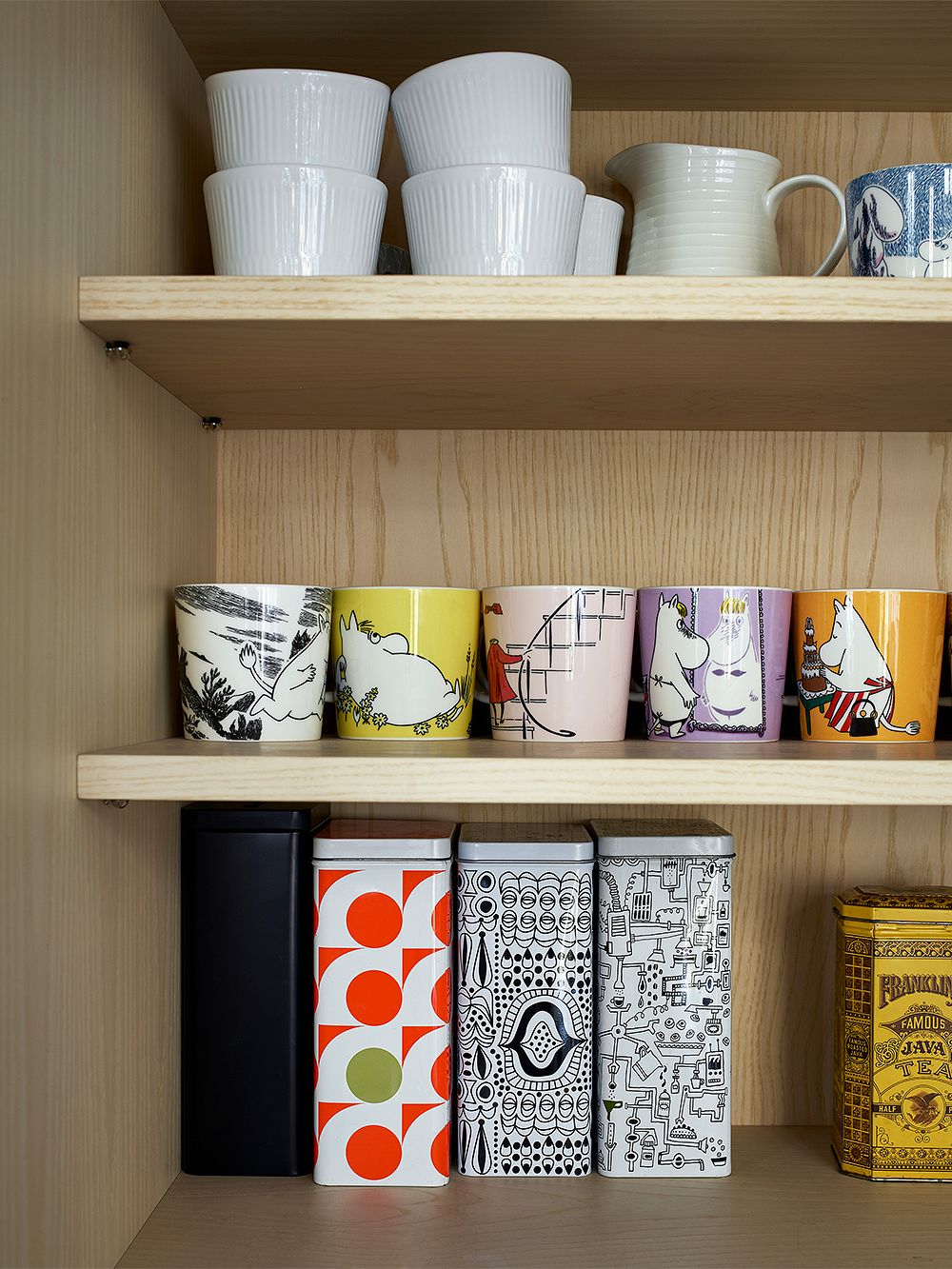 Your home is filled with beautiful colors. How did you end up decorating with colors?
"I believe that living in London for 20 years combined with my Scandinavian heritage has influenced the way I use colors. The English are not afraid to use colors, and when combined with bright and airy Scandinavian spaces, it gives me a unique perspective.
In my opinion, it's fascinating to use colors in unexpected ways, and I try to play with them as much as I can, within the limits set by the client. I always strive to create a comprehensive color scheme for each home and give each room a distinct identity. Unified color palettes, materials and textures ultimately tie the rooms together into a cohesive whole."
Could you provide some examples of personalized home decor?
"A great example is painting the ceiling in a vibrant color, which adds a unique feel to the space compared to a traditional white ceiling. I also love painting wooden surfaces in the same color as the rest of the room to create a sense of unity and make the space appear larger. Additionally, I enjoy incorporating contrasts into the decor by using wallpapers and different types of tiles like terrazzo, as they bring character and depth to the space.
"I believe each room should have its own individual identity."
While I appreciate the idea of a cohesive design concept throughout the home, I believe each room should have its own individual identity. I don't recommend painting the entire house in the same color."
Could you tell us about some vintage finds or inherited items that are important to you?
"I love our palisander coffee table in the living room, which we bought from Two Colombia Road in London together with my husband. It's one of the first pieces of furniture we acquired for our shared home, and it has remained with us ever since.
I also admire the oil painting by Sam Hodge in our living room, which is the first 'real' artwork we purchased. Sam is also a dear friend, so the painting holds a special place in our hearts. One of the cherished posters in our kitchen is the Äppelkriget poster, which holds many memories for me. It's from the 70s Swedish comedy film by Tage Danielsson, which we often watched with my parents."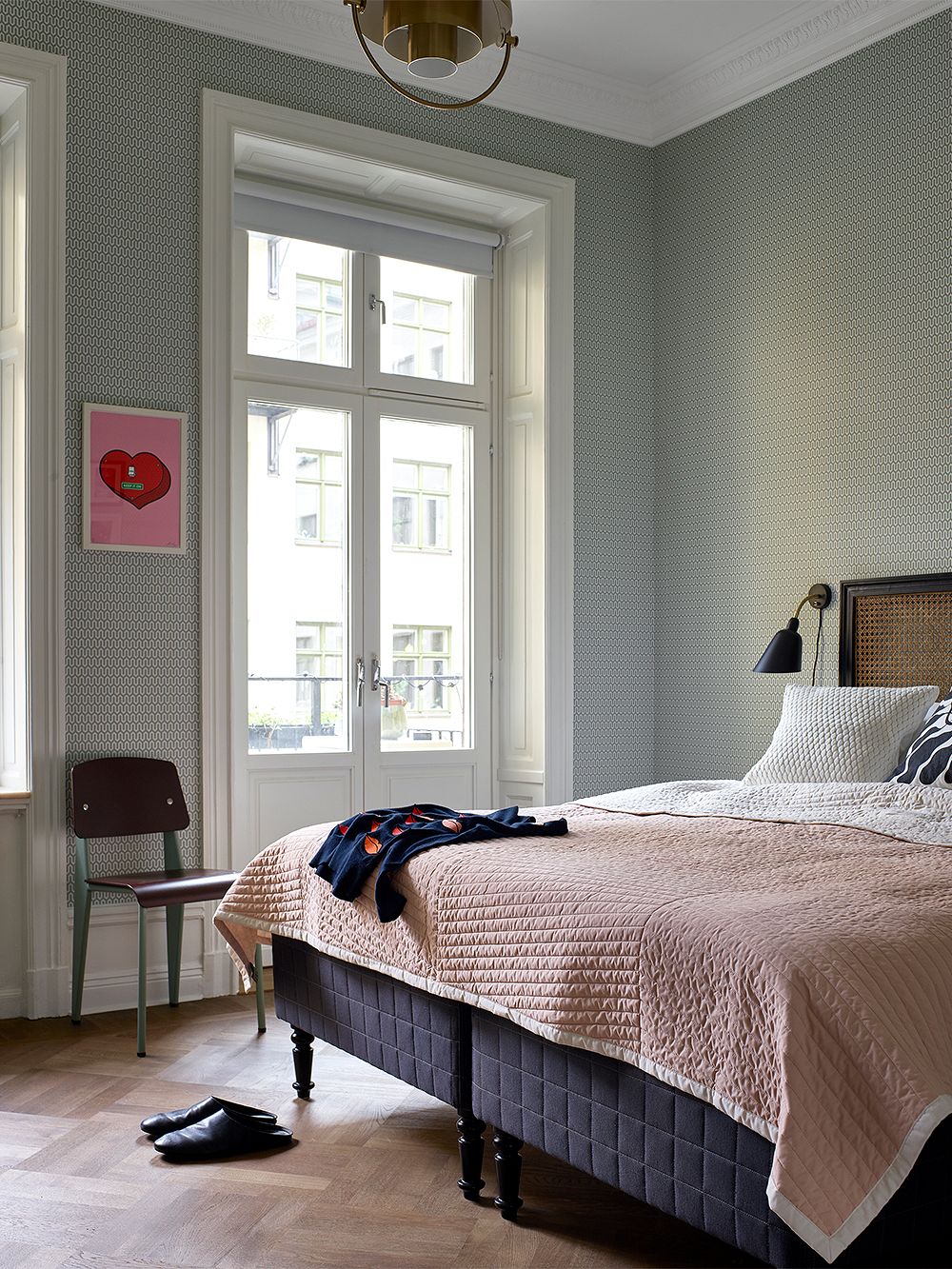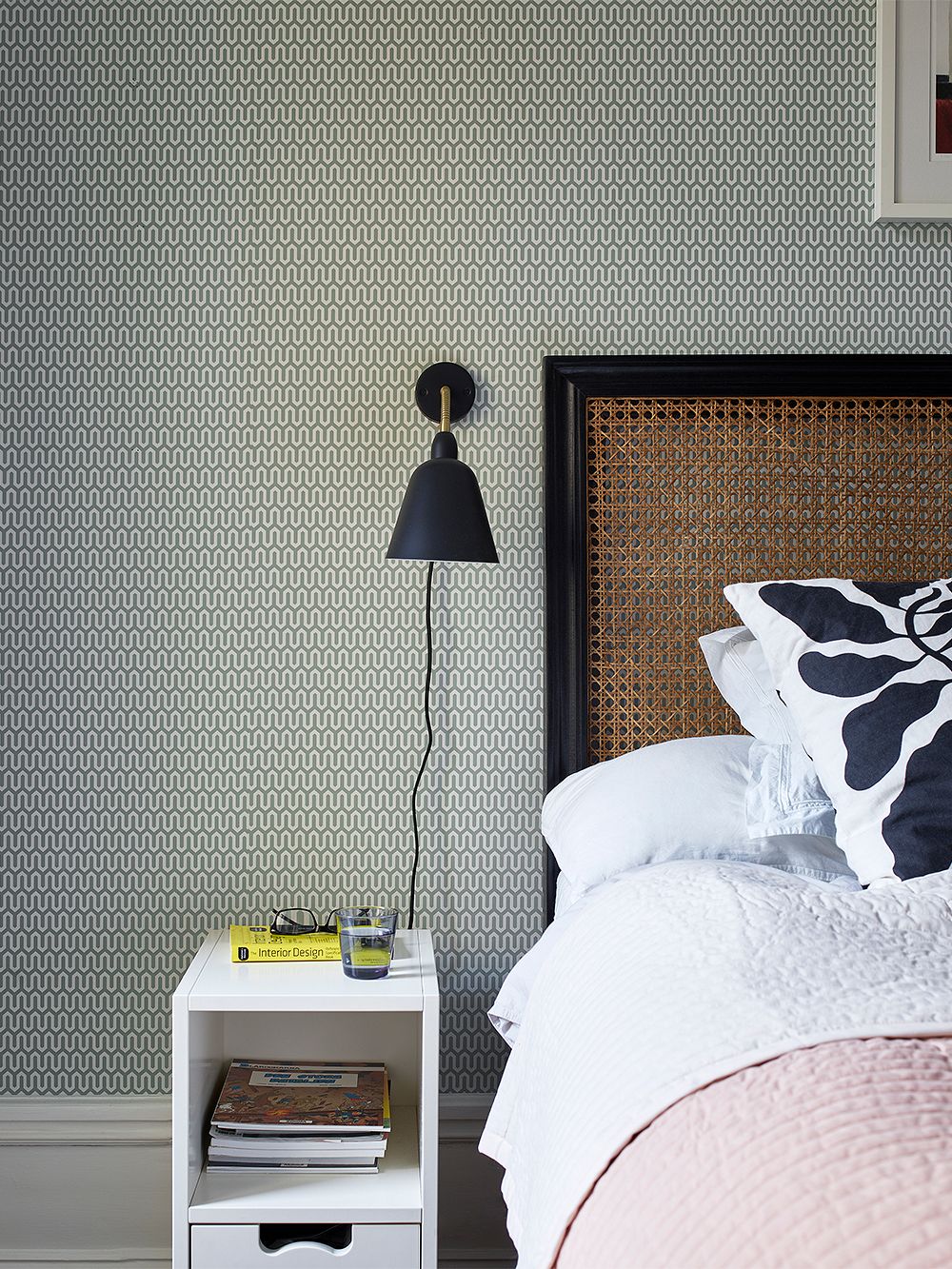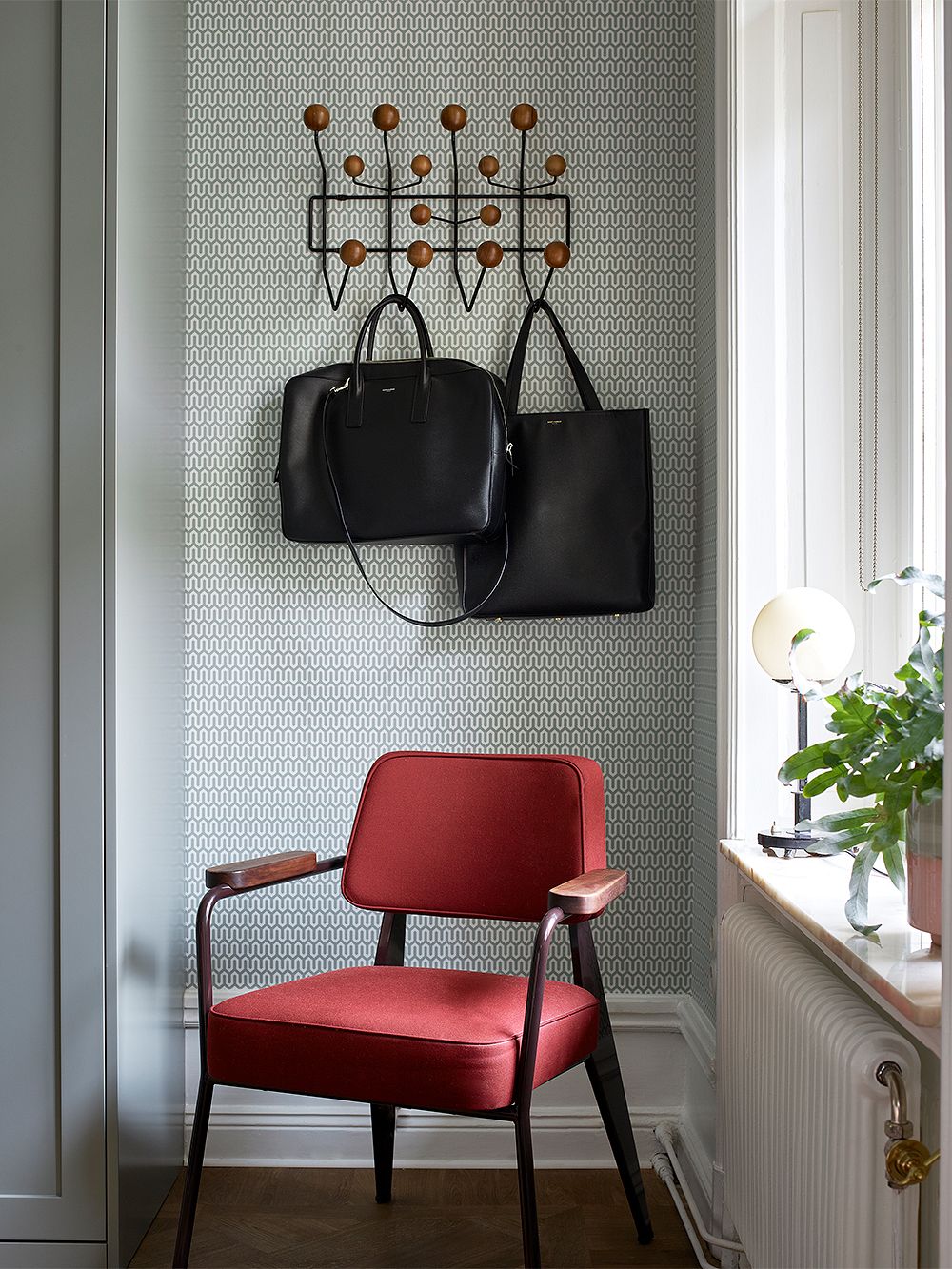 Your home is filled with posters and artwork. Where are they from?
"We've acquired a large portion of our art from auctions, some pieces were inherited, and others found in galleries in London or vintage markets in Paris. I enjoy mixing oil paintings with street art, photography and sculptures.
I make art choices based purely on intuition. If I like something, I buy it – I don't really care about the artist or whether the piece will appreciate in value someday. My favorite hobby is scouring auction websites and art galleries. You never know what you might find next! It's exciting and addictive, and I don't think I'll ever stop it."
What dreams do you have when it comes to living arrangements?
"I love our home, so there's no rush to move anywhere else. We also have a brick summer house from 1904 that we're slowly restoring. Currently, I'm working on the design for the summer house's bathroom, where I plan to use stone as one of the materials.
This home is, in many ways, my dream come true. The only downside is that we're running out of wall space for new art acquisitions!"
See also:
• Follow on Instagram: @gabriella.gullberg.interiors >
• New arrivals at Finnish Design Shop >
Text: Riikka Siusluoto Edit: Nora Uotila Images: Patric Johansson