Tidying up the pantry is worth it, as it will not only make you feel good, but also help you make really good pasta. Use the contents of your pantry to cook delicacies such as soup with beans and ready-made tortellini, green ricotta pasta or vegan lentil ragu.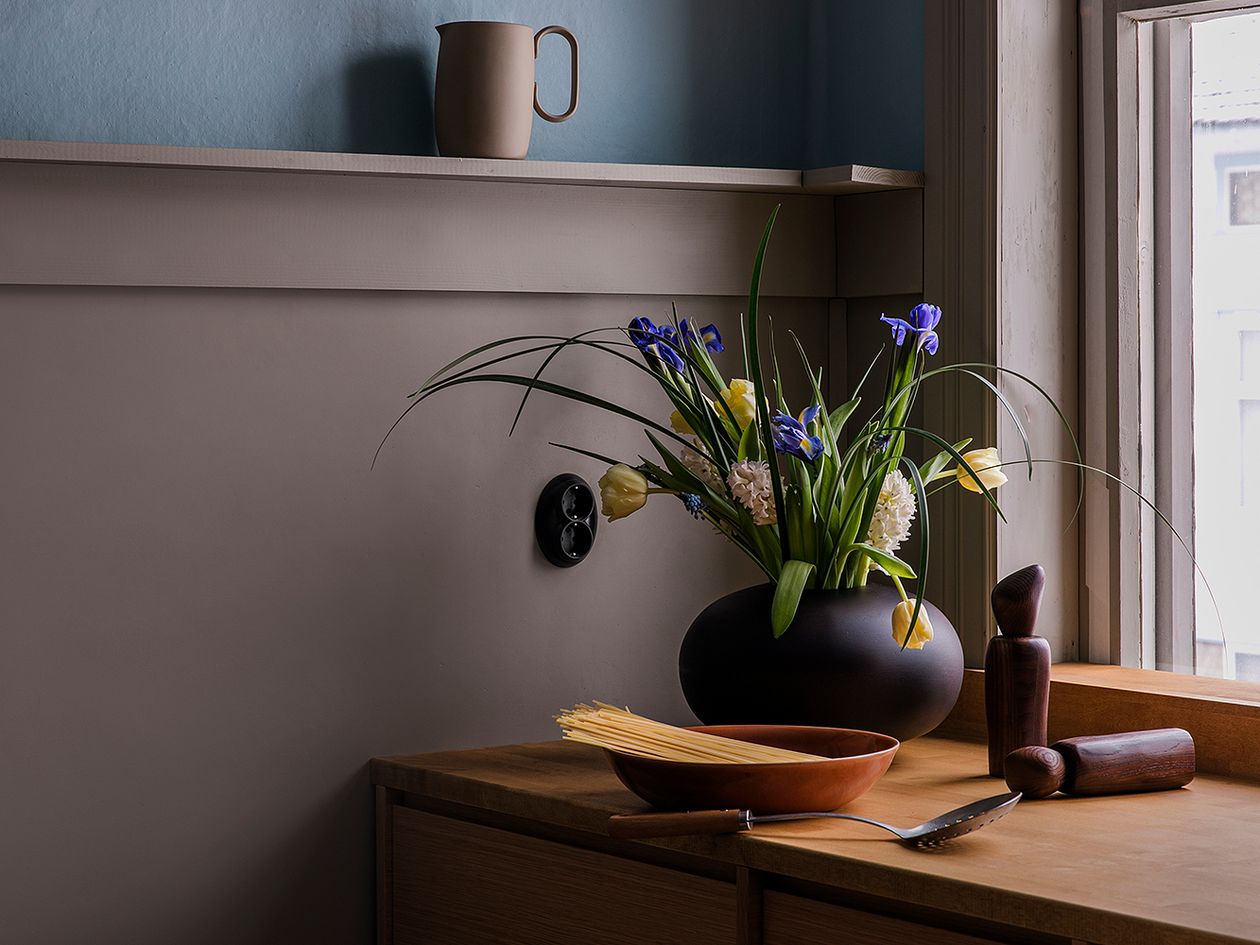 THIS IS THE TIME of the year when the vegetable sections of grocery stores no longer have anything fresh to offer. The trays and containers seem to be waiting for summer and the new season as eagerly as we are. That's why now is a great time to go through all the packages and jars forgotten at the back of the cupboard and use their contents in different pasta dishes, for example.
Americans have even come up with a term for this: pantry pasta. The idea is to cook something using what you already have in your cupboard instead of buying fresh produce. Pasta is a forgiving dish in that, for example, already combining dried chili, garlic and olive oil results in a classic Italian dish, aglio e olio.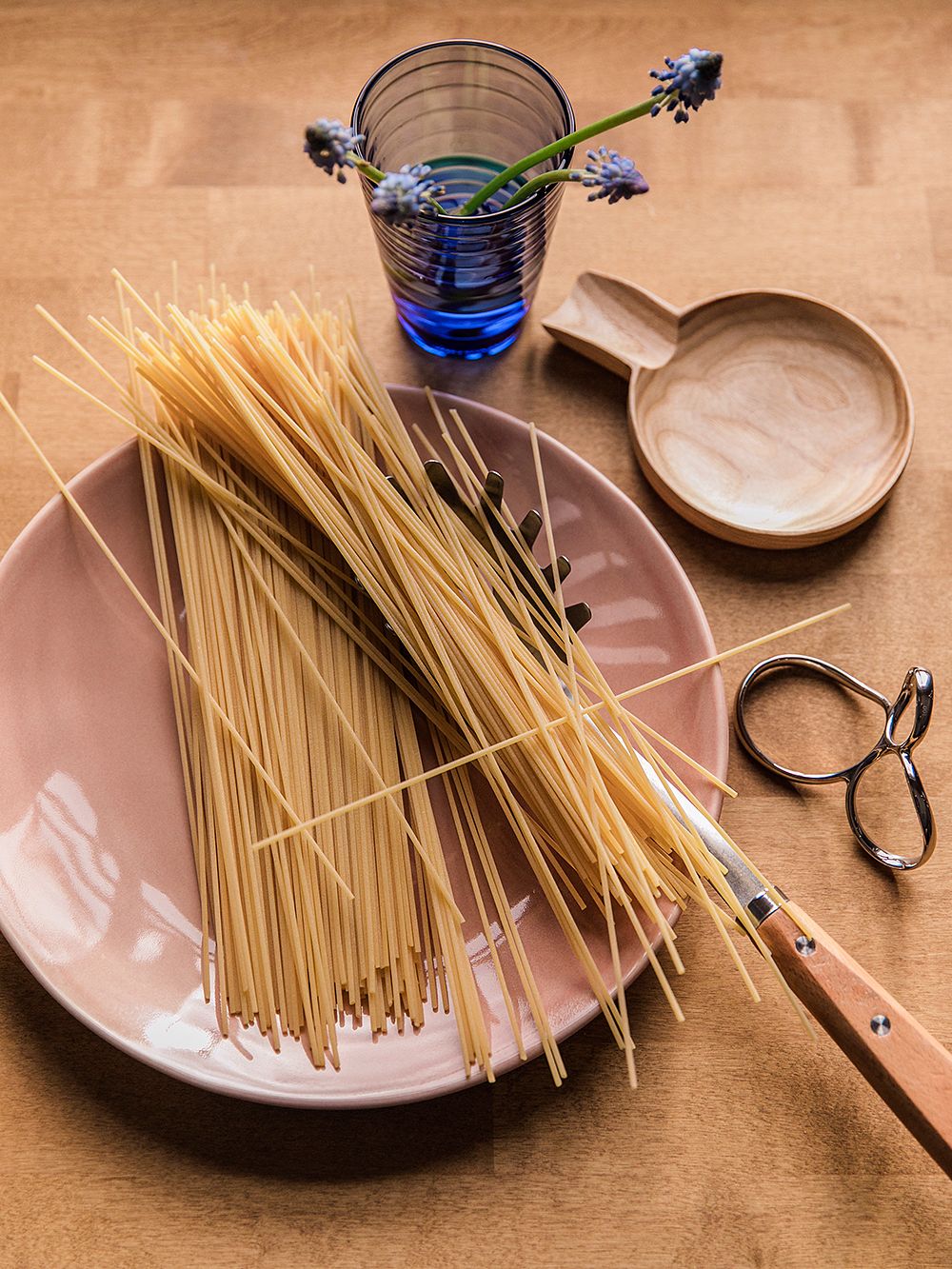 The following three recipes are heavy on the vegetables, and the lentil ragu is completely vegan. If you want, you can also make the bean and tortellini soup vegan by replacing the tortellini with traditional pasta. And, when cooking the green pasta, you can replace the ricotta with vegan cream cheese and the parmesan with nutritional yeast. Okay, so fresh ricotta may not exactly be a dry product, but when combined with frozen peas, it makes a delicious, zippy sauce for pasta.
The bean and tortellini soup is perfected by fragrant garlic oil.
The soup containing beans and ready-made tortellini can also be varied in many other ways, such as using any filled pasta or canned beans, replacing the fresh tomatoes with canned ones, or swapping the kale for spinach, for example. The soup is perfected by adding garlic oil that is quick to make. The oil smells intoxicating on the hot soup and proves that it's not always necessary to grate cheese on pasta.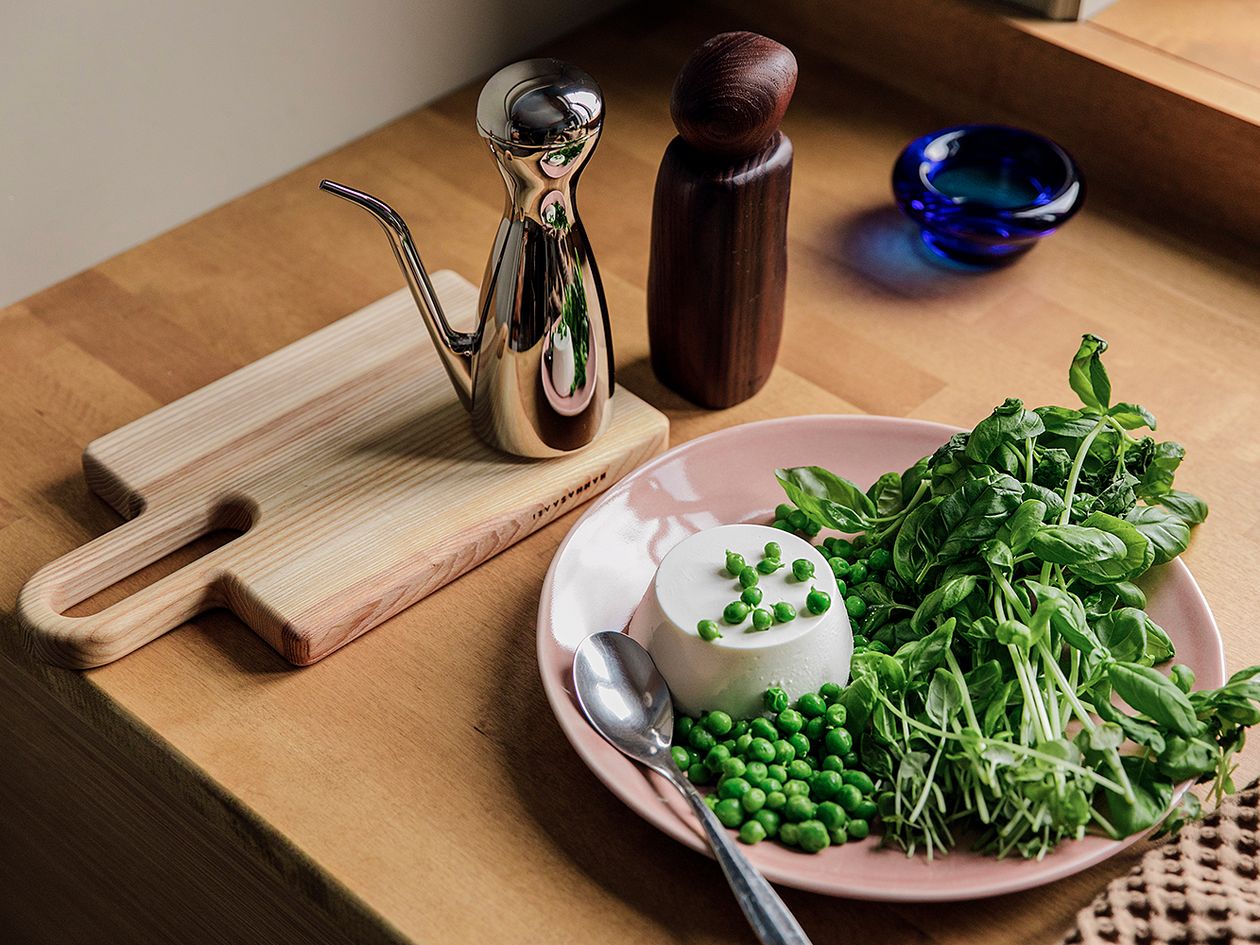 A few simple tricks are used to deepen the flavor of the lentil ragu. Before serving, the flavor of the sauce will be rounded out by adding oat milk. Surprisingly, even Italian pasta sauces made with meat sometimes contain a splash of milk. To get a nice umami taste, the sauce will be cooked using shallots sautéed until sweet, a dash of miso paste, as well as tomato purée, which will be used in much larger quantities than usually. The reason for this is that unlike crushed tomatoes, tomato purée does not need to be cooked for hours to intensify the flavor.
---
3 easy pasta recipes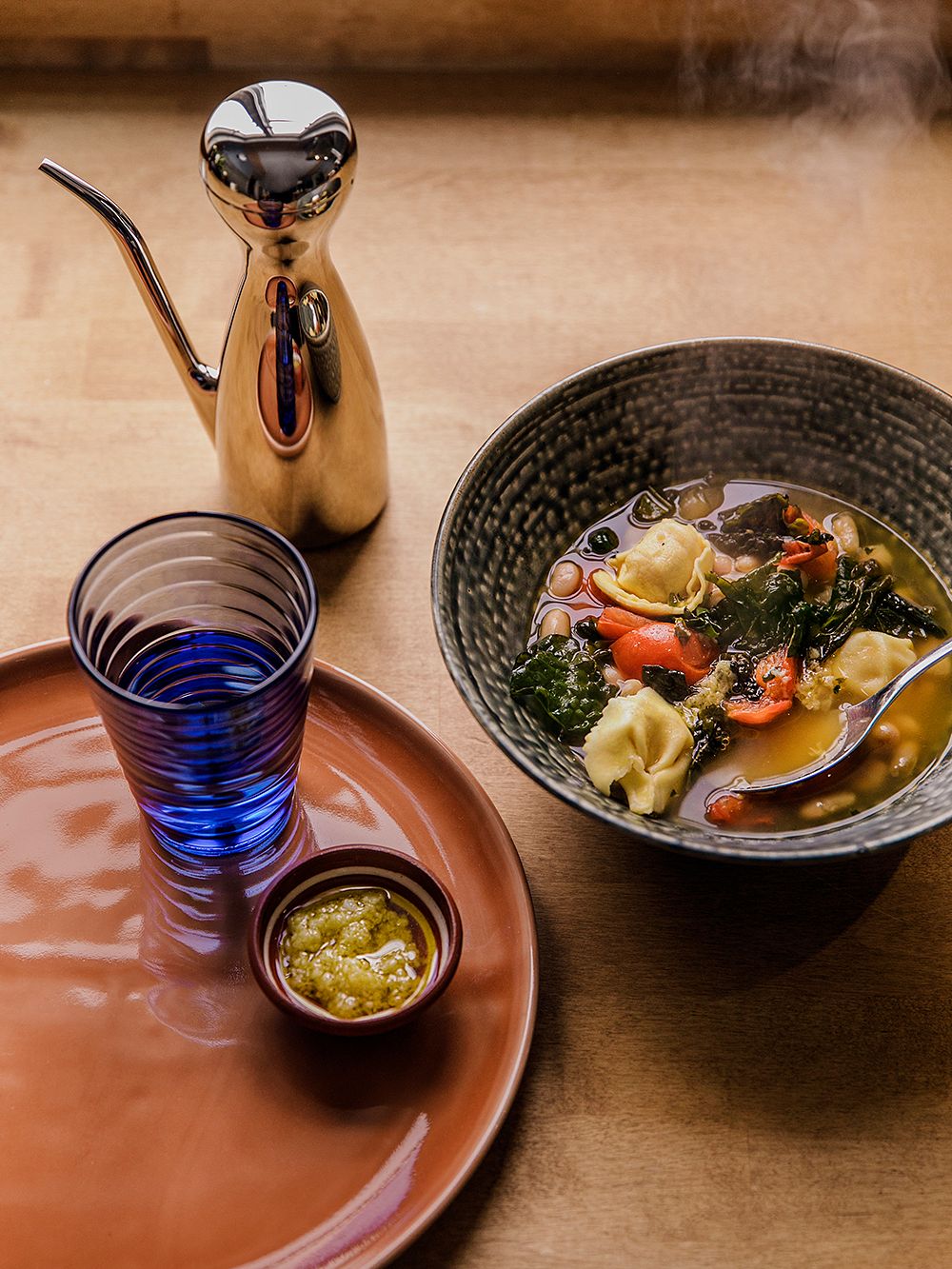 Bean and tortellini soup
Ingredients for four servings:
1–2 tbsp olive oil
1 packet (250 g) cherry tomatoes
1 tsp salt
1 carton/can (230 g) white beans
1 l water
1 vegetable stock pot
2–3 kale leaves
1 packet (250 g) tortellini
Garlic oil:
50 ml olive oil
2–3 cloves of garlic
pinch of salt
Do as follows:
Add 1 tbsp of olive oil, the rinsed and halved cherry tomatoes and 1 tsp of salt into a pot. Sauté the tomatoes for a few minutes until they start to soften. Add the drained beans, water and stock pot and bring to a boil. Let the soup simmer for 10 minutes and then add the tortellini and slightly shredded kale. The soup is ready when the tortellini have risen to the surface. Taste for salt.
Prepare the garlic oil by pouring the olive oil into a small bowl and grating in the garlic cloves. Season with a pinch of salt and mix. Serve the soup right away with garlic oil, seasoned with freshly-ground black pepper.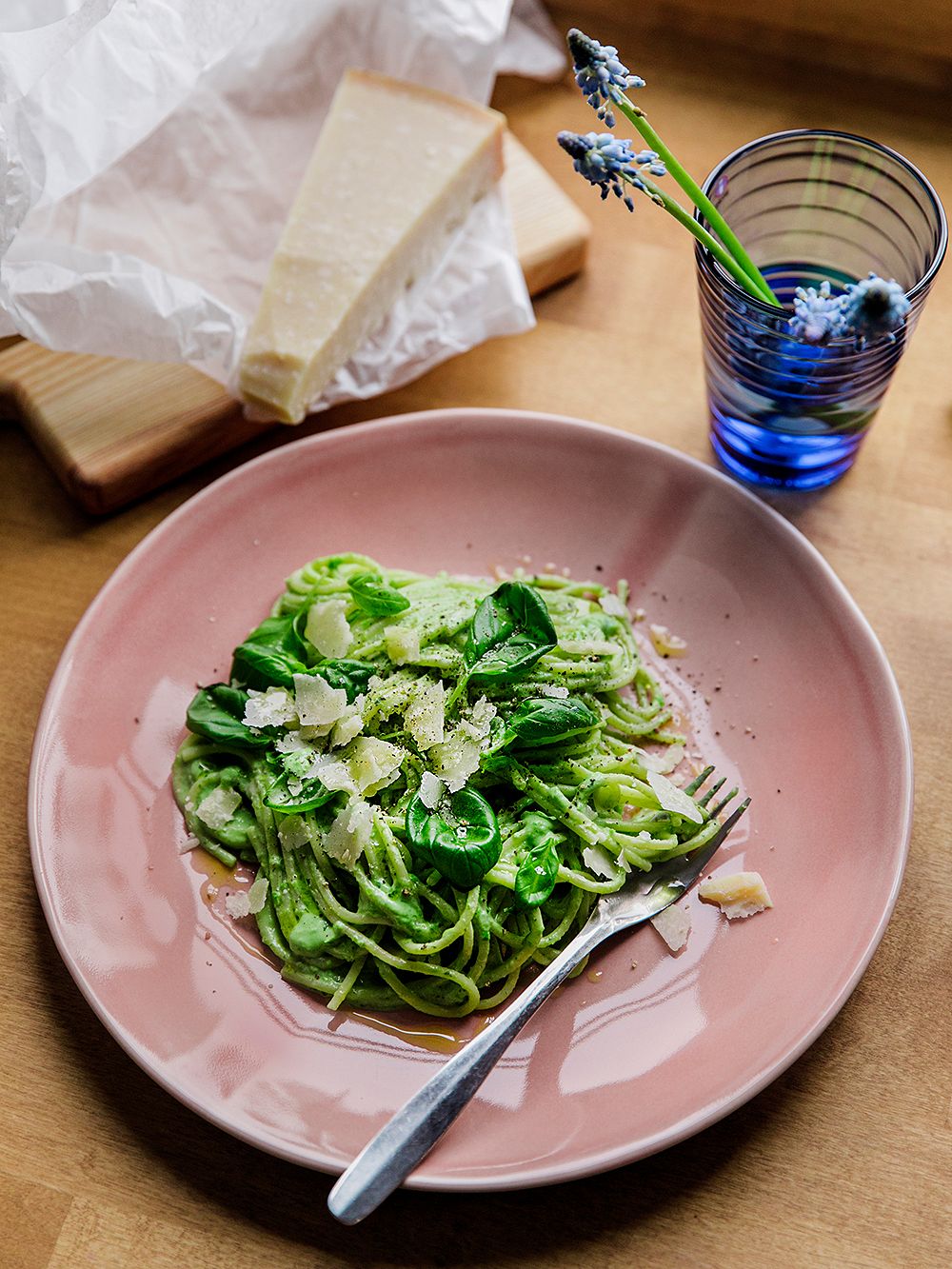 Spaghetti verde
Ingredients for four servings:
400 g spaghetti
1 packet (250 g) ricotta
1 clove of garlic
1 bag (200 g) frozen peas
1 lemon – grated zest and 1 tbsp juice
½ tsp salt
1 bunch basil
parmesan
olive oil
Do as follows:
Thaw the frozen peas. Pour the peas, ricotta, garlic cloves, lemon zest, salt and basil leaves into a blender. Cook the pasta in generously salted water until al dente and scoop out a glassful of water before draining the pasta.
Process the pea and ricotta mixture in the blender until smooth, and thin it out with the pasta-cooking water, if necessary. Quickly mix the pasta and ricotta in a pot over medium heat, adding more pasta-cooking water, if necessary. Have a taste, and add the lemon juice and more salt, if required. Plate the pasta and garnish it with a generous amount of freshly-grated parmesan and a dollop of olive oil. Serve right away.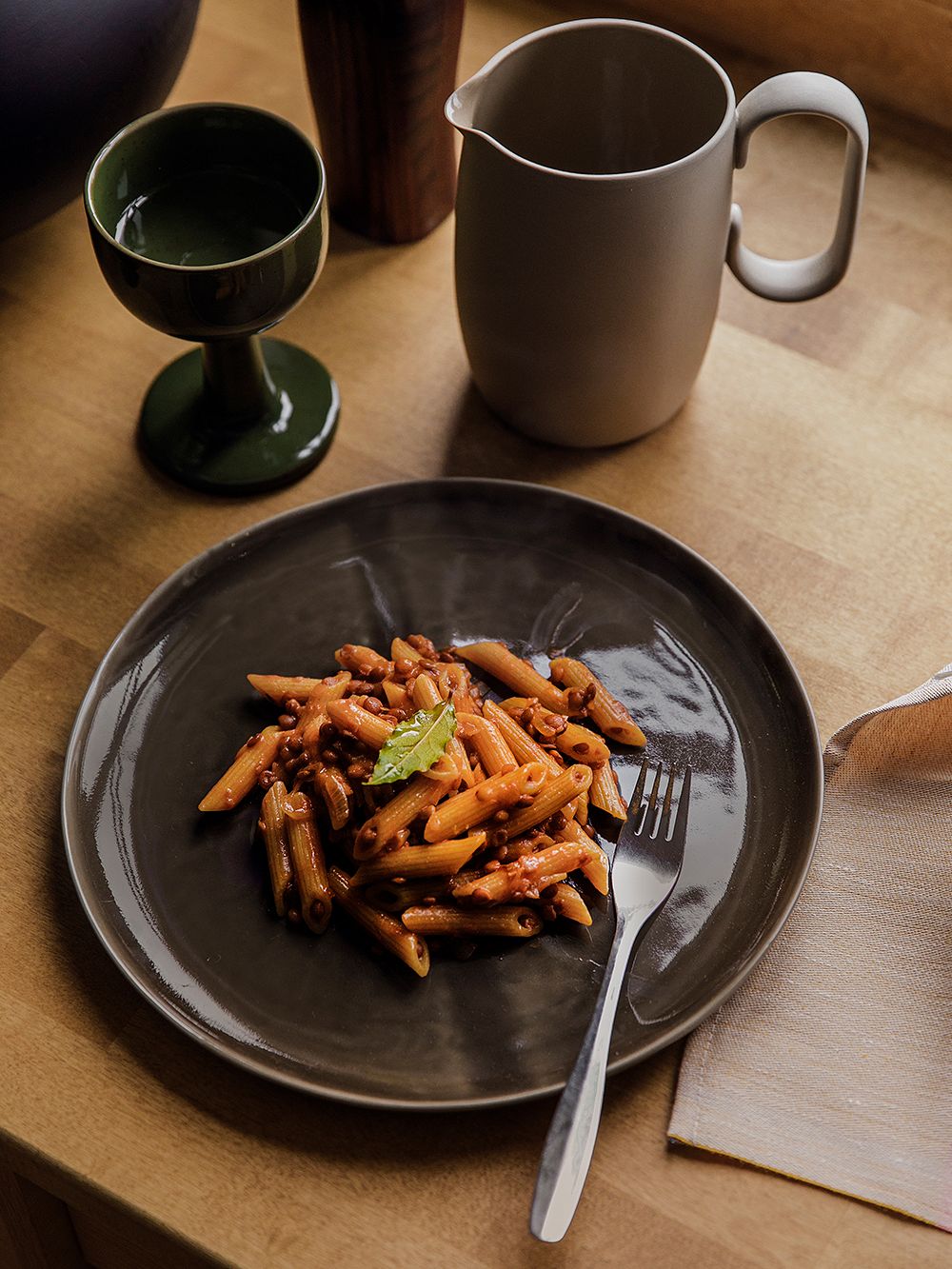 Lentil ragu with penne
Ingredients for four servings:
2 tbsp olive oil
4–5 shallots
1–2 cloves of garlic
1 tsp fennel seeds (or 1 tsp oregano)
½ tube tomato purée
1 tbsp miso paste
300 ml water
1 bay leaf
1 carton/can (230 g) cooked red or brown lentils
150 ml oat milk
400 g penne pasta
nutritional yeast
Do as follows:
Peel and chop the shallots and put them in the frying pan with the olive oil. Sauté the onions for 10 minutes over low heat until they soften. Add the finely chopped garlic cloves, fennel seeds (or oregano) and half a tube of tomato purée. Fry the mixture for five minutes, and then add the miso paste, water, bay leaf and drained lentils. Season the sauce with salt, and let it simmer for about 15 minutes or until it starts to thicken. Add the oat milk and taste for salt.
While the sauce simmers, cook the pasta and leave it very al dente. Then, drain the pasta, saving a glassful of the cooking water. Add the pasta into the frying pan with the other ingredients, and toss the pasta occasionally until it tastes cooked. If necessary, add more cooking water while the pasta cooks to keep it from drying out.
Plate the pasta and garnish it with nutritional yeast, freshly-ground black pepper and high-quality olive oil.
---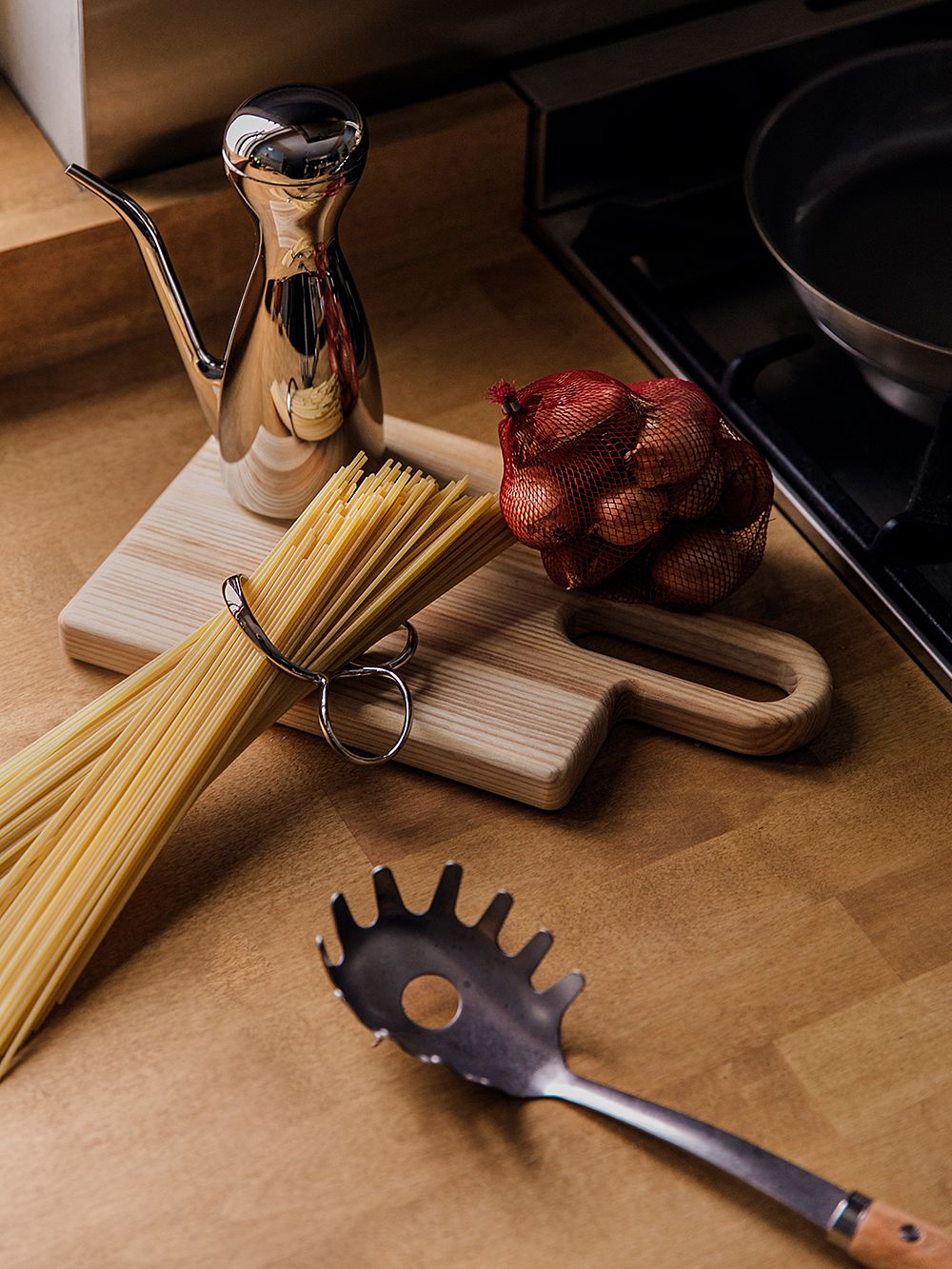 Fancy some more pasta?
Goose Pasta Bar
When in Finland, visiting this Helsinki-based restaurant is like taking a trip to Italy without having to pay for a plane ticket. If you're craving authentic cacio e pepe, for example, this is the place for you. The popular restaurant does not take reservations, so be prepared to wait a little for a table.
Eerikinkatu 44, Helsinki, goosepastabar.com
Pasta Grannies
Would you like to see how authentic Italian food is prepared? In the Pasta Grannies videos on YouTube, real Italian nonnas demonstrate their pasta-making skills and share classic pasta recipes. After watching the videos, you'll probably want to make pasta yourself. And the best part is that the nonnas do not use any expensive knives or pasta machines – all you need is some elbow grease, flour and a rolling pin.
@pastagrannies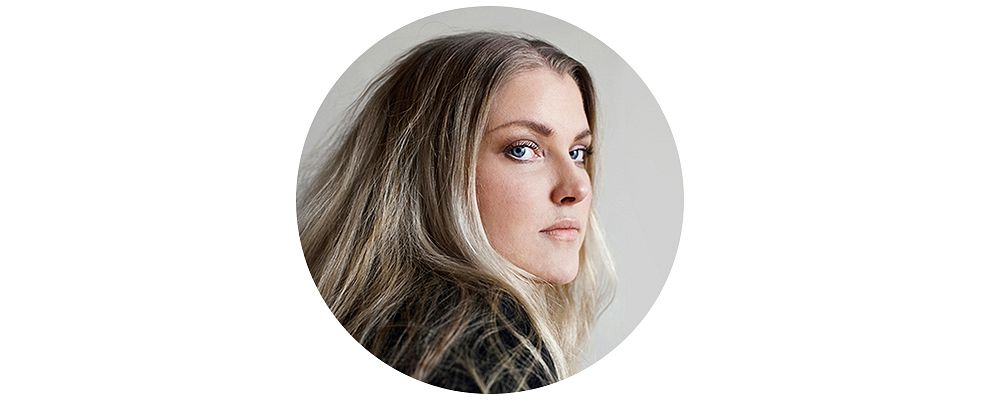 Design Stories contributor Suvi Kesäläinen is a photographer, who loves to create dishes that are not only delicious but also fast and easy to make. She's passionate about the best seasonal ingredients, local food and intriguing culinary trends.
---
See also:
• New tableware at Finnish Design Shop >
Text and photos: Suvi Kesäläinen