The Japandi style, which combines Japanese and Scandinavian aesthetics, can also be perfectly applied in the kitchen. In these recipes, ochazuke meets Nordic dill, orange rice is seasoned with yuzu, and the familiar potato salad gets a new twist from soy sauce and sesame seeds.
WHEN JAPANESE AESTHETICS and Scandinavian design become fused, they get a new name: japandi. The combination is natural, as the design in both Japan and Scandinavia is minimalist, pragmatic, and warm.
This harmony can also be easily created on a plate, for example by adding Nordic spices to Japanese cuisine or by utilizing Japanese ingredients in Nordic recipes. In Scandinavia and Japan, people value the same kinds of things in food: simple flavors, high-quality ingredients, and practicality. Japandi reflects these features well.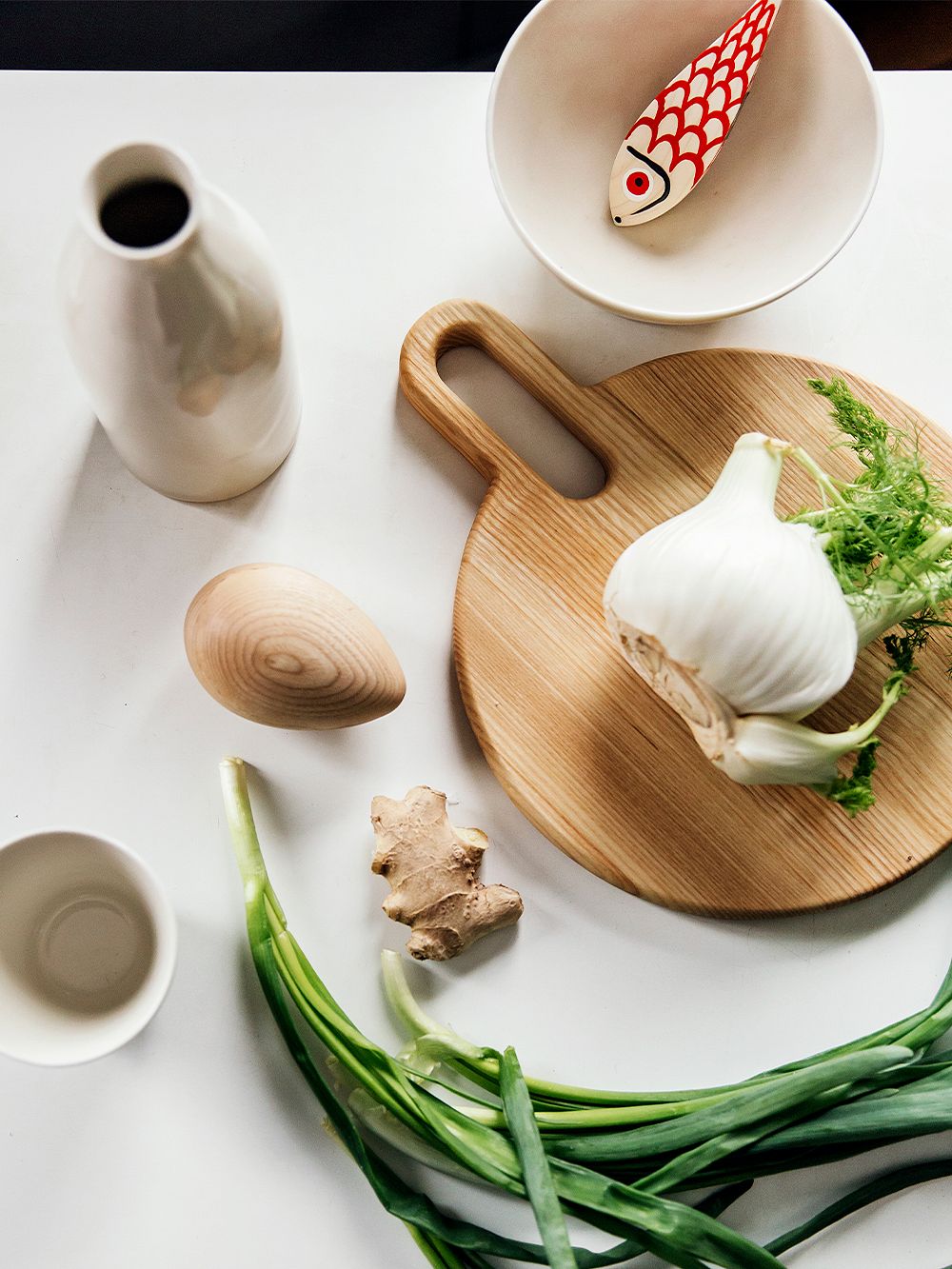 In Finland, potato salad is a type of festive dish: it is served in connection with New Year and May Day celebrations, usually with frankfurters. Potato salad can, however, be thought of a little differently and separated from its frankfurter friends. Mild potato loves spices, and the Japanese-style sauce that tastes like toasted sesame seeds adds depth to the potato salad. Fresh ginger and cucumber, on the other hand, provide freshness and texture.
Horseradish is the Scandinavian equivalent of wasabi. Since wasabi is expensive, it is sometimes substituted with colored horseradish. You can use ready-made horseradish paste, but fresh, grated horseradish is stronger and fresher.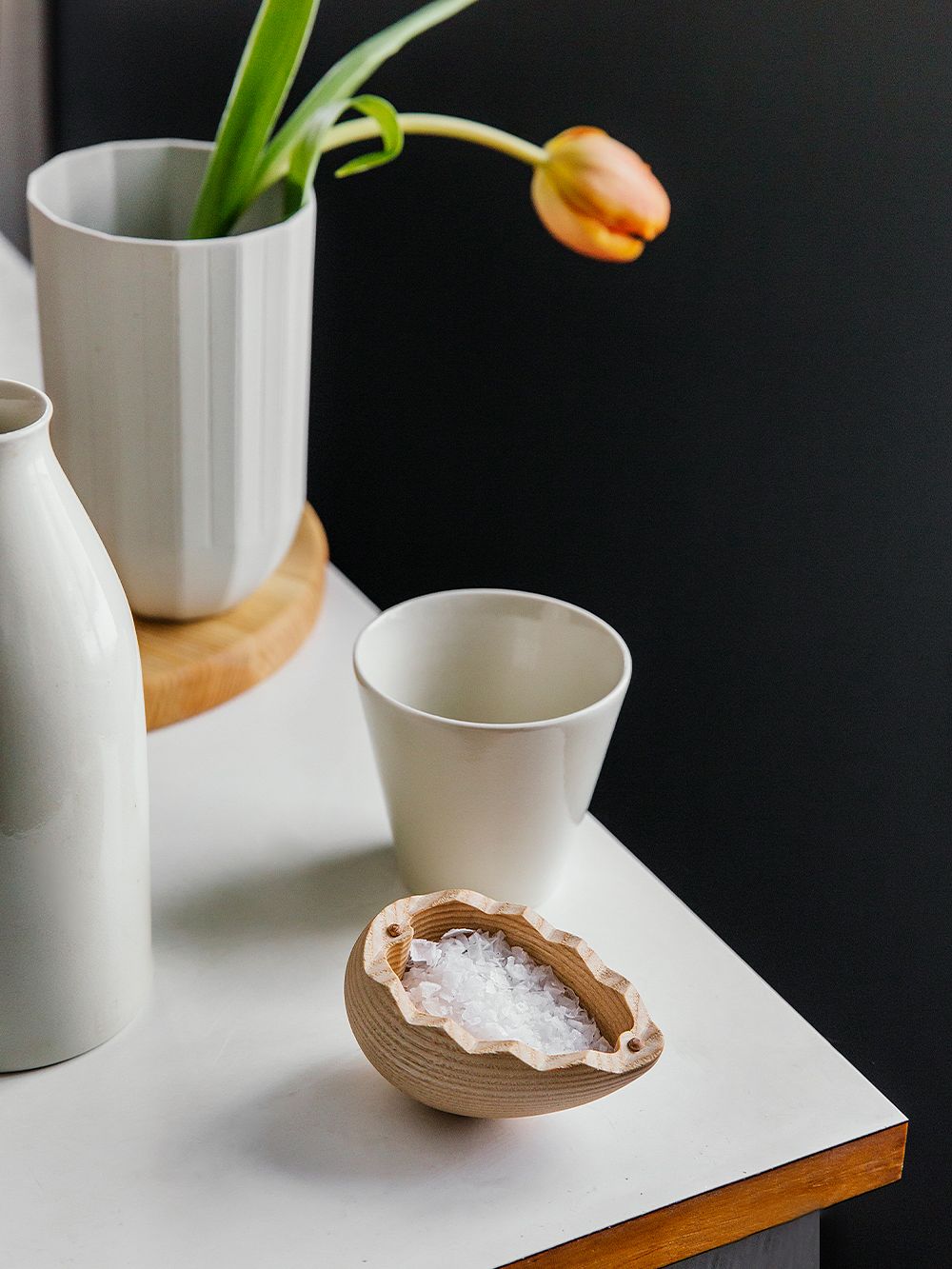 Ochazuke is a Japanese dish that consists of boiled rice and broth poured over it. The broth is most often green tea, dashi, or a mixture of these. Ochazuke is trendy leftover cooking at its best: boiled leftover rice gets a new life with broth. This dish is comfort food that is often eaten when wanting to feel better.
Ochazuke is trendy leftover cooking at its best: boiled leftover rice gets a new life with broth.
With the rice, you can also serve a variety of Japanese canned vegetables (tsukemono), seaweed, canned umeboshi plums, fresh vegetables, salmon, and various accompaniments, such as wasabi and sesame seeds. The dish can be just plain rice and green tea on a plate, or it can contain many different ingredients.
Japanese teas, shichimi togarashi (Japanese seven spice), seaweed, and umeboshi are available in Asian stores, but you can also try looking for them in large supermarkets.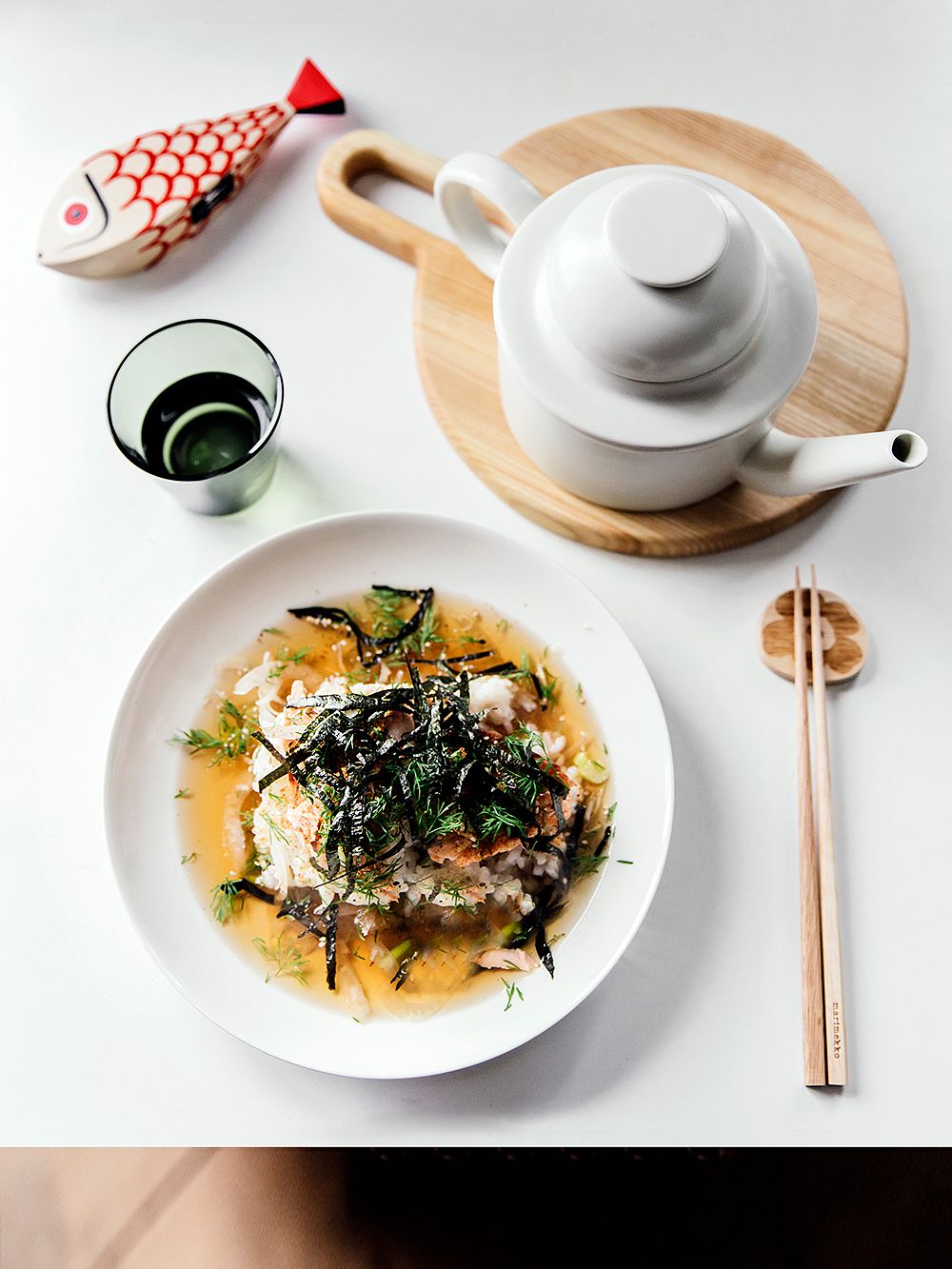 Citruses are valued ingredients in Japan. The most famous of these is yuzu, which is rarely available anywhere else in the world. Yuzu smells particularly aromatic, and its taste is a combination of different citruses: orange, lemon, grapefruit, and mandarin. Even though fresh yuzu fruit is hard to come by, bottled yuzu juice is sold in ethnic stores. Even a small drop of juice gives flavor.
Orange rice is a Scandinavian classic, different versions of which are eaten across the Nordic countries. Danes call this delicacy risalamande, the Norwegians call it riskrem, and the Swedes call it ris á la Malta. What all these have in common are rice and whipped cream. The best time to make orange rice is at the beginning of the year when all citruses are in season. Trendy home chefs choose blood orange as the ingredient and add a dash of yuzu juice to give the completed dish some zing. Danes garnish their rice with almond flakes, but you can also use bright green pistachios for fun variation.
Japandi recipes: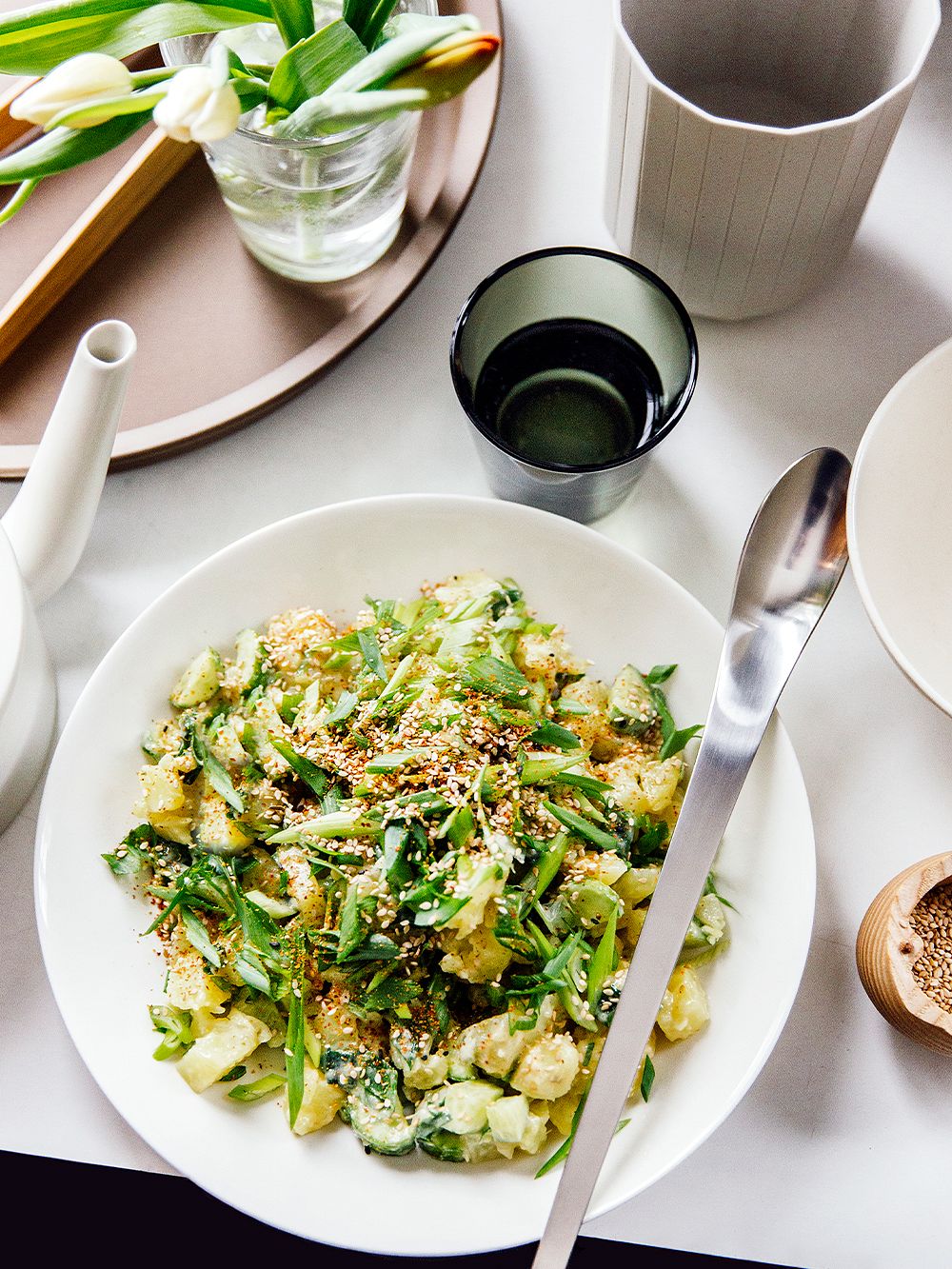 Japanese-style potato salad
Ingredients (for four):
500 g potatoes
1 cucumber
5 cm piece of fresh ginger
3 spring onions
100 g mayonnaise
3 tbsp soy sauce
2 tbsp rice wine vinegar
½ tsp sesame oil
1–3 tbsp grated fresh horseradish (or paste from a jar/tube)
2 tbsp toasted sesame seeds
Do as follows:
Peel and cook the potatoes until they are just cooked – if they are too soft, they will fall apart in the salad. Let the potatoes cool and cut them into small chunks. Put the potatoes into a bowl, and add the thinly sliced cucumber, ginger, and spring onions. Mix together the mayonnaise, soy sauce, vinegar, sesame oil, and horseradish in a small separate bowl. Add the dressing to the potatoes and toss the salad together. Add salt or acid, if necessary. Garnish with toasted sesame seeds and sliced spring onions.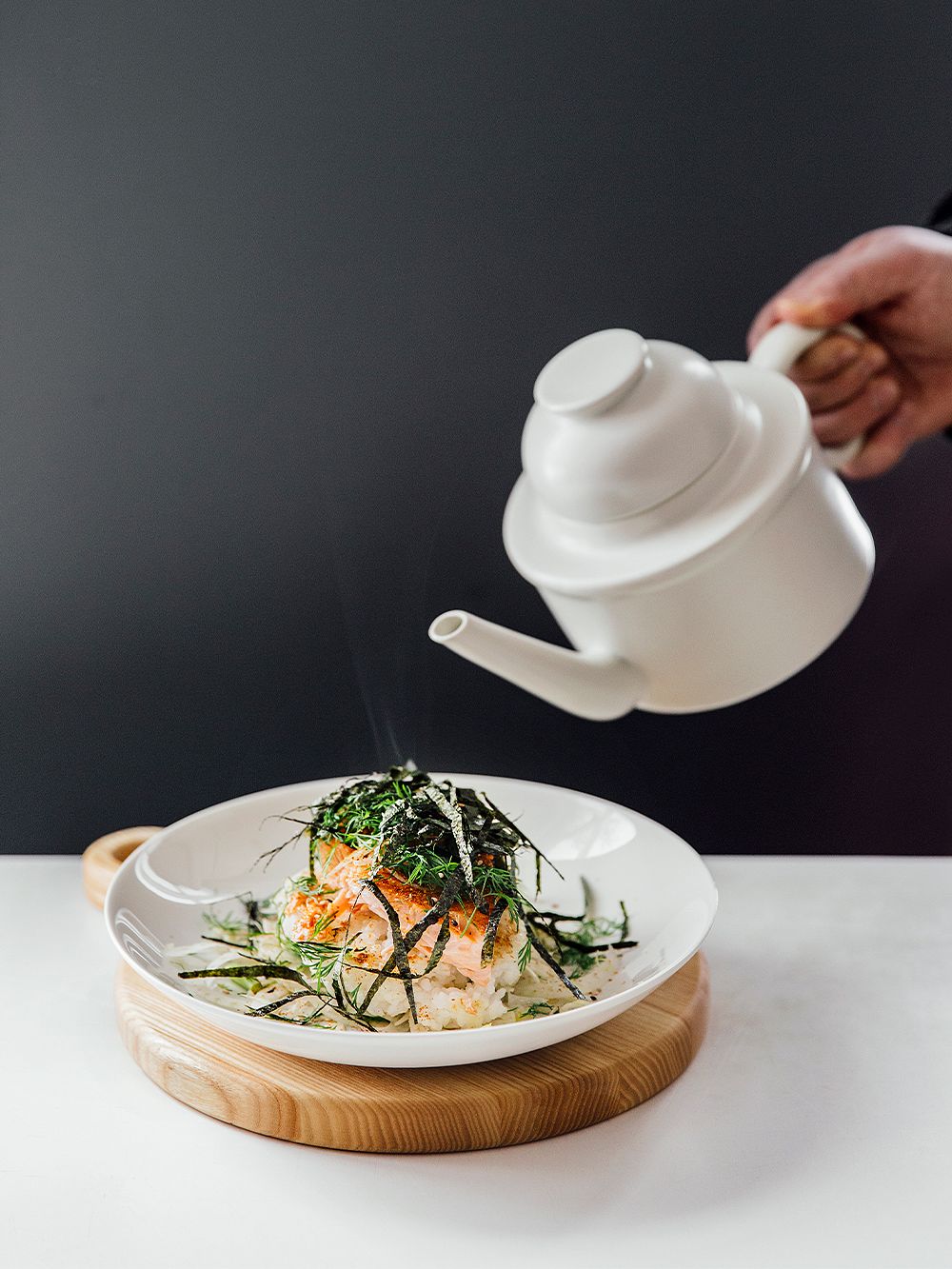 Ochazuke with dill
Ingredients (for four):
approx. 1 ½ cups cooked sushi rice
3 tbsp butter + 1 tbsp rapeseed oil
3 tbsp miso paste
500 g salmon + salt
1 fennel
2 cups Japanese tea (sencha, hojicha, genmaicha)
1–3 tbsp soy sauce
1 tbsp mirin
1–2 sheets of nori seaweed
shichimi togarashi spice blend
fresh dill
Do as follows:
Prepare the sushi rice according to the instructions on the package. Let it cool. Sprinkle a generous amount of salt over the salmon fillet and let sit for half an hour. Cut the fennel into thin slices using a mandolin or sharp knife. With moist hands, shape the cooled rice into slightly pressed, triangle-shaped balls, one for each diner. Mix the butter with the miso paste and add a drop of rapeseed oil in the mix. Fry the rice balls in a pan in the butter-miso mixture until they are golden brown.
Wipe the surface of the salmon with paper to remove excess salt and liquid. Bake the salmon fillet at 200 °C for 10 minutes. Then, using the grill mode, bake the fillet for about 5 minutes until the surface is crispy. The salmon is ready when it is not yet fully cooked in the middle of the fillet. Prepare the tea and season it with soy sauce and mirin. Spoon fennel on each plate, and place a rice ball and a few bits of salmon on top of the fennel. Sprinkle with shichimi togarashi, fresh dill and thin strips of nori seaweed. Pour hot tea on each plate and serve immediately.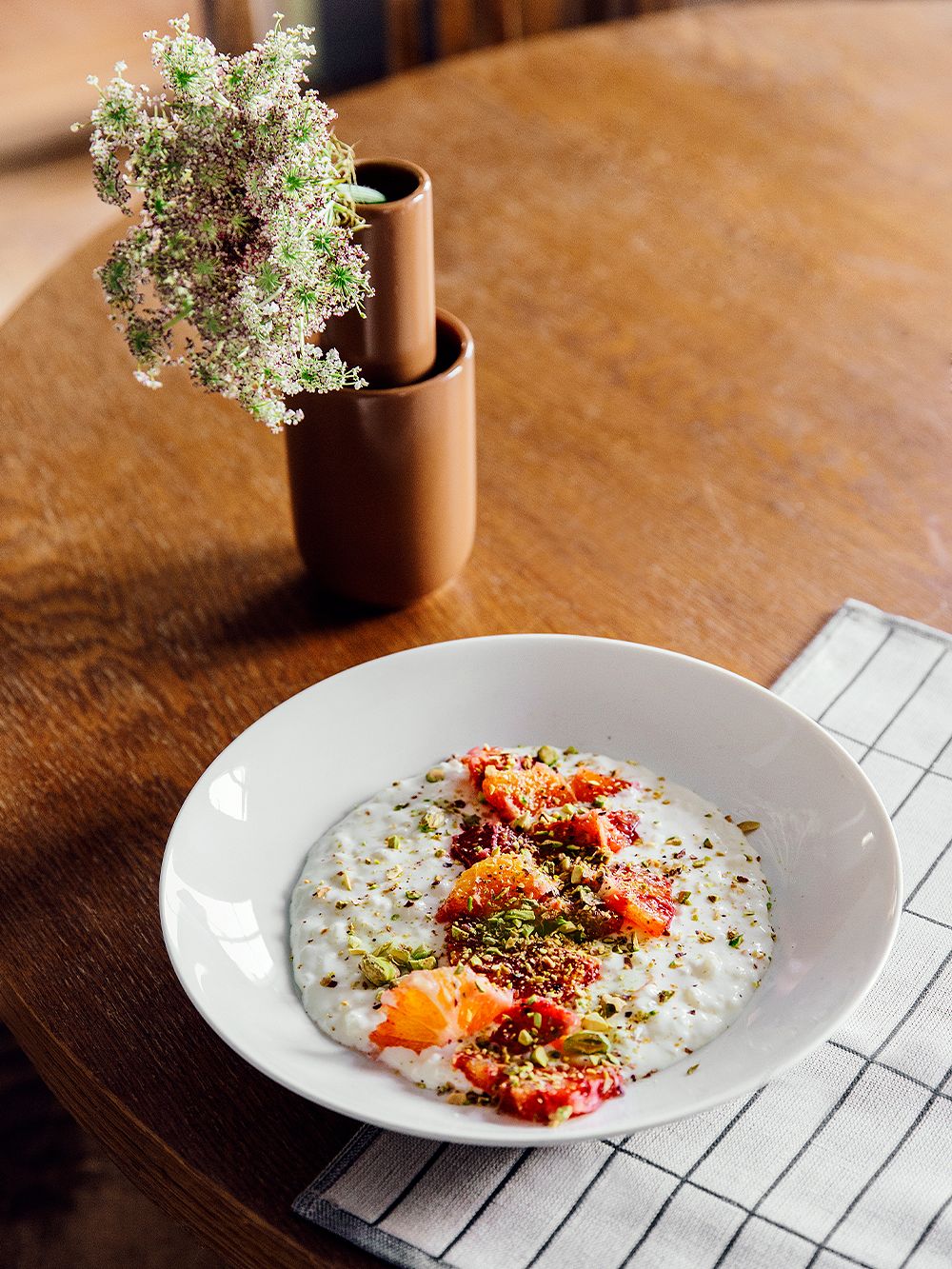 Yuzu blood orange rice
Ingredients (for four):
85 g porridge rice
100 ml water
800 ml whole milk
2 tsp ground cardamom
2–3 tbsp sugar
200 ml double cream
1 tbsp yuzu juice
130 g pistachios
2–3 blood oranges
Do as follows:
Boil the rice, water, and zest of one blood orange (in large strips) in a pot. Once the water is absorbed, lower the heat and add the milk in two parts. At the same time, mix the porridge, making sure rice is not stuck to the bottom of the pot, and let simmer. When all the milk has been absorbed into the rice and the porridge is ready, season it to taste with sugar and remove the slices of orange zest. Let it cool.
Whip the cream into whipped cream and mix it with the cooled rice porridge. Season gently with yuzu juice and add sugar, if necessary. Garnish with crushed pistachios and peeled blood orange sections. Serve immediately.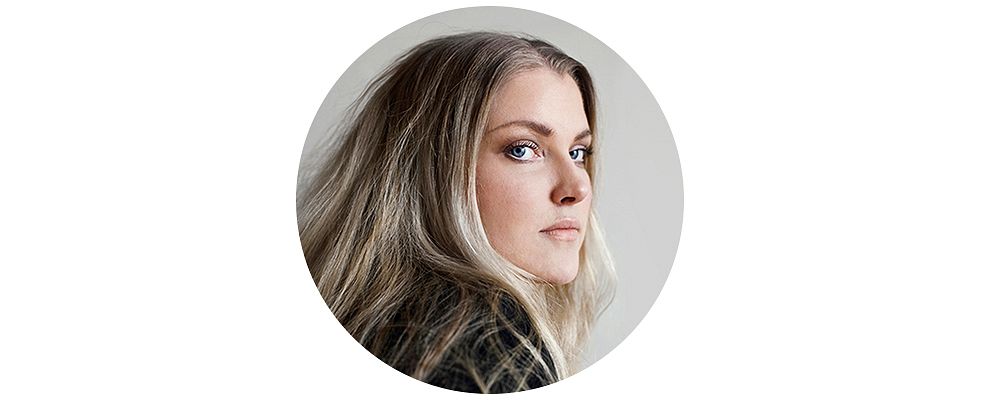 Design Stories contributor Suvi Kesäläinen is a photographer, who loves to create dishes that are not only delicious but also fast and easy to make. She's passionate about the best seasonal ingredients, local food and intriguing culinary trends.
See also:
• The Japandi trend combines Japanese and Nordic design language in a new way >
Text and photos: Suvi Kesäläinen