Norm Architects and TOG teamed up to create a stunning office space in the heart of Berlin that's so chic, you'll forget you're actually being productive. Don't believe us? Take a peek inside the recently opened Linden Palais, where work and play are perfectly balanced.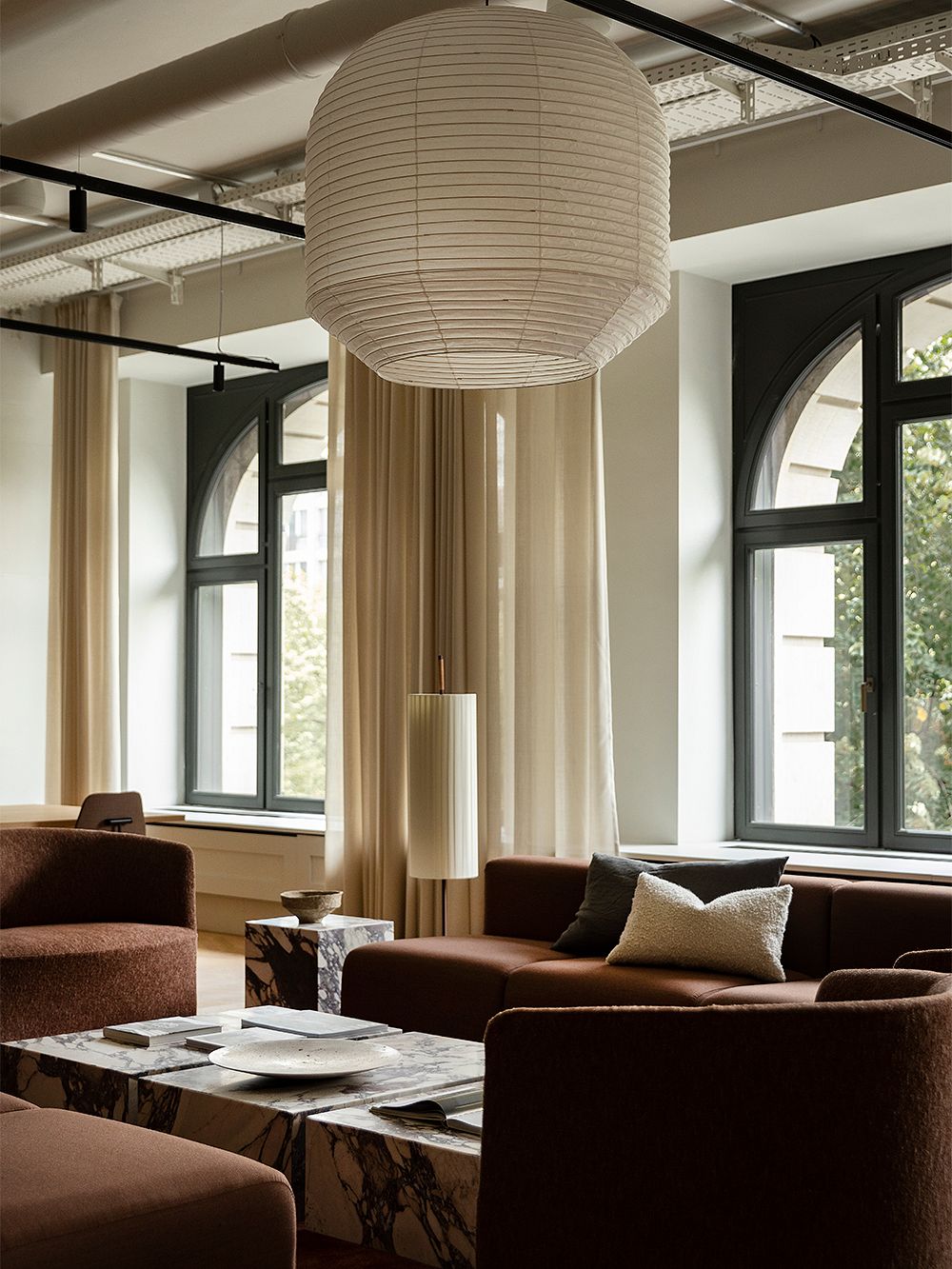 THE PANDEMIC has turned the world of work upside down, sending many companies into a state of hybrid limbo. While remote work has undoubtedly added distance it has also brought many teams closer together, making the idea of full weeks at the office sound less than a flexible solution.
Companies are faced with a tough question: what will the future of work look like, and how can they establish workspaces that support both collaboration and individual well-being? Will they lure employees back to their hot desks, or explore new, more creative ways to promote community and shared goals?
One thing is for sure: as remote work becomes more popular, companies that offer flexibility and prioritize employee happiness will have a leg up in the competition for talent.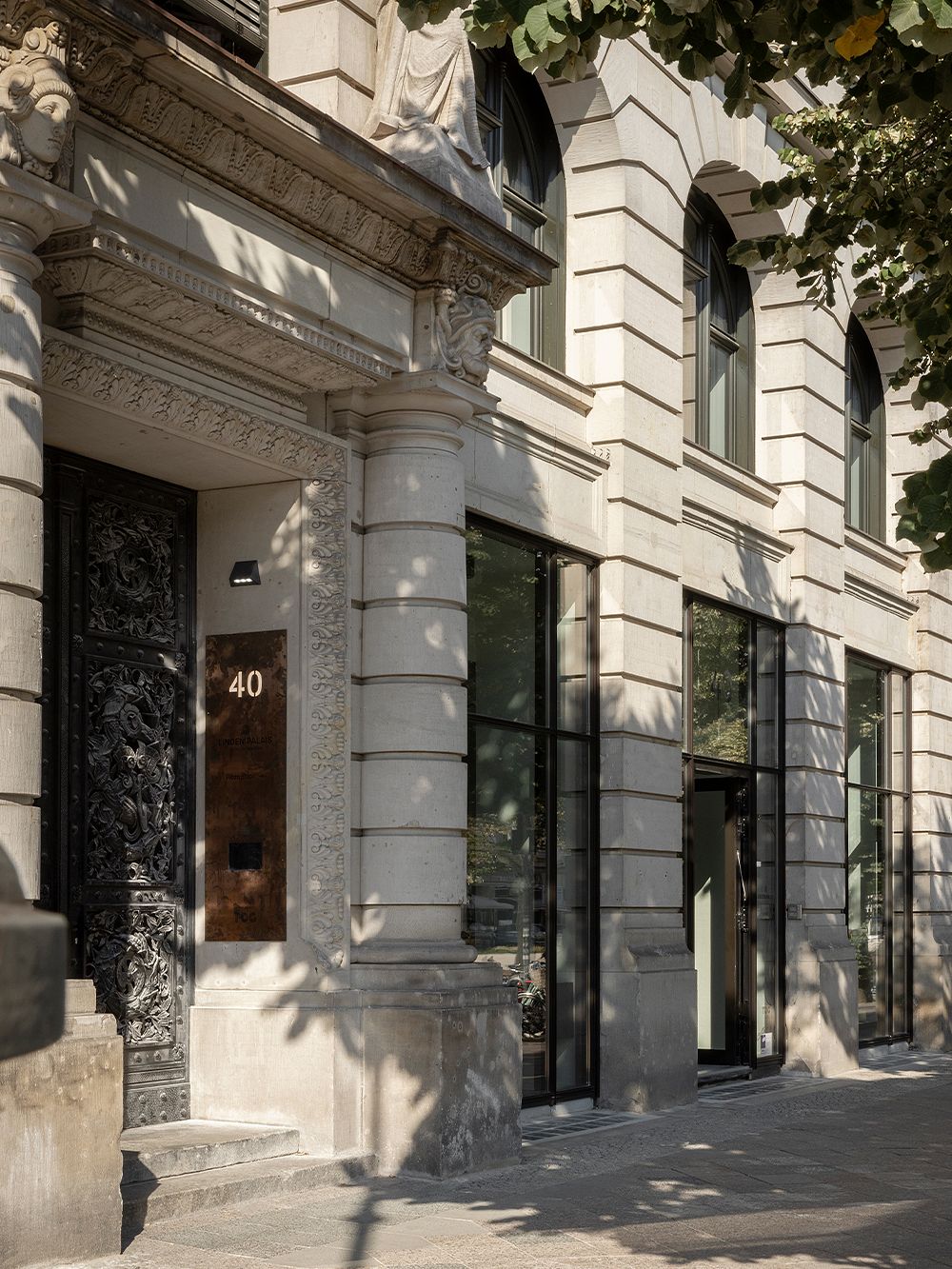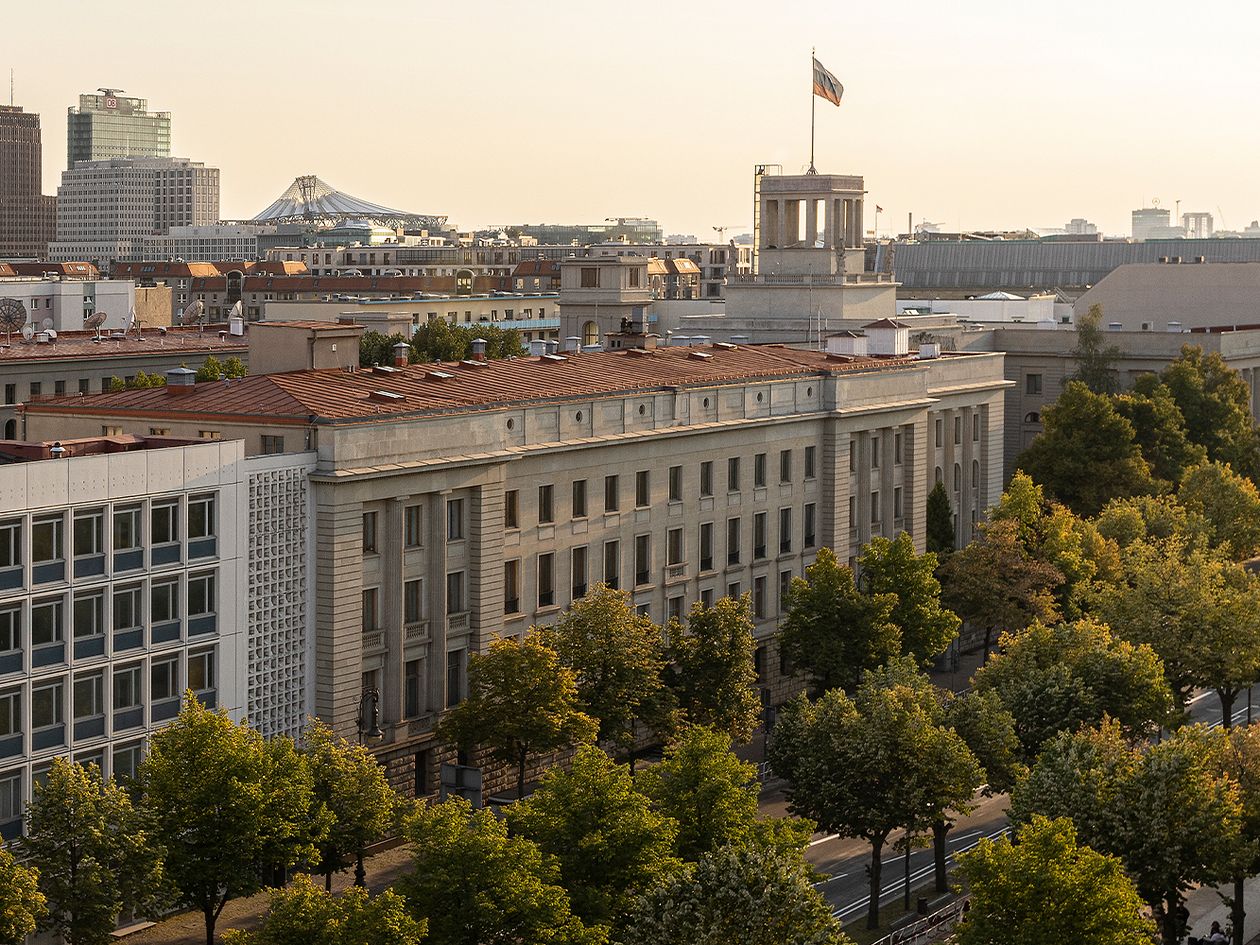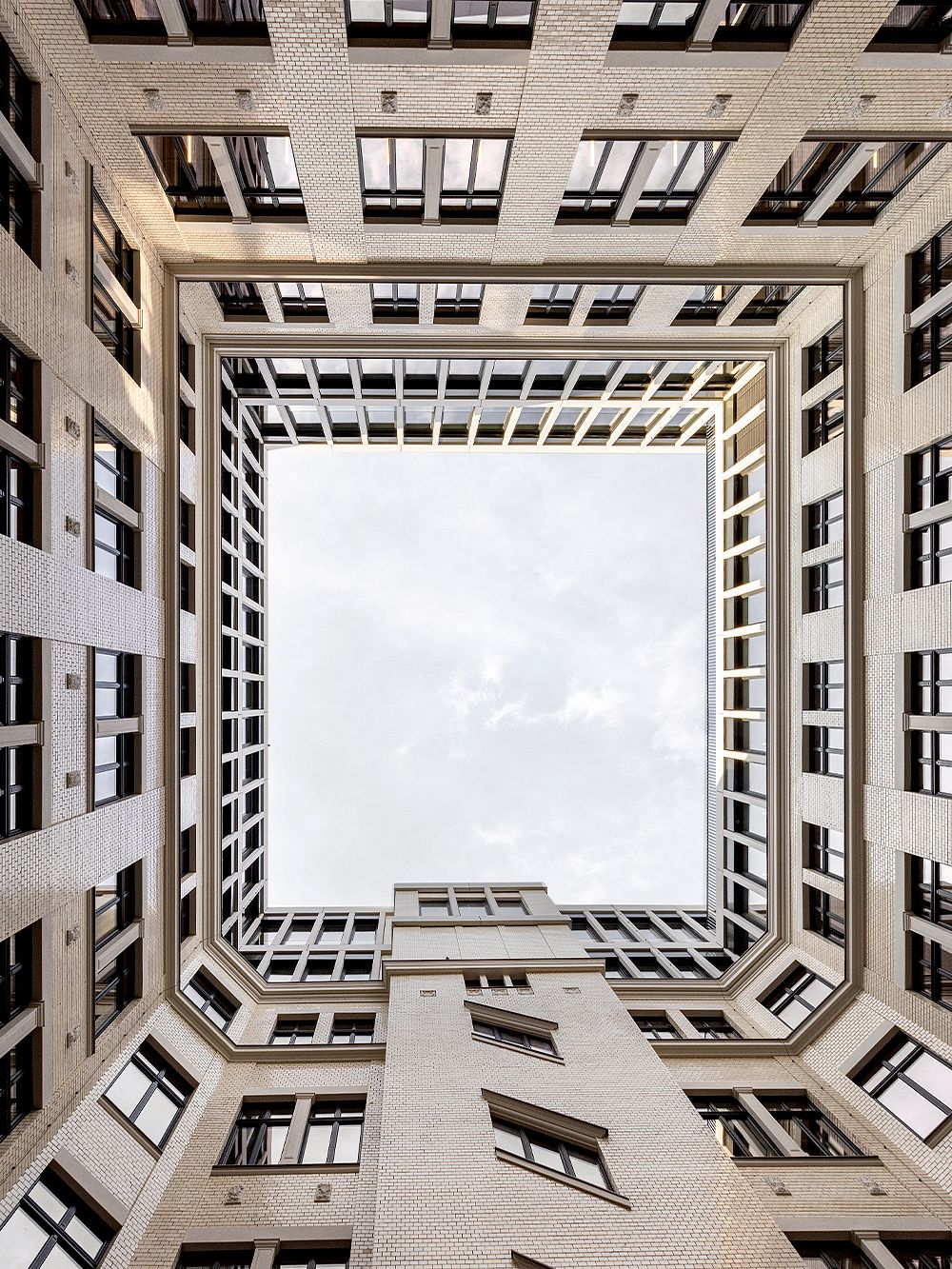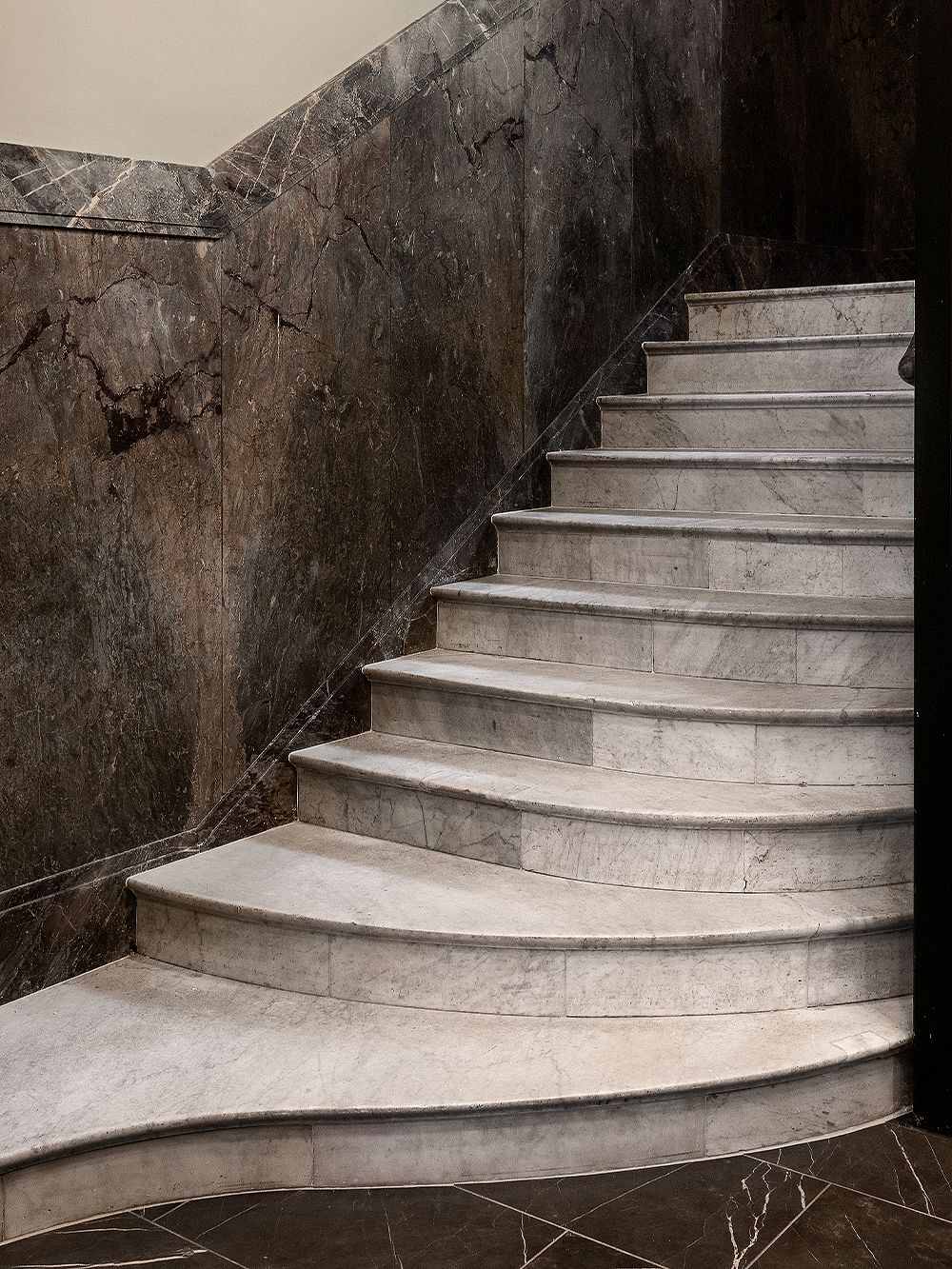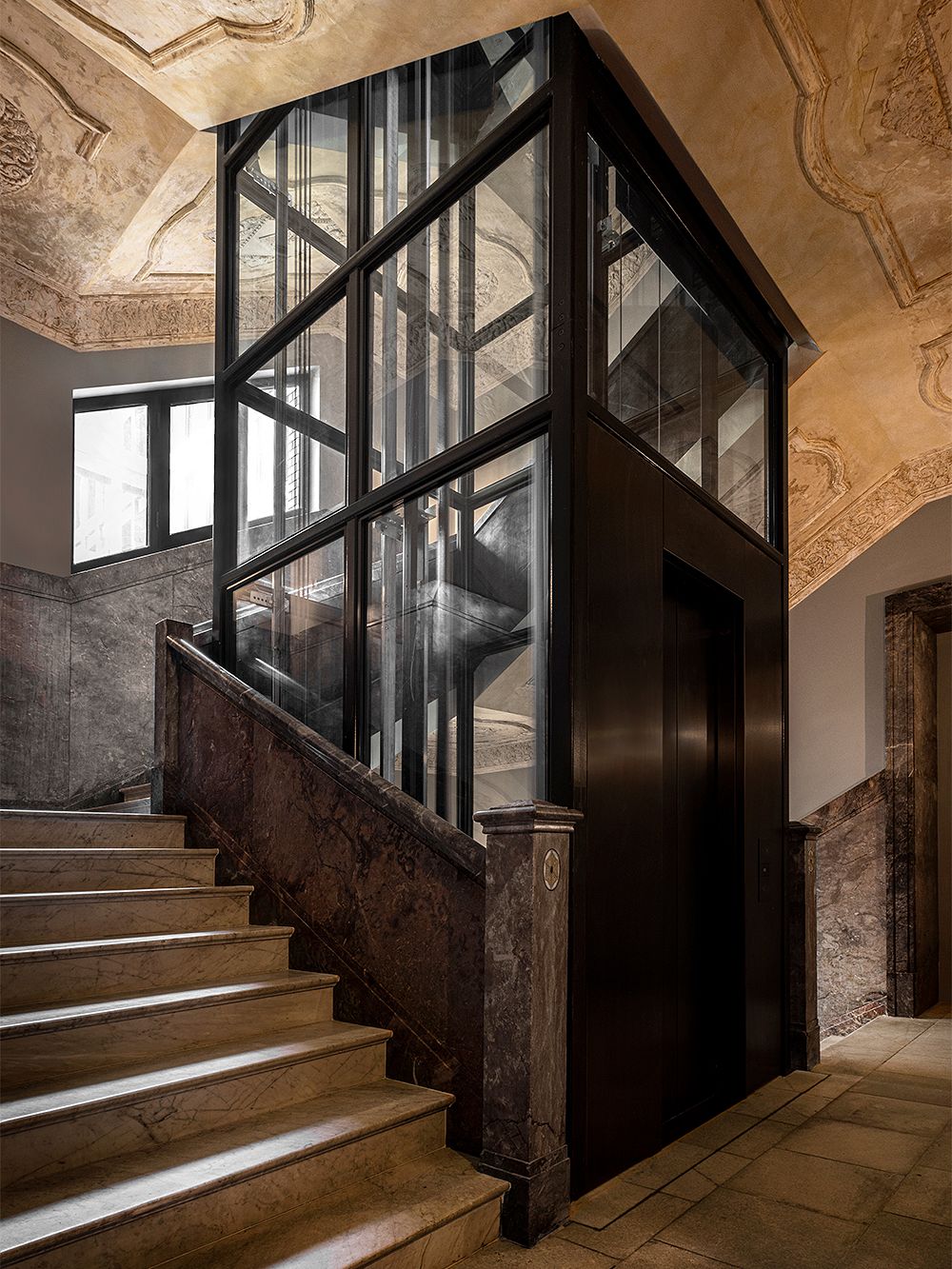 Trading sweatpants for lunchbreaks in a palace
The result of a collaboration between The Office Group, a provider of unique office spaces, and Norm Architects, Linden Palais is a modern office building situated in a historic setting in Berlin, Germany. It offers space for remote workers tired of working from home, as well as for companies that value comfort and aesthetic appeal with flexible options.
Linden Palais means "linden tree palace" in English.
Linden Palais features open workspaces, collaboration areas, meeting rooms, quiet workspaces, and areas for concentration. Numerous amenities including beautiful kitchen spaces and break rooms offer a more relaxing environment for breaks, and lunch can even be enjoyed on the rooftop terrace overlooking the city.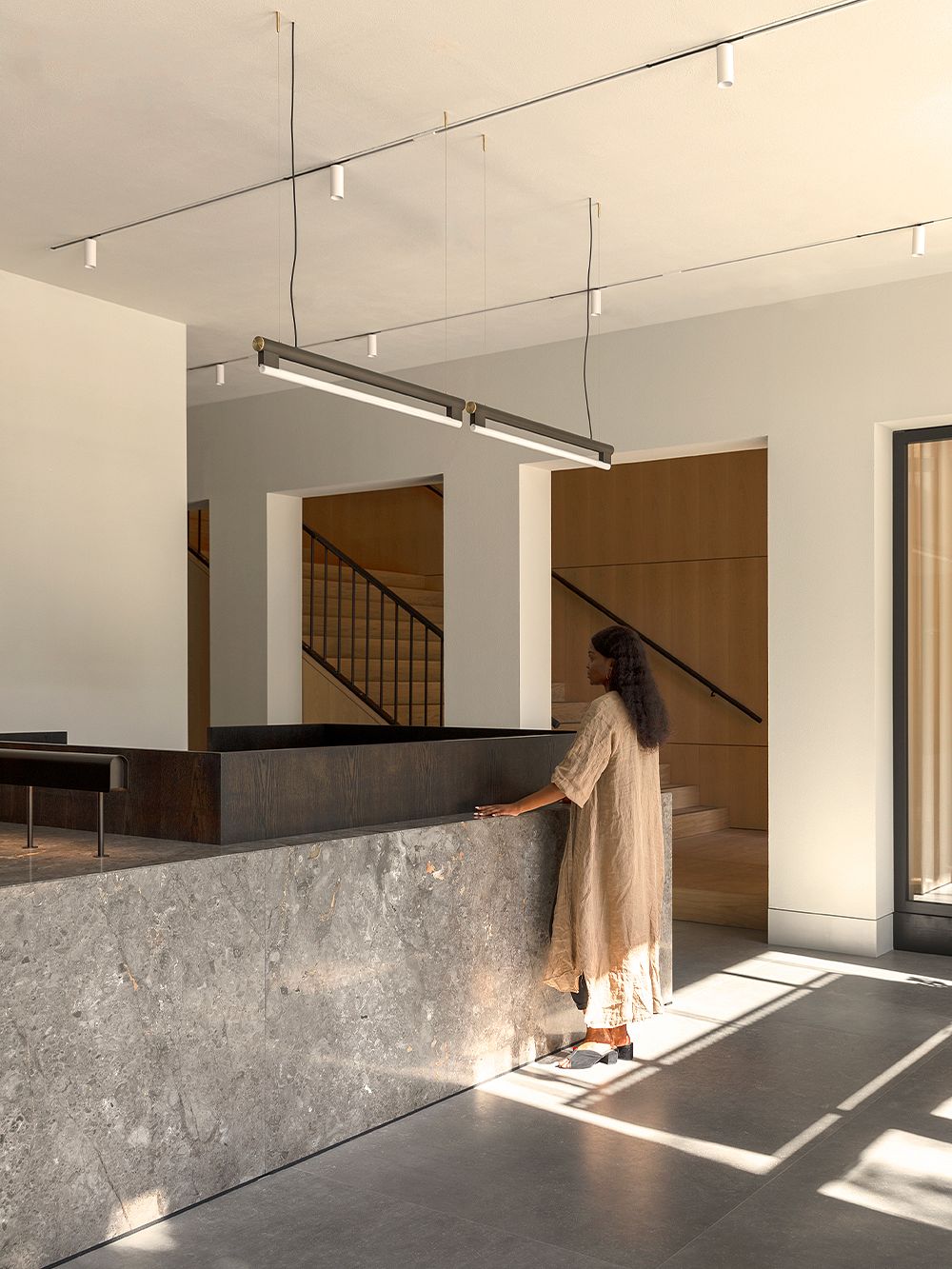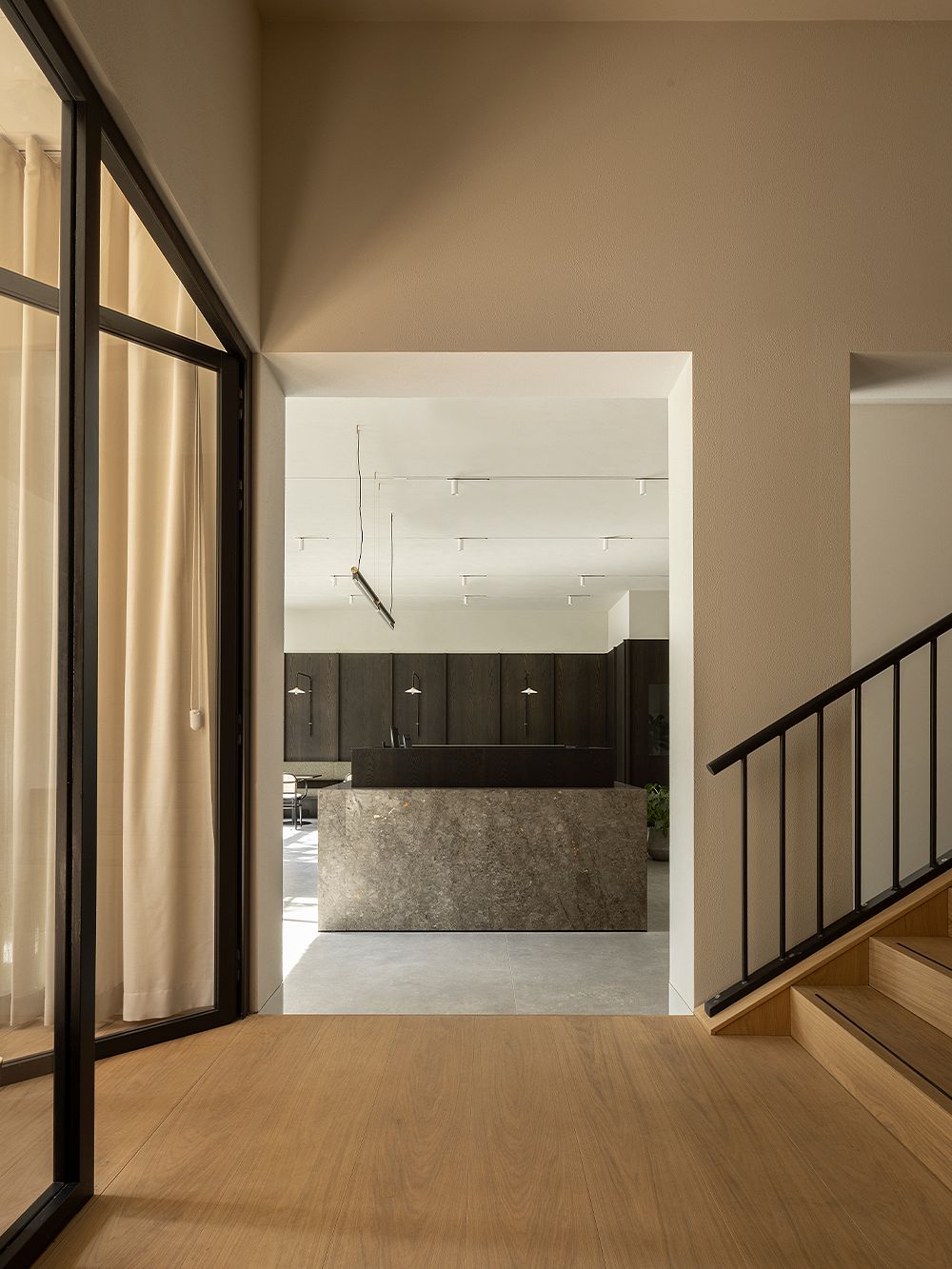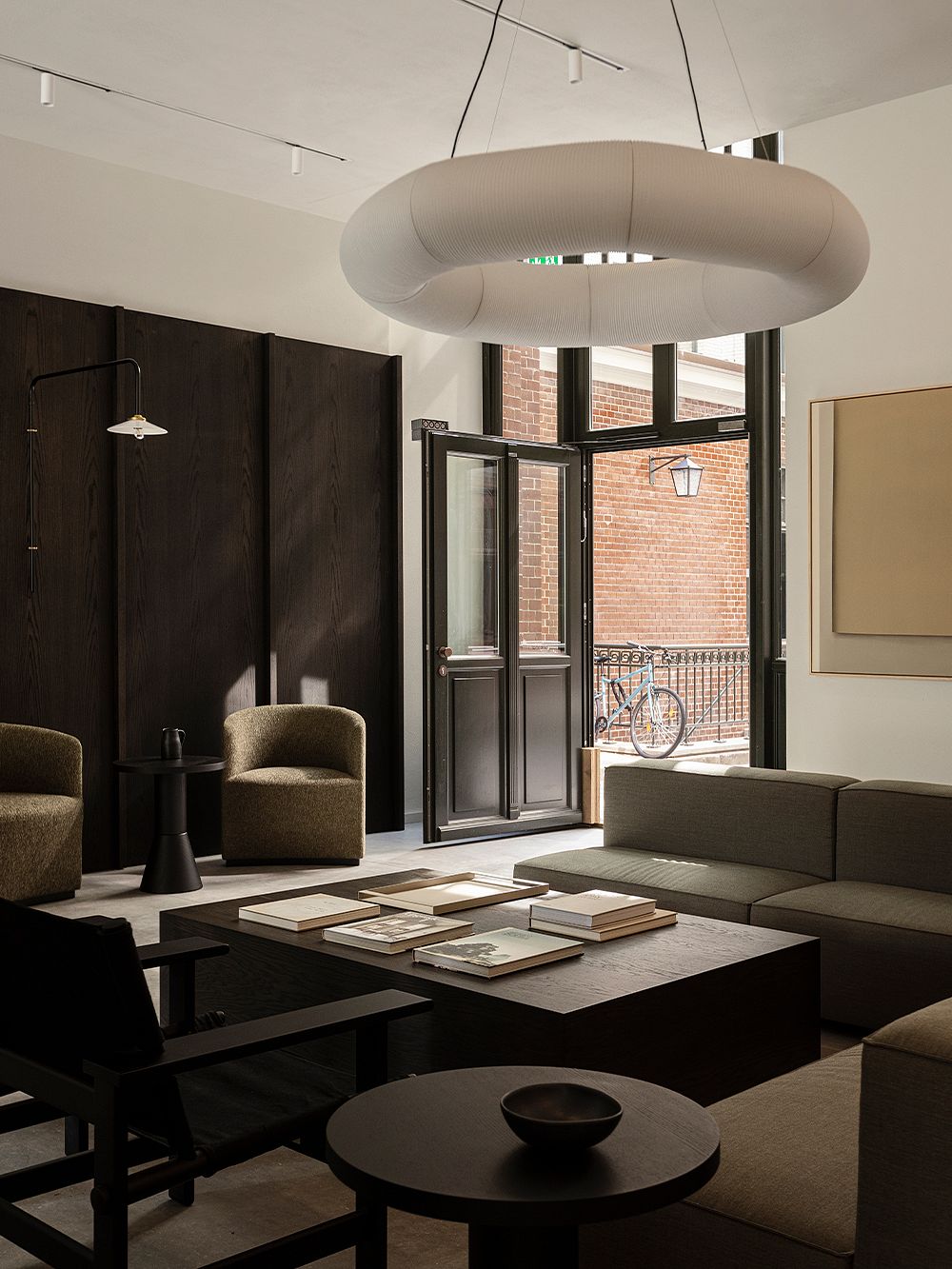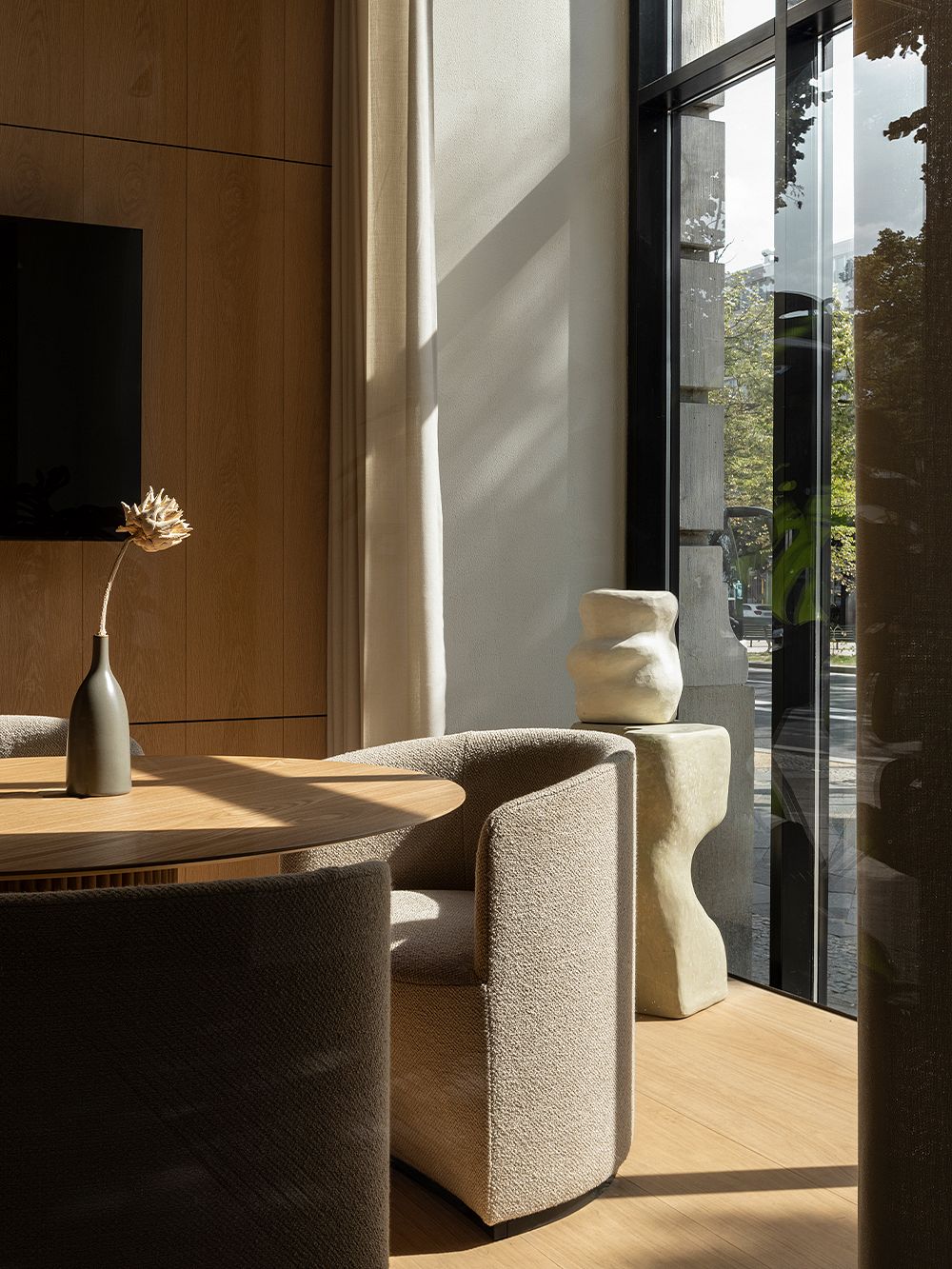 A modern vision on the terms of the past
Located on a street lined with linden trees in the heart of Berlin, the magnificent Linden Palais (translated as "linden tree palace") – originally built in 1908 – has previously served as a home for the French Embassy. The impressive arched windows and exceptional marble surfaces finished with ornate engravings not only maintain the building's intriguing connection to its history but also provide a compelling contrast to the serene and modern look of the new office space.
"The existing building with its many beautiful features and its location on the historic Unter den Linden were a big source of inspiration to us. We knew very early on that we wanted to highlight those features in a contemporary way," says architect Sofie Thorning of Norm Architects.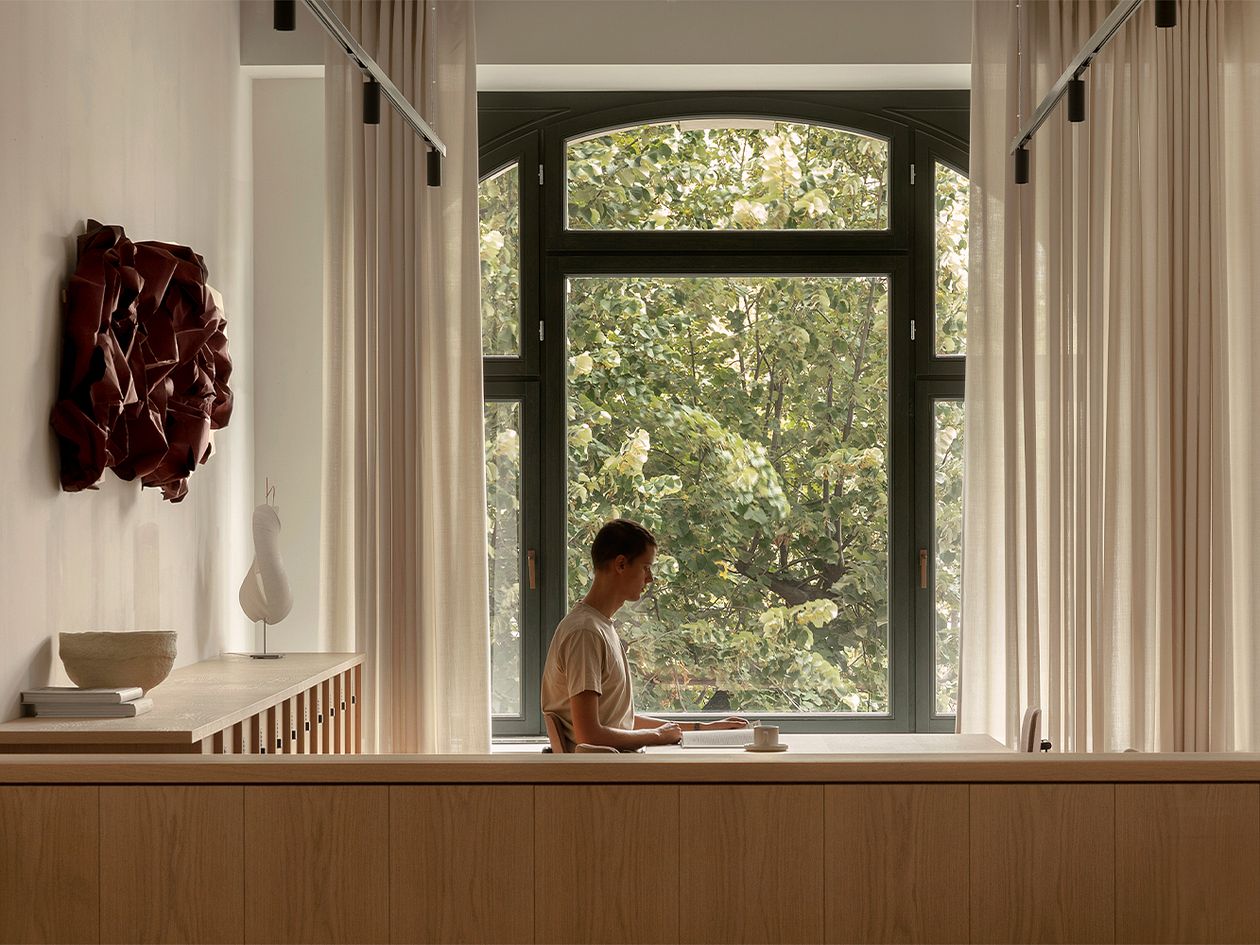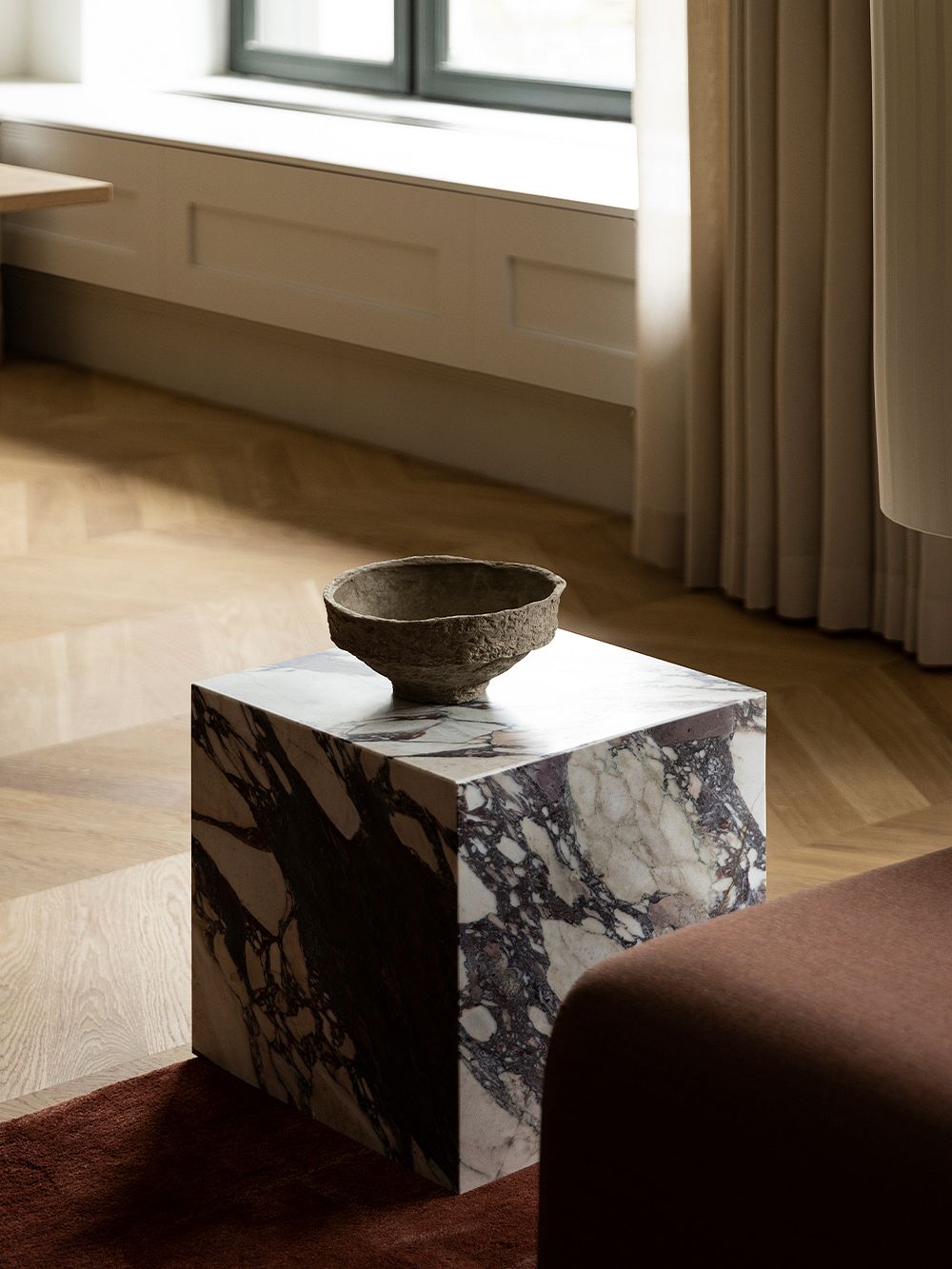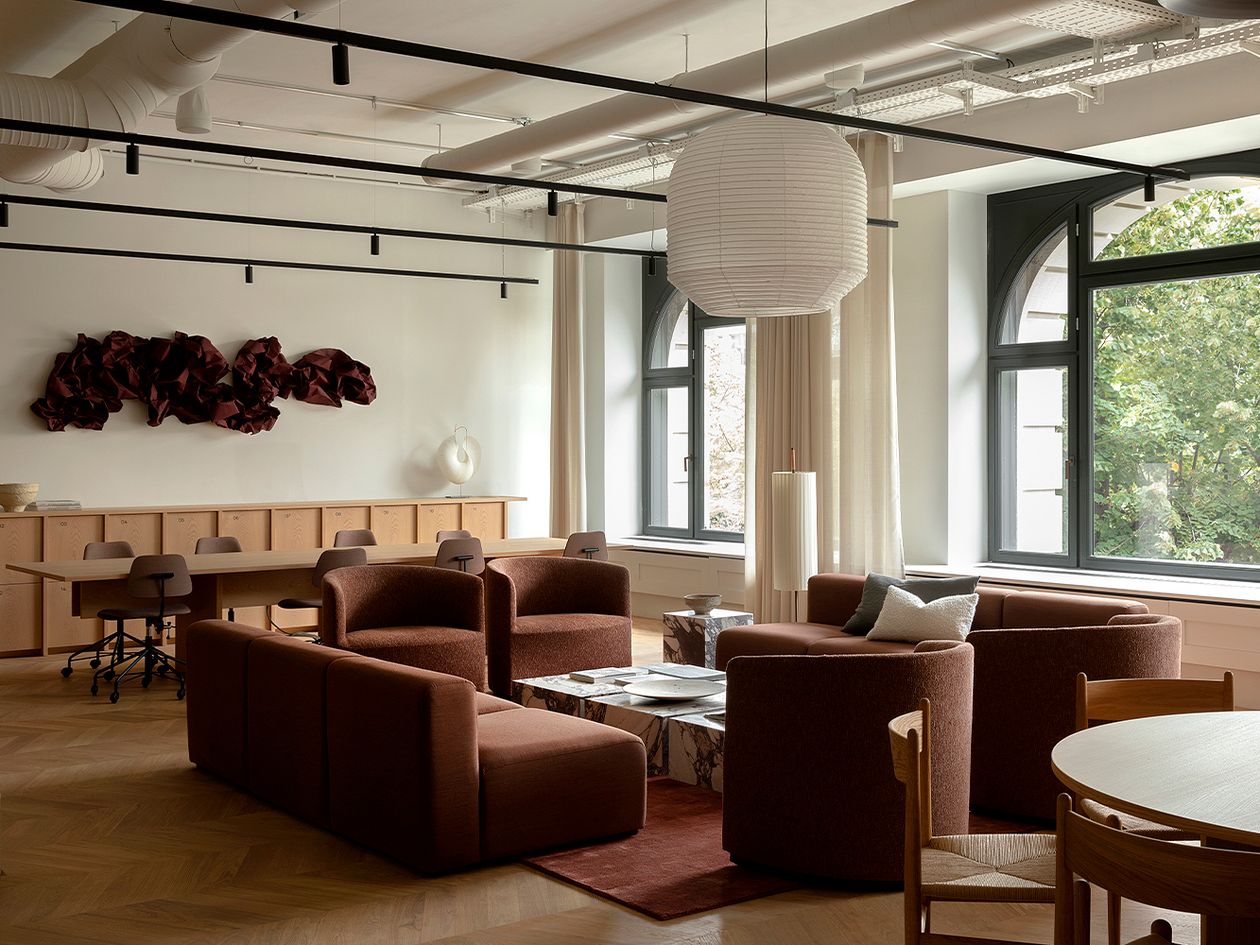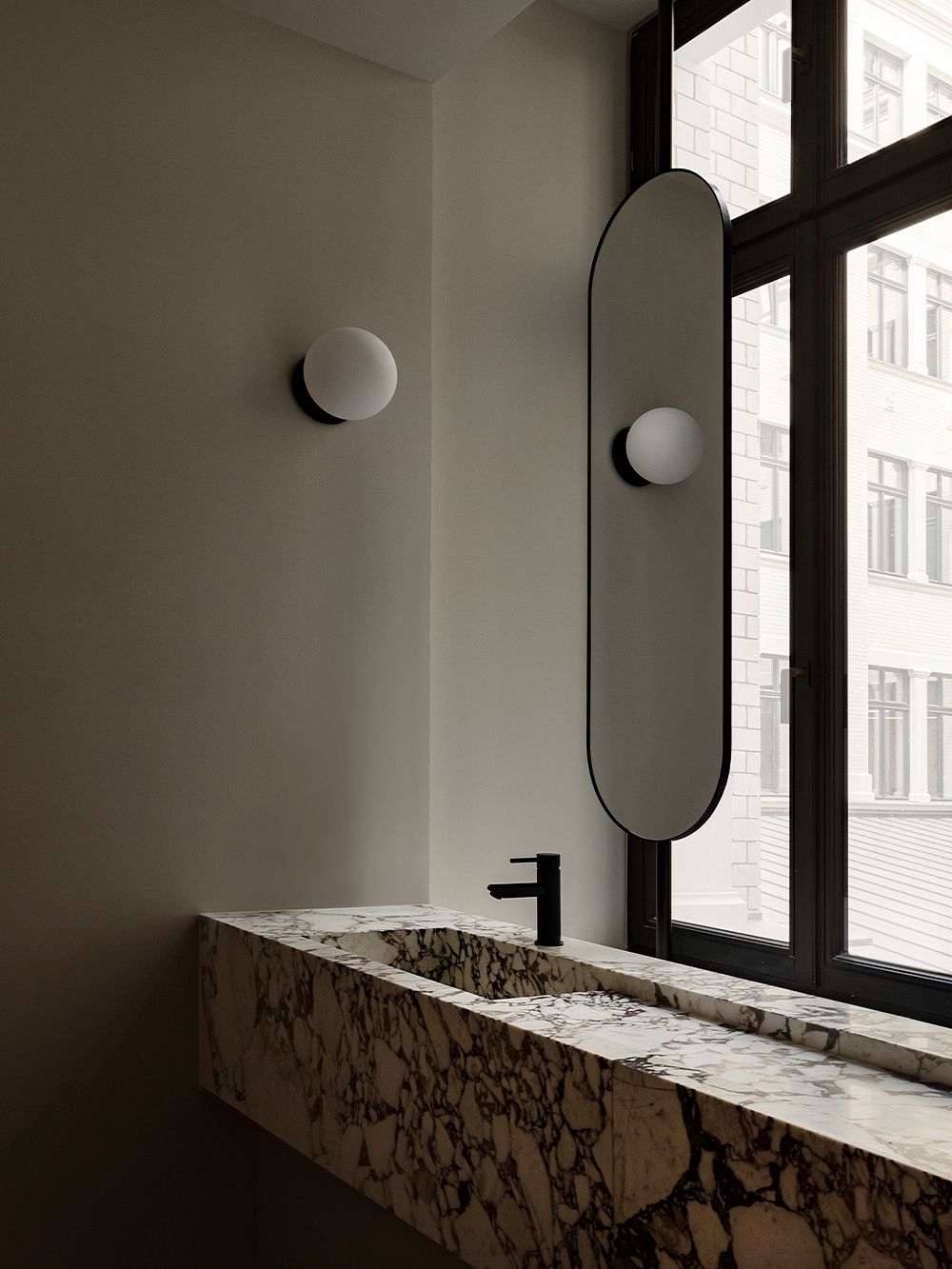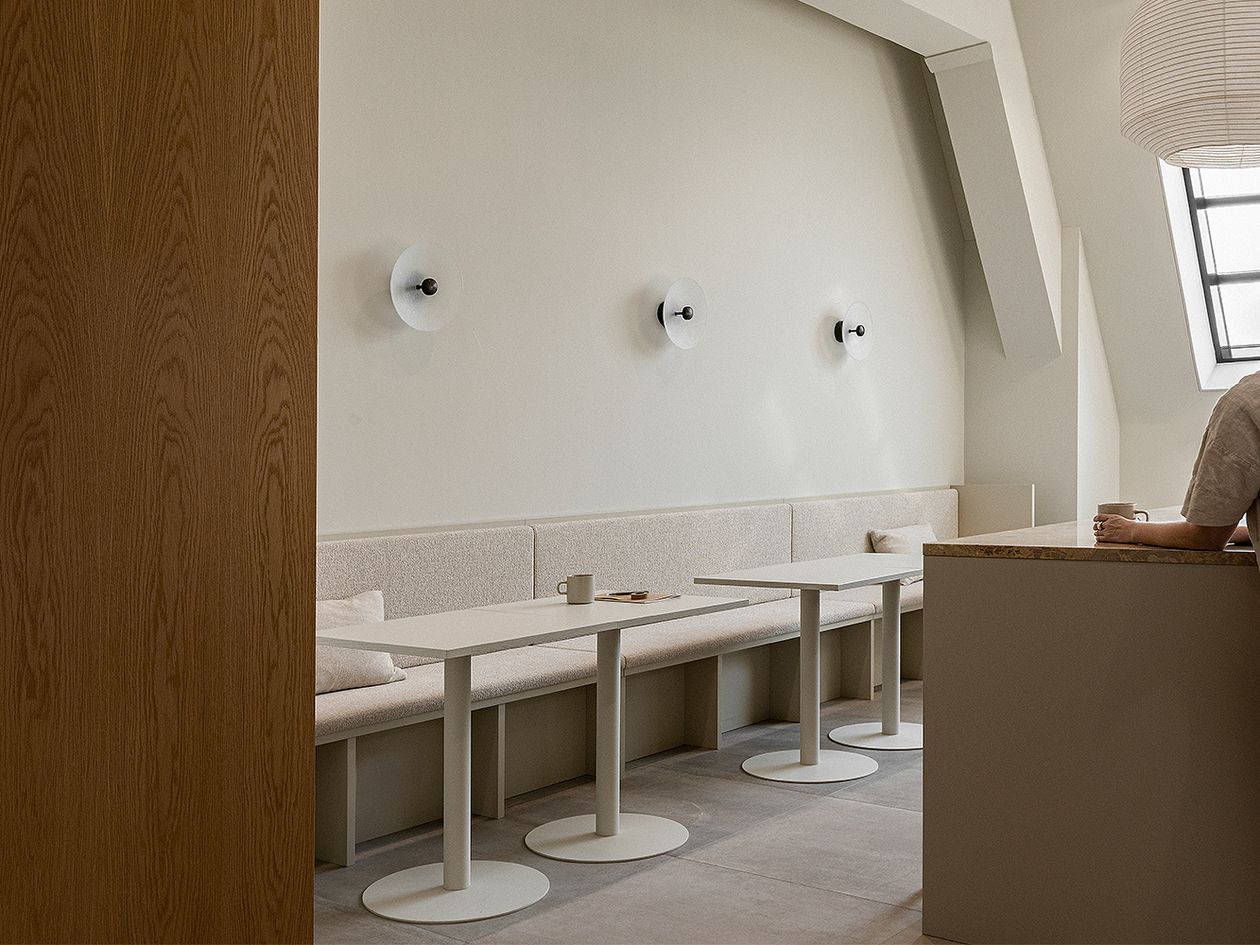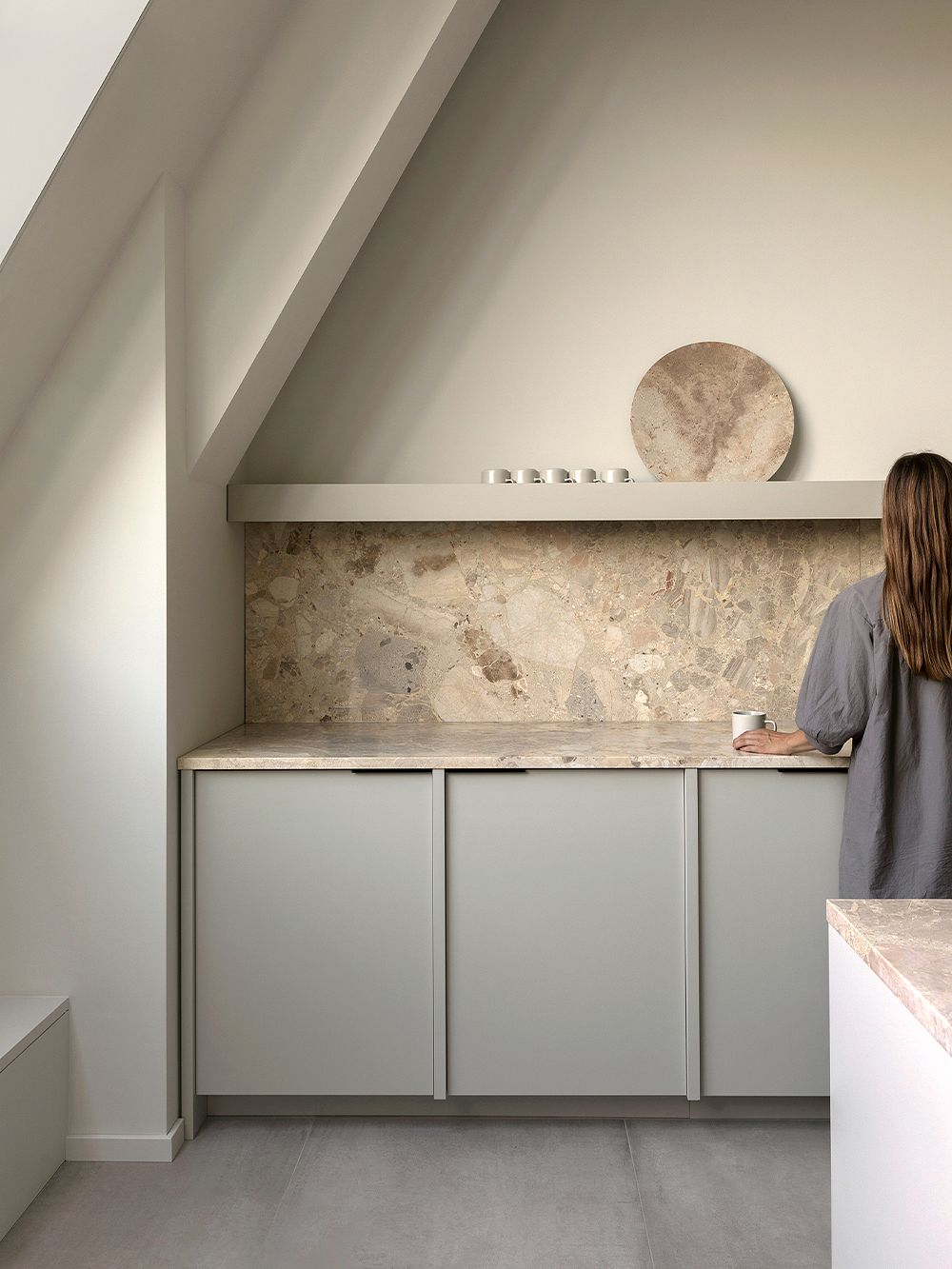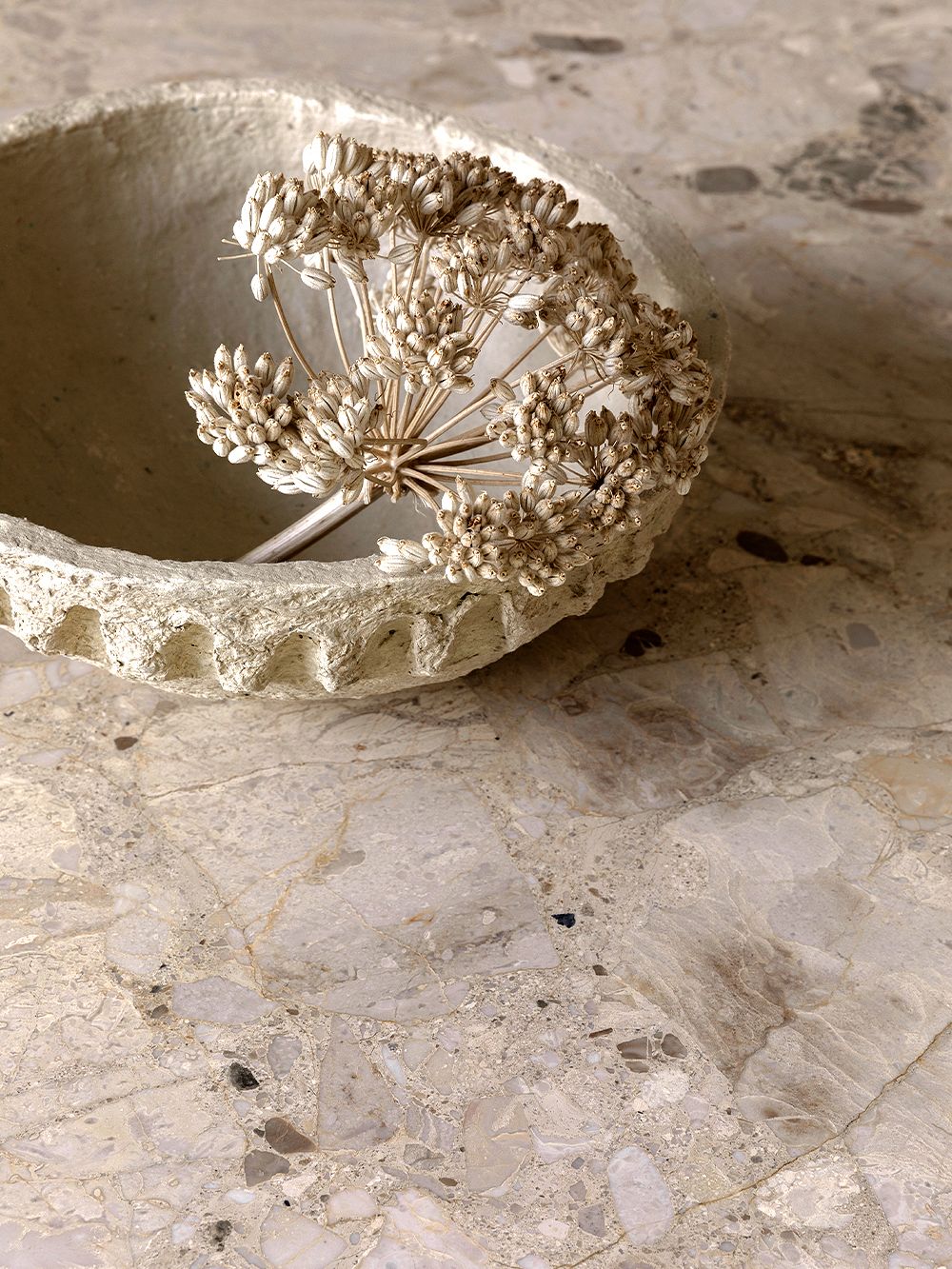 Built on emotion and ambiance
Norm Architects implemented two visually distinctive concepts in the space. The first concept features industrial-style yet texture-rich concrete floors, dark wood paneling, and rhythmic columns of that invite the surrounding cityscape indoors. Suggesting a play between indoor and outdoor spaces, the floor-to-ceiling windows amplify the message and fill the space with light and movement.
The carefully curated material palette nourishes the narrative of the space.
The second concept draws on the sophisticated imagery of heritage homes, combining the coziness of a private home with the openness of a workspace. Instead of heavy velvet curtains and chandeliers, the space reimagines the iconic features with graphic wall paneling and art displayed on marble pedestals, as well as modern interpretations of classic furniture and lighting.
The carefully curated material palette nourishes the narrative of the space: high-quality natural materials such as wood and marble not only withstand use but also become increasingly expressive over the decades.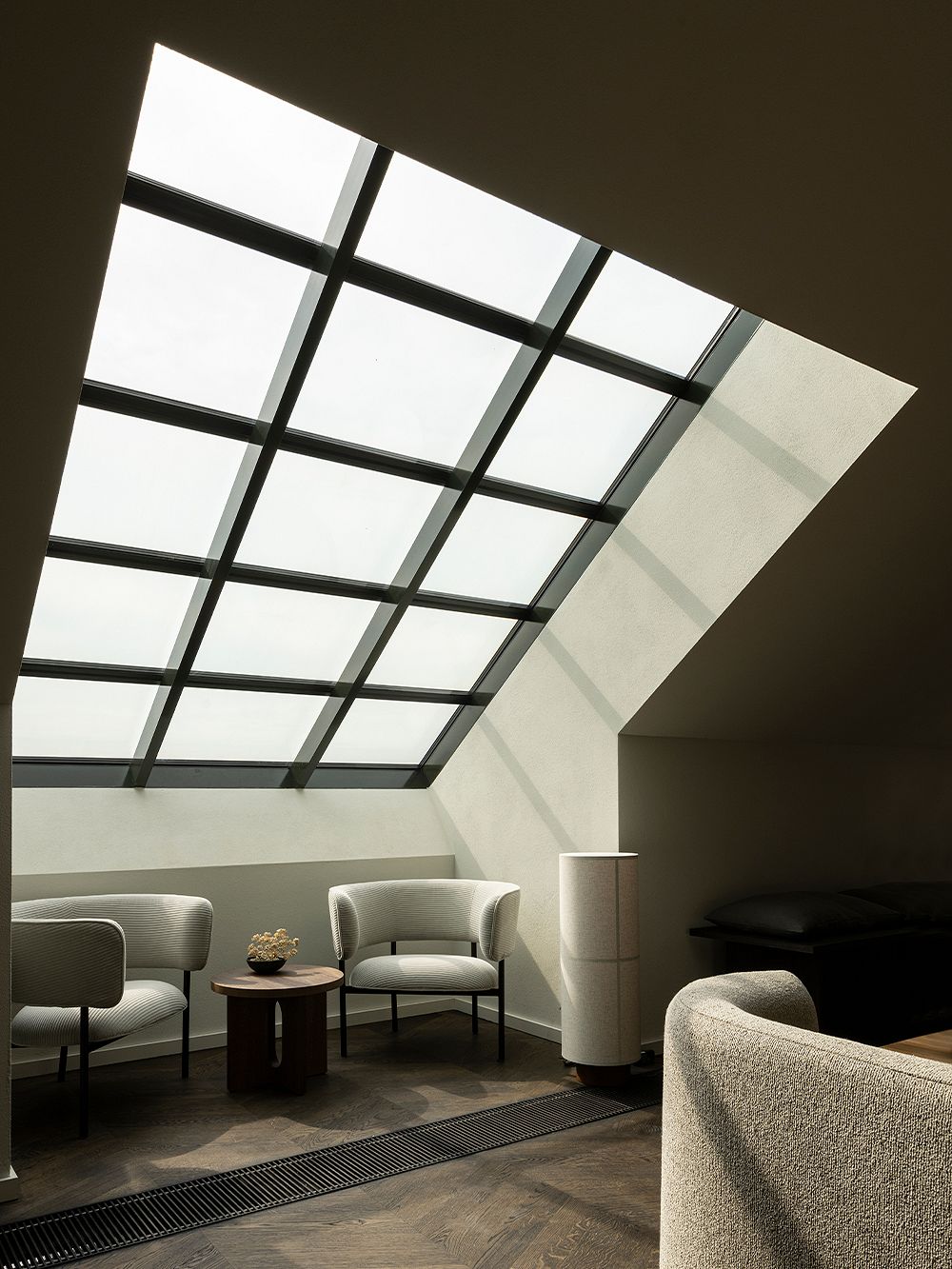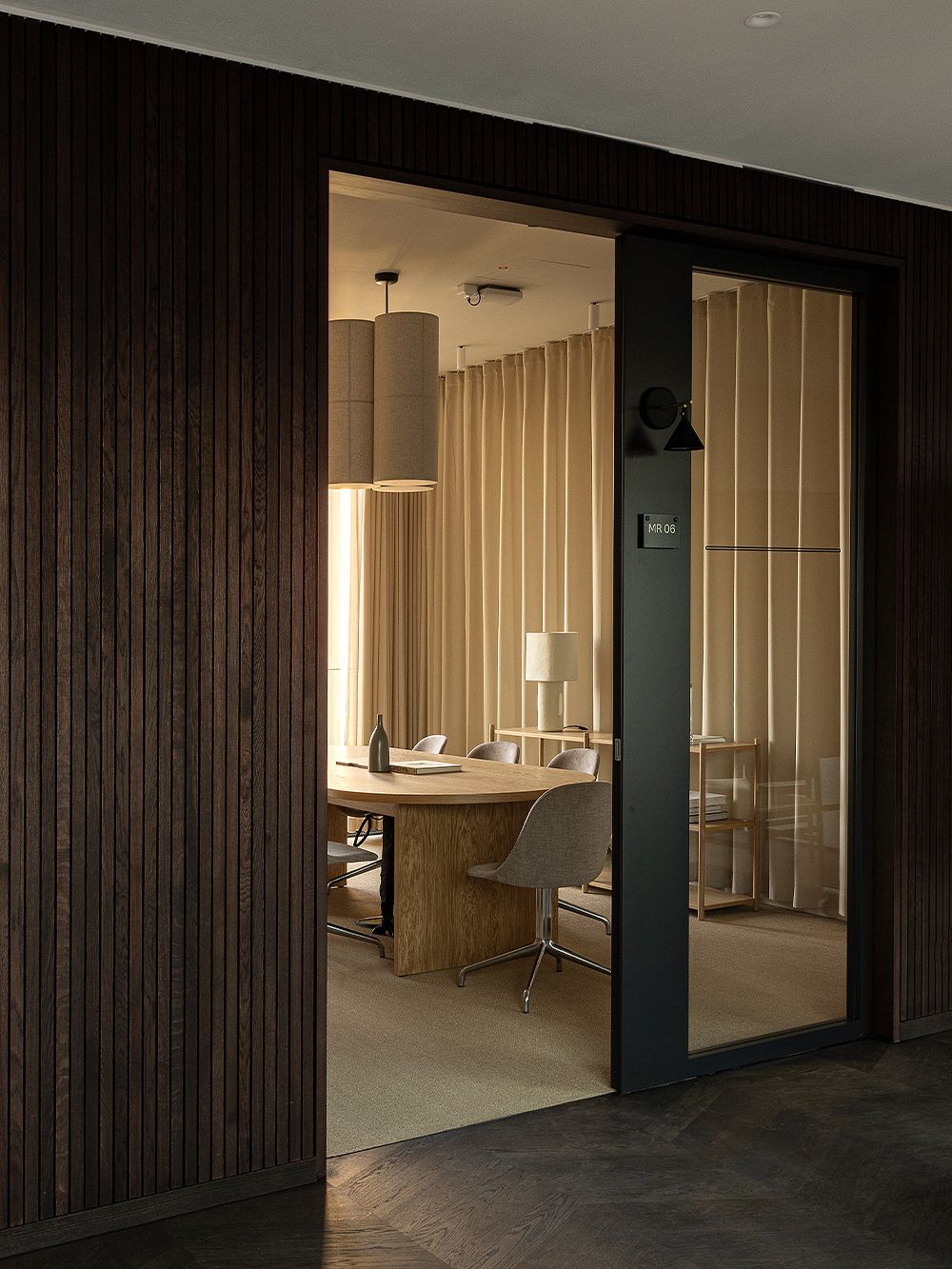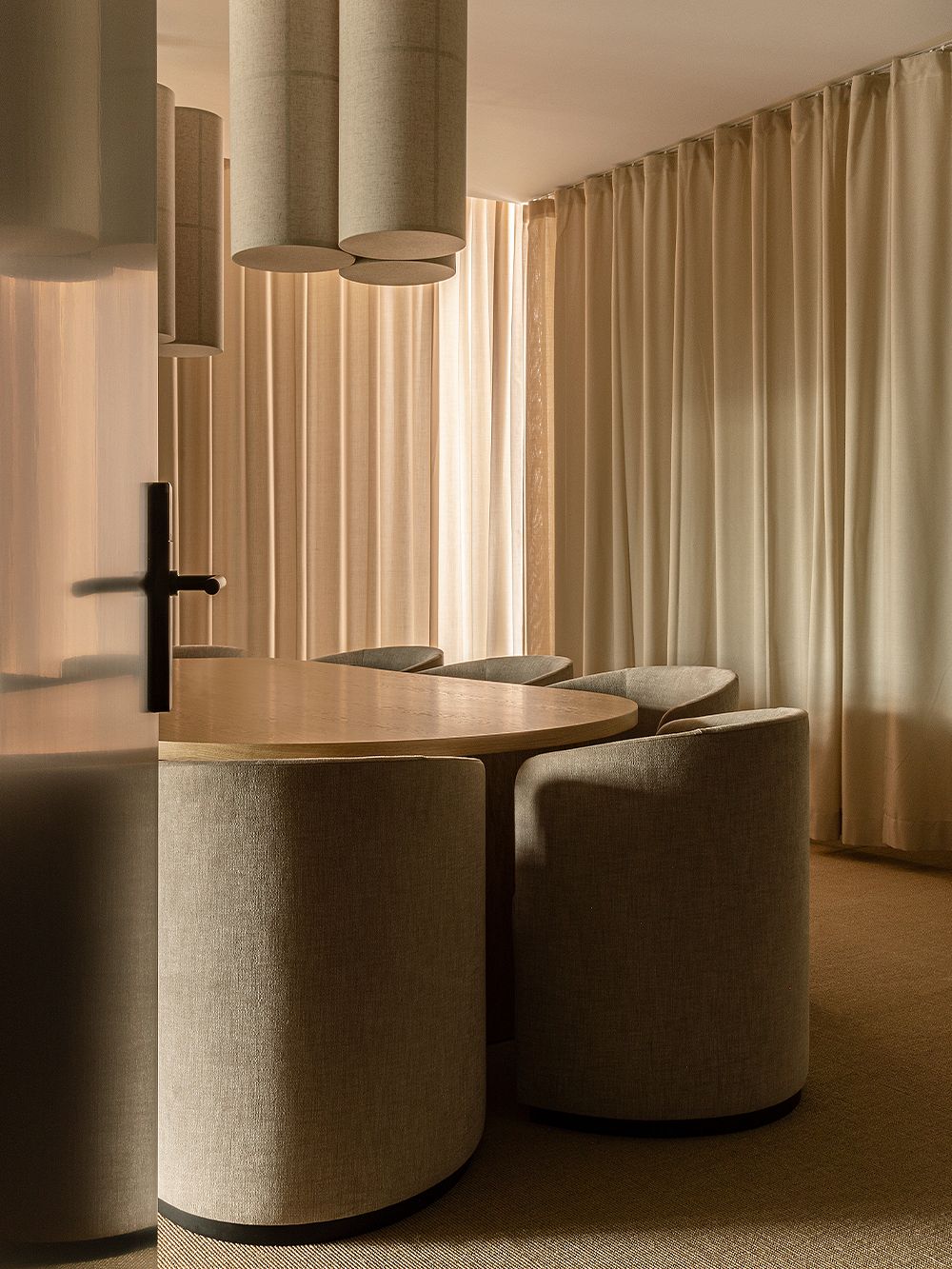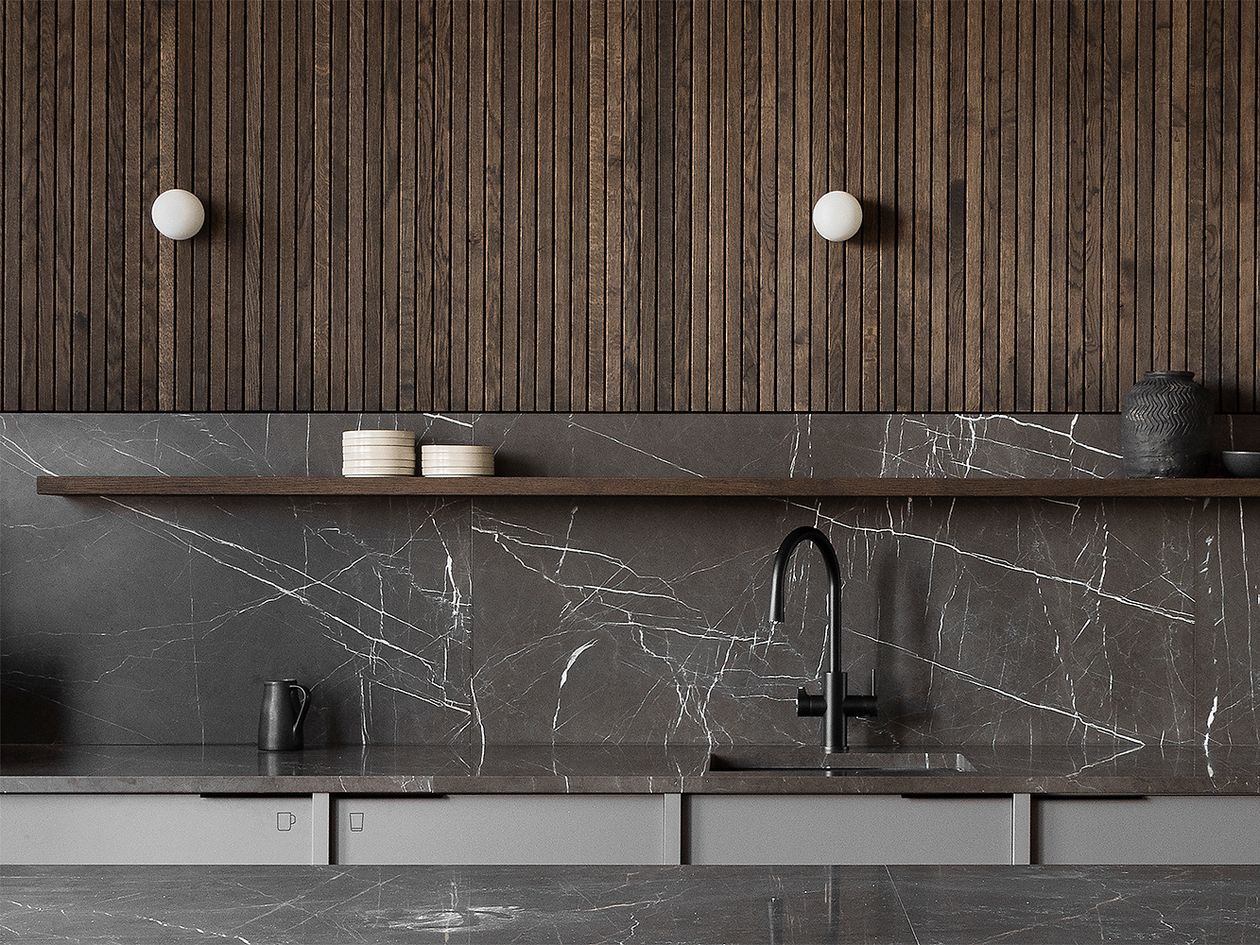 The well-being of the clients is emphasized in every detail of the stunningly beautiful office space: while the atmosphere and feel of the space serve functionality, it also provides a stimulating and experiential environment for both individual work and connecting with others. In the end, Linden Palais is designed to provide productivity during work hours – not with a stick, but rather with a very juicy carrot.
See also:
• Follow @normarchitects on Instagram >
• All products designed by Norm Architects at Finnish Design Shop >
• Read also: TOG's Douglas House puts people first >
Text: Mira Ahola Images: Jonas Bjerre-Poulsen and Lykke Nolsoe