Futurice, an outcome-focused digital transformation company, has built its workspaces around the company's highly interactive organizational culture. The result is a relaxed and playful yet stylish office for a new age, designed by Rune & Berg Design. Take a tour with us!
FUTURICE'S NEW OFFICES in Kamppi, Helsinki are anything but pompous and boringly traditional. In the large gathering and working space, the vivid orange and blue tones and inviting furniture groupings immediately attract attention. At the back of the offices is a professional-standard coffee machine, where everyone can make their own espresso instead of the same old office brew. And opposite the reception area is something surprising: a DJ table!
"The key thing for us was that our new premises would enable the best possible interaction between people and create an active atmosphere," says Hanno Nevanlinna, one of Futurice's founders.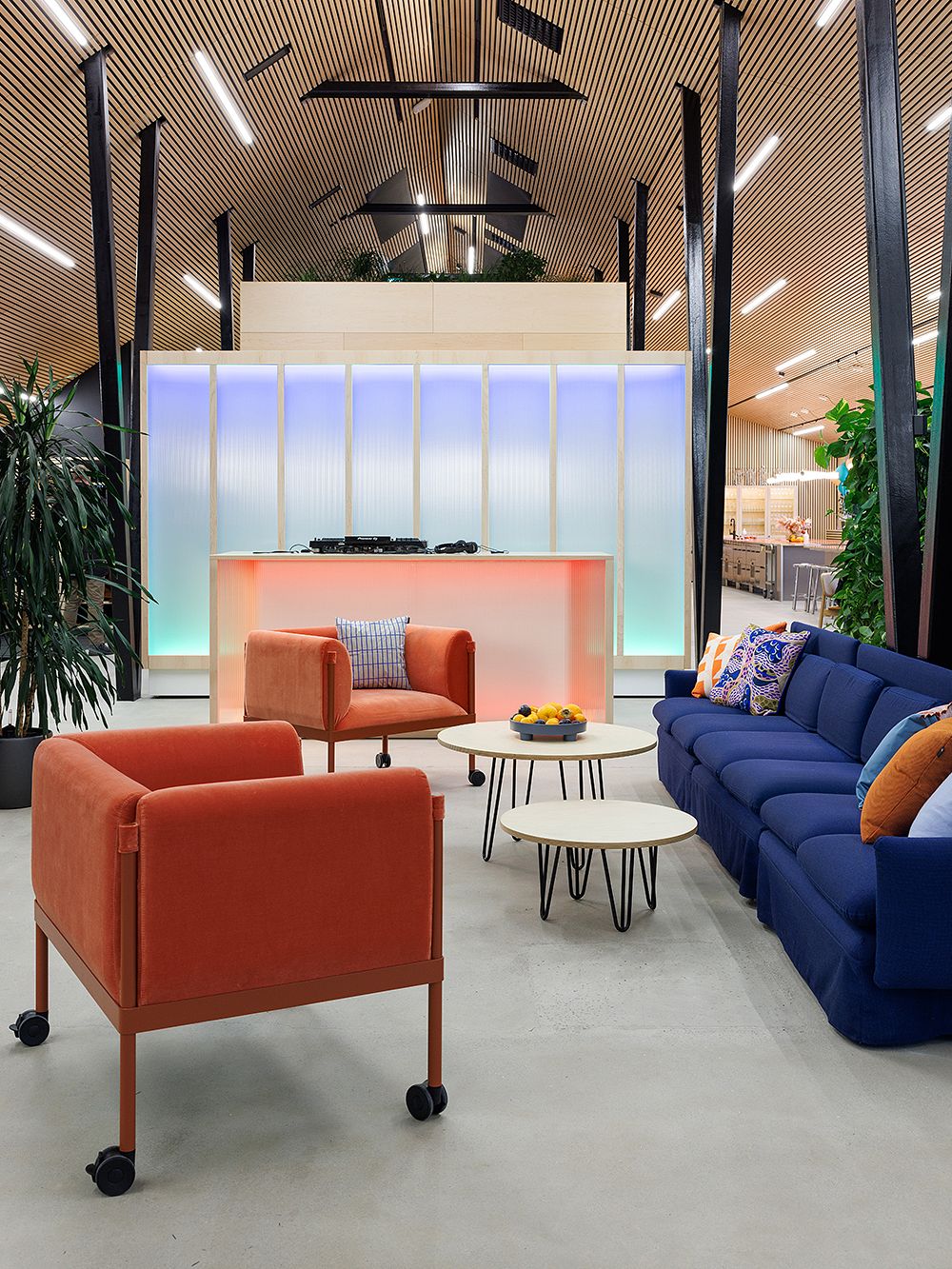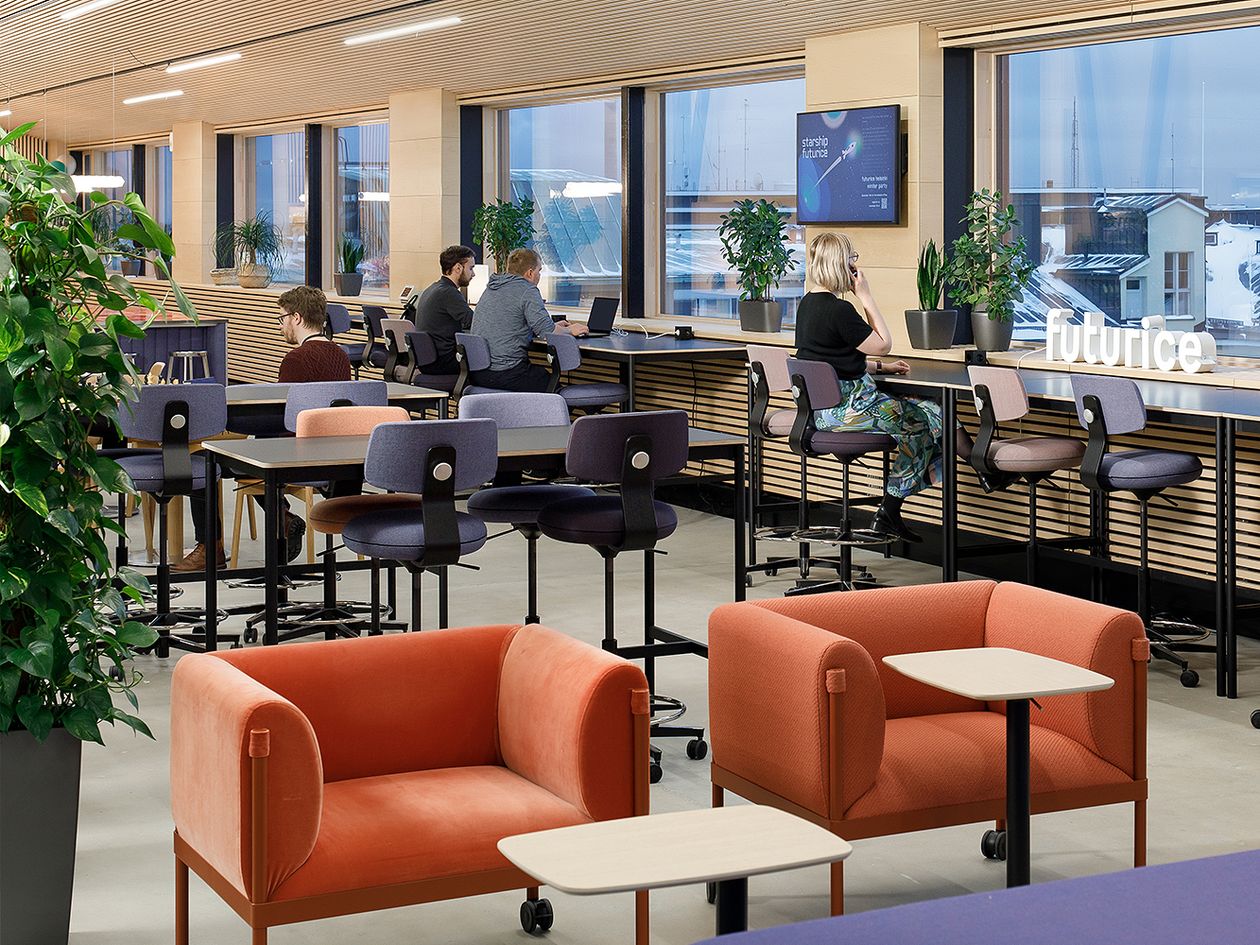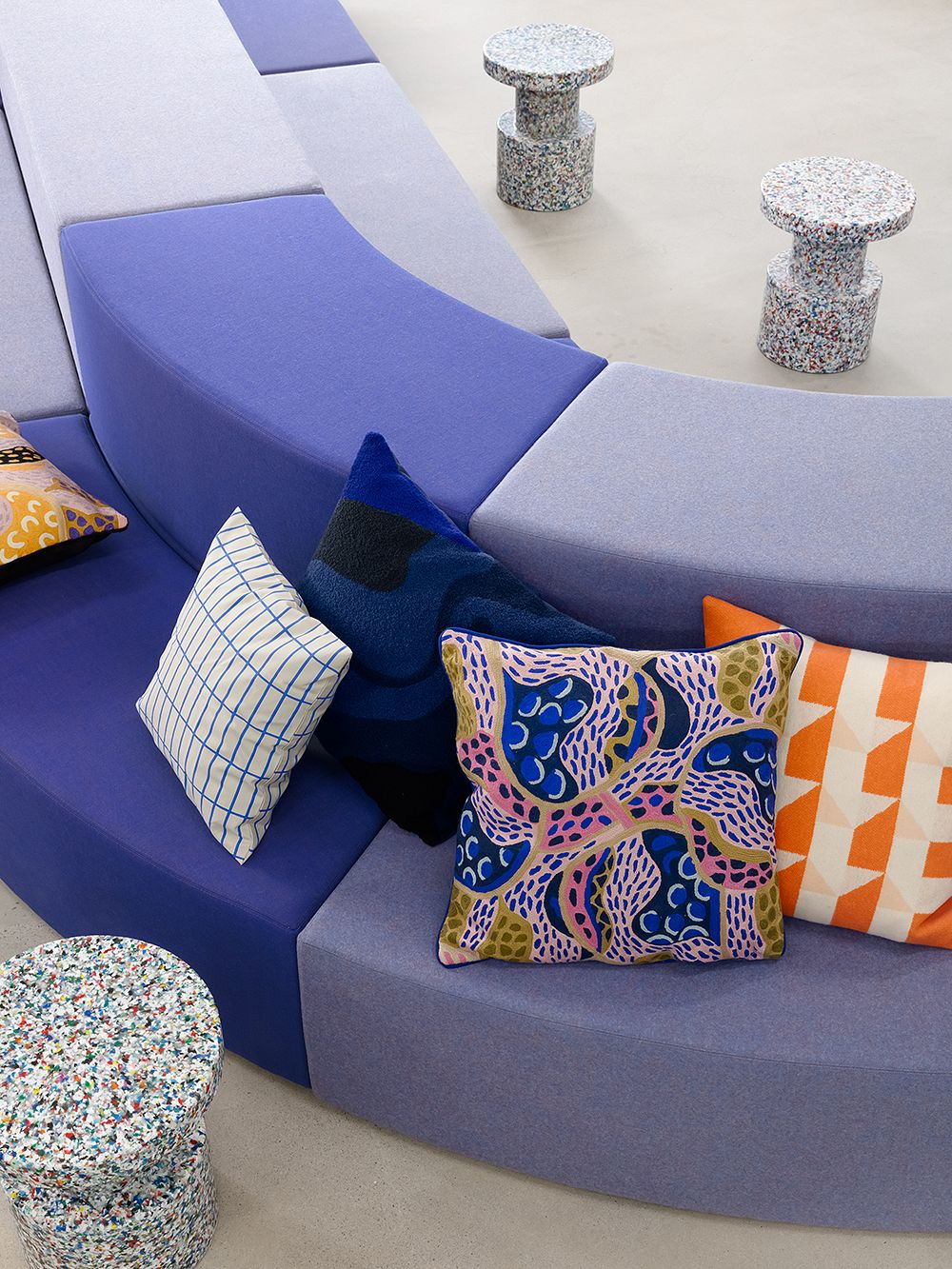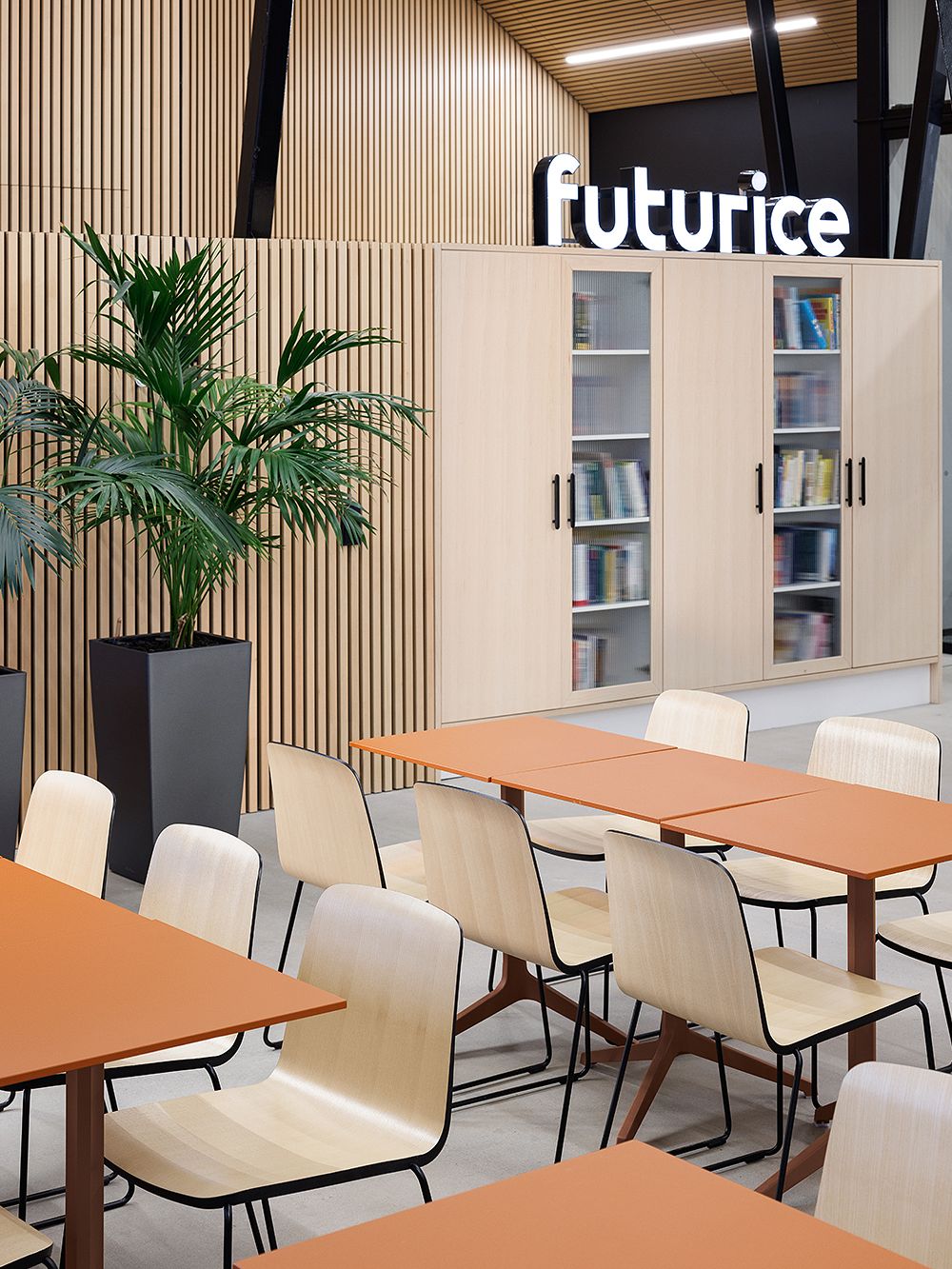 As they had also designed Futurice's former premises, Rune & Berg Design was the natural choice for designing the new offices. The company's decision to invest in completely new premises was spurred by the increase in the popularity of hybrid work – a combination of a blend of in-office, remote, and on-the-go working.
"Our main concern was to have enough booths and small meeting rooms that are suitable for video calls, so that no one has to stay home for a video call. We also wanted a new look, in a style that you might say is more grown-up, as the previous office was even more whimsical than this one," Nevanlinna laughs.
The upper floor of the office is a large open space for meetings and relaxation, while the lower floor is a more traditional working space.
The upper floor of the two-story office is a large open space with the aforementioned cozy working cafe. It is ideal not only for brainstorming and relaxation, but also for both in-house meetings and meetings with visitors. The lower floor is more of a conventional office, and is reserved for focused and confidential work.
"We already had this division of space in our previous office premises, where we found it to work well for us. In fact, we were probably one of the first companies in Finland to build an open cafe-cum-event space in an office," says Nevanlinna.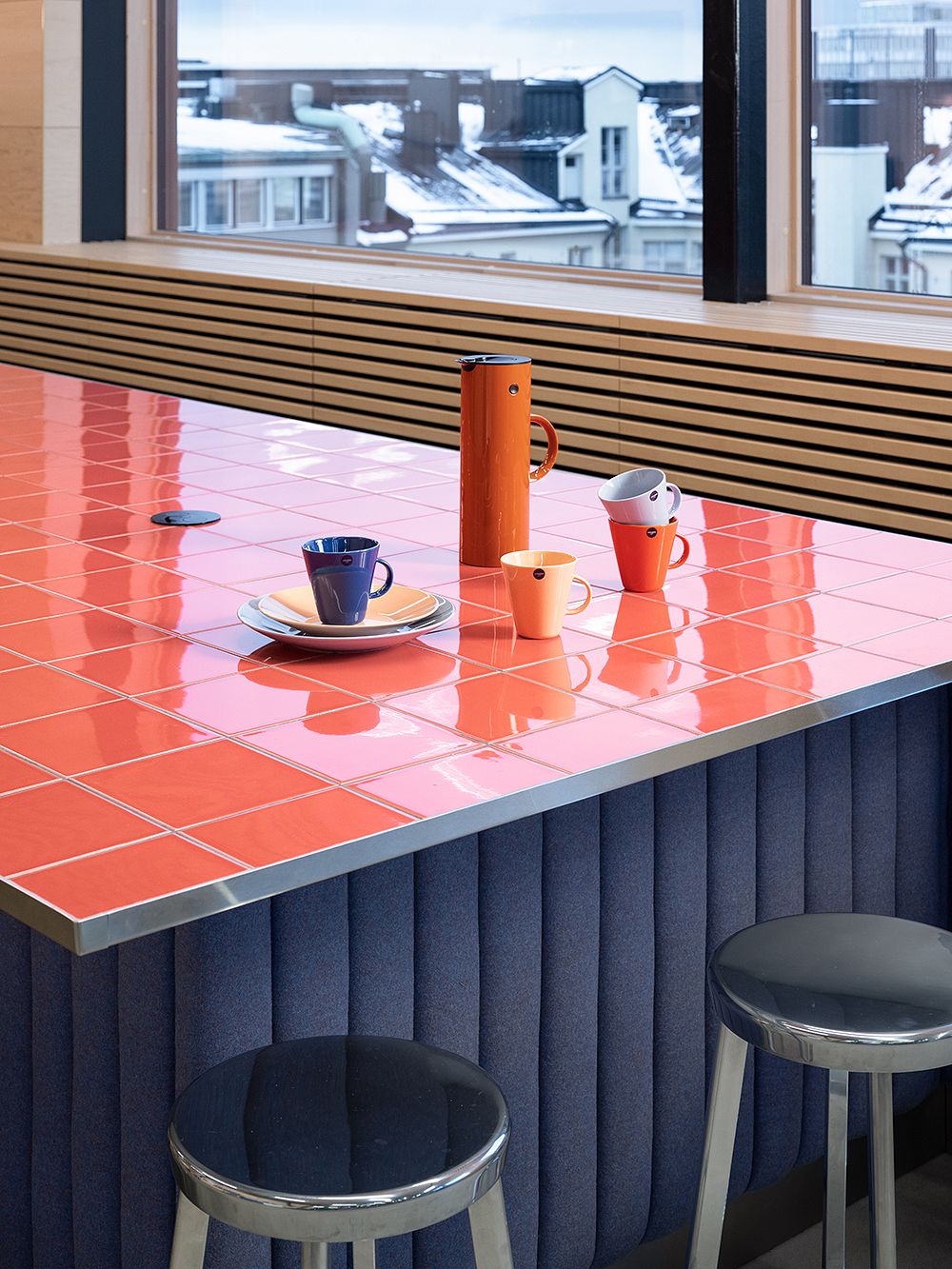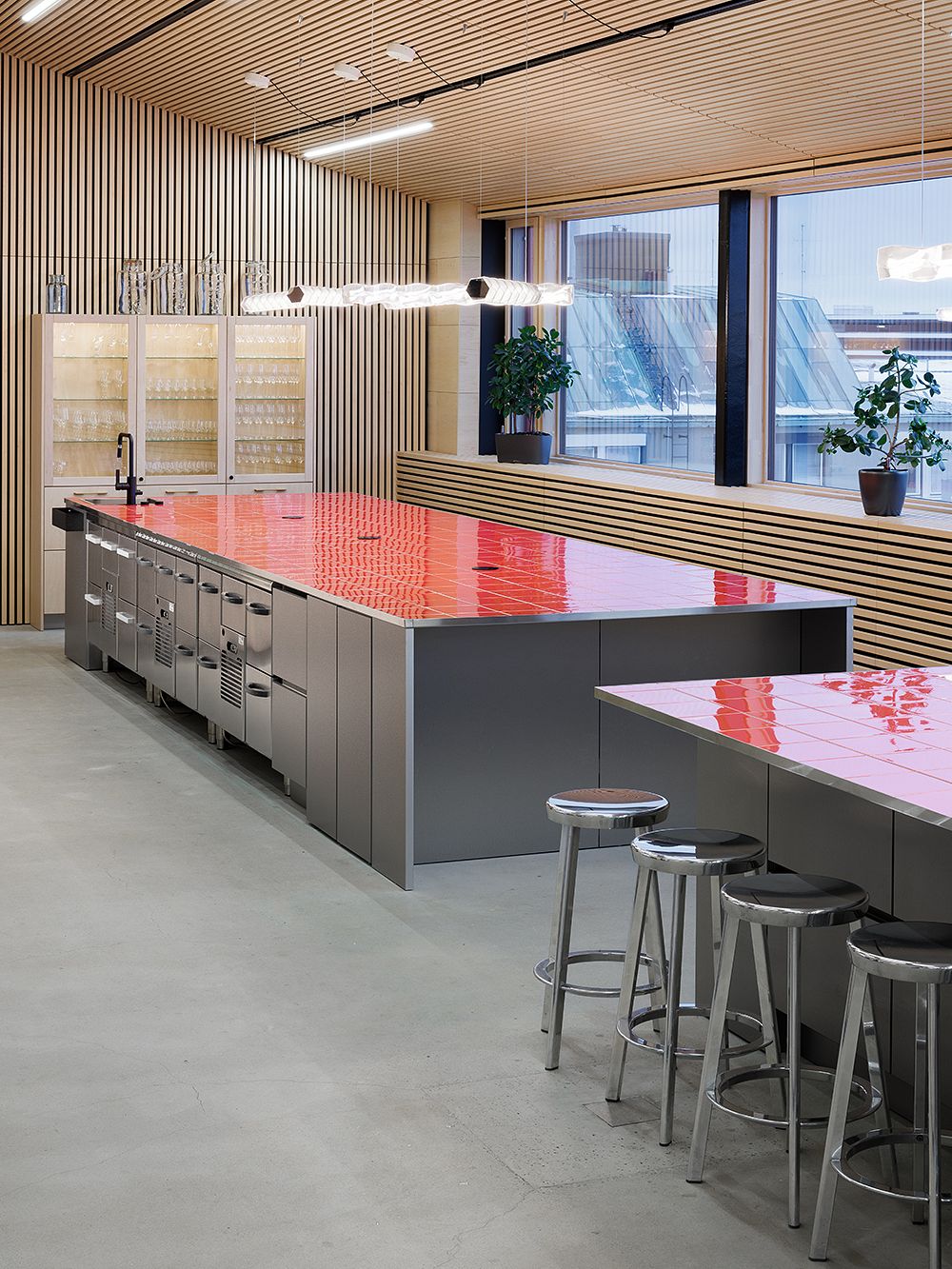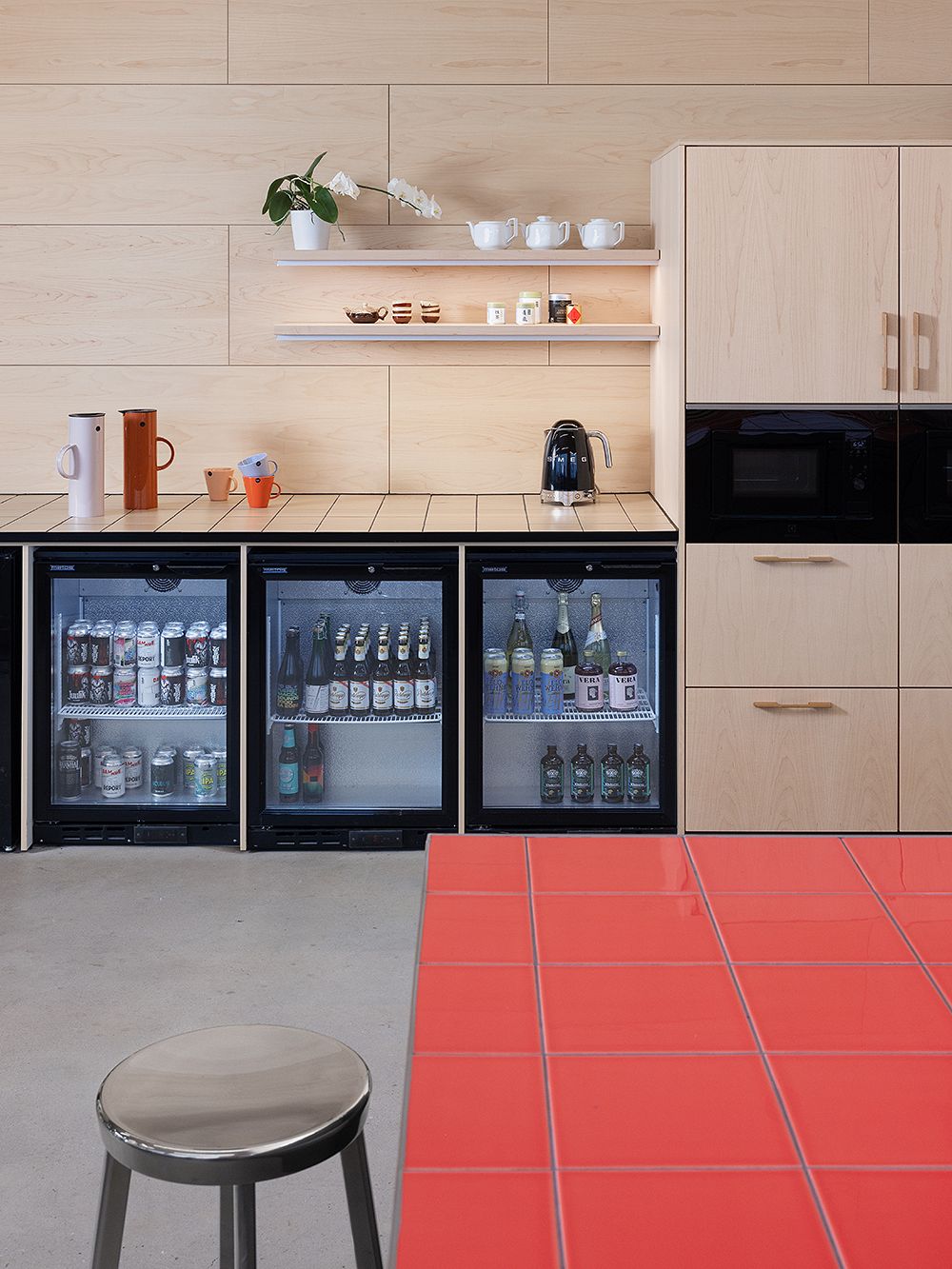 Rune & Berg Design wanted the facilities to express the core spirit of Futurice, making sure it is reflected in the furnishing and overall atmosphere. This matters a great deal, since organizational culture plays a key role in a company that also provides services related to development in the operation culture of organizations. Most of the furniture was supplied by Finnish Design Shop's Contract Sales, as they offer a wide range of high-quality furniture to match the esthetics and mood of Futurice's premises.
"We wanted to bring the empathy and human touch of the company into the space, to make it as good a place as possible for everyone to work and interact," says Rune & Berg Design's lead designer Sini Ala-Nikula.
Most of the furniture was supplied by Finnish Design Shop's Contract Sales.
This is certainly the end result, as can be seen in such details as the entrance in the top floor lobby, which was envisioned to be as welcoming and user-friendly as possible. There is a small reception area in the lobby, where guests are immediately welcomed with photos of Futurice's smiling staff. The cafe area, meanwhile, has a wide range of furniture to make it a pleasant and functional working place for as many people as possible, whatever their role. This area and its furnishings are also ideal for various events and training sessions. That's why the fun DJ table was an inspired extra.
Futurice's active and collaborative spirit also comes across in the meeting rooms in the loft. The tables in these rooms make it possible to work standing up, allowing for more dynamic conversations. In addition, printed on the tabletops are texts that provide good prompts for discussion and reflection stemming from Futurice's vibrant company culture.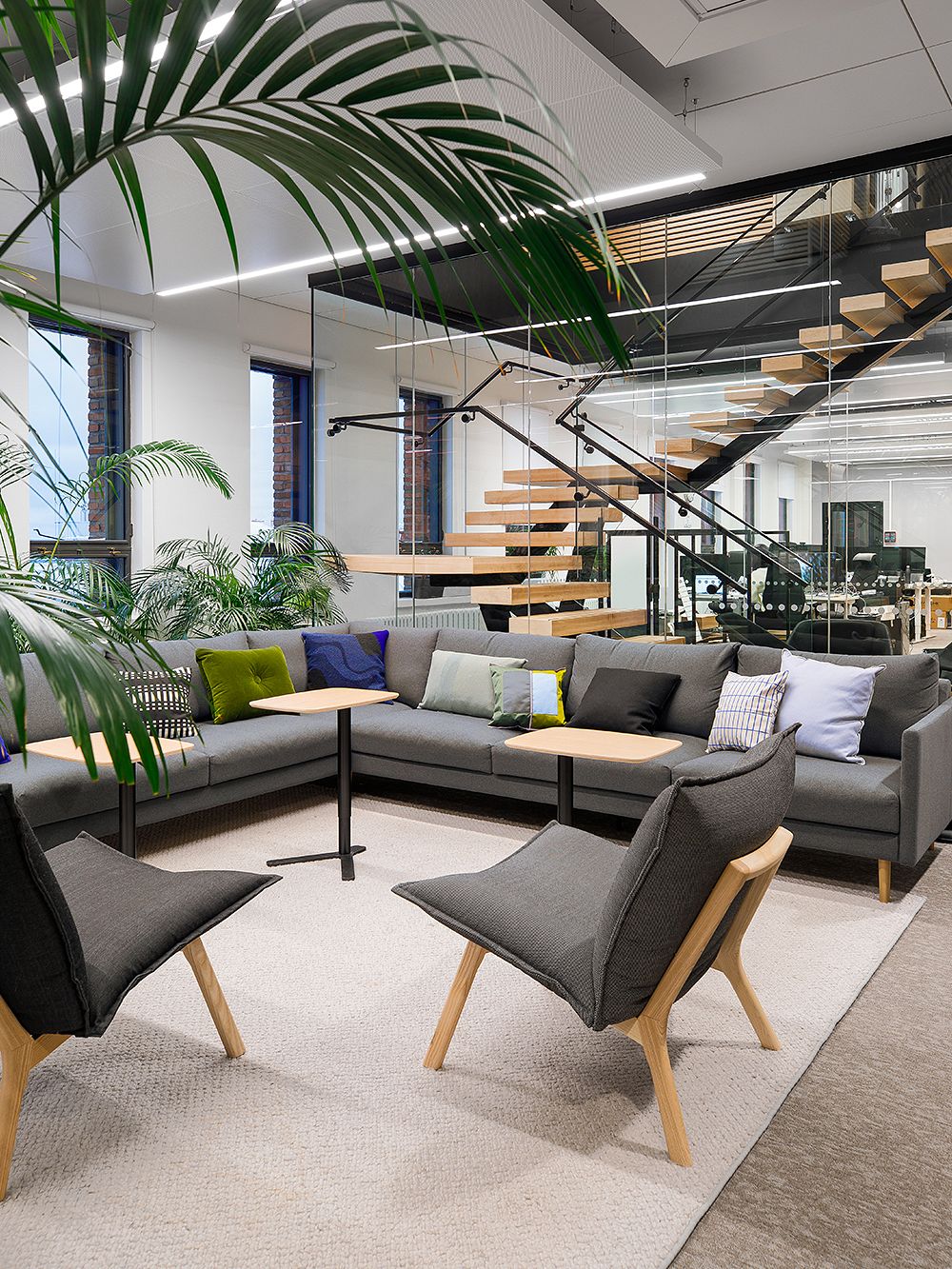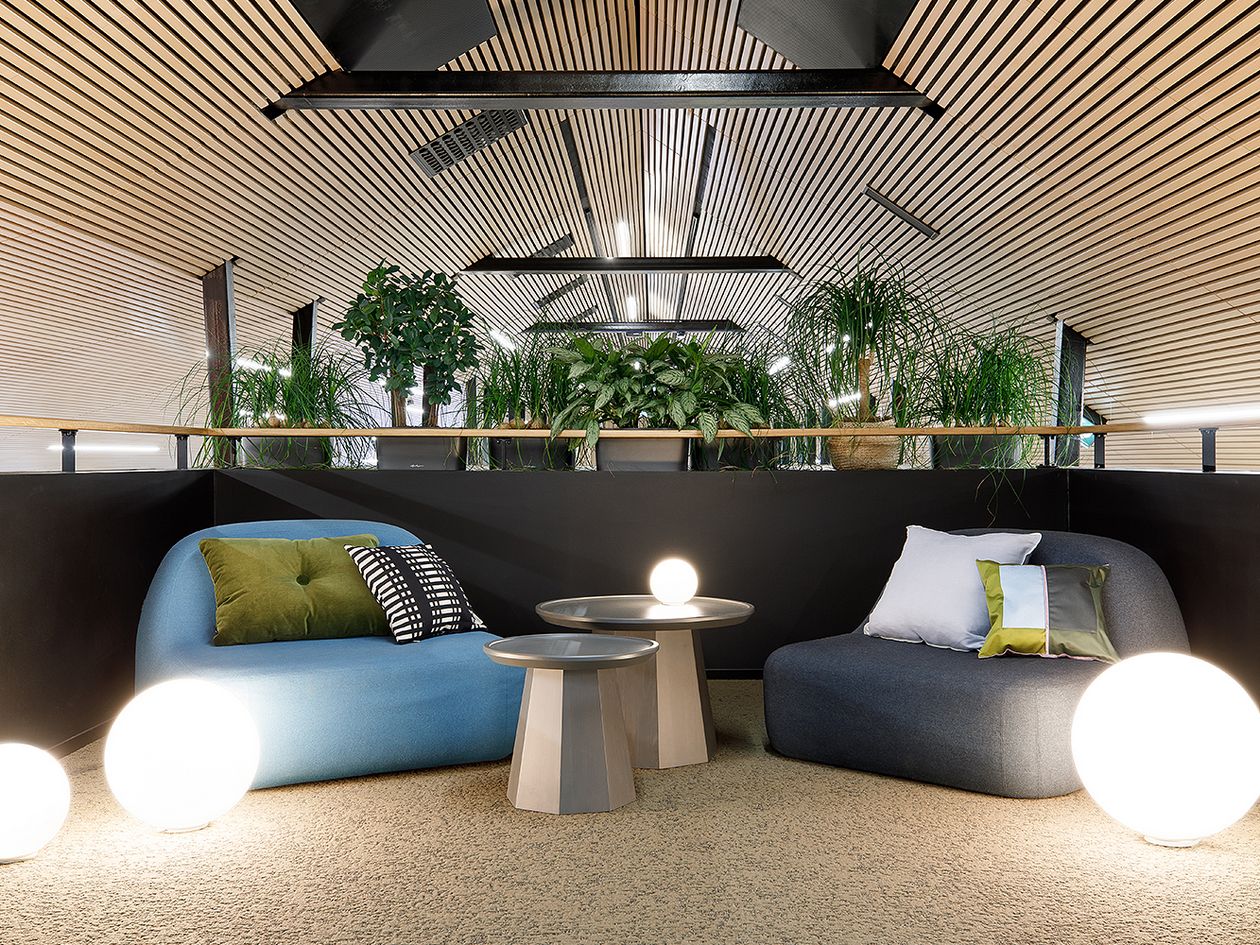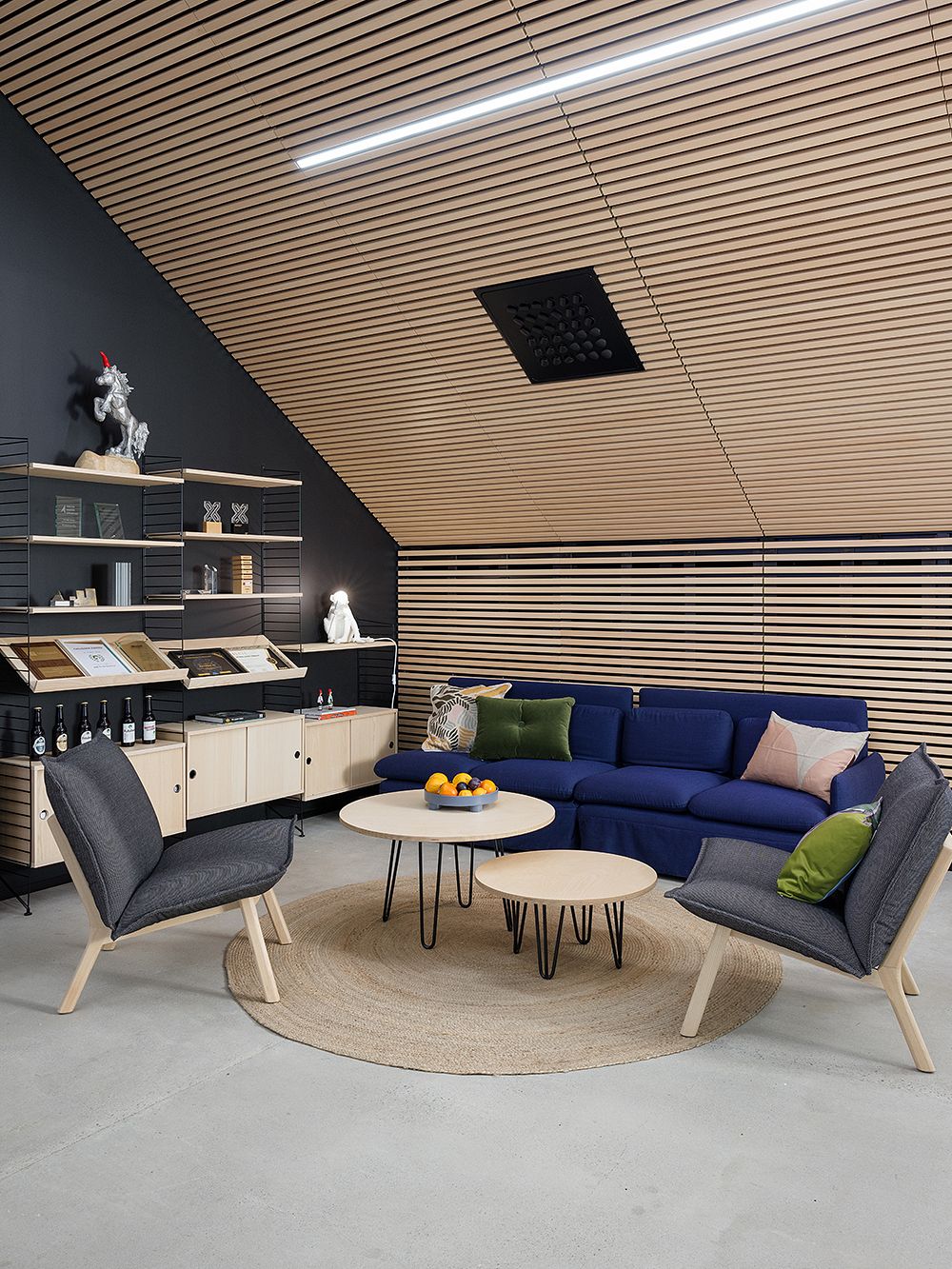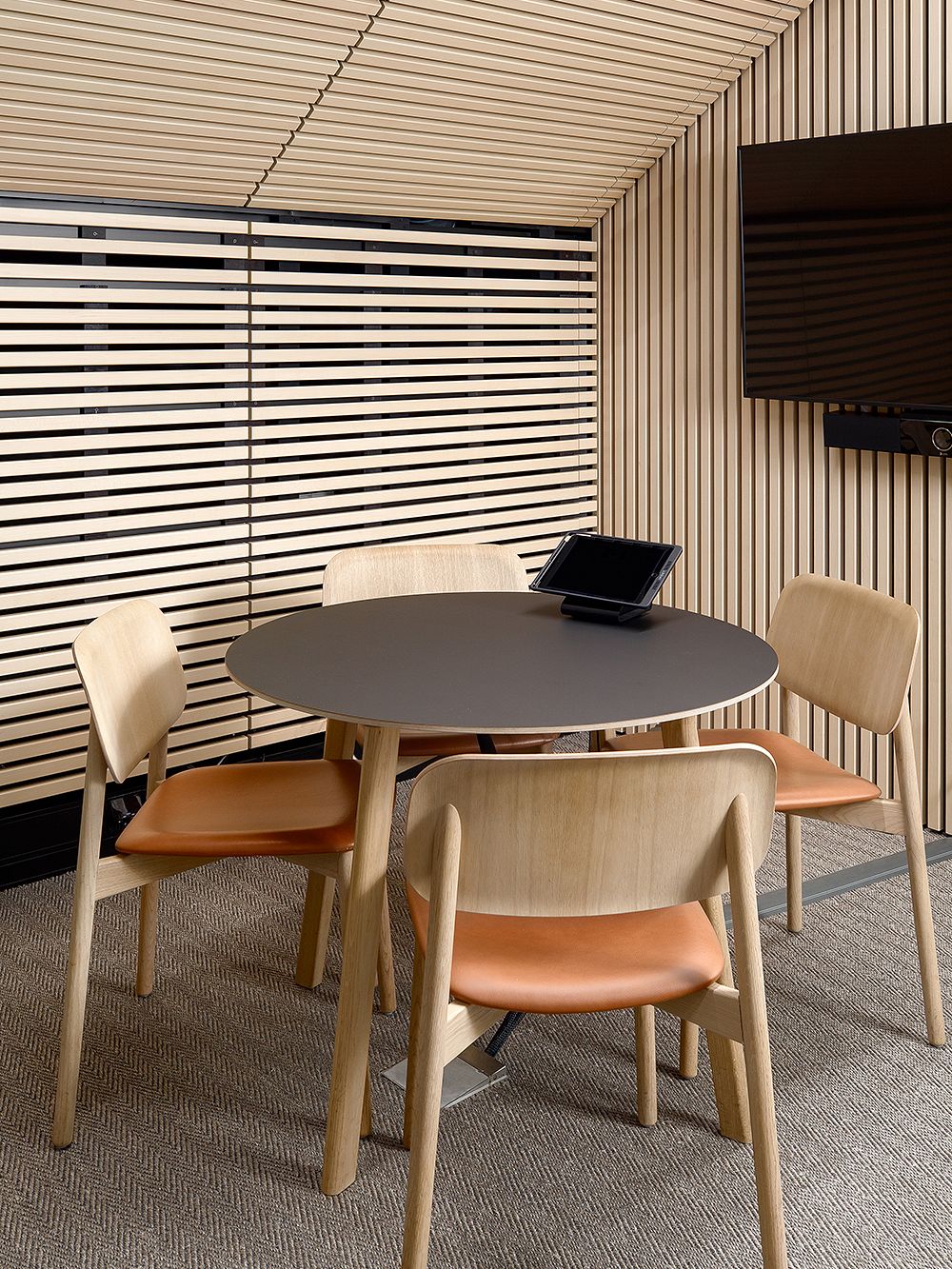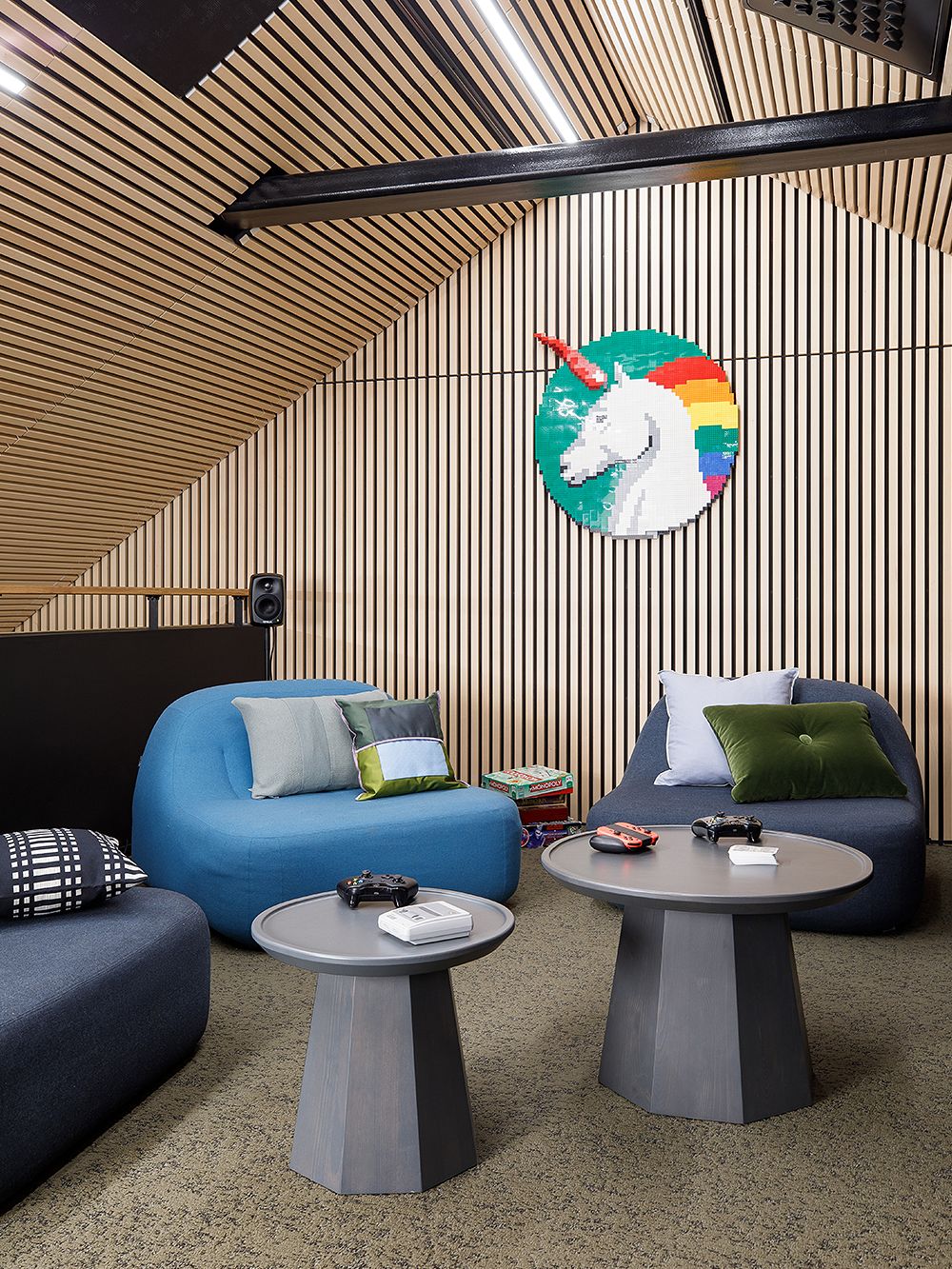 Sustainability has also been a guiding concern in the design of the facilities and furniture. The materials were chosen to be as durable and timeless as possible, such as the tiling in the large kitchen island and the high-quality designer furniture.
In their design of the walls and ceilings, ARCO Architecture Company (formerly Arkkitehdit Soini & Horto) included wood battening, which provides a timeless and harmonious backdrop to the distinctive interior. Rune & Berg Design was inspired by the architecture of the red-brick building, introducing a cheerful contrast with bright shades and soft surfaces, in keeping with Futurice's overall esthetic.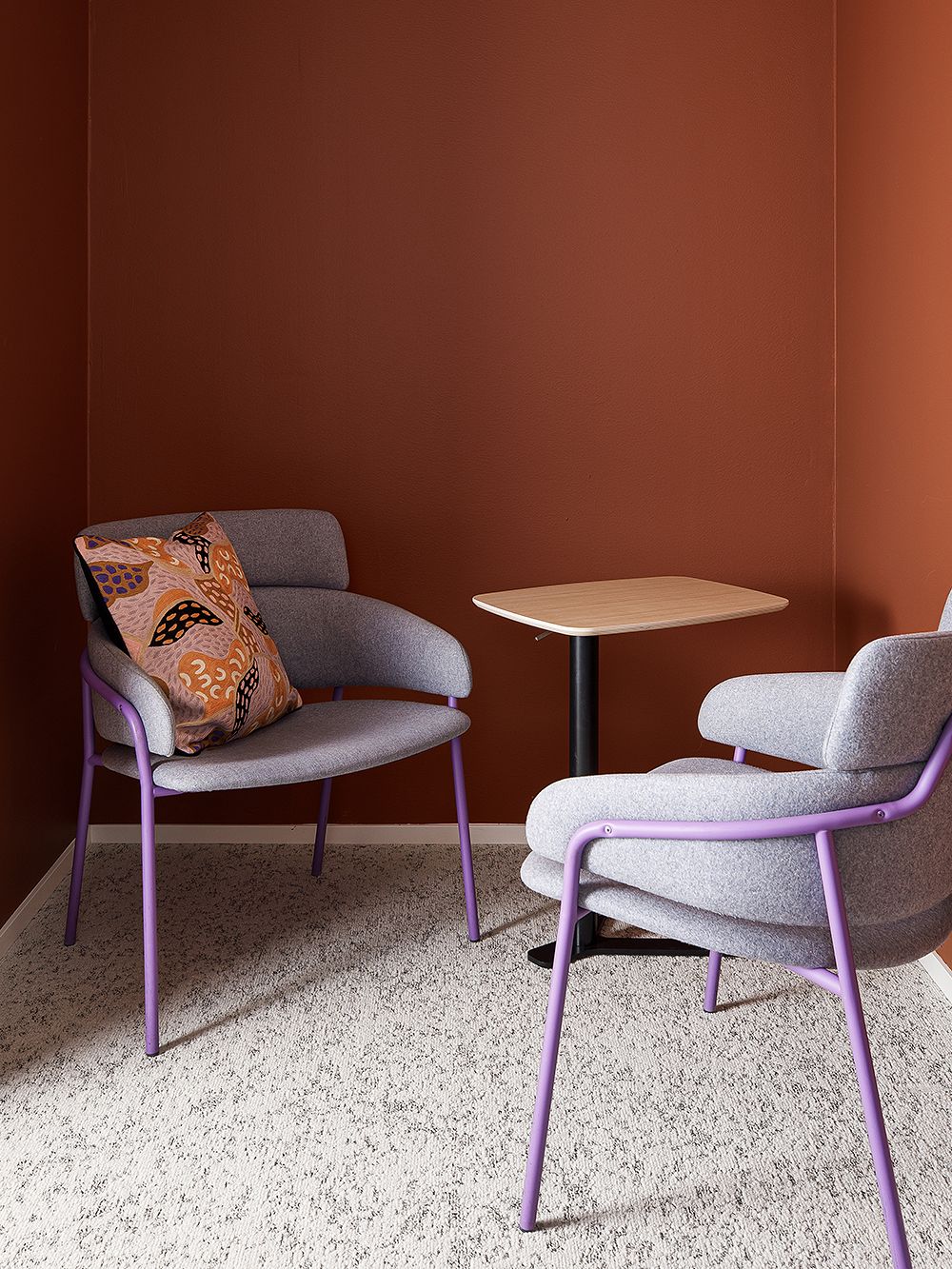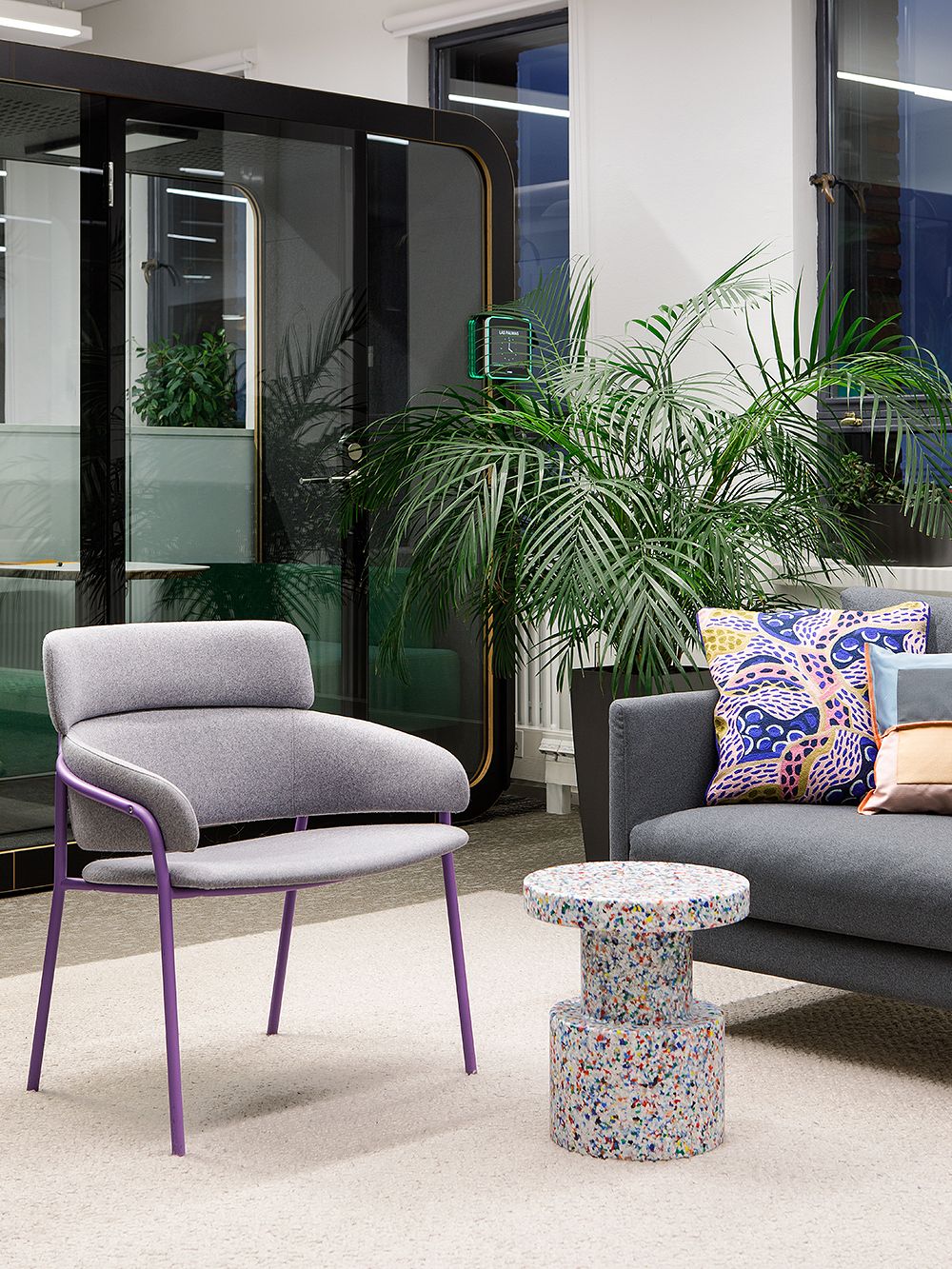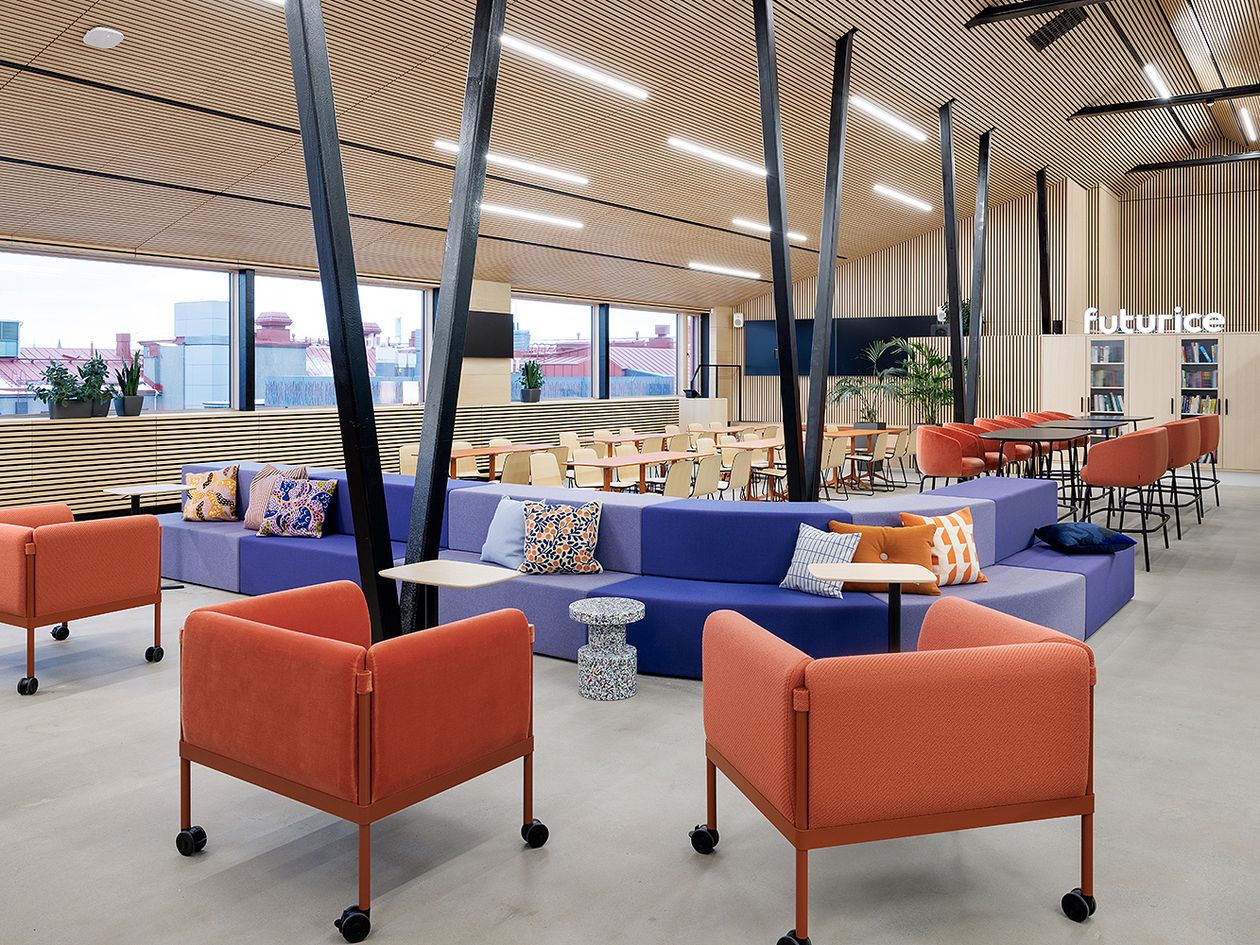 The furniture also features carefully considered details combining wood, glass and durable fabric upholstery with lighting that subtly shapes the mood.
"Futurice's office premises have a very special atmosphere; capturing the essence of it was very rewarding, and makes the premises a clear expression of their ethos. The interior design conveys a sense of individuality and peace, contrasted by bright, colorful elements such as the large counter and the fun lighting on it. The large islands are also perfect for events and gatherings, as they're designed to accommodate dozens of pizza boxes," Ala-Nikula laughs.
See also:
• Finnish Design Shop's Contract Sales >
Text: Katri Keihäri Images: Mikael Pettersson