During its five days, Habitare provided almost 60,000 visitors with interior decor inspiration and design experiences. This year, the furniture fair in Helsinki was characterized by wooden surfaces, vibrant colors and clear, geometric shapes. See Design Stories' picks!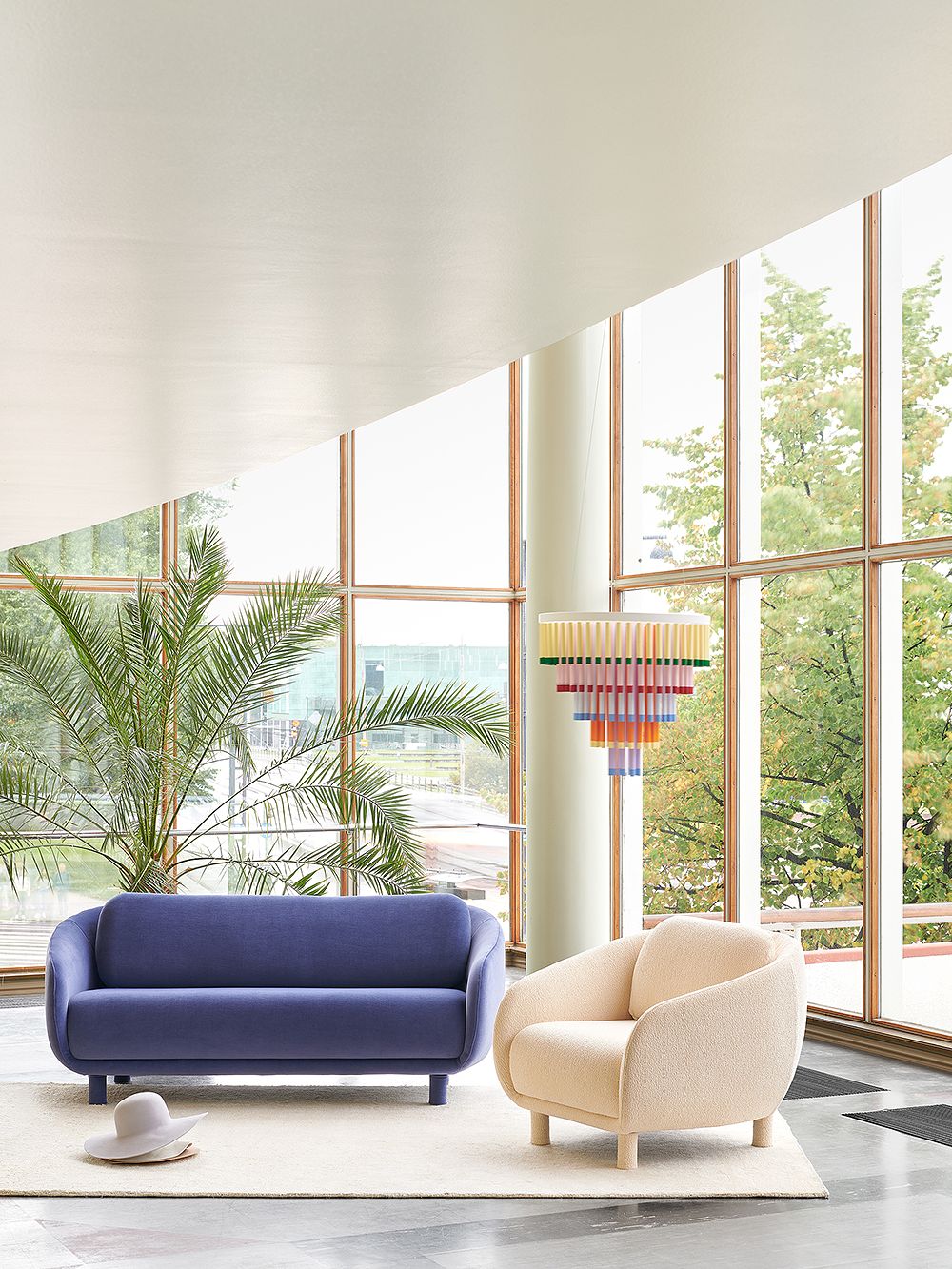 Hakola – three new designs
In addition to its basic selection, Hakola introduced three new items at its colorful stand: the Bobo sofa and lounge chair by Joanna Laajisto , the Mama wooden chair by Samuli Helavuo, and the Cocktail pendant lamp by Hanna Anonen. Cocktail, which is Hakola's first luminaire, won third prize in the 2017 FDS Award competition. The new products differ in color as well as design, but are still perfectly at home in the brand's collection.
"My primary aim in all my design, whether of interior decor or furniture, is to create a lasting impression. The Bobo series consists of two sofas of different sizes, and a lounge chair. They are designed to suit both public spaces and home environments in terms of their size and structure. At the same time, their style is soft and minimalist, which strongly reflects my own aesthetics," says Joanna Laajisto.
• Discover Hakola's range >
• FDS Award success stories: Hanna Anonen >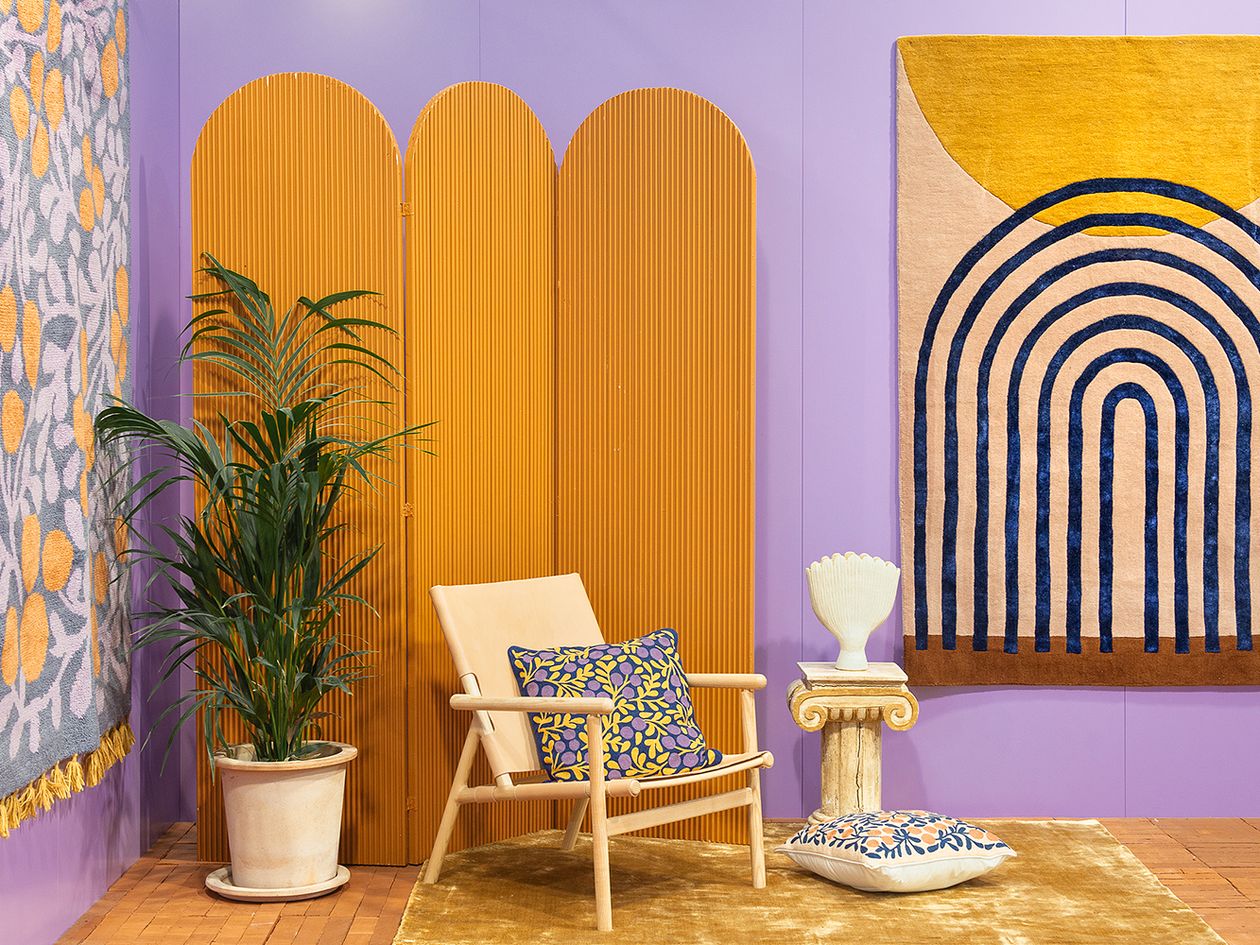 Finarte – a Design Stories favourite
Finarte's wonderful stand was awarded as one of the best at this year's Habitare by the Association of Interiors Journalists – and this does not surprise us! Designed by Studio Smoo, the stand was distinguished by its brick floor and curved entrances, and of course its fresh colors, which were repeated in new products from the Keidas collection, such as Terttu cushions and Atrium rugs. The stand was also a Design Stories editors' pick.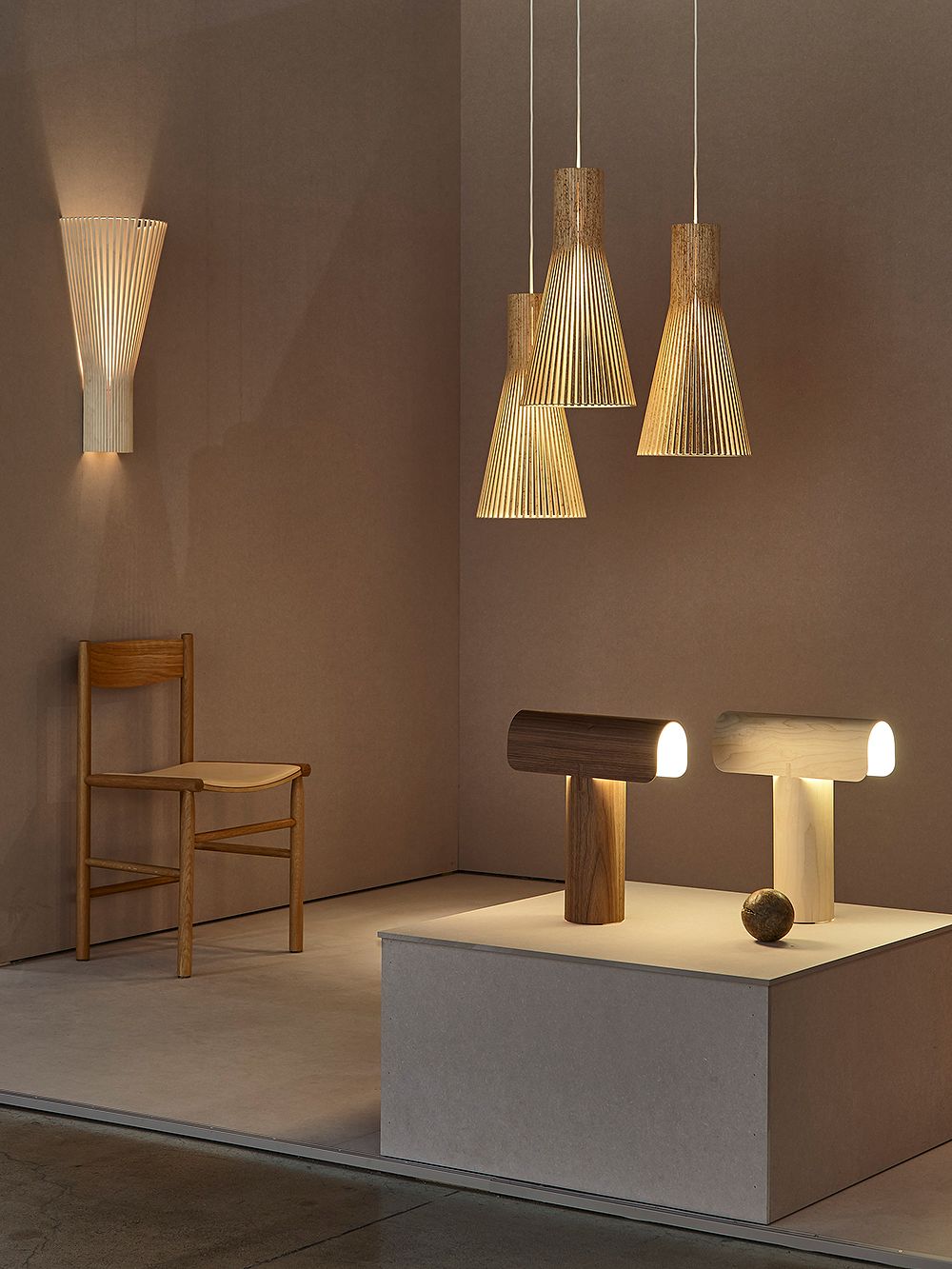 Secto – celebrating the anniversary of a classic
Curated by Ulla Koskinen, the stand by Asun magazine was once again among the most inspiring. Lighting manufacturer Secto Design was involved in the "block" around Asun's stand, which exhibited a large selection of domestic brands. The 4200 pendant light by Seppo Koho turns already twenty, and 4200 pendant lights made of curly birch were displayed in honor of this anniversary. The special edition lamps will also be available at Finnish Design Shop.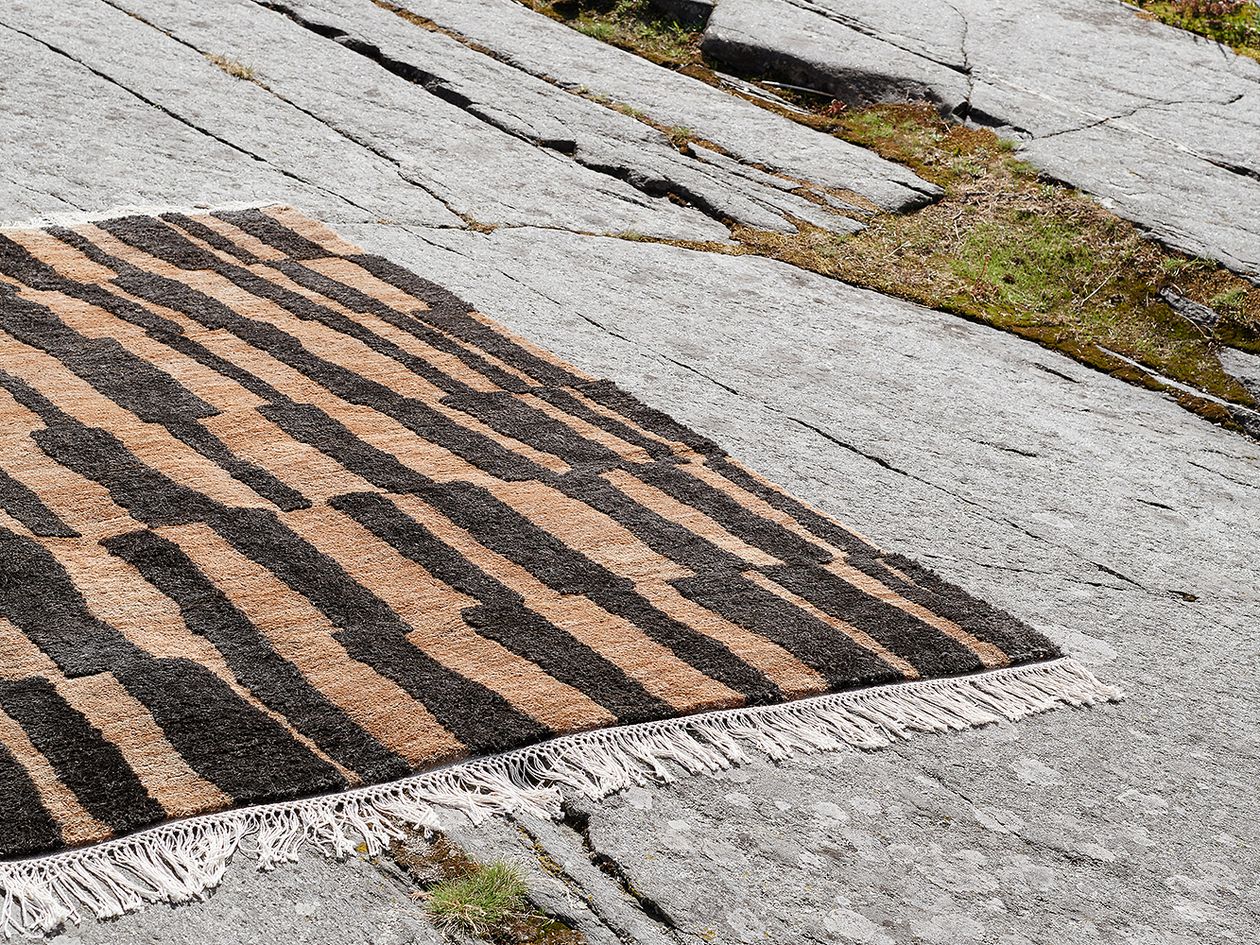 Roots Living – a new rug collection
Roots Living's new rug collection was created in cooperation with Ulla Koskinen and Joanna Laajisto. It combines Finnish design with traditional Indian craftsmanship. There are four rugs: Ketju and Pilari designed by Koskinen, and Wicker and Rock by Laajisto. "The traces of the weavers' handiwork adds a human and attractive touch to the rugs, as each piece resembles the others but is unique," says Ulla Koskinen.
• Discover Roots Living's range >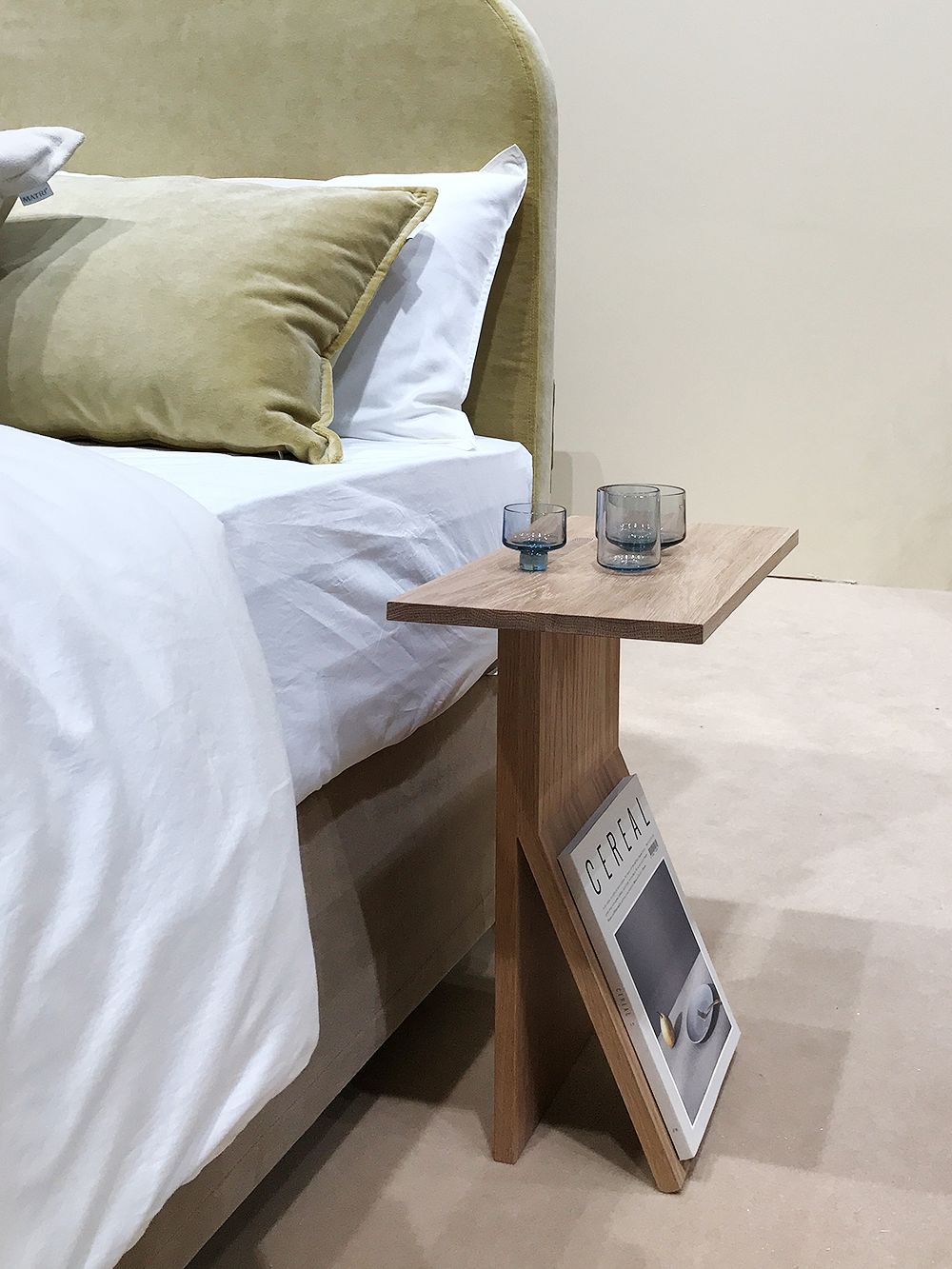 Matri – a new bedisde table
Studio Kaksikko, i.e. Wesley Walters and Salla Luhtasela, have designed a bedside table for Matri, which will go on sale later in the year. Other new Matri items included the cotton percale Tuuli bedspreads, whose dark yellow corn shade has been particularly popular.
Campaign: save 15% on Matri's textiles until September 30, 2019.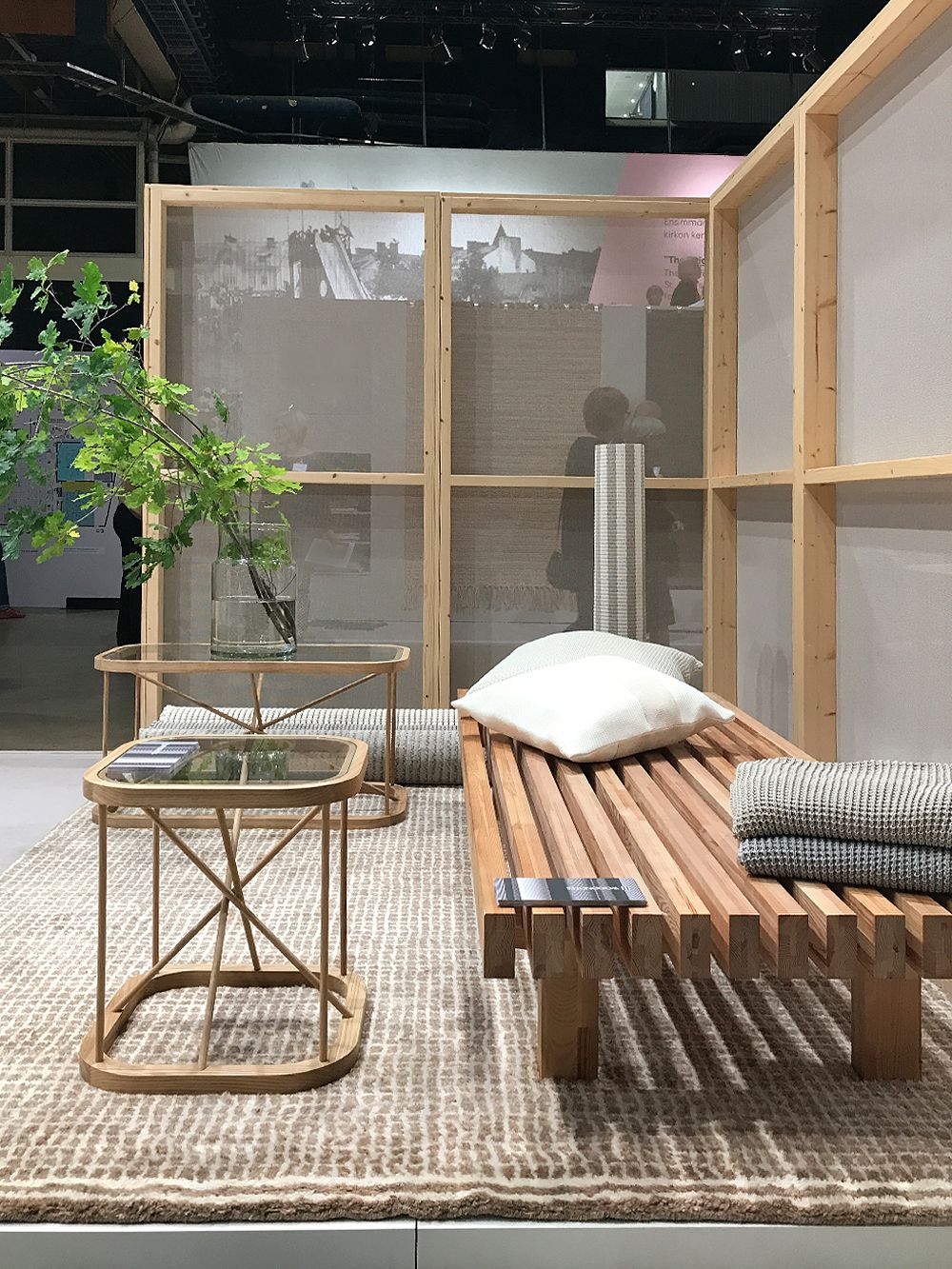 Woodnotes – soft shades
The Woodnotes stand was rated the best item at the fair by international bloggers. Its earthy hues, natural materials and quality product range clearly appealed to design lovers. The new, hand-woven Grid and Uni wool rugs played the starring role at the stand. Woodnotes also displayed carpets designed for outdoor use.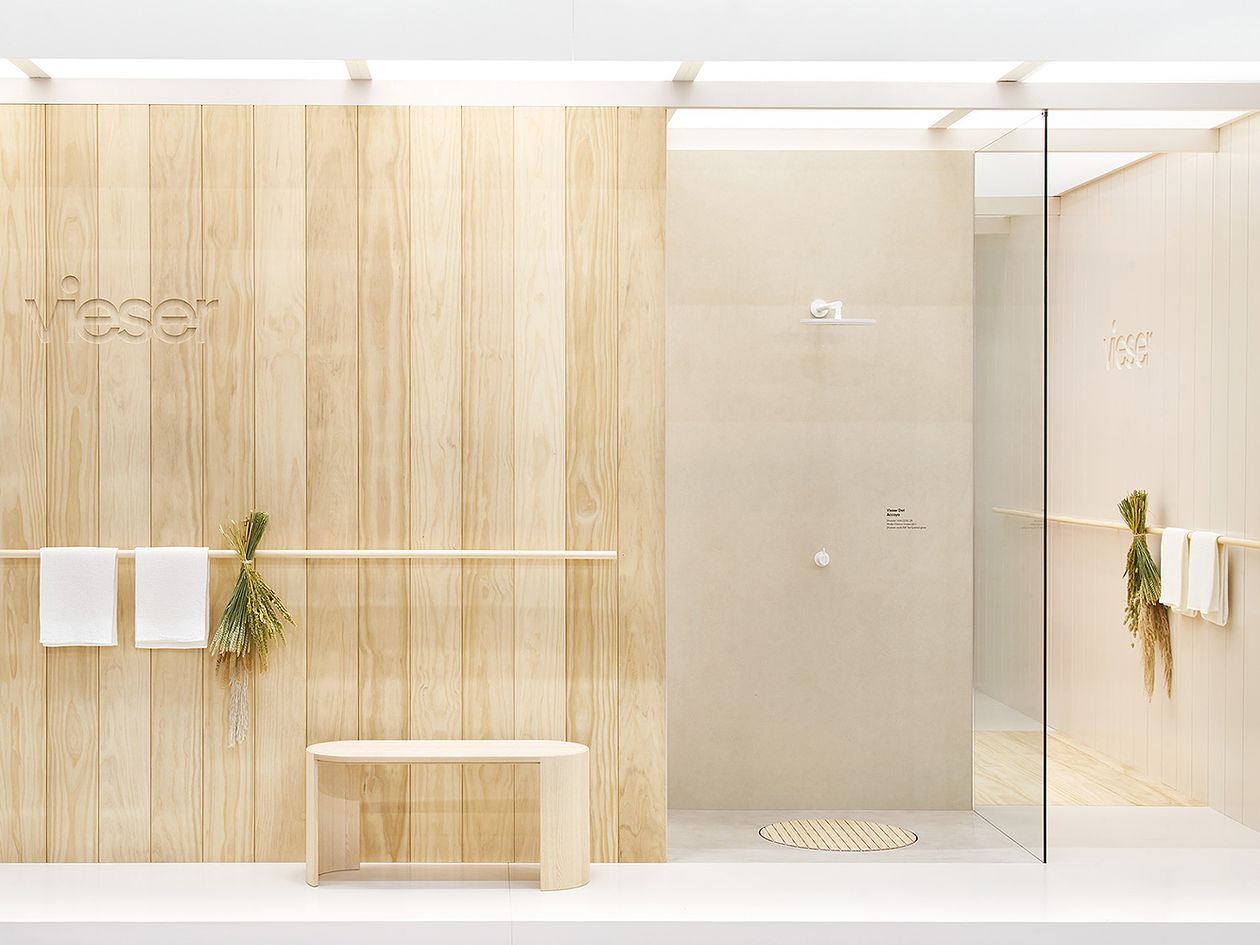 Vieser – for bathroom floors
Vieser, a Finnish company specializing in design floor drains, participated in Habitare's pavilion stand, designed by Linda Bergroth, which scooped awards from both bloggers and interior designers. The stand, which featured products from the Natural by Vieser range, played with light tones of wood, the spirit of Japan and minimalism. It was interesting to see how a floor drain cover can take a new role in bathrooms and become a prominent design feature.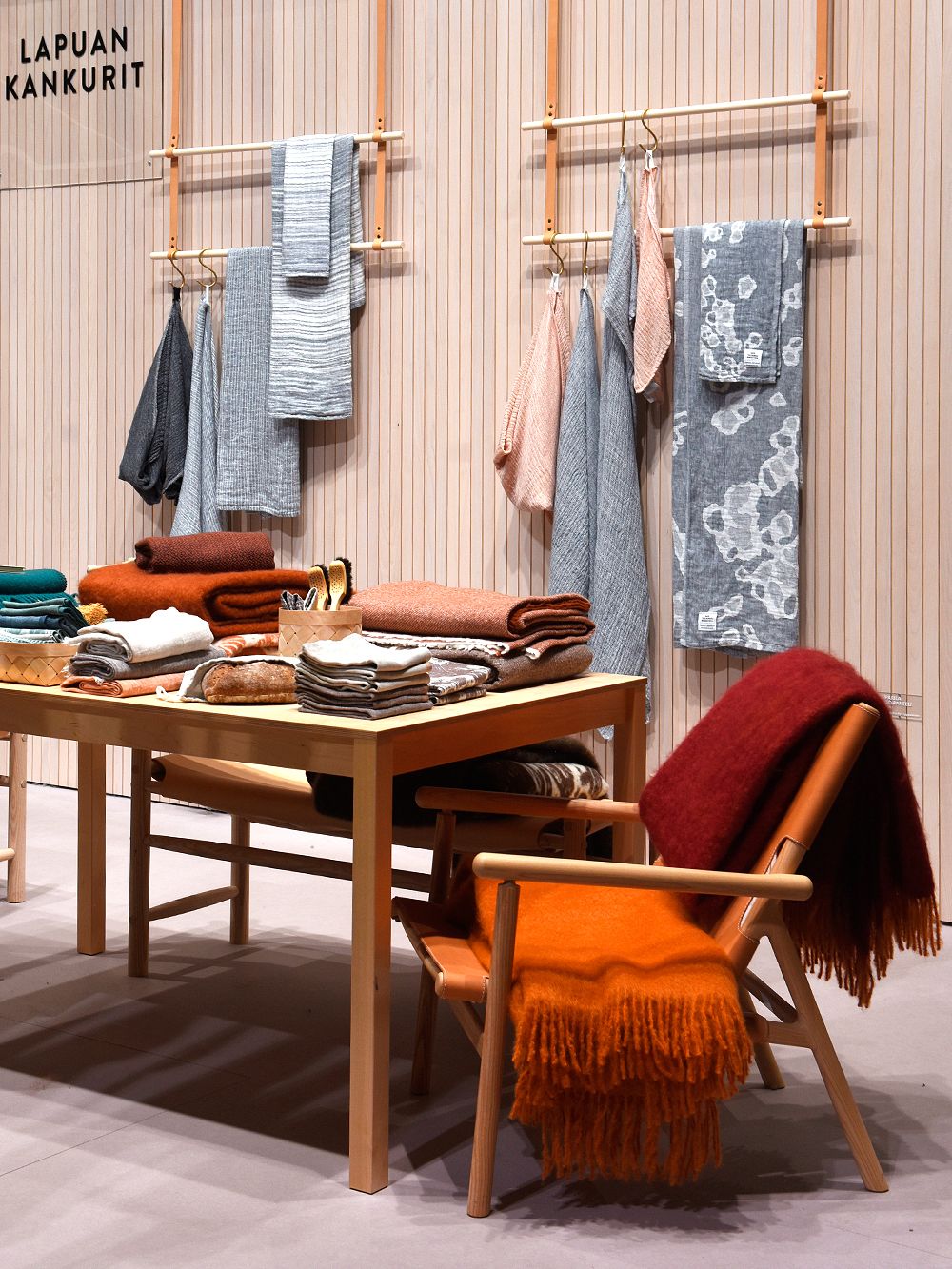 Lapuan Kankurit – fall shades
Lapuan Kankurit makes multi-purpose interior design, table-setting and bathroom textiles from genuine natural materials, with patterns designed by both Finnish and foreign artists. Newly introduced items at Habitare include the graphic, white-grey Saimaannorppa textiles, which are enlivened by Kaarina Tiainen's speckled pattern designed to mimic the coat of a ringed seal. The Saaga Uni mohair blankets by Marja Rautiainen were also distinguished by their autumnal colors.
• Discover more from Lapuan Kankurit >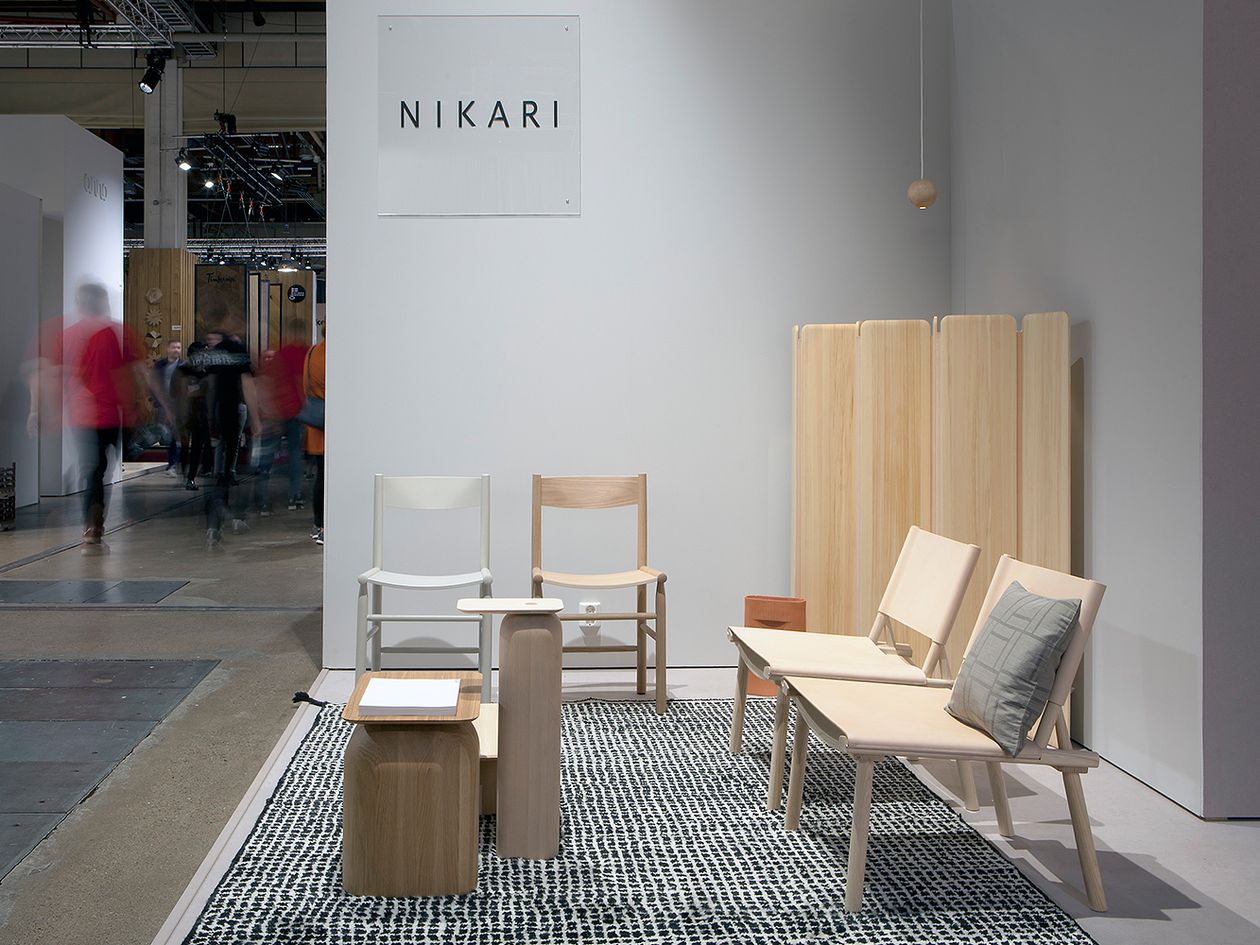 Nikari – new Akademia chairs
Nikari exhibited selected products from its large collection at Habitare. These included the Separat space divider by Cecilie Manz and the April tables by Alfredo Häberli. New features included the colors of the Akademia chair by Wesley Walters and Salla Luhtasela: grey and soaped oak.
Fredericia – Post chair by Cecilie Manz
The Danish furniture manufacturer Fredericia attended Habitare for the first time. A wide range of chairs were exhibited in addition to the iconic The Spanish Chair collection. New items this autumn include the Post wooden chair designed by Cecilie Manz. The chair's name refers to the brand's showroom in Copenhagen, which was once the location of a post office.
• Discover Fredericia's range >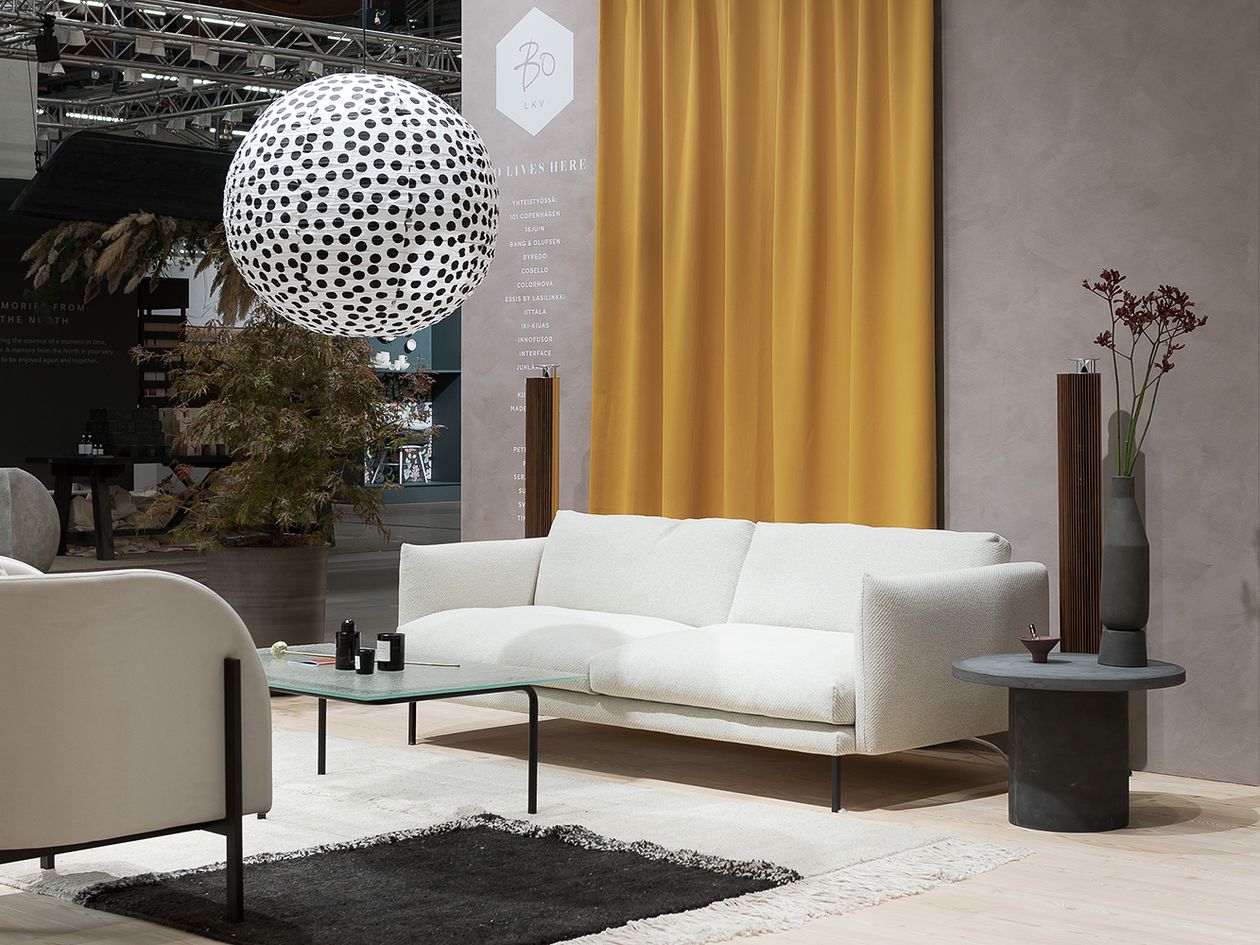 Bo LKV – for all rooms in the house
Pioneering estate agent Bo LKV had created interior decor for every household room at its 100-square-metre stand. The stand, which presented residential trends and topical, selected products, was one of the most inspired displays at the fair. It was designed by Peeta Peltola, Creative Director of Bo. Sera Helsinki's new E-1027 carpet, which is the creation of Samu-Jussi Koski, was laid out in the living room. Koski's carpet design was inspired by Eileen Gray's modernist villa, E-1027, built on the south coast of France in 1929.
A part of the new products introduced at Habitare will be available from Finnish Design Shop later this year.
Text: Mikko Vaija Photos: Unto Rautio, Sameli Rantanen, Mikael Pettersson, Paavo Lehtonen, Roosa Karhu / Magee, Ulla-Maija Lähteenmäki and manufacturers