A mushroom-shaped lamp – or as the Swedish call it, a svamplampa – is a social media sensation. Sympathetic mushroom lamps bring just the right amount of adventure and a hit of good humor to the interior. A mushroom lamp is also a fun gift idea for a passionate mushroom picker – fill your basket with these delightful treats today!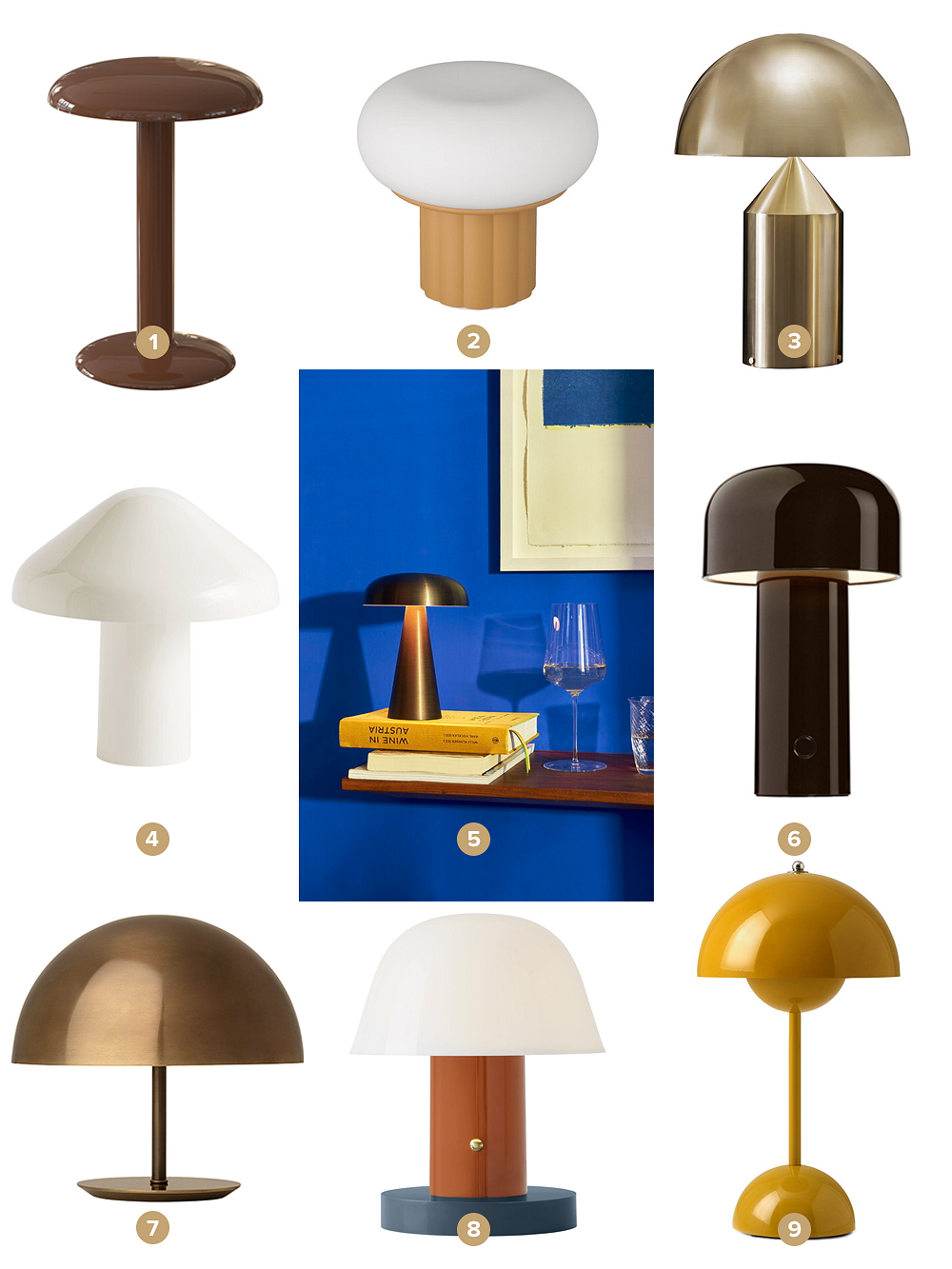 1. The Gustave table lamp by Flos is Vincent Van Duysen's innovative masterpiece, bringing not only additional lighting but an unparalleled amount of ambiance to all spaces. The portable lamp is also suitable for outdoor use and wet spaces! 2. The USB-rechargeable, portable Mozzi Able table lamp features a 6-step dimmer function, allowing you to use it for work as well as mood lighting. 3. Combining geometrical shapes, Atollo 239 is a lamp that is extremely refined and bold at the same time, and it has become an icon of modern Italian design.
4. HAY's Pao Portable table lamp is part of the Pao collection, a range of minimalist luminaires conceived by Japanese designer Naoto Fukasawa. 5. &Tradition's Como SC53 is a rechargeable, portable table lamp designed by Space Copenhagen. The cordless structure makes it easy to move the lamp whenever needed, and it is well-suited for cabins, outdoor dinners, and other spaces with limited electricity. 6. The Bellhop table lamp, designed by Edward Barber and Jay Osgerby, is a "modern candle" in the shape of a mushroom. Bellhop casts an atmospheric pool of light around it that can be adjusted with a dimmer
7. Baby Dome by Todd Bracher is a perfectly symmetric table light and a future design classic. The minimalist lamp consists of a simple steel base and a brass shade in the shape of a hemisphere. 8. &Tradition's Setago JH27 table lamp, designed by Jaime Hayón, is playfully named after its mushroom-like appearance – "seta" is Spanish for mushroom. 9. The joyful Flowerpot VP9 portable table lamp was inspired by peace, love, and the Flower Power era of the 60s, and it became a true design icon soon after its launch.
See also:
• All lighting >
• All products at Finnish Design Shop >
Text: Mira Ahola Images: Manufacturers