When Johanna and Tomi sold their detached house, the buyers also wanted to buy their furniture. Why not, they said, and started from a clean slate when decorating their new home for two.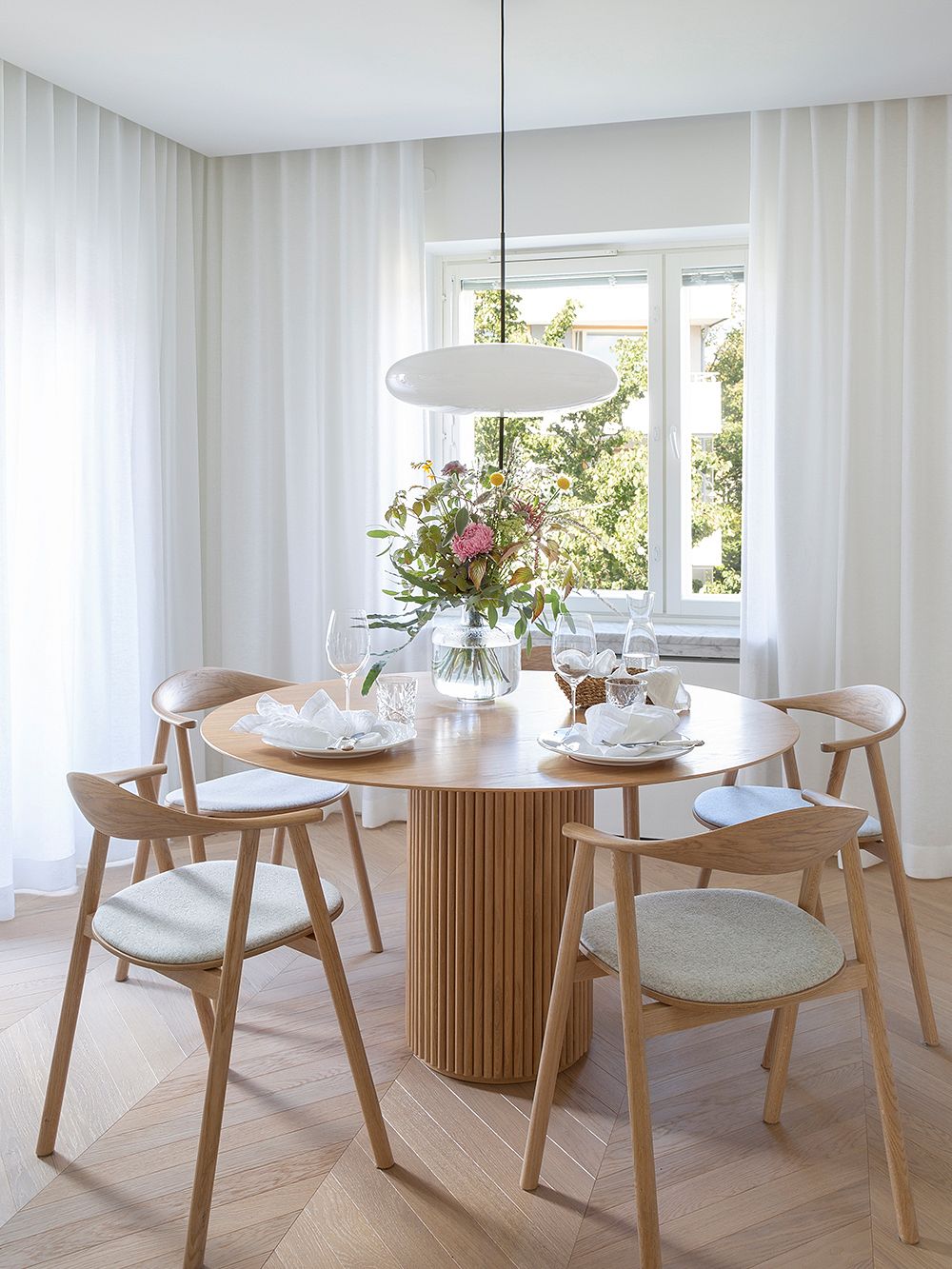 Residents:
Interior designer Johanna Taskula and Tomi Taskula, who works in the construction industry. Their home is a two-bedroom apartment in an apartment building from the early 20th century in Eira, Helsinki. The floorspace of the apartment is 106 m².
WHAT A VIEW! The living room window overlooks a park, and beyond it the seaside boulevard and the sea. However, this was not the main reason why Johanna and Tomi Taskula gave up their large detached house they had built in Kirkkonummi to live in an old apartment building in central Helsinki.
"We had built a total of three detached houses and once all the children had reached adulthood, we began to wonder how we'd like to live next. My husband had the added benefit of getting back to his childhood neighborhood, as that's the part where he used to play when he was a few years old," says Johanna.
The couple also left behind almost all furniture and the interior decoration textiles. The new owners wanted to buy it all, and Johanna and Tomi said yes without thinking much about it. All they took was an oriental mirror, which is now in their hall.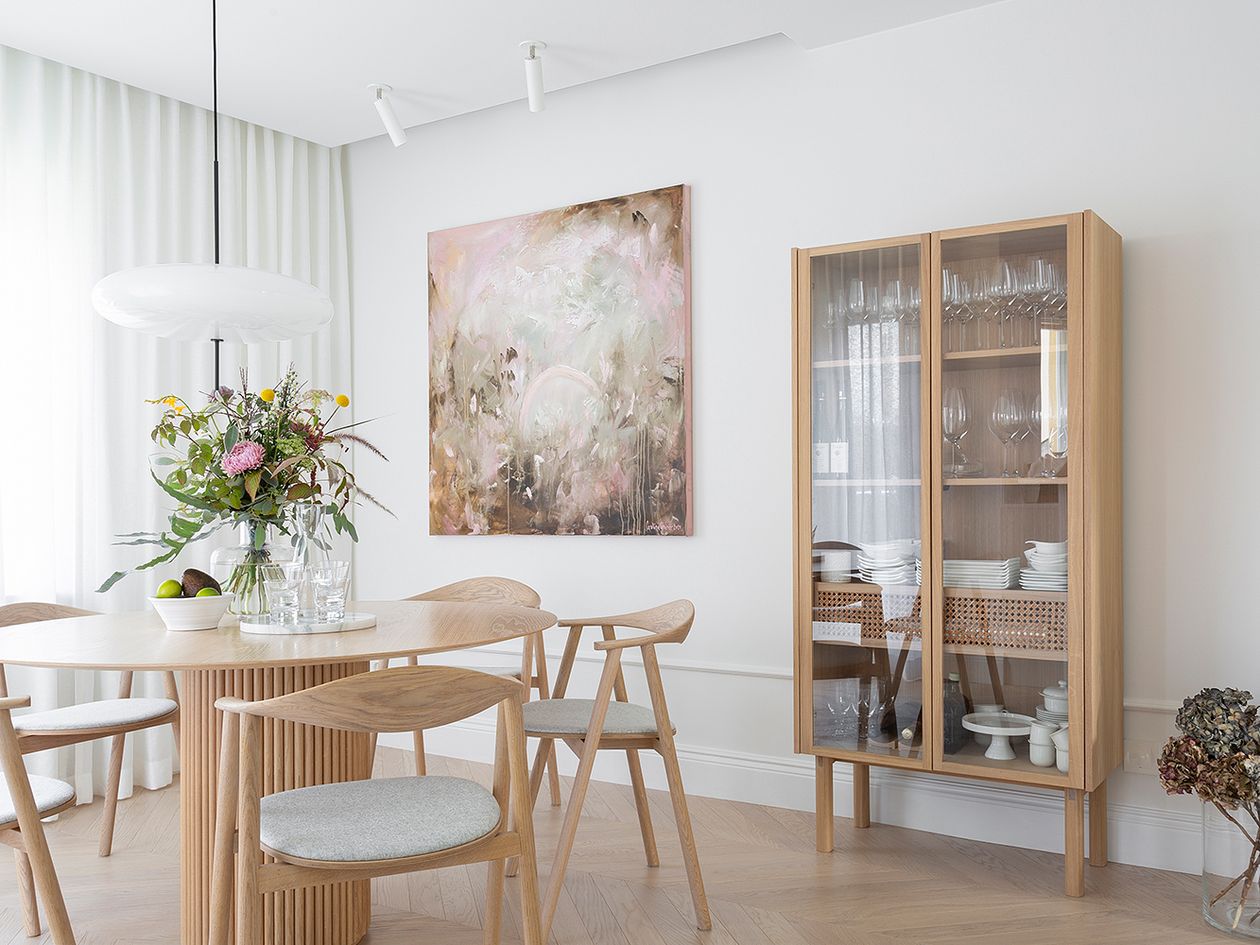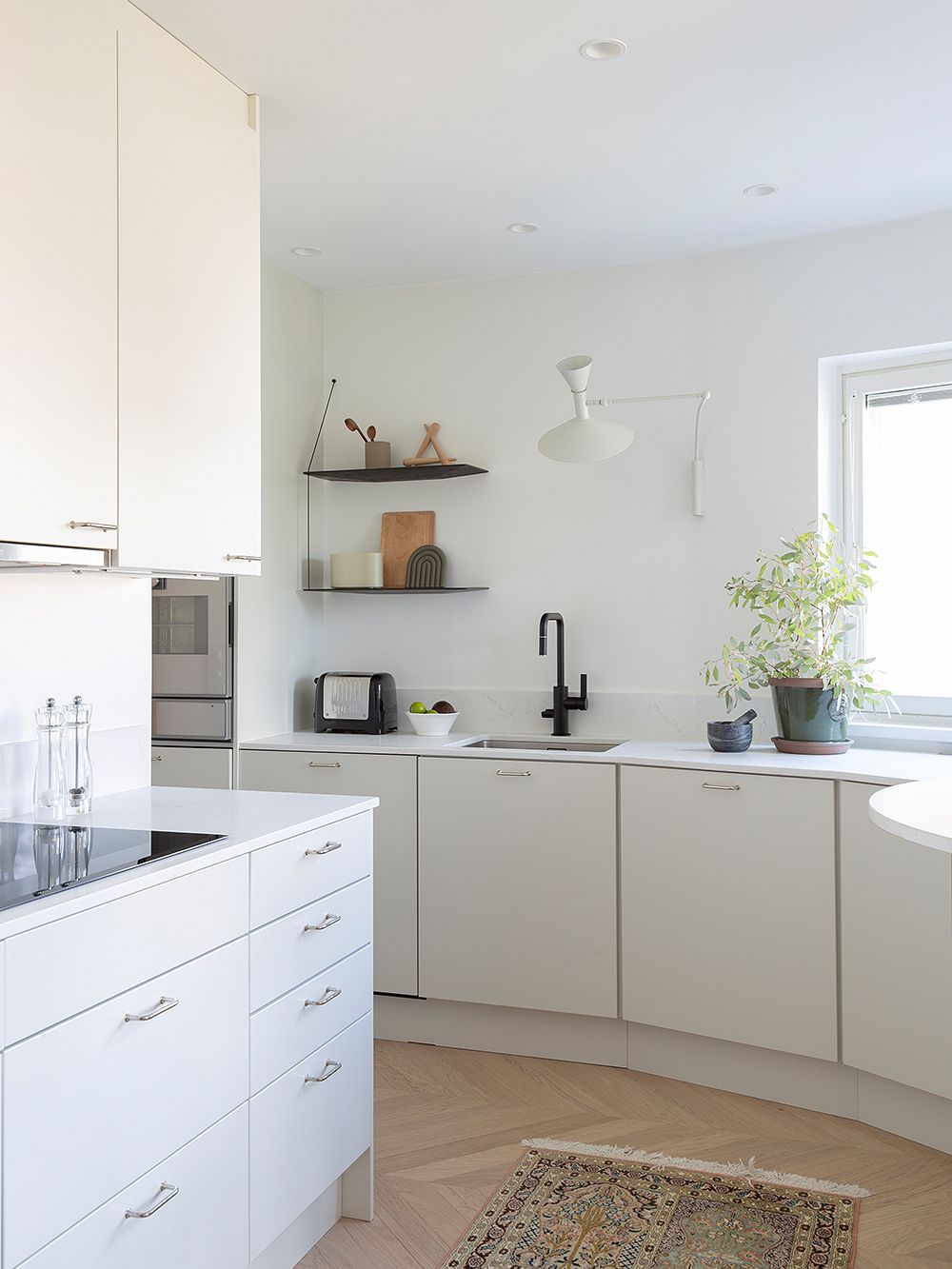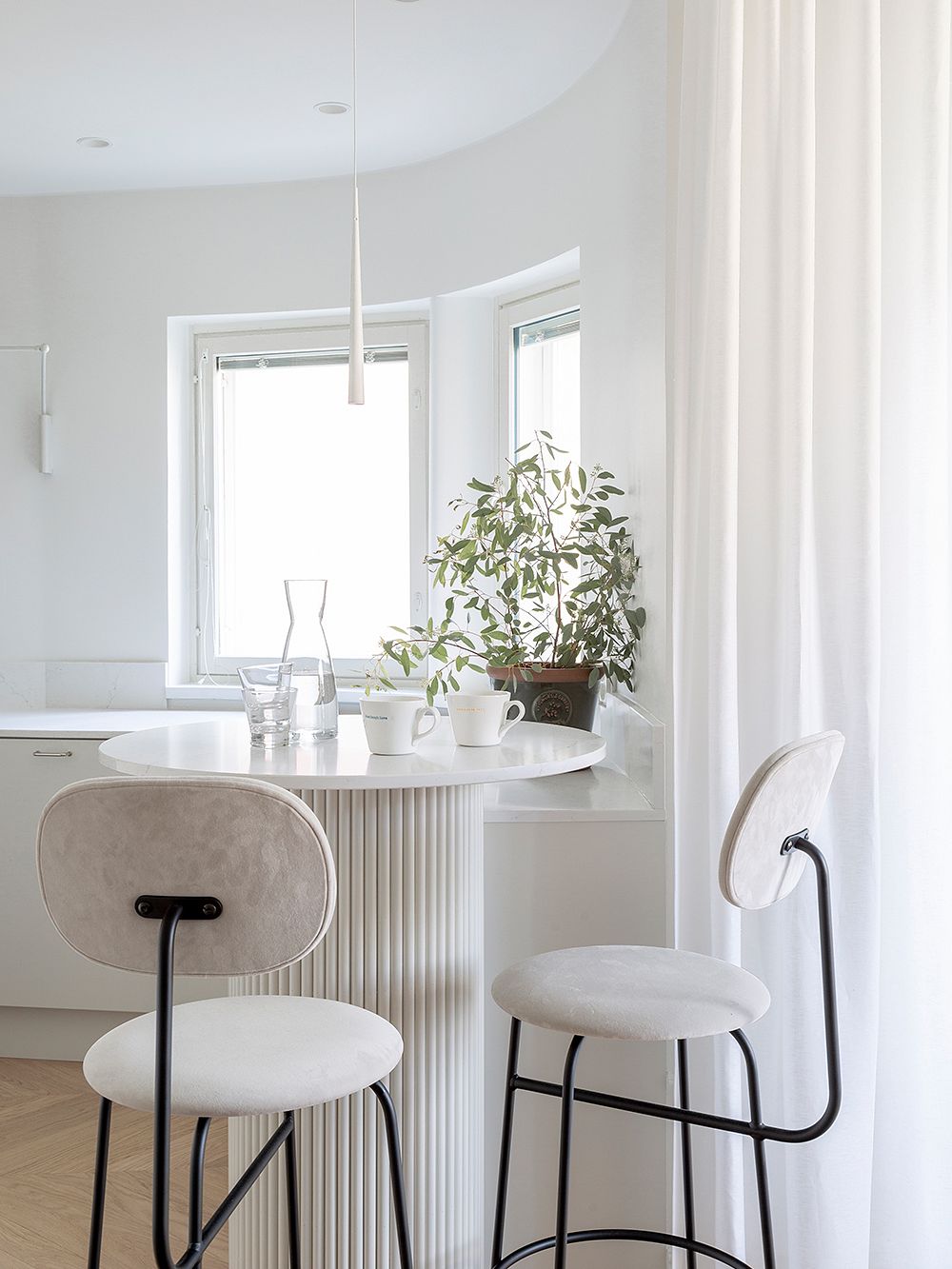 BUT CHANGE DID NOT happen overnight. Even finding their new home was a stroke of luck, because the apartment was not on public sale. A friend of theirs knew they were looking for a new home and told them about an apartment that had not been lived in for years. So Johanna started thinking what two socially active adults really needed and what kind of an interior decoration style would fit a century-old house.
The apartment's style, with the veneered flush doors and floor materials did not quite appeal to her. The floors, in particular, were a mixed lot of parquet, laminate and plastic. The kitchen, too, like in many old city apartments, was very small in the furthest corner.
Now part of the kitchen is in its original place, with an expansion into what used to be a bedroom. More than an extra bedroom, Johanna and Tomi needed room for a dining table and a lounge. The change was a major one, and yet they were able to keep the cupboard frames. Only the doors are new.
"I had a round bar table made next to the window, where it's nice to sit down for a cup of coffee in the morning."
"There were so many angles in the space that it was difficult to fit in everything. Should we have a kitchen peninsula? Or an island? I went through many alternatives, until the pieces fell into place and I placed cupboards on three walls but at a convenient distance from each other. Instead of going for an island that would have made things cramped, I had a round bar table made next to the window, where it's nice to sit down for a cup of coffee in the morning."
Other "basic improvements" included the construction of a sauna and a dressing room. The necessary space for a sauna for two was obtained by making the bathroom smaller, while the room for the dressing room was obtained by making one of the bedrooms smaller. This smaller bedroom now doubles as a TV room and guest room.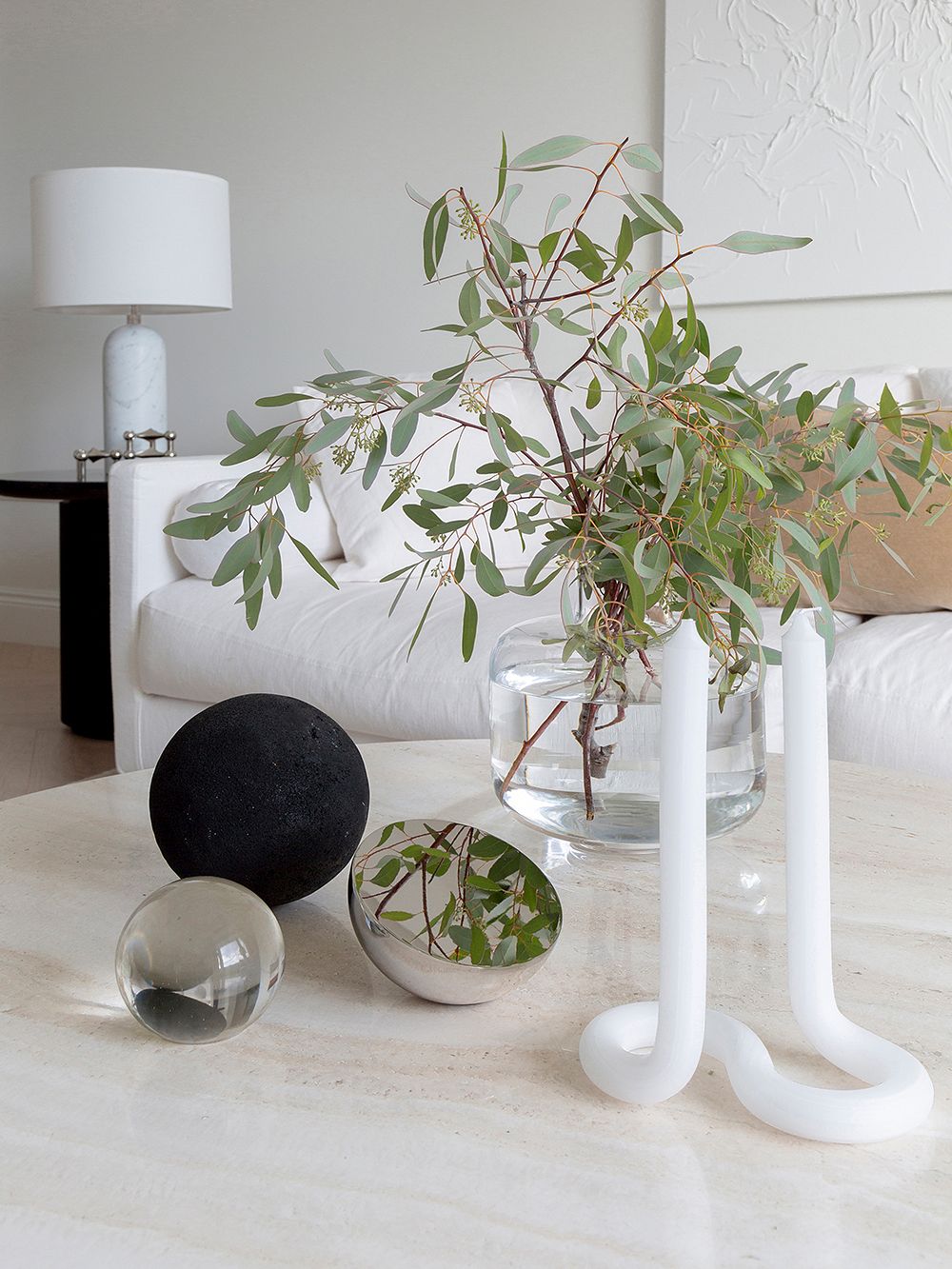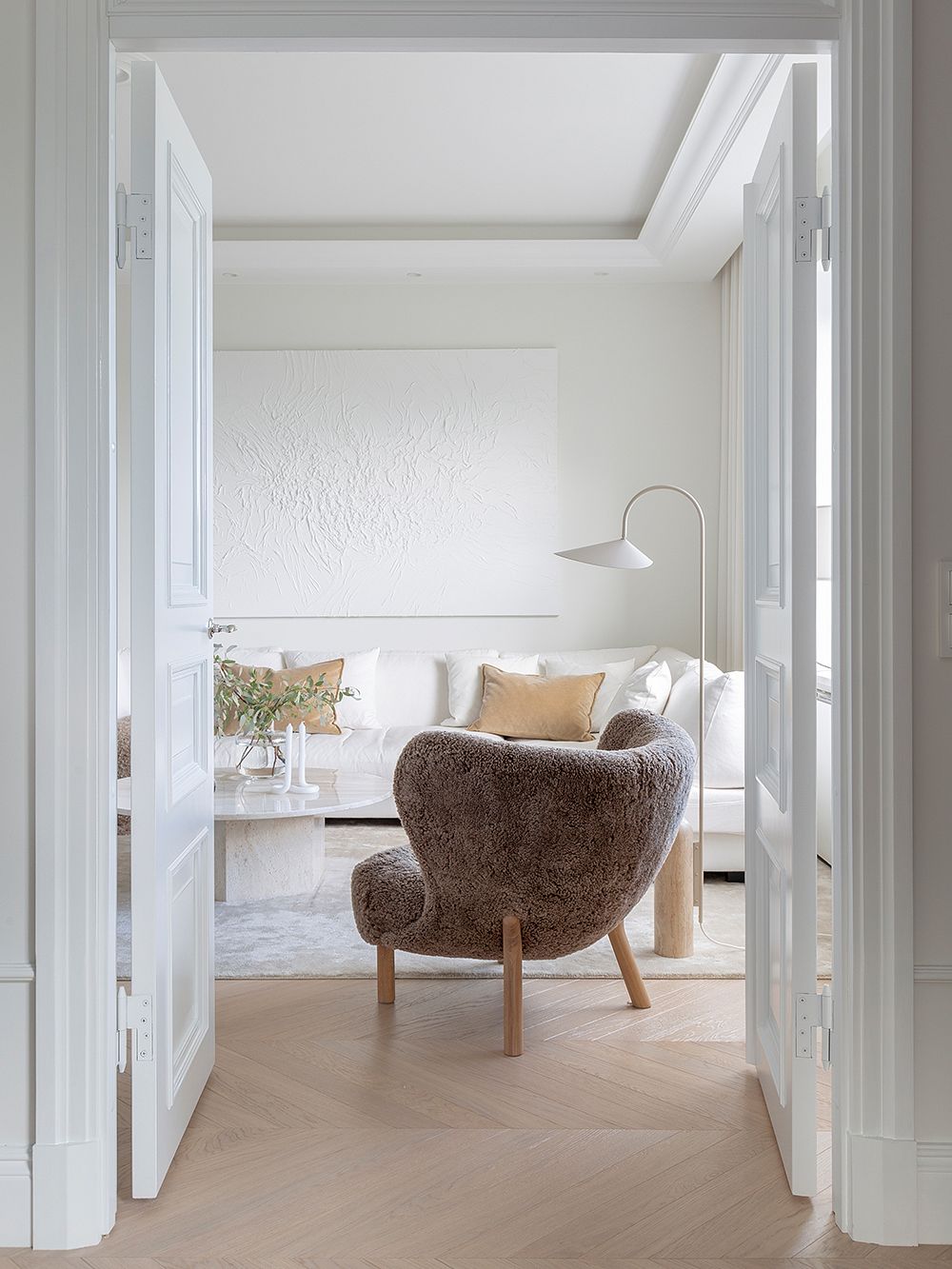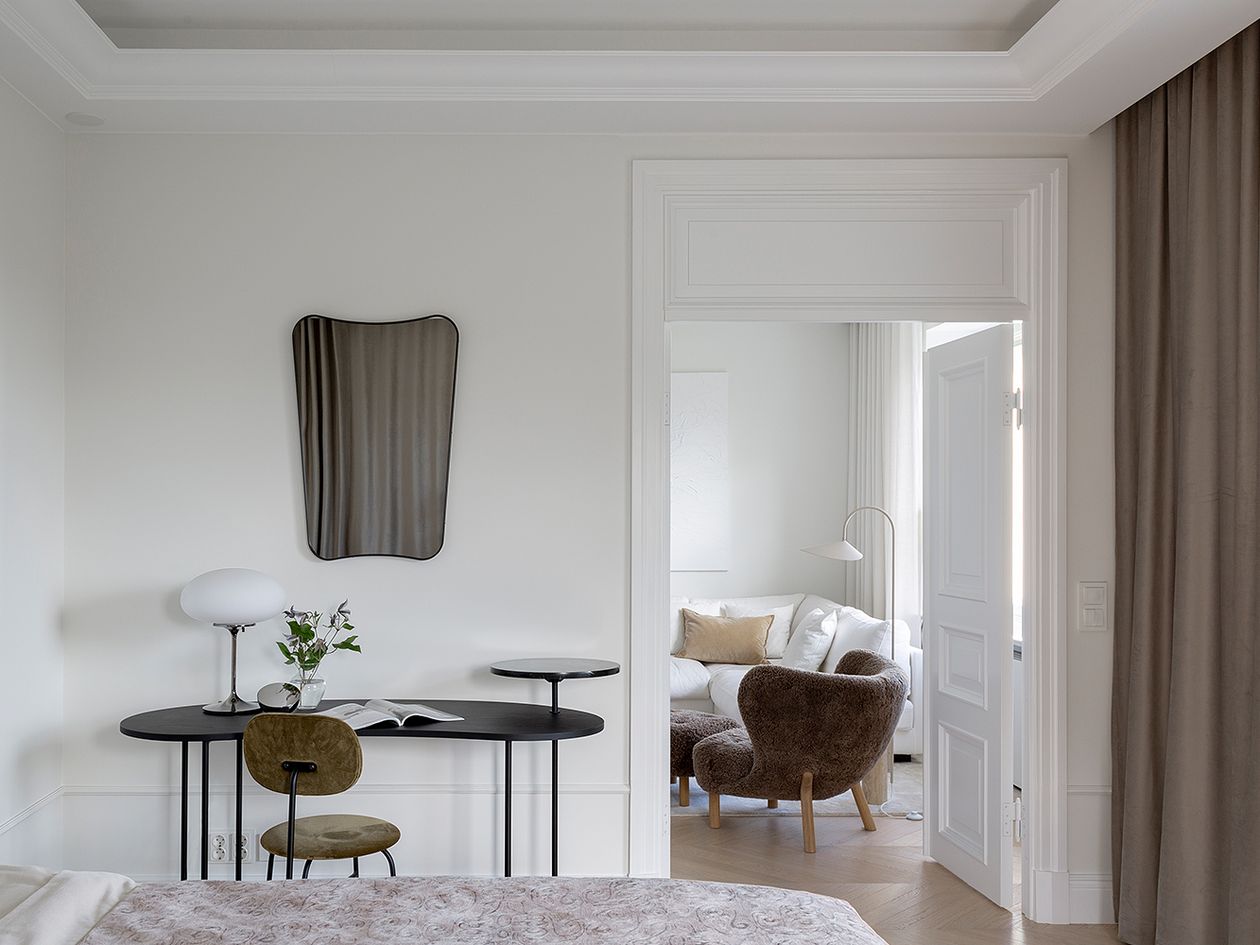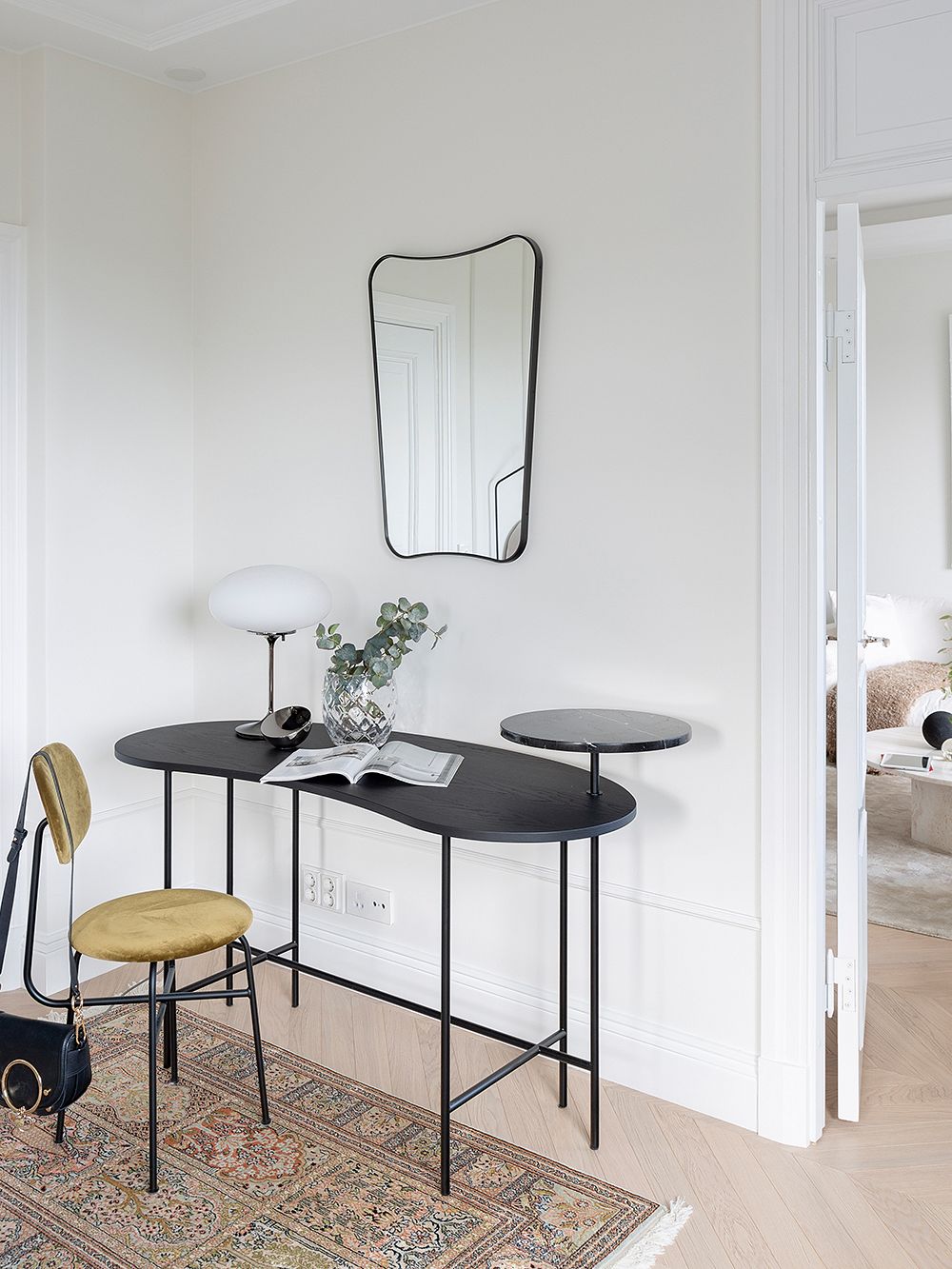 THE UNDERLYING THEME was in the apartment's fittings. Timeless materials affect the feeling. In line with classical architecture, Johanna replaced the intermediate doors that did not fit the period the house was built with mirror doors tailor-made by a carpenter. She also had made plaster skirting boards and cornices. The cornices in the living room and bedroom have been designed with indirect light in mind. A similar solution has been created in the kitchen with a dropped ceiling. The indirect lighting is supplemented by spotlights.
Timeless materials affect the feeling.
For the sake of consistency, they put in the same oak parquet in every room. It is laid at 45-degree angles both left and right, creating a succession of V-patterns.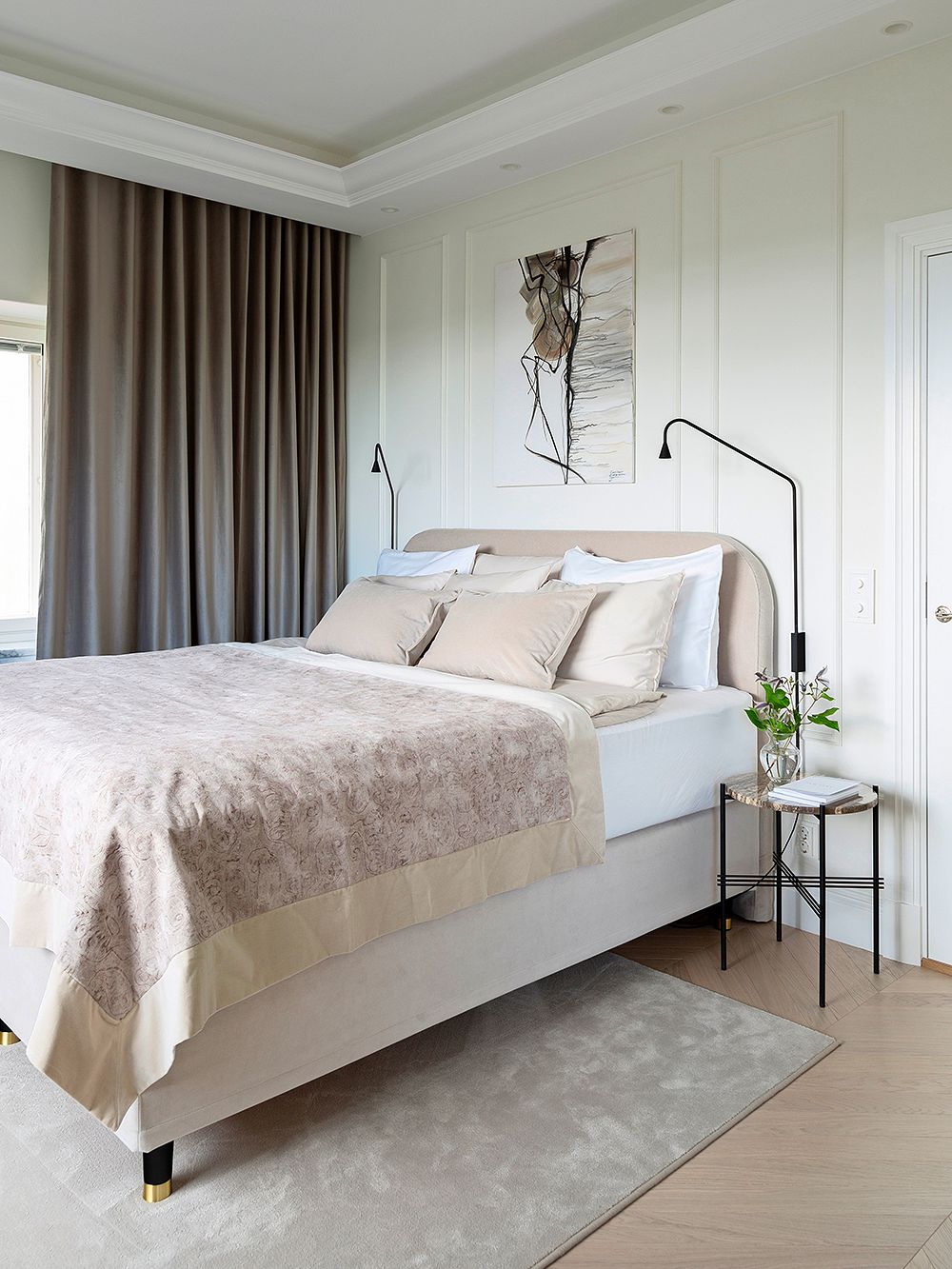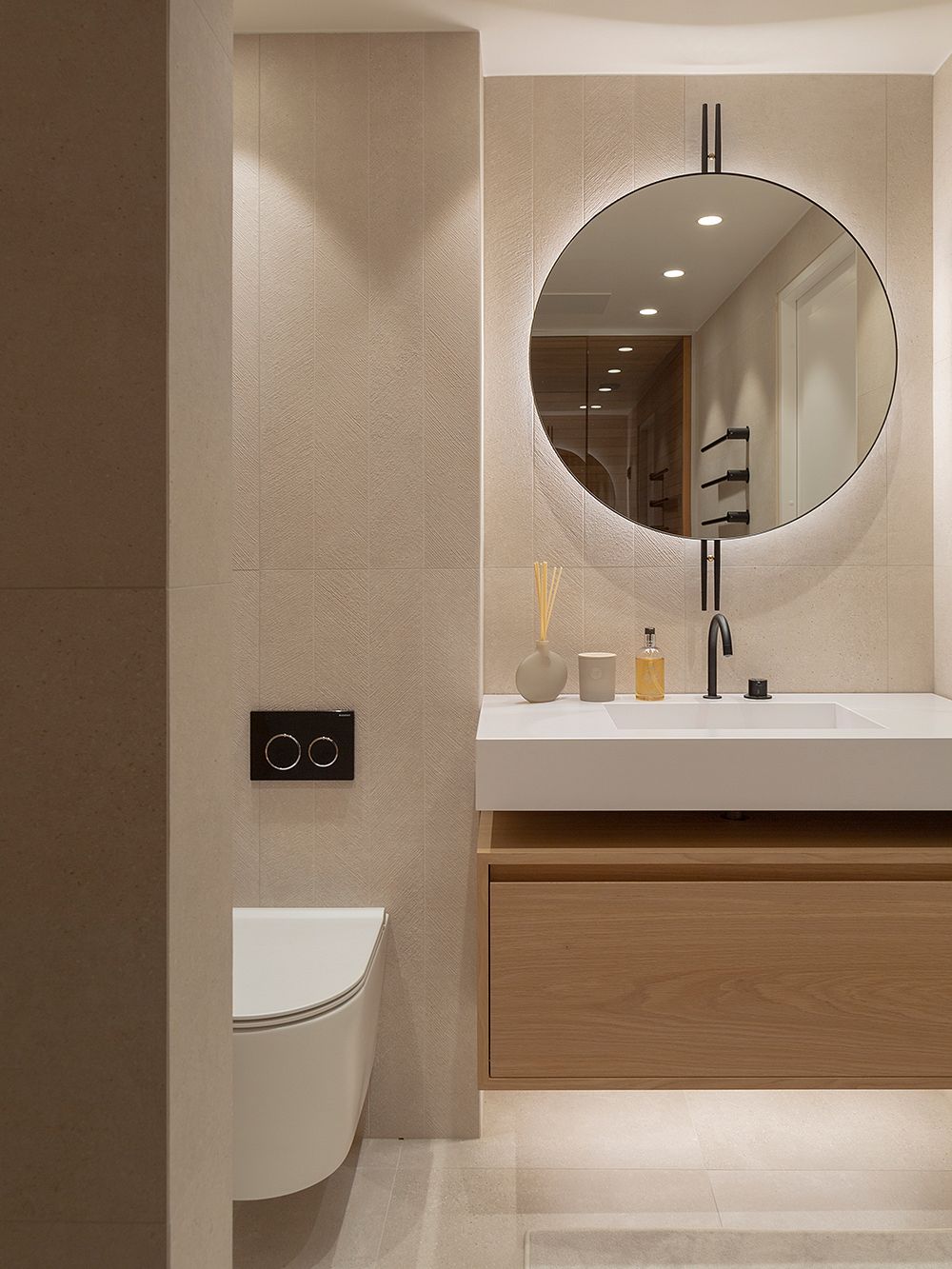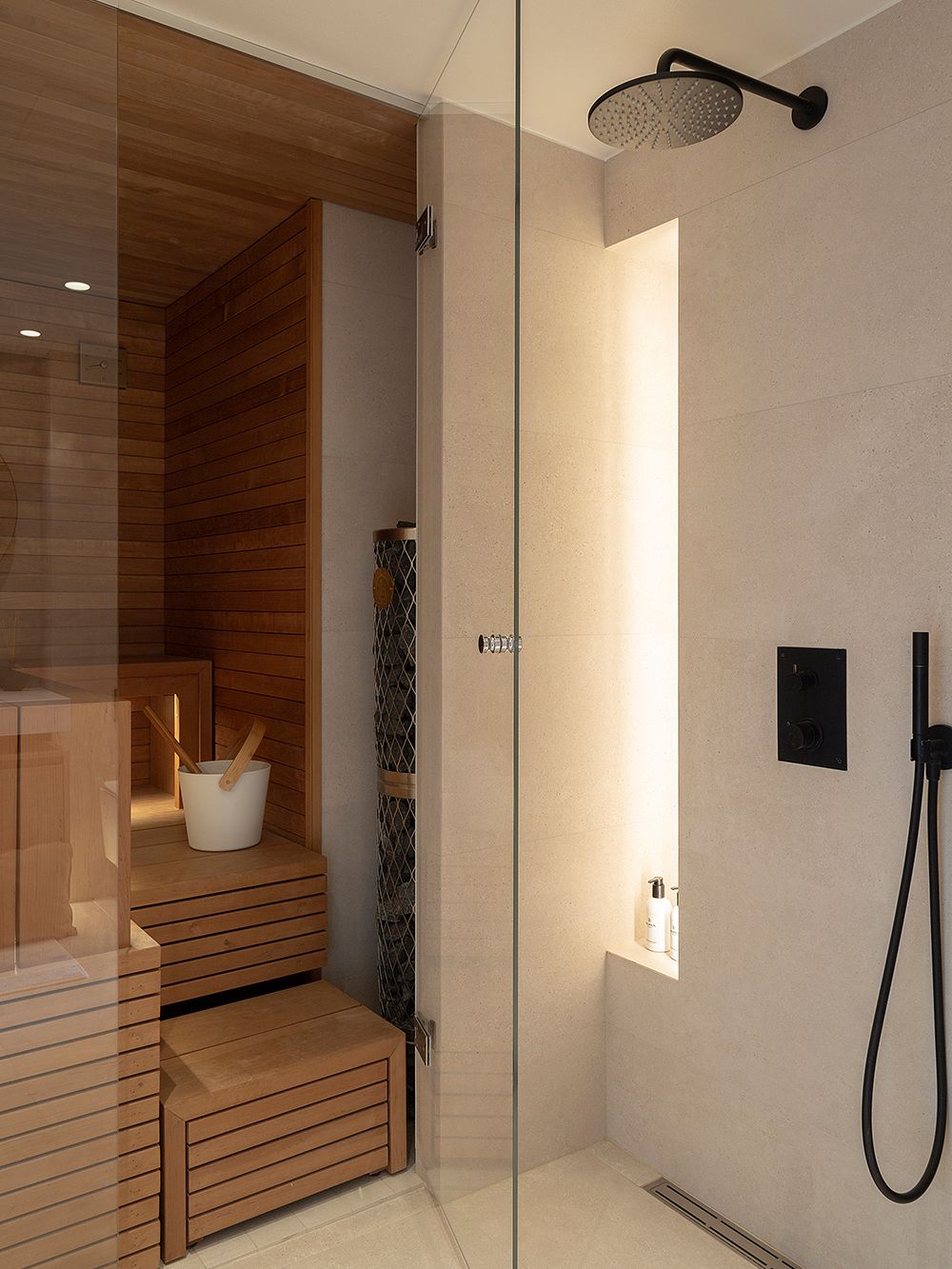 The color palette glides from one room, piece of furniture and textile to the next is soft and hazy fashion, which Johanna says creates a soothing effect.
"Neutral tones also make our home airy. This time I even had the courage to buy a white sofa. As we have carefully chosen every piece of furniture to fit in with the rest, we have nothing extra here. This is all the stuff we will ever need."
Friends of the Taskulas know that they always have some project in the pipeline. When they're finished with one, they always start another one.
"No, we are just going to take our time to enjoy this. Fortunately we get our fair share of renovation and construction in our day jobs," says Johanna and switches on her computer. She shows photos of a kitchen she has designed for her customers. There is no white at all, but plenty of rustic brown, green, black, and copper.
See also:
• New arrivals at Finnish Design Shop >
Text: Kari-Otso Nevaluoma Images: Esa Kapila
The story was previously published in Avotakka magazine 9/2022.