A black-and-white home in Helsinki, following the art lines of the 1960s, is the ideal location for a colorful collection of contemporary art.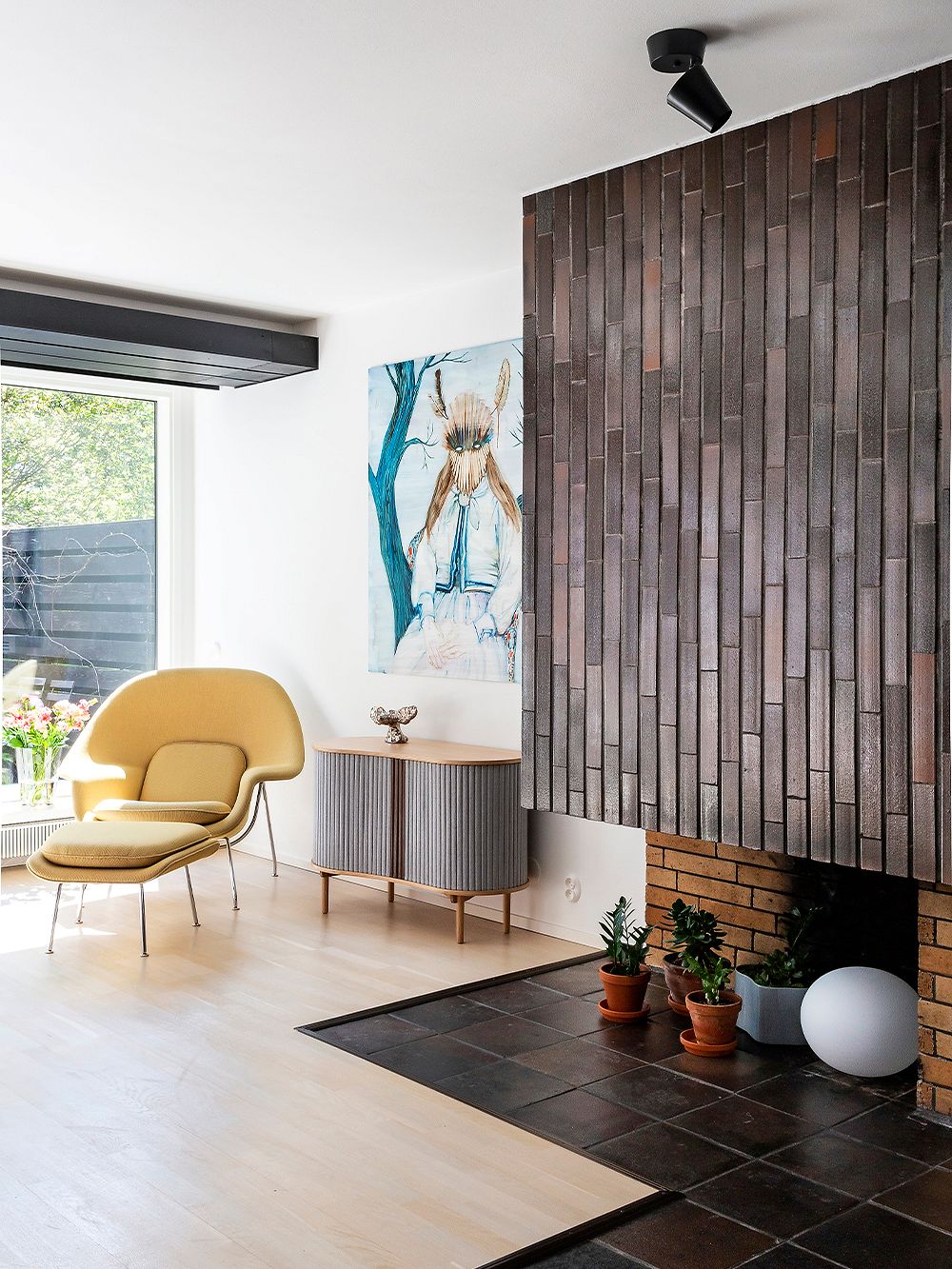 Residents:
Tuuli Kousa (Chief Communications and Corporate Responsibility Officer at OP Financial Group, Board Member at Finnish National Opera and Ballet, and Chair at Dance House Helsinki) and her boys Kaapo and Arne. Their home is a 147 m2 apartment in a terraced house, in Oulunkylä, Helsinki, designed by architect Olavi Kantele in the 1960s.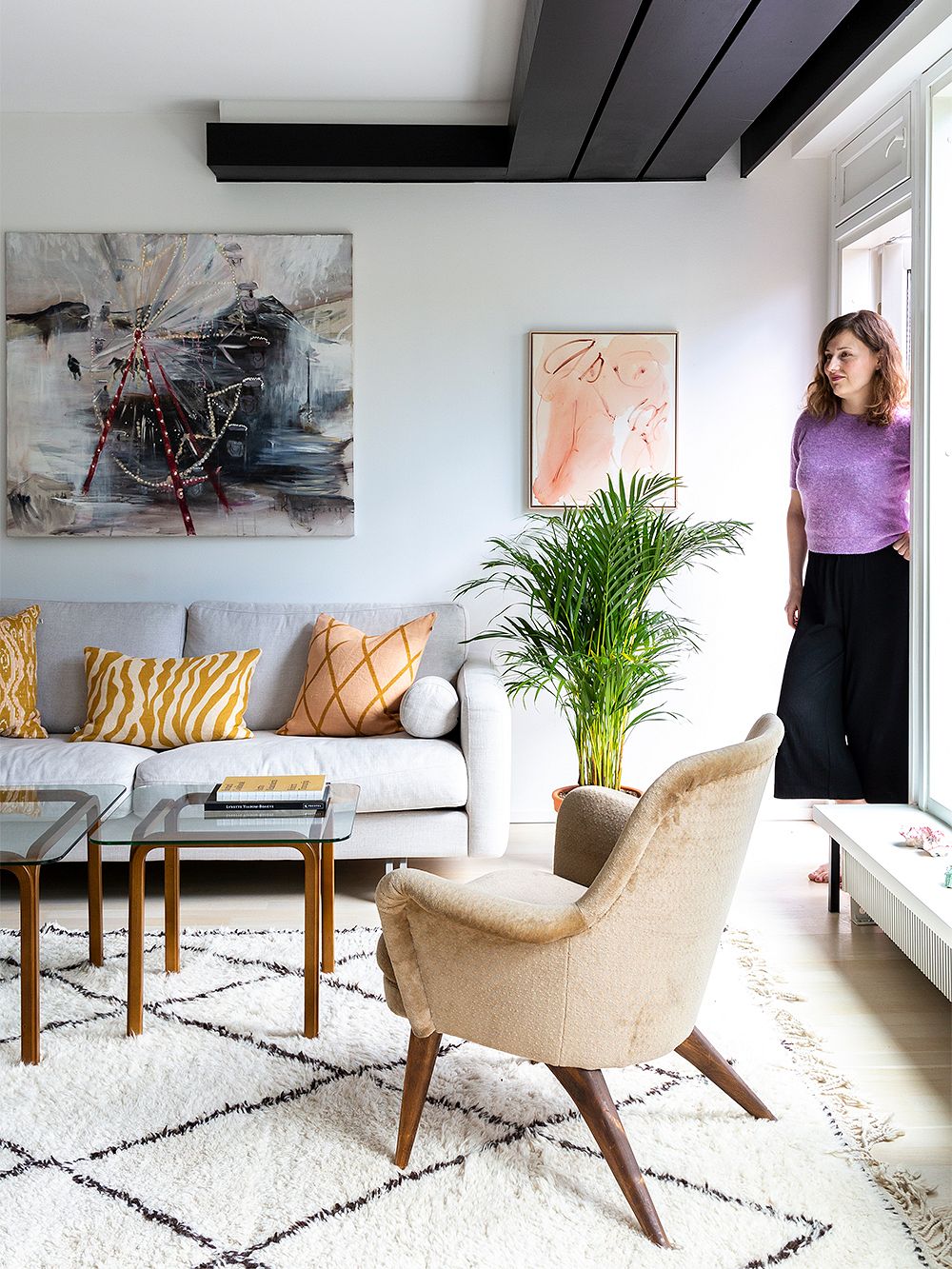 BEHIND THE TREES, you can see a futuristic terraced house from the 1960s in Oulunkylä, Helsinki. The facade is covered in profiled white steel plates, contrasting with the black windows frames. The colors and the alternation of horizontal and vertical lines underline the building's graphic nature.
The black-and-white theme continues in the interior her home – but only in terms of the architecture. Colorful modern art brings plenty of other tones into the apartment. As opposed to the family's previous homes, there are relatively few colorful elements in the interior design, and the walls have been painted white.
"Before we moved in, the apartment had been rented ever since it was built. That's why nothing major has been changed and many of the original details are still here. Many of the surfaces were nevertheless in such a bad shape that we had to renovate the place from top to bottom," says Tuuli Kousa.
It was obvious to her right from the start that the renovation would be carried out respecting the original era and, if feasible, restoring as much as possible.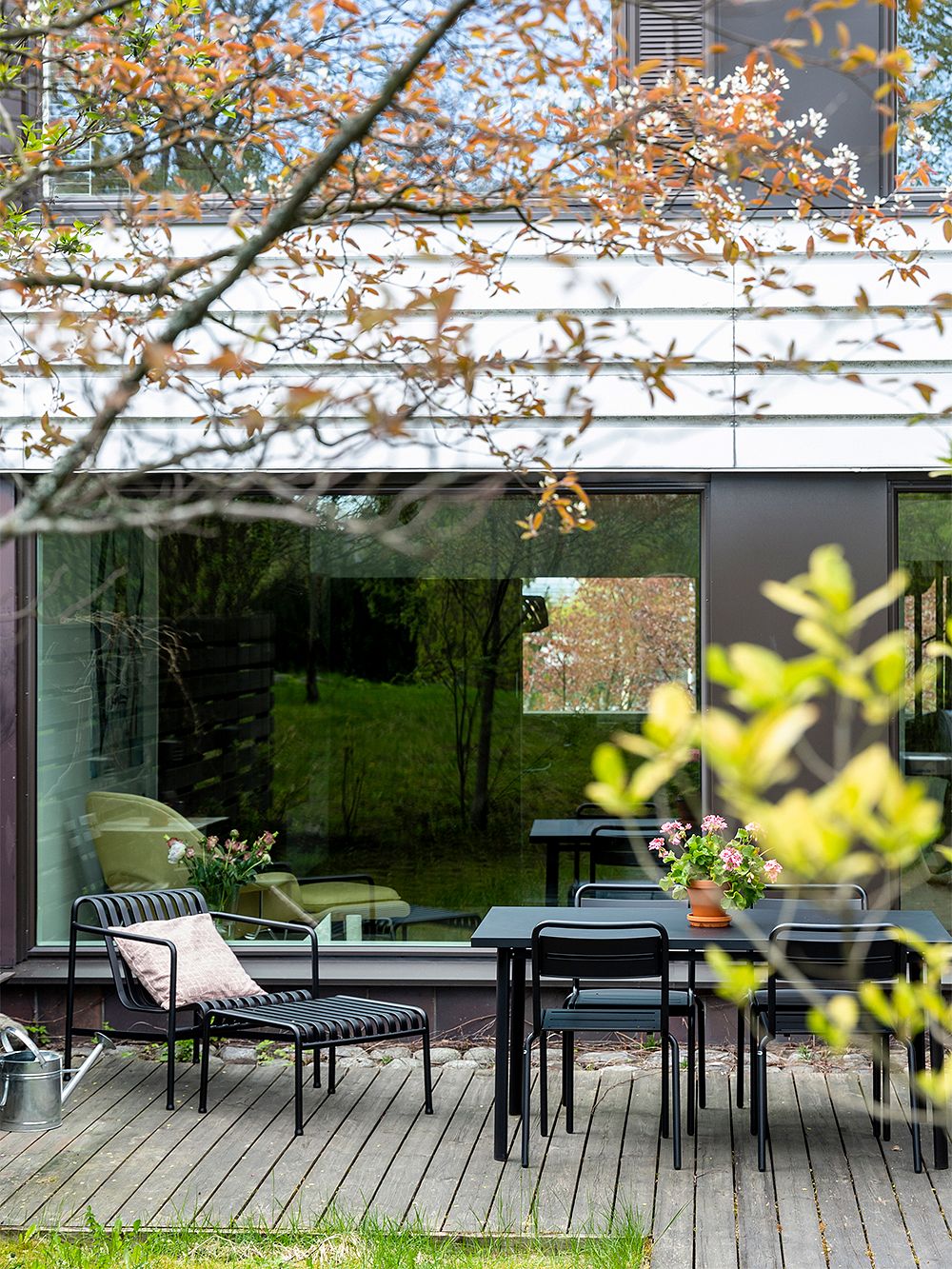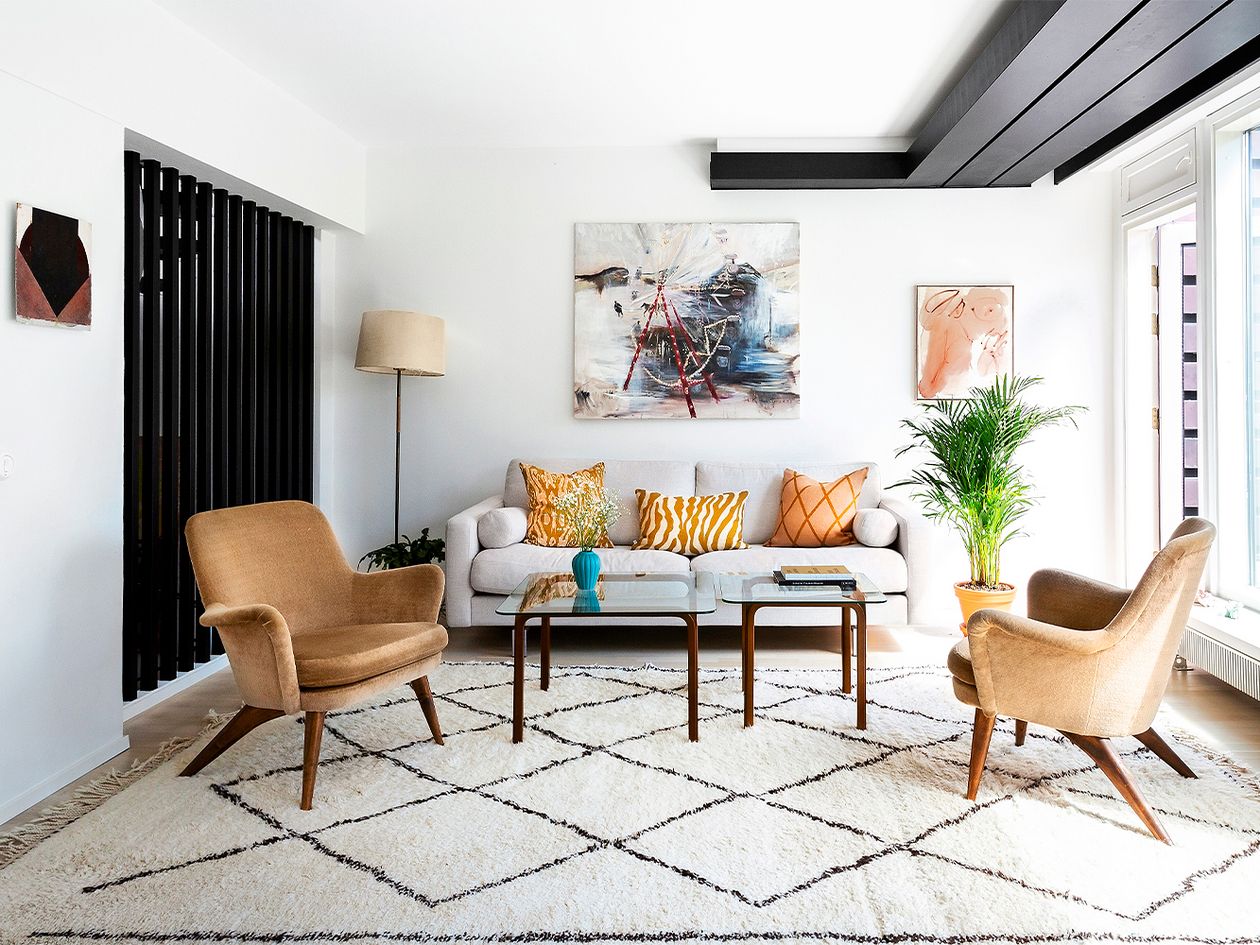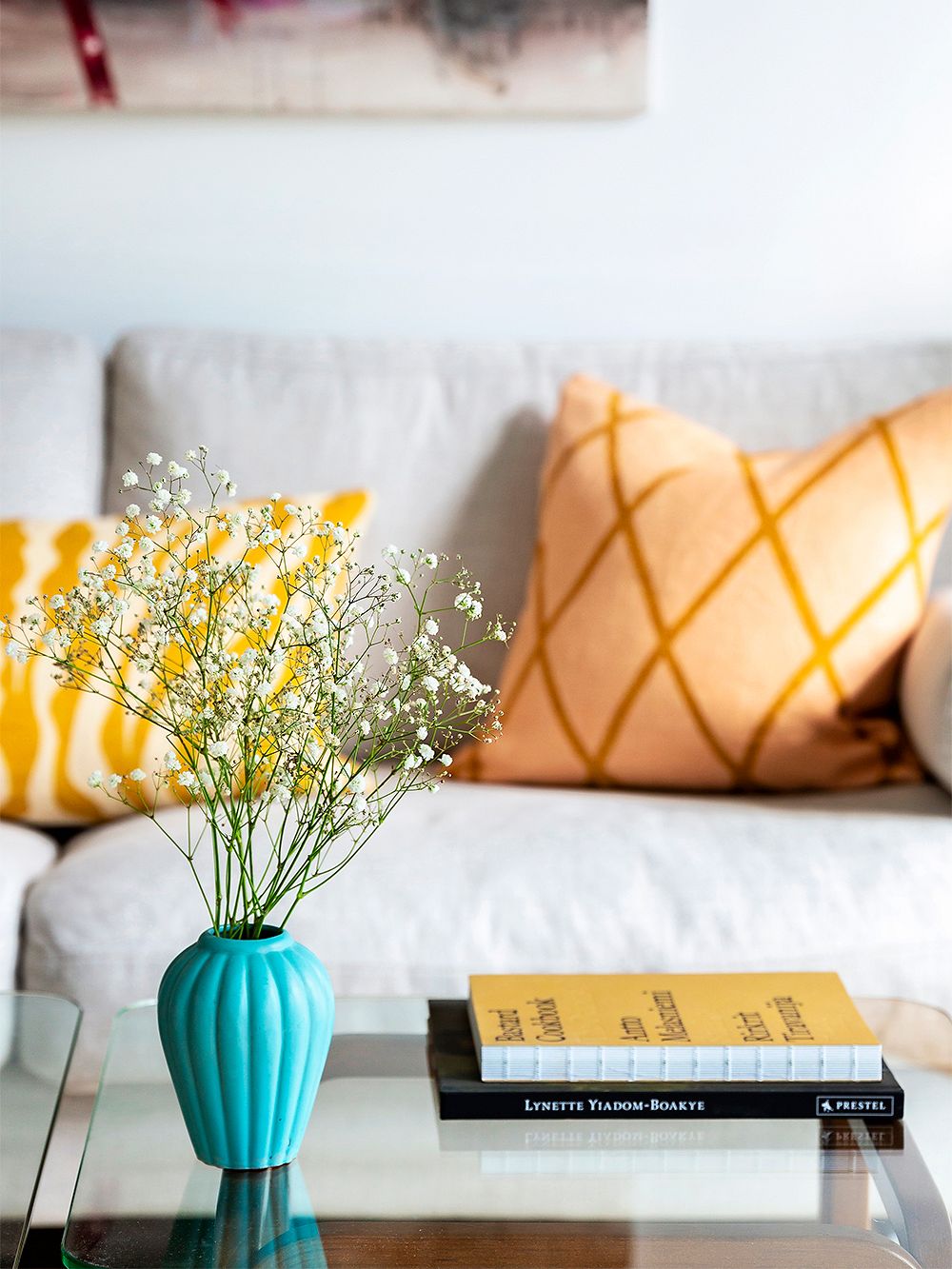 THE FAMILY MOVED to the apartment in the autumn of 2017. The three-story building on a hillside had been owned up to the 2000s by the builder's family. The builder and his heirs had respected the spirit of the building and thanks to them residents still ran a 'spare parts shop' of original materials, which is where Tuuli also found some 1960s tiles for the wall between the kitchen counter and cabinets.
In her previous homes, Tuuli used plenty of colors on the walls. As a black-and-white theme was one of the architect's key ideas, they had to find the right shade of white for the walls. Tuuli phoned Tikkurila's paint experts, listened for half an hour to their analysis of different whites and ended up choosing a shade called Paper. It was the perfect choice for their apartment.
However, Tuuli doesn't want to be too puritanical. "I want to give space to architecture but not live in the museum."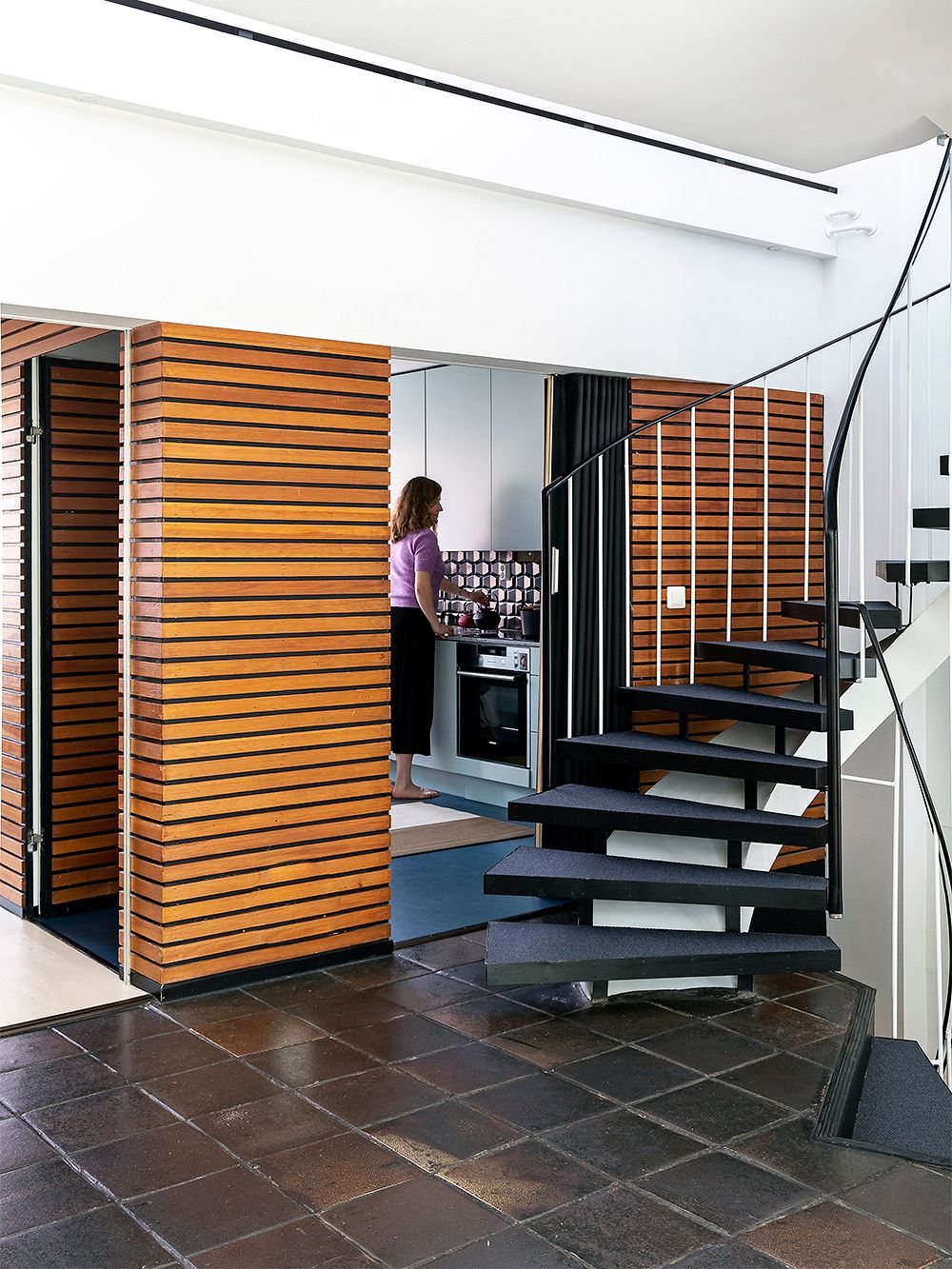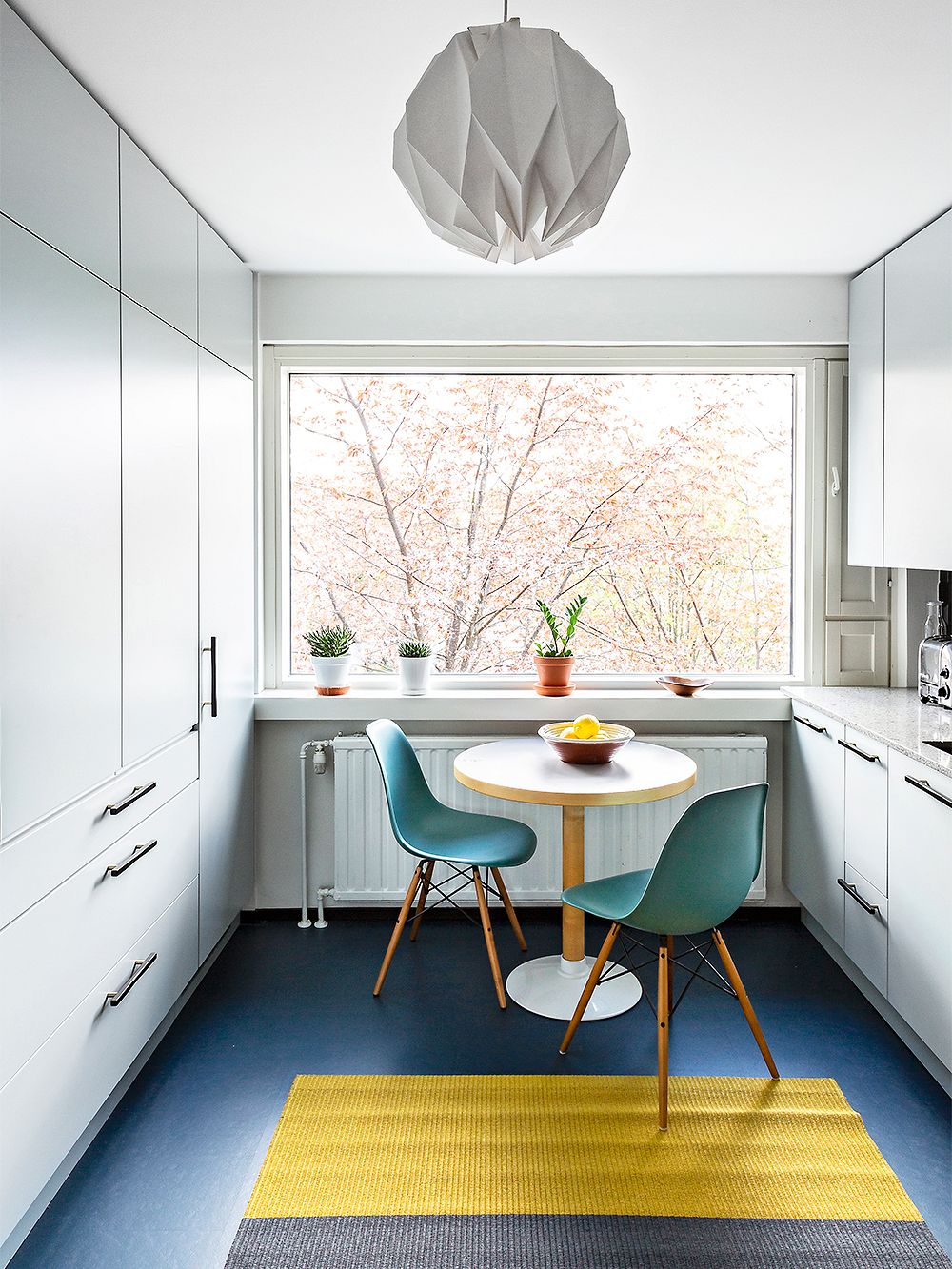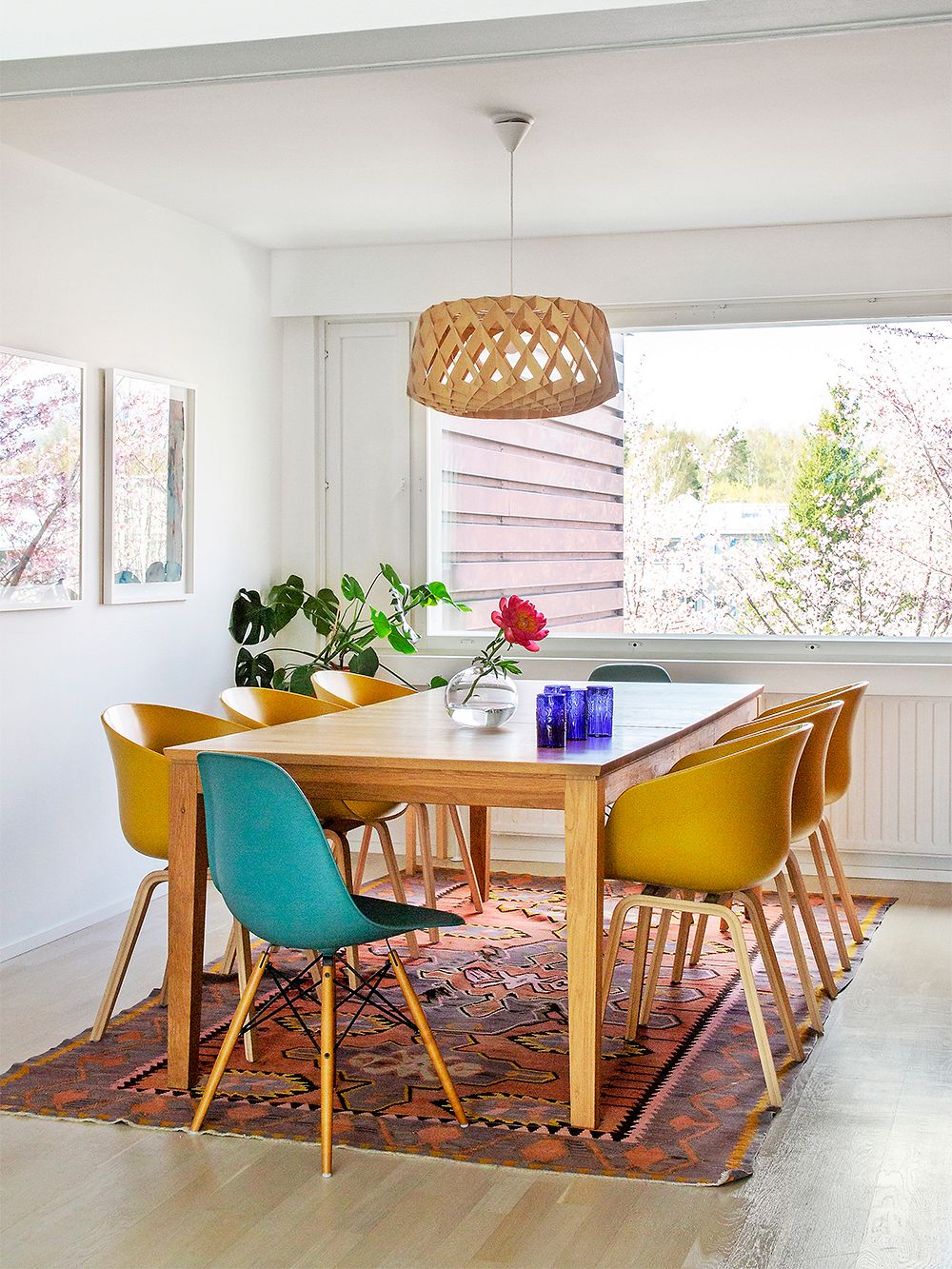 TUULI SELECTS the artwork and furniture on the principle that she's going to spend decades with them.
"I value quality and beauty and I want to buy things that last a long time. And once I have chosen something, I don't change things that easily. So in terms of interior decoration I have come to the conclusion that something is good enough even if it may not fit perfectly in a certain place or with other elements."
Another difference to her previous homes is that this one has a fewer items. "I have wanted to create calm and not cram it with too many items. This way, the art has more space to express itself.
However, Tuuli does not want to limit the number of works of art. "I have made a principal only to buy one work of art per year. However, during the pandemic, as I have not travelled so much, I have used the money saved and put it into art. I have used money for a great many things in my life, but I have never regretted buying art."
"In terms of interior decoration I have come to the conclusion that something is good enough even if it may not fit perfectly in a certain place or with other elements."
Her love for the visual arts emerged already as a teenager. There was plenty of fine arts in her childhood homes, and when she was in high school, she got interested in art museums. She got her first pieces after she moved on her own through small monthly installments from Taidelainaamo artotheque. Her collection has grown along the years. Her selection criteria have remained the same from the start: the key thing is that a piece touches her in some way. At the time of purchase she usually doesn't think where she will put them at home; she is sure they'll fit in somewhere.
Finnish modern art is present in her home in many colors and expressions. In her mind, good art evokes feelings in you and cannot be exhausted with a single viewing.
Pulpit by Maiju Salmenkivi, to the right of the living room fireplace, is deliciously plentiful and tickles the imagination. Hannaleena Heiska's oil painting Tragedies blow at horizon on the other side is very calm in terms of the colors but raises questions because of its feeling of mystery. The playful Macho Mexicano in the staircase, by Samppa Törmälehto, delights not only children but also adults.
It is clear that art in this house is much more than just an interior design element. And yet it creates atmosphere into the space, with new layers and depth. In Tuuli's mind, art makes a space into a home.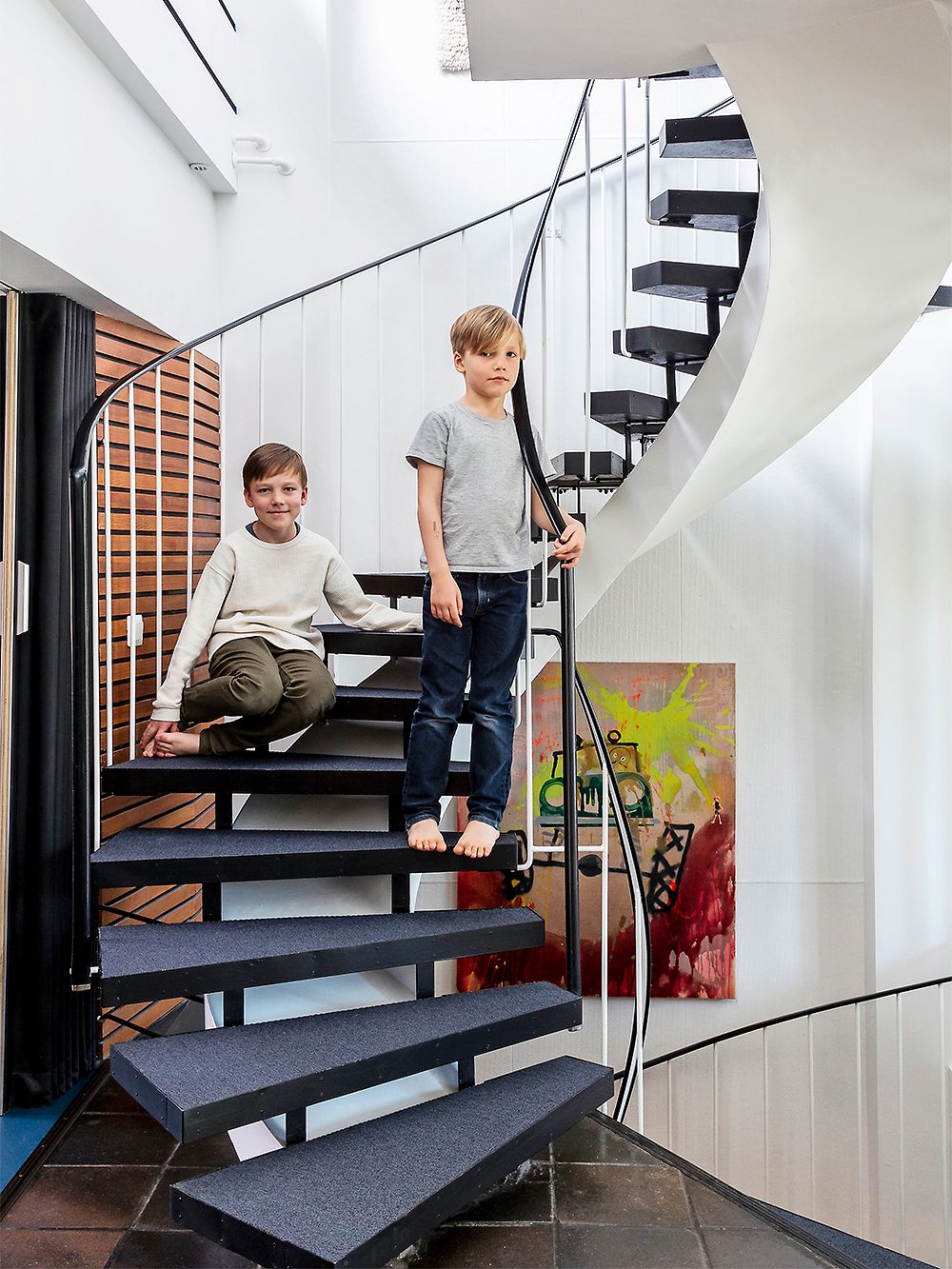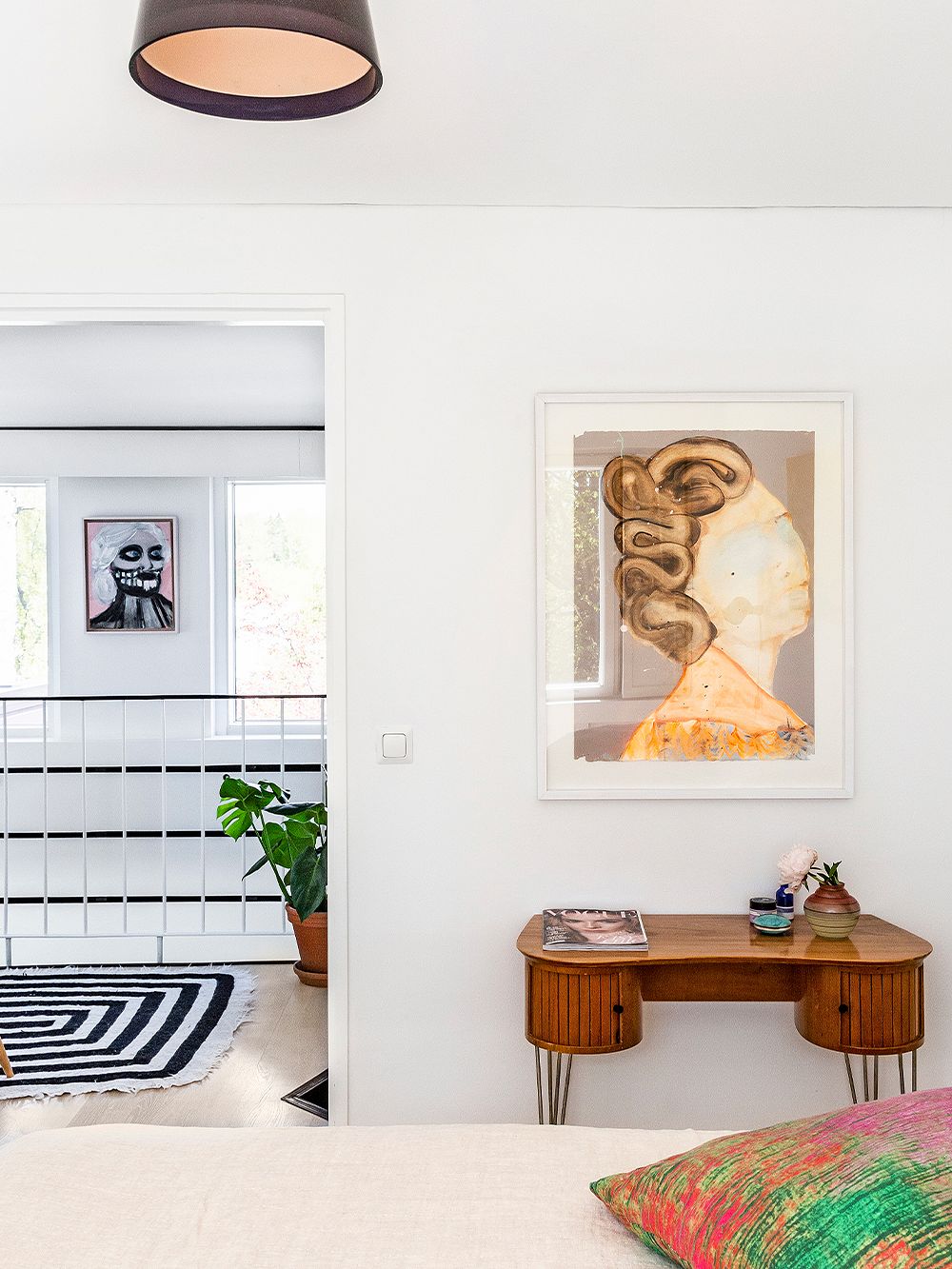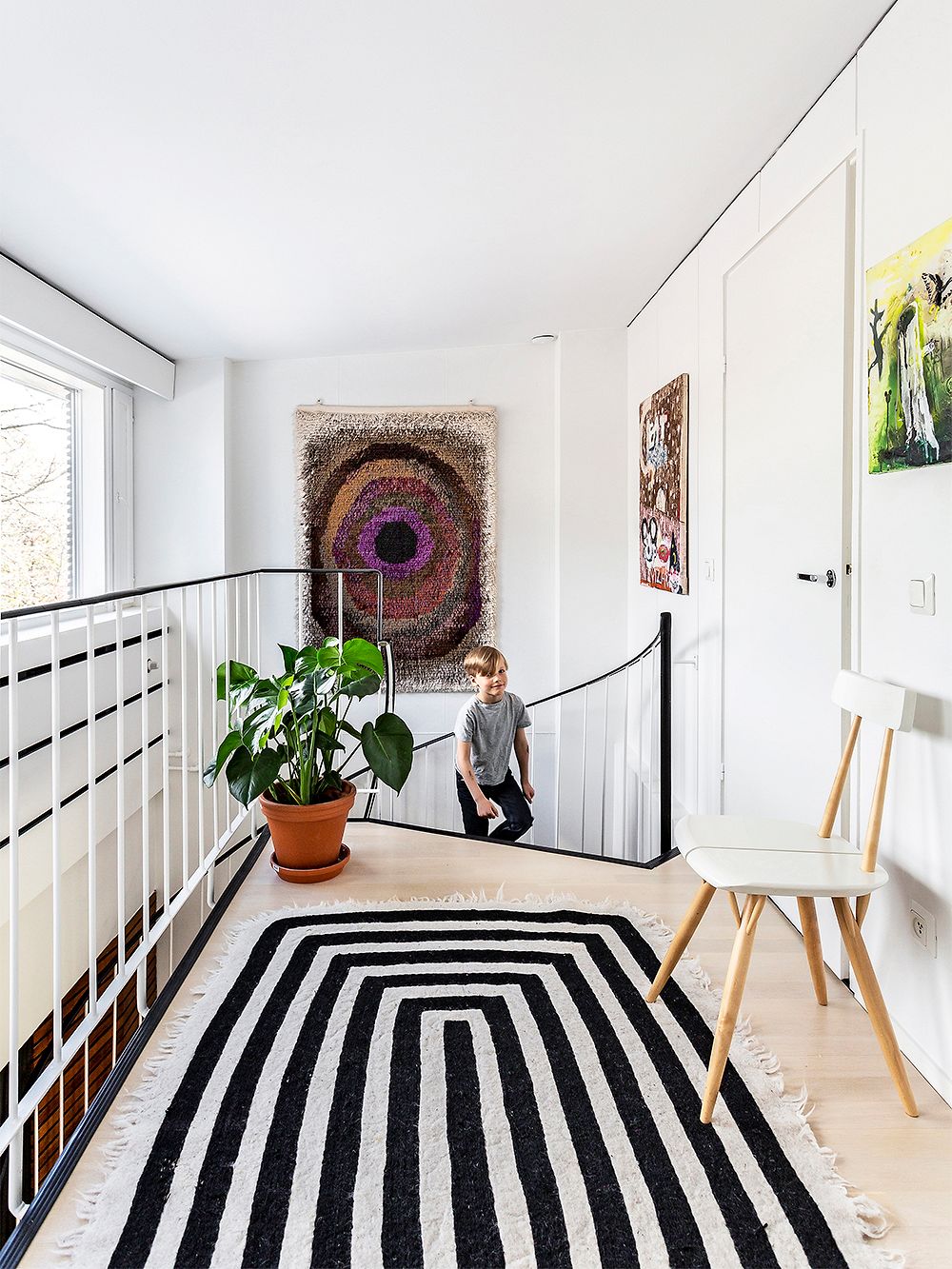 THE IMPORTANCE of the home has grown during the pandemic. Their current apartment has done the same to Tuuli.
"In Oulunkylä, we spend more time at home than we did when were living in the center of Helsinki. There's also more of a sense of community, especially as one of my best friends lives at the other end of the building."
They visit neighbors without too much planning and organize home parties, changing from woollen socks to high heels during the week as well. The neighbors also enjoy their shared garden, rich with cherry and apple trees and lilacs.
Text: Selina Vienola Images: Riitta Sourander
The story was first published in Avotakka's issue 3/2021.