A long spring breakfast, with all the trimmings, is always a good idea. Check out our recipes and treat your loved ones to a delicious asparagus classic, oven pancake and blood grapefruit Bellinis.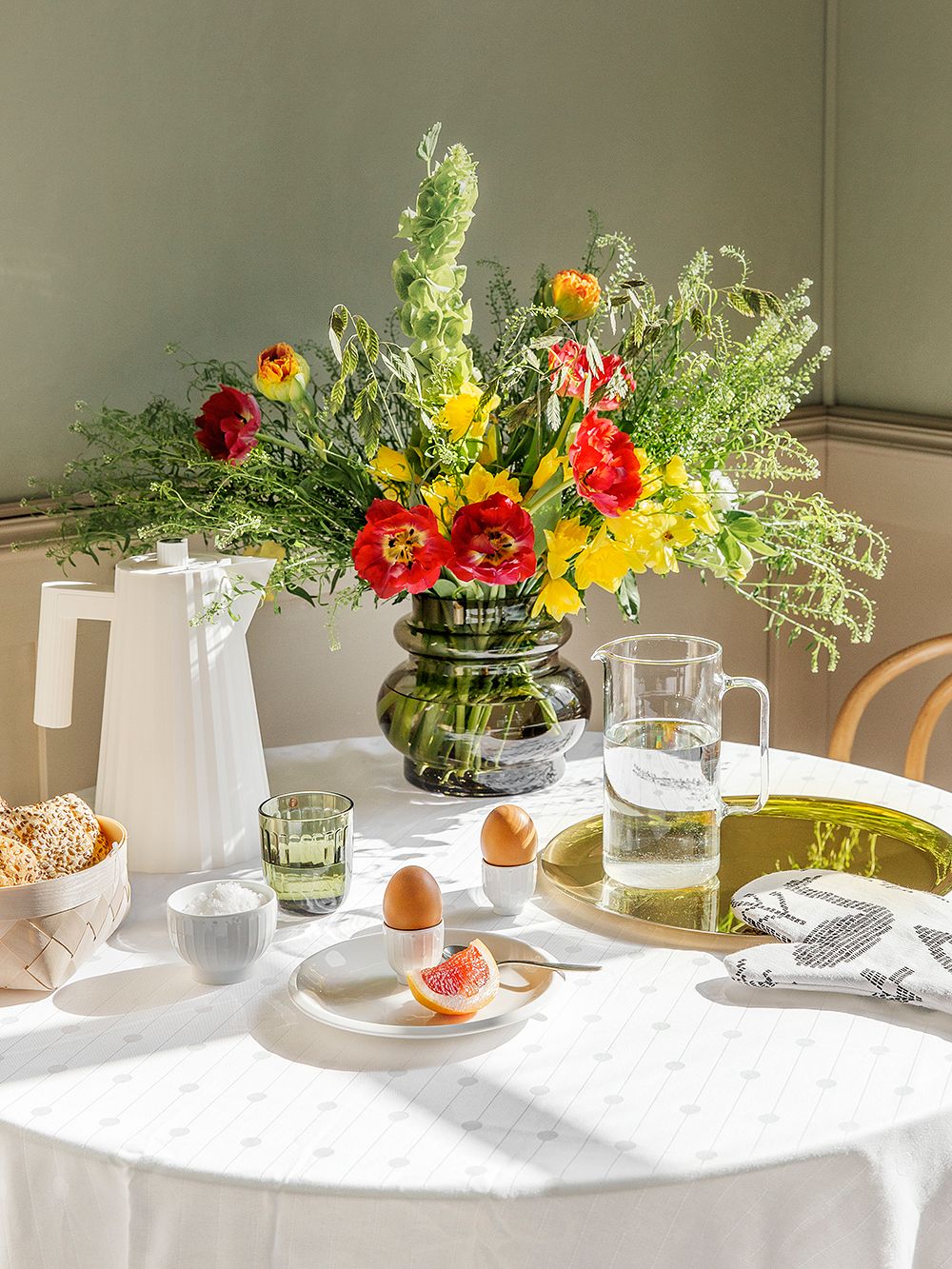 SUNLIT MORNINGS and the start of the asparagus season are excellent excuses for stretching your weekend breakfast a bit and for trying out new recipes. Asparagus mimosa is an 80s classic that seems to be making a comeback.
The recipe's name refers to egg yolks and the mimosa flower, radiating in the same yellow color. In this version, the eggs are half-boiled to keep the yolks creamy instead of floury.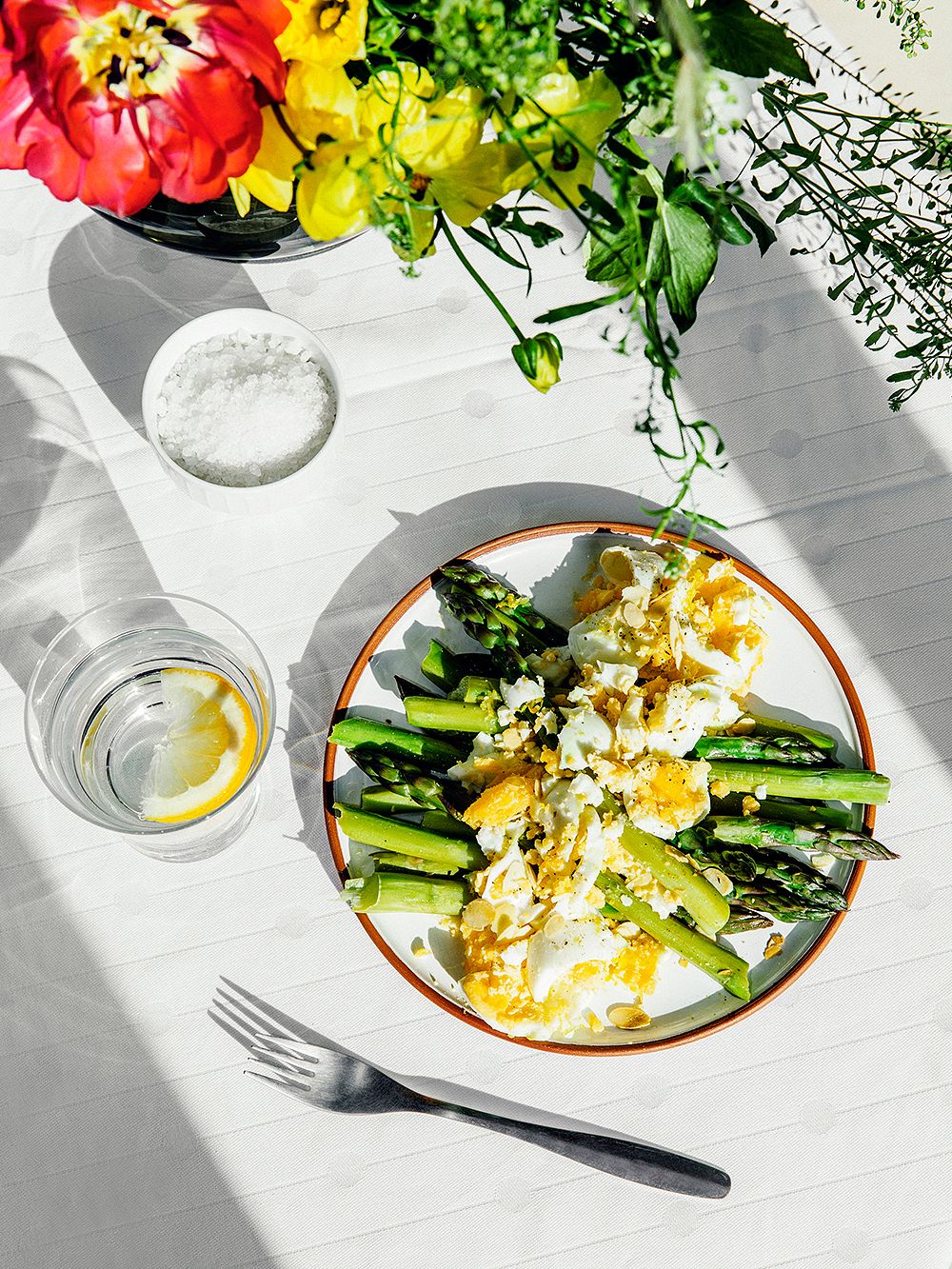 Pancakes are eaten for breakfast in many countries. Dutch Baby Pancake is probably the trendiest of them all: you pour the dough into a piping hot, greased cast-iron pan, making the dough rise quickly into a beautiful, crisp and buttery delicacy. This oven pancake is easy to make, and you don't have to sweat in front of the cooker making individual crepes.
The oven pancake is easy to make, and you don't have to sweat in front of the cooker making individual crepes.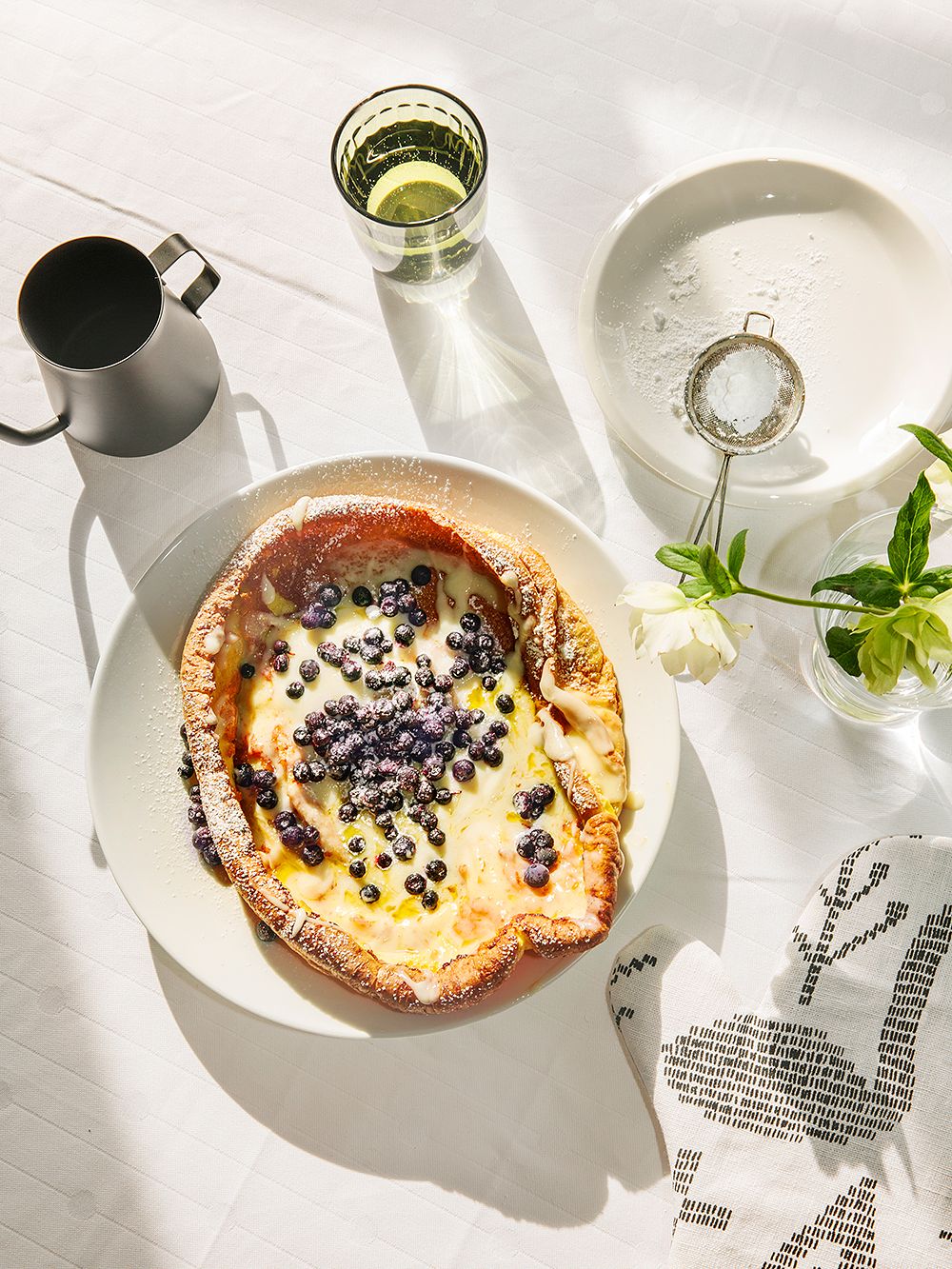 The traditional European style to serve pancake is to sprinkle lemon juice and icing sugar on top. Lemon curd is a combination of both, and if you mix it with thick Greek yogurt, you will get a delicious sauce for the pancake. You can also keep the yogurt and lemon curd separate and pour stripes over the pancake.
A long breakfast turns into a brunch the moment you take out the bubbly: blood grapefruit Bellini is a pink version of the classic drink consisting of peach puree and prosecco. Because peaches will not be in season until the summer, replace them with blood grapefruit and instead of prosecco, use rosé sparkling wine, which makes the drink sweeter.
A long breakfast turns into a brunch the moment you take out the bubbly.
These recipes are for 2–4 persons, depending on whether you prepare all of them or only make the pancake, for example. Offer good coffee, freshly squeezed orange juice and crispy bread with them.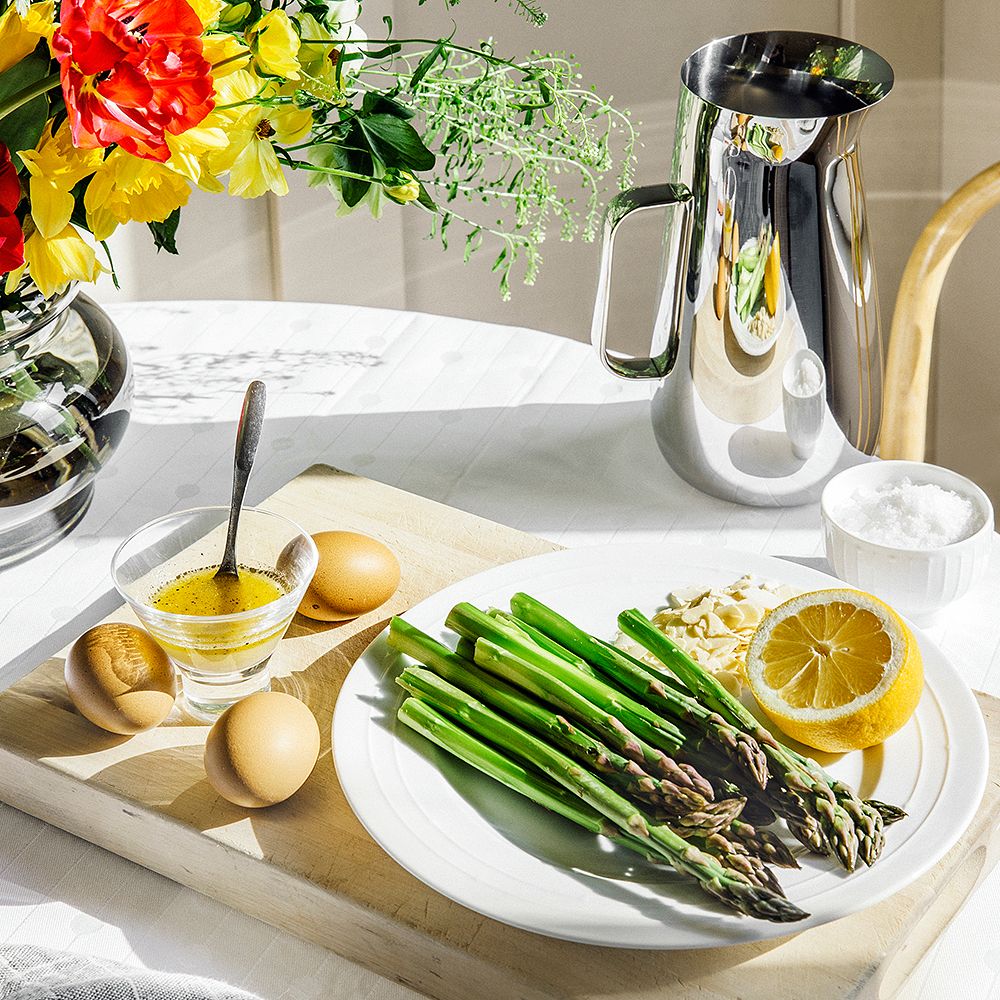 Asparagus mimosa (serves 2–4 people)
Ingredients:
1 (à 500 g) bunch of asparagus
3 eggs
1 tbsp Dijon mustard
2 tbsp olive oil
2 tbsp white wine vinegar
salt and black pepper
roasted almond chips
Do as follows:
Boil the eggs for 6 minutes, cool and shell. Mix the vinaigrette: whisk in a small bowl the mustard, vinegar and olive oil. Season with salt and freshly ground black pepper. Roast the almond chips on a dry, hot pan.
Rinse the asparagus. Snap off the hard ends of the asparagus stalks (bend gently at the end, and they will snap in two in a suitable spot) and peel them. Pour 1.5 dl of water on a frying pan, add the asparagus and bring to boil. Asparagus will turn from raw to overcooked very quickly, so keep an eye on them: once the color changes to bright green, test with a knife if they are done. If not all the water has had evaporated until the asparagus stalks are ready, pour it away and set the asparagus aside to cool.
Add the cooked asparagus stalks on a serving dish, pour vinaigrette on top and sprinkle the lightly crushed eggs on top. Garnish with roasted almond chips and sprinkle salt and black pepper on top.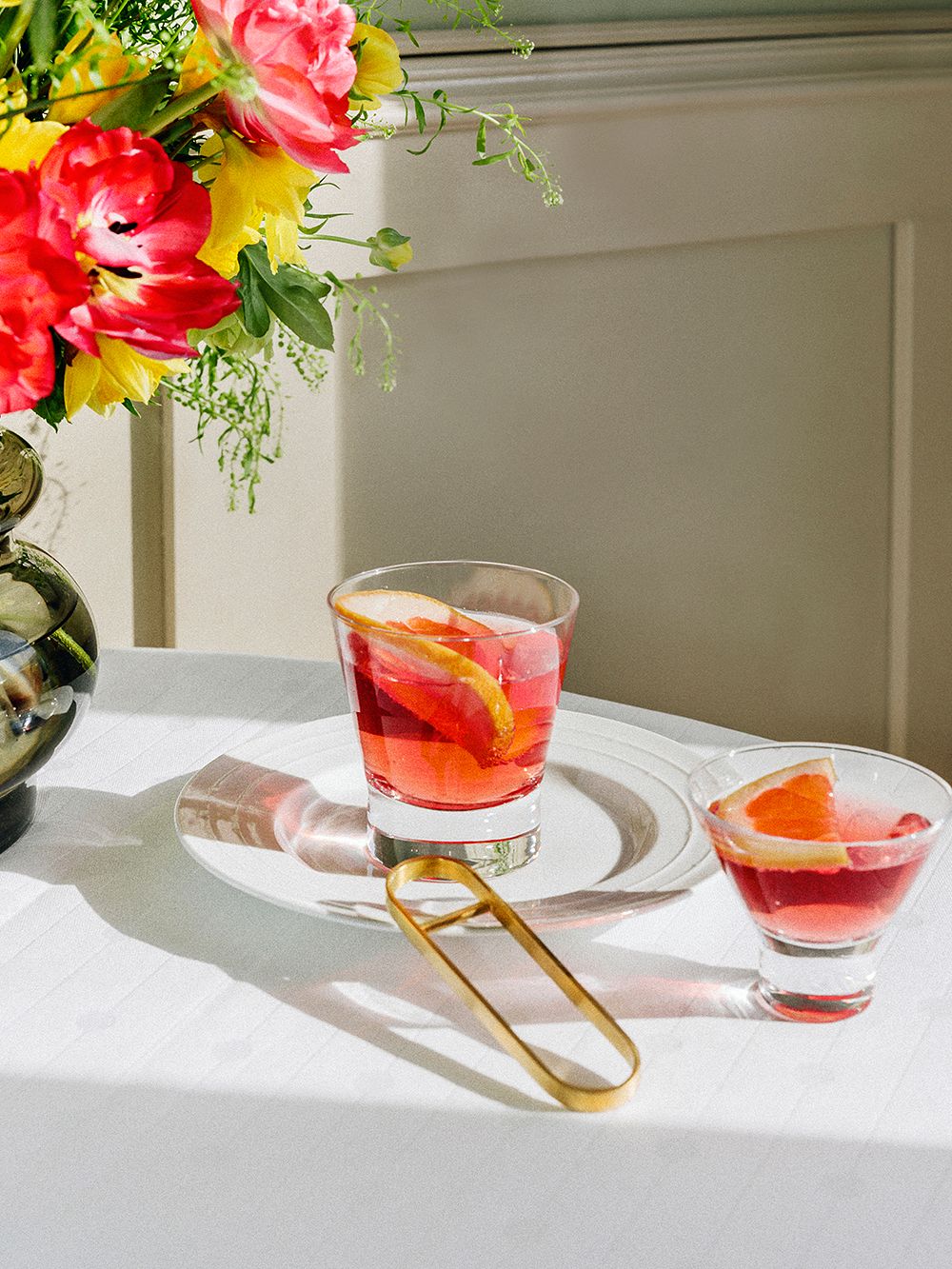 Blood grapefruit Bellini (for 4 persons)
Ingredients:
1 bottle rosé sparkling wine (demi-sec)
4 blood grapefruit
Do as follows:
Squeeze the grapefruit juice into a glass. Measure 1 part of blood grapefruit juice and 2 parts of cold sparkling wine into champagne glasses. Add grapefruit slices and serve right away.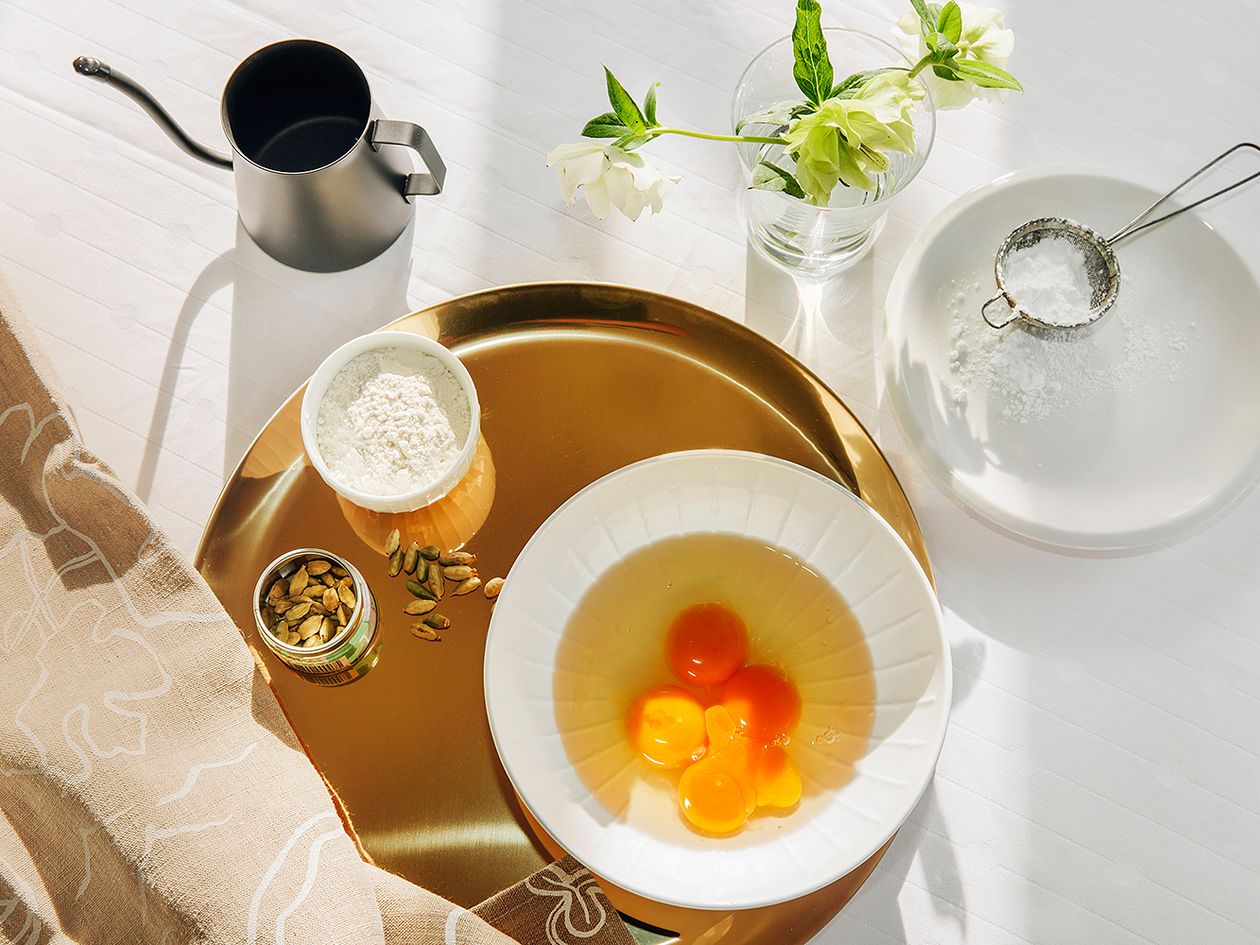 Dutch Baby Pancake (for 2–4 persons)
Ingredients:
4 eggs
1 dl milk (not skimmed)
1 dl wheat flour
pinch of salt
(1 tbsp sugar)
(1 tsp cardamom powder)
2 tbsp butter
Serve with:
2 dl thick, plain yogurt
1 dl lemon curd
fresh or frozen blueberries
Do as follows:
Preheat the oven to 225 degrees Celsius and place a cast-iron frying pan in it to heat up. Whisk the eggs lightly in a bowl. Add the milk. Mix the flour, salt, sugar and cardamom and add to the egg-and-milk mixture. Allow to stand for 10 minutes.
Once the oven is hot, take the pan out carefully (the handle will be super hot, so you will need some thick oven mittens!) and drop some butter on it, turning the pan from side to side to grease the pan all over. Pour the dough on the pan and place it in the oven.
Take a look at the pancake after the first 10 minutes. It may need a few more minutes: the pancake will be ready when it has risen, the edges have turned to golden brown, and the center is light brown.
Take the pancake out of the oven and slide it, if necessary, on to a serving dish. Mix the yogurt and lemon curd into a thick, lemony sauce. Serve with blueberries and yogurt sauce.
See also:
• More tableware >
Text and images: Suvi Kesäläinen