Grilled spicy tofu in salad wraps with quick kimchi and addictively good cucumber salad. Try Suvi Kesäläinen's recipes to make a tasty KBBQ vegetarian meal with all the side dishes.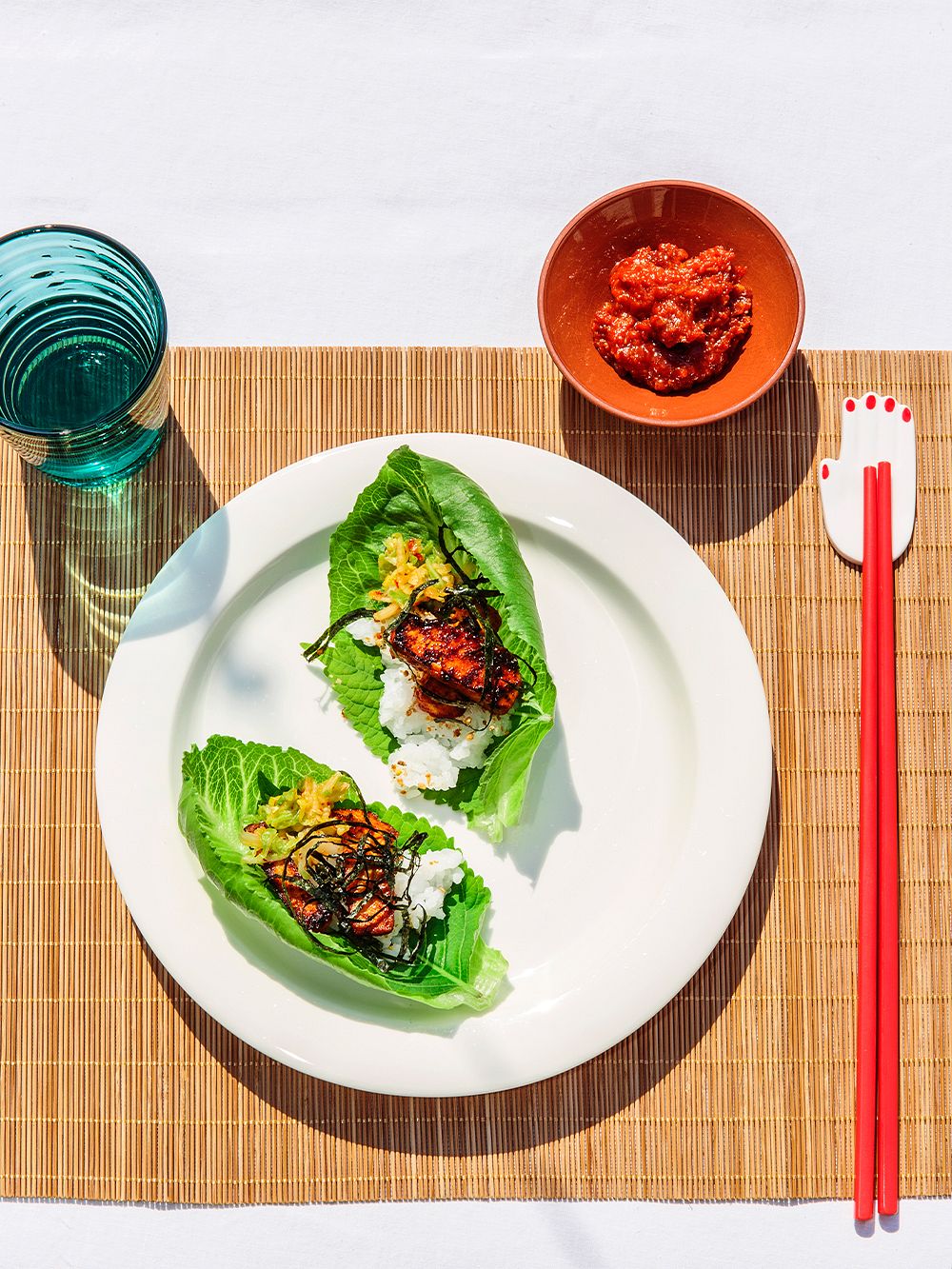 AUGUST IS BY FAR the best part of the year for a BBQ. There are fewer mosquitoes, the summer nights are like velvet, and the harvest season is upon us.
Korean BBQ, or KBBQ for short, has taken the world by storm. The BBQ, often built into the table, is used to prepare various meat dishes, enjoyed with side dishes, salad leaves, herbs, and pastes. But nobody's stopping you from creating your own version of it, such as taking the idea of marinated protein and switching it for a veggie version.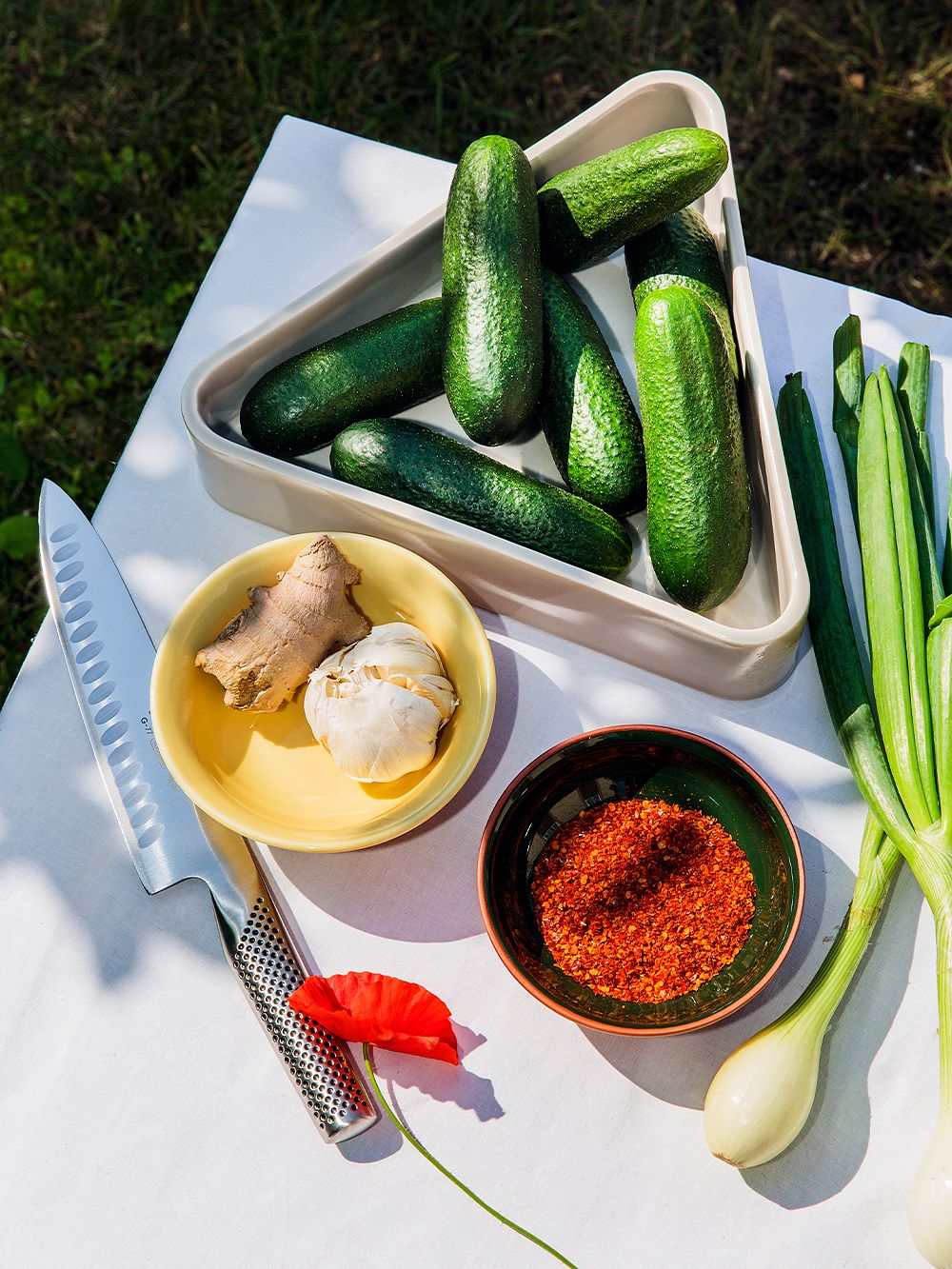 Kalbi is Korean for ribs, a key part of the Korean BBQ experience. The rib marinade is delicious – salty, sweet, hot and umami – and can easily be used for other protein as well.
Wrap some grilled tofu and condiments in a salad leaf and take a bite. Repeat as many times as you like.
This recipe is for tofu, but you can also use beef, pork or chicken, for example. The tofu is marinated and barbecued or fried on a pan and wrapped in a leaf of salad with fluffy sushi rice, nutty ssamjang paste, and aromatic shiso leaves. As a side dish, enjoy quick kimchi and cucumber salad that will take your breath away.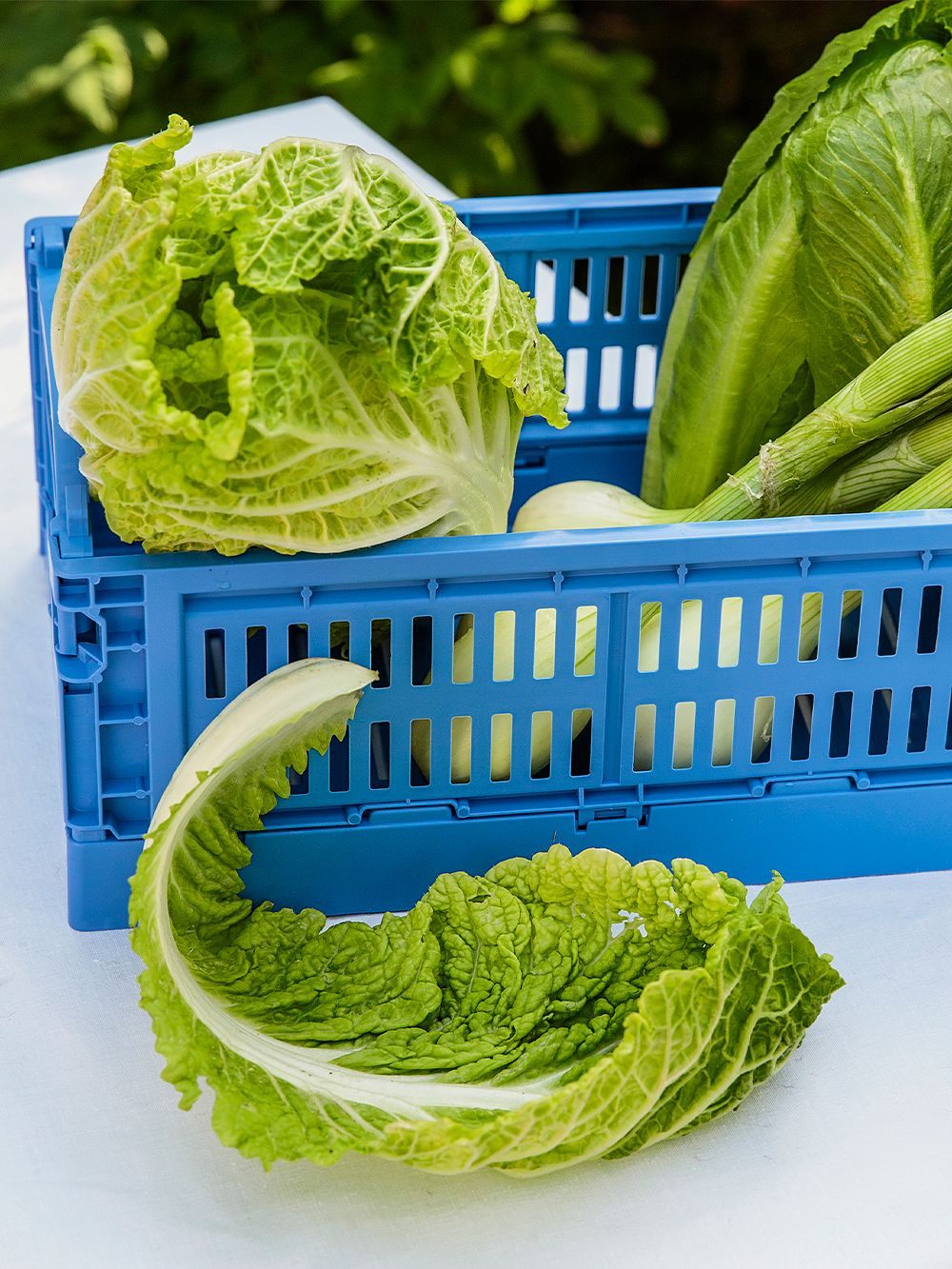 Raw garlic cloves and Korean nutty ssamjang paste also go nicely with the fried tofu. You eat it by taking a salad and shiso leaf in your hand, then spread some ssamjang paste over the shiso, and then tofu and other items on top. Wrap it up and take a bite. Repeat as many times as you like.
See below for a small KBB glossary. Korean ingredients can be found in bigger grocery stores, ethnic shops, and online stores. In the ethnic shops, they are usually available at a lower price.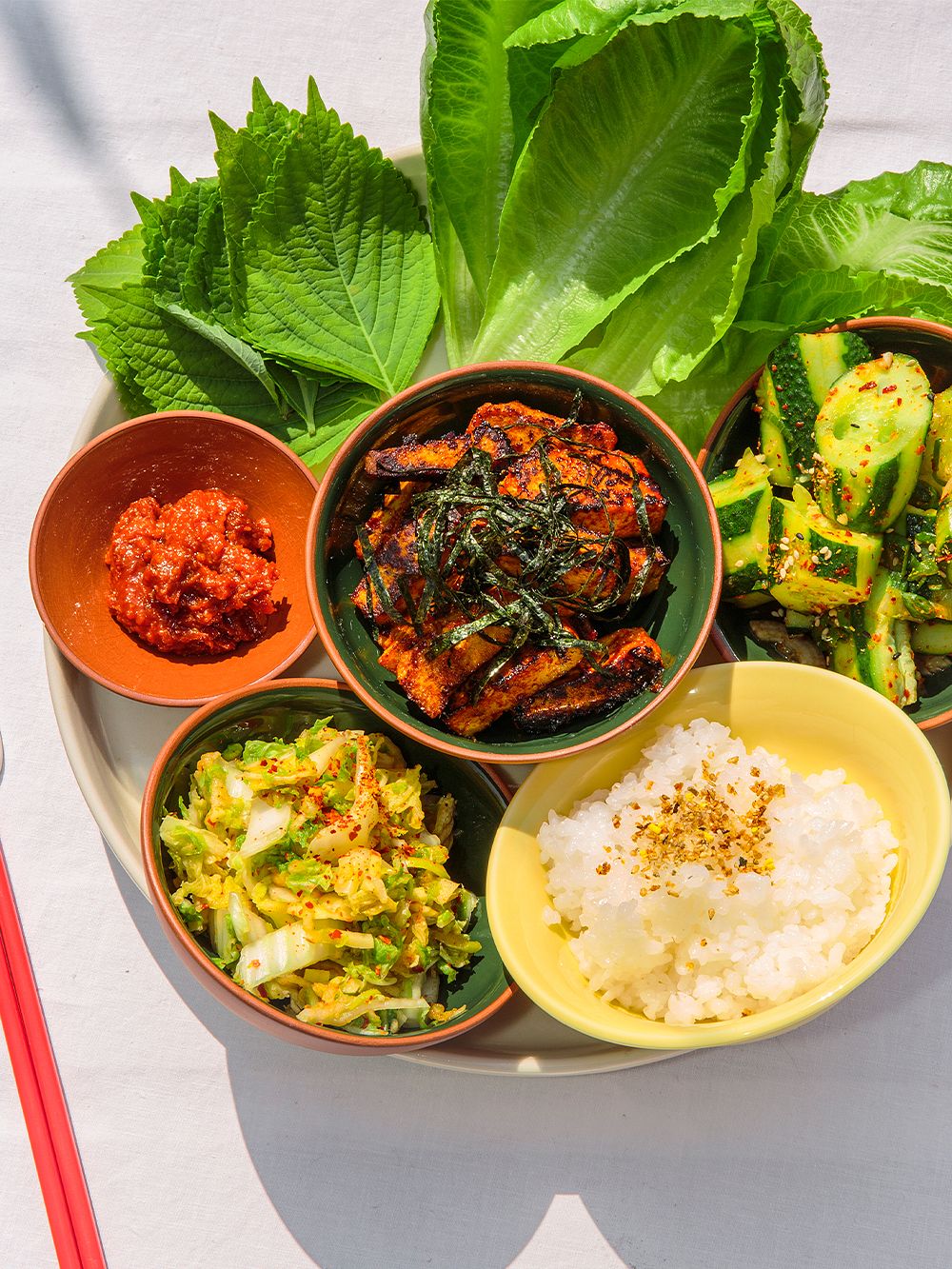 KBBQ glossary
Ssamjang
Spicy paste used for dipping and seasoning. It contains, among other things, soybeans, sesame oil, chili, onion, garlic, and spices. If you don't fancy your food too spicy, try instead mayonnaise with roasted sesame oil and soy sauce – works wonderfully!
Shiso
Commonly used herb in Asian cuisine. It is known by many other names, such as beefsteak plant or perilla mint. Shiso has an exquisite combination of flavors: citrus, mint, basil and pepper, adding a fresh twist to greasy BBQ flavors. Simply wrap your barbecued items into the shiso and tuck in.
Gochugaru
Basis for Korean food, an inseparable part of both kimchi and many other dishes. Gochugaru chili flakes are moderately hot, sweet and smoky, unless they are the hotter Chinese variety. So, taste before adding.
Gochujang
Hot and umami paste made from the above gochugaru flakes and fermented soybeans, used in bibimpap, for example. If you cannot find gochugaru flakes, you can simply buy the paste sold in most grocery stores in Finland.
Banchan
Small side dishes for barbecue food, covering a lot of the table in Korea. Banchans may include kimchi and various vegetarian side dishes. Check out the recipes for quick banchans, cucumber salad and quick kimchi.
---
Recipes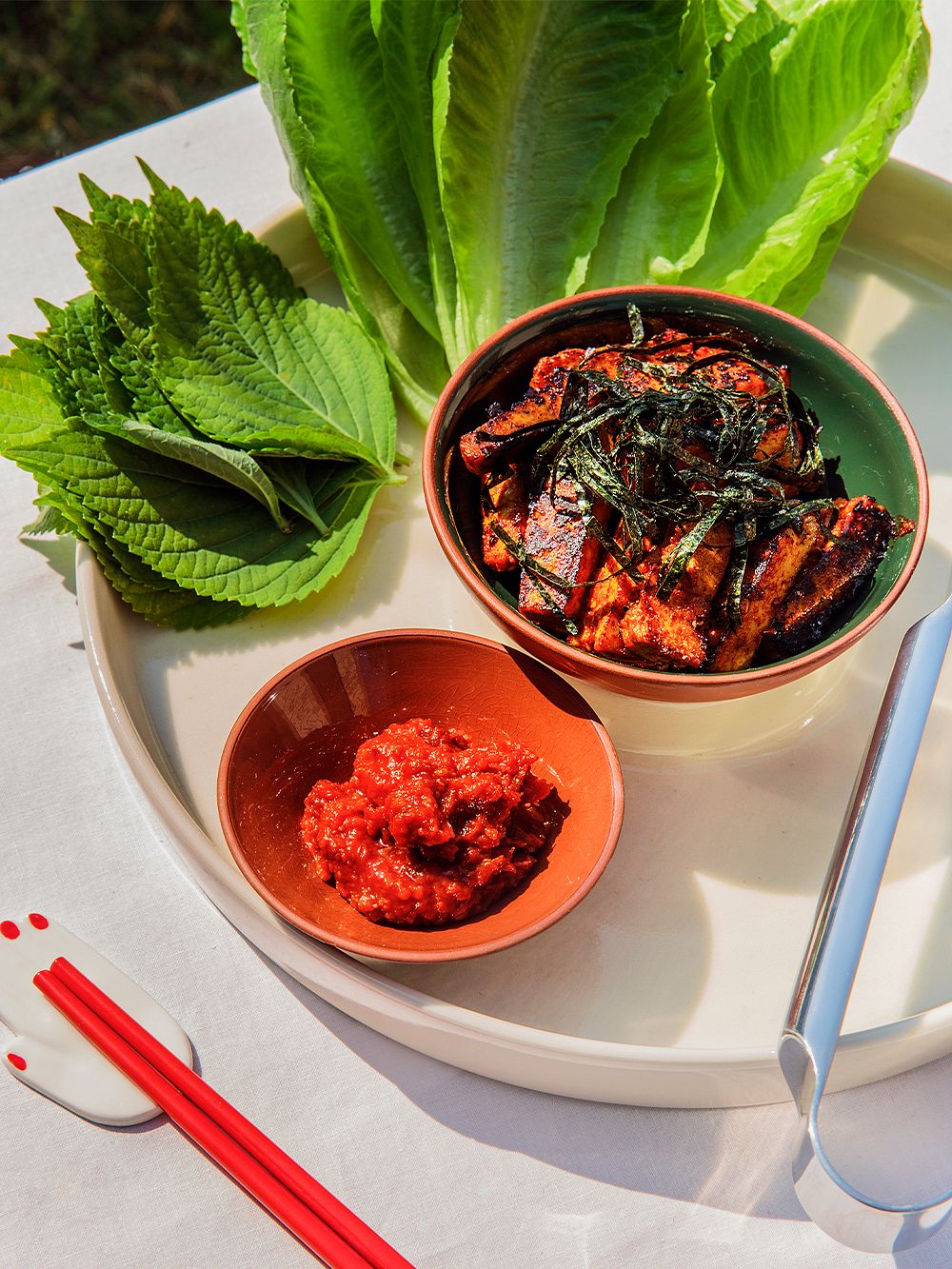 Tofu kalbi
Ingredients for four:
250 g firm tofu
3 tbsp gochujang paste
1–2 tbsp chili flakes (gochugaru)
2 tbsp soy sauce
3 tbsp mirin
1 tbsp brown sugar
1–2 garlic cloves
1 tbsp fresh grated ginger
1 tbsp sesame oil
(crushed nori seaweed on top)
Instructions:
Cut the tofu into slices and mix the remaining ingredients as the marinade in a box with a lid. Place the tofu in the marinade and shake lightly. Allow to marinate for at least one hour, preferably overnight.
Grill or fry the tofu until done. As the marinade contains sugar, the tofu receives a beautiful brown surface. But be careful, because if you don't pay attention, you may overdo it and end up with a charred surface. So, keep a close eye on it when cooking it. Serve immediately, with crushed nori seaweed if you feel like it.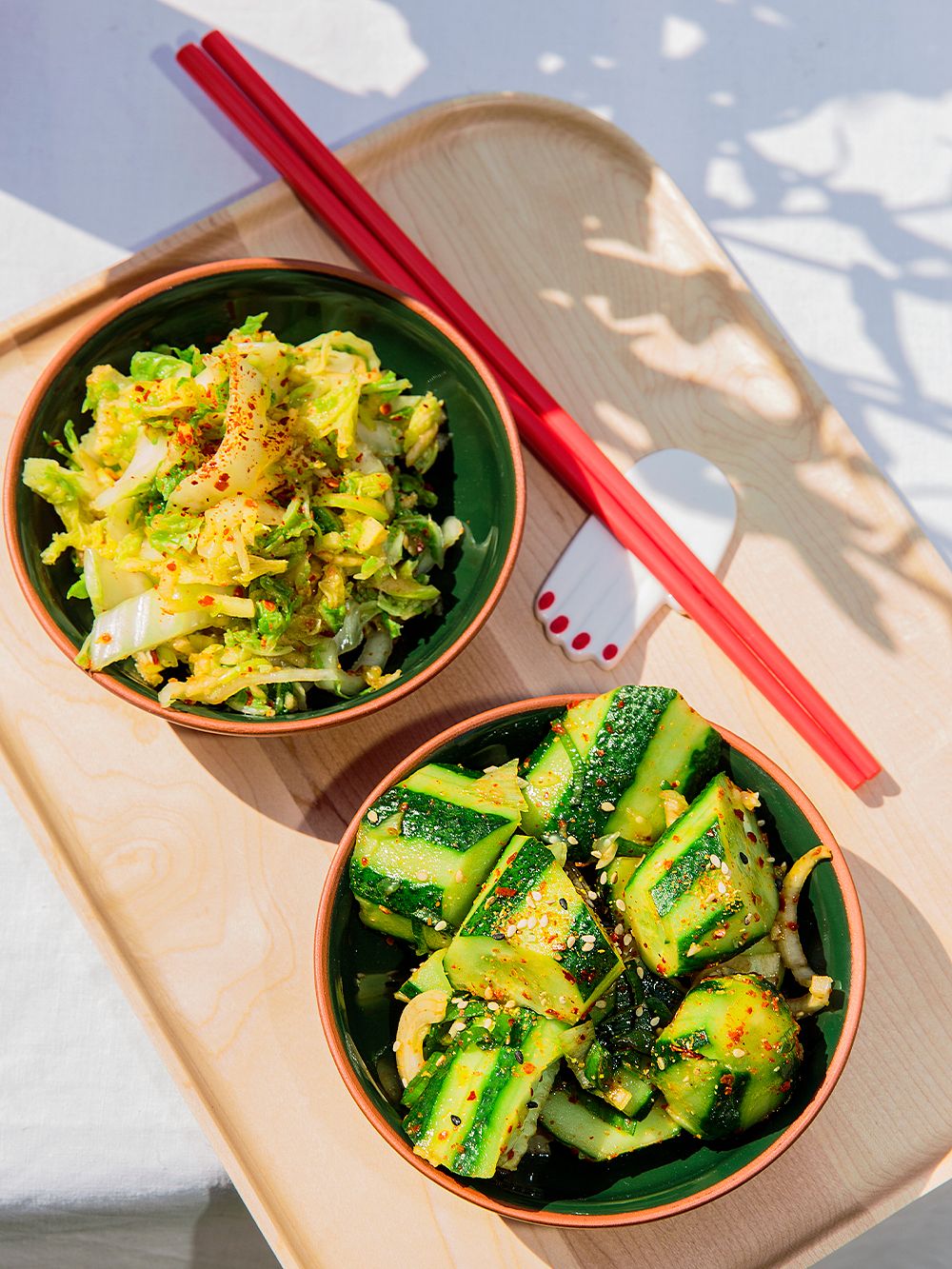 Korean cucumber salad (Oi Muchim)
Ingredients:
3–4 pickling cucumbers
1 spring onion
1–2 garlic cloves
1 tbsp soy sauce
2 tbsp rice vinegar
1–2 tsp chili flakes (gochugaru)
1 tbsp sugar
1 tbsp toasted sesame oil
Instructions:
You can peel the cucumbers if you do not like the feel of the skin. If you are using a variety that has a thin skin, or organic ones, a good wash with a vegetable brush is enough. Cut into pieces and press gently with the side of the knife to make them absorb more flavors. Chop up the onion and garlic. Mix the ingredients in a bowl and leave in the fridge for about 30 minutes.
---
Quick kimchi (Baechu Muchin)
Ingredients:
500 g Chinese cabbage
1 tbsp salt
1 tart apple
5 cm fresh ginger
2 tbsp rice vinegar
1 tsp fish sauce (skip if you are a vegan)
1–3 tbsp gochugaru chili flakes
Instructions:
Rinse the Chinese cabbage and cut it into strips. Add the cabbage strips and salt into a large bowl and squeeze them until the liquid comes out them and they have shrunk to half. Drain the cabbage in a colander.
Take a large, dry bowl and grate a rinsed apple into it. Add the peeled and finely grated ginger and the rice vinegar, fish sauce, and gochugaru chili flakes. Mix the cabbage well with the spices and place into an airtight jar. Quick kimchi will keep for 1–2 weeks in the fridge.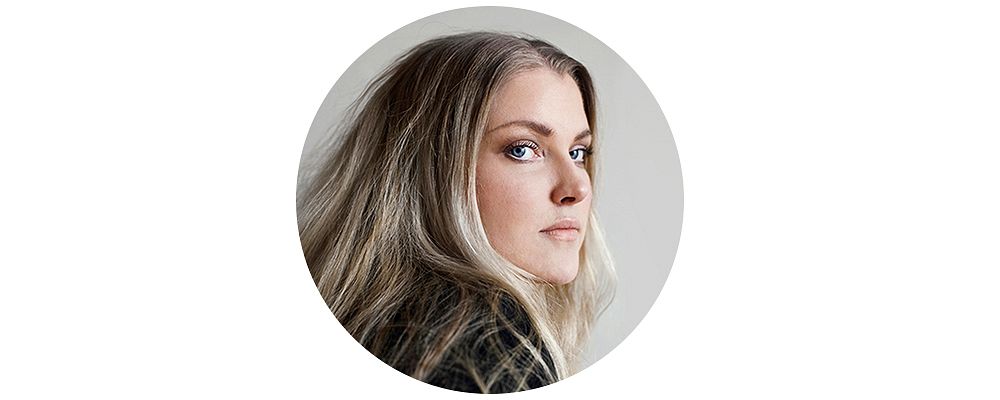 Design Stories contributor Suvi Kesäläinen is a photographer, who loves to create dishes that are not only delicious but also fast and easy to make. She's passionate about the best seasonal ingredients, local food and intriguing culinary trends.
---
See also:
• New tableware at Finnish Design Shop >
Text and photos: Suvi Kesäläinen