Hans J. Wegner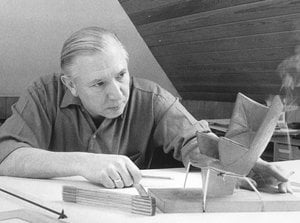 Hans J. Wegner
Hans J. Wegner (1914–2007) is a world-famous Danish designer known especially for his numerous chair designs. Wegner had a special ability to combine functionality and aesthetics; many of his designs are characterized by playful or poetic features.
Born in Tønder, southern Denmark, Wegner developed a fascination for wood as a material already as a child: he enjoyed wood carving and often spent time in museums, looking for inspiration for his sculptures, and he even took up an apprenticeship with master cabinetmaker H. F. Stahlberg at a young age. Although Wegner began his career as a carpenter in the 1930s, in 1936 he decided to study design – a decision the modern design world is very happy for. Wood remained Wegner's favourite material throughout his prolific career, and most of his chairs are made of wood with the natural material often playing the main role in the design.
Wegner considered ergonomics to be one of the most essential aspects of designing a chair – after all, it was a piece of furniture with which the human body could be in contact for long periods of time. During his career spanning several decades, Wegner designed up to 500 different chair models, many of which have become coveted design classics not only due to their beautiful design but also their superb functionality. Perhaps the most famous of his design is the Wishbone chair, which has been in continuous production since 1950.
Wegner is known as one of the pioneers of Danish modernism and one of the key figures of the Golden Age of Nordic design. During his career, he received a multitude of design awards, including the Lunning Prize as well as the Grand Prix in the Milan Triennale in 1951, the Prince Eugen Medal in 1961 and the C. F. Hansen Medal in 1980.
Would you like to read more about Hans J. Wegner and his work? Discover our books:
Wegner: Just One Good Chair
Hans J. Wegner has designed pieces for the following brands: Fredericia, Carl Hansen & Søn, Pandul