George Nelson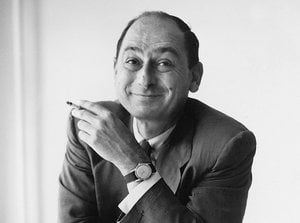 George Nelson
George Nelson (1908–1986) was an American architect and designer who is considered as one of the greatest American designers of the mid-twentieth century. Nelson studied at Yale University and in Rome, where he became familiar with European architecture and design. After returning to the United States, Nelson started working at Herman Miller, where he quickly took the position of Design Director.
During his long career, Nelson designed numerous well-known pieces of furniture, lighting and interiors. Besides a designer, he was also a popular lecturer, photographer and essay writer. Nelson worked for Herman Miller until 1972, and together with designers such as Charles and Ray Eames, Isamu Noguchi and Alexander Girard, he created the foundation for Vitra's iconic collections.
Some of his most famous designs include the minimalistic Nelson Bench from 1946, the playful Marshmellow Sofa from 1956 and the Ball Clock, Sunflower Clock and Eye Clock from the Wall Clocks collection from 1948–1960.
George Nelson has designed pieces for the following brands: HAY, Vitra