Rough and bold materials such as concrete, brick, and metal are the basis of an industrial-inspired interior. Although the style is emphasized in lofts, which are renovated from old factories and warehouses, the atmosphere can be conjured up in other settings as well. Get inspired and add a touch of factory feeling to home!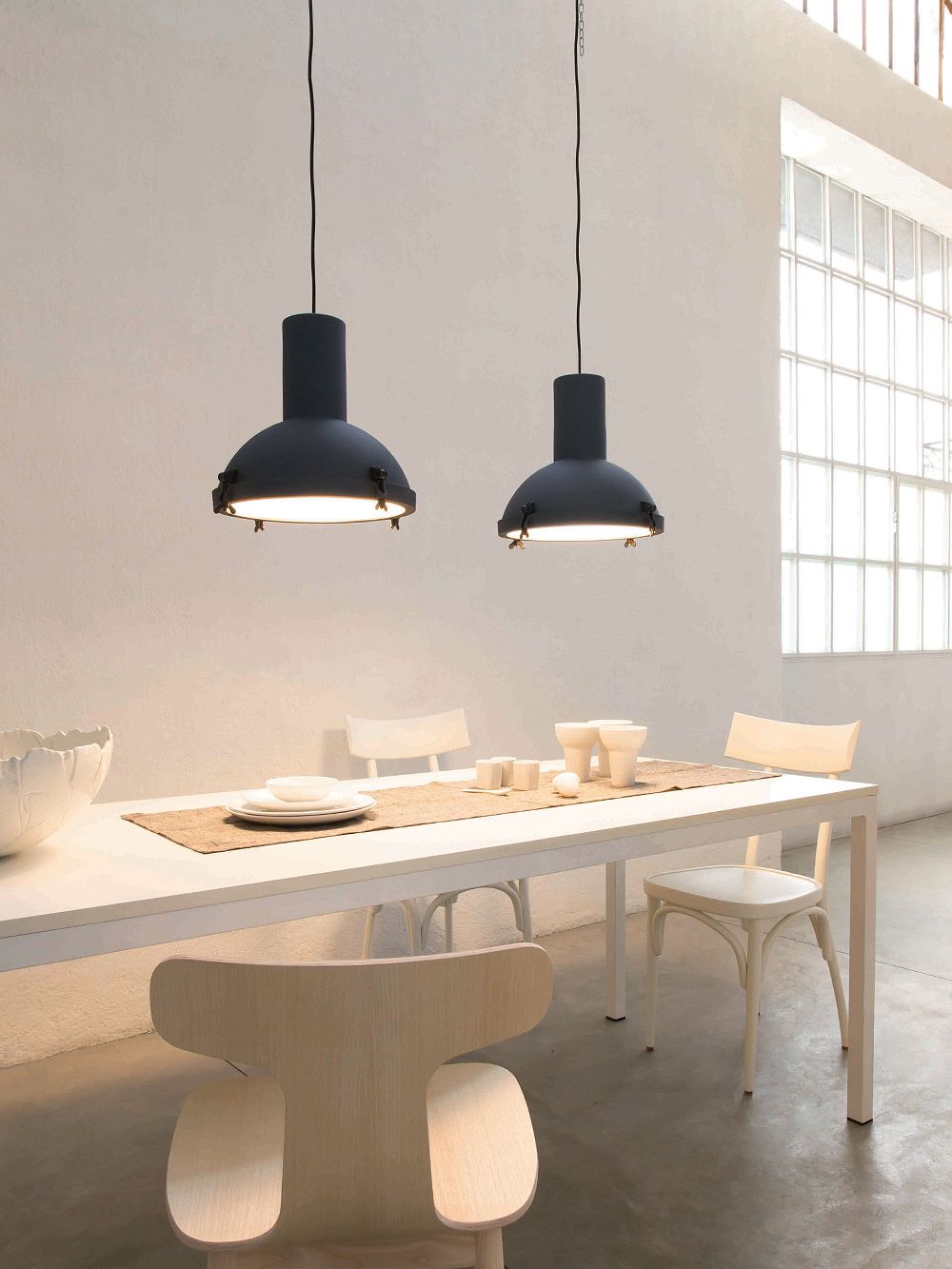 Industrially illuminated
The industrial style is born with massive and dramatic luminaires. Therefore, mix fearlessly factory-style lamps and let the wires and screws stay noticeable. Made of aluminum, Nemo Lighting's Projecteur 365 pendant is characterized by a strong industrial design and decorated with visible wing nuts and screws.
• Nemo Lighting's Projecteur 365 pendant >
• All ceiling lamps >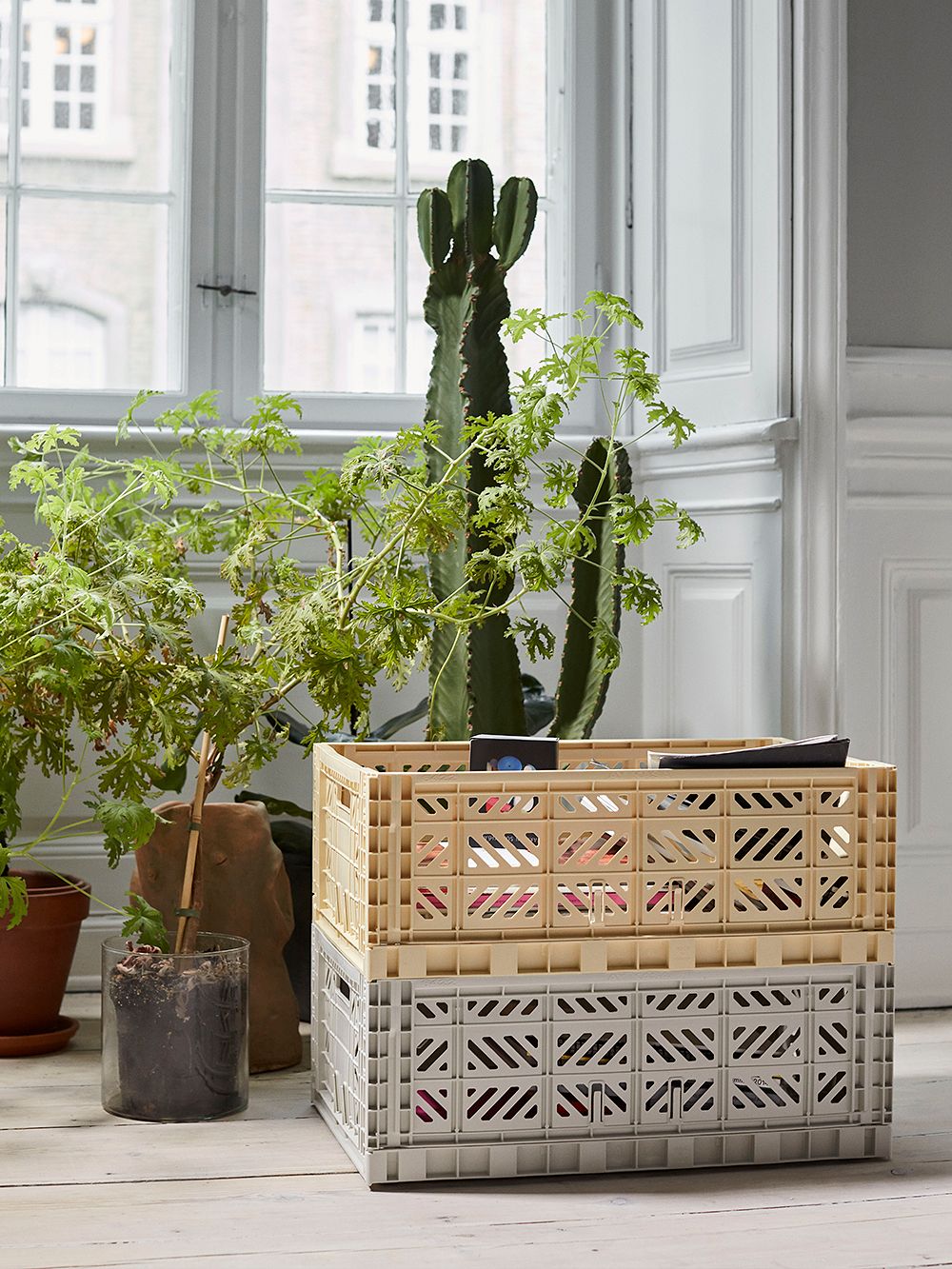 Stack it up
Metal and plastic containers are a casual way to store important items. In addition, storage baskets can be part of the decoration and stacked up. Colour crates by Hay keep the home in order by bringing industrial and functional aesthetics to the environment. On the other hand, gentle colors soften the harsh look and add a twist to the tone palette.
• Hay's Colour crate >
• All small storage >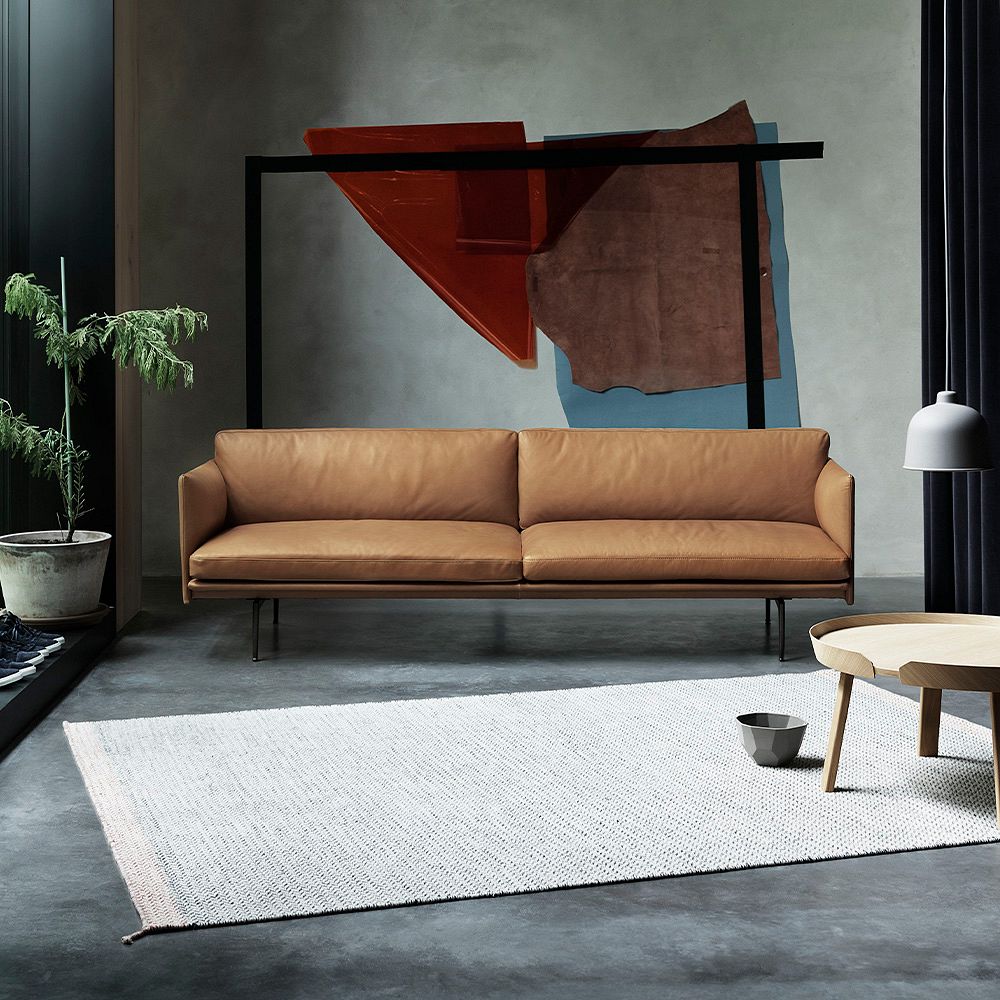 Luxury leather
The durable leather sofa works as an edgy eye-catcher in the room, and the surface of the leather only improves as it ages. If black leather sounds cold, try warm cognac as the centerpiece of the space! Muuto's Outline sofa is dominated by a welcoming cognac brown leather surface, steel legs, and a rectangular design. If your apartment is spacious and loft-like, decorate it with a more massive modular sofa.
• Muuto's Outline sofa >
• All sofas >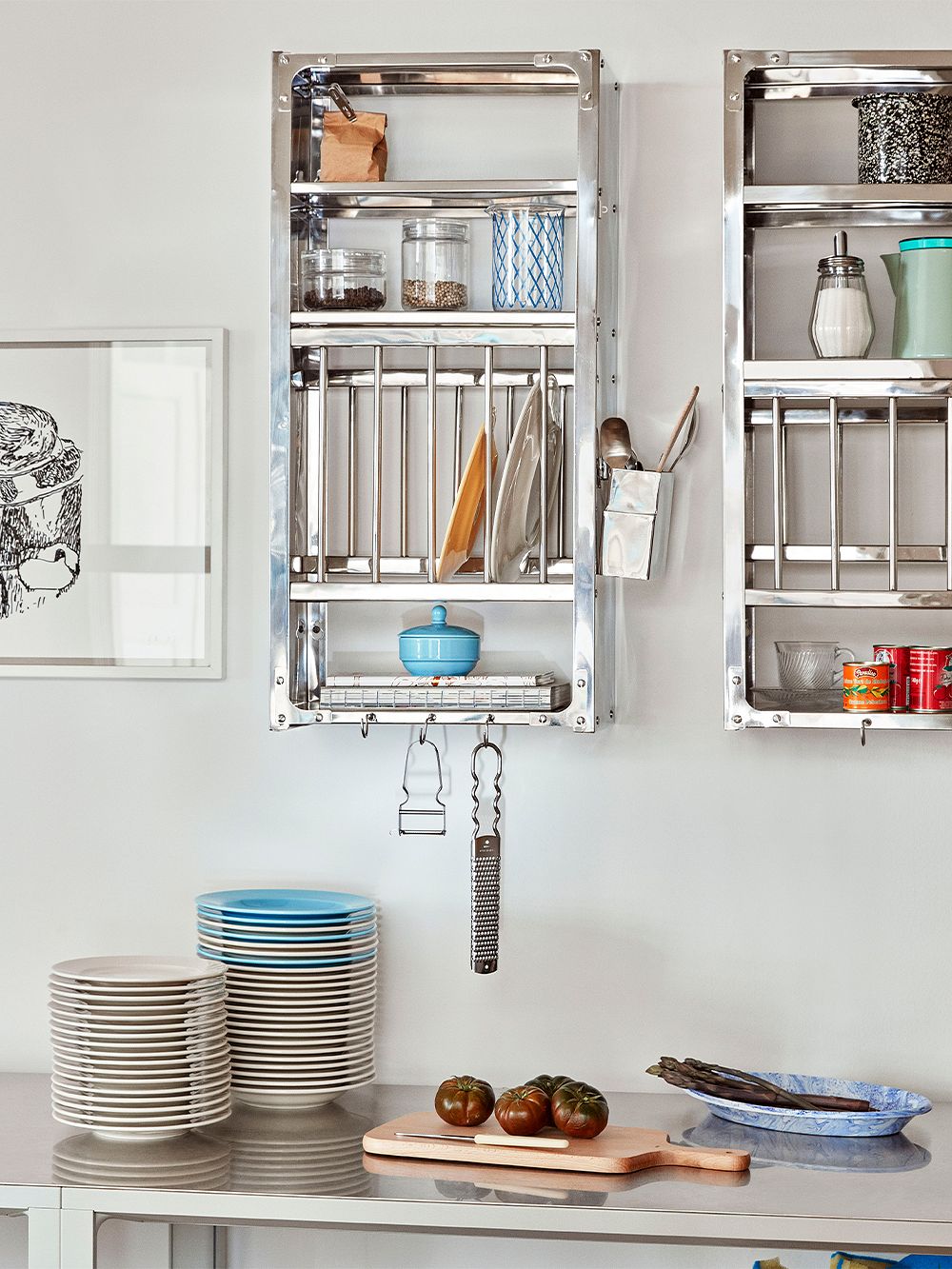 Made of steel
Open shelves with a metal glow or worn rust are a fail-safe way to create an industrial atmosphere. The polished steel surface of the Indian Plate Rack by Hay gives a bold nature to the kitchen and keeps the utensils in order. The hanging hooks and small boxes emphasize the charmingly rugged look.
• Hay's Indian Plate Rack >
• All shelves >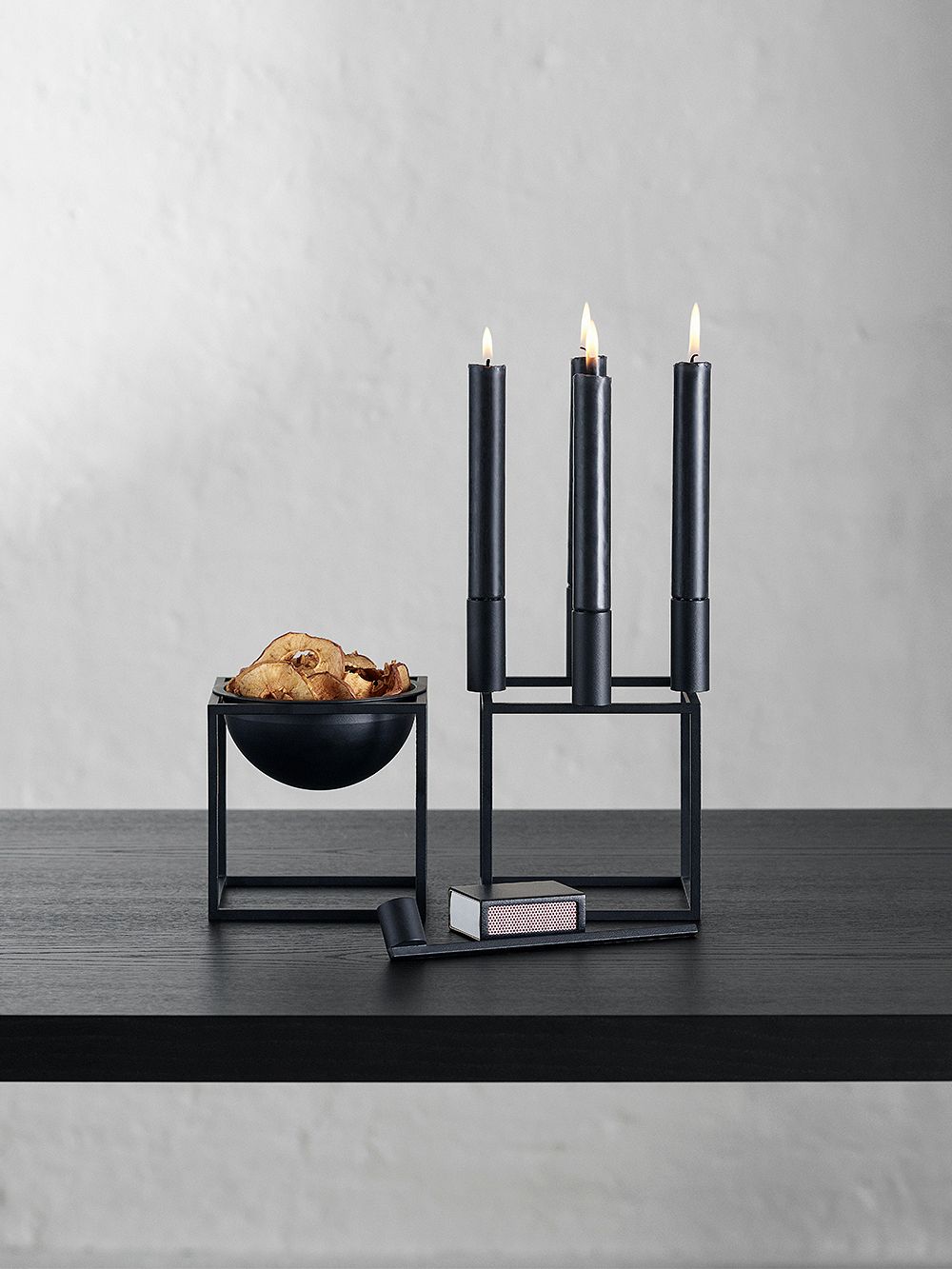 Cube of candles
Decoration in an industrial setting is at its best when considered and stripped, but yet outstanding. By Lassen's Kubus 4 candleholder is a minimalist icon with a geometric, dice-shaped steel frame that infuses a side table or open shelf with a sculptural look and elegant ambiance.
• By Lassen's Kubus 4 candleholder >
• All candleholders >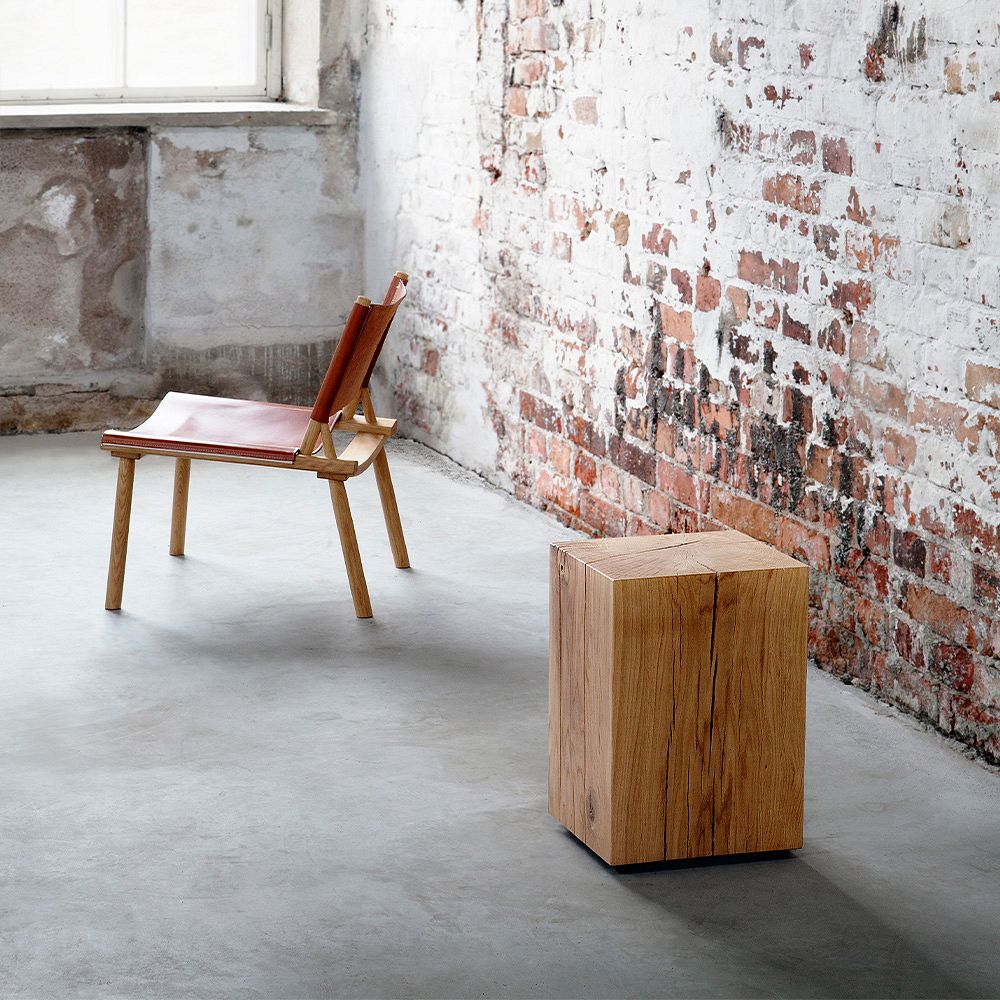 Enliven by natural wood
The industrial style combines both modern design and rustic, timeworn surface. Harsh, metallic furniture is balanced and contrasted by warm and rough wood. Each of the oak Biennale stools designed by Kari Virtanen is unique, and its natural surface is enlivened by individual annual rings, wood grain, and cracks.
• Nikari's Biennale stool >
• All stools >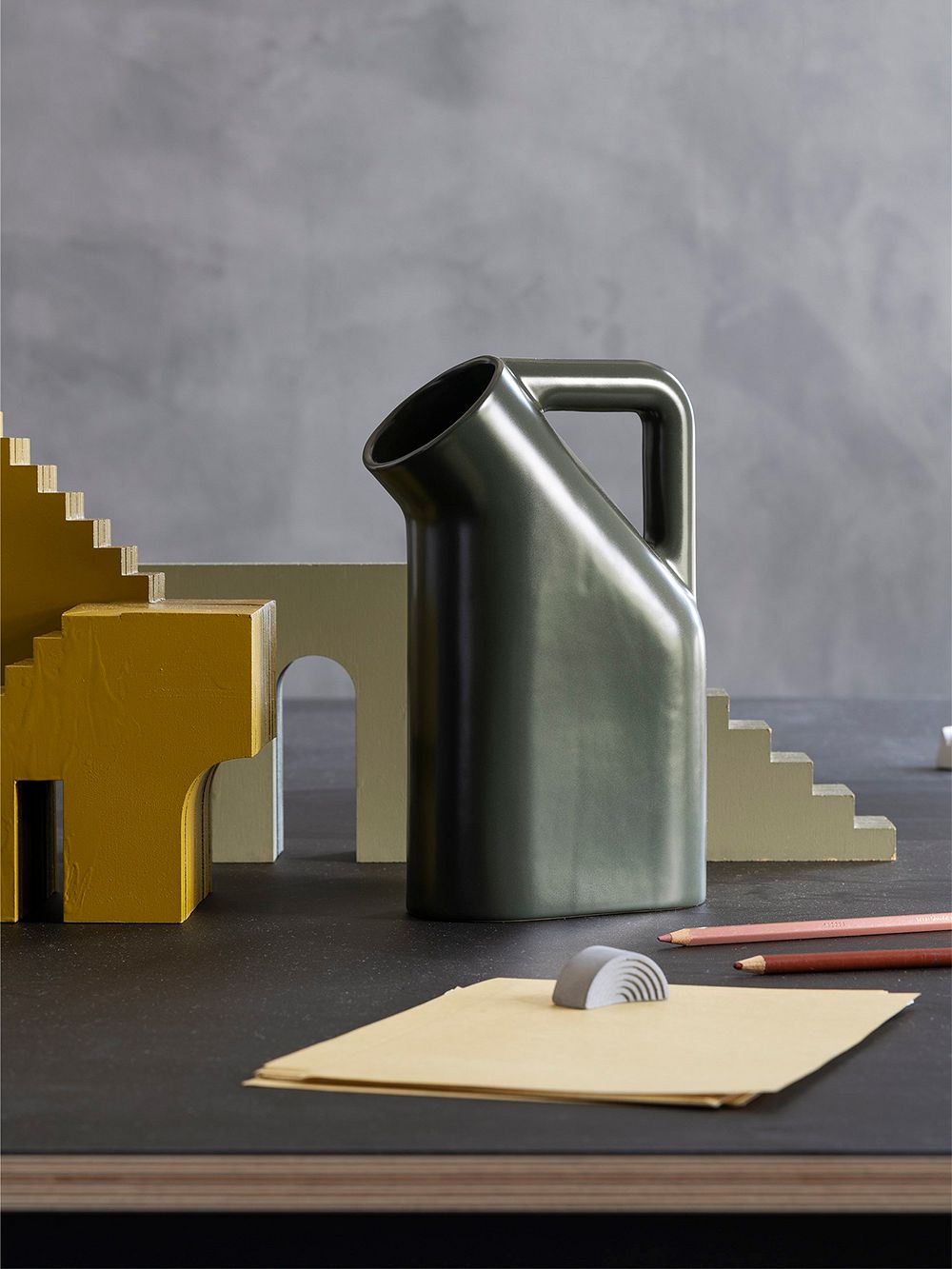 Blooming canister
Are you tired of the traditional vases? The Muuto's Tub jug charms with its innovative and playful design, and its practical handle tailors it an industrial, canister-like appearance. The jug can be used as a watering can, for the table setting, or as a distinctive flower vase.
• Muuto's Tub jug >
• All jugs & pitchers >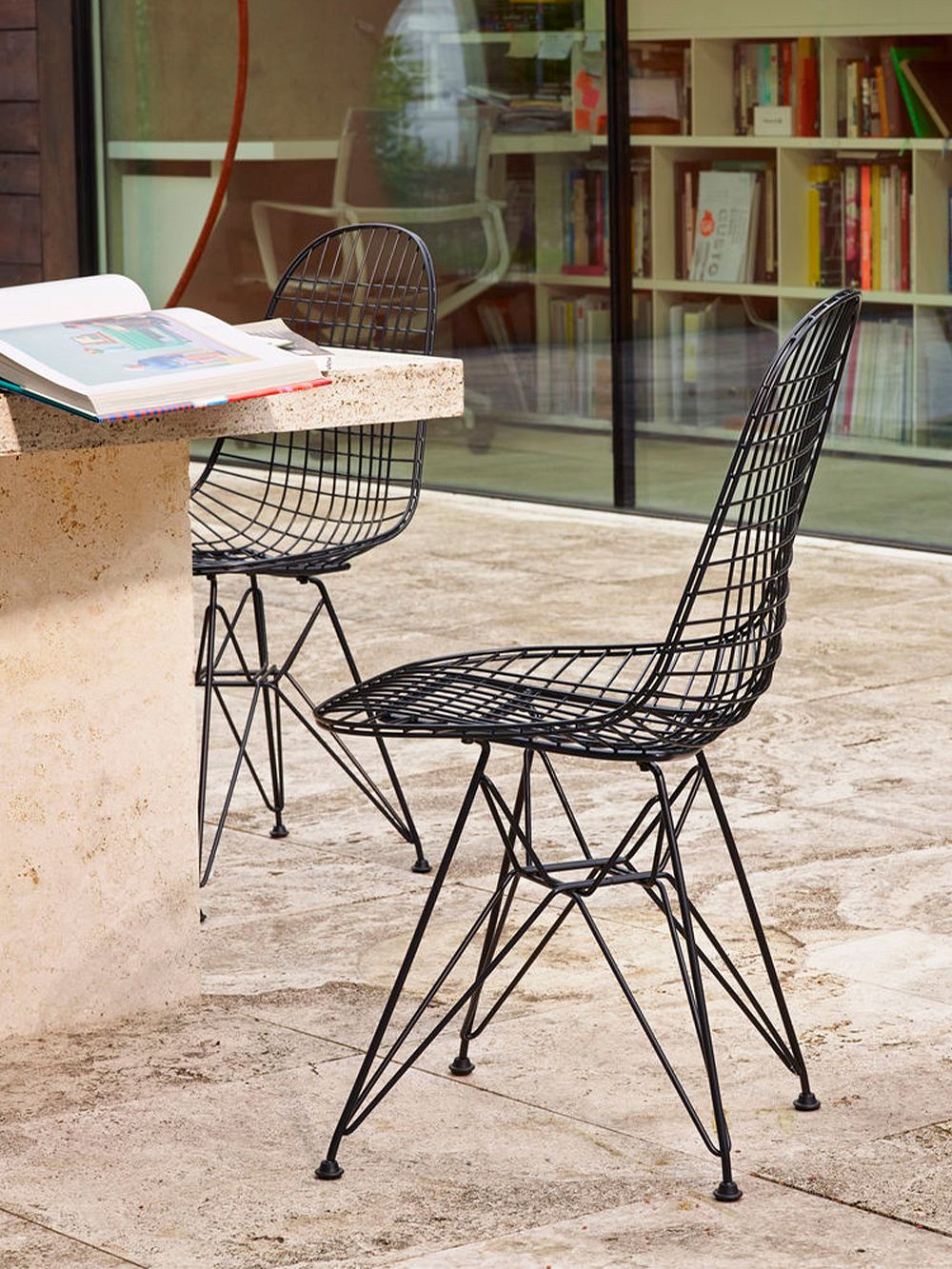 Classic grid
In 1951, Charles and Ray Eames wanted to design a chair with the smallest amount of material possible: with the contrast of impressive yet airy metal wire structure, the DKR Wire Chair was born. The iconic chair brings a graphic edge and works as a timeless partner, for example, with a solid wood dining table.
• Vitra's Wire Chair DKR >
• All chairs >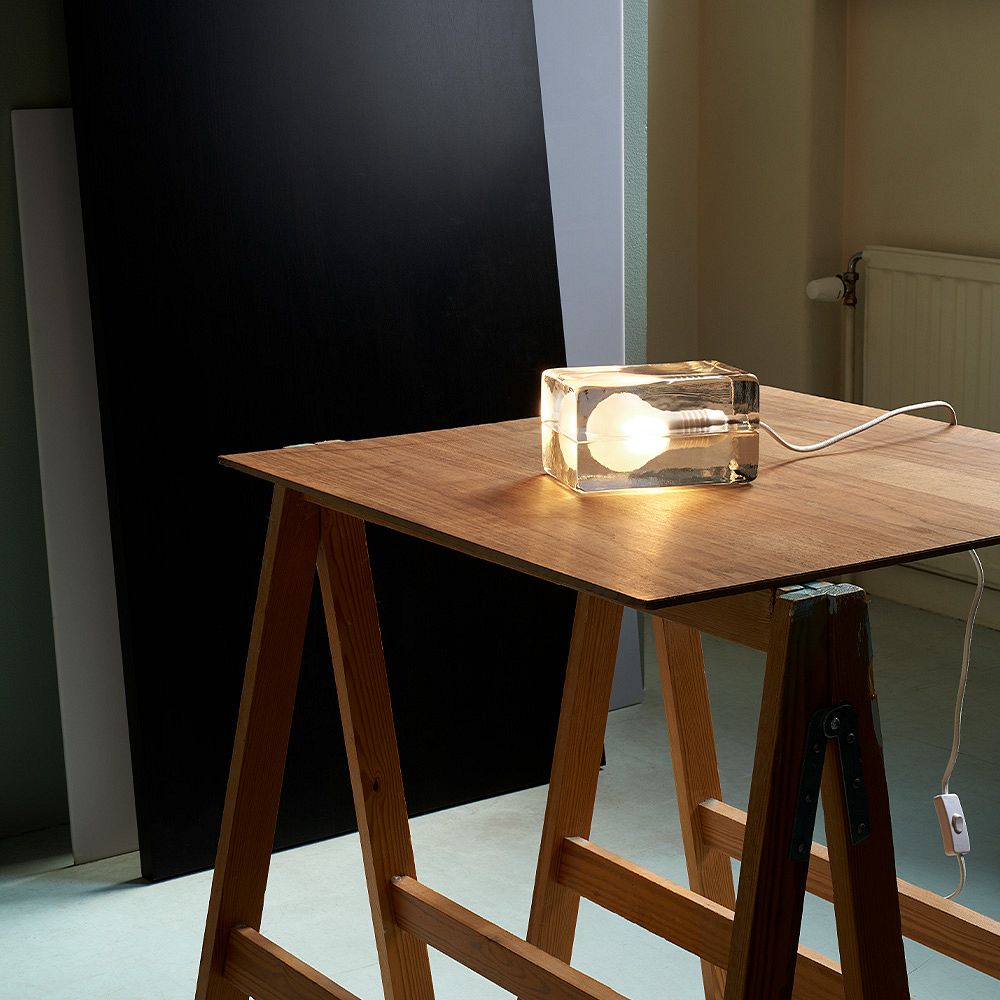 The glow of a brick
The rough interior and cool tones are balanced with the warm, moody ambiance. Designed by Harri Koskinen, the simple Block lamp is a combination of two glass blocks and a light bulb. The luminaire acts as an ideal detail on the side table, windowsill as well as on the bookshelf and brings a dim glow to any space.
• Design House Stockholm's Block lamp >
• All table lamps >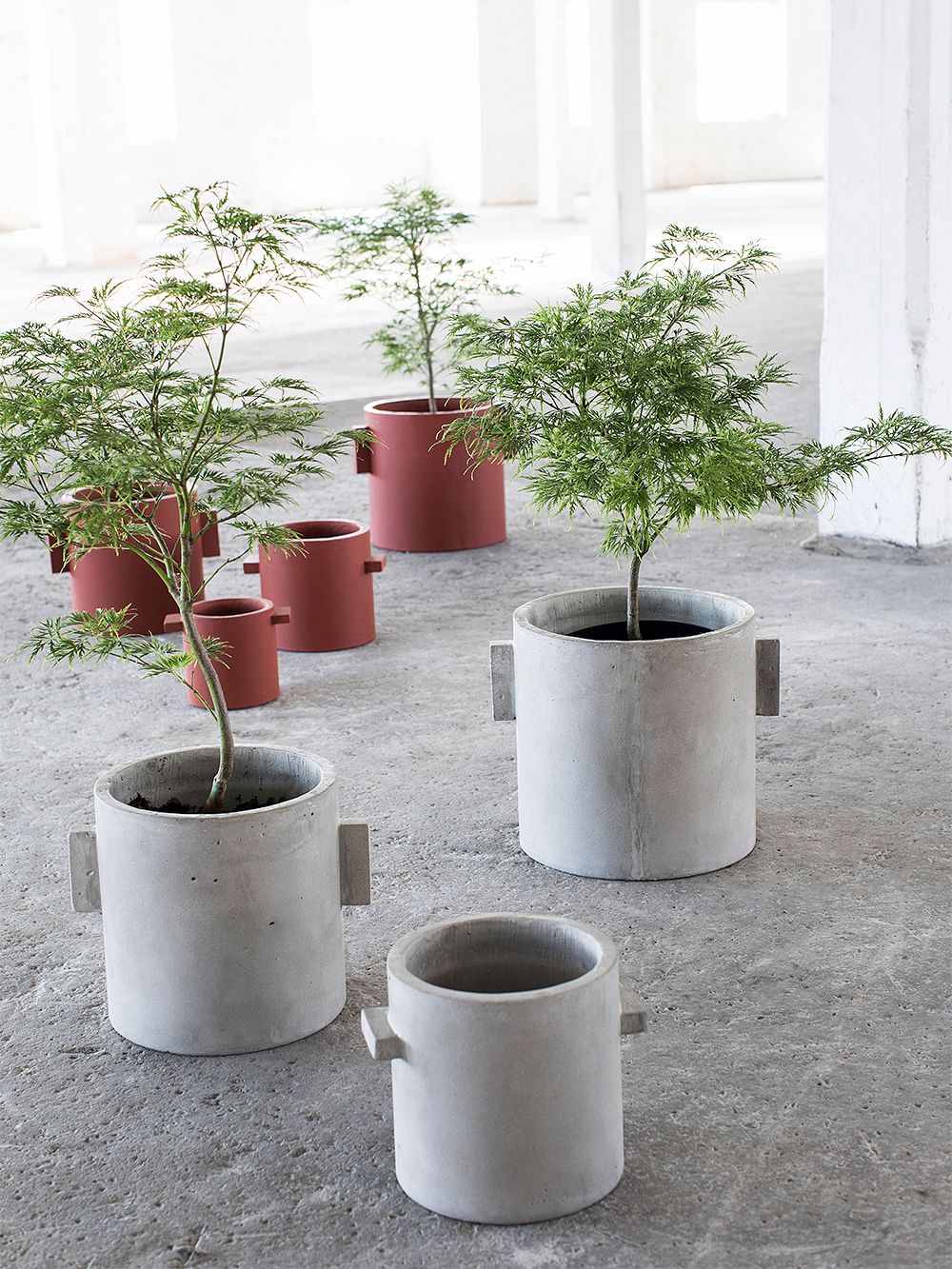 Covered with concrete
If your apartment is lacking the patinated brick walls, air-conditioning pipes, and concrete surfaces of a typical loft home, rough materials can be added with smaller decoration choices. Serax's bulky Concrete pots exude an industrial vibe and spice up your home with a rugged minimalist look. The greenery completes the otherwise rustic impression.
• Serax's Concrete plant pot >
• All indoor gardening >
See also:
• More furniture at Finnish Design Shop >
Text: Sarianna Määttänen Images: Manufacturers