Gaissa tumbler, set of 2 II950024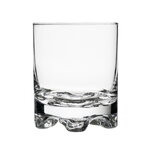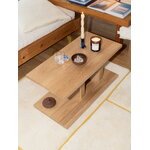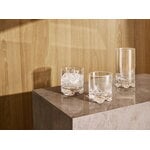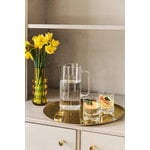 ---
Material

Mouth-blown glass

Colour

Clear

Tapio Wirkkala (1915-1985) can be described as one of the icons of Finnish design and a symbol of the international success of postwar Finnish design. He was a versatile designer and artist who could shift fluently between different materials and crossed established professional boundaries: he worked on everything from refrigerators to banknotes and from furniture to striking jewels. The most important materials for Wirkkala were wood and glass – he never ceased to explore the possibilities they offer.
Tapio Wirkkala studied sculpture at the Helsinki Central School of Industrial Design from 1933 until 1936, but he was also a self-studied artist in many areas, including glass design. His success as a glass artist began in 1946 when he designed one of his most famous works, the Kantarelli vase, for Iittala. Wirkkala gained worldwide success in 1951 at the Milan Triennial, where he received three Grand Prix awards: for the exhibition architecture, glass design and wooden sculptures. Many of his glass works for Iittala were awarded also later in the 1950s at the Milan Triennial. In the years 1951-1954, Wirkkala worked as the artistic director of Helsinki Central School of Industrial Design. In 1955 he received a Pro Finlandia medal and in 1972 the Academy of Finland's honorary title of academician.
The first mass-production glassware range designed by Wirkkala was the Tapio series launched in 1954. The popular Ultima Thule glassware range, created in 1968, was based on the so-called ice glass technique, and the designer himself was involved in developing it at the Iittala glass factory. Wirkkala received also important commissions from abroad: in the mid-1960s he started to design glass objects for Venini Glassworks in Italy, where he created the Bolle bottles for the Venice Biennale collection in 1966. One of Wirkkala's most important commissions abroad was the work at the Rosenthal porcelain factory in Germany: he worked as a freelance designer for Rosenthal for almost 30 years, and the most important result was the Paper Bag vase (1977), still today one of Rosenthal's best selling products.
Tapio Wirkkala was also a furniture designer and a sculptor. He started his career as a sculptor in the 1930s, but abandoned the traditional sculpture in the post-war years – in the early 1950s, alongside with other works, he started to develop an entirely new relationship with sculpture and a new technique to be used. The result was a series of unique plywood sculptures which combined form and movement in the vibrant, densely lineated surface of plywood. Wirkkala's sculptures represented exceptional abstractism and gave Finnish sculpture art a new direction at a time when the official line preferred monuments and heroic sculptures.
View all products
The Product Sustainability Framework, our criteria of sustainable design, helps you find the most sustainable products in our selection. Read below which sustainability criteria this product has met.
Working conditions & labour
8/9
Equal opportunities for all employees

Commitment to UN Global Compact, fair compensation for all employees

Corporate responsibility requirements defined and communicated for suppliers

Systematic work for improved inclusion and well-being in the workplace

Transparent supply chain

Suppliers' compliance to a code of conduct ensured

Compliance to the UN Guiding Principles on Business and Human Rights ensured in the supply chain

Support for community involvement in the supply chain
Direct suppliers audited and certified
Eco-friendly production
7/9
Fair and resource-wise water-use in production

No incineration or landfilling of returned items

No use of endangered species as materials

No direct environmental emissions or waste (excl. GHGs) from production

The sustainability of direct suppliers' production is addressed and monitored

Material-efficient and ecological packaging

Positive impact on nature's well-being through operations that regenerate natural ecosystems
Production and material sourcing that respect biodiversity, animal rights, and natural ecosystems

No potentially harmful chemicals used in own production
Climate impact
5/8
Company's direct greenhouse gas emissions identified and commitment to reduction

Product's carbon impact identified and commitment to reduction

Guidance on energy- and eco-efficient use of the product

Contribution to climate initiatives beyond the brand's direct operations

Low-carbon or compensated transportation
Carbon footprint of the product calculated and goals set to reduce it

100 % renewable energy in own production and operations

Carbon neutral or carbon negative product
Sustainable materials
4/6
Sustainable and long-lasting material choices

No harmful or hazardous substances

Responsible raw material sourcing and production

Ecological materials: natural, biodegradable, recyclable or recycled contents
Materials suited for circularity: monomaterials, recyclable finishings, renewable or recycled contents etc.

Outstanding materials in terms of innovativeness, responsibility, sustainability and circularity: local production or sourcing, 100 % recycled content, C2C-certification etc.
Circular design
4/5
High aesthetic quality promoting long-term use of the product

Technically durable product design and material choices

Design for enduring life-long quality

Innovative circular design solutions: circular service system, resale platform, remanufacturing, collection of used products, etc.
Design and support for product maintenance, repair and upgradability