Uli Budde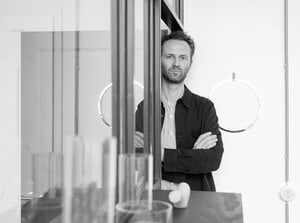 Uli Budde
Berlin-based product designer Uli Budde (b. 1978) started studying at the University of Applied Sciences in Potsdam, Germany, and graduated from the Design Academy, in Eindhoven, Netherlands in 2004. He has worked as a freelance designer for various Dutch studios such as Jongeriuslab/Hella Jongerius, Baukje Trenning and Joost Grootens. He founded Officeoriginair together with the Dutch designer Ivan Kasner in 2005.
Uli Budde and Officeoriginair's work has won various awards such as the Dutch Design Award (Officeoriginair) and the GIO Award (Officeoriginair). In 2010 and 2011 Budde received the Faces of Design Award.
Uli Budde explores the well-known everyday objects, transforming the familiar and usual with new, surprising but functional solutions.
Uli Budde has designed pieces for the following brands: Marset
1 product