Mikko Kärkkäinen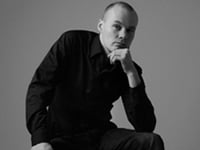 Mikko Kärkkäinen
Mikko Kärkkäinen is a Finnish designer with a training as a carpenter. Kärkkäinen is the founder and main designer of the Finnish design company Tunto Design. Tunto is Finnish for sense or feeling, and physical feel for the material is usually the starting point for Kärkkäinen's designs. Being also a carpenter, he has the needed technical preparation for creating unique objects from scratch. This way, the final product is completely his own creation.
Mikko Kärkkäinen's most famous products are eye-catching LED wooden lamps, which have won prestigious design awards including the Red Dot Design Award and Good Design Award. Kärkkäinen has also been recognized as one of the prominent young European designers in the form of the "Europe 40 under 40" award, and he has received the official Finnish State Award in Design 2015.
Kärkkäinen's products for Tunto Design are known for high quality, fresh designs and innovations. The company aims for the best possible quality and finishing in everything they do, at the same time maintaining an ecological approach in the design and packaging of their products. All their products are handmade with love at their own workshop in Järvenpää, Finland.
Mikko Kärkkäinen has designed pieces for the following brands: Tunto