Lisa Johansson-Pape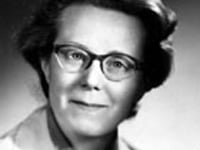 Lisa Johansson-Pape
Lisa Johansson-Pape (1907-1989) graduated as a furniture designer, or as she preferred to say, a furniture drawer, from the Central School of Art and Design (Helsinki) in 1927. After graduation, she worked as a furniture designer at the Kylmäkoski furniture factory. Between 1933-1937 she worked for Friends of Finnish Handicraft as model designer, but also worked as a freelance furniture designer. In 1937, she became Stockmann's office furniture and carpets designer. Her furniture designs were always minimal, concise, and highly functional.
Lisa Johansson-Pape's long career as a lighting designer began in 1942, when she was invited to work at Orno's lamp factory. Johansson-Pape was also one of the founders of Finland's Lighting Engineering Society. In lighting design, one of her principles was that the shape of the lamp is subordinate to the technological function. Her lamp designs for the most part consisted of metal, glass and acrylic.
She also wrote and lectured on lighting design in Japan and was for many years a teacher of Art and Design. Johansson-Pape was also the artistic director of Friends of Finnish Handicrafts from 1951-1985.
Lisa Johansson-Pape Finnish works were represented in many international exhibitions since the 1930s. In the New York World's Fair of 1939, she furnished part of the Finnish department and at the Milan Triennial in 1951 her lamps and light fixtures received a silver medal as well as gold metal at the 1954 Triennial. 
In 1960, she made a private exhibition at Stockmann called Light - glass – Metal and later in 1966 she had a joint exhibition with Dora Jung at the Röhsska Museet in Gothenburg.
Lisa Johansson-Pape has designed pieces for the following brands: Pihlgren ja Ritola