Jenni Rope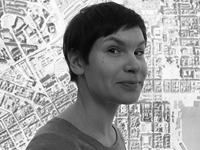 Jenni Rope
Jenni Rope (b. 1977) is a Finnish artist, illustrator and publisher. After studying painting and visual arts in Finland and animation production in UK at the London College of Printing, she graduated in Graphic Design at the University of Arts and Design, Helsinki, in 2002.
Jenni Rope runs Napa Books and Gallery. Jenni co-founded the publishing house Napa Books in 1997 and a few years later Napa Gallery was founded. Napa Gallery is a non-profit gallery space managed by a group of young Finnish artists and curators. Napa's exhibitions change monthly ranging from contemporary illustration and photography to graffiti. The gallery space also hosts the Napa Books shop with a selection of beautiful art books by independent publishers.
Jenni Rope exhibits internationally and she works on many different mediums including drawing, painting, book art, animation and print design. For Marimekko's Autumn/Winter 2011 Collection Jenni Rope has designed two colourful prints, Tilkku and Luola, which have been used by Finnish designer Noora Niinikoski to decorate the dresses she designed for the collection.
Jenni Rope has designed pieces for the following brands: MUM's