Gargano - Cristell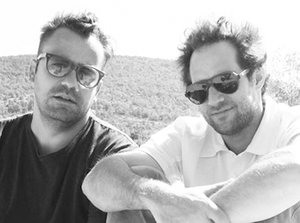 Gargano - Cristell
The Gargano-Cristell duo is a collaboration between two multidiskiplinary artists: American illustrator and designer Anton Cristell (born in 1972) and Italian designer Emanuel Gargano.
After studying in the School of Visual Arts in New York and the School of the Museum of Fine Arts in Boston, Anton Cristell worked as an illustrator and in advertising. In 2001 he moved to Rome and founded his own studio, embracing an even wider range of design from architecture to graphics.
Born in Assisi, Umbria, Emanuel Gargano moved to London after graduating from the Istituto Superiore per le Industrie Artistiche in Urbino – he nowadays splits his time working at his studio in London and his workshop which is still based in his native Umbria, the region that has defined his work in many ways. Gargano has been generously awarded for his talented designs, among others the prestigious Compasso d'Oro in 2016, and his multidiskiplinary competence ranges from architecture and contemporary art to the research of light.
Gargano - Cristell has designed pieces for the following brands: Emu
10 products