Éric de Dormaël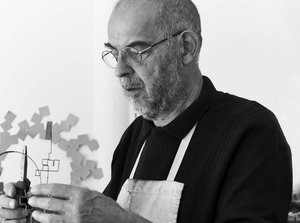 Éric de Dormaël
Éric de Dormaël (born 1951) is a French artist, sculptor and designer known especially for his three-dimensional works of light art. Along with architecture, nature, and artists like Frank Gehry and Fausto Melotti, de Dormaël finds inspiration in the interplay of light and shadow: the sun shining through the blinds, the flicker of candles on the walls, the rays of light reflected from the surface of the water.
De Dormaël, who has loved drawing since he was a child, knew at the age of 13 he wanted to be an artist. Nothing else interested de Dormaël, so he went to study at the l'Ecole Saint-Luc de Tournai in Belgium in 1968, after which he continued his studies at the Atelier Met-de-Penninghen in Paris. Although de Dormaël has always marched to the beat of his own drum and not always agreed with his teachers, his years of study enhanced both his skills and his enthusiasm.
After his studies, de Dormaël worked in a variety of positions in the creative field before finding his own path. He worked, among other things, as a model builder, drawing teacher and photographer – multitalented and rigorous as he is, sometimes simultaneously. He ended up creating light art more or less by chance: when presenting furniture he had designed, de Dormaël often placed small lamps of his own making on top of the pieces. The furniture didn't seem to arouse much interest, but industry professionals were constantly asking him about the small lamps. Since then, his light sculptures have brought de Dormaël high acclaim, and his lighting works have been exhibited in numerous exhibitions and events around the world.
Éric de Dormaël has designed pieces for the following brands: DCWéditions