Marimekko's popular Oiva tableware collection turns 10 this year. We interviewed designers Sami Ruotsalainen and Maija Louekari, who told us how the Oiva dishes and the new Eläköön elämä anniversary pattern were devised.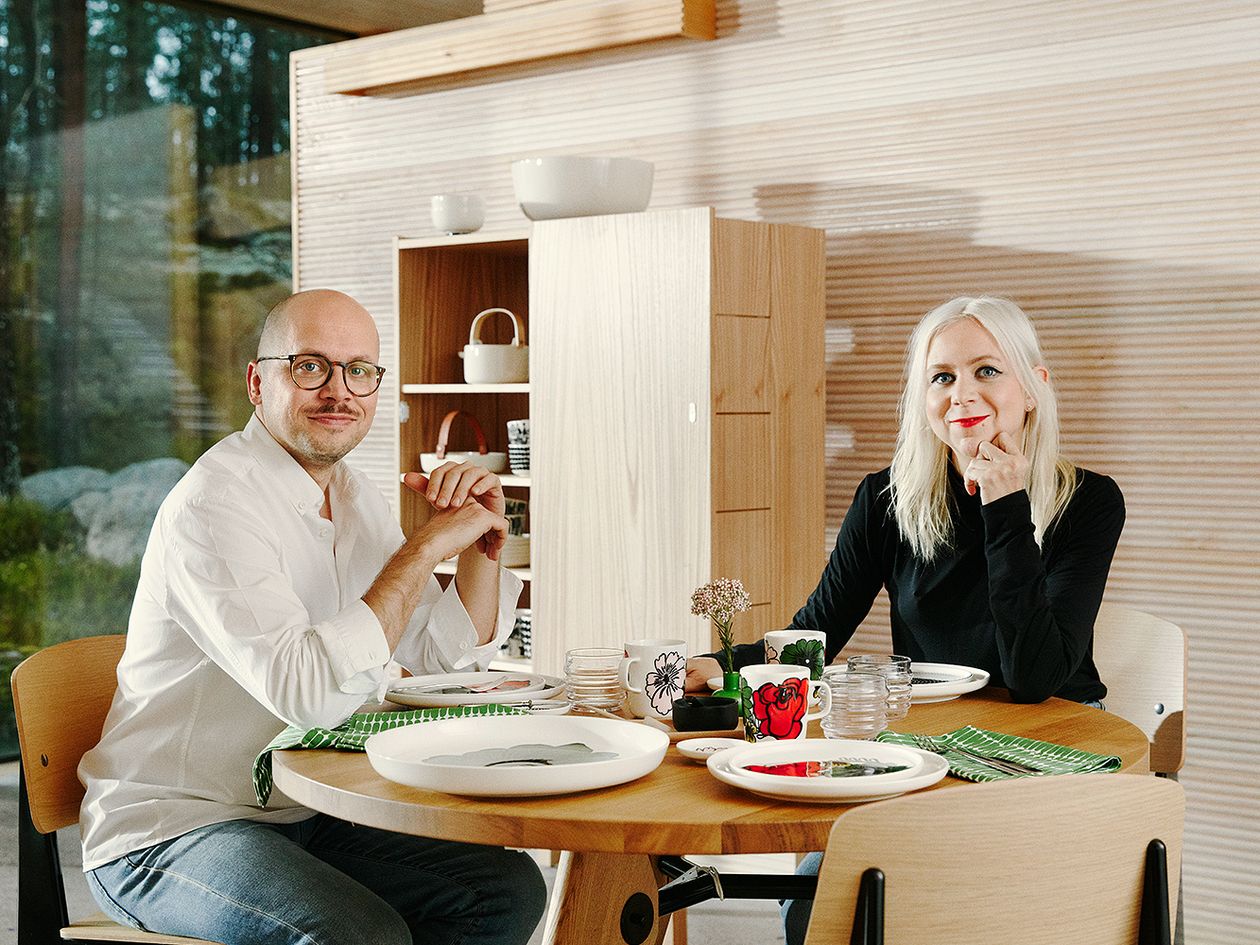 What are the origins of the Oiva dishware design?
Sami Ruotsalainen: "Just over 10 years ago, I was asked to design a tableware collection consisting of 'bowls and mugs for eating and drinking', with a striking design that would go together with Marimekko's bold patterns. I was given a list of words to help me, from which I chose the most evocative terms to guide the design process: honest, relaxed, natural, practical, durable, modern and grounded.
The assignment was a designer's dream – precisely executed but not overly restrictive; we were actually encouraged to think freely and consider how to do things differently, the Marimekko way. I've kept the original brief and still refer to it when developing new items for the dishware collection."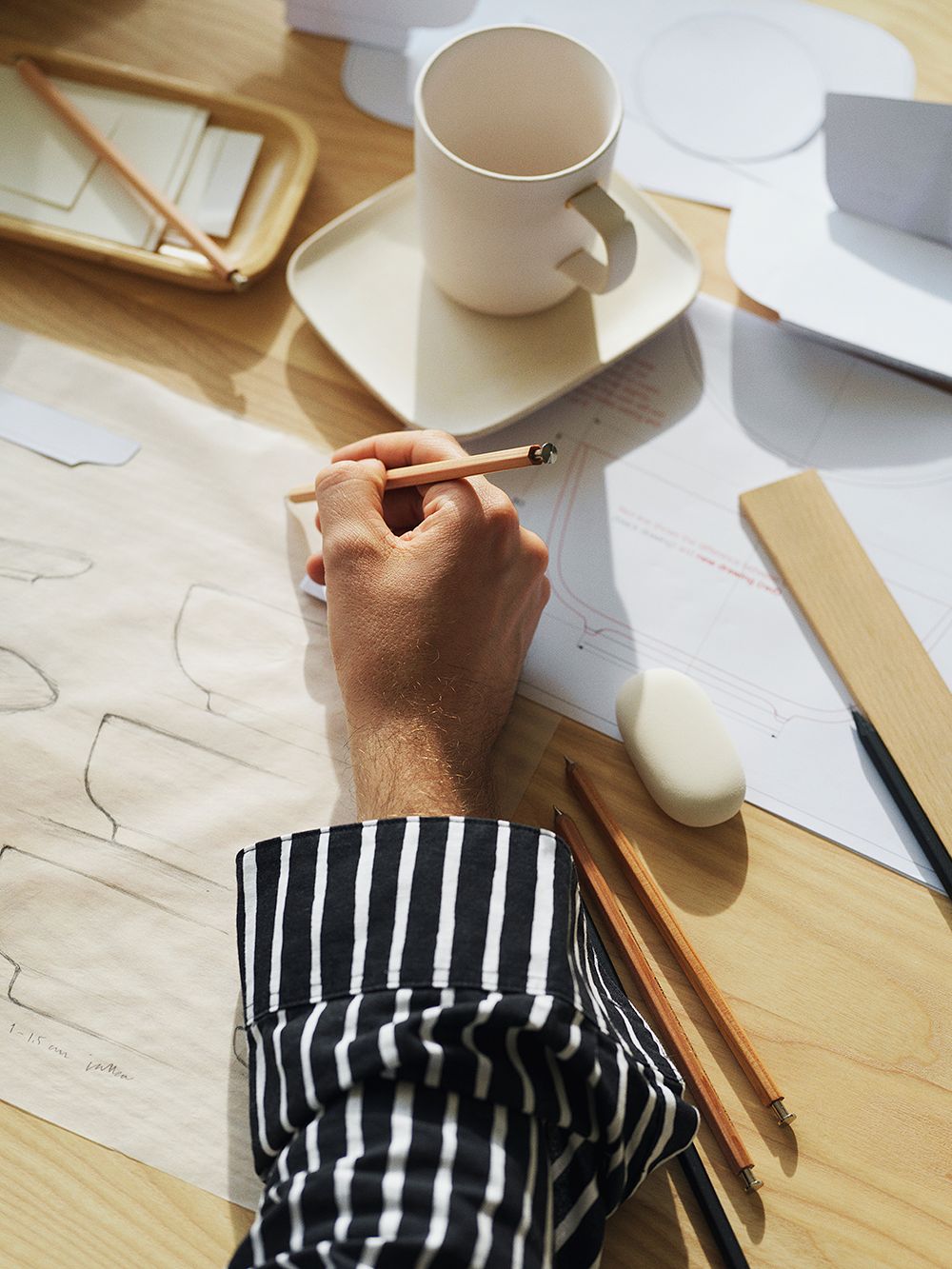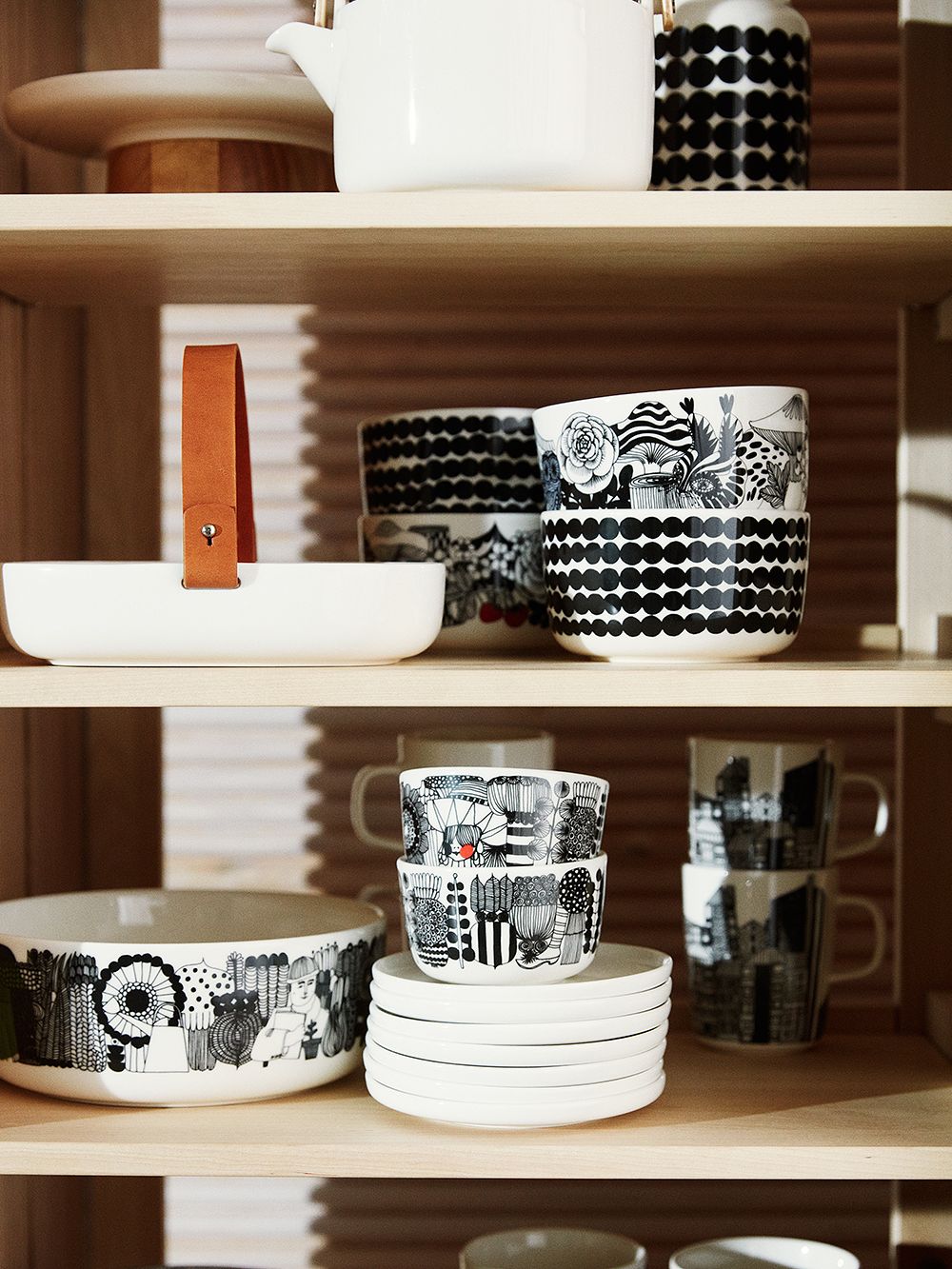 How did the new Eläköön elämä pattern arise?
Maija Louekari: "The Eläköön elämä pattern is a birthday card congratulating the 10-year-old Oiva dishware collection and Siirtolapuutarha pattern. Eläköön elämä (Long live life!) lives up to its name by depicting the joy of life in the 'you only live once' spirit. In my most recent work, painting has felt like an activity whose time has come – I've taken up the brush in a relaxed frame of mind and painted the same motifs that I once drew. Eläköön elämä, too, is a painted pattern."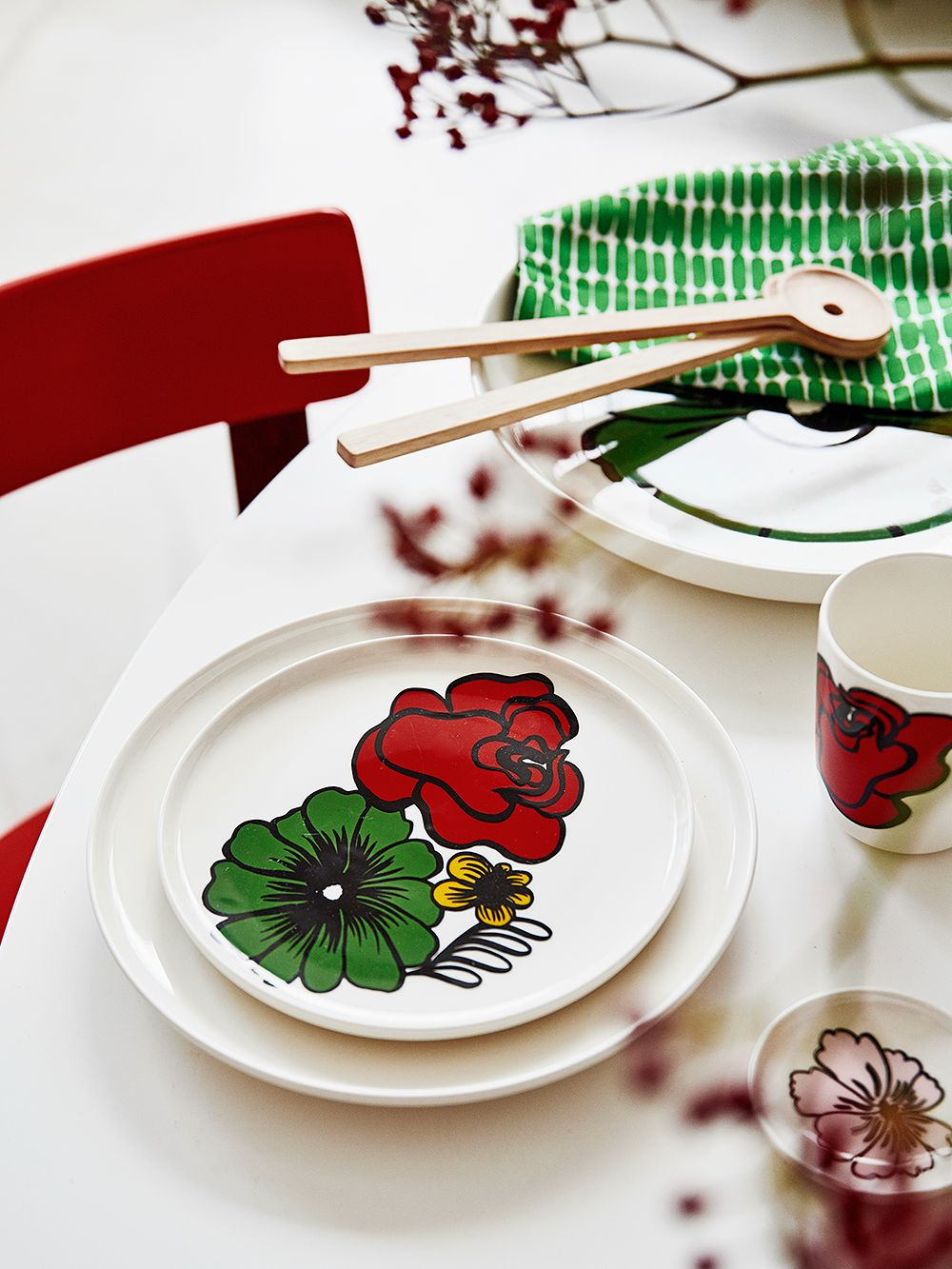 "The Eläköön elämä pattern is a birthday card congratulating the 10-year-old Oiva dishware collection and Siirtolapuutarha pattern."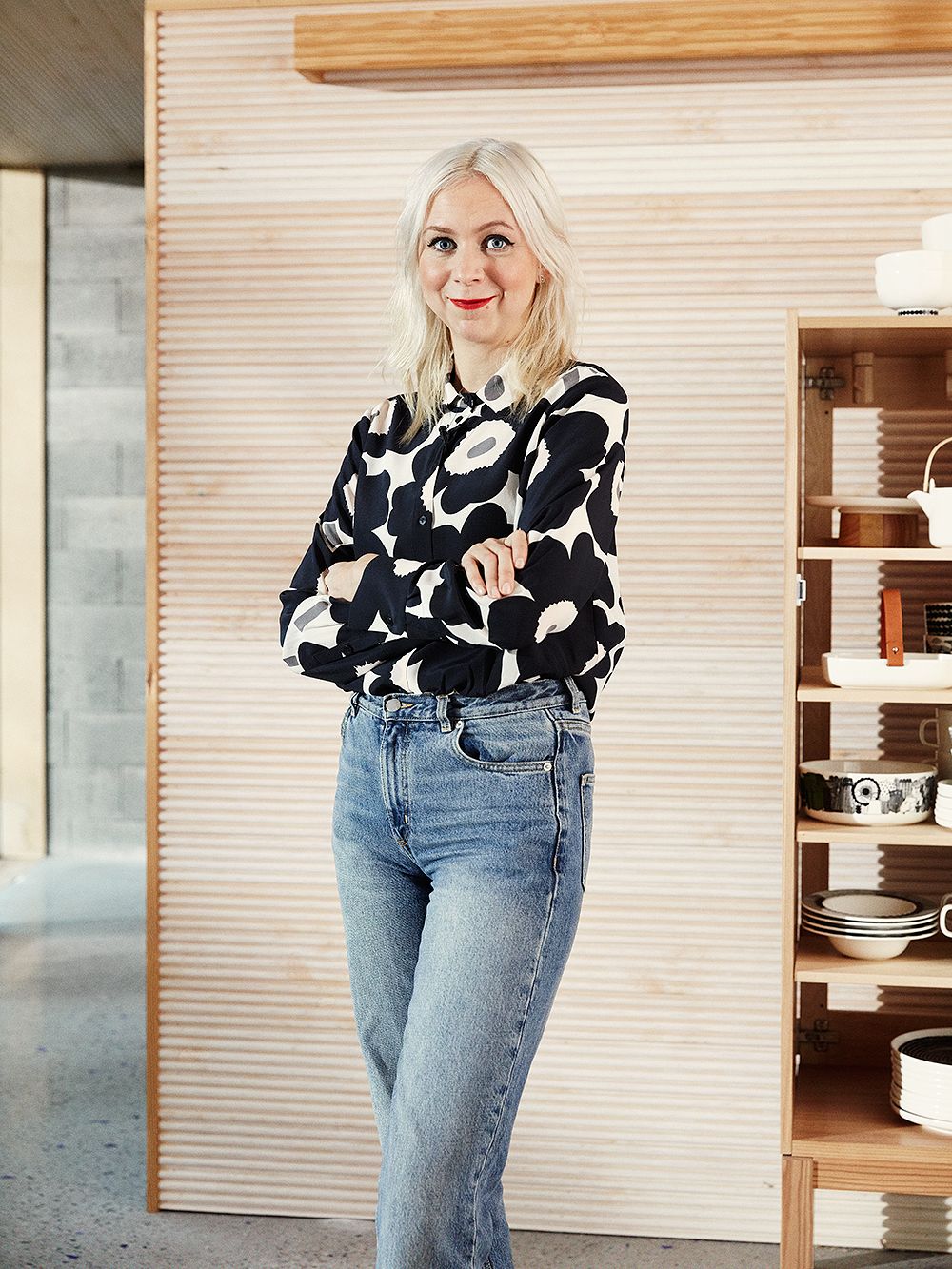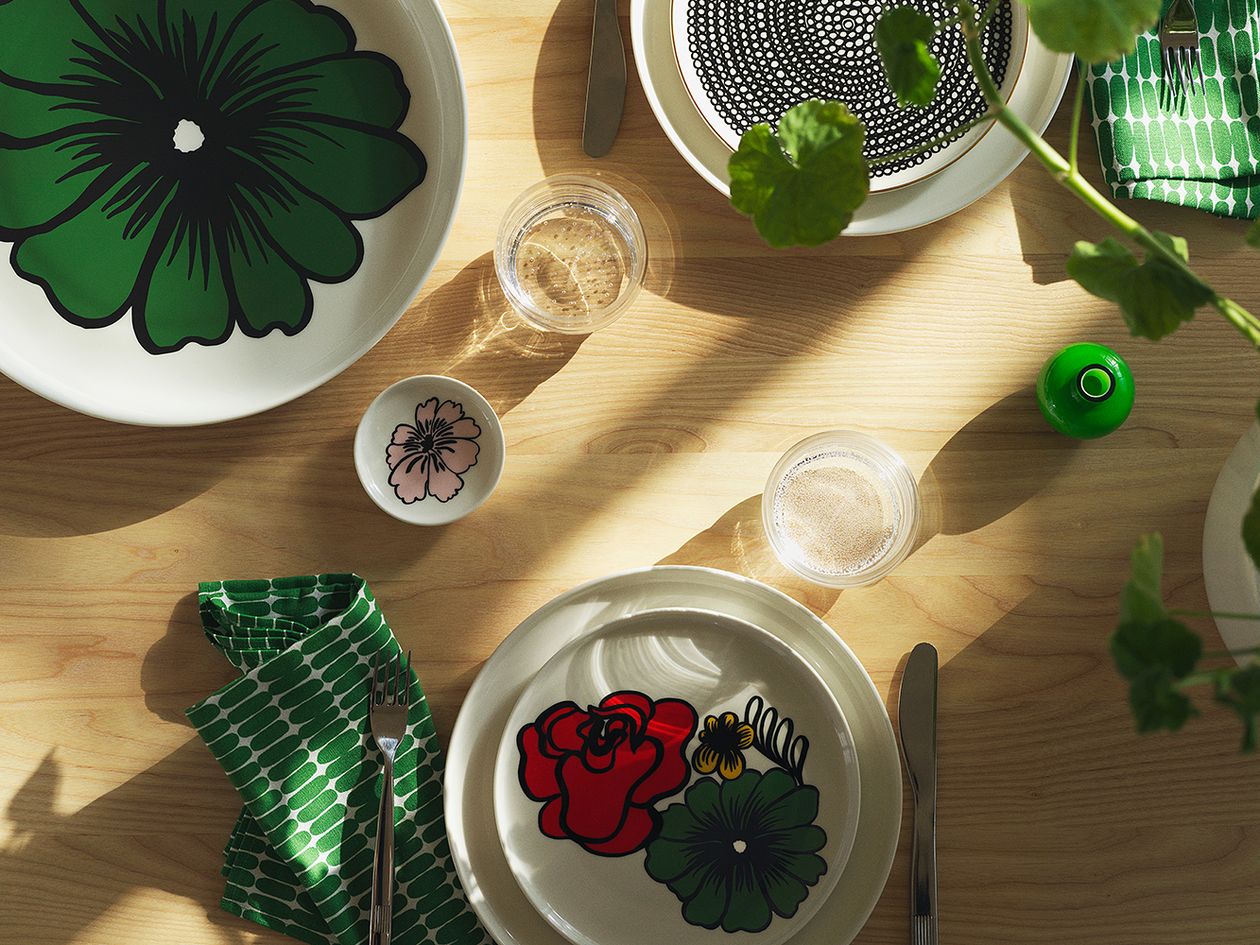 The 10-year-old Oiva has achieved international success. What makes it of global interest?
Sami: "There is almost certainly no single answer to this question, the key lies in a combination of several factors. Oiva makes a strong statement of its own, despite its straightforward design. Its timeless and practical character is suitable for a wide range of cultures. Of course, for both Oiva and Marimekko, the relationship between the dishware's design and pattern is important – at their best, they reinforce each other. Design classics seem to combine a good design that promotes everyday convenience with universality, timelessness and a strong persona differentiating the object."
Oiva seeks to challenge common table-setting traditions. What kinds of changes have occurred in this regard over the last 10 years?
Sami: "I think that table-setting customs and rules have become more relaxed in the last decade. People are less fussy about which element is used for what, and items from different collections can be combined to form new wholes. New and old, well-loved items acquire new dimensions when set side-by-side.
The change is reflected in the globalization of national cultures as well as changes in local food culture: a different dish is needed for sushi than for Finnish home cooking, which also sets requirements for the table setting. New, enjoyable ways of using dishware arise when cultures meet. There is no 'correct' way to set a table.
For me, the most pleasing development is the effort invested in table settings and the desire to make them beautiful. The keywords summing up the 10 years of change are perhaps diversification, effort and boldness."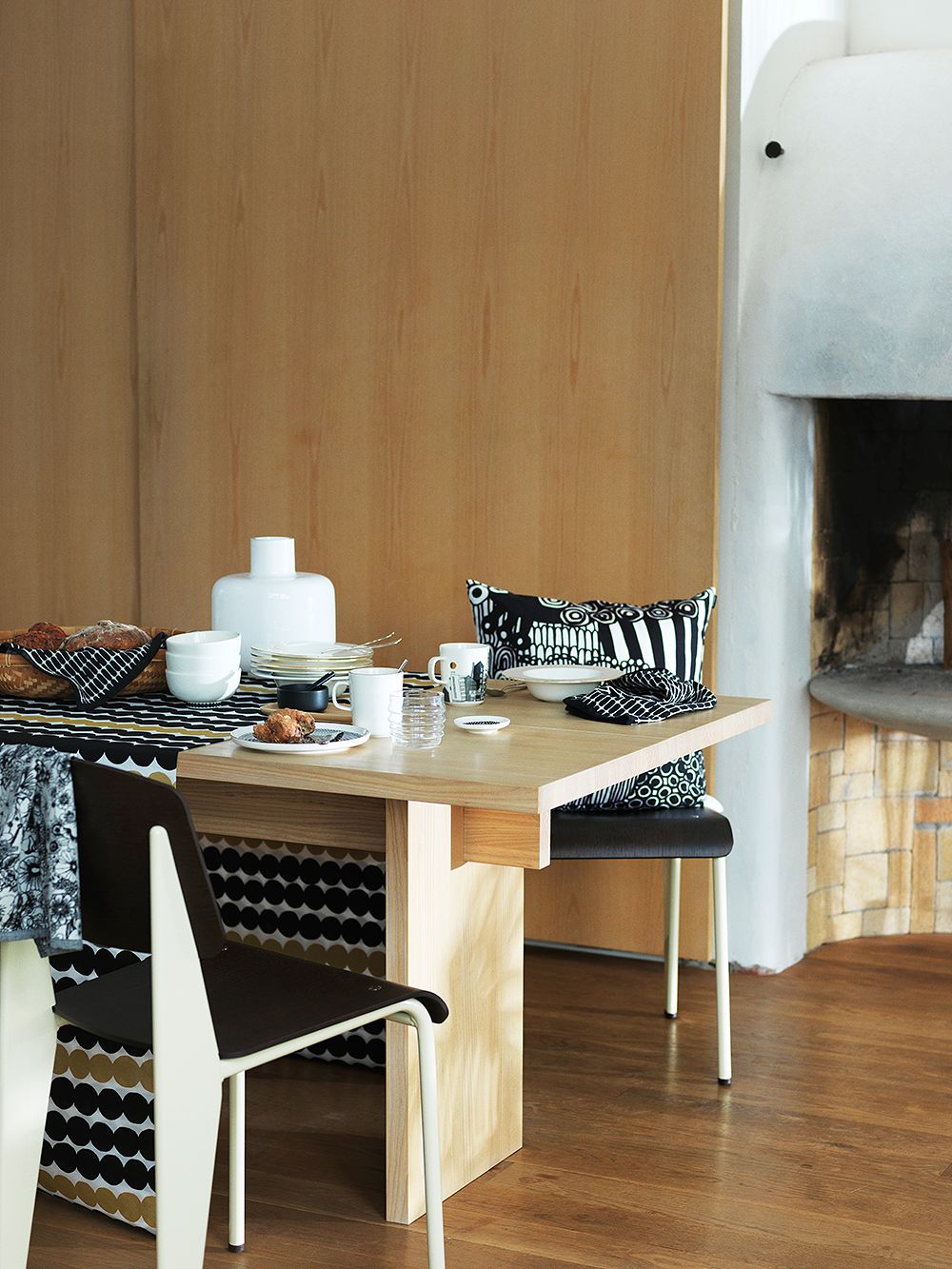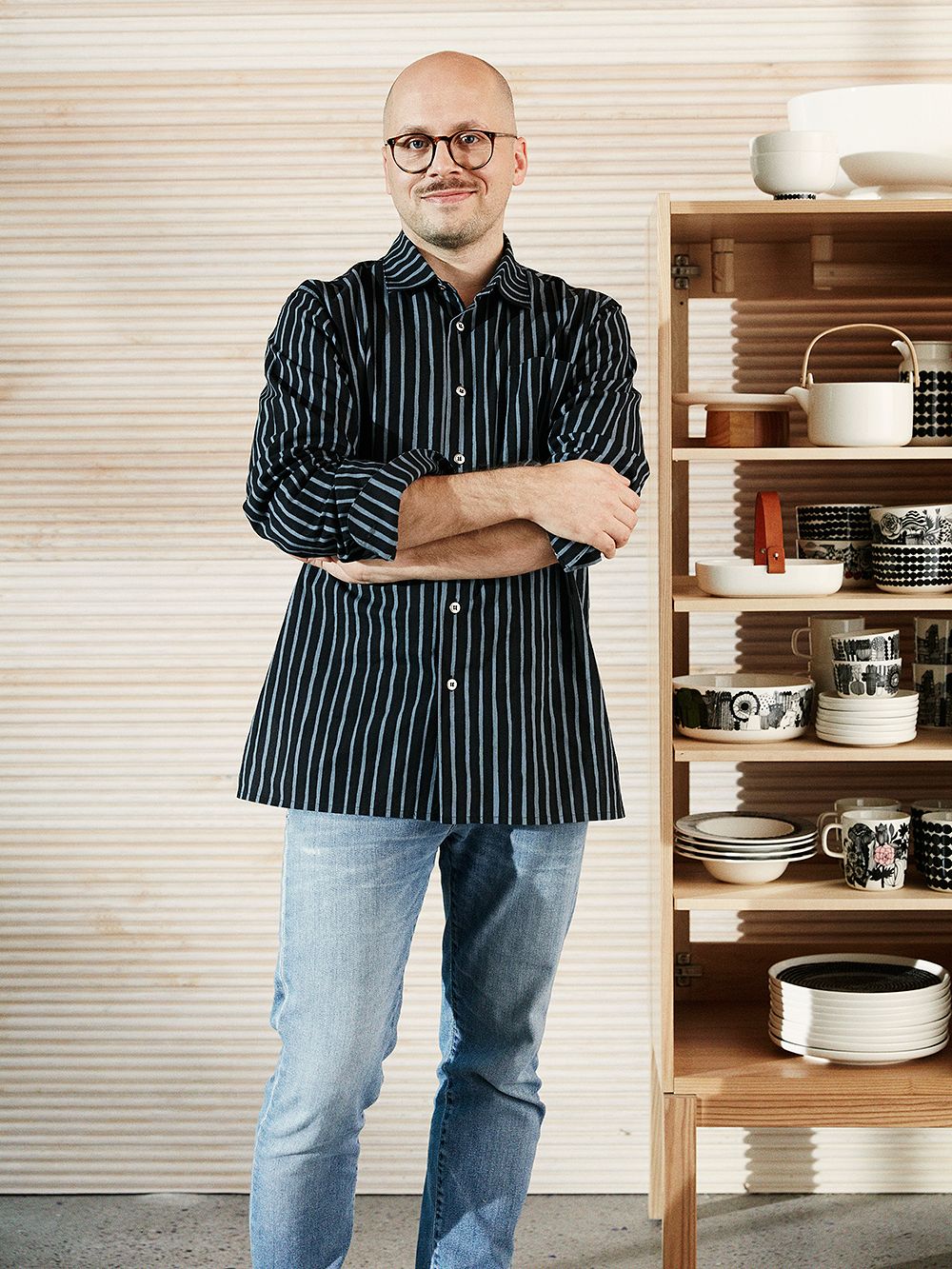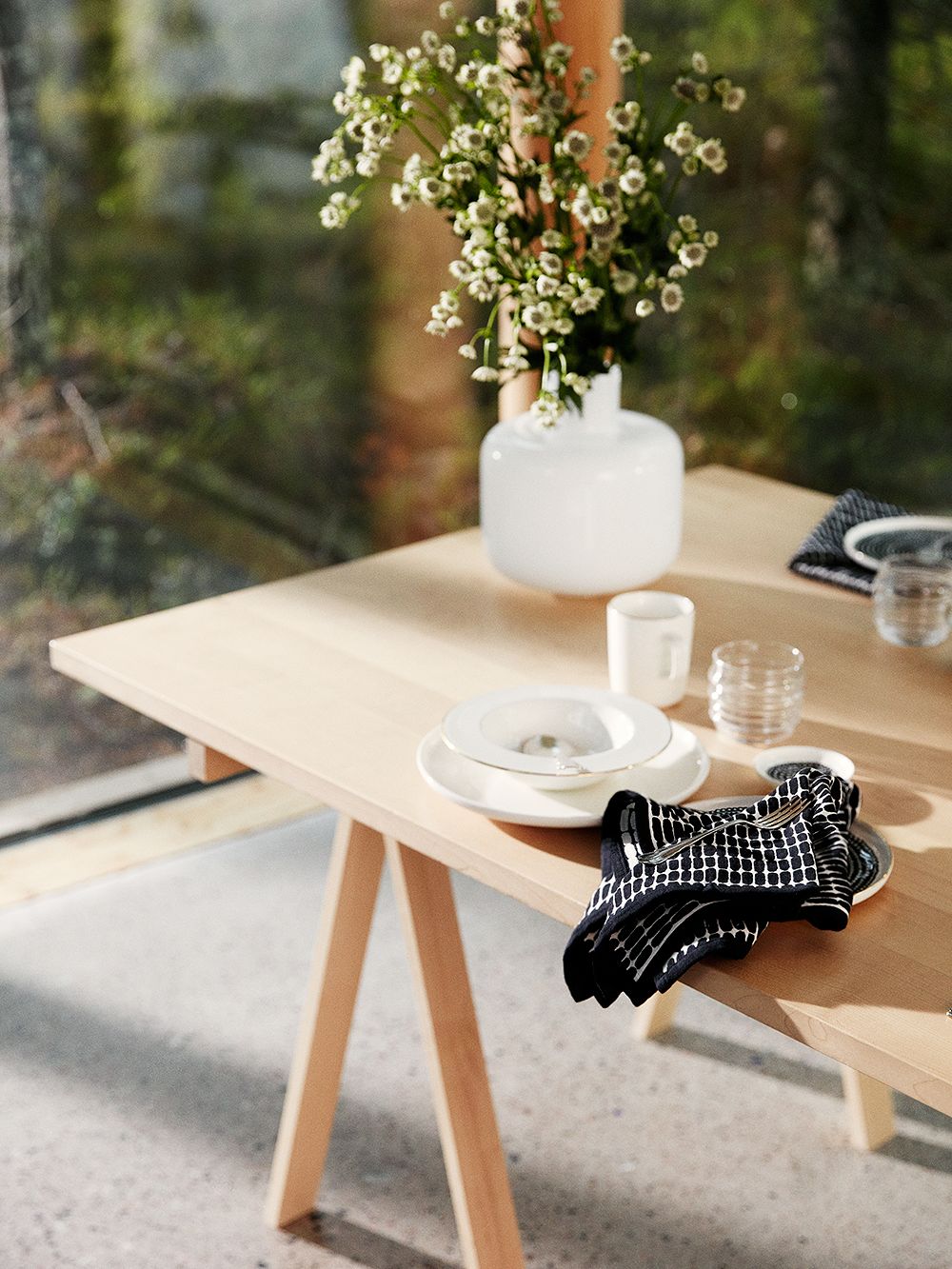 What is your most trusty dishware at home?
Sami: "This changes with the seasons. I make choices intuitively, according to the occasion. Both my spouse and I make daily use of our Oiva teacups and teapot. In addition, a few inherited dishes often appear on the table, combined with newer items. Vases are another important part of a setting. We have been using an Urna vase, by Carina Seth Andersson, ever since the item was launched."
Maija: "My clear favourite is the Oiva mug with the Siirtolapuutarha pattern. I identify with the lady in the hat who is observing the garden flowers. I use the mug every morning. My most-used dishes also include small Oiva bowls, which are perfect for children and serving desserts."
How do you set a table for a special occasion?
Sami: "The key issue is not a perfect 12-piece set of dishes, but making the effort to do a little planning and choose dishware and other elements that go well together. Flowers and a beautiful tablecloth with matching napkins work wonders. A celebration is ultimately the sum of its guests and the atmosphere, which a beautiful table setting helps to create."
"The essential elements in a party table setting are the flowers and sprigs – you can never have too many flowers!"
Maija: "The essential elements in a party table setting are the flowers and sprigs – you can never have too many flowers! A tablecloth is also part of a celebratory table. I lit candles whenever possible, even on working days: candlelight creates a cozy atmosphere during a quick breakfast."
Which Marimekko pattern would you like to see included in the Oiva collection?
Sami: "Annika Rimala's Jokeri and Keidas patterns, and Maija Isola's patterns designed for the Luonto collection."
What inspires you at the moment?
Maija: "The light in late winter, I've been missing the sun so terribly! In addition, space is always an inspiration."
Sami: "Inspiration can be found in many places. From year to year, I am inspired by colors, their wonderful and even quirky combinations. I am also interested in the study of traditional handicraft techniques and exploring their potential use in modern settings. Another source of inspiration lies in flowers and plants, and taking care of them."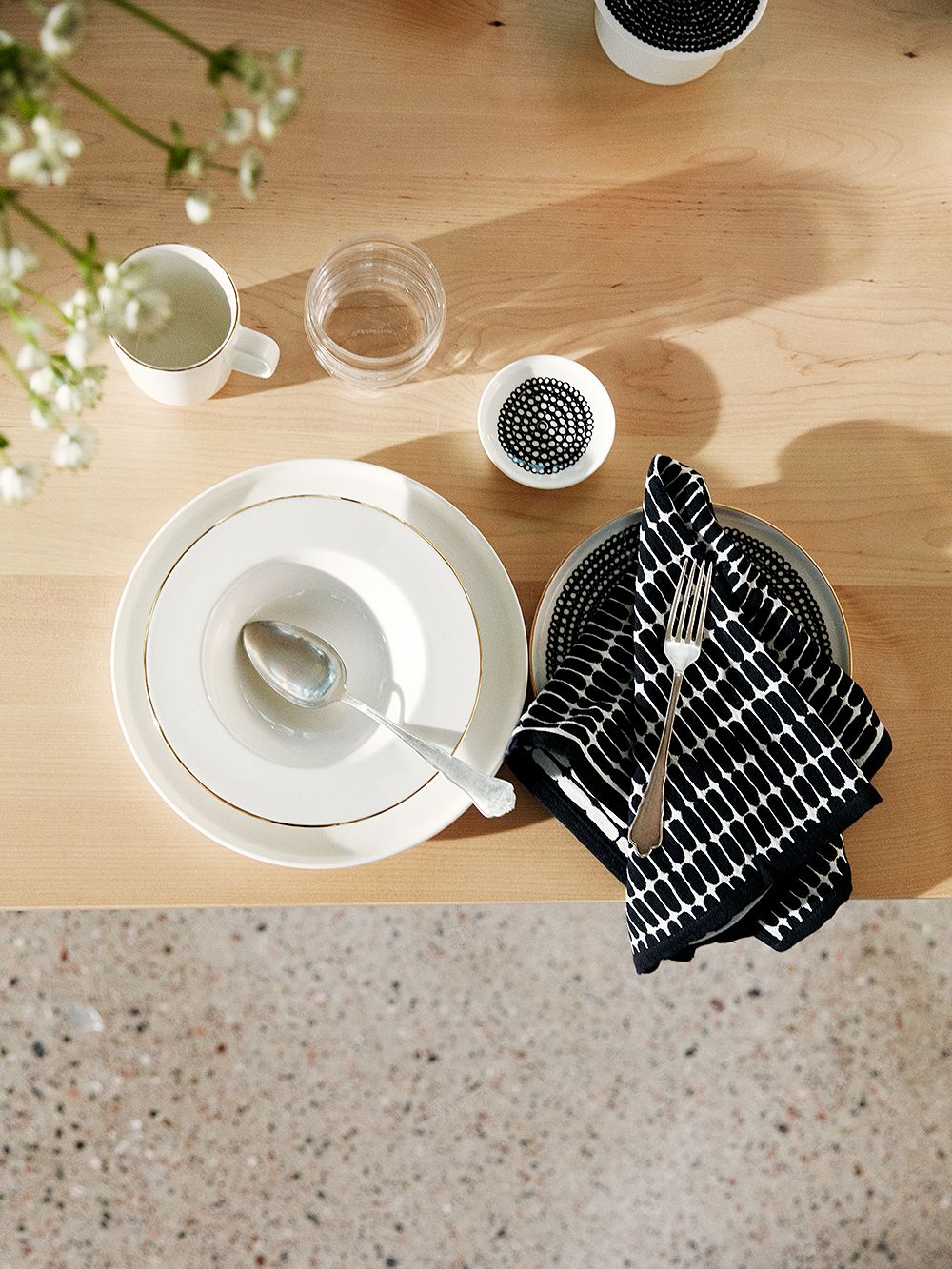 Describe each other as workmates!
Maija: "Sami and I always have fun together! Almost too much, lots of fun. We have the same sense of humor and egg each other on. I really appreciate the hard work Sami put into the Oiva collection: the beautiful forms and dimensions of the dishes. Sami is insanely good at his job! The new sizes in the Oiva collection are inventive and work well."
Sami: "Maija's talent for combining form and pattern has impressed me from the very beginning. Ever since the design for the first Oiva patterns, I have admired Maija's way of exploring objects and their form, while designing a pattern in such a way that the form and pattern amplify each other. Maija is always a cheerful and positive workmate who is bursting with ideas. The best ideas are always devised together – particularly with Maija, whose imagination knows no limits."
See also:
• All Marimekko's products >
• Sami Ruotsalainen's designs >
• Maija Louekari's designs >
Editing: Mikko Vaija and Laura Hallikainen Video and images: Marimekko