Ilkka Suppanen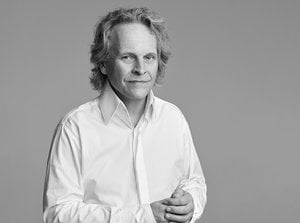 Ilkka Suppanen
Ilkka Suppanen (born 1968) is a renowned Finnish designer and architect. He studied architecture at the Helsinki University of Technology and interior architecture and furniture design at the University of Arts and Design and completed his design studies at the Rietveld Academy, Amsterdam, in 1992. In 1995 he founded his design agency Studio Suppanen, which has provided strategic and integrated design services for international clients like Artek, Axis, Cappellini, Ferlea, Leucos, Lucente, Nokia, Zanotta, Marimekko, Saab Automobiles and many others.
In 1997, Ilkka Suppanen and his colleagues established the Snowcrash design collective, which received the Young Designer of the Year Award in Germany the same year – Snowcrash is considered one of the most prominent Finnish design groups of its era. Since then, Suppanen has been awarded with several other prestigious awards, including the Bruno Mathsson Award in 2006, Red Dot Best of the Best Award in 2012, the Söderberg Award in 2015 as well as the Finnish Kaj Franck Award in 2020, to name a few. He has also received the Good Design Award in 2008, 2017 and 2018.
In his work, Ilkka Suppanen emphasizes the added value design brings to the whole production chain from end-user requirements to finished products. Suppanen values long term projects that encompass innovation, as his interest in production techniques and using different materials is always present in his work. Suppanen's expression is airy and forward-looking, but sustains with pride the classic Scandinavian design heritage. His designs are innovative and functional and at the same time have a strong aesthetic identity.
Ilkka Suppanen's most famous designs include the Twiggy table for Woodnotes, the Everyday Holy mug created for Muuto, the Rosebud chair designed for Vivero and the Iittala Fireplace for which he received the prestigious Finnish Fennia Prize in 2009. Ilkka Suppanen's work has been on display around the world in places like the Venice biennials, Milan Furniture Fair and MoMA in New York. His design works have been selected for the permanent collections of several major museums, including the Stedelijk Museum in Amsterdam and the Museum of Applied Art in Cologne.
Ilkka Suppanen has designed pieces for the following brands: Iittala, Woodnotes, Tikau