Verner Panton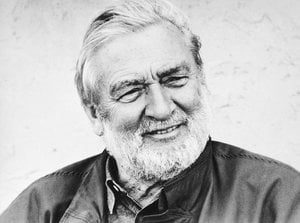 Verner Panton
Verner Panton (1926-1998) is considered one of Denmark's most influential furniture and interior designers in the 20th century. Panton's works are represented in numerous museums worldwide, and he was awarded several prestigious design awards. He was a unique designer with a special sense of colour, shape, light function and space.
Panton was trained as an architectural engineer in Odense and after that he studied architecture at the Royal Danish Academy of Art in Copenhagen, graduating in 1951. During his career, he created innovative and futuristic designs in a variety of materials, especially plastics, often using very vibrant colours. Panton also introduced a series of modern lamps with personalities unlike any of his Scandinavian contemporaries. The Panthella lamp, created in 1971, is one of the most famous luminaires by Panton.
Panton was also famous for his inspirational and colourful personality. "The main purpose of my work is to provoke people into using their imagination. Most people spend their lives living in dreary, grey-beige conformity, mortally afraid of using colours. By experimenting with lighting, colours, textiles and furniture and utilizing the latest technologies, I try to show new ways, to encourage people to use their imagination and make their surroundings more exciting," Panton commented on his designs.
Verner Panton has designed pieces for the following brands: Louis Poulsen, &Tradition, Vitra, Verpan, Montana Furniture
223 products