Erja Hirvi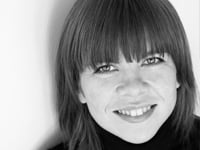 Erja Hirvi
Erja Hirvi (born 1968) is a Helsinki-based textile and print designer. Considered one of the most renowned Finnish print designers of her generation, Hirvi has had a long and productive career collaborating with the likes of Marimekko and Samuji.
Erja Hirvi began working with print fabrics even before graduating from University of Art and Design Helsinki in 1997, and she is perhaps best known for her print designs for Marimekko, like Lumimarja, Keisarinna, Kaakaopuu and Purnukka. In addition to printed textiles, her understated and often playful patterns have appeared on paper products, interior accessories and woven textiles.
The main source of inspiration for Erja Hirvi is nature as a whole, all that it contains and brings forth. Alongside nature-inspired motifs, her work is often characterised by strong visuals and a multifaceted use of colours. In 2021, Hirvi was selected as Textile designer of the Year by The Finnish Association of Textile Artists TEXO.
Erja Hirvi has designed pieces for the following brands: Marimekko, Tikau