Annika Rimala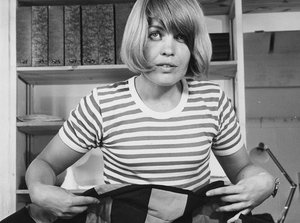 Annika Rimala
Annika Rimala (1936–2014) was a Finnish designer who is known best for her work for Marimekko. Rimala worked for Marimekko between 1960 and 1982. Personality and humor are combined with durability and practicality in her design work.
Rimala wanted to make timeless and comfortable clothes for alls ages and all sizes. She created the first tricot clothes for Marimekko, the Tasaraita collection, in 1968. Other well-known fabrics Rimala designed for Marimekko are Pallo, Hedelmäkori, Puketti, Petrooli, Tarha and Viiriäinen.
After retiring from Marimekko in 1982 Annika Rimala continued working with her husband Ilkka Rimala and the graphic designer Teemu Lipasti in their own company named Santtu. Since 1969 until 1988 she also worked as a designer for Kaunis Koru. Rimala's work has been exhibited around the world in museums and exhibitions and her work has been recognised with a Pro Finlandia medal in 1997 and the State Design Prize in 1974.
Annika Rimala has designed pieces for the following brands: Marimekko