Tapio goblet, set of 2II950051
Description
Tapio glasses were designed by Tapio Wirkkala in 1952. Using his mastery in glass-blowing methods, he captured a single air bubble inside the stem of the glass. The bubble now represents his unique, distinctive style, which has become Tapio Wirkkala's trademark.
Tapio goblet, set of 2
---
Material

Mouth-blown glass

Colour

Clear
Height

16.8 cm

Capacity

30 cl

Care instructions

Wash by hand
How can we help you?
Contact our Customer Service:
Chat: click the bar in the lower right corner of the page
Email : info@finnishdesignshop.com
Tel: +358 20 743 2530
(Mon–Fri 9:00–22:00,
Sat–Sun 10:00–18:00 EET)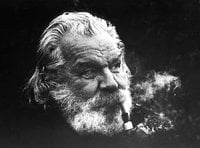 Tapio Wirkkala (1915-1985) can be described as one of the icons of Finnish design and a symbol of the international success of postwar Finnish design. He was a versatile designer and artist who could shift fluently between different materials and crossed established professional boundaries: he worked on everything from refrigerators to banknotes and from furniture to striking jewels. The most important materials for Wirkkala were wood and glass – he never ceased to explore the possibilities they offer.
Tapio Wirkkala studied sculpture at the Helsinki Central School of Industrial Design from 1933 until 1936, but he was also a self-studied artist in many areas, including glass design. His success as a glass artist began in 1946 when he designed one of his most famous works, the Kantarelli vase, for Iittala. Wirkkala gained worldwide success in 1951 at the Milan Triennial, where he received three Grand Prix awards: for the exhibition architecture, glass design and wooden sculptures. Many of his glass works for Iittala were awarded also later in the 1950s at the Milan Triennial. In the years 1951-1954, Wirkkala worked as the artistic director of Helsinki Central School of Industrial Design. In 1955 he received a Pro Finlandia medal and in 1972 the Academy of Finland's honorary title of academician.
The first mass-production glassware range designed by Wirkkala was the Tapio series launched in 1954. The popular Ultima Thule glassware range, created in 1968, was based on the so-called ice glass technique, and the designer himself was involved in developing it at the Iittala glass factory. Wirkkala received also important commissions from abroad: in the mid-1960s he started to design glass objects for Venini Glassworks in Italy, where he created the Bolle bottles for the Venice Biennale collection in 1966. One of Wirkkala's most important commissions abroad was the work at the Rosenthal porcelain factory in Germany: he worked as a freelance designer for Rosenthal for almost 30 years, and the most important result was the Paper Bag vase (1977), still today one of Rosenthal's best selling products.
Tapio Wirkkala was also a furniture designer and a sculptor. He started his career as a sculptor in the 1930s, but abandoned the traditional sculpture in the post-war years – in the early 1950s, alongside with other works, he started to develop an entirely new relationship with sculpture and a new technique to be used. The result was a series of unique plywood sculptures which combined form and movement in the vibrant, densely lineated surface of plywood. Wirkkala's sculptures represented exceptional abstractism and gave Finnish sculpture art a new direction at a time when the official line preferred monuments and heroic sculptures.
View all products
---
Reviews from our community
Google reviews
Loved by design friends
Our hearts beat for providing the best shopping experience, with Pieces of Nordic Happiness that deliver on their promise! Don't just take our word for it – see what our shoppers have to say. The reviewers' purchases have not been verified. Read all Google reviews
"I love this shop. All of my purchases have felt like a slice of Nordic happiness. Customer service is responsive and shipping is prompt. So nice to shop where I feel like a valued customer."
Louise G.
"Amazing products, beautiful website, speedy and secure postage worldwide... what's not to love? Nothing cheap here, that's for sure, but this is perfect for special treats, and there's IKEA for the rest! ;)"
Alexandra S.
"Both my purchases were excellent quality, priced at a very reasonable level and delivered in a matter of days despite me being the other side of the World. There is simply no way to describe that kind of a Company except amazingly good."
John M.
"Finnish Design Shop is the first place I go to furnish and decorate my newly renovated house, thanks to their beautiful, high-quality products and their excellent customer service."
Margaret G.
"I've bought at Finnish Design Shop many times over the years and I have always been extremely satisfied. Love their range of products (from classics to new awe-inspiring designs). Moreover they have very nice and helpful support team so I would always recommend!"
Maria Garcia C.
"I ordered a HAY side table that was on back order everywhere else. It was a few hundred crowns more at Finnish Design Shop, but shipped the next day and was delivered to my door two days later, which I think was worth the extra cost. It came well-packaged, protected and the item is in perfect condition. I'm happy and would shop here again."
Natasha B.
"This is my fifth time shopping at Finnish design. Absolutely satisfied and happy with products and shopping experience. In looove with each item ❤️ Thank you for making my home cosy and beautiful."
Danijela D.
"Fast delivery. Ordered a hammock for my mothers birthday to be delivered at her adress. It's in a somewhat rural area, but it was delivered at her door regardless. Great service."
Lillian R.
"My Pieces of Nordic Happiness exceeded my expectations in every way. From a great website to beautiful design to meticulous packaging, you have never left my Happiness in Pieces! Customer Service is responsive, pleasant and helpful - the 5th star in my rating."
Lidia M.
"Finally a store with quality designed products available for shipment within days not weeks. Customer support is superb, great product portfolio, fast shipment."
Maciej P.
"I'm crazy for the Finnish Design Shop, and all that I've bought from them. And when questions arose (regarding a bookshelf that needed clever assembly), their representatives in Finland were so helpful and thoughtful."
Stacy C.
"We purchased a Hay Snowden Kettle from the Finnish Design Shop - unfortunately there was a fault with the Kettle but this was professionally and quickly dealt with by the Olli on the After Sales team, so we can recommend them for their great customer service and after-sales experience."
Conor P.
"Very good service. Unfortunately some plates were broken. Finnish design shop quickly responds and sends us new ones. That's how service should be."
Maarten J.
"First time shopping with Finnish Design Shop and I had a real easy, smooth experience. I had one return item and that was handled effortlessly."
Scott C.