Klaus Haapaniemi & Co.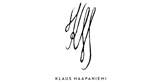 Klaus Haapaniemi & Co.
Klaus Haapaniemi is a new home and fashion textiles brand launched by Klaus Haapaniemi and Mia Wallenius in November 2010. Together their aim is to create lasting textile products in pure and luxurious materials combining traditional weaving techniques with modern prints and sophisticated colours.
Mia Wallenius has worked extensively in fashion as an Art Director and concept designer; additionally she has also worked as a designer for cultural institutions and most recently created the Hel Yes! Pop-up Finnish restaurant in London, along with her partner Klaus Haapaniemi. Klaus Haapaniemi is currently one of Britain's leading Fashion illustrators working with big brands that include Iittala, Cacharel, Sony and Marimekko. His work ranges from design to illustration and challenges the boundaries perceived between them.
Nature and fairy tales inspire the Klaus Haapaniemi textile range; the patterns follow traditions of decorative arts but are modern in style and execution. The finest natural materials combined with these unique patterns create a truly luxurious collection. The wool yarns have been hand dyed and loomed, the silks and the linen fabrics are hand printed and the collection is completed with modern and polished finishing.
This brand has collaborated with: Klaus Haapaniemi
53 products