Tuula Pöyhönen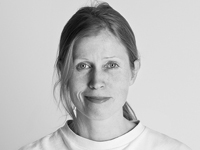 Tuula Pöyhönen
Tuula Pöyhönen is a Finnish fashion designer who is the founder of the brand Onni. Onni is located in a former knitting factory in Helsinki. The factory was turned into loft apartments and Tuula Pöyhönen lives in one of them with her family. Her home is also the studio where she designs Onni's products and it serves also as a shop.
Thanks to this original idea, Tuula can combine design work and shop-keeping just like the clothiers, shoemakers and other similar professionals did in the olden times. Onni collection consists of clothes, shoes and accessories all designed by Tuula Pöyhönen. The collection doesn't change entirely every season – some pieces are present during several seasons with some variations.
Tuula Pöyhönen's varied history as a designer has included young fashion and jeans design, furniture and textile home collections, uniforms, styling and writing, wearability accessories, and visual merchandise for companies in Finland and abroad: M.A.S.I Lee Cooper, Stockmann department store, L-Fashion Group Luhta Home, Rukka, Skanno, Nokia, Image Publishing, ELLE Deco Japan, Kwintet Hejco, Taivas, Sek&Grey, and Studio Suppanen.
The ONNI collection represents one culmination of this deep and broad experience, as the expression of a vision of a private fashion collection. In 2010 Onni took part in the event "Straightforward - New Finnish Design", which was held in New York and presented new Finnish design.