We ship worldwide to over 180 countries! Fast and safe shipping Free shipping for all orders over 150 €
We ship worldwide to over 180 countries! Fast and safe shipping Worldwide shipping starting from 7,90 €
We ship worldwide to over 180 countries! Fast and safe shipping Free shipping for all orders over 150 €
We ship worldwide to over 180 countries! Fast and safe shipping Worldwide shipping starting from 7,90 €
Tiia Vanhatapio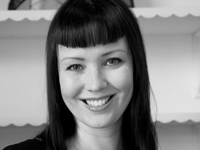 Tiia Vanhatapio
Tiia Vanhatapio (b. 1969) is a famous Finnish fashion designer who graduated from the University of Art and Design Helsinki. Her collections feature evening dresses, cocktail dresses and fur and the designer defines her style as "Dark Couture": feminine, dramatic, sensual, black.
Beside women's dresses, she has also designed a baby-couture line, Vanhatapio Bebes, which was launched in 2005. In 2009 Tiia won the The Golden Hanger Award, which is considered the most prestigious fashion award in Finland. The jury's arguments for their decision were the following: "Tiia Vanhatapio has brought forward her talent as a designer prominently and in a bold way. Her strong vision and the unique style of her designs have enabled her to create a recognisable brand image. Tiia Vanhatapio has also managed to make her products familiar to the general public, thus proving herself an exemplary fashion entrepreneur. She is a multitalented visionary – the kind the Finnish fashion industry has a dire need for". The Scandinavian press gave Tiia Vanhatapio the name of "Queen of Cocktail Dress".
Email Signup
Subscribe to our free newsletter and be first to hear about new products, interesting people and events.