We ship worldwide to over 180 countries! Fast and safe shipping Free shipping for all orders over 150 €
We ship worldwide to over 180 countries! Fast and safe shipping Worldwide shipping starting from 7,90 €
We ship worldwide to over 180 countries! Fast and safe shipping Free shipping for all orders over 150 €
We ship worldwide to over 180 countries! Fast and safe shipping Worldwide shipping starting from 7,90 €
Samuji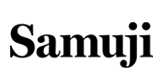 Samuji
Samuji is a creative studio founded by designer Samu-Jussi Koski. In addition to the fashion brand with the same name, the Samuji studio works with concept, product and visual design. Samuji fashion collections consist of two lines, called Samuji Classics and Samuji Seasonals. The Samuji Classics clothes and accessories are timeless and are produced again from season to season, whereas the Seasonals line is more bohemian, colourful and it is renewed for every season.
The Samuji clothes are high-quality, international and modern, and they are produced with high ethical standards. The collections are designed in Finland and produced in Europe, as near as possible. Samuji is also known for the Sarjaton tableware collection for Iittala and its "Tikki" pattern. Samuji was awarded with the Finnish Kultainen Vaatepuu prize in 2012.
Email Signup
Subscribe to our free newsletter and be first to hear about new products, interesting people and events.