We use cookies to improve our site and your shopping experience. By continuing to browse our site you accept our cookie policy. More info
We ship worldwide to over 180 countries!
Nikari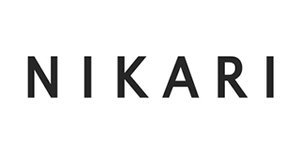 Nikari
Nikari is a Finnish manufacturer of wooden furniture founded in 1967, specializing high quality furniture keeping in mind the principles of sustainable development. Nikari was founded by Kari Virtanen, the only Finnish cabinetmaker awarded with the Pro Finlandia medal, and today the company is run by a younger generation of entrepreneurs. Its studio-workshop is located at the Finnish artisan village of Fiskars, and its products are made using mostly locally grown, certified wood. Nikari concentrates on sustainability and quality both in its design and production techniques.
Nikari's wooden furniture honours the traditions of Finnish woodworking and natural materials with a fresh touch of modern techniques and design. The highly skilled cabinetmakers participate in the selection of timber, and during the decades Nikari has collected a wide assortment of raw materials. The electricity for Nikari's workshop is produced using renewable energy from a local hydropower plant.
This brand has collaborated with: Alfredo Häberli, Alvar Aalto, Thomas Sandell, Cecilie Manz, Jasper Morrison, Nao Tamura, Wataru Kumano, Rudi Merz, Kari Virtanen, Wesley Walters & Salla Luhtasela, COMPANY
---
Show filters
---
---