We ship worldwide to over 180 countries! Fast and safe shipping Free shipping for all orders over 150 €
We ship worldwide to over 180 countries! Fast and safe shipping Worldwide shipping starting from 7,90 €
We ship worldwide to over 180 countries! Fast and safe shipping Free shipping for all orders over 150 €
We ship worldwide to over 180 countries! Fast and safe shipping Worldwide shipping starting from 7,90 €
Nanny Still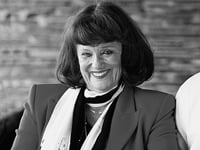 Nanny Still
Nanny Still (1926-2009) was a well-known Finnish glass designer. She studied at Finland's Central School of Arts and Crafts and graduated in 1950. She worked as a glass designer for Riihimäki Glassworks, Finland's largest glassworks at the time, for almost 30 years, creating a variety of stylish and decorative glass objects.
She mainly designed decorative glass bottles, vases, goblets and jars, with beautiful colours and elegant shapes. Her glass pieces have become true collector's items and are often sold at auctions. In 1958 Nanny Still got married to the American George McKinney and soon after they moved to Belgium, where the artist lived until her death. From there she continued to work for Riihimäki Glassworks but also designed for other companies such as the German Rosenthal. She worked for Riihimäki glassworks until 1976, when the company discontinued its production of blow-moulded glass and decided to concentrate only on the mass manufacture of commercial glass, such as bottles and jars. Nanny Still was a very prolific artist who worked not only with glass but with a variety of different materials – such as ceramics, wood, steel, aluminium – designing different kinds of products such as flatware, jewellery and porcelain. Mango, the cutlery set she designed in 1973, is still today very popular. The inspiration for the series came from the Mango fruit she saw for the first time during a trip to India at the beginning of the 1970s. The result was an innovative substitute for traditional silverware that reflected the open-minded optimism of the era. Nanny Still mastered almost everything to do with art and industrial design, and was awarded the Pro Finlandia medal in 1972 and the Diploma of Honour at the Triennale in Milan in 1954.
Email Signup
Subscribe to our free newsletter and be first to hear about new products, interesting people and events.