Kaj Franck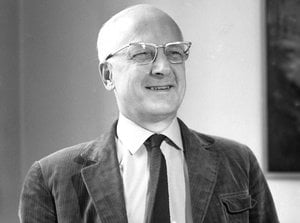 Kaj Franck
Designer Kaj Franck (1911-1989) realized a powerful truth in his distinguished career: simple is beautiful. Despite the world moving at an ever-fastening pace, from one decade to another, that simple truth remains. This year marks the 100th anniversary of the birth of Franck. His inspiration and principles began a tradition in Finnish design, which is still alive and strong today.
Kaj Franck made a career of art and design that filtered down to every table in Finland in addition to reaching across the globe and influencing future generations. The hand that uses the product was always a key consideration in Franck's simple forms. His works such as his many dishes and drinking glasses remain timeless masterpieces.
Franck began every design by focusing on the idea or underlying concept, not the shape. This emphasis on the idea aspect of design was also carried to his work as a teacher and later artistic director at the University of Art and Design in Helsinki. He was also one of the first advocates of recycling. Franck has often been called the "conscience of Finnish design" as he believed in removing all excess. Franck was also interested in mass production and shunned materialism.
"I want to make use of objects that are so obvious that they are not noticeable." Franck's work catered to basic human needs while serving them tools with properties of everyday objects. Kaj Franck's world consisted of the basic mathematical shapes such as spheres, cylinders, cubes and pyramids, and combinations thereof. Simple forms and strong colors marked his designs.
Some of Franck's core beliefs came from realizations as a child such as with stone bowls. "I sensed even then that there was a special allure to the basic, but not until 30 years later when I worked with household goods, that I realized its importance. Because I myself was not a pot maker, I did not need a stone bowl to form the starting point of my work. But from that rustic sole, suitable for all needs of basic dishes, became a sort of functional role model for my designs."
Although the starting point of Franck's work was practicality, combined with beauty, it seems self-evident today he took his own path. Franck separated styles and fashion trends from tradition and gave new meaning. Franck created objects that serve the permanent basic needs.
In the period of 1952-53, Franck showed that dinnerware does not need to be overly complex with the release of the Kilta series as strong statement. It was a novel idea that everyone was able to do place settings according to his or her own needs.
Kaj Franck won many awards in his distinguished career and became internationally famous. Today, the Kaj Franck Award is Finland's most prestigious design recognition. His best-known works are Iittala Teema and Kartio series, which remain successful products today. Franck's heritage is a part of every Finnish home. To celebration the 100-year anniversary of Franck's birth, Iittala has issued re-productions of the Kartio glasses, Teema tableware, Purnukka jars, and Athens in Morning glass sculptures.
Kaj Franck has designed pieces for the following brands: Iittala