Healthy chocolate treats are prepared in the home kitchen of the founder of Goodio chocolate brand, Jukka Peltola. Enjoying them makes the whole family feel good in both body and mind. Discover Less Rocky Road and four other delicious recipes!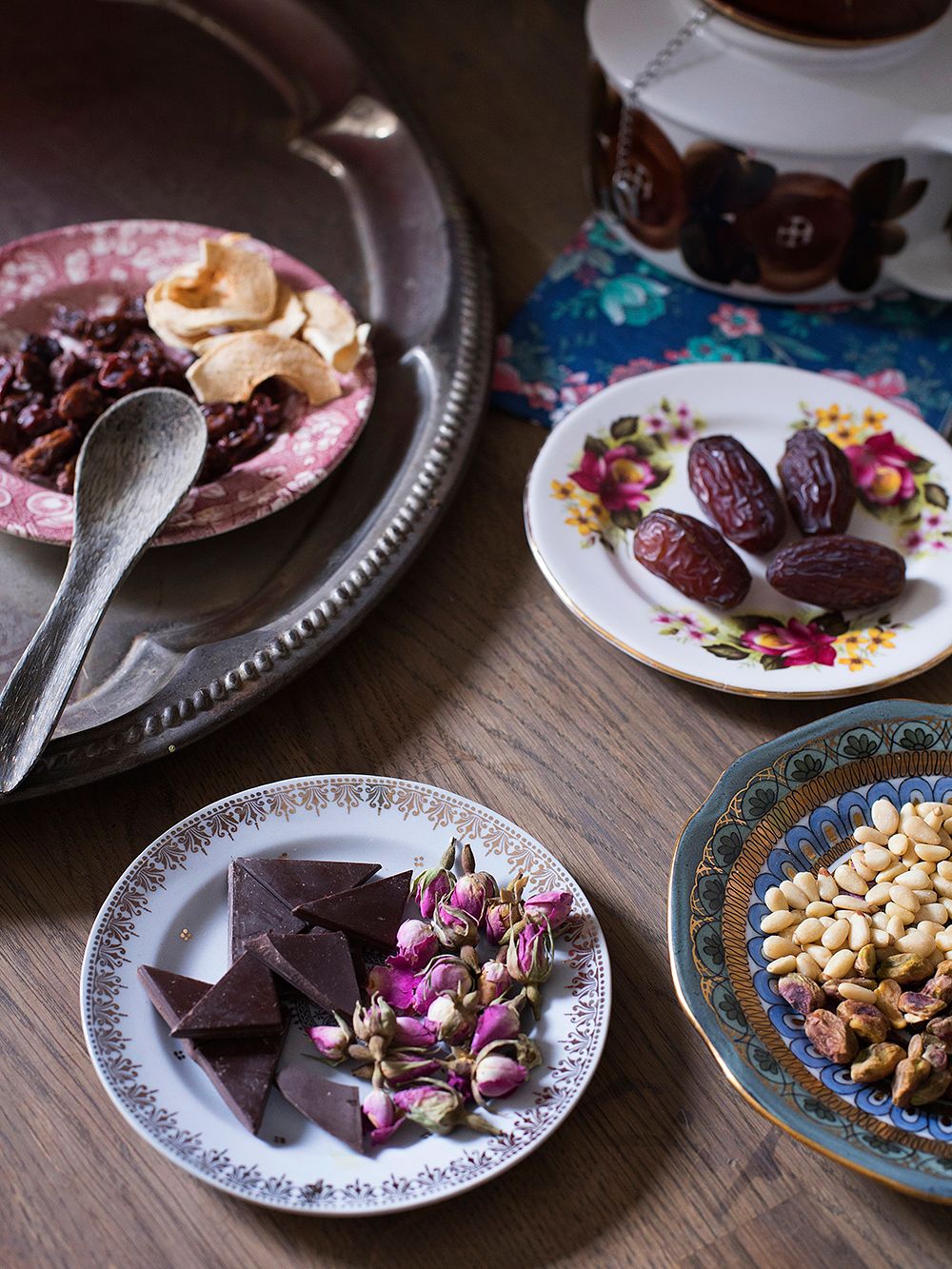 Residents:
The founder of the Goodio chocolate brand, Jukka Peltola, interior designer, Saara Jalmanen, and the children, Lempi, 3, and Taimi, 6. Inside their four-meter high kitchen in the apartment building built in 1908, there are low modern cabinets and open wooden shelves. Food philosophy: Energy levels will rise when you eat vegetarian food made of clean ingredients.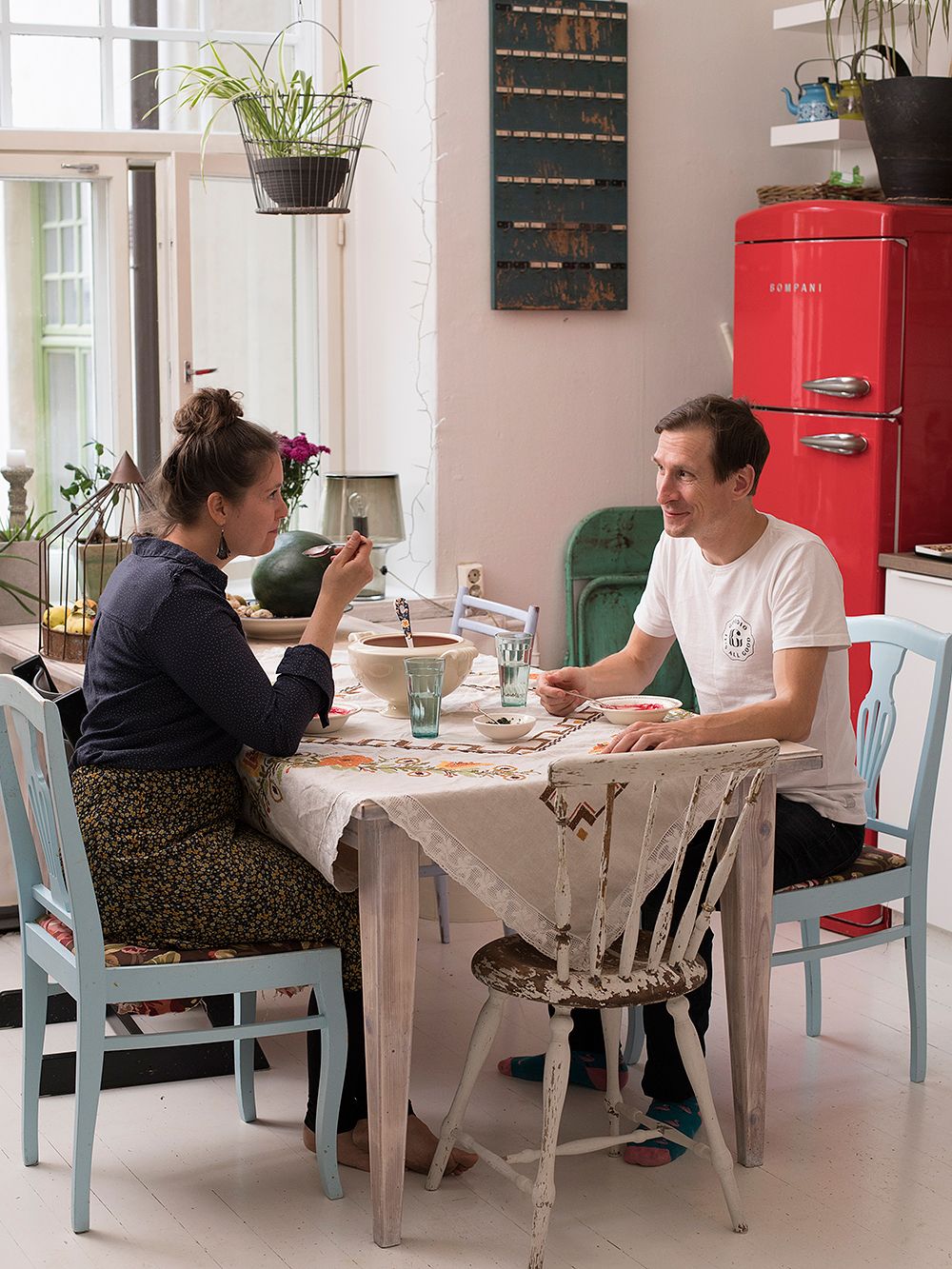 PISTACHIO NUTS are being crushed in the mortar as Jukka Peltola prepares the chocolate treat, Less Rocky Road in the cozy kitchen. He adds the word "less" to mark the difference to the chocolate lump that is covered with marshmallows. The energetic chocolate master has his own recipe, you see.
Jukka pours coconut oil into a pan and adds some dates. Raisins and dried apples are going to spice the mixture. "Fried dates have the flavor of toffee," says Jukka Peltola.

He has been studying and practicing chocolate-making with Jonni Sinkkonen and Sampsa Siekkinen for five years now. Their jointly owned chocolate factory manufactures handmade Goodio chocolate at the old bread factory of Elanto in Helsinki.

Jukka's relationship to chocolate was utterly different when he was still working as a producer at the game company Rovio.

"I avoided chocolate because I got skin symptoms from eating it. Regular chocolate has not only a little cacao but also plenty of white sugar, low-quality fats, and emulsifying agents."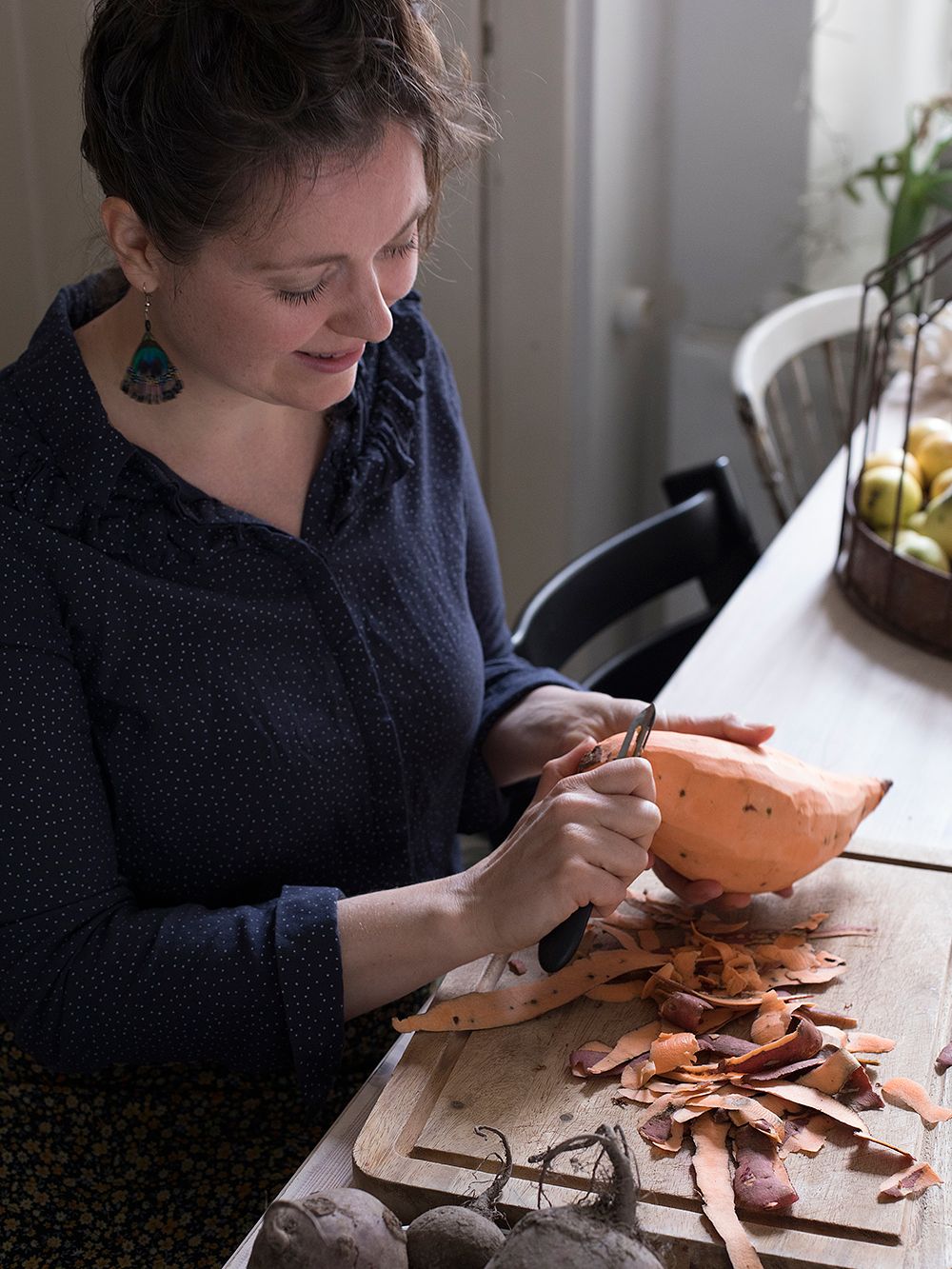 As a busy man, he paid little attention to what he was eating during the workday and felt tired. When he decided to change his line of business, he also transformed his diet completely. Jukka gave up white sugar, grains, and meat and noticed how his energy levels got better. He became inspired about doing research on the health benefits of dark chocolate.

"Quality cacao bean is a top antioxidant. The higher the percentage of cacao, the more nutritious the chocolate is."
"Quality cacao bean is a top antioxidant. The higher the percentage of cacao, the more nutritious the chocolate is."

Jukka's spouse, Saara Jalmanen, is used to her husband constantly developing new healthy treats. Currently Jukka is pondering on how to make chewing gum healthier. Homemade ice creams have also been part of the everyday life of the family for a long time now. The ice cream machine already broke because of frequent use.

Saara has combined the modern cabinets in the kitchen with open wooden shelves and some patina furniture. There are houseplants, herb pots, vintage plates, and teapots on the shelves.

"Sometimes I feel anguished about the sheer number of items I am surrounded by. I am a minimalist, while Saara is a maximalist," Jukka says. Their collaboration works, however, because Saara knows exactly where everything is kept in the kitchen.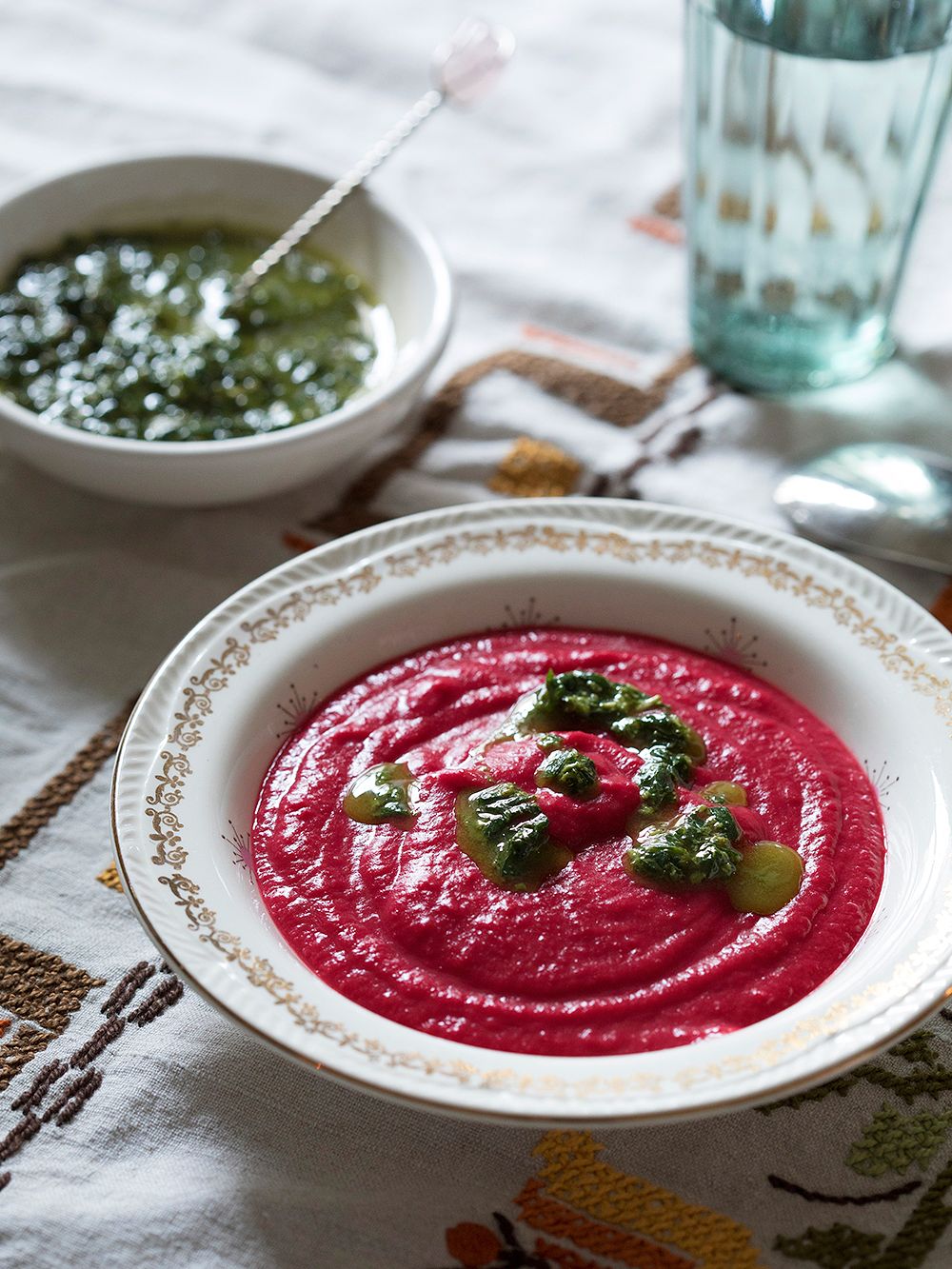 Recipes:
Beetroot, sweet potato and coconut soup
Serves 4
3–4 red beets cubed
2 sweet potatoes cubed
1 onion
3 garlic cloves
2 tsp olive oil
water
2 tsp fresh ginger, minced
400 ml coconut milk
Basil pistou

½ dl olive oil
1 garlic clove
1 pot of basil
½ dl pine nuts
1. Dice the onion. Sauté the onion lightly in the olive oil in a large pot for about 5 minutes. Add the chopped garlic and sauté for another minute.
2. Peel and cube the sweet potatoes and beetroots. Add them into the pot. Pour water over them, so that ingredients are just covered.
3. Cook slowly over low heat for 20 minutes, or until the sweet potato and beetroots are cooked.
4. While cooking, prepare the basil pistou. Chop the basil and garlic cloves. Add all the ingredients in a mortar and grind to a paste.
5. Add the ginger and coconut milk into the soup in the end. Serve with basil pistou.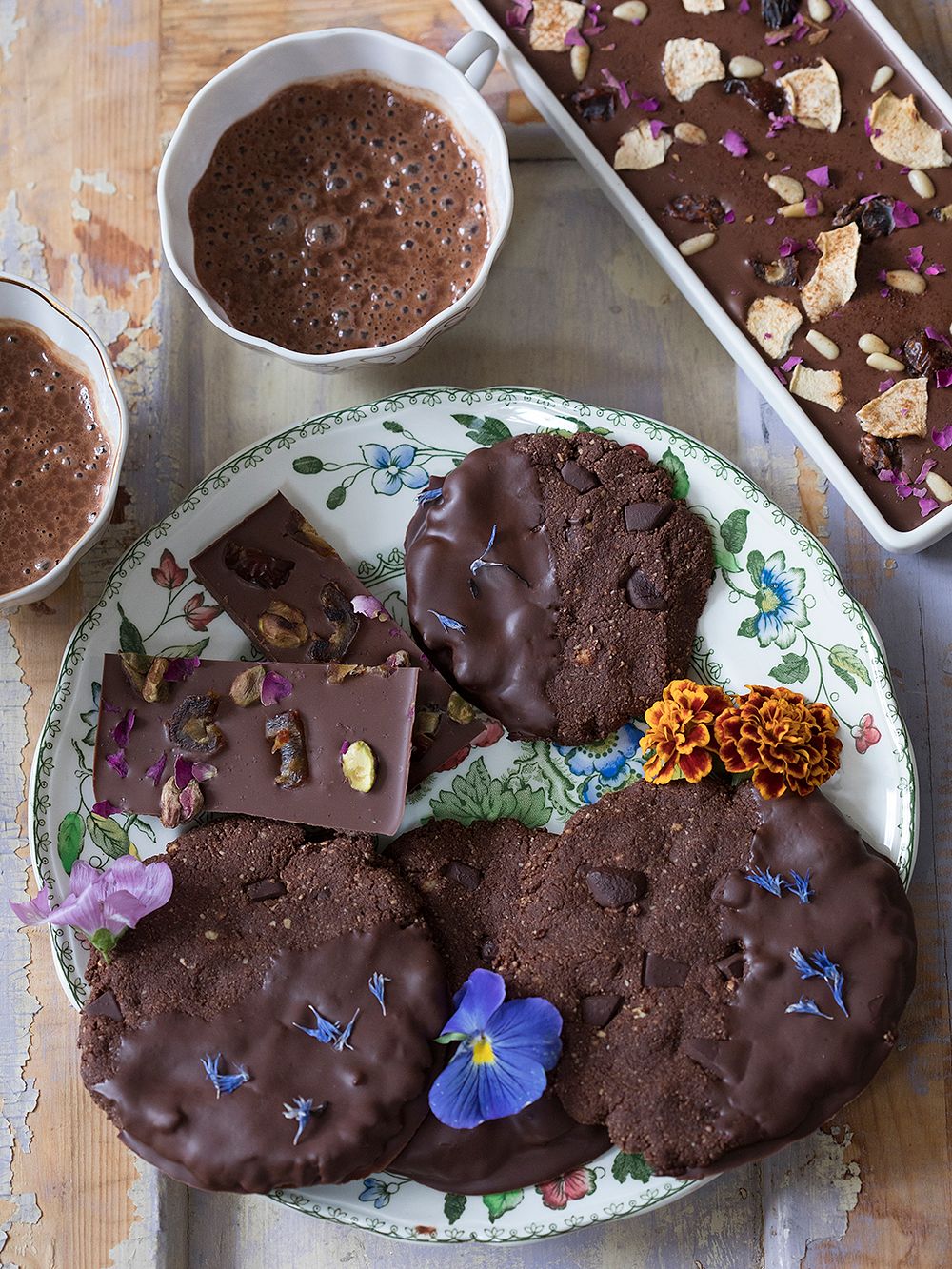 Quality hot chocolate
Serves 2
2 ½ dl plant-based milk (such as iKaffe)
40–50 g Arriba chocolate (70%)
1. Heat up the milk in a saucepan. Add the chopped chocolate.
2. Whisk and heat up until almost boiling. The whisking should create beautiful foam on the top.
3. Pour hot chocolate into mugs, let cool down for a moment, and enjoy.

Gourmet chocolate cookies
8 cookies
3 ½ dl (150 g) almond flour
2 dl (100 g) coconut sugar
½ dl (25 g) coconut flour
1 dl (35 g) cacao powder
½ tsp baking soda
⅛ tsp (sea) salt
½ dl (35 g) coconut oil
60 g cashew nuts
½ dl (50 g) coconut water
75 g Goodio Arriba-chocolate
1. Mix all the dry ingredients. Grind the cashew nuts in a mortar to a paste.
2. Melt the coconut oil. Stir in the cashew paste and coconut water.
3. Mix all the ingredients until they become an even paste.
4. Divide the paste into six parts and roll them into balls. Press into cookie form.
5. Bake at 150°C for 10–14 minutes. The inside of the cookies should stay a little soft. Allow to cool before eating.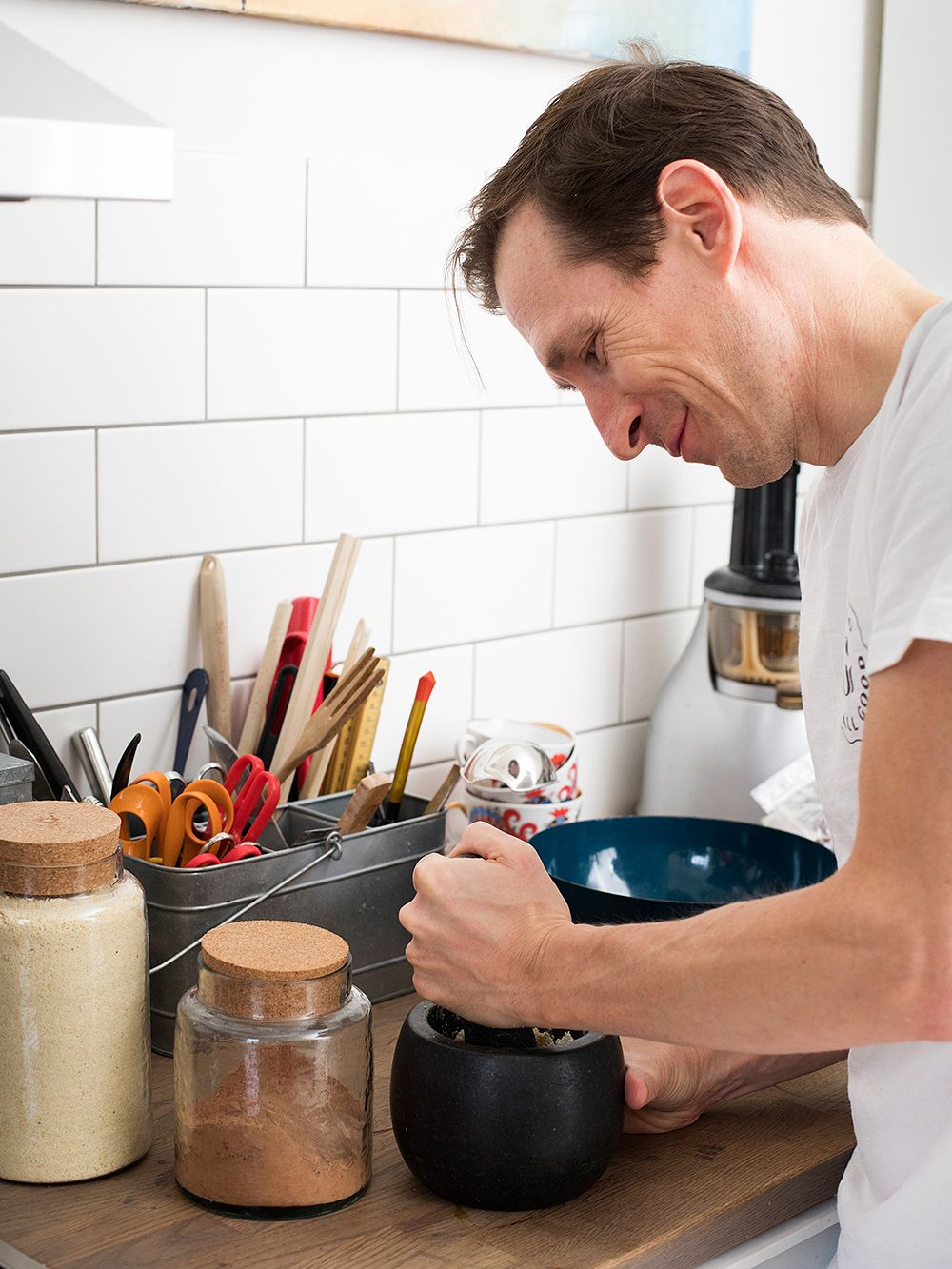 Less Rocky Road
1 large or 2 smaller bars
150 g Goodio Chocoat Blond chocolate
30 g Medjool dates sliced
20 g pistachio nuts
10 g pine nuts
10 g dried apple slices
1 tbsp (10 g) large raisins
For garnish:
dried rose petals
1. If you would like to have the surface of the chocolate pretty and snappy, you should temper, or heat treat, the chocolate. That way the fat of the cocoa butter will crystallize in the desired form.
2. To temper, you need a digital thermometer and a large bowl of cold water for cooling down. Be careful not to spill any water in the chocolate. Melt the chocolate until about 45°C. Then cool down until 27°C. Warm the chocolate mass again until about 31°C.
3. Pour the chocolate mass to the mold or tray of your choice. Add your favorite sweet toppings for flavor. Allow to set in the refrigerator.
Text: Anna Aromaa Photos: Johanna Kinnari
The story was originally published in Avotakka's 11/2018 issue.