Vases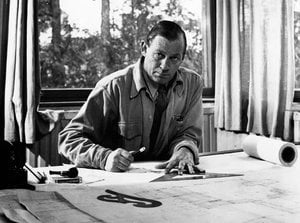 Alvar Aalto | Vases
Alvar Aalto (1898-1976) is probably the most famous Finnish architect and designer in the world. In 1921 Alvar Aalto got the Diploma of Architecture at the Helsinki Institute of Technology and his career as an architect started. One of the most important works he was commissioned was the planning of the tuberculosis sanatorium in Paimio, Finland. This project meant also the beginning of Aalto's career as a furniture designer – in fact, this was the first building planned by Aalto which was entirely furnished with pieces of furniture designed by Aalto himself – including the lighting as well. Other important projects completed by Alvar Aalto are the Viipuri Municipal Library, Villa Mairea, La Maison Carré and the Finnish Pavilions for the 1937 Paris and 1939 New York World Fairs.
41 products
Find a new vase from our collection of designer vases
Designer vases bring good vibes and a special atmosphere to any space and provide a great way to combine two fascinating worlds: design and plants. The ambience of the room changes in a second when you place a gift bouquet or self-picked flowers into a vase. One great thing about designer vases is that there's no need to store them hidden in a cabinet, as empty vases can, by all means, be used as sculpture-like decorative objects.
We have curated a charming collection of vase designs from Scandinavian manufacturers such as Iittala, Marimekko, Muuto and Georg Jensen. Our vase store includes glass vases, porcelain vases, ceramic vases and even metal vases, ranging from classic Aalto vases to Japanese-style ikebana vases and from large floor vases to cute mini vases.
How do I choose the right vase?
Functionally, the most important factor when choosing a new vase is to pay attention to its size – ideally, you want to have at least a few different sizes of vases for different arrangements. For example, a large bouquet of tulips looks best in a wide vase that is not too tall – for instance, the classic wide Aalto vase – while a higher bouquet requires a higher vase and a single rose a narrow vase. The rule of thumb is that the stems should be maximum twice as high as the vase. You will learn the best combinations by trying, and fortunately, most bouquets can be easily shortened if needed.
How do you display decorative vases?
When using vases in home decor, the size, shape, material and colour of the vase play equally important roles. Feel free to combine vases – with or without flowers – with other elements of the interior, in a way that suits you best. Glass vases love light and thus look especially beautiful by a window or when illuminated by a spotlight. Ceramic vases are great when you want to add warm natural elements to the interior, and they also go well together with ceramic planters and plant pots.
Mini-sized vases charm in seasonal settings: in winter, you can pair a mini vase with a candle and a small conifer branch, and in the summer, you can pick up a fresh flower in the vase whenever you feel like it. A large floor vase or a vase with a high base will bring life to the corner of the room and makes a perfect pair for decorative branches or grasses.
Can you decorate with empty vases?
Definitely! Empty vases can be used in home decor just like small sculptures. You can place an empty vase on a wall shelf or side table where there is enough empty space around it. Many vases are also well-suited as bowls, and especially low, wide vases can be used as fruit or caramel bowls. You can also fill a vase with natural stones, cones, candles or small LED lights, or use it as a pot for instance for orchids.
Designer vase inspiration
• Same flowers in three different vases – which is your favourite? >
• Iittala to bring back a rare Aalto vase in a limited edition >
• Summer in a vase – we listed 7 Finnish wildflowers to pick for Midsummer >
• Muuto's Ridge vase brings a touch of Paris to your home >
---