An eye-catching vase or a soft decorative cushion? Despite the small size, details make a big impression. Finnish Design Shop's Winter Sale offers hundreds of design treats more affordable. Check out our decoration favorites!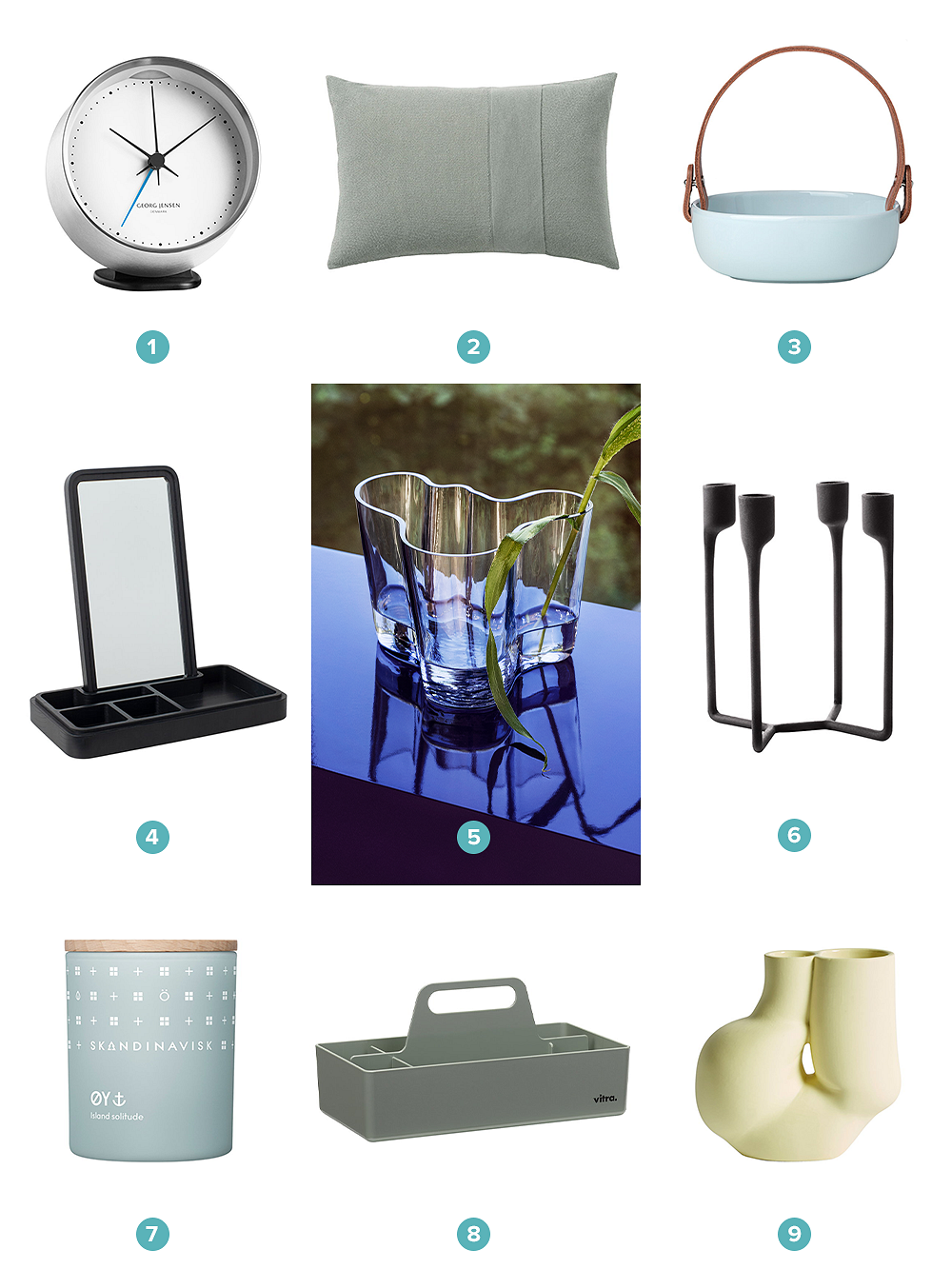 1. Designer legend Henning Koppel's alarm clock was published already in 1978 and it is a fine combination of Danish functionality and timeless elegance. 2. Made of lama wool, the Layer cushion is named after its overlapping layers of soft wool that create a graphic yet subtle stripe on the front of the pillow. 3. Marimekko's Pikku Koppa is a sympathetic, ceramic serving dish that is suitable for serving food as well as displaying your favorite items.
4. The Mirror Box is a beautifully designed combination of a table mirror and a wooden storage box. The wooden-framed mirror can be used as a lid for the box that storages jewelry and cosmetics, among other things. 5. Iittala's Aalto vase in the special edition is crafted using waste glass from the Iittala glassworks and blown into a wooden mould that gives the glass an organic texture. 6. Made of cast iron, the atmospheric Heima candlestick is a perfect combination of Nordic traditions, craftsmanship, and modern design.
7. The Øy scented candle by Scandinavisk delights for many senses and evokes memories of still lakes, deserted islands and tranquil forests. 8. Designed by Arik Levy, the Toolbox is a versatile and convenient assistant on the desktop and also serves in the garden, kitchen, or summer cottage, for example. 9. HAY's asymmetrical Chubby vase has a smooth matte finish and a tube-like shape that creates a playful look on the side table or open shelf.
Finnish Design Shop's Winter Sale products are available while stocks last – order your favorites soon!
See also:
• All decoration at Finnish Design Shop's Winter Sale >
• All textiles at Finnish Design Shop's Winter Sale >
Text: Design Stories Images: Manufacturers