Seeking timeless design treasures or durable decor dreams? Finnish Design Shop's Autumn Sale started featuring more than 1,000 discounted products. We hand-picked 9 treats from the mid-season sale – order your favorites now as they will sell out quickly!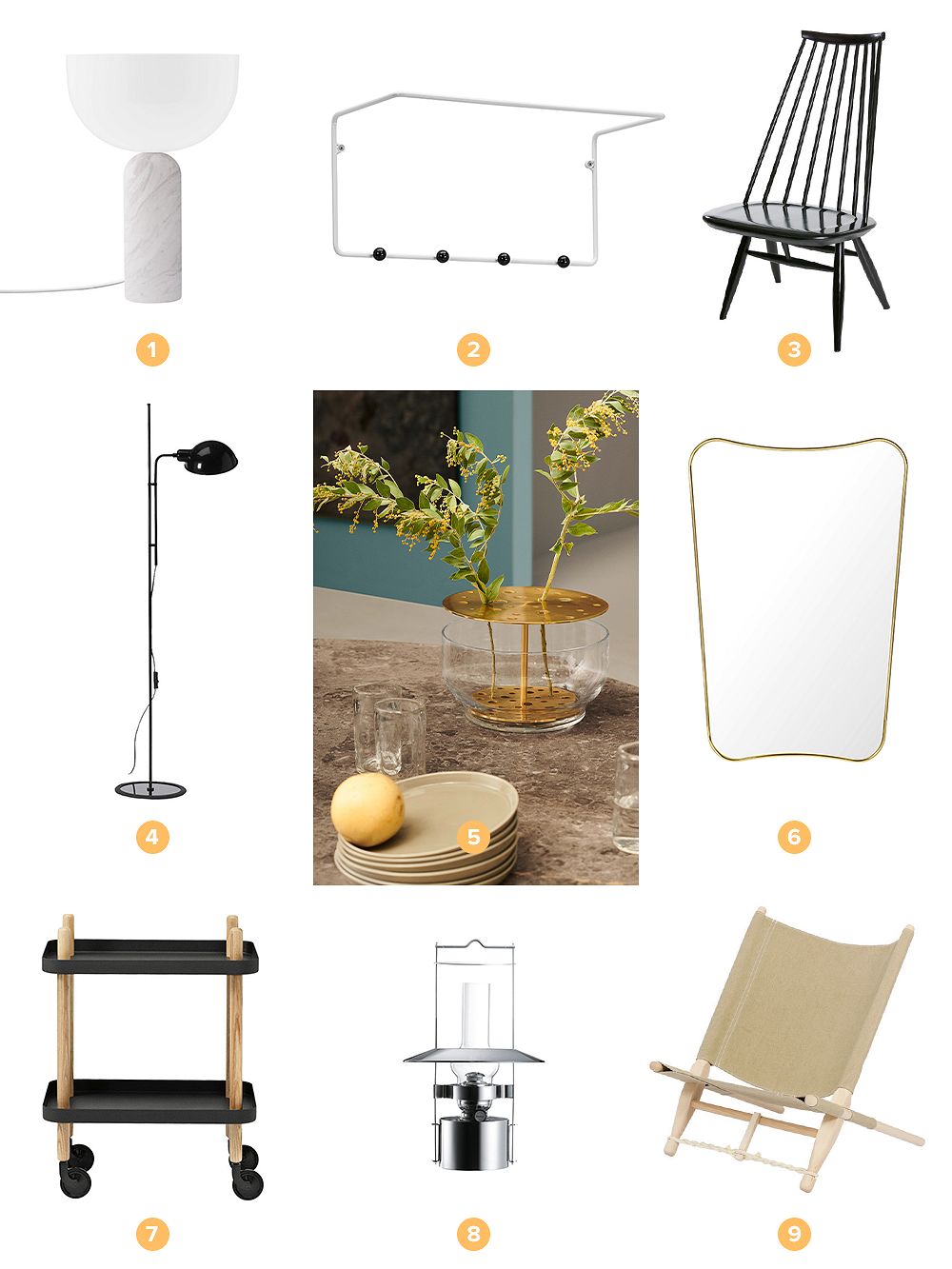 1. Designed by Lars Tornøe, the Kizu table lamp boldly combines geometric shapes and is both impressive and calming at the same time. 2. Consisting of a simple white painted steel frame, the Mixrack coat rack is a beautiful, minimalist piece that suits any hallway. 3. Artek's Mademoiselle lounge chair is a Finnish design classic by Ilmari Tapiovaara from 1956 and it serves as an armchair by the fireplace or in the reading corner.
4. Due to its versatile adjustability, the timeless Marset Funiculí floor lamp is suitable for working and reading as well as creating atmospheric light. 5. Inspired by the Japanese art of flower arrangement, Fritz Hansen's Ikebana vase encourages trying to arrange the flowers in a new way. 6. Due to its simplistic design and shiny brass frame, the F.A.33 mirror fits into many interior styles and brings timeless elegance to the space.
7. The Block is a versatile small serving trolley that is easy to move from one space to another. The ash wood frame softens the otherwise industrial look. 8. Stelton's Ship's lamp is Erik Magnussen's modern interpretation of the traditional nautical lantern and illuminates in the darkening evenings of autumn. 9. The stripped frame of the OGK safari chair is made of soaped beech and the cover is natural linen. The chair completes the look of the bedroom or living room.
Finnish Design Shop's Autumn Sale products are available while stocks last – order your favorites soon!
See also:
• The Autumn Sale at Finnish Design Shop >
• All products at Finnish Design Shop >
Text: Design Stories Images: Manufacturers